Kenwood DNX6190HD
Navigation receiver (New stock)
Item #: 113DNX6190
17 Reviews | 1 question - 1 answer
This item is no longer available.
Original Price: $769.99
Shop all In-dash GPS Navigation
Need help?
Does it fit my car?
Select your car

Improved navigation for 2012
The DNX6190HD navigation receiver, a member of Kenwood's 2012 lineup, offers GPS guidance from Garmin. The user interface is extremely fast, and the DNX6190HD uses NAVTEQ's up-to-the-minute traffic info to ensure that you find the fastest way to navigate through busy metropolitan areas — you get automatic rerouting around congestion and road closures in over 90 cities throughout the US and Canada. Best of all, it's free — you'll never pay a fee for this valuable service. Not in a metropolitan area? The processor calculates routes based on historical traffic data, so you'll still get where you're going faster.
PANDORA® Internet radio for iPhone®, Android, and Blackberry
Use Kenwood's audio/video cable (not included) to connect your iPhone to the DNX6190HD, and you'll be able to control your PANDORA stations from the receiver's touchscreen, including accessing your stations alphabetically and rating songs with a "thumbs up" or "thumbs down."
If you're an Android or Blackberry user you're in luck too. The DNX6190HD supports the Bluetooth® Serial Port Profile (SPP), so you can use the receiver's interface to control Pandora® when your compatible Android or Blackberry device is linked up.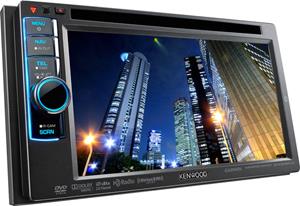 Bluetooth means safer driving, too
And of course you can use the built-in Bluetooth for hands-free calling with the this Kenwood. When a call comes in, you'll answer with one tap of your finger — you'll hear your callers over your vehicle's speakers and talk to them just like they're in the seat right next to you.
HD Radio tuner
The DNX6190HD also features an HD Radio™ tuner. You'll enjoy much-improved AM/FM sound quality when you're tuned into a local participating station, and there's no subscription required — just tune it in like a regular radio station.
More audio and video options
You can plug your iPod® or a thumb drive into the rear USB port, and enjoy all your favorite albums and playlists. This receiver will play all your CDs and DVDs, including discs loaded with music files, while a rear A/V input offers a connection for any other audio/video sources. No matter what you're listening to, Kenwood designed the DNX6190HD to send a crisp, clear audio signal to your speakers. Plus, you can use the 3-band parametric equalizer along with a wide range of soundshaping tools.
The high-resolution VGA screen is perfect for viewing video from DVDs or other sources when you're parked. You can tap into video content on your iPod or iPhone with the help of an iPod cable (not included). When you're on the road, you can play movies through a rear-seat monitor for your passengers. It's a great way to spice up long road trips.
Expand your system
You can hook up a satellite radio tuner to the receiver and access the wide variety of entertainment, sports, news, and commercial-free music satellite radio provides. You can also connect a rear-view camera, so you can see what's behind you as you back out of a tight parking space. If you're looking to add amps and subs, you'll love the three sets of preamp outputs, including a dedicated subwoofer output with low-pass filter and level control.
Good news for SYNC users
iDatalink's Maestro module allows you to install a super-fast Kenwood navigation receiver while keeping your factory-installed Ford SYNC features intact. You'll get to keep your voice commands, factory Bluetooth®, satellite radio, iPod® control, and steering wheel audio controls. The package integrates all these factory systems with your new Kenwood receiver, even optional SYNC features like 911 Assist.
Want to keep your car's steering wheel audio controls?
In most vehicles, you can use an adapter (not included) to connect your vehicle's steering wheel controls to this Kenwood stereo. Connect a few wires, then program the adapter for your particular car and the Kenwood, and you'll retain the convenience of your steering wheel controls.
Note: Bluetooth compatibility of this device may vary, depending on your phone and service provider.
Note: If you're going to use your iPod with this receiver, be sure to check "Details" for specific iPod model compatibility with this receiver or its optional iPod adapter.
Product Highlights:
General features:
DVD/CD player with AM/FM tuner
built-in Garmin navigation system with free traffic services
built-in amplifier (22 watts RMS/50 peak x 4 channels)
fixed 6.1" touchscreen
animated display with multiple GUI
Pandora control for iPhone, Android, and Blackberry
built-in Bluetooth for hands-free calling and audio streaming
built-in HD Radio tuner
fits double-DIN (4" tall) dash openings
optional remote control
Audio/visual features:
plays CDs, DVDs, and USB memory devices (see Details for full capabilities)
3-band parametric EQ
high- and low-pass filters
Expandability:
iPod control: Kenwood cable required for full access to audio/video content
works with SiriusXM satellite radio tuner
inputs: rear USB input, two rear A/V inputs, rear-view camera input
outputs: A/V output; 6-channel preamp outputs (2-volt front, rear, subwoofer)
Other information:
compatible with most factory steering wheel audio controls (adapter required)
warranty: 1 year
Why install a car stereo with built-in GPS?
Imagine taking a trip as your car's receiver gives you directions, finds the best restaurant for dinner, and plays movies for your back seat denizens. Navigation receivers cover all the bases, with GPS guidance, DVD playback, and a host of other useful features. You can search through millions of points of interest to locate gas stations, restaurants, museums, and other interesting spots, wherever you are. Most receivers offer Bluetooth capability for hands-free calling, along with the ability to search through your iPod playlists with touchscreen controls.
Kenwood DNX6190HD Reviews
Average Customer Review:
17 Reviews
---
Written by: nycvw from nyc,ny on March 5, 2013
2004 Volkswagen Jetta
Crutchfield Customer Review
(
What's this?
)
Got the radio a week ago, 2004 vw jetta. wow what an upgrade from factory unit. Fits flush for a factory look. it works great. The unit color display matched my interior lights. nagivation works great, blue tooth is nice and clear. so far all good!!!!

Pros: its kenwood all good. works great with iphone....

Cons: pricey but hey its a kenwood! im not an iphone owner
Doesnt work with iPhone5/iOS6
Written by: pk from Los Angeles, CA on January 31, 2013
2006 Honda Civic LX
Crutchfield Customer Review
(
What's this?
)
it's a great stereo.. unfortunately I'm left waiting for a software update that will allow it to use bluetooth for music. The phonecall and address book stuff works fine.. and I can stream music to it.. but none of the artist info/track names.artwork shows up on the screen and I cant use the unit to change tracks/pause/etc.. kind of lame. Also there no word at all from Kenwood when this will be available. Also when playing from an iPod it doesn't display artist name.. just the track name. All this seems minor but it's pretty annoying. Hopefully they'll get the bluetooth thing figured out soon.

Pros:

Cons:
Written by: Fletch from Fayetteville, NC on January 6, 2013
I purchased this unit after owning the 7190HD. I got frustrated with the 7190 and put my fist through it. I'm glad I did. The 6190 is easier to operate. Everything is hooking up very well so far. The screen is easier for me to read. My unit came with the latest firmware update; this may be one reason that it is working better than units purchased by others who have reviewed this product in the recent past. The unit mounts flush with my dash and looks more "factory" than the 7190 did. The only thing I miss are the better pre-outs on the 7190. I'll have to adjust the gain on my amps. No big whoop. The sound is fantastic. I like this unit, and I would recommend it.

Pros: Easy to use. Great sound. Great connectivity with iPhone. Mounts flush with dash.

Cons: Lower quality pre-outs than 6990, 7190, and 9990 HD models.
Written by: Bryan from Palatine il on January 6, 2013
2009 Honda Element EX
Crutchfield Customer Review
(
What's this?
)
Really nice unit. Easy to set up and use. I have no issues at all with the unit. It's perfect for what I use it for.

Pros: Simple to use everything is easy to find and set. Love the unit.

Cons: Thought the xm could be built in for the price. Not another cost for an adapter
Written by: Bryan from Portland, OR on December 26, 2012
2001 Volkswagen GTI
Crutchfield Customer Review
(
What's this?
)
Product was as described, well packaged, and shipped in a timely fashion! The refurbished unit works like new, and have not had any issues. I am very happy. The Bluetooth Integrates with my Android phone almost flawlessly, and all the streaming features work pretty good. The installation was a breese, and with the Crutchfield-provided vehicle-specific instructions, even if I didn't know a thing about audio installations, I would be able to figure it out. i am very pleased with the functions of this deck

Pros: excellent Bluetooth quality, GPS works great, quick recovery (rerouting) and traffic warning...plus dual-zone and rear camera control are fantastic

Cons: Pandora over Bluetooth via Android is a bit buggy, cutting out sometimes (NOT a signal issue), and locking up, or not connecting to the phone as it should. but this is very seldom, and works as it should. works best with iPhone (go figure) had no issues with it at all with iPhone.
Written by: VS from Oceanside, CA on December 19, 2012
2006 Nissan Pathfinder
Crutchfield Customer Review
(
What's this?
)
Great HU. The only issues that I had was the BT. The other party could not hear me. Customer Service is excellent! The rep sent me another unit (DNX5190) because the 6190 is out of stock. Normally when you want to exchange something for any reason, the vendor would want the part being exchange first before sending a replacement. Well the rep was king enought o send me the replacement and send the defective one after so I am not out of radio while waiting for the new. Superb CS. HU somewhat great!

Pros: CS is undeniably great!

Cons: BT does not work
Written by: Anonymous from Rogers, AR on December 18, 2012
cannot connect with my bluetooth when listening to music. also there is no sound from the GPS!! i have called Crutchfield twice about this, but they do not know how to fix it other than send it back to them and they will replace it. Installation sucked and there is no way i will take it out and install another one. i do not recommend this product at all.

Pros: none

Cons: read the review not happy
Written by: DAN from WARRENTON on November 12, 2012
Crutchfield Customer Review
(
What's this?
)
EXCELLENT PRODUCT CHOICE FOR THIS VEHICLE, CUSTOMER VERY HAPPY

Pros: DOES EVERYTHING JUST AS STATED

Cons: BE PREPARED FOR TIME TO INSTALL PROPERLY BUT VERY STRAIGHT FORWARD
Do Not Buy This Unit For The GPS!!
Written by: Tee from Chicago,IL. on October 25, 2012
Do not buy this unit if the GPS is going to be the deal breaker. Garmin, which usually is great brand (I currently own and have owned several of their units in the past) is very much lacking in this unit. I don't know if it's Garmin or Kenwoods fault but it's operation leaves something to be desired. On numerous times during use, It will lock up with a notice that says application error. This is not good thing on a busy expressway, when you have several turns coming up.The screen freezes and you can't do anything else with it until you reset the unit. On several occaisions it has lost all my favorite saved locations; which I have to then painstakingly re-enter. For some reasons unknown, it will go back to 3D view after I set it to 2D track up in the settings screen.Also, even though it says I have the current software version, it is not. the speed limit changed on a major interstate that I travel daily a few months ago. My regular portable Garmin 1450 LMT has already updated it right after the change; but my Kenwood unit says it is still current. I do not know if this is a clunky / buggy version of their navigation software designed for Kenwood; or it is one of their normal versions that is not compatible with Kenwood units. You cannot even update at the Garmin site; it's not supported there. you need to go to Kenwoods site and the look for the update section. Makes me wonder if it will have support or updates acouple of years down the road...

Pros: Great sound, excellent display.HD radio is very good.

Cons: Bad GPS software.
Written by: BFish from Eastern Pa. on September 23, 2012
This InDash gps works great. Very Impressed. This is the first one that I ever owned but I have no complaints. Very easy to install with crutchfield tech support. Also installed a back up camera with no problems

Pros:

Cons:
Written by: Rachel from Loudon, TN on September 12, 2012
We just recently installed this radio in my baby, my 2005 GTO. I was worried to death, after hearing terror stories of after-market radios. However, this couldn't have been easier. Any mis-step we took, the Crutchfield Tech team was there to help with excellent, professional insight! I was so worried about having to cut wires to get this installed, but that was not the case with the adapters that suggested by the very informative sales representative. I was also worried, as I wanted to leave my car as stock as possible... I didn't want anything to clash with the stock look. However, this radio looks wonderful and nearly looks stock. Only thing that doesn't really match is the radio facing, as the plastics are a different finish. The screen is wonderful, and couldn't ask for a better picture! The system is very user friendly, and bluetooth is wonderful! I am loving the Pandora radio option!! Only complaint so far is that while, yes, the steering wheel controls do still work... Before if I wanted to scale through my presets, I could do that on the steering wheel. However, with the new radio, rather than working through my presets, it scans the radio stations. Oh well... I can live with that!! One last slight disappointment is that I would like to see the clock on all screens, rather than just on the radio screen...

Pros: Pandora; Bluetooth; Easy, Painless Install!!

Cons: Facing finish doesn't match factory plastic finish. Clock is not on all screens. Cannot scroll through presets from steering wheel...
Written by: bschuler from laporte in on July 31, 2012
Bought DDx419 originally blue tooth was tottaly worthless for a phone.If you need good phone quality get a unit like this with parrot blue tooth.If you look hard enough you will usually find a setting to correct anything you dont like.There is a setting to send blue tooth to all speakers.It also finds the phones just fine at start up.HD radio gave us lots more stations.

Pros: lots of cool stuff to play with, all seems to work just fine so far.Wife is excited to have built in nav

Cons: $ upgrade to get quality blue tooth for the phone.extra usb on front would be nice.
Overall Decent with a few missteps
Written by: GaryM from Nashville, TN on June 11, 2012
So I bought this unit to replace my factory unit in a 2004 F150, fit nicely with a dash kit. I made some assumptions that turned out to get the best of me. I assumed since the unit had USB that I could take my iPhone and plug right into the USB port that was in the back of the unit. That assumption was correct, however the iphone doesn't work without the ipod adapter provided by kenwood. The sound and control actually utilize both the USB and the line-in port. This makes things rather difficult for future, if i want to upgrade firmware or anything like that I will have to open my dash and disconnect my ipod adapter to connect a usb key. All the other features work well, one little glitch, the bluetooth doesn't automatically connect. So i then have to manually connect, which the unit assumes I want to play music from bluetooth...so when i switch off to, lets say HDradio, bluetooth disconnects. I have updated to the latest firmware and it did not fix it. One last suggestion, put bluetooth settings in setup, not under telephone settings. I was a little puzzled why only my front speakers would play when bluetooth connected...

Pros: Looks Good, Sound Quality Good, Lots of Customization with EQ, like the pandora controls

Cons: Apple Devices should connect via usb ONLY, and not take up two inputs. Bluetooth needs to auto-connect and stay connected. Bluetooth settings need to be under setup not under telephone settings. Bootup time could be faster.
Written by: Jonathan J from Long Island, NY on May 28, 2012
2010 Mazda 6
Crutchfield Customer Review
(
What's this?
)
The only problems that I have had with the install of this stereo is not the stereo at all but the additional Axxess ASWC interface module. I returned the product because after nearly two hours of being on the phone with Crutchfield, the product did not work. The Kenwood stereo? Unbelievably fast, easy to use and great looking. I don't have any problems reading the screen or navigating throughout the menus. I never wanted an in-dash navi because I always saw that they were despicably slow, the new processors make this issue a thing of the past. The mic that's included for the blue tooth phone calls is perfect, crystal clear phone conversations on both ends every time. I originally wanted the stereo to replace the factory one in my 2010 Mazda 6 so I could have better sound. Wow, the sound has exponentially increased in quality, streaming music from my phone via blue tooth is also unbelievably clear just like a compact disc. Speaking of CD's, I had to swap out the original stereo that I purchased with a new one because I was getting "Mecha Error" which is a serious mechanical error. Thanks to Crutchfields unmatched service, I was sent the replacement stereo in two days time and had a working CD player with very little effort. The one usb out is also pretty cool for external music storage however you can only have the Ipod or a usb plugged in, one at a time, a usb splitter is not suggested. All in all I am very pleased with this unit and continue to be, every time I get in my

Pros: Very fast processor, blue tooth, usb port, ease of use, customizable background colors. My favorite part is the blue tooth, once its set up with your smartphone, it connects every time without even taking your phone out of your pocket/purse. You can even press play on the Kenwood and it starts where you left off with your music.

Cons: Would have been nice to have another usb port, but that's not a deal breaker in any way. The nav system keeps warning me about safety, who cares about safety?! All kidding aside, there has to be a way to turn this warning off. I didn't pay a grand for a stereo to tell me its unsafe to use the menus while driving.
Written by: ratt from SoCal on May 15, 2012
The reviews below are wacked. First the top center three buttons are movable you just press and drag whatever short cut you want there, the side 4 buttons are fixed but each button is a short cut to 2 functions, press you get one shortcut, hold and you get the other, so you have about 11 short cuts at your finger tips. The glare isn't bad i like that i can actually see the screen wearing polarized glasses, something i can't say about units from a few years ago, current smiple LCD factory displays or current smart phones. They (or clarion?) do make a model with a tilting display if it bothers you. Ok the folder fonts and radio font can be small, not for normal vision or up close console mount but would be nice with bigger fonts, maybe the 7190 with it bigger screen is easier to see, just saying i'm over 50 with non-corrected vision and i can see the fonts. The phone "preset" thing is weird maybe there is a way to program it. I don't use it usually i scroll though my phone log . These new 2012 nav units from Clarion, kenwood, and pioneer are impressive but really some of the new oem voice commands ones are still ahead of these.

Pros: Android support for blue tooth Pandora and AHA, Garmin gps, once booted is sort of fast, built in HD radio, dual zone sound, easy park brake bypass, split screen with gps,

Cons: Next gen nav unit but I am still reversing before it fully boots so rear view cam never comes on, like in the youtube vid the fan is loud not a problem moving but parked its obviously on, only 2d gps, only one usb out not a usb plus ipod, usb fixed cable no long cable option, only 2volt line out preamp, remote not included, while stringing up the blutooth mic i wished it was built into the unit,
Gps is nice the rest of the unit is not very good
Written by: Jason from Summit, NJ on May 11, 2012
We bought this with high hopes the unit works fine the GPS when running is great but the interface is so slow it is frustrating. Beyond that one of may main reasons for buying it was for the safety of the hands free. If you pair this with one phone it works fine, you can pair several phones but only one is active and it takes about 3 min and 12 button presses to reprogram the unit to another phone. This is pretty useless because whenever I get in the car my phone is not paired it rings and it woudl take so long to reprogram I find myself just talking on the phone itself, totally unsafe.

Otehr small issues is the screen is cluttered and busy, you can't not display icons you don't want so you need to scroll through everything. I only care about pandura and FM. Not the 7 other features. The scrolling is quarky and doesn't work well when moving. it has a clock but only on the home scree the clock should be displayed on all the screens, they have the realestate. Over all the unit works but needs a major hardware and software rework.

Pros: GPS is great, alearts you of oncomming traffic.

Cons: slow, only usefull with one phone, interface clunckey and busy. No clock on most of the screens. Touch screen doesn't work well the way it is programmed they should never have tried scrolling with this touch screen.
Written by: Carol s from Chesapeake, VA on May 1, 2012
HATE this unit. I pay for Sirius/XM Radio to see info about music playing. Somehow, Kenwood has given this unit a huge screen and made the song info text SO SMALL it's illegible while driving down the road. The text is HALF the size of my tiny dash mounted unit. The only possible customization to the XM display screen is the ability to make the channel name and number huge. Also ANY amount of glare renders the screen unreadable. It would help if the installation angle could be customized. In my car, the unit is low and further complicates visibility. I also miss the ability of my dash unit to "save" a song. I spent as much time listening to my saved favorites as live radio. Perhaps I'm just a "dash mounted unit kinda girl" but I can't be the only person out there who wants to SEE, READ and CONTROL the radio while driving without reaching for glasses... The BT telephone operation is okay but I'm wondering why Kenwood's technology came to a screeching halt with the 3 preset buttons. These presets cannot be renamed. My husband's new name is Preset 1. As far as the navigation system... it's Garmin. Well done Garmin.

Pros: Well, it's big.

Cons: If you're over 40, you won't be able to read song info without glasses!
What's in the box?
Double-DIN DVD/Navigation receiver with built-in 6.1" monitor (15A fuse installed in chassis)
Sleeve (attached)
Trim ring
Wiring harness
GPS antenna (with attached 16.5' cable terminated by a proprietary connector)
Self-adhesive magnetic base
Microphone with integrated bracketed (attached 10' cable terminated by a 3.5mm connector)
2 Radio removal tools
6 Pan-head ISO-mount screws
6 Flat-head ISO-mount screws
Instruction Manual CD-ROM
Quick Start Guide (Eng/Spa)
Quick Start Guide (Fre)
Warranty Card
Product Research
Touchscreen Display
Onboard Navigation
HD Radio + SiriusXM Ready
DVD/CD Playback
USB/iPod/Android
Built-in Bluetooth
Audio Section
AV Connections
Optional Remote Control
OEM Integration
Touchscreen Display
6.1" Touchscreen Display: The Kenwood DNX6190HD features a fixed 6.1" wide, 16:9 touchscreen display with a TFT active matrix system and LED backlighting. The screen has a resolution of 800 (H) x 480 (V) x RGB with 1,152,000 total pixels. This unit has touchscreen controls with interactive video graphics, making menu navigation easy.
Start Up Time: The Kenwood DNX6190HD has a start up time of approximately 27.1 seconds from Off to the "Warning" screen. Once the "Warning" screen appears, you can tap the "Agree" button on the head unit's touchscreen to go instantly to the Navigation screen or press the "Menu" hard-key to access the Source menu.
Customized Top Menu: You can register up to 3 of your favorite sources (Navigation, Disc, HD Radio, USB, iPod, Pandora, Bluetooth Telephone, Bluetooth Audio, SiriusXM, Video, Audio, Setup, or Standby) as the unit's Top Menu screen for easier, quicker access.
Front Panel Controls: In addition to the touchscreen controls, the unit includes frequently used buttons and a rotary-dial along the left edge of the screen.
Variable Illumination (256 Color Palette): You can adjust the head unit's touchscreen and button illumination from the following preset colors - Blue, Purple, Sky Blue, Aqua Blue, Yellow, Green, Amber, Red, Pink, White, or Scan (Scans through all preset colors). You can also select three custom user colors that are adjusted between Red, Green, and Blue values from 0-31 each. In addition, you can download still images for use as the unit's background from a connected USB thumbdrive. The Kenwood logo and eject button will always remain red.
Flick Scrolling: You can scroll screen lists by simply flicking the screen up/down, or scroll screen pages by simply flicking the screen right/left.
Split Screen AV Control: The DNX6190HD's screen views can be easily toggled from one to another simply be touching the screen or appropriate button. The Split Screen AV Control mode divides the screen into two screens, with navigation on the left and a control window on the right. With this Picture-in-Picture type function the head unit can now display the navigation and source screens (or rear-view camera) simultaneously.
Selectable Screen Viewing Modes: You can choose from the following screen modes for DVD, Video, iPod, USB, and Rear-camera playback:
Normal: Displays 16:9 widescreen format pictures that fill the entire screen width, and 4:3 (conventional TV) pictures display with black bars on either side.
Full: Expands 4:3 pictures horizontally to fill the entire width of the screen, distorting the picture slightly but retaining full image height.
Justify: Expands 4:3 pictures horizontally only at the edges.
Zoom: Expands 4:3 pictures both horizontally and vertically, filling the screen without distorting the picture but cutting off the top and bottom edges.
Picture Adjustment: You can adjust the unit's display brightness, contrast, color, tint, sharpness, and black level to suit your viewing needs during video playback.
Multi-Language Display: For your convenience, this unit is equipped with a multiple language display. You can select the language which is best suited to your first language - English, French, Spanish, or Portuguese.
Parking Brake Detection: To prevent the displaying of video while the vehicle is in motion, the light green wire in the supplied 22-pin harness must be connected to the vehicle's parking brake detection circuit. While the vehicle is in motion (parking brake off), you can still view all of the other displays and menus.
Dimmer: The dimmer function will dim this unit's display automatically when the vehicle light switch is turned On when you connect orange/white Illumination wire of this player's harness. You can also manually dim the unit's touchscreen and button illumination.
Security Indicator: The Security Indicator feature helps to protect the Kenwood DNX6190HD against theft. Turning this function "On" allows the security indicator light on the front-panel of the head unit to flash when your vehicle's ignition is off.
2-DIN Chassis: The DNX6190HD has a 2-DIN chassis (also known as Double DIN), and will fit in many vehicles with a large dash opening. The unit can be ISO-mounted using factory brackets, or Euro-mounted using the supplied mounting sleeve. As always, please consult Crutchfield's Outfit My Car to verify fit with your vehicle.
Onboard Navigation
Garmin/NAVTEQ Navigation: With built-in Garmin navigation software and NAVTEQ map data (CN North America NT 2012.20), the Kenwood DNX6190HD features on-screen maps of the United States, Canada and Puerto Rico - which includes over 6 million Points of Interest. You can follow calculated on-screen routes to your destination using the head unit's built-in navigation software. As you travel, the DNX6190HD's navigation system guides you to your destination with audible & visual guidance.
Note: Car navigation maps are frequently updated. While this database was judged to be as accurate as possible at the time of its release, a map database can never be 100% accurate. Road information that is maintained in the map databases, such as turn restrictions or road names may change over time.
Software/Map Data Updates: When the preloaded maps are considered out of date, the DNX6190HD will provide periodic notification at startup. Garmin software and map updates can be downloaded as required, via a USB thumbdrive. To find a software or map update, please go to www.garmin.com/kenwood.
High-Sensitivity GPS Receiver: The Kenwood DNX6190HD employs a high-sensitivity GPS receiver that is forgiving of less than optimal antenna placement, giving you additional placement options.
Update Rate: 1/second, continuous
Position Accuracy: <6 meters, typical
Note: The first time you turn on this unit, you must wait while the system acquires satellite signals for the first time. This process could take up to several minutes. Make sure your vehicle is outdoors in an open area away from tall building and trees for fastest acquisition. After the system acquires satellites for the first time, it will acquire satellites quickly each time thereafter.
GPS Antenna: The DNX6190HD comes supplied with a GPS antenna that features a magnetic base and an attached 16.5' cable terminated by a proprietary plug which connects to GPS-ANT input on the back of the head unit. The unit also comes supplied with a self-adhesive magnetic base if you are having trouble finding a flat metal surface to mount the antenna. The GPS antenna can be mounted inside the vehicle (on the dash) or outside the vehicle (on the roof or trunk). The GPS antenna measures 1.3125" (w) x 0.5625" (h) x 1.4375" (d). The self-adhesive magnetic base measure 2.0625" (w) x 2.0625" (d).
On-Screen Map: As you travel, the DNX6190HD guides you to your destination with voice prompts, arrows on the map, and directions at the top of the map. The upper-left corner indicates the distance to your next maneuver, If you depart from the original route, the navigation system recalculates the route and provides new directions. Your route is marked with a magenta line, while your vehicle is marked by a red arrow on the screen, and checkered flag marks your destination. You can adjust the following map settings.
Map Detail: You can adjust the amount of detail shown on the map screen. More detail may cause the map to be slower.
2D/3D Map View: You can changes the perspective of the map from 2D North-Up (displays the map in 2 dimensions with North at the top), 2D Track-Up (displays the map in 2 dimensions with your direction of travel at the top of the screen), 3D Track-Up (displays the map in 3 dimensions with your direction of travel at the top of screen).
Vehicle Type: You can change the icon (arrow, car, jeep, RV) used to display your position on the map.
Color Mode: Select between Day (for a bright background), Night (for a black background) or Auto (to automatically switch between the two) for the on-screen map.
Text-To-Speech Voice Prompts: The unit's text-to-speech voices "read and speak" the same words that are displayed on the unit's screens. The voices have an extensive vocabulary and they pronounce the street names as you approach turns. Voice prompts can heard from both of your front speakers, only the left front speaker, or only the right front speaker. You can independently adjust the volume (0-35) of the voice prompts without affecting the main volume. The unit only offers English voice prompts in a male or female voice.
Note: You can continue to listen to your music source while navigating. The DNX6190HD will mute the music source, when there is a text-to-speech voice prompt. Once the voice prompt has ended, your music volume will automatically raise to previous setting.
Lane Assist: The Lane Assist function guides you to the appropriate lane you should be in for upcoming junctions and interchanges, facilitating a safer navigation experience.
NAVTEQ Traffic: NAVTEQ Traffic receives traffic information that is broadcast over the FM Radio Data System. The free FM TMC subscription activates automatically after the navigation system acquires satellite signals while receiving traffic signals from the service provider. NAVTEQ Traffic provides real-time traffic data for over 90 major cities in North America, including the United States and Canada. If traffic is congested up ahead or there is a road closure, the navigation system will automatically re-navigate the route to show you how to get to your destination, quickly and easily. Alternatively, in manual mode, the system will add delay time to your trip so you can decide to avoid or continue on your current route. When the unit is receiving traffic information, a traffic icon appears in the upper-left corner of the Map page. The traffic icon changes color to indicate the severity of traffic conditions on your route or on the road you are currently traveling.
| | | |
| --- | --- | --- |
| Color | Description | Meaning |
| Green | Low severity | Traffic is flowing normally |
| Yellow | Medium severity | Traffic slightly congested |
| Red | High Severity | Traffic is heavily congested or stopped |
| Gray | No data | Traffic data has not updated |
Note: NAVTEQ includes a lifetime service subscription. Because NAVTEQ traffic is subsidized by unobtrusive pop-up advertising there is no subscription fees.
Where Am I?: The "Where Am I?" feature gives you instant access to important information in case of an emergency. When you select "Where Am I?" from the menu, you get the coordinates (including elevation) of your current position, plus the nearest address and intersections. There are also menus to help you locate the nearest hospitals, police stations, gas stations, and roadside assistance. You can also save the location for future reference.
Where To? Screen: The Where To? screen provides several different categories for you to use when searching for addresses, cities, and other locations. The detailed map loaded in the navigation system also contains millions of points of interest to choose from.
| | |
| --- | --- |
| Destination Search | Description |
| Browse Map | Allows you to search for a destination by touching and dragging the map. |
| Go Home | Store one home location to allow you to calculate a route home from any current location. |
| Address | Input your destination address by house number, street, and city. |
| Cities | Allows you to search by city's name. |
| Intersection | Allows you to search where to streets intersect. |
| Points-of-Interest | Allows you to search for over 6-millions points of interest in the following categories: Food, Fuel, Transit, Lodging, Shopping, Bank/ATM, Parking, Entertainment, Recreation, Attractions, Hospitals, Community, or Auto Services. The "Spell Name" feature allows you to enter a point of interest by name. |
| Favorites | You can save all of your favorite places in the navigation system, so you can quickly navigate to them later. |
| Routes | Allows you to select from previously created (custom) routes. |
| Recently Found | Choose from one of your 50 most recent destinations or waypoints. |
| Phone # | Allows you to search your destination by entering the place's phone number. |
| Coordinates | Allows you to search your destination by longitude and latitude values. |
| Extras | You can manually load custom points of interest (POI) databases, available from various companies on the Internet. Some custom POI databases contain alert information for points such as safety cameras and school zones. The navigation system can notify you when you approach one of these points (Proximity Alert). You can download the custom POIs onto a USB mass storage class device. |
Search Modes: The navigation system automatically searches for places near your current location. You can also choose to have the DNX6190HD search for places in a different city, a recent destination, a favorite destination, projected destination, or along your current route.
Multiple Destination Routing (Via Points): You can add intermediate destination points (via points) to your routes as you create it. You can also add points to your route after its been created when you go to edit the route. You can program up to 500 via points for long trips.
Route Preference: Selects the preference for your calculation between Faster Time, Shorter Distance, Less Fuel, or Off Road.
Avoidance Setup: This feature allows you to enter specific areas and roads to avoid in your routes. You can choose to avoid U-Turns, Highways, Toll Roads, Traffic, Ferries, Carpool Lanes, or Unpaved Roads. You can also pick specific roads or areas to avoid.
Safe Mode: Safe Mode disables all navigation system functions when the vehicle's parking break is disengaged, that require significant operator attention and could become a distraction while driving. You will need to engage the parking brake to enter addresses or other advance navigation functions when you have the unit set to Safe Mode.
Turn Pages: The following pages help guide you along the turns of your calculated route.
Turn-List: When you are navigating a route, the Turn List page displays turn-by-turn instructions for your entire route and the distance between turns.
Next Turn: When you are navigating a route, the Next Turn page shows the turn on the map and the distance and time left before you reach the turn.
Trends: The DNX6190HD has the ability to recall frequent destinations and historic traffic information to help calculate your route faster.
myTrends: The myTrends feature senses when you are driving to a common destination and displays the destination and estimated time of travel in the navigation bar on the map. myTrends does not work when you first begin using your navigation system. To effectively use the myTrends feature, your frequent destinations must be marked as favorites, and a regular pattern of driving habits must be established with three days of regular driving usage.
trafficTrends: When the trafficTrends feature is enabled, the navigation system uses historic traffic information to calculate more efficient routes. Different routes may be calculated based on traffic trends for the day of the week or based on the time of day.
Auto Reroute: If you happen to depart from your original route, the internal navigation system recalculates the route and provides new route instructions.
Detour: You can also select a specific area to detour around. The navigation system will attempt to get you back on your original route as quickly as possible, after calculating a detour. If the route you are currently taking is the only reasonable option, the DNX6190HD might not calculate a detour.
Trip Log: The Trip Log creates a bread crumb trail (trip log) of your movement. At any time the entire track log can be displayed on the map. You can also reset the track log whenever you like.
Trip Computer: The trip computer shows current speed, current direction, distance to destination, total distance traveled, average speed (including stopped time), average speed while moving, maximum speed, total trip time, total moving time, and stopped time. You can reset just the maximum speed or reset the entire trip computer at once.
Speed Limit Icon: A speed limit icon may appear as you travel on major roadways. This icon displays the current speed limit of the roadway. The unit's speed limit icon feature is for information only and does not replace the driver's responsibility to abide by all posed speed limit signs and to use safe driving judgment at all times.
ecoRoute: The ecoRoute feature calculates your vehicle's fuel economy, carbon footprint, the fuel price of navigating to your destination, and offers tools for improving fuel efficiency. The first time you access the ecoRoute features, you will be asked to enter fuel and mileage information (Fuel Type, City Fuel MPG, HWY Fuel MPG, Fuel Price) about your vehicle.
Fuel Report: If you have entered your vehicle profiles and the current fuel price, the DNX6190HD calculates fuel used, the average fuel economy for your vehicle, your carbon footprint, and the cost of the fuel consumed.
ecoChallenge Tool: The ecoChallenge tool helps you maximize your fuel economy by scoring your driving habits. The higher your overall score for a driving challenge, the more fuel you could save. You overall score is the average of these 3 scores:

Speed: gain points for driving at the best speed for conserving fuel, which is 45-60mph for most vehicles.
Acceleration: gain points for gradual acceleration; lose points for rapid acceleration
Braking: gain points for gradual braking; lose points for hard braking

Mileage Report: Mileage reports provide the distance, the time, the average fuel economy, and the fuel cost of navigation to a destination. A mileage report (up to 20) is created for every route that you drive. If you stop a route on your navigation system, a mileage report is created for the distance you traveled.
Less Fuel Routes: The Less Fuel route is calculated based on speed limit and acceleration data.
Note: The data provide by the ecoRoute feature is only an estimate. The data is not actually read from your vehicle.
Tools: The DNX6190HD offers tools you can use as you travel:
World Clock: The world clock allows you to display the current time for four locations throughout the world. You can also display a map of the world showing which portions are in daylight and which are in darkness.
Calculator: The calculator allows you to perform simple arithmetic.
HD Radio + SiriusXM Ready
Built-In HD Tuner: With its built-in HD Radio tuner, you can receive digital AM/FM broadcasts from local stations where available. HD Radio significantly improves AM/FM audio quality and reception, as well as includes information such as artist name and song titles or traffic news, viewable on the receiver's display. HD Radio Technology will deliver high-quality digital sound. AM digital will have FM-like quality in stereo (70dB SN @ 40-15kHz), while FM digital will have CD-like quality (70 dB SN @ 20-20kHz) with static free and clear reception. The unit's built-in HD Radio tuner allows analog AM/FM tuning as well.
Note: HD Radio is the system for digital AM and FM broadcasting in the U.S. More than 2,000 radio stations are broadcasting their primary signals in digital HD Radio technology, as a free service. Go to HDRadio.com to check for HD Radio stations in your area.
Station Text + Album Art: AM/FM digital stations can offer text and data such as artist names and song titles. The DNX69900HD also supports Album Art from select HD Radio stations.
Multicasting: In addition to conventional broadcasts, with HD Radio broadcasting it is possible to choose from up to 3 multicast programs (HD1 to HD3, and analog).
iTunes Tagging: It is possible to save the song's information (tag) from and HD Radio broadcasting station to your USB-direct connected iPod/iPhone. The songs will show up in a playlist called "Tagged" in iTunes the next time you sync your iPod/iPhone. Then you can directly buy the songs you want from the iTunes Music Store. You can "tag" up to 50 songs.
Tuner Presets: The DNX6190HD's tuner features 3 FM banks (1, 2, 3) and 1 AM bank for storing presets. You can store 6 presets for each AM/FM bank giving you a total of 18 FM presets and 6 AM presets (total of 24).
Auto Memory Tuning: Not only does the DVD receiver's tuner allow you manually enter your desired presets you can choose to have the unit automatically put stations with good reception in the memory banks automatically; this is a handy feature when traveling.
Seek Modes: You can choose one of three seek modes: Auto 1 (seek tuning), Auto 2 (cycles through and tunes the selected band's preset stations only with each button press), or Manual. You can also setup the DNX6190HD to search only HD Radio stations.
SiriusXM Ready: The Kenwood DNX6190HD comes ready for SiriusXM programming with access to XM and Sirius Satellite Radio stations. Thanks to its proprietary SiriusXM Connect port, you can add the optional SXV200V1 SiriusXM Connect tuner and receive more than 150 channels of exclusive programming directly from SiriusXM, via the "SiriusXM All Access" package (subscription required). Visit SiriusXM.com for a complete list of subscription options and channel guide. Additional features of the SXV200 SiriusXM Connect tuner include:
Channel list displays a list of all available channels
Category Search searches for channels in a certain category
Displayed Information such as Channel Name, Channel Logo, Artist Name, & Song Title can be viewed on the head unit's LCD
Up to 24 SiriusXM Satellite Radio station presets
Supports the SiriusXM Instant Replay function, so you can pause, rewind, and replay up to 30 minutes of live content
GameAlert will display an on-screen message if your favorite teams' games are being broadcast
Song/Artist Alert notifies when your favorite songs or artists are being broadcast on any SiriusXM station
iTunes Tagging lets you 'tag' songs you hear on SiriusXM and stores the info on your iPod/iPhone (connected to your head unit via USB), so the next time you connect your iPod/iPhone to iTunes you will be able to preview your selections, purchase songs, and download them directly from iTunes
Channels containing unsuitable content for children can be blocked
Note: A separate SiriusXM Satellite Radio subscription is required (operates on the XM Network). If you already have a Sirius Satellite Radio subscription, this radio cannot be added as a discounted second unit. If you have an existing XM Satellite Radio subscription, you can add this unit as a discounted second unit.
DVD/CD Playback
Compatible Discs: The Kenwood DNX6190HD supports playback of DVD-Video, DVD-R/RW, DVD+R/RW, CD-Audio, CD-Text, CD-R/RW, DTS-CD, and VCD discs.
Note: The unit has a front-loading disc-slot to make loading your disc easier because there is no panel to slide or fold-down.
Dolby Digital/DTS: The DNX6190HD supports playback of Dolby Digital and DTS 2.0 DVD discs and will convert multi-channel Dolby Digital sources to 2-channel.
AAC/MP3/WMA Playback: This unit can play AAC (16-320 kbps), MP3 (32-320 kbps) and WMA (32-320 kbps) files recorded on CD-R/RW, DVD-R/RW, and DVD+R/W discs in ISO9660 Level 1/Level 2, Joliet, and Romeo formats. The head unit can recognize a total of 5,000 files and 250 folders per disc (a maximum of 999 filers per folder). During AAC/MP3/WMA playback, the unit displays song, artist, and album information (up to 50 characters). The unit supports ID3 Tag version 1.0, 1.1, 2.2, 2.3, and 2.4.
MPEG Playback: The unit also supports video playback of MPEG1 & MPEG2 (NTSC) video files recorded onto DVD-R/W and DVD+R/W discs.
Folder/Track List: The Folder/Track List allows you to search folders and audio/video/picture files stored on a disc.
Highlight Control: During DVD playback, you can control certain operations simply by touching an area of the screen. The touchscreen has 4 functions areas. You can touch the left of the screen to start the current chapter over, or the right of the screen to skip to the next chapter. Pressing the top center of the screen activates the DVD disc menu control buttons, while pressing the bottom center activates the source control screen.
Zoom: The DNX6190HD features a 3 level zoom when playing back video and still images.
Parental Control: Parental Control allows you to restrict DVD playback according to a predetermined level. You can select a parental control rating from 0-8, which is protected by a 4-digit password.
USB/iPod/Android
Rear-Panel USB Port: The Kenwood DNX6190HD features a rear-panel Full-Speed 2.0 USB (type-A) port attached to the unit's rear chassis by a 39" cable. The rear-panel USB port enables playback of MP3 (32-320 kbps), WMA (32-320 kbps), AAC (16-320 kbps), and WAV audio files; as well as JPEG/PNG/BMP (32 x 32 to 8192 x 7680) still-picture files stored on a USB Mass Storage Class device. The DNX6190HD also supports video playback of MPEG1, MPEG2, H.264/MPEG-4, and WMV 9 video files from a connected portable USB MSC device. The USB port is compatible with all USB mass storage class devices formatted in FAT16 or FAT32 file system. The head unit can recognize a total of 5,000 files and 250 folders per USB device (a maximum of 999 filers per folder). The unit will display any recorded song, artist, and album information stored on your connected USB device (up to 50 characters). Your USB device's rechargeable battery will be recharged while it is connected to the USB port (max. 1A) of the DNX6190HD and the unit is turned on.
Note: You cannot connect a USB device via a USB hub or Multi-Card Reader.
iPod/iPhone Connectivity: The Kenwood DNX6190HD's rear-panel USB (type-A) port and rear-panel 3.5mm AV-IN2 input allow you to connect your Apple iPod/iPhone using the Kenwood KCA-iP202 iPod cable (113KCIP202, sold separately). If you have an iPod nano (7th gen), iPod touch (5th gen), or iPhone 5; you will also need the Apple Lightning to 30-pin adapter (sold separately) in order to make connection with the Kenwood iPod cable. The unit's USB port handles the control, metadata display, and charging of your iPod/iPhone. You can navigate through your music and video files using the head unit's touchscreen controls and view song and movie info on its display, while your iPod/iPhone charges. The 3.5mm AV input handles audio and video transfer from your iPod/iPhone to the Kenwood DNX6190HD. By using the Auxiliary input, the music travels to the receiver as an analog signal, so you can even play the Digital-Rights-Protected files you've stored on your iPod/iPhone. The unit's rear-panel AV-IN2 input must be set to "iPod" in order to playback audio/video from your connected iPod/iPhone. Video can only be displayed while the vehicle is in park.
Note: The DNX6190HD does not support the standard iPod/USB dock cable that comes with your iPod/iPhone.
iPod Control: You can choose to control your connected iPod/iPhone from the head unit, from the iPod/iPhone's clickwheel or touchscreen, or from select apps streamed to your iPhone.
Head Unit Control Mode: The Kenwood head unit allows you to navigate your iPod's music library by Playlist, Artists, Album, Genre, Composer, Song, Podcast, or Audiobook. Your iPod's video library can be searched by Video Playlist, Movie, Music Video, TV Show, Video Podcast, Rented Movie, or iTunesU. You can then search each of these categories alphabetically (A-Z) using the head unit's touchscreen slider function. You can even search your iPod's music library by Album Art and create a Favorite List, which contains an original playlist of your favorite 10 albums. In addition, the head unit offers Link Search, which allows you to play songs related to the currently playing song. Link Search lets the head unit create an album list of the currently playing artist, a song list of the currently playing album, a artist list of the currently playing genre, or a album list of currently playing composer. You can also select Random & Repeat functions for a certain song or specific folder.
iPod/App Control Mode: The iPod/App control mode allows you to control stored audio/video content from your connected iPod/iPhone's clickwheel or touchscreen. This is very useful for the person riding in your passenger seat. The iPod/App mode also lets you listen to your favorite music apps, such as iHeartRadio, SiriusXM, Last.fm, Rhapsody, & Slacker streamed to your iPhone (iOS 3.0+) through the Kenwood head unit and your vehicle's speakers. You can even watch video on the Kenwood Navigation receiver's touchscreen from streaming movie apps, such as Netflix & YouTube, downloaded on your iPhone 4/4S (iOS 4.0+). The App Mode's video functions can only be accessed when the vehicle is in park and the hand-brake is fully engaged. Not all apps will be compatible with App Mode and App Mode will provide only limited (basic), if any, control over the app. Available controls may include - Play/Pause & Skip Previous/Next.
Note: Access to your iPhone's downloaded applications will depend on the availability of a cellular and/or WiFi network for purposes of allowing your iPhone to connect to the Internet.
iPod/iPhone Display: The Kenwood DNX6190HD will display your iPod/iPhone's music file information when you are controlling your iPod or iPhone from the Kenwood multimedia head unit. The head unit will display Track number, Elapsed playing time, Artist name, Song title, and Album label. The unit will also display Album Art. If you choose to operate your connected iPod/iPhone in iPod/App Control Mode, the DNX6190HD will not display your iPod/iPhone's music information (the head unit will instead display 'iPhone App Mode + Parking Off').
iPod Charging: The head unit's USB connection provides 1A of current to power and charge your connected iPod/iPhone when your vehicle's ignition switch is set to the 'ACC' or 'On' position. This unit does not charge the iPad. If your iPod/iPhone has no initial battery charge, then the unit will not recognize it.
Pandora Internet Radio Control: The Kenwood DNX6190 lets you playback and control the Pandora Internet Radio music service that is being streamed to your Apple iPhone, Android smartphone, or BlackBerry. While providing control over the Pandora music service, the DNX6190 also displays Artist name, Album Art, and Song title. You can select Pandora stations from your station list; you can sort the station list by date or alphabetically (A-Z). You can also skip song tracks within a station. In addition, you can also give songs a thumbs up/down and bookmark songs/artists.
Pandora App for iPhone: The Kenwood DNX6190 lets you playback and control Pandora Internet Radio streamed to your connected Apple iPhone, via the Kenwood KCA-iP202 USB/iPod connector cable (sold separately). To access Pandora you must have an Apple iPhone (iOS3 or later) with the latest version of the Pandora App from the Apple's iTunes App Store. Your iPhone will need an active Data Plan account with connection to the Internet via 3G, EDGE, or WiFi. You will also need a Pandora music service account.
Pandora via Android or BlackBerry: The Kenwood DNX6190 also lets you playback and control Pandora Internet Radio streamed from your Android or BlackBerry smartphone, via Bluetooth (no hard-wired connection required). Your Android or BlackBerry smartphone must have the latest version of the Pandora App from the Android Market or the BlackBerry App World. Your Android or BlackBerry smartphone must also be Bluetooth A2DP/AVRCP/SPP certified and will need an active Data Plan account with connection to the Internet via 3G, EDGE, or WiFi. In addition, you will need an active Pandora music service account.
Note: Access to the Pandora service will depend on the availability of a cellular and/or WiFi network for purposes of allowing your iPhone or smartphone to connect to the Internet. Pandora is not supported in Canada and only available in the United States.
iPod/iPhone Compatibility Chart: The Kenwood DNX6190HD is "Made for iPod/iPhone" compatible and supports the following iPod/iPhone model features when used with the required Kenwood KCA-iP202 iPod cable (as of 9/26/2012):
iPod/iPhone
Generation
Tested Version
Media Type
Control Type
Display Type
Pandora App
iTunes Tagging
Charge
Audio
Video
Head Unit
iPod/iPhone
App Mode
Song/Artist Text
Track Info
Album Art
dock connector
3rd
N/A
N
N
N
N
N
N
N
N
N
N
N
clickwheel
color
4th
N/A
N
N
N
N
N
N
N
N
N
N
N
mini
1st
N/A
N
N
N
N
N
N
N
N
N
N
N
2nd
N/A
N
N
N
N
N
N
N
N
N
N
N
video
5th
1.3
Y
Y
Y
N
N
Y
Y
Y
N
N
Y
classic
80GB
1.1.2
Y
Y
Y
Y
N
Y
Y
Y
N
Y
Y
120GB
2.0.1
Y
Y
Y
Y
N
Y
Y
Y
N
Y
Y
160GB
2.0.4
Y
Y
Y
Y
N
Y
Y
Y
N
Y
Y
nano
1st
1.3.1
Y
N
Y
N
N
Y
Y
Y
N
N
Y
2nd
1.1.3
Y
N
Y
Y
N
Y
Y
Y
N
N
Y
3rd
1.1.3
Y
Y
Y
Y
N
Y
Y
Y
N
Y
Y
4th
1.0.4
Y
Y
Y
Y
N
Y
Y
Y
N
Y
Y
5th
1.0.2
Y
Y
Y
Y
N
Y
Y
Y
N
Y
Y
6th
1.1 PC
Y
N
Y
Y
N
Y
Y
Y
N
Y
Y
7th*
1.01 PC
Y
N
Y
Y
N
Y
Y
Y
N
Y
Y
touch
1st
2.2.1
Y
Y
Y
Y
N
Y
Y
Y
N
Y
Y
2nd
4.2.1
Y
Y
Y
Y
N
Y
Y
Y
N
Y
Y
3rd
5.1.1
Y
Y
Y
Y
N
Y
Y
Y
N
Y
Y
4th
6.0
Y
Y
Y
Y
N
Y
Y
Y
N
Y
Y
5th*
6.0
Y
N
Y
Y
N
Y
Y
Y
N
Y
Y
iPhone
2G
3.1.3
Y
Y
Y
Y
Audio only
Y
Y
Y
Y
Y
Y
3G
4.2.1
Y
Y
Y
Y
Audio only
Y
Y
Y
Y
Y
Y
3GS
5.1.1
Y
Y
Y
Y
Audio only
Y
Y
Y
Y
Y
Y
4
6.0
Y
Y
Y
Y
Audio/Video
Y
Y
Y
Y
Y
Y
4S
6.0
Y
Y
Y
Y
Audio/Video
Y
Y
Y
Y
Y
Y
5*
6.0
Y
N
Y
Y
Audio only
Y
Y
Y
Y
Y
Y
iPad
1
5.1.1
Y
Y
Y
Y
Audio/Video
Y
Y
Y
Y
Y
N
2
6.0
Y
Y
Y
Y
Audio/Video
Y
Y
Y
Y
Y
N
3
6.0
Y
Y
Y
Y
Audio/Video
Y
Y
Y
Y
Y
N
Notes:

*The iPod nano (7th gen), iPod touch (5th gen), and iPhone 5 will require both the Kenwood KCA-iP202 iPod cable and the Apple Lightning to 30-pin adapter (sold separately).
Apple iPod/iPhone software updates may change functionality results. If you download a newer software version, you may need to reset the head unit and your iPod/iPhone to regain functionality. If this doesn't work, you may need to wait until a newer software update is available.
Firmware Updates (via USB): The unit's operating system is updateable via free downloadable software from Kenwood's support site. Firmware downloads assist in maintaining system performance when using external devices and emerging technologies. Firmware/software updates can be downloaded onto a USB thumbdrive from your computer and then inserted into the head unit's USB port and uploaded. Latest firmware updates are available at Kenwood's 2012 Navigation/Multimedia Receiver Firmware Updater.
Built-in Bluetooth
Bluetooth Technology (powered by Parrot): The Kenwood DNX6190HD features built-in 2.4GHz Bluetooth technology (version 2.1) powered by Parrot. The Kenwood DNX6190HD's built-in Bluetooth technology promotes safe driving habits by allowing you to have a hands-free conversation while driving, without the need to hold a phone to your ear. Your Bluetooth enabled phone can be kept in your purse, pocket, or glovebox - while you communicate through the Kenwood navigation-multimedia receiver. The head unit also support Bluetooth audio streaming and wireless Pandora Internet Radio control (via Android or BlackBerry).
Bluetooth Profiles: In order to use Bluetooth wireless technology, your phone must also be Bluetooth compatible and be able to interpret certain profiles. The DNX6190HD is compatible with the following Bluetooth Profiles:
Hands-Free Communication: HFP (Hands Free Profile), OPP (Object Push Profile), PBAB (Phone Book Access Profile), SYNC (Synchronization Profile).
Audio Streaming: A2DP (Advanced Audio Distribution Profile), AVRCP (Audio/Video Remote Control Profile).
Pandora Control (via Android or BlackBery): SPP (Serial Port Profile)
Pairing: Your Bluetooth enabled mobile phone must be paired with the DNX6190HD before hands-free operation. You can register up to five Bluetooth enabled cell-phones with the Kenwood head unit (only one paired phone can be used at a time). Due to the differences in Bluetooth technology, some Bluetooth enabled devices may be incompatible, function improperly, or may not support all features when used with the Kenwood DNX6190HD. Visit http://www.kenwood.com/cs/ce/bt/index.php for a complete list of compatible Bluetooth enabled phones.
External Microphone: The Kenwood DNX6190HD includes an external microphone to carry on your side of your phone conversation and voice command dialing. The external wired microphone offers improved audio quality versus an integrated microphone, so you can be heard easier over noisy traffic and road noise. The external microphone features an attached 10' cable terminated by a right-angle 3.5mm connector which plugs into the mic input on the rear-panel of the head unit. The microphone offers an integrated mounting bracket which can be clipped to your vehicle's sun-visor or taped to your dash. The external microphone measures 0.525" (diameter) x 1.485" (depth). This unit does not offer an integrated front-panel microphone.
Bluetooth Hands-Free Communication: The head unit supports Bluetooth hands-free communication for your Bluetooth enabled mobile phone. The controls of the DNX6190HD can be used to dial a number, answer an in-coming call, or end a call. The unit also features an external microphone (featuring adjustable gain), so you can carry on your side of the conversation while listening to the caller through your vehicles speakers. During a conversation, you can switch between the Private Mode (talking directly on your cell phone) and the Hands Free Mode.
Answering a Call: When a call comes in, a ring-tone will be heard through your vehicle's speaker and the caller's name or phone number will be displayed. You can answer the call from the head unit's front-panel controls, or setup the head unit to automatically answer the incoming call immediately or after 1-99 seconds. Your compatible cell-phone must also support this feature.
Dialing a Number: Using the DNX6190HD, you can dial a phone number in one of the following ways:

Entering a Phone Number: Allows you to directly dial a phone number up to 32 digits from the head unit's touchscreen. The vehicle's parking brake must be engaged to directly dial a number.
Speed (Preset) Dialing: Allows you to register up to 6 phone numbers for quick dialing. The preset numbers can be accessed from the head unit's touchscreen.
Phone Book: You can dial by using the downloaded phone book. You can download phone book data from your cell phone to the DNX6190HD. Up to 600 numbers can be stored for each registered cell phone. Each number can be up to 32 digits long and each name can be up to 50 characters long. You can sort your Phonebook alphabetically (A-Z) by the contact's name.
Call Log: The Call Log is a list of calls that have originated from and were received by this unit that you can dial. You can select Outgoing, Incoming, or Missed calls.
Voice Dialing: If your mobile phone supports voice recognition, then you can dial out by voice command. Simply speak into the included microphone.
POI Dialing: From the navigation unit's POI search menu, you can select on a specific point-of-interest, and if it includes a phone #, you can dial the number simply by pressing the "Call" icon on the head unit's touchscreen.

Note: While your vehicle is moving, some Bluetooth hands-free communication functions are disable for safety reasons. The keys associated with the disabled functions become ineffective if touched. To access the function, the vehicle must be in Park with the parking brake engaged.
SMS (Short Message Service): You can wirelessly download a SMS arrived at your cell-phone so that it can be read on the Bluetooth connected Kenwood head unit. Up to 149 already read and unread short messages can be downloaded. You can reply to a SMS by using the head unit's touscheen to enter alphanumeric text. There is a limited amount of text that can be downloaded or entered. Your cell-phone must support SMS via Bluetooth for this feature to function. Do not read incoming SMS or reply to SMS while driving.
Wireless Audio Streaming: The Kenwood DNX6190HD also supports wireless audio playback (AD2P) and control (AVRCP) of a Bluetooth enabled audio player or smartphone. The DNX6190HD will be able to control basic playback functions of your Bluetooth device's stored music; such as Play/Pause, Next/Previous Track, Fast Forward/Rewind, and Random/Repeat. The head unit will also display your stored music's song information; such as Artist name and Song/Album title. The DNX6190HD also supports audio streaming of music apps (such as iHeartRadio, SiriusXM, Last.fm, Rhapsody, & Slacker), but without control or metadata. You will continue to use your Bluetooth enabled smartphone to view and control streaming music apps. When an incoming call or outgoing call is in progress from your Bluetooth enabled mobile phone, audio streaming will be paused so you can take your call. Once the call is finished, your streaming music will resume.
Note: The iPhone 5 only offers Bluetooth audio streaming without control or metadata display.
Pandora Control (via Android or BlackBerry): The DNX6190HD also lets you playback and control Pandora Internet Radio streamed from your Android or BlackBerry smartphone, via Bluetooth (no hard-wired connection required). While providing control over the Pandora music service, the Kenwood navigation head unit also displays Artist, Album, and Song information. You can select Pandora stations from your station list; you can sort the station list by date or alphabetically (A-Z). You can also skip song tracks within a station. In addition, you can also give songs a thumbs up/down and bookmark songs/artists. You must select Pandora (wireless) as your source and not Bluetooth Audio for this function to work.
Note: Your Android or BlackBerry smartphone must have the latest version of the Pandora App from the Android Market or the BlackBerry App World. Your Android or BlackBerry smartphone must also be Bluetooth A2DP/AVRCP/SPP certified and will need an active Data Plan account with connection to the Internet via 3G, EDGE, or WiFi. In addition, you will need an active Pandora music service account. Pandora is not supported in Canada and only available in the United States.
Bluetooth Detailed Settings: The DNX6190HD offers the following Bluetooth Detailed Settings, so you can configure the unit to suit your needs.
Call Beep: You can choose to output a beep from your vehicle's speaker's when a call comes in, or you can turn this function off.
Speaker Output: You can select whether the call beep/caller's voice and streaming audio is heard through only the front speakers or all speakers.
Mic Level: Adjusts the volume of the external microphone.
NR Level: Reduces the noises generated by the surrounding environment without changing the mic volume.
EC Level: Adjusts the level of echo cancellation.
Audio Section
24 Bit D/A Converter: The Kenwood DNX6190HD utilizes a 24-bit digital to analog converter for superior CD sound quality.
MOSFET Amplifier: The Kenwood DNX6190HD is equipped with a MOSFET amplifier. Compared to conventional power supplies, the MOSFET amplification circuit is smaller and more efficient, and it delivers increased power with less distortion and absolutely zero on/off switching noise. More power means louder and cleaner music at higher volumes because you're not pushing the limits of the amplification circuit. The power output specs for the DNX6190HD are as follows:
Full Bandwidth Power: 22 watts RMS x 4 channels (at 4 ohms, 20-20kHz, 1% THD)
Maximum Output Power: 50 watts x 4 channels
6ch/2V Preamp Outputs: The DNX6190HD features front, rear and subwoofer 2.0-volt preamp outputs. The front and rear speaker preamp outputs are balance and fade adjustable. The subwoofer preamp output is non-fading. The front, rear, and subwoofer preamp outputs are fixed to the rear chassis of the head unit.
Front & Rear High-Pass Filter: The DNX6190HD features an independent High-Pass Crossover for the front & rear channels when your front & rear speakers are connected by the unit's speaker-outputs or preamp-outputs. You can adjust the high-pass crossover from 'Through' (off), 40, 60, 80, 100, 120, 150, 180, or 220 Hz. The "Through" selection is a full-range setting. This feature is very helpful when you have smaller-type speakers in the front and larger-type speakers installed in the rear of the vehicle.
Subwoofer Controls: The Kenwood DNX6190HD offers the following subwoofer controls, when you have the unit's subwoofer preamp output activated.
Low Pass Filter: The receiver features a built-in Low Pass Filter control for the preamp-output, when the output is set to Subwoofer. You can select from 50, 60, 80, Hz, 100 Hz, 120 Hz, or 'Through' (off).
Subwoofer Phase: You can adjust the phase of the subwoofer output between 180-degrees (Reverse) or 0-degrees (Normal).
Subwoofer Level: Once the Subwoofer preamp output is activated, you can independently control the subwoofer preamp output level (-50 to +10) from the DVD receiver.
Speaker Type Setting: This feature tailors the DNX6190HD according to the type of front speakers in your vehicle. You may select Standard (for speakers with a general diameter), Narrow (for speakers with a small diameter), Middle (for speakers with a medium diameter), or Wide (for speakers with a large diameter).
Preset EQ: Eight EQ curves are preset into memory, allowing you to recall the best preset EQ curve for different types of music. Each preset has its own level settings for bass (100Hz), midrange (1kHz), and treble (10kHz). You can choose from the following preset EQ curves - Rock, Pops, Easy, Top 40, Jazz, Natural, Flat, and User.
EQ Pro: The DNX6190HD features independent Bass, Treble, and Midrange control when the Preset EQ is in User mode. EQ Pro allows you to adjust the following settings for the Bass, Treble and Mid frequency levels.
EQ Pro
Center Frequency
Q-Factor
Bass Extension
Level
Bass
40, 50, 60, 70, 80, 100, 120, or 150 Hz
1.00, 1.25, 1.50, or 2.00
On/Off
-8 to +8
Midrange
0.5k, 1.0k, 1.5k, or 2.0k Hz
1.00 or 2.00
N/A
Treble
10.0k, 12.5k, 15.0k, or 17.5k Hz
N/A
N/A
Loudness: This function enhances low and high frequencies to make the sound clearer lower volumes. There are 3 levels (LV1, LV2, or Off).
Source Tone Memory: This feature allows you to store System Q bass, middle and treble tone settings for each source (Disc, AM/FM, AV-IN1/2, USB, iPod, Bluetooth Audio, and Pandora).
Volume Offset: The level of each source may be independently adjusted to prevent radical leaps in output volume when switching from one source to another. The available settings range from -8 to 0 (-8 to +8 for Aux source).
Dynamic Range: The dynamic range can be adjusted by selecting either Normal, Wide or Dialog. Dialog makes the total sound volume become larger as compared with Wide and Normal, allowing you to listen to the movie's dialogue more clearly. This is effective only on Dolby Digital software.
Tel Mute: The DNX6190HD features a cell-phone mute wire (tan) in its harness that when hooked up to your car's phone system mute wire will automatically mute the receiver's audio signal when a call comes in.
Key Beep: The in-dash multimedia head unit provides an audible beep to confirm button operation. This function can be turned On or Off.
AV Connection
Dual A/V Inputs: The unit features two rear-panel 3.5mm AV inputs for connecting external A/V sources. The optional Kenwood AV cable (113CAC3AV, sold separately) provides composite video/stereo RCA audio inputs. You can label each AV Input.
AV1 Input Label: Video1, DVD, VCD, VCR, Game, Aux, TV, or Navigation.
AV2 Input Label: iPod, Video2, DVD, VCD, VCR, Game, Aux, TV, or Navigation.
A/V Output (with Dual Zone): The unit features a set of stereo RCA jacks and a composite video jack to output A/V signals to an optional monitor and headphone system. The unit's A/V output can be set to Disc, Video, iPod, or Off. You can adjust the volume of the 2nd Zone independently from 0 to 35. You can select between a 16:9, 4:3 LB, or 4:3 PS Aspect Ratio for the unit's video output to match your connected monitor. You cannot select iPod as the A/V Output source when you select Pandora as a main source in dual zone function.
Camera Input: The unit features a composite video input for connecting an optional rear view camera, such as the Kenwood CMOS-200 (113CMOS200, sold separately). The video from this connection can be set to display when switched to this input, or display the rear view camera video automatically when the vehicle is shifted into Reverse gear. The purple/white wire (in 22-pin harness) must be connected to the vehicle's reverse lamp circuit for automatic video switching. Automatic video switching takes approximately 1.5 seconds. You can manually set the touchscreen to display both the navigation map and back-up camera at the same time, when backing up. Audio from your music source will continue playing, while the back-up camera is displayed.
Optional Remote Control
Optional IR Remote: The optional Kenwood IR remote control (113RCDV331, sold separately) provides wireless operation over the Kenwood navigation head unit. The wireless remote controller operates off of two supplied "AAA" batteries. The remote operates off of IR transmission, so the KNA-RCDV331 must be pointed at the front-panel of the Kenwood head unit within direct line of sight. The functions operated from the remote controller differ depending on the position of the mode switch located on the right side of the KNA-RCDV331. You can select from Audio, DVD, TV (not used), or Navigation mode.
Audio: The Audio mode of the remote controller allows you to operate functions; such as Source switching, Volume, Dual Zone, HD Radio tuning, Bluetooth Audio, and iPod/USB playback.
DVD: The DVD mode of the remote controller allows you to operate functions such as CD/DVD playback and file/track/folder searches.
TV: TV mode is not used.
Navigation: Navigation mode allows you to operate the unit's built-in navigation functions.
OEM Integration
Steering Wheel Remote Compatibility: The head unit features an OEM steering wheel remote control input wire (blue/yellow) within the included wiring harness that lets you keep your vehicle's factory radio steering wheel remote controls when used with an optional steering wheel audio control adapter (sold separately). Please consult Crutchfield's Outfit My Car to see if your vehicle is compatible.
Ford SYNC Compatible:
2012 Kenwood navigation head units are compatible with a web programmable module due from Automotive Data Solutions (ADS) that will permit the aftermarket Kenwood navigation head unit to work with select Ford, Lincoln, and Mercury vehicles that feature the factory SYNC system. This ADS iDatalink Maestro module (sold separately...coming soon) lets Ford owners swap out their factory radio for a 2012 Kenwood navigation head unit; while retaining the OEM Sync voice control, steering wheel controls, hands-free Bluetooth, USB interface, Satellite Radio, and 911 assist. They can also keep the hands-free mic that comes with the car (which is specially tuned to that particular vehicle). The iDatalink Maestro module must first be connected to your computer via USB and programmed, before connection between your Ford vehicle and the Kenwood navigation head unit. The Kenwood navigation head unit also features an OEM Setup menu that must be configured before operation.
Our Product Research Team
At Crutchfield, you'll get detailed, accurate information that's hard to find elsewhere. That's because we have our own in-house Product Research team. They verify what's in the box, check the owner's manual, and record dimensions, features and specs. We stay on top of new products and technologies to help people make informed choices.
Customer Q&A
1 question already asked
The navigation information is actually stored in the memory of the unit. Garmin/NAVTEQ Navigation: With built-in Garmin navigation software and NAVTEQ map data (CN North America NT 2012.20), the Kenwood DNX6190HD features on-screen maps of the United States, Canada and Puerto Rico - which includes over 6 million Points of Interest. You can follow calculated on-screen routes to your destination using the head unit's built-in navigation software. Software/Map Data Updates: When the preloaded maps are considered out of date, the DNX6190HD will provide periodic notification at startup. Garmin software and map updates can be downloaded as required, via a USB thumbdrive. To find a software or map update, please go to www.garmin.com/kenwood. [ Jeff Feb 04, 2014 ]

Staff