Kenwood Excelon DNX9960
Navigation receiver (New Stock)
Item #: 113DNX9960
This item is no longer available.
Original Price: $1,449.99
Shop all In-dash GPS Navigation

Need help?
Does it fit my car?
Select your car

The Kenwood Excelon DNX9960 navigation receiver sports a built-in Garmin navigation system that features 3-D views of buildings in many metropolitan areas, along with a VGA screen boasting brightness and detail that's steps ahead of lesser models.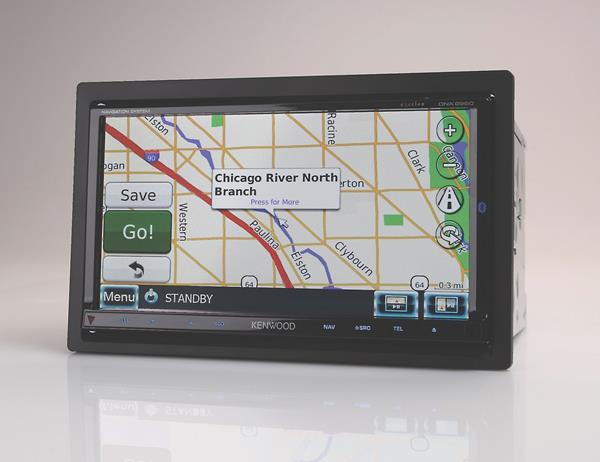 ---
Built-in Garmin navigation with NAVTEQ Traffic
You can expect lightning-fast operation and superior guidance from the receiver's Garmin navigation system, and the built-in NAVTEQ traffic receiver routes you around congestion when you're driving through metropolitan areas. You can tap into millions of points of interest when looking for services and attractions, so you'll have plenty of information at your fingertips, wherever your travels take you.
Music and video options
The USB input and two audio/video inputs give you the connections you need to add other audio sources, game consoles, or thumb drives. Load a CD or DVD with your MP3, WMA, or AAC files, and you'll have a nearly endless supply of fresh driving music. If you add an optional cable, you'll be able to connect your iPod® or iPhone® with convenient control from the touchscreen. You'll find a rear-view camera input for added safety when you're maneuvering in tight spots, and you can use the audio/video output to add video monitors for the rear seats.
---
Superior sound
Kenwood's 24-bit digital-to-analog converter sends a crisp, clear audio signal to your speakers, and you can use the 5-band EQ and an extensive selection of digital signal processing tools to dial in the right sound for your vehicle. The DNX9960 also includes 5.1-channel decoding and a full set of 5.1 preamp outputs, a feature you'll rarely find on other DVD receivers.
Voice commands
Kenwood's advanced voice command feature lets you control some receiver functions just by speaking, so you can keep your eyes on the road. You can get directions, find a song on your iPod, switch sources, and much more, all without taking your hands off the wheel. An included external microphone ensures your commands are heard loud and clear.
Bluetooth for convenience and safety

Parrot, a leader in Bluetooth technology, has teamed up with Kenwood to bring you hands-free calling in the DNX9960. When a call comes in to your compatible phone, your music mutes and caller ID info shows up on the screen. With a tap of your finger, you'll hear your caller over your vehicle's speakers. You'll talk through the included visor-mount microphone, as you keep your attention on your driving. And as an added bonus, you can stream music from any compatible Bluetooth device.
---
Add on and enjoy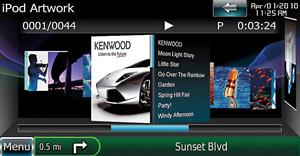 Employ Kenwood's optional iPod adapter to optimize your iPod experience with video and album art. Add a Kenwood satellite radio tuner to tap into the huge variety of entertainment, sports, news, and commercial-free music from SIRIUS|XM. With Kenwood's optional HD Radio™ tuner, you'll get the enhanced digital sound quality and additional programming offered by participating AM and FM stations.
Want to keep your car's steering wheel audio controls?
In most vehicles, you can use this adapter to connect your vehicle's steering wheel controls to this Kenwood stereo. Connect a few wires, then program the adapter for your particular car and the Kenwood, and you'll retain the convenience of your steering wheel controls.
---
Note: Bluetooth compatibility of this device may vary, depending on your phone and service provider.
Note: If you're going to use your iPod with this receiver, be sure to check Hands-on Research for specific iPod model compatibility with this receiver or its optional iPod adapter.
Product Highlights:
General features:
in-dash DVD/CD player with internal amplifier (22 watts RMS/50 peak x 4 channels)
6.95" touchscreen with highly legible VGA display and three selectable GUI
built-in NAVTEQ Traffic
voice control
built-in Bluetooth by Parrot
fits double-DIN (4" tall) dash openings
built-in memory for navigation with maps of Canada, USA, and Puerto Rico
advanced AVN5 chipset for fast GPS processing
Audio/visual features:
built-in 5.1 channel decoding
plays DVD, DVD-R/-RW, DVD+R/+RW, CD, CD-R/RW, and MP3/WMA/AAC files on disc
plays JPEGs on CD, DVD, or USB
13-band EQ and digital signal processing
Expandability:
works with Kenwood iPod adapter, HD Radio™ tuner, and satellite radio
inputs: USB input, 2 A/V inputs, rear-view camera input
outputs: A/V output; 5.1-channel preamp outputs (front, rear, center, and mono subwoofer)
Other information:
compatible with most factory steering wheel audio controls (adapter required)
warranty: 2 years
Why install a car stereo with built-in GPS?
Imagine taking a trip as your car's receiver gives you directions, finds the best restaurant for dinner, and plays movies for your back seat denizens. Navigation receivers cover all the bases, with GPS guidance, DVD playback, and a host of other useful features. You can search through millions of points of interest to locate gas stations, restaurants, museums, and other interesting spots, wherever you are. Most receivers offer Bluetooth capability for hands-free calling, along with the ability to search through your iPod playlists with touchscreen controls.
Kenwood Excelon DNX9960 Reviews
Average Customer Review:
25 Reviews
---
Written by: Jon from Houston, TX on April 12, 2012
Crutchfield Customer Review
(
What's this?
)
I have had this model for over a year now, and I feel like I should write a review to benefit everyone else out there that is looking to buy one of these Kenwood GPS head units. I have had 2 models so far, the DNX8120, and this one, the DNX9960. First of all these head units have just about every feature you could want, and that's what drew me to buy the 8120 (after that was stolen, I got the 9960). The 8120 was actually a pretty good unit, but the 9960 did not match.

Pros (below)

Cons (poor execution) - Extremely slow iPod control takes forever to change songs or scroll through your library, all while driving - System freezes and/or crashes the iPod every few days - Cover flow feature tops out at about 150-200 albums, the rest don't show up - Voice control to control Kenwood functions and menus never knows what you're talking about- eg "Metallica" brings up Celine Dion - Touch screen not precise- if you don't use a fingernail for selection, it doesn't know what you're clicking on - Navigation button on my remote doesn't function - Online update procedure/instructions archaic and hardly worth having. If you have the previous year's model, good luck. - Dimmed screen still bright as 1000 suns (this problem didn't exist on the 8120) - Using my cell phone (samsung) on bluetooth, the caller comes in too quiet, so I can't hear them - Cell phone contact numbers garbled to different ones - Traffic on navigation frequently wrong but yells "Traffic ahead!" anyway

Pros: - Lots of features - Voice control for Garmin navigation works well - Updated GUI

Cons: - Poor execution of features - Chintzy product developmen/support, seems like Kenwood is rushing to get these out each year while adding features, but making the bare minimum of effort to try and integrate them and fix previous year's issues - Really expensive
Big Price, Lots of Features, Many Not Quite Ready
Written by: Reverie from Marietta, GA on March 6, 2012
Good GPS, Great Display, Inconsistent Touch Sensitivity, Maddening Controls. This unit produces great sound from a lot of sources. I use an iPod and XM and output the sound through an Alpine 5 Channel Amp. The sound can be custom tuned by source. The voice control is sort of clunky and I've seen it better implemented. This unit originally allowed continuous up and down volume control but for some reason they took that away during a software upgrade. There is no simple way to tune the radio BUT once you add a preset you can jump around between those pretty quickly. The GPS is as good as it gets BUT Garmin and Kenwood do not allow you to use lifetime maps, so upgrades are on your dime. The XM Interface is nice but a word of caution, finding the XM unit to fit this is next to impossible and quite expensive. The button provided for turning on the Voice Recognition is very cheap and has fallen apart three times in a year. Honestly, it isn't like I'm whacking it with a hammer. The phone interface is a bit limited. I'd like more phone number shortcuts (it includes two). I would like to be able to turn off or limit the noise cancellation. My phone already has it, and when I talk to someone else with NC it clips everything. I love Kenwood quality overall and the sound can't be beat. This unit provides a lot for the money but it feels like it is one generation too soon for about half the features. My wife hates dealing with it because the lack of buttons confuses her.

Pros: Great Sound. Great GPS. Bright, detailed display. Impressive array of features and configuration.

Cons: Difficult to navigate. You cannot purchase a lifetime Maps feature through either Kenwood or Garmin. The XM device is out of production and finding it is expensive and difficult. Kenwood expresses no desire to manufacture those anymore and are indifferent. Sound Controls are difficult, particularly the volume control. Phone sound quality is diminished by the Noise Cancellation. The provided bezel keeps binding and popping off.
Not as developed as the DNX9980HD
Written by: DavidD77 from Richardson, TX on November 29, 2011
Crutchfield Customer Review
(
What's this?
)
I have a DNX9980HD in my RV but for my wife's car I decided I did not need the HD radio so I got the DNX9960 instead to save money. BIG MISTAKE. These are two totally different units. The menus, speed, compatibility with iPhone, and overall operation os the 9960 is poor compared to the 9980HD. I upgraded the firmware from V1.5.0 to V1.6.0 and the menus were improved but the iPhone address book still does not work. The extra $350 for the DNX9980HD is well worth the money at this level. This thing is going back and I am getting another DNX9980HD.

Pros: Garmin GPS, Sirius Compatible, Good screen resolution

Cons: Not compbatible with iPhone4, Horrible volume control, Slow menus, Poor iPod navigation, Menus organization is weird, Lock-ups (Upgrage from V1.5.0 to V1.6.0 fixed this)
Written by: Aaron from Fort Lee, VA on November 2, 2011
2007 Ford F-150
Crutchfield Customer Review
(
What's this?
)
I got my unit from the outlet store for 795.00. At that price I had to go for it and see what the top of the line Kenwood had to offer. I must say I am impressed with the unit. It has all the features and more I wanted. It was very simple to install in my 2007 F150. The only down side is at first glance the menu controls are intimidating but after a few minutes of playing around it becomes very easy. The Nav is spot on. I did connect the Sirius xm tuner and it works like a charm along with the IPOD. After one long night of testing I will give this 4 1/2 stars.. Nothing is perfect.. Hint for all F150 guys you can use your factory Sirius XM antenna with this unit and any other just remove the plastic around the connector, really, really, really easy it pops off.

Pros: Very nice display, controls

Cons:
Written by: JeffH from Myrtle Beach SC on May 12, 2011
2007 Chevrolet Corvette
This is a great upgrade to Corvette C6. Works as advertised. Did the install
myself, here is what went into it:

Kenwood DNX9960
Metra GMOS-04
Metra ASWC
Kenwood SiriusConnect SC-C1

According to the forums it is a difficult task to get an aftermarket radio to work in
the Corvette with the Bose Premium system but it can be done if you are
persistent. Complaints have been distortion, onstar shutting the radio down,
steering wheel control not working etc. and then the annoying popups in the
Nav from the free traffic software.

I have all this working including muting the unit when onstar is active (not
shutting the radio down), the steering wheel buttons work, there is no distortion
and the whole system sounds great. Plus, no annoying popups.

I will be sending Crutchfield all the info I have on how to do this as they have
been very helpful but down not have solutions to all of those issues.

I bought the unit refurbished to save some money and am glad I did. Its very
impressive and has the power with the factory Bose amp to blow the doors of if
I wanted to.

Pros:

Cons:
Written by: John from South Philadelphia, PA on March 14, 2011
Coming from a Pioneer AVIC Z3...This head unit,by far is thee best out there..It's has everything the Pioneer doesn't... Multi-zone operations at it's finest! Sure,it has it's flaws...But nothing is perfect and the great always out weighs the bad in this unit!..

Pros:
Free Lifetime subscription for traffic..
Lane Assist...
5.1 Surround 5v pre outs...
Bluetooth with SMS read out..
Dual Multi-Zone settings...
Too many options too list.

Cons:
UI is a bit laggy..
Annoying pop ups in the Navigation Section..

Other than that,there's no more complaints!!

Pros:

Cons:
Written by: Paul from Illinois on February 7, 2011
Crutchfield Customer Review
(
What's this?
)
For the most part I am happy, there are a few things that do occur that I am not happy with but overall better than what I had. The volume control is very annoying as you have to tap the up or down to change volume, you cannot just hold it. I do have intermittent source changes as well, can't figure out why.

GPS is great and have had no issues with it. Again, overall I am happy with this unit.

Pros:

Cons:
Written by: AymanF from Reston, VA on January 5, 2011
After buying a 2010 Nissan Altima, I spent a month researching in-dash navi systems, and finally decided on this one. I also got the HD module and a CMOS300 rear view camera. Installation was fairly easy. Here are my 2 cents:

The good:
-Clear hi-res screen and an amazing 5.1 audio when playing DVDs. Had a bodyguardz protector installed on, which improved the touch response
-Great ipod interface, it will also show arabic text properly
-high power crisp and clear audio. Enabling the SRS WOW produces sub-woofer-quality bass without a sub-woofer
-Reverse tilt on the screen is great for passengers sitting in the back
-Fairly accurate voice command feature
-CMOS300 camera integrates seamlessly, and can be controlled right from the screen
-Love the blutooth setup. Nice phone GUI showing phonebook, call history, and other features
-Nice to have the free life-time traffic on the Garmin

The bad:
-The unit takes about a second to execute after touching the screen

Pros:

Cons:
Written by: Beached Bum from Medford, OR on November 30, 2010
Crutchfield Customer Review
(
What's this?
)
I rated this as a 4 because I have had it only for a couple of weeks. I recently replaced my new Pioneer AVIC-Z120BT with this Kenwood because the Pioneer was very buggy and almost useless. Thanks for everyone else's reviews, I immediately downloaded the latest updates. This is a much better product than the Pioneer.
Garmin GPS is the way to go. In fact this Garmin GPS is much faster than my portable Garmin NUVI 855 and provides all the same excellent features and ease of use.
The UI is more usable and intuitive for the Tuner, Satellite and iPod and touch screen is not overly sensitive.
I've only had this unit for a couple of weeks and it outshines the Pioneer by far. I plan to
add to this review once I have had more experience with it.

Pros:

Cons:
Momentary relief that will cost you
Written by: jdogsupreme from Seatte, WA on October 26, 2010
I have had my dnx9960 since it first came out. I have to say I had high hopes for the unit given the price, and by high hopes I mean performance that wasn't too different from my iphone. Well, I was pretty disappointed by the sluggishness of the UI. At times the UI is super frustrating like when it decides that the ipod is disconnected and it needs to reindex everything for 20 minutes.

Then there is the continually rebooting garmin nav which also slow as can be. Rebooting coupled with slow is a lovely mixture to be sure. And don't even get me started about the lack of sensitivity of the touch screen...

Well today I had the GPS get chronically confused about my orientation and route selection which given I was late for a meeting upset me something fierce.

So I punched the screen and shattered the LCD. And I can tell you for a brief moment or two I felt just like that scene in office space where Michael destroys the printer.

Well now I am sending it off to be fixed which will cost maybe 300$s.

At any rate - my message to you is that while the unit does do what it says it will the experience is sluggish enough to make a pretty easy going guy take a swing at it.

Enjoy! :-)

Pros:

Cons:
Written by: hg from Livonia, MI on October 26, 2010
Compared to other units of similar characteristics, it is top notch. However, it seems there was a deadline to keep so the last minute details and bugs were not worked out at Kenwood.

Unfinished Details:
1. Should be able to hold down buttons to continue direction up or down, instead you must keep pressing. (Most annoying and inconvenient)
2. To many menus, I do like all the adjustments but not sure how this could be avoided. Maybe a better hierarchy?

Bugs:
1.So called 'hard buttons' often fire just by being close and not actually touching them, too sensitive for lack of a better term.
2. Touch screen not so consistent. Sometimes, I must puch twice, could be my dry fingers, don't really know but if I wet tip of finger slightly, (now, now) it works better. I use a touch screen pen from an old device. Works great and gives me reach. Should be included, they're pretty cheap.

Overall, it is good solid unit with some software issues. As far as utility vs. cost, not so good. I can't seem to justify the 3 - $400 more compared to identical units. Only thing I can attribute that is to the nature of all new electronics. After a year or so, the price may be in line with the value-added of the unit.

If you've got the disposable income, it is top of the line, go for it, all units have their issues, this is no exception.

(Side bar- Could use a plastic cover that lightly snaps over screen/unit when not in use. Less conspicuous to theives.)

Pros:

Cons:
Written by: barron from sammamish washington on October 18, 2010
there is a firmware update that fixes all the glitches and is available on the kenwood site. its easy to install using a usb drive.

Pros:

Cons:
Written by: Derek from Green Bay, WI on October 17, 2010
Crutchfield Customer Review
(
What's this?
)
I bought the DNX9960 refurbished for almost half off the new price. I've been very pleased with this unit. I was well aware of the problems other owners have had with this product. The only problem I have had so far is that it reset itself around the 5th time I turned it on. All I had to do was install firmware version 1.1 and it never reset again since. I've owned it for about 3 weeks now. There are so many options on it to customize it for you. The audio options are great. The bluetooth and nav both are sweet. I think this is awesome. I have a 2006 GMC Envoy and it fits perfect in there (after cutting out the plastic frame behind the unit). But, the point is it looks great, works great. I love this thing.

One note on the refurbished version: it looked brand new. There was no scratches or any noticeable use of the unit at all. It came with all the manuals, cords, etc. As far as I can tell, it's just like a brand new unit, except much cheaper. Crutchfield was also there when I had questions too, but I've come to expect nothing less from them. They've always been great to me.


Pros:

Cons:
Great with the latest firmware
Written by: SpencerW from Houston, TX on October 14, 2010
2010 Smart fortwo
Crutchfield Customer Review
(
What's this?
)
I installed this unit into my 2010 Smart Passion coupe. I've read some of the complaints
about lockups and glitches, but after the latest Kenwood and Garmin updates it works
great! I love the granularity of the audio settings and the flexibility of inputs and extras.
The HD Radio add-on is a must!!!! My only real complaint is that the continuous
volume/button control was disabled in the latest firmware update because of issues
with remote button systems. It's not a huge problem to tap multiple times to turn up and
down the volume, but it would be nice to have the option to turn on continuous button
control for those of us without remote steering-wheel buttons... Other than that, the unit
is very stable and impressive!

Pros:

Cons:
Written by: JerseySnaffle from Los Angeles, CA on October 13, 2010
2006 Honda Civic EX
Crutchfield Customer Review
(
What's this?
)
I would really love to give this unit 5 stars, but there are some points that really detract from its value.

The Good:
The Bluetooth integration is great, it works better than I expected. The navigation works pretty well. Like another reviewer said, the traffic updates are few and far between and I am glad that I do not have to pay for the service. This unit has tons of features for audio control. I can adjust the volume of individual speakers and install virtual crossovers. It plays pretty much any audio and video format out there.

The Bad:
The iPod interface is great until you try to use it with album art. My iPod crashes and the unit freezes fairly regularly. I finally got so fed up yesterday that I deleted the artwork and the unit seems to be functioning decently. But I want the artwork, so this workaround doesn't really cut it. The user interface is not intuitive at all. None of the settings or functions are where you would expect them to be. Settings are scattered under many different menus.

If the iPod problem and other bugs were fixed, I would give this unit five stars. At the moment I cannot. It is a good unit and sounds amazing, it is too bad that Kenwood did not put a little more effort into it.


Pros:

Cons:
Software version 1.0.0 is not ready for prime time - lots of bugs
Written by: petrolero from Denver, CO on July 25, 2010
I've had the DNX9960 for about 4 months now and I am very disappointed. It is utterly unreliable. The unit will become unresponsive frequently - often during navigation. The voice navigation may continue but the screen becomes unresponsive, especially after ending a phone conversation. Another maddening glitch is that about once a week something happens that makes the thing forget all of my radio tuner presets; not XM, just the tuner. It just forgets them while remembering everything else.

I do very much like that this unit comes with Garmin's nav software, which when it works, is very fast and user friendly.

I didn't find the OS user interface to be particularly user friendly either. It's style over performance. Just to adjust the tilt of the unit's face to adjust for screen glare requires me to dig through a bunch of menus that are not easy to find - especially while driving.

I'd like to see them completely revamp the OS for this thing. As it is now, I'd say run, don't walk, away from this unit.

-Brandon

Pros:

Cons:
Constant rebooting and iPod freezing
Written by: KC from Reno, NV on July 22, 2010
While I like the integrated features, this unit has too many bugs and is way too difficult to use, so I can NOT recommend it. The Garmin navigation is great although the traffic updates are very limited information and re-routing options. The Bluetooth integration is good. iPod integration is not as easy to use as it says. Very hard to get to play a playlist versus a song on a play list. Main problem is the unit resets all settings and freezes the iPod, requiring it to be reset, about every five automobile starts. Worse yet, unit will not take software update, which requires specific formatting of a USB drive, under 2 GB in size, etc, etc. Customer support/service from Kenwood to resolve these issues has been no help. No return emails, no return responses on website, tech support has been limited help, customer service dept only says this issue is not under warranty, etc, etc. Choose another brand that is reliable, is not overly complicated use, and has customer service. One other thing, the unit is slow. It takes a few seconds every time switching screens, which is not what you want while driving. Choose another brand.

Pros:

Cons:
Written by: captbillm from Long Island, NY on June 20, 2010
Great looking unit, but it can be a bit flakey at times. They should not have rushed this unit out. Voice commands don't always work. Also one day I started the truck and the unit went to the setup screen, and wanted me to go through the whole set up again. The nav works great and so does the bluetooth. I don't use the phone book on the unit but instead use my phone's speed dial. Kenwood should also give you more main screen options instead of just three colors. You also have to be carefull when you touch the main screen because sometimes the icons will just shift around even though you didn't want them to. For the cost of this unit I would have expected it to be more reliable. We are supposed to be the end users not the testing labs for there mistakes.

Pros:

Cons:
Written by: Adam from Austin, TX on June 17, 2010
Slow boot up.
Pop up ads (I'm not kidding) which cannot be turned off.
Maps don't display the vast majority of the streets shown.

The maps will switch from a 3D to a 2D view with a different interface while your're driving.

System has locks up once a week and there's no reset button. You just have to hope it will come back on at a later time.

The touch controls on the frame below the screan get bumped very easily when trying to touch the screen.

I'm returning mine.

Pros:

Cons:
Nice - but does not sync Phonebook w/HTCPure
Written by: DNX9960User from Parker, CO on June 2, 2010
I've enjoyed a great experience with Kenwood's DNX9960 except for one area - the Telephone/Bluetooth feature will not sync its Phonebook, Incoming calls, outgoing calls, etc., with my HTC Pure. This prevents utilizing the Hands Free safety feature of the system in making calls. The Bluetooth does connect to my phone and allows incoming calls and direct dial calls to go through the system, but the DNX9960 does not load up my phone's phonebook contacts.

In contrast, my son's iPhone phonebook syncs up perfectly with this DNX9960.

Neither HTC Pure customer service or Kenwood customer service has offered a solution or the specific steps on how to make this sync successful.

This so-far has been the only disappointing event I've experienced with DNX9960.

Pros:

Cons:
Written by: Tom from Sacramento, Ca on May 3, 2010
Crutchfield Customer Review
(
What's this?
)
This unit was sent out too early!

CONS:
Doesn't display back up camera image.
Entire memory erases about every third day.
Sirius adapter didn't work at all on this unit.
Takes way too long for anything to boot up.
Some days remote control doesn't work at all.
Some days voice recognition works great, other days not at all.
The touch controls on the frame below the screan get bumped very easily when trying to touch the screan, they need to be buttons unfortunetly.
Navtec tells you too late about slow downs that are up ahead.

PROS:
Sound is fabulous!
Looks good.

I had a Kenwood DNX8120 before this, and it was great, flawless. I'm now returning the 9960. Thinking about the 9140, but bad reviews there too. I would wait for Kenwood to work out the bugs before purchasing this unit.



Pros:

Cons:
Great Head Unit in many respects but lacking key features
Written by: Anonymous from Atlanta, GA on May 1, 2010
I have the DNX9960 connected to two JL Audio Slash v2 450/4 amps and high-end speakers. The audio features on the unit are good but the nav unit is useless (IMO). The nav unit doesn't support transferring routes to/from a PC like I have come to expect from Garmin and Kenwood nav units (see numerous forum postings for how to do this via mini-USB connection on previous Kenwood units). According to Kenwood Tech support (and verified by me), there is no way to transfer routes to or from this unit period (not via mini-USB or SD card). This means no sharing of routes or planning trips on your PC or saving your routes external to the DNX9960. This and the inability to turn off auto-rerouting makes it difficult to use this unit for a route other than an all interstate route. Personally, if I'm just following the interstate I don't need a nav unit as the road signs are sufficient in that case. If you just want the audio featurs this is a great head unit albeit pricey. I strongly suggest you investigate offerings from Pioneer, Alpine, and others and steer clear of this unit if you want to use the unit for nav however.

Pros:

Cons:
Written by: Jason from Oak Hill, VA on April 26, 2010
I had high hopes for the successor to the most excellent DNX9140 (which I own in my pick-up truck). The DNX9960's new UI is quite slick, and it works really well. Kenwood is shooting for an iPhone-like UI on the main screen. They did a decent job with it. Other than that, the basic features and functions of the stereo, iPod integration, Bluetooth, and navigation system are all identical to the aforementioned 9140...

Except: The "free" Navteq traffic add-on isn't free. It comes with a catch: advertisements. On the main navigation screen, you will get pop-up ads for local businesses. They are, in my opinion, very tedious, distracting, and bothersome. And there's no way (currently) to disable them. Nor is there a way to disable Navteq to make them go away.

Consider this point very carefully before purchasing this unit. I really think Kenwood messed up with this move, and had I known this before hand, I'd have just purchased another 9140 for my car. Caveat Emptor, as the saying goes...


Pros:

Cons:
Written by: Richard from Little Rock, AR on April 16, 2010
2008 Ford Fusion
Crutchfield Customer Review
(
What's this?
)
I just recently purchased this unit to upgrade from my DNX8120 I have installed in my 08 Fusion. I'm really pleased with the GUI & the New Garmin interface built into this unit. I purchased the CMOS-300 back-up camera also & it works like a champ. I'm having the same issues with the album art in the iPod interface. I do like the faster bootup, when your backing up it switches instantly to the rear camera. On the DNX8120 it would have to boot all the way up before switching to the camera. The Bluetooth works GREAT & everyone tells me it sounds like I'm talking straight from my iPhone. Kenwood still has a few minor tweaks to do, to fix some small lagging issues like the previous reviewer described. Overall though I'm really pleased with Kenwood's New Flagship Unit!

Pros:

Cons:
Written by: dunagan from Hampton, Va on April 11, 2010
Let me say that this is a great unit. this is my 3rd Kenwood Excelon Radio. I just upgraded from the DNX 8120. The first thing I noticed is the much faster boot up over the 8120.The second thing is the GREAT looking screen. Very sharp. Much better the the 8120. The GUI is very nice looking, but could not give 5 stars because of a few things. First is the touch response. Something a little slow. next is the lag in the system when viewing something things like album art work. The first time I connected this to my computer(for advance users) for GPS upgrades there were issues. But after a reboot of the unit it worked.also got the CMOS-300 back up cam from Kenwood. Great cam but there is a glitch that happen form the unit that the unit forgets the cam and it has to be set up again. I have spoken to Kenwood and some or all of this is being worked on and should be updated soon. The 9140 also had some of the touch issues and the lag. So we should see updates soon to fix some of the bugs. BUT OVER ALL A GREAT UNIT. WOULD RECOMMEND.

Pros:

Cons:
What's in the box?
Double-DIN DVD/Navigation receiver with built-in 6.95" monitor
Sleeve (attached)
2 Trim rings
RC-DV331 remote control
2 "AAA" batteries
Wiring harness
AV input/output harness
Preamp output harness
Relay harness
Microphone with attached 9.75' cable (has a minijack connector)
Voice-control switch with attached 9.75' cord terminated by a right-angle 3.5mm connector
Magnetic base GPS antenna with attached 16.5' cable terminated by a proprietary connector
Self-adhesive magnetic base
2 Radio removal tools
6 Pan-head ISO-mount screws
6 Flat-head ISO-mount screws
4 Self-adhesive strips
Cable clamp
Instruction manual (English)
Instruction manual (Spanish)
Instruction manual (French)
Installation manual (Eng/Spa/Fre)
GPS Navigation Manual (Eng/Fre/Spa)
Voice Command Table (Eng/Spa/Fre)
Quick Start Guide (for advanced voice control)
"Correction" note
Warranty Card (USA/Canada)
Product Research
Display Features
Built-In Navigation
Audio Section
Radio Functions
Disc Playback
USB/iPod Connectivity
AV Connections
Voice/Bluetooth/Remote Control
General Features
2-DIN Chassis: The eXcelon DNX9960 has a 2-DIN chassis (also known as Double DIN or size DD), and will fit in many vehicles with a large dash opening. The unit can be ISO-mounted using factory brackets, or Euro-mounted using the supplied mounting sleeve.
Note: As always, please consult the "Crutchfield Car Selector to verify fit with your vehicle.
Motorized Touchscreen Display: The Kenwood eXcelon DNX9960 features a motorized 6.95" wide, 16:9 touchscreen display with a TFT active matrix system. The screen has a resolution of 800 (H) x 480 (V) x RGB with 1,152,000 total pixels. This unit has touch screen controls with interactive video graphics, making menu navigation easy. The monitor electronically slides down for loading or ejecting a disc. It also has a 7-step adjustable viewing angle, including a reversible-tilt angle. This unit has touch screen controls with interactive video graphics, making menu navigation easy.
Selectable Screen Viewing Modes: You can choose from the following screen modes for DVD, Video, iPod, USB, and Rear-camera playback:
Normal: Displays 16:9 widescreen format pictures that fill the entire screen width, and 4:3 (conventional TV) pictures display with black bars on either side.
Full: Expands 4:3 pictures horizontally to fill the entire width of the screen, distorting the picture slightly but retaining full image height.
Justify: Expands 4:3 pictures horizontally only at the edges.
Zoom: Expands 4:3 pictures both horizontally and vertically, filling the screen without distorting the picture but cutting off the top and bottom edges.
Display Adjustment: You can adjust the unit's display brightness, contrast, color, tint, and black level to suit your viewing needs.
Multi-Language Display: For your convenience, this unit is equipped with a multiple language display. You can select the language which is best suited to your first language - English, French, Spanish, German, Italian, Portuguese, Japanese, or Chinese.
Front Panel Controls With Changeable Illumination: In addition to the touchscreen controls, the unit includes frequently used soft-touch buttons along the bottom edge of the screen. You can adjust the head unit's button illumination from the following preset colors - Blue, Purple, Sky Blue, Aqua Blue, Yellow, Green, Amber, Red, Pink, White or Scan (Scans through all preset colors). You can also select three custom user colors that are adjusted between Red, Green, and Blue values from 0-31 each (256 Color Pallet). In addition, you can download still images for use as the unit's background from a connected USB thumbdrive.
Parking Brake Detection: To prevent the displaying of video while the vehicle is in motion, the light green wire in the supplied 22-pin harness must be connected to the vehicle's parking brake detection circuit. While the vehicle is in motion (parking brake off), you can still view all of the other displays and menus.
Dimmer: The dimmer function will dim this unit's display automatically when the vehicle light switch is turned On when you connect orange/white Illumination wire of this player's harness.
Security Indicator: The Security Indicator feature helps to protect the Kenwood DNX9960 against theft. Turning this function "On" allows the security indicator light on the front-panel of the headunit to flash when your vehicle's ignition is off.
Built-In Navigation
Navigation: With built-in Garmin navigation technology and NAVTEQ mapping software, the Kenwood eXcelon DNX9960 features on-screen maps of the United States, Canada and Puerto Rico which includes over 6 million Points of Interest. You can follow calculated on-screen routes to your destination using the headunit's built-in navigation software. As you travel, the DNX9960's navigation system guides you to your destination with voice prompts, arrows, and directions along the top of the map. Your route is marked with a highlighted line and an arrow, while your destination is marked with a checkered flag.
SiRF Star III: The SiRF Star III GPS chipset is so sensitive that it's forgiving of less than optimal antenna placement, giving you additional placement options.
GPS Antenna: The eXcelon DNX9960 comes supplied with a GPS antenna that features a magnetic base and an attached 16.5' cable terminated by a proprietary plug which connects to GPS-ANT input on the back of the headunit. The unit also comes supplied with a self-adhesive magnetic base if you are having trouble finding a flat metal surface to mount the antenna.
Text-To-Speech Voice Prompts: The unit's text-to-speech voices "read and speak" the same words that are displayed on the unit's screens. The voices have an extensive vocabulary and they pronounce the street names as you approach turns. The DNX9960 also features pre-recorded voices, which have a limited vocabulary and do not speak names of locations or streets.
Find Locations and Routes: The unit's "Where To?" menu screen offers the following features to help you find your destination.
Browse Map: Allows you to search for a destination by touching and dragging the map.
Go Home: Store one home location to allow you to calculate a route home from any current location
Address: Input your destination address by house number, street, and city.
Cities: Allows you to search by city's name.
Intersection: Allows you to search where to streets intersect.
Routes: Allows you to select from previously created routes.
Coordinates: Allows you to search your destination by longitude and latitude values.
Phone Number: Allows you to search your destination by enter the place's phone number.
Recently Found: Choose from one of your 50 most recent destinations or waypoints.
Favorites: You can save all of your favorite places in the navigation system, so you can quickly navigate to them later.
Points-of-Interest: Allows you to search for over 6-millions points of interest in the following categories: Food and Drink, Lodging, Fuel, Transit, Shopping, Bank or ATM, Parking, Entertainment, Recreation, Attractions, Hospitals, Community, or Auto Services. The "Spell Name" feature allows you to enter a point of interest by name.
Extras: You can manually load custom points of interest (POI) databases, available from various companies on the Internet. Some custom POI databases contain alert information for points such as safety cameras and school zones. The navigation system can notify you when you approach one of these points (Proximity Alert). You can download the custom POIs onto a CD-R or DVD-/+R, which can then be loaded into the unit's disc-slot.
Search Modes: The navigation system automatically searches for places near your current location. You can also choose to have the DNX9960 search for places in a different city, a recent destination, a favorite destination, projected destination, or along your current route.
Multiple Destination Routing (Via Points): You can add intermediate destination points (via points) to your routes as you create it. You can also add points to your route after its been created when you go to edit the route. You can program up to 500 via points for long trips.
Where Am I?: The "Where Am I?" feature gives you instant access to important information in case of an emergency. When you select "Where Am I?" from the menu, you get the coordinates (including elevation) of your current position, plus the nearest address and intersections. There are also menus to help you locate the nearest hospitals, police stations, gas stations, and roadside assistance. You can also save the location for future reference.
2D/3D Map: You can changes the perspective of the map from 2D North-Up (displays the map in 2 dimensions with North at the top), 2D Track-Up (displays the map in 2 dimensions with your direction of travel at the top of the screen), 3D Track-Up (displays the map in 3 dimensions with your direction of travel at the top of screen).
PIP (Picture-in-Picture) Function: Two screens, the navigation screen and source screen can be displayed at the same time in split-screen. When the PIP function is on, touch the source screen switches between the camera image and source image. You are able to control both the navigation screens functions as well as the source screen functions.
Color Modes: Select between Day (for a bright background), Night (for a black background) or Auto (to automatically switch between the two).
Route Preference: Selects the preference for your calculation between Faster Time, Shorter Distance, Less Fuel, or Off Road.
Avoidance Setup: This feature allows you to enter specific areas and roads to avoid in your routes. You can choose to avoid U-Turns, Highways, Toll Roads, Traffic, Ferries, Carpool Lanes, or Unpaved Roads.
Auto Reroute: If you happen to depart from your original route, the internal navigation system recalculates the route and provides new route instructions.
Detour: The navigation system attempts to get you back on your original route as quickly as possible, after calculating a detour. If the route you are currently taking is the only reasonable option, the DNX9960 might not calculate a detour.
Turn Pages: The following pages help guide you along the turns of your calculated route.
Turn-List: When you are navigating a route, the Turn List page displays turn-by-turn instructions for your entire route and the distance between turns.
Next Turn: When you are navigating a route, the Next Turn page shows the turn on the map and the distance and time left before you reach the turn.
Lane Assist: When available, the Lane Assist page may display a view of the upcoming junction and in which lane you should be driving to make you next turn or exist.
Trip Log: The Trip Log creates a bread crumb trail (trip log) of your movement. At any time the entire track log can be displayed on the map. You can also reset the track log whenever you like.
Trip Computer: The trip computer shows current speed, current direction, distance to destination, total distance traveled, average speed (including stopped time), average speed while moving, maximum speed, total trip time, total moving time, and stopped time. You can reset just the maximum speed or reset the entire trip computer at once.
ecoRoute: The ecoRoute feature calculates your vehicle's fuel economy, carbon footprint, the fuel price of navigating to your destination, and offers tools for improving fuel efficiency. The first time you access the ecoRoute features, you will be asked to enter fuel and mileage information (Fuel Type, City Fuel MPG, HWY Fuel MPG) about your vehicle.
Fuel Report: If you have entered your vehicle profiles and the current fuel price, the DNX9960 calculates the average fuel economy for your vehicle, your carbon footprint, and the cost of the fuel consumed.
ecoChallenge Tool: The ecoChallenge tool helps you maximize your fuel economy by scoring your driving habits. The high your overall score for a driving challenge, the more fuel you could save. You overall score is the average of these three scores:

Acceleration: Gain points for gradual acceleration; lose points for rapid acceleration.
Deceleration: Gain points for gradual braking; lose points for hard braking.
Speed: Gain points for driving at the best speed for conserving fuel, which is 45-60mph for most vehicles.

Mileage Report: Mileage reports provide the distance, the time, the average fuel economy, and the fuel cost of navigation to a destination. A mileage report is created for every route that you drive. If you stop a route on your navigation system, a mileage report is crated for the distance you traveled.
Less Fuel Routes: The Less Fuel rote is calculated based on speed limit and acceleration data.
Note: The data provide by the ecoRoute feature is only an estimate. The data is not actually read from your vehicle.
Traffic Information System: The Kenwood eXcelon DNX9960 features a built-in NAVTEQ traffic receiver and allows you to add-on a TMC traffic receiver (sold separately) to get up-to-date, real-time traffic information over FM broadcast.
Built-in NAVTEQ Traffic Receiver: The built-in NAVTEQ traffic receiver receives real-time traffic data from NAVTEQ and displays it on the Kenwood in-dash navigation headunit's video display. Real-time traffic is delivered over FM radio using a radio data system (RDS) sub-carrier channel. The NAVTEQ Traffic receiver's data is designed for seamless integration with the headunit's digital map content. NAVTEQ Traffic provides comprehensive, reliable nationwide coverage with traffic flow conditions and speed values. It notifies you of unplanned incidents such as accidents and stalled vehicles, as well as planned incidents such as road construction and closures.
Optional TMC (Traffic Message Channel) Receiver: Using an optional Kenwood FM Traffic Receiver (113GTM10, sold separately), the navigation system can receive, display, and use traffic information. The FM TMC traffic receiver receives traffic information that is broadcast over the FM Radio Data System. The traffic map shows color-coded traffic flow and delays on nearby roads. When a traffic message is receive, you can see the event on the map an change your route to avoid the traffic incident. When calculating your route, the navigation system examines the current traffic and automatically optimizes the route for the shortest time.
Note: A subscription is required to receiver the Traffic Message Channel (TMC) service. Because NAVTEQ traffic is subsidized by unobtrusive pop-up advertising there is no subscription fees. Service is offered in 80 US Markets
Tools: The eXcelon DNX9960 offers tools you can use as you travel:
World Clock: The world clock allows you to display the current time for four locations throughout the world. You can also display a map of the world showing which portions are in daylight and which are in darkness.
Calculator: The calculator allows you to perform simple arithmetic.
Safe Mode: Safe Mode disables all navigation system functions when the vehicle's parking break is disengaged, that require significant operator attention and could become a distraction while driving.
Software/Map Data Updates: To update the navigation software, you must have a Secure Digital (SD) card, an SD card reader, and an Internet connection. The navigation system will provide periodic notification at startup when the preloaded maps are considered out of date. You can purchase an SD card of updated map data from Garmin.
Note: The unit's SD card slot is hidden behind its motorized front-panel. The monitor slides down to access the SD card slot. The SD card is only used for software and map updates, and cannot be used to playback audio/video content.
Audio Section
24-Bit D-A Converter: For superb quality audio playback from DVDs, CDs, and USB media, the DNX9960 is equipped with a 24-bit digital-to-analog converter.
MOSFET Amplifier: The Kenwood eXcelon DNX9960 is equipped with a MOSFET amplifier. Compared to conventional power supplies, the MOSFET amplification circuit is smaller and more efficient, and it delivers increased power with less distortion and absolutely zero on/off switching noise. More power means louder and cleaner music at higher volumes because you're not pushing the limits of the amplification circuit. The power output specs for the DNX9960 are as follows:
Full Bandwidth Power: 22 watts RMS x 4 channels (at 4 ohms, 20-20kHz, 1% THD)
Maximum Output Power: 50 watts x 4 channels
7ch/5V Preamp Outputs: The eXcelon DNX9960 features front, rear, center, and subwoofer 5-volt preamp outputs. The front, rear, and center-channel preamp outputs feature fade control, while the subwoofer and preamp output is non-fading.
Supreme: The Supreme function is used to extrapolate and supplement with a proprietary algorithm, the high-frequency range that is cut-off when encoding compressed audio files. This function works on DVD/CD, USB, and iPod sources.
Dolby Digital/DTS/Pro-Logic II: The eXcelon DNX9960 supports playback of Dolby Digital and DTS DVD discs via the unit's 5.1ch preamp outputs (stereo-Front, stereo-Rear, mono-Center, and stereo-Sub). The headunit also supports Dolby Pro Logic II (Movie, Music, Matrix, Bypass, Bypass+Center) for non-digital surround formatted discs. During Dolby Pro Logic II you can make the following adjustments.
Dimension: sets the surround position by adjusting the front and rear volume balance
Center Width: sets the vocal image position by adjusting the right and left vocal volume level
Panorama: assigns front left and right signals to surround channels for wider sound.
SRS WOW HD: The eXcelon DNX9960 is equipped with SRS WOW HD, a technology developed by SRS (Sound Retrieval Systems) Labs, which restores the loss that occurs to compressed audio delivered over the Internet and broadcast media, and reduces the hollow-sounding effects caused by smaller speakers. SRS WOW HD incorporates other SRS technologies such as TruBass, Focus, and SRS 3D for improving the sound of CDs and radio. You can select a WOW HD effect level (Low, Mid, High), each with a specific value for TruBass, Focus, and SRS 3D. You can also set your own values and store them under the WOW User memory.
TruBass: adjusts the vertical position of the speaker and sound image by virtual adjustment
Focus: assists the playback of the super bass sound
SRS 3D: makes a natural 3D sound field (you cannot se SRS 3D in tuner source)
DSP (Digital Signal Processing): In order to optimize the sound quality, you can use the unit's Digital Signal Processing to set the type of vehicle, speaker sizes, distances and x-over points. The DSP settings include the following:
Cabin Setting: Choose from Compact, Full Size Car, Wagon, Mini Van , Mini Van Long, SUV, or Off
Position Control: For a better sound-stage you can select your optimal listening position. You can choose from All, Front Left, Front Right or Front. You can also select to manually fine tune the sound stage by selecting the distance for each individual speaker in the vehicle compared to your listening position.
Speaker Location: You can set the location of your vehicle's Front and Rear speakers.

Front: Choose from Door, On Dash, or Under Dash
Rear: Choose from Door, Rear Deck, 2nd Row, or 3rd Row

Speaker Size: You can select the speaker size for your Front and Rear speakers, as well as your subwoofer.

Front: Choose from 6-1/2", 6-3/4", 7", 4"x6", 5"x7", 6"x8", 6"x9", 7"x10", OEM, 4", or 5"
Tweeter: Select either On or Off
Rear: Choose from 6-1/2", 6-3/4", 7", 4"x6", 5"x7", 6"x8", 6"x9", 7"x10", OEM, 4", 5", or None
Center: None, 2-3/4" x 1-9/16", 2", 4", 5", or 6-1/2"
Subwoofer: Select from 10", 12", 15", None, 6-1/2" or 8"

Channel Level: You can adjust the volume level (-10 to +10dB) for each speaker (Center, Left-Front, Right-Front, Left-Rear, Right-Rear). You can also adjust the subwoofer level from -50 to +10dB.
Digital Time Alignment (DTA): Choose from 0.00 to 20.3 feet for the Front pair of speakers, Rear pair of speakers and Subwoofer distances in reference to the distance between your listening positioning and the locations of the particular speakers. You can set the Center speaker from 0.00 to 11.3 feet.
X'Over: The headunit features independent Front and Rear high-pass crossovers as well as a subwoofer low-pass crossover.

Front High Pass Filter: Select between 30, 40, 50, 60, 70, 80 ,90, 100, 120, 150, 180, 220, or 250 Hz at a slope of -12, -18, or -24 dB per octave; you can also select full-range
Rear High Pass Filter: Select between 30, 40, 50, 60, 70, 80, 90, 100, 120, 150, 180, 220, or 250 Hz at a slope of -12, -18, or -24 dB per octave; you can also select full-range
Center High Pass Filter: Select between 30, 40, 50, 60, 70, 80, 90, 100, 120, 150, 180, 220, or 250 Hz at a slope of -12, -18, or -24 dB per octave; you can also select full-range
Subwoofer Low Pass Filter: Select between 30, 40, 50, 60, 70, 80, 90, 100, 120, 150, 180, 220, or 250 Hz at a slope of -12, -18, or -24 dB per octave; you can also select full-range

Subwoofer Phase: Choose either Normal or Reverse
Note: You can choose to bypass the headunit's DSP feature.
Equalizer Control: Equalizer Control allows you to use one of the System Q presets, or set your own custom settings for the front and back speakers using the 5-band Equalizer. The EQ adjustments are as follows:
System Q Presets: You can select from Natural, Rock, Pops, Easy, Top 40, Jazz, Game, iPod or User.
Equalizer Settings: Individual 13-Band frequency adjustment (-9 to +9dB) for Front, Rear and Center using the following frequencies - 62.5Hz, 100,Hz, 160Hz, 250Hz, 400Hz, 630Hz, 1kHz, 1.6kHz, 2.5kHz, 4kHz, 6.3kHz, 10kHz, and 16kHz
Loudness: The Loudness feature compensates for low and high tones during low volume. You can turn this feature either on or off. Only the low tone is compensated for when the tuner is selected as a source.
Bass Boost: The eXcelon DNX9960 features a three-step Bass Boost (Off, 1, 2) to enhance your music's lower frequencies.
Bass DC Extension: When this feature is turned on it extends the bass center frequency to the low register by approximately 20% adding additional bass response to your system.
Dynamic Range: The dynamic range can be adjusted by selecting either Normal, Wide or Dialog. Dialog makes the total sound volume become larger as compared with Wide and Normal, allowing you to listen to the movie's dialogue more clearly. This is effective only on Dolby Digital software.
Volume Offset Control: The level of each source may be independently adjusted to prevent radical leaps in output volume when switching from one source to another. The available settings range from -15 to 0.
Source Tone Memory: This feature allows you to store System Q-EX, and bass, middle and treble tone settings for each source (Disc, Tuner, USB, Aux, Ext. Device).
Setup Memory: Audio Control, AV-IN Setup, AV Interface, Navigation, and Audio Setup settings can be memorized and recalled at any time. When the settings are cleared when the unit is disconnected from the battery, they can be restored.
Dual Zone Capability: The unit's dual zone control allows you to independently set the source for the front and rear channels. You can set the front channels to Tuner, Sirius, XM, DVD, Video, USB, iPod, Bluetooth, Navigation, or Standby. You can set the rear channels to DVD, Video, iPod, USB, or Off. You can adjust the volume of the 2nd Zone independently from 0 to 35.
Radio Functions
CR-2 Tuner: The eXcelon DNX9960 uses Kenwood's CR-2 tuner provides high signal strength for clear radio reception. The tuner features the Clean Reception System Circuit (CRSC) for improved rejection of distortion due to multi-path. You can choose one of three tuning modes: Auto 1 (seek tuning), Auto 2 (cycles through and tunes the selected band's preset stations only with each button press), or Manual.
Radio Data System (RDS): The unit's tuner features RDS (Radio Data System). RDS is a service used by some radio stations to transmit data outside of normal radio broadcast signals. When an RDS station is received, you can immediately find out what kind of data is being transmitted by looking at the program service name which appears in the display after the frequency. RDS features an emergency transmission function which interrupts regular programming to broadcast an emergency announcement (such as a tornado or severe storm). There is also a switchable Traffic Information function, which will automatically tune a traffic bulletin when it is broadcast, even when you're not listening to the radio.
Station Name Preset (SNPS): This feature allows you to assign names to radio stations. Up to 24 AM and FM stations can be named. Each name can be up to 16 characters in length. The Preset Select menu will display the six presets in each band either by name or frequency.
Satellite Radio Ready: There are several options for connecting an optional XM or SIRIUS Satellite Radio tuner to this receiver:
Sirius: To receive SIRIUS Satellite Radio, you can connect the optional SIRIUS Universal Vehicle Tuner (607SCC1) and the optional Kenwood Sirius Satellite Radio Interface (113CASR20V); package item number 700SIRKENV; or you can connect the optional CA-SR20V Kenwood Sirius Satellite Radio Interface and the SiriusConnect vehicle docking kit (607SCVDOC1); package item number 700SIRKENP, along with your compatible SIRIUS Dock & Play receiver (all sold separately). SIRIUS Satellite Radio features more than 120 streams of original programming beamed coast-to-coast, including 65 streams of commercial-free, digital-quality music, and news, talk, sports, entertainment, and children's programming.
XM: A portable XM Satellite Radio receiver can be connected to the headunit via its auxiliary input.
Note: A subscription is also required to receive satellite radio programming from SIRIUS or XM.
HD Radio Ready: The eXcelon DNX9960 is HD Radio ready. With an optional Kenwood HD Radio tuner (113HR300, sold separately), you will be able to receive digital AM/FM broadcasts from local stations where available. This new technology will significantly improve audio quality and reception, as well as include information such as artist name and song titles or traffic news, viewable on the receiver's display. The Kenwood KTC-HR300 is also capable of iTunes tagging. iTunes tagging gives the ability to tag a song (up to 50) and stores it to a connected iPod. The next time the iPod is connected to iTunes the tagged songs are displayed with the option to purchase them from the iTunes Store.
Note: Right now there are about 2,000 radio stations broadcasting using digital HD Radio technology in the U.S. To find HD Radio stations in your area, visit the HD Radio website (HDRadio.com).
External Tuner Note: You cannot connect both a Satellite Radio Interface and HD Radio tuner to the headunit's KAB port.
Disc Playback
DVD/CD Slot: The unit's DVD/CD slot is hidden behind its motorized front-panel which slides down so you can insert or eject your disc.
Compatible Discs: The Kenwood eXcelon DNX9960 supports playback of DVD-Video, DVD-R/RW, DVD+R/RW, DVD-/+R DL, CD-Audio, CD-R/RW, CD-ROM, DTS-CD, and VCD discs.
AAC/MP3/WMA Playback: This unit can play AAC (16-320 kbps), MP3 (32-320 kbps) and WMA (48-192 kbps) files recorded on CD-ROM, CD-R, CD-RW and DVD+/-R/W discs in ISO9660 Level 1/Level 2, Joliet, Romeo and Long file name formats. Each disc should have a maximum of 8 directory levels, 254 folders per disc, and 255 files per folder (65,025 maximum number of files and folders). During AAC/MP3/WMA playback, the unit displays song, artist, and album information (up to 128 characters). The unit supports ID3 Tag version 1.0, 1.1, 2.2, 2.3, and 2.4.
JPEG/MPEG Playback: This unit can play back JPEG (Baseline format: 8192 x 7680, Progressive format: 1600 x 1200) still image files recorded onto DVD-R/W, DVD+R/W, and CD-R/W discs. The unit also supports video playback of MPEG1 (352 x 240, 362 x 288) and MPEG2 (720 x 480, 720 x 576) NTSC video files recorded onto DVD-R/W and DVD+R/W discs.
DivX Playback: The Kenwood eXcelon DNX9960 supports playback of DivX and DivX VOD video recorded onto CD-R/RW, DVD-R/RW, and DVD+R/RW discs.
CD Read Setting: If there is a problem with the CD player reading a disc with a special format, you can switch to a second CD Read setting which forces the player to read the disc. CD Read setting 1 is for normal CDs and MP3/WMA discs, while CD Read setting 2 cannot read MP3/WMA/AAC discs or VCD.
List Select: The List Select function allows you to search folders and audio/video/pictures files stored on a disc.
DVD Display Setup: You can setup the monitor to display a 16:9, 4:3 Letter-Box, or 4:3 Pan&Scan aspect ratio when viewing a DVD disc.
Playback Screen: During DVD playback, you can control certain operations simply by touching an area of the screen. The touchscreen has 4 functions areas. You can touch the left of the screen to start the current chapter over, or the right of the screen to skip to the next chapter. Pressing the top center of the screen activates the DVD Disc Menu control buttons, while pressing the bottom center briefly displays the information screen. For VCD playback, the top center is the Zoom control area.
Direct Search: By entering its number with the optional remote (KNA-RCDV330, sold separately) you can directly access title, chapter, time, track, channel, or frequency.
Video Display Adjustments: During playback of a video or still image you can reverse the picture horizontally and rotate the picture clockwise or counter-clockwise.
Zoom: The eXcelon DNX9960 features a 4 level zoom (1, 2, 3, or 4x) when playing back video and still images.
Parental Control: Parental Control allows you to restrict DVD playback according to a predetermined level. You can select a parental control rating from 0-8, which is protected by a 4-digit password.
USB/iPod Connectivity
Dual USB Ports: The Kenwood eXcelon DNX9960 features two rear-panel USB type-A ports (2.0 High-Speed/1.1 Full-Speed) that are individually attached to the chassis with a 39" cord to allow for various placement options during installation. The USB ports enable playback of MP3 (32-320 kbps), WMA (48-192 kbps), and AAC (16-320 kbps) audio files; as well as JPEG (8192 x 7680 pixels base format/1600 x 1200 progressive format) still-picture files. The DNX9960 also supports video playback of MPEG1 (352 x 240 or 352 x 288) and MPEG2 (720 x 480 or 720 x 576) video files from connected portable USB mass-storage players, USB thumb drives, or portable digital audio players. The USB ports are compatible with all USB mass storage class devices that support the FAT16 or FAT32 file system. The headunit can recognize up to 8 folder layers, 255 folders, 255 files per folder, and 65,025 total files. The unit can also support up to a maximum of 7,000 files per playlist. The unit will display any recorded song, artist, and album information, as well as Album Art stored on your connected USB devices (up to 128 characters). Your USB devices' rechargeable batteries will be recharged while they are connected to the USB ports of the DNX9960 and the unit is turned on.
iPod High Speed Connection: The navigation headunit's USB port and rear-panel 3.5mm A/V AUX input are compatible with select iPod/iPhone devices when used with the optional KCA-iP301V adapter (113IP301V, sold separately). One end of this cable plugs directly into your iPod's dock connector while the other end of the cable uses three connectors that plug into the back of the eXcelon DNX9960. The USB type-A connector portion of the cable plugs into the receiver's USB port and handles the control and charging of your iPod/iPhone, so you can navigate through your music and video files using the headunit's touchscreen controls and view song and movie info on its display. The two 3.5mm minijack connectors of the cable plug into the unit's A/V 3.5mm inputs and transfer the music and video from your iPod/iPhone to the Kenwood eXcelon DNX9960. By using the Auxiliary input, the music travels to the receiver as an analog signal, so you can even play the Digital-Rights-Protected files you've stored on your iPod/iPhone.
USB Connection: The USB direct connection enables high-speed iPod data communications of 12MB/bps via the optional KCA-iP301V (3-Wire) interface. The USB connection allows your iPod/iPhone's large media library to be loaded instantly to the navigation headunit.
Audio/Video Playback: The Kenwood multimedia headunit supports both audio/video playback from your compatible iPod or iPhone. Using the optional Kenwood iPod/iPhone connector cable (sold separately), you can enjoy audio/video playback of music and movie files stored on your iPod or iPhone. Video can only be displayed while the vehicle is in park.
Media Navigation: Controlling your iPod/iPhone from the eXcelon DNX9960 is seamless when used with the optional KCA-iP301V cable. The Kenwood eXcelon DNX9960 will allow you to navigate your iPod/iPhone's music library by Playlist, Artists, Album, Genre, Composer, Song, and Podcast; or your video library by Movie, Music Video, TV Show, Video Podcast, and Rented Movie (your iPod/iPhone's clickwheel or touchscreen will be locked). The eXcelon DNX9960 also offers Link Search, which searches for other songs of the currently selected artist.
Music Information Display: The eXcelon DNX9960 also supports metadata display of music stored on your iPod/iPhone. The multimedia headunit will display your iPod/iPhone's music file information, including - Track number, Elapsed playing time, Song Title, Artist Name, Album Title, and Album Art.
Charging: While connected and the ignition switch is set to ACC or ON, the headunit's USB connection will power and charge your iPod/iPhone.
Note: If your iPod/iPhone has no initial battery charge, then the unit will not recognize it.
iPod/iPhone Compatibility Chart: The Kenwood eXcelon DNX9960 and the KCA-iP301V iPod adapter cable is "Made for iPod/iPhone" compatible and supports the following iPod/iPhone model features (as of June 2010):
iPod/iPhone Model
Generation
Media Type
Control Type
Display Type
Charge
Audio
Video
Headunit
iPod/iPhone
Song/Artist Info
Track Info
dock connector
3rd
N
N
N
N
N
N
N
clickwheel
color
4th
N
N
N
N
N
N
N
mini
1st
N
N
N
N
N
N
N
2nd
N
N
N
N
N
N
N
video
5th
Y
Y
Y
N
Y
Y
Y
classic
80GB
Y
Y
Y
N
Y
Y
Y
120GB
Y
Y
Y
N
Y
Y
Y
160GB
Y
Y
Y
N
Y
Y
Y
nano
1st
Y
N
Y
N
Y
Y
Y
2nd
Y
N
Y
N
Y
Y
Y
3rd
Y
Y
Y
N
Y
Y
Y
4th
Y
Y
Y
N
Y
Y
Y
5th
Y
Y
Y
N
Y
Y
Y
6th
Y
N
Y
N
Y
Y
Y
touch
1st
Y
Y
Y
N
Y
Y
Y
2nd
Y
Y
Y
N
Y
Y
Y
3rd
Y
Y
Y
N
Y
Y
Y
4th
Y
Y
Y
N
Y
Y
Y
iPhone
2G
Y
Y
Y
N
Y
Y
Y
3G
Y
Y
Y
N
Y
Y
Y
3GS
Y
Y
Y
N
Y
Y
Y
4
N
N
N
N
N
N
N
Note: Apple iPod/iPhone software updates may change functionality results. If you download a newer software version, you may need to reset the headunit and your iPod/iPhone to regain functionality. If this doesn't work, you may need to revert to the older software version or wait until an newer software update is available. Not compatible with iOS 4.0 for iPhone (3G/3GS) or iPod touch (2nd/3rd gen).
AV Connections
Dual AV Input: The eXcelon DNX9960 is equipped with two audio/video inputs; each consisting of a composite video jack and a pair of stereo RCA jacks. These composite/stereo terminals can be used to connect external audio/video sources. The audio/video inputs can be named "VIDEO", "DVD", "VCD", "VCR", "GAME", TV or "AUX".
Camera Input: The unit features a composite video input for connecting an optional rear view camera, such as the Kenwood CMOS-200 (113CMOS200, sold separately). The video from this connection can be set to display when switched to this input, or display the rear view camera video automatically when the vehicle is shifted into Reverse gear. You can also display the video of the rear view camera in a mirror image, if desired. The purple/white wire in the wiring harness must be connected to the vehicle's reverse lamp circuit for automatic video switching.
A/V Output: The unit features a set of stereo RCA jacks and a composite video jack to output A/V signals to an optional monitor. You can choose AV-In, DVD, iPod, USB or Off as the source for the A/V output.
Voice/Bluetooth/Remote Control
Voice Control: The Kenwood eXcelon DNX9960 is equipped with an Automatic Speech Recognition function which allows you to operate certain functions of this unit and connected devices with your voice, using the supplied external microphone and external "talk" button. You can select Sources, operate Bluetooth and Navigation functions, as well as control audio/video search and playback functions from CD, DVD, Satellite or HD Radio, and iPod. The supported languages are US English, UK English, French, German, Dutch, Italian, and Spanish.
Built-In Bluetooth: The Kenwood eXcelon DNX9960 features built-in 2.4GHz Bluetooth technology (version 2.0) with a range of 32.8 ft and supports the following profiles: HFP (Hands Free Profile), HSP (Headset Profile), OPP (Object Push Profile), PBAP (Phonebook Access Profile), SPP (Serial Port Profile), SYNC (Synchronization Profile), A2DP (Advanced Audio Distribution Profile), and AVRCP (Audio/Video Remote Control Profile). The Kenwood DNX9960 offers Bluetooth hands-free communication, as well as Bluetooth audio control. Your Bluetooth enabled cell-phone or audio player must be paired with the DNX9960 initially. You can register up to five Bluetooth enabled devices (only one can be used at a time).
Bluetooth Hands-free Communication: The Kenwood eXcelon DNX9960 supports Bluetooth's Hands-Free Profile communication. The unit's touchscreen controls can be used to dial a number, answer an in-coming call, or end a call. The DNX9960 can even be setup to automatically answer a call. The DNX9960 also supports Call Waiting which allows you to answer another incoming call with the current call suspended. The unit comes with an external microphone with adjustable gain so you can carry on your side of the conversation while listening to the other party through your car's front speakers. During a conversation, you can switch between the Private Mode (talking directly on your cell phone) and the Hands Free Mode. Your cell phone must be paired with the DNX9960 before you make and receive calls. You can register up to five cell phones (only one paired phone can be used at a time). You can also wirelessly download the short message (SMS) arrived at your cell-phone so that is can be read on the headunit's display. Using the DNX9960, you can dial a phone number in one of the following ways:

Entering a Phone Number: Allows you to directly dial a phone number up to 32 digits.
Speed (Preset) Dialing: Allows you to register up to 6 phone numbers for quick dialing.
Phone Book: You can dial by using the downloaded phone book. You can download phone book data from your cell phone to the DNX9960. Up to 1000 numbers can be stored for each registered cell phone. Each number can be up to 32 digits long and each name can be up to 50 characters long. You can search for a number by the initials, or you can search the phone book in alphabetical order.
Call Log: The Call Log is a list of calls that have originated from and were received by this unit that you can dial. You can select Outgoing, Incoming, or Missed calls.

Outgoing Call List: Allows you to dial by using the outgoing call list. Up to 10 phone numbers are stored in the outgoing call list.
Incoming Call List: Allows you to dial by using the incoming call list. Up to 10 phone numbers are stored in the incoming call list.
Missed Call List: Allows you to dial by using the missed call list. Up to 10 phone numbers are stored in the missed call list.

Voice Dialing: Allows you to dial a number by voice command from the Phonebook, Preset Numbers, Call History, or saying the number.

Bluetooth Audio Control: The headunit also supports Bluetooth's wireless Audio Streaming Profile and Bluetooth's Audio Control Profile. This allows you to listen to audio files stored on your Bluetooth enabled audio player or cell-phone. You can wirelessly transmit music from your Bluetooth compatible cell-phone or portable audio player to the DNX9960 and control your stored music files through the Kenwood receiver. Playback functions include: Play/Pause, Skip Back/Forward, Fast Forward/Reverse, and Stop.
Note: Not all Bluetooth enabled cell-phones will be compatible. Please visit Kenwood.com for a complete list of compatible Bluetooth enabled phones.
Wireless Remote Control: The included KNA-RCDV331 IR wireless remote control unit is designed to operate most functions of this Kenwood navigation headunit. The KNA-RCDV331 wireless remote controller operates off of two supplied "AAA" batteries. The remote operates off of IR transmission so the KNA-RCDV331 must be pointed at the front-panel of the Kenwood navigation headunit within direct line of sight.
Steering Wheel Remote Compatibility: The unit also features an OEM steering wheel remote control input on the rear of the unit that lets you keep your vehicle's factory radio steering wheel remote controls when used with the optional PAC SWI-JACK Steering Wheel Control Interface Adapter (127SWIJACK, sold separately); or the optional Metra ASWC Steering Wheel Control Interface Adapter (120ASWC, sold separately).
Note: Please consult the Crutchfield Car Selector to see if your vehicle is compatible.
Our Product Research Team
At Crutchfield, you'll get detailed, accurate information that's hard to find elsewhere. That's because we have our own in-house Product Research team. They verify what's in the box, check the owner's manual, and record dimensions, features and specs. We stay on top of new products and technologies to help people make informed choices.