Kenwood Excelon KDC-X397
CD receiver (New Stock)
Item #: 113KDCX397
111 Reviews | 5 questions - 14 answers
This item is no longer available.
Original Price: $129.99
Need help?
Does it fit my car?
Select your car

Step into Kenwood's Excelon lineup
The Kenwood Excelon KDC-X397 CD receiver will expand your sonic boundaries with a nice blend of audio features and sophisticated styling. Thanks to its selectable color feature, you can pick a button color that matches your vehicle's illumination so the receiver will look perfect in your dash.
Better sound from more sources
iPod® or iPhone® users can plug into the convenient front-panel USB input, and enjoy outstanding control right from the receiver. When you're connected via USB, the KDC-X397 bypasses your iPod's internal circuitry, sending the digital data to the Kenwood's superior 24-bit digital-to-analog converter. Your favorite songs will sound better than ever. If you're a Pandora® Internet radio fan, you can even pick from your favorite stations when your iPhone's connected.
If you store your music on an Android device, Kenwood's free Music Control app allows you to enjoy a variety of search and playback features when your phone is plugged in via the front-panel USB.
If you're a satellite radio subscriber (or plan to be), the KDC-X397 works with SiriusXM's outboard tuner (not included), giving you coast-to-coast reception of your favorite talk, sports, and music programming.
You can liven up your drive by jacking another device into the front-panel aux input, or by loading in a CD or a recordable disc full of music files.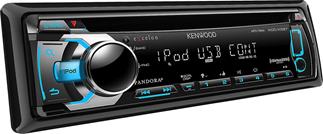 You can pick a button color that matches your dash illumination, so this Kenwood will look right at home.
Kenwood Excelon sound quality
If you're building a car audio system, this receiver features 4-volt preamp outputs that'll provide your amps with the strong signal they need for the best possible performance. And you'll find an impressive array of sound-sculpting tools built into this receiver. You can use the 3-band parametric equalizer to adjust the centerpoint of your treble, midrange, and bass controls, while the frequency filters trim unwanted low bass out of your full-range speakers and adjust the bass going to your subwoofer.
Want to keep your car's steering wheel audio controls?
In most vehicles, you can use an adapter (not included) to connect your vehicle's steering wheel controls to this Kenwood stereo. Connect a few wires, then program the adapter for your particular car and this Kenwood, and you'll retain the convenience of your steering wheel controls. Check the "Accessories" tab to see all compatible adapters.
Note: If you're going to use your iPod with this receiver, be sure to check "Details" for specific iPod model compatibility with this receiver.
Product Highlights:
General features:
CD receiver with AM/FM tuner
built-in MOSFET amplifier (22 watts RMS/50 peak x 4 channels)
plays CDs, CD-Rs, and CD-RW discs including discs loaded with MP3 and WMA music files
detachable face with 13-digit display and variable-color button illumination
remote control
Audio features:
EQ Pro (8 preset EQ curves and a 3-band parametric equalizer) speaker size settings
speaker size settings
Supreme Setting improves the sound of files encoded at low bit rates
3-level bass boost
high- and low-pass filters with subwoofer level and phase controls
Expandability:
iPod/iPhone direct control via USB input — no adapter necessary, but adding Kenwood's optional connecting cable lets you leave your iPod cable at home
Pandora control with iPhone
Music Control app enables limited control over select Android devices
compatible with SiriusXM satellite radio tuner
inputs: front-panel auxiliary and USB input
outputs: 6-channel preamp outputs (4-volt front, rear, and subwoofer)
Other features and specs:
compatible with most factory steering wheel audio controls (adapter required)
warranty: 2 years
Why replace your factory radio?
Two good reasons - sound quality and cool features. A new car stereo offers power that's superior to most factory radios, along with more sophisticated tone controls. And most car stereos offer built-in or optional features that add safety and fun to life in your car, including inputs for your iPod or MP3 player, Bluetooth connectivity for hands-free cell phone calls, satellite radio or HD Radio reception, and connections for building an audio system in your car.
Kenwood Excelon KDC-X397 Reviews
Average Customer Review:
111 Reviews
---