Kenwood Excelon KDC-X996
CD receiver (New stock)
Item #: 113KDCX996
This item is no longer available.
Original Price: $269.99

Need help?
Does it fit my car?
Select your car

Aim high
Take it to the limit with the KDC-X996, the top-of-the-line Kenwood Excelon CD receiver for 2012. This great-looking car stereo features hands-free calling, HD Radio™ reception, and PANDORA® Internet radio control, along with some sophisticated sound controls.
PANDORA® Internet radio control with your iPhone®, Android, or Blackberry
If you stream Pandora® on your smartphone, you're not limited by a single platform. The KDC-X996 gives you iPhone control through the USB port, and control over your Android or Blackberry through the Bluetooth Serial Port Profile (SPP). You can listen to and browse through your favorite stations whenever you're in range of your network.
HD Radio for superior sound and more
The receiver's built-in HD Radio tuner lets you enjoy HD Radio's superior sound quality and additional programming channels, all for free. You can also tag tunes for future purchase at the iTunes® store — all while you listen to FM that's close to CD quality, along with clear, static-free AM.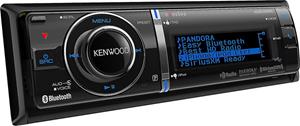 Hands-free calling
Bluetooth makes using your phone safer in the car. When a call comes in, just touch a button and then talk naturally like your caller is sitting next to you. Plus, you can stream audio from a compatible device to this receiver, so you can enjoy great music (and even control some functions) without any cables.
Enjoy your music media
You can plug in your iPod® to the rear USB port and scroll through your albums, artists, and playlists. Tools like Direct Search and Alphabet Search make it easy to find the tracks you want to hear. Of course, this Kenwood Excelon receiver renders all your favorite CDs in precise detail.
Great sound tops it off
If you're the kind of person who lives to tweak, you'll be happy with the extensive audio controls, including a 13-band equalizer, digital time alignment, and built-in frequency filters, that allow you to zero in on the precise sound you want to hear. Putting a full system together? The receiver uses three sets of preamp outputs to deliver a clean signal to your outboard amps.
Want to keep your car's steering wheel audio controls?
In most vehicles, you can use an adapter to connect your vehicle's steering wheel controls to this Kenwood stereo. Connect a few wires, then program the adapter for your particular car and the Kenwood, and you'll retain the convenience of your steering wheel controls. Check the "Accessories" tab for compatible adapters.
Bluetooth note: Use of this receiver's Bluetooth features will depend upon your phone's Bluetooth capabilities. Learn more in our article explaining Bluetooth profiles.
Note: If you're going to use your iPod with this receiver, be sure to check "Details" for specific iPod model compatibility with this receiver.
Product Highlights:
General features:
CD receiver with AM/FM tuner
built-in MOSFET amplifier (22 watts RMS/50 peak x 4 channels)
plays CDs, CD-Rs, and CD-RW discs including discs loaded with MP3 and WMA music files
built-in HD Radio tuner
built-in Bluetooth for hands-free calling and audio streaming
fold-down detachable face with selectable 5- or 3-line line display, plus variable display and control colors
remote control
Audio features:
13-band equalizer
Sound Excellence DSP with speaker size settings, plus high- and low-pass crossovers
digital time alignment
Supreme Setting improves the sound of files encoded at low bit rates
bass boost
subwoofer controls
Expandability:
iPod/iPhone direct control via USB input — no adapter necessary, but adding Kenwood's optional connecting cable lets you leave your iPod cable at home
Pandora control with iPhone, Android, and Blackberry
compatible with Kenwood's Music Control app for Android phones
compatible with SiriusXM tuner
inputs: rear auxiliary and USB inputs
outputs: 6-channel preamp outputs (4-volt front, rear, and subwoofer)
Other features and specs:
compatible with most factory steering wheel audio controls (adapter required)
warranty: 2 years
Why replace your factory radio?
Two good reasons - sound quality and cool features. A new car stereo offers power that's superior to most factory radios, along with more sophisticated tone controls. And most car stereos offer built-in or optional features that add safety and fun to life in your car, including inputs for your iPod or MP3 player, Bluetooth connectivity for hands-free cell phone calls, satellite radio or HD Radio reception, and connections for building an audio system in your car.
Kenwood Excelon KDC-X996 Reviews
Average Customer Review:
78 Reviews
---
What's in the box?
AM/FM CD receiver (with 10-amp fuse inserted into the chassis)
Face (attached)
Trim ring (attached)
Sleeve (installed)
Wiring harness
Microphone with integrated bracketed (attached 10' cable terminated by a 3.5mm connector)
Wireless remote control (RC-405)
CR2025 3V lithium-battery (installed in remote)
Cloth face pouch
2 Removal tools
4 Panhead ISO-mount screws
4 Flathead ISO-mount screws
Face-fixing screw
Quick Start Guide (Eng/Fre/Spa)
Warranty Card
Correction note
Product Research
Audio Section
Built-in Bluetooth
HD Radio + SiriusXM Ready
Disc Playback
USB/Aux Inputs
iPod/Android Control
Display Features
Remote Control
Audio Section
Excelon Series: The KDC-X996 CD receiver is part of Kenwood's Excelon series line-up. It incorporates the latest technologies and delivers the highest sonic performance. From advanced audio tuning capabilities, crossover and equalizer system, high-voltage preouts (4V), and a two-year warranty - Kenwood Excelon represents exceptional audio quality with long-lasting dependability.
24 Bit D/A Converter: The Kenwood Excelon KDC-X996 utilizes a 24-bit digital to analog converter for superior sound quality.
MOSFET Amplifier: The Kenwood Excelon KDC-X996 is equipped with a MOSFET amplifier. Compared to conventional power supplies, the MOSFET amplification circuit is smaller and more efficient, and it delivers increased power with less distortion and absolutely zero on/off switching noise. More power means louder and cleaner music at higher volumes because you're not pushing the limits of the amplification circuit. The power output specs for the KDC-X996 are as follows:
Full Bandwidth Power: 22 watts RMS x 4 channels (at 4 ohms, 20-20kHz, 1% THD)
Maximum Output Power: 50 watts x 4 channels
6ch/4V Preamp Outputs: The KDC-X996 features front, rear and subwoofer 4.0-volt preamp outputs. The front and rear speaker preamp outputs are balance and fade adjustable. The subwoofer preamp output is non-fading. The front, rear, and subwoofer preamp outputs are fixed to the rear chassis of the head unit.
Note: You can turn the KDC-X996's built-in amplifier off to improve the quality of the sound from the head unit's preamp outputs.
Sound Excellence DSP (Digital Signal Processing): In order to optimize the sound quality, you can use the unit's Sound Excellence DSP to set the type of vehicle, speaker sizes, distances and x-over points. The DSP settings include the following:
Car Type: Select your car type to automatically set the Delay Time of each speaker for timing adjustment of sound output of each channel to have the highest surround effect. Choose from Compact, Full Size Car, Wagon, Mini Van , Mini Van Long, SUV, or Off
Listening Position: For a better sound-stage you can select your optimal listening position. You can choose from All, Front Left, Front Right or Front. You can also select to manually fine tune the sound stage by selecting the distance for each individual speaker in the vehicle compared to your listening position.
Digital Time Alignment (DTA): Choose from 0.00 to 20' (0.07' steps) for the Front pair of speakers, Rear pair of speakers and Subwoofer distances in reference to the distance between your listening positioning and the locations of the particular speakers.
Speaker Location: You can set the location of your vehicle's Front and Rear speakers.

Front: Door, On Dash, or Under Dash
Rear: Door, Rear Deck, 2nd Row, or 3rd Row

Speaker Size: You can select the speaker size for your Front & Rear speakers, as well as your subwoofer.

Front: Small, Medium, or Large
Tweeter: None, Small, Middle or Large
Rear: None, Small, Medium, or Large
Subwoofer: None, Small, or Large

X'Over: The head unit features independent Front, Rear, & tweeter high-pass crossovers, as well as a subwoofer low-pass crossover.

Front High Pass Filter: 40, 60, 70, 80, 100, 120, 150, 180, or 220 Hz; slope of -6, -12, -18, or -24 dB per octave (or select Full-Range)
Rear High Pass Filter: 40, 60, 70, 80, 100, 120, 150, 180, or 220 Hz; slope of -6, -12, -18, or -24 dB per octave (or select Full-Range)
Tweeter High Pass Filter: 1, 1.6, 2.5, 4, 5, 6.3, 8, 10, or 12.5 kHz
Subwoofer Low Pass Filter: 40, 60, 70, 80, 100, 120, 150, 180, or 220 Hz; slope of -6, -12, -18, or -24 dB per octave (or Select Full-Range)

Speaker Level: You can adjust the volume level (0 to -8dB) of the Front, Rear, Tweeter, and Subwoofer channels independently.
Subwoofer Phase: Choose either Normal (0°) or Reverse (180°)
Sound Enhancements: The head unit provides further sound enhancements for your car audio system.

Supreme Setting: When MP3, WMA, and AAC files encoded at a low bit rate (less than 96 kbps, 44.1k, 48kHz) are played, the Supreme Setting function restores their high frequencies so the sound quality is closer to files encoded at a high bit rate; the processing is optimized for the compression format and the bit rate used.; when the Supreme Setting is Off, the unit plays the original sound stored in the audio file
Elevation Level: You can virtually raise the sound position heard from your speakers; the Elevation Level can be set to High, Low, or Off
Space Enhancer: You can set the Space Enhancer to Small, Large, or Off each setting value indicates the soundscape level
Sound Realizer: Virtually makes the sound more realistic using the DSP; can bet se to LVL1, LVL2, LVL3, or Off
Highway Sound: You can boost a certain range of sound that becomes hard to hear due to road noise; the Highway Sound level can be set to High, Low, or Off
Note: You can also choose to bypass the head unit's DSP feature.
Equalizer Control: Equalizer Control allows you to use one of the EQ presets, or set your own custom settings for the front and back speakers using the 13-band Equalizer. The EQ adjustments are as follows:
EQ Presets: You can select from Flat, Natural, Rock, Pops, Easy, Top 40, Jazz, Powerful, iPod (you can select from 22 EQ curve types within your iPod), or User (customized 7-band EQ).
13-Band EQ: 7-Band frequency adjustment (-9 to +9 dB) for Front & Rear speakers using the following center frequencies; 62.5Hz, 100kHz, 160Hz, 250kHz, 400Hz, 630kHz, 1kHz, 1.6kHz, 2.5kHz, 4kHz, 6.3khz, 10kHz, and 16kHz.
Source Tone Memory: This feature allows you to store EQ and tone settings for each source (Disc, AM/FM, USB, iPod, Bluetooth Audio, and Pandora).
Bass Boost: The KDC-X996 features a four-step Bass Boost (Off/1/2/3) to enhance your music's lower frequencies.
Loudness: This function enhances low and high frequencies to make the sound clearer lower volumes.
Volume Offset: The level of each source may be independently adjusted to prevent radical leaps in output volume when switching from one source to another. The available settings range from -8 to 0 (-8 to +8 for Aux source).
Dual Zone: The Dual Zone mode allows you to output the Main source and the Auxiliary input separately for the front & rear channels. You can select whether the auxiliary input will play in the front or the rear. You can adjust the volume of the rear channels independently from the front channels (0-35). The head unit's audio settings have no effect on the second zone.
Key Beep: The in-dash navigation-multimedia head unit provides an audible beep to confirm button operation. This function can be turned On or Off.
Built-in Bluetooth
Bluetooth Technology: The Kenwood Excelon KDC-X996 is equipped with built-in Bluetooth ver. 3.0 (powered by Parrot) allowing you to make and receive phone calls wirelessly through the receiver; as well as stream music wirelessly from your smartphone to the head unit. Bluetooth Technology is a short-range wireless radio connectivity technology that was developed as a cable replacement for mobile phones and other electronic devices. Bluetooth operates in 2.4 GHz frequency range and transmits voice and data at speeds up to 1 megabit per second.
Bluetooth Profiles: In order to use Bluetooth wireless technology, your phone must also be Bluetooth compatible and be able to interpret certain profiles. This unit is compatible with the following Bluetooth Profiles:
Hands-Free Communication: HFP (Hands Free Profile), HSP (Head Set Profile), OPP (Object Push Profile), PBAB (Phone Book Access Profile).
Audio Streaming: A2DP (Advanced Audio Distribution Profile), AVRCP (Audio/Video Remote Control Profile).
Pairing: Your Bluetooth enabled mobile phone must be paired with the KDC-X996 before hands-free operation. You can register up to five Bluetooth enabled cell-phones with the Kenwood head unit (only one paired phone can be used at a time).
Note: Due to the differences in Bluetooth technology, some Bluetooth enabled devices may be incompatible, function improperly, or may not support all features when used with the Kenwood Excelon KDC-X996. See Kenwood's Bluetooth Compatibility List for the latest mobile device compatibility.
External Microphone: The Kenwood KDC-X996 includes an external microphone to carry on your side of your phone conversation and voice command dialing. The external wired microphone offers improved audio quality versus an integrated microphone, so you can be heard easier over noisy traffic and road noise. The external microphone features an attached 10' cable terminated by a right-angle 3.5mm connector which plugs into the mic input on the rear-panel of the head unit. The microphone offers an integrated mounting bracket which can be clipped to your vehicle's sun-visor or taped to your dash. The external microphone measures 0.525" (diameter) x 1.485" (depth).
Note: This unit does not offer an integrated front-panel microphone.
Bluetooth Hands-Free Communication: The head unit supports Bluetooth hands-free communication for your Bluetooth enabled mobile phone. The controls of the KDC-X996 can be used to dial a number, answer an in-coming call, or end a call. The unit also includes and external microphone (featuring adjustable gain), so you can carry on your side of the conversation while listening to the caller through your vehicles speakers. During a conversation, you can switch between the Private Mode (talking directly on your cell phone) and the Hands Free Mode.
Answering a Call: When a call comes in, a ring-tone will be heard through your vehicle's speaker and the caller's name or phone number will be displayed. You can answer the call from the head unit's front-panel controls, or setup the head unit to automatically answer the incoming call immediately or after 1-99 seconds. The KDC-X996 also supports the Call Waiting function, so you can answer another incoming call while suspending the current call you are on. Your compatible cell-phone must also support this feature.
Dialing a Number: Using the KDC-X996, you can dial a phone number in one of the following ways:

Entering a Phone Number: Allows you to directly dial a phone number up to 32 digits from the head unit's control knob or remote control.
Speed (Preset) Dialing: Allows you to register up to 6 phone numbers for quick dialing. The preset numbers can be accessed from the head unit's Control Knob.
Phone Book: You can dial by using the downloaded phone book. You can download phone book data from your cell phone to the KDC-X996. Up to 600 numbers can be stored for each registered cell phone. Each number can be up to 32 digits long and each name can be up to 50 characters long. Stored phone numbers can be categorized by General, Home, Office, Mobile, or Other. You can search each category of the phone book in alphabetical order.
Call Log: The Call Log is a list of calls that have originated from and were received by this unit that you can dial. You can select Outgoing, Incoming, or Missed calls.
Voice Dialing: If your mobile phone supports voice recognition, then you can dial out by voice command. Simply speak into the included microphone. You can register up to 35 voice tags.
SMS (Short Message Service): You can wirelessly download a SMS arrived at your cell-phone so that it can be read on the Bluetooth connected Kenwood head unit. Up to 149 already read and unread short messages can be downloaded. You can reply to a SMS by using the head unit's front-panel rotary knob or remote control to enter alphanumeric text. There is a limited amount of text that can be downloaded or entered. Your cell-phone must support SMS via Bluetooth for this feature to function.
Note: Do not read incoming SMS or reply to SMS while driving.
Wireless Audio Streaming: The Kenwood Excelon KDC-X996 also supports wireless audio playback (AD2P) and control (AVRCP) of a Bluetooth enabled audio player or smartphone. The KDC-X996 will be able to control basic playback functions of your Bluetooth device's stored music; such as Play/Pause, Next/Previous Track, Fast Forward/Rewind, and Random/Repeat. The head unit will also display your stored music's song information; such as Artist name and Song/Album title. The KDC-X996 also supports audio streaming of music apps (such as iHeartRadio, SiriusXM, Last.fm, Rhapsody, & Slacker), but without control or metadata. You will continue to use your Bluetooth enabled smartphone to view and control streaming music apps.
Note: Apple devices with iOS 6.0+ support Bluetooth audio streaming, but without control or metadata display.
Bluetooth Detailed Settings: The KDC-X996 offers the following Bluetooth Detailed Settings, so you can configure the unit to suit your needs.
Call Beep: You can choose to output a beep from your vehicle's speaker's when a call comes in, or you can turn this function off.
Speaker Output: You can select whether the call beep/caller's voice and streaming audio is heard through only the front speakers or all speakers.
Mic Gain: Adjusts the volume of the external microphone from -3 to +3.
NR Level: Reduces the noises generated by the surrounding environment without changing the mic volume. The NR Level can be set to -2 or +2.
EC Level: Adjusts the level of echo cancellation from -2 to +2.
HD Radio
Built-In HD Tuner: With its built-in HD Radio tuner, you can receive digital AM/FM broadcasts from local stations where available. HD Radio significantly improves AM/FM audio quality and reception, as well as includes information such as artist name and song titles or traffic news, viewable on the receiver's display. HD Radio Technology will deliver high-quality digital sound. AM digital will have FM-like quality in stereo (70dB SN @ 40-15kHz), while FM digital will have CD-like quality (70 dB SN @ 20-20kHz) with static free and clear reception. The unit's built-in HD Radio tuner allows analog AM/FM tuning as well.
Note: HD Radio is the system for digital AM and FM broadcasting in the U.S. More than 2,000 radio stations are broadcasting their primary signals in digital HD Radio technology, as a free service. Go to HDRadio.com to check for HD Radio stations in your area.
Station Text: AM/FM digital stations can offer text and data such as artist names and song titles.
Multicasting: In addition to conventional broadcasts, with HD Radio broadcasting it is possible to choose from up to 3 multicast programs (HD1 to HD3, and analog).
iTunes Tagging: It is possible to save the song's information (tag) from and HD Radio broadcasting station to your USB-direct connected iPod/iPhone. The songs will show up in a playlist called "Tagged" in iTunes the next time you sync your iPod/iPhone. Then you can directly buy the songs you want from the iTunes Music Store. You can "tag" up to 50 songs.
Tuner Presets: The KDC-X996's tuner features 3 FM banks (1, 2, 3) and 1 AM bank for storing presets. The Kenwood Excelon KDC-X996 offers two preset modes.
Normal: You can store 6 presets for each AM/FM bank giving you a total of 18 FM presets and 6 AM presets (total of 24).
Mix: A total of 6 preset stations can be assigned to the head unit's 6 preset buttons, regardless of AM/FM band. This lets you recall a preset station without switching between bands.
Auto Memory Tuning: Not only does the CD receiver's tuner allow you manually enter your desired presets you can choose to have the unit automatically put stations with good reception in the memory banks automatically; this is a handy feature when traveling.
Seek Modes: You can choose one of three seek modes: Auto 1 (seek tuning), Auto 2 (cycles through and tunes the selected band's preset stations only with each button press), or Manual.
Note: You can also setup the KDC-X996 to search only HD Radio stations.
Direct Access Tuning: You can directly access an AM/FM station by entering in the frequency number using the include wireless remote control.
SiriusXM Ready: The Kenwood Excelon KDC-X996 comes ready for SiriusXM programming with access to XM and Sirius Satellite Radio stations. Thanks to its proprietary SiriusXM Connect port, you can add the optional SXV200V1 SiriusXM Connect tuner and receive more than 150 channels of exclusive programming directly from SiriusXM, via the "SiriusXM All Access" package (subscription required). Visit SiriusXM.com for a complete list of subscription options and channel guide. Additional features of the SXV200 SiriusXM Connect tuner include:
Channel list displays a list of all available channels
Category Search searches for channels in a certain category
Displayed Information such as Channel Name, Artist Name, & Song Title can be viewed on the head unit's LCD
Up to 18 SiriusXM Satellite Radio station presets
Direct Tuning via included remote
Song/Artist Alert with visual notification of your favorite songs or artists
Supports the SiriusXM Instant Replay function, so you can pause, rewind, and replay up to 30 minutes of live content
iTunes Tagging for connected iPod/iPhone
Channels containing unsuitable content for children can be blocked
Note: A separate SiriusXM Satellite Radio subscription is required (operates on the XM Network). If you already have a Sirius Satellite Radio subscription, this radio cannot be added as a discounted second unit. If you have an existing XM Satellite Radio subscription, you can add this unit as a discounted second unit.
Disc Playback
Disc Compatibility: The unit features a single disc player that will playback CD-Audio, CD-Text, and finalized CD-R/CD-RW audio discs.
MP3/WMA/AAC Playback: The KDC-X996 can play MP3 (8-320 kbps), WMA (32-192 kbps), and AAC (8-320 kbps) files recorded on CD-R and CD-RW discs in ISO9660 Level 1/Level 2, Joliet, Romeo, and Long file name formats. Each disc can have a maximum of 8 directory levels, 50 folders, and 255 files per folder (512 maximum number of files and folders). During MP3/WMA/AAC playback, the unit displays any recorded ID3 Tag (ver. 1.x/2.x) and WMA Tag information - up to 60 characters.
Text Scroll: The KDC-X996 will display CD text or Audio file text. You can set the text scrolling feature to three different modes (Auto, Once, or Off) to scroll longer titles across the screen.
Music Search: The Kenwood AM/FM CD receiver features a Music Search feature which allows you to scroll through and select your MP3/WMA/AAC music folders and files, as well as scroll through your audio CD's music tracks using the head unit's rotary knob.
Direct Music Search: The supplied IR wireless remote control (RC-405) allows you to search for music directly by entering the track number.
Playback Modes: The Kenwood Excelon KDC-X996 features the following Repeat, Random, and Scan playback modes.
Repeat Play: Track, File, or Folder
Random Play: Disc or Folder
Scan Play: Track or File (plays the first 10-seconds of each music track on a disc or music file in a folder)
Last Position Memory: If the unit is shut off or switched to the tuner mode while a CD is playing, the next time CD is selected as the source, playback will resume from the point where it left off.
CD Read: This function sets the method for reading a CD disc. You can choose between two modes.
CD1: Automatically distinguishes between audio file disc and music CD when playing a CD or CD-R/RW disc.
CD2: When unable to play a special formatted CD, set this function to CD2 to force playing. Some music CD discs may be unplayable even when set to this mode.
Off Insert/Eject: A CD disc can be inserted or ejected with the power off. When a disc is inserted with the power off, the unit will automatically power up and begin playback.
Auto Reload: If the ejected disc is not removed within 15 seconds, the disc is automatically inserted again into the loading slot to protect it from dust.
USB/Aux Inputs
USB Port: The Kenwood Excelon KDC-X996 features a rear panel USB (type-A) port that is attached to the unit's rear-chassis via a 35" pigtail. The USB port enables connection and control of a portable USB mass-storage class (MSC) device with MP3 (8-320 kbps), WMA (32-192 kbps), and AAC (8-320 kbps) music files. The USB port is compatible with USB mass storage class devices that support the FAT16 or FAT32 file system. Your USB device should only have a maximum of 8 folder layers, 255 folders, and 255 files per folder - with a maximum of 65,025 files and folders. USB portable audio players that can be charged via USB will be charged when plugged into the CD receiver's USB port (max. 1A), and the vehicle's ignition switch is set to ACC or On.
Note: You cannot connect a USB device via a USB hub or Multi-Card Reader to this unit.
Music Editor Compatible: The Kenwood Excelon KDC-X996 supports the PC application, Kenwood Music Editor Lite (ver.1.1.0). Kenwood Music Editor Lite is a Windows-based desktop software that helps organize, manage and transfer MP3/WMA music files to your USB (MSC) devices from your PC. When you playback audio files that have been stored on your USB (MSC) device using Kenwood Music Editor Lite through this unit, you can search a file by title, album, or artist name using the head unit's Music Search function.
System Requirements: The Kenwood Music Editor Light (ver.1.1.0) Windows-based software can be downloaded for free from Kenwood.com to your PC. The Kenwood Music Editor Light is compatible with the following Windows Microsoft Operating Systems.
Windows XP Professional, Home Edition SP2 or later (32-bit)
Windows Vista (32/64-bit)
Windows 7 (32/64-bit)
Note: Not compatible with Apple iPod/iPhone/iPad, Zune, or Android.
Aux In: The unit is equipped with a rear panel 3.5mm minijack auxiliary input that can be used to input audio from a portable audio source, such as a portable MP3 player. The Aux input must be turned on to function. The unit has 3 auxiliary input modes.
On1: Outputs the sound of the external unit connected to the Aux terminal when switched to the Aux source.
On2: Activates the attenuator function when turning on the power with the auxiliary source selected. This prevents the noise when no external unit is connected to the Aux terminal. Turn off the attenuator function when listening to output from an external unit.
Off: Disables the selection of the Aux source.
Auxiliary Display: The KDC-X996 allows you to select the source type displayed when using the auxiliary input. You can choose from AUX, DVD, Portable, Game, Video, or TV.
iPod/Android Control
iPod Direct Connection: The KDC-X996's rear panel USB port also acts as an iPod/iPhone high-speed direct connection when used with the optional Kenwood USB Direct Connection Cable (113KCIP102, sold separately) or the USB/iPod cable that comes with your iPod/iPhone. If you have an iPod nano (7th gen), iPod touch (5th gen), or iPhone 5; use the Lighting-to-USB cable that came with your Apple device to connect to the head unit. Using either cable allows audio playback, music navigation, information display, and charging of select iPod/iPhone models from the KDC-X996.
iPod DAC Bypass: The USB connection allows your iPod/iPhone's large music libraries to be loaded instantly to the head unit and sound quality to be maximized through the head unit's 24-bit D/A converter, allowing for a Signal to Noise ratio up to 110dB. The Kenwood head unit supports audio playback of music files and podcasts stored on your iPod or iPhone, as well as music apps streamed to your iPhone.
iPod Control: You can choose to control the iPod/iPhone from the head unit or from your iPod/iPhone's clickwheel or touchscreen.
Head Unit: The Kenwood head unit allows you to navigate your iPod's music by Playlist, Artists, Album, Genre, Composer, Song, or Podcast. You can search these categories alphabetically (A-Z) or using a percentage search (0.5%, 1%, 5%, 10%). In addition, the head unit offers Related Search, which allows you to play songs related to the currently playing song. Related Search lets the head unit create an album list of the currently playing artist, a song list of the currently playing album, a artist list of the currently playing genre, or a album list of currently playing composer. The head unit also supports Repeat (file) & Random (folder) playback functions of your connected iPod/iPhone.
iPod/App Mode: In iPod/App mode, you can navigate the stored music on your iPod/iPhone from its clickwheel or touchscreen. You can also listen to your favorite music apps (such as iHeartRadio, SiriusXM, Last.fm, Rhapsody, & Slacker) from your iPhone (iOS 3.0+) through the Kenwood head unit and your vehicle's speakers. You will continue to use your iPhone's touchscreen to navigate your apps. Not all apps will be compatible with App Mode.
Note: Access to your iPhone's downloaded applications will depend on the availability of a cellular and/or WiFi network for purposes of allowing your iPhone to connect to the Internet.
Pandora Internet Radio Control: The Kenwood KDC-X996 CD receiver lets you playback and control the Pandora Internet Radio music service that is being streamed to your Apple iPhone, Android smartphone, or BlackBerry. While providing control over the Pandora music service, the KDC-X996 also displays Artist, Album, and Song information. You can select Pandora stations from your station list; you can sort the station list by date or alphabetically (A-Z). You can also skip song tracks within a station. In addition, you can also give songs a thumbs up/down and bookmark songs/artists.
Pandora App for iPhone: The Kenwood KDC-X996 lets you playback and control Pandora Internet Radio streamed to your connected Apple iPhone, via the Kenwood KCA-iP102 USB/iPod connector cable (sold separately) or the USB/Dock cable supplied with your iPhone. To access Pandora you must have an Apple iPhone (iOS3 or later) with the latest version of the Pandora App from the Apple's iTunes App Store. Your iPhone will need an active Data Plan account with connection to the Internet via 3G, EDGE, or WiFi. You will also need a Pandora music service account.
Pandora via Android or BlackBerry: The Kenwood KDC-X996 also lets you playback and control Pandora Internet Radio streamed from your Android or BlackBerry smartphone, via Bluetooth (no hard-wired connection required). Your Android or BlackBerry smartphone must have the latest version of the Pandora App from the Android Market or the BlackBerry App World. Your Android or BlackBerry smartphone must also be Bluetooth A2DP/AVRCP/SPP certified and will need an active Data Plan account with connection to the Internet via 3G, EDGE, or WiFi. In addition, you will need an active Pandora music service account.
Note: Access to the Pandora service will depend on the availability of a cellular and/or WiFi network for purposes of allowing your iPhone or smartphone to connect to the Internet. Pandora is not supported in Canada and only available in the United States.
iPod/ Display: The KDC-X996 will display your iPod/iPhone's music file information when you are controlling your iPod or iPhone from the Kenwood head unit. The head unit will display Track number, Elapsed playing time, Artist name, Song title, and Album label. If you choose to operate your connected iPod/iPhone via its clickwheel or touchscreen controls, the KDC-X996 will not display your iPod/iPhone's music information (the head unit will instead display "APP/iPod").
iPod Charging: The head unit's USB connection provides 1A of current to power and charge your connected iPod/iPhone when your vehicle's ignition switch is set to the 'ACC' or 'On' position. This unit does not charge the iPad. If your iPod/iPhone has no initial battery charge, then the unit will not recognize it.
iPod/iPhone Compatibility Chart: The Kenwood Excelon KDC-X996 is "Made for iPod/iPhone" compatible and supports the following iPod/iPhone model features (as of 2/22/2013):
| | | | | | | | |
| --- | --- | --- | --- | --- | --- | --- | --- |
| Apple Device | Generation | Tested Version | Media Type | Control Type | Display Type | iTunes Tagging | Charge |