Kenwood Excelon KDC-X997
CD receiver (New Stock)
Item #: 113KDCX997
141 Reviews | 4 questions - 18 answers
This item is no longer available.
Original Price: $224.99

Need help?
Does it fit my car?
Select your car

The top of the food chain
The Kenwood Excelon KDC-X997 lets you enjoy the latest in car audio entertainment. Built-in HD Radio™ is just one highlight of this top-of-the-line CD receiver, which also plays music from your iPod® and features built-in Bluetooth® for hands-free calling and audio streaming. Audiophiles will appreciate added features like digital time alignment, a 13-band equalizer, and a full complement of 4-volt preamp outputs, complete with onboard high-pass and low-pass filtering.
HD Radio for awesome sound
When you tune in a local station broadcasting an HD Radio signal, you'll hear FM that's close to CD quality or AM that comes in clear and static free. And unlike satellite services, there are no subscription fees. If your iPod's hooked up to the KDC-X997, you can also tag songs that you hear on HD Radio, then buy them later online. And most participating stations send out secondary programming, giving you more choices when you're in the mood for radio.
Bluetooth lets you concentrate on driving
Bluetooth gives you hands-free calling convenience, plus a wireless connection to the songs stored on your compatible music player. If you're an Android user who's grown tired of your old radio's complicated Bluetooth pairing issues, you'll love this receiver's simple, secure pairing (SSP) technology. If you're an iPhone aficionado, the KDC-X997 automatically pairs with your iPhone via USB and gives you full Siri control.
Pair your compatible phone to the KDC-X997 and you can talk hands-free by simply touching the dedicated "phone" button when a call comes in. And the receiver can reply automatically to text messages to let your contacts know that you're busy driving. An external Bluetooth microphone can be placed in an optimal location within the vehicle for improved hands-free communication.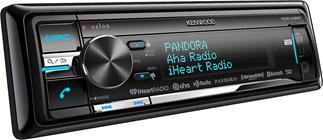 Use this Kenwood's controls to play your favorite Internet radio stations.
Stream radio from your phone
If you enjoy Internet radio on your iPhone, Android, or Blackberry, you'll really enjoy playing music from Pandora®, iHeart Radio, and Aha™ radio on this great-sounding receiver. You can scroll through your stations, bookmark songs, and give a thumbs-up or thumbs-down right from the receiver's face.
Play (almost) anything
This Kenwood receiver is ready for your iPod, iPhone®, or Android. Once you connect your iPod or iPhone to one of the front-panel USB inputs, you can use the receiver's controls to search through your albums, artists, and playlists. If you store your music on an Android device, you can download Kenwood's free Music Control app from the Android market to enjoy a variety of search and playback features. If your music is on another device, just plug it into the handy front-panel auxiliary input.
You can also enjoy music from your local AM/FM stations or your CD collection. If you're a satellite radio fan, the KDC-X997 is SiriusXM-ready. All you need is a tuner and a subscription to enjoy stations that never fade away.
Multi-line display
The KDC-X997's text display gives you all the info you want, plus you can select display and illumination colors that match your car's dash or your moodt -- your choice. The 3-line display can be switched to a 2-line format with a larger font that makes it easier to read phone numbers, song titles, and source data.
Want to keep your car's steering wheel audio controls?
In most vehicles, you can use an adapter (not included) to connect your vehicle's steering wheel controls to this Kenwood Excelon stereo. Connect a few wires, program the adapter for your car and this Kenwood, and you'll retain the convenience of your steering wheel controls. Check the "Accessories" tab for compatible adapters.
Bluetooth note: Use of this receiver's Bluetooth features will depend upon your phone's Bluetooth capabilities. Learn more in our article explaining Bluetooth profiles.
Note: If you're going to use your iPod with this receiver, be sure to check "Details" for specific iPod model compatibility with this receiver or its optional iPod adapter.
Product Highlights:
General features:
CD receiver with AM/FM tuner
built-in HD Radio
built-in Bluetooth for hands-free calling and audio streaming
built-in MOSFET amplifier (22 watts RMS/50 peak x 4 channels)
plays CDs, CD-Rs, and CD-RW discs including discs loaded with MP3, WMA, and AAC music files
automatic iPhone pairing with Siri control capability
detachable face with selectable 2- or 3-line display, plus variable display and control colors
remote control
Audio features:
13-band equalizer
Sound Excellence DSP with speaker size settings, plus high- and low-pass crossovers
digital time alignment
3-level bass boost
low- and high-pass filters; subwoofer level and phase control
Expandability:
iPod/iPhone direct control via USB input — no adapter necessary, but adding Kenwood's optional connecting cable lets you leave your iPod cable at home
Pandora, iHeart Radio and Aha control with iPhone, Android, and Blackberry
compatible with Kenwood's Music Control app for Android phones
compatible with SiriusXM tuner
inputs: front-panel auxiliary input; front and rear USB ports
outputs: 6-channel preamp outputs (4-volt front, rear, and subwoofer)
Other features and specs:
compatible with most factory steering wheel audio controls (adapter required)
warranty: 2 years
Why replace your factory radio?
Two good reasons - sound quality and cool features. A new car stereo offers power that's superior to most factory radios, along with more sophisticated tone controls. And most car stereos offer built-in or optional features that add safety and fun to life in your car, including inputs for your iPod or MP3 player, Bluetooth connectivity for hands-free cell phone calls, satellite radio or HD Radio reception, and connections for building an audio system in your car.
Kenwood Excelon KDC-X997 Reviews
Average Customer Review:
141 Reviews
---