Pioneer DEH-6400BT
CD receiver
Item #: 1306400BT
This item is no longer available.
Original Price: $139.99

Need help?
Does it fit my car?
Select your car
Add Bluetooth for safety on your drive
Imagine the convenience of hands-free calling. When a call comes in, Pioneer's DEH-6400BT mutes the music and displays the incoming number or contact name. Just press a button and you can talk without fumbling with your phone — an important safety advantage on your busy commute. And thanks to audio streaming, you can send music wirelessly from many Bluetooth®-enabled devices to your receiver, too.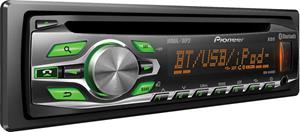 Loaded with Pioneer sound enhancements
Built-in Bluetooth is only one of the advantages this receiver has over run-of-the-mill car stereos. You'll also find an impressive collection of sound-shaping controls. Pioneer's Easy EQ 3-band equalizer lets you tailor the sound to match your taste and your car's interior. The Advanced Sound Retriever improves the audio performance of your digital audio files, reversing the compression process to give you more high-frequency sparkle and musical detail.
Choose colors to match your car and your taste
The bright dot-matrix display displays all system information clearly, and you can adjust the display and control colors of this receiver separately, with thousands of possible combinations on tap. The DEH-6400BT will blend right in, whatever the color of your car's control surfaces and dials.
Power and control
At the heart of this receiver, Pioneer's acclaimed built-in amp delivers plenty of power for good, clean sound, while the two sets of preamp outputs offer a convenient connection to a full system with external amplifiers, speakers, and subs. You'll find the low-pass filter and level control on the subwoofer preamp outputs handy for adjusting the bass from the driver's seat.
Ready to play your music
Plug your iPod® into the USB input, and you can use the Pioneer's controls to run the show. Once connected, the receiver bypasses your iPod's built-in digital-to-analog converter, using its own high-quality DAC to deliver your music files with the highest fidelity possible. You'll love the convenience of the auxiliary input on the front panel, great for plugging in a satellite radio, gaming device, or another audio source. The DEH-6400BT also plays all your CDs, including those with MP3 and WMA files burned onto them.
Want to keep your car's steering wheel audio controls?
In most vehicles, you can use an adapter to connect your vehicle's steering wheel controls to this Pioneer stereo. Connect a few wires, then program the adapter for your particular car and the Pioneer, and you'll retain the convenience of your steering wheel controls. Check the "Accessories" tab for compatible adapters.
Bluetooth note: Use of this receiver's Bluetooth features will depend upon your phone's Bluetooth capabilities. Learn more in our article explaining Bluetooth profiles.
Note: If you're going to use your iPod with this receiver, be sure to check "Details" for specific iPod model compatibility with this receiver.
Product Highlights:
General features:
CD receiver with AM/FM tuner
built-in MOSFET amplifier (14 watts RMS CEA-2006/50 peak x 4 channels)
built-in Bluetooth for hands-free calling and audio streaming
plays CDs, CD-Rs, and CD-RWs, including discs loaded with MP3 and WMA files (except rights-protected files)
detachable face with dot matrix LCD display, plus customizable display and key colors
remote control
Audio features:
Advanced Sound Retriever (ASR) for improved sound quality from compressed music files
Easy EQ 3-band equalizer with six preset tone settings
3-level loudness
low-pass filter on preamp outputs
subwoofer level control
Expandability:
built in iPod control — no adapter necessary, but adding Pioneer's optional connecting cable lets you leave your iPod cable at home
App Mode offers limited control of music apps through iPhone connection
inputs: front panel auxiliary and USB inputs
outputs: 4-channel preamp outputs (2-volt front, rear/subwoofer)
Other info:
compatible with most factory steering wheel audio controls (adapter required)
warranty: 1 year
Why replace your factory radio?
Two good reasons - sound quality and cool features. A new car stereo offers power that's superior to most factory radios, along with more sophisticated tone controls. And most car stereos offer built-in or optional features that add safety and fun to life in your car, including inputs for your iPod or MP3 player, Bluetooth connectivity for hands-free cell phone calls, satellite radio or HD Radio reception, and connections for building an audio system in your car.
Pioneer DEH-6400BT Reviews
Average Customer Review:
106 Reviews
---