Pioneer SPH-DA02 AppRadio
Smartphone receiver
Item #: 130APPRAD2
This item is no longer available.
Original Price: $139.99
Need help?
Does it fit my car?
Select your car
Control iPhone® apps from your receiver
If you love using apps on your smartphone, put them to work in your car. Pioneer's SPH-DA02 AppRadio smartphone receiver puts them front and center on a bright and clear 6.1" capacitive touchscreen. With your iPhone 4/4S, you won't have to fumble around with your phone while you're driving — just reach out and touch the screen. It recognizes zoom, swipe, and pinch gestures just as if you were using your smartphone.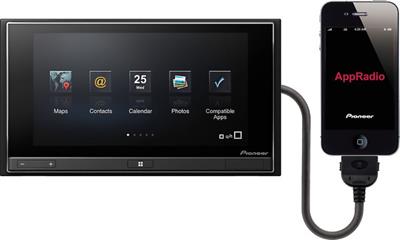 An ever-expanding pool of apps
AppRadio works with many popular music apps, like AUPEO! Personal Radio, Pandora® Internet radio, DashCommand, Rdio, and Pioneer's MIXTRAX. And over time, you can bet that more and more apps will be available to use with the sleek app interface. Pioneer includes a GPS antenna, so you can use the MotionX GPS Drive™ and INRIX® traffic apps to add navigation to this receiver's arsenal of features.
Talk hands-free and enjoy Pioneer sound quality
Built-in Bluetooth® adds to the versatility of this cool receiver — pair your phone and you'll be able to talk hands-free, and have access to your phone book from the touchscreen, too. And this full-featured receiver includes Pioneer's powerful MOSFET built-in amp, a 3-band equalizer, AM/FM tuner, and a set of preamp outputs for connecting an outboard amp or powered sub.
Want to keep your steering wheel controls?
In most vehicles, you can use an adapter (not included) to connect your vehicle's steering wheel controls to this Pioneer stereo. Connect a few wires, then program the adapter for your particular car and the Pioneer, and you'll retain the convenience of your steering wheel controls. Check the "Accessories" tab for compatible adapters.
Bluetooth note: Use of this receiver's Bluetooth features will depend upon your phone's Bluetooth capabilities. Learn more in our article explaining Bluetooth profiles.
Note: This receiver is not compatible with the iPhone 5. If you're going to use your iPod with this receiver, be sure to check "Details" for specific iPod model compatibility with this receiver.
Complement your setup with a phone mount
This receiver requires input from your iPhone from time to time during operation — most notably when running the MotionX GPS Drive app. It's a good idea to mount your iPhone where it's easy to reach. Check out our selection of Pro.Fit mounts.
This smartphone receiver will not play CDs. If you want to play CDs in your vehicle, we offer a wide selection of CD receivers.
Product Highlights:
General features:
digital media receiver with AM/FM tuner (no built-in CD player)
touchscreen control over select iPhone 4/4S apps
built-in amplifier (14 watts RMS CEA-2006/50 peak x 4 channels)
built-in Bluetooth for hands-free calling
6.1" touchscreen display
Audio features:
Easy EQ 3-band parametric equalizer with 7 preset tone curves
Expandability:
built-in iPod control (cable included)
included GPS antenna for boosting signal while using GPS apps
inputs: rear USB input for iPhone 4 or 4S (cable included — not compatible with other USB devices)
outputs: 2-channel preamp outputs (2-volt rear/subwoofer)
Other features and specs:
CEA-2006 compliant amplifier
works with steering wheel controls (adapter required)
warranty: 1 year
Why replace your factory radio?
Two good reasons - sound quality and cool features. A new car stereo offers power that's superior to most factory radios, along with more sophisticated tone controls. And most car stereos offer built-in or optional features that add safety and fun to life in your car, including inputs for your iPod or MP3 player, Bluetooth connectivity for hands-free cell phone calls, satellite radio or HD Radio reception, and connections for building an audio system in your car.
Pioneer SPH-DA02 AppRadio Reviews
Average Customer Review:
142 Reviews
---