Pioneer AVIC-Z120BT
Navigation receiver
Item #: 130AVIC120
This item is no longer available.
Original Price: $899.99
Shop all In-dash GPS Navigation
Need help?
Does it fit my car?
Select your car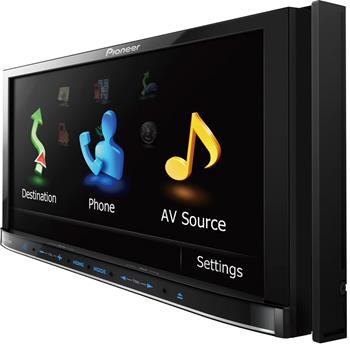 Exercise your freedom of speech
Pioneer's AVIC-Z120BT navigation receiver gives you a beautiful 7" touchscreen display, but you won't need to take your eyes off the road to touch it while you're driving — just tell it what you want to do, or where you want to go with spoken commands. The AVIC-Z120BT's ingenious Voice Control system lets you set navigation destinations, choose music, or make hands-free calls from a compatible phone simply through the power of your voice.
---
Powerful navigation
The AVIC-Z120BT guides you with detailed maps of Canada and the entire U.S., stored on built-in flash memory so you won't have to insert a disc when you need directions. You can find the services you need from over 12 million points of interest, while brand icons help you find the right gas station or fast food spot. The system's text-to-speech function announces street names as you go, so you'll always know you're making the correct turn.
The navigator recognizes voice commands for address searches and points-of-interest category selection, so you'll spend less time punching buttons to get into the menus. Got an iPhone®? Pioneer has an app that lets you find a location with your iPhone, then transfer it to the AVIC-Z120BT for turn-by-turn directions. Search for "AVIC feeds" in the iTunes app store.
Hands-free phoning with voice control
Make hands-free calls easily with your compatible phone using the receiver's built-in Bluetooth® capability. Pioneer's voice-recognition software understands your casual request to make a phone call, prompting you for additional information when required.
The receiver's Bluetooth also supports A2DP, for wireless streaming of music from your Bluetooth-enabled device to the receiver.
Bring Pandora® Internet radio on the road
Pandora is great — you create your own stations online based on your favorite artists, albums, songs, or genre. Pandora then uses a unique algorithm to suggest new artists and songs, which you then give a "thumbs-up" or "thumbs-down." Over time, your stations swell with the kinds of tunes you're looking for. Download Pioneer's free Pandora app, hook up your iPhone to the receiver with Pioneer's optional iPod cable, and you can use the AVIC-Z120BT's beautiful screen to tap your way through your Pandora stations.
Voice control for your iPod®
Plug your iPod into the optional Pioneer CD-IU50V adapter and you can also use voice commands to search for music by artist, album, genre, and playlist. Song info and album art appear on the screen, giving you the information you want, while offering easy control through the touchscreen.
More ways to play your tunes
The AVIC-Z120BT covers the bases with your other media too. It plays CDs and DVDs, including discs burned with MP3, WMA, and AAC files. Flash media is covered with the USB input and SD™ card slot. You can use them for MP3, WMA, and AAC files, as well as Windows Media™ Video (WMV) files and MPEG4 videos.
Drive green
Pioneer's Eco Drive analyzes your driving habits and projects your effect on the environment. You'll see results right on the screen, and even get an "Eco Score," which you can improve through adopting more fuel-efficient driving habits. The AVIC-Z120BT analyzes your driving every 30 seconds, then updates your score every 5 minutes. As your score goes up, your fuel consumption goes down — and you'll pocket the savings.
Audio control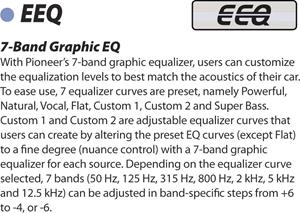 Sound quality is superb, with a strong built-in amp and a 24-bit digital-to-analog converter that delivers smooth, natural sound. For sound tweaking, explore the possibilities of the 7-band graphic equalizer, frequency filters, and 3-level loudness control.
Video and other entertainment options
Check out your video DVDs on the receiver's screen when you're parked, or connect a rear-seat video screen so your passengers can enjoy the show while you drive. You can also plug in an optional rear-view camera for extra safety when backing up in tight spaces.
Connect audio sources through the USB input, SD card slot, or audio/video inputs. Tap into the variety of SIRIUS/XM radio with a satellite radio tuner, or add Pioneer's HD Radio™ tuner to enjoy the crystal-clear sound and extra programming from participating stations.
Want to keep your car's steering wheel audio controls?
In most vehicles, you can use this adapter to connect your vehicle's steering wheel controls to this Pioneer stereo. Connect a few wires, then program the adapter for your particular car and the Pioneer, and you'll retain the convenience of your steering wheel controls.
---
Note: Bluetooth compatibility with this receiver may vary, depending on your phone and service provider.
Note: If you're going to use your iPod with this receiver, be sure to check Hands-on Research for specific iPod model compatibility with this receiver or its optional iPod adapter.
---
Information provided by Pioneer
---
---
Note: Pandora is currently only available in the United States.
Product Highlights:
General features:
navigation receiver with internal amp (14 watts RMS CEA-2006/50 peak x 4 channels)
built-in navigation capability with map coverage of Canada and the entire U.S., plus over 12 million points-of-interest
voice control of navigation address and POI searches
7" motorized touchscreen
fits double-DIN dash openings
voice control of Bluetooth and music searches
works with Pioneer's free Pandora app for iPhone
Audio/video features:
plays MP3/WMA/AAC files recorded on DVD or CD discs, USB, and SD cards
plays WMV, MPEG4, and H.264 files on USB/SD
24-bit digital-to-analog audio converter
high- and low-pass filters
7-band graphic equalizer with 7 preset EQ curves
6-level bass boost
Expandability:
built-in iPod control — Pioneer's optional adapter required for viewing video content
built-in Bluetooth for hands-free calling
compatible with satellite radio and Pioneer HD Radio tuner
inputs: rear USB input, SD card slot, rear A/V input, rear-view camera input
outputs: 6-channel preamp outputs (4-volt front, rear, subwoofer), A/V output
Other information:
compatible with most factory steering wheel audio controls (adapter required)
warranty: 1 year
Why install a car stereo with built-in GPS?
Imagine taking a trip as your car's receiver gives you directions, finds the best restaurant for dinner, and plays movies for your back seat denizens. Navigation receivers cover all the bases, with GPS guidance, DVD playback, and a host of other useful features. You can search through millions of points of interest to locate gas stations, restaurants, museums, and other interesting spots, wherever you are. Most receivers offer Bluetooth capability for hands-free calling, along with the ability to search through your iPod playlists with touchscreen controls.
Pioneer AVIC-Z120BT Reviews
Average Customer Review:
17 Reviews
---
Written by: Nolaninc from Hinesville, Ga. on March 18, 2012
2010 Honda CRV LX
Crutchfield Customer Review
(
What's this?
)
After purchasing this unit I had it installed locally. The unit works really great except for one thing the voice command does not recognize voice commands. I've tryed adjusting the mic to no avail. Great unit except for that.

Pros: Nice easy to navagate throught the options

Cons: Voice command sucks!!!!!!
OK peoduct short on attention to detail
Written by: hall from raleigh, nc on September 10, 2011
2005 Nissan Pathfinder
Crutchfield Customer Review
(
What's this?
)
This unit has features which are great ideas. The execution leaves much to be desired however. I purchased this unit as an upgrade to an older Pioneer AVIC D1. Make no mistake, the Bluetooth and other features work great. The user interface compared to the older units is a huge step backward however. You cannot change your presets while in map mode. There are too many screens to have to flip through to get to certain key radio functions. The map does not display sidestreet names except for major intersections. You no longer get to see which direction your next exit is until you are within a very close proximity to it... This and other attention to detail items result in a much wasted potential for this unit. Fix those things and the unit gets 5 stars by everyone. As for me, 3 stars. The unit is good but not great.

Pros:

Cons:
Written by: Herby from State College, PA on September 2, 2011
Crutchfield Customer Review
(
What's this?
)
Installed in my 2009 Ford F150 XLT with SYNC. Good unit with nice features. The navigation system is awesome while driving. Sound quality is amazing and dvd video is superb. I gave this 4 stars because of one minor detail. The user interface is somewhat convoluted. I'm pretty tech savvy but navigating some of the menus just didn't make a whole lot of sense. Also, a lot of features are not enabled unless the parking brake is engaged, having the vehicle in park won't cut it. (I'm sure there's a way around this but I wasn't about to start messing with wires I wasn't sure about). Don't get me wrong the actual functionality of everything included with this nav unit is top of the line and I think I just need to get use to it seeing this is only my 2nd day with the unit installed.

Pros:

Cons:
Written by: Slyden87 from California on August 27, 2011
2008 Nissan 350Z
Crutchfield Customer Review
(
What's this?
)
After much deliberation and weighing the pros and cons poseted by other reviewers, I jumped in and bought this unit. Everything about it is great! I would definately recommend this unit to anyone who is looking for a great hu at a great price! This was the first mod to my car and I couldn't be any happier.

Pros:

Cons:
Written by: JohnP from Seoul, South Korea APO/AP on June 23, 2011
2006 Chevrolet Impala
Crutchfield Customer Review
(
What's this?
)
This is an amazing head unit. It does everything I possibly wanted and more. I would recommend this product to anyone looking for a all-in-one car stereo. I would also recommend Crutchfield to anyone looking to buy any type of car electronics. The website was easy to use, the Hands on Research was an excellent way to find out exactly what the device you are considering does before buying it, and I got my equipment shipped to me very quickly. That was very convenient for me as I am in the military overseas. I used the telephone tech support number twice before I installed it and had my questions answered immediately by someone who understood the product and how to install it. Overall: excellent product purchased through an excellent online store.

Pros:

Cons:
To all undecided shoppers
Written by: Brian from Overland Park, KS on March 22, 2011
2003 Ford Expedition
Crutchfield Customer Review
(
What's this?
)
I spent weeks reviewing every HU on the market in all price ranges, trying to find the best quality, features, UI and price. Overall, this is definitely the way to go. GPS Pros-works great where i live. loads perfectly every time and never locks up or gets lost. Cons- entering an address is difficult. not very intuitive. We rarely use it to find somewhere, but coming from a garmin, this isnt the greatest. If GPS is very important to you. you may want to look at a kenwood model. Interface Pros- works great, very easy to navigate through. Everything is where you'd think it was. Loads playlist quickly (loads my 3000 songs within 30 sec.) and interface is easy to move through. The majority of my artwork shows, but I pay for my music, so if you download, it may not. the UI is super fast, i was also looking at the kenwood model, but after hearing reviews of a laggy interface, im very happy i went with pioneer.cons- the audio display is a bit plain, but if your looking for a clean look. its great. Kenwood's scrolling feature looks cool. but the 1-2 sec lag kills it. Your not able to fast forward of rewind songs, not a huge deal. Other pros- Very clean look. Bluetooth works perfect, crystal clear. touch screen is super accurate and easily laid out (not over-sensitive). the rear usb and 3.5mm connection are actually on a cord. so not having front slots is not a problem. If your looking for the best and its price isnt a problem, its definitely the way to go. you wont be disappointed


Pros:

Cons:
Written by: Anthony from valley stream ny on March 22, 2011
I have only had this unit in my truck for 3 days, today being the first real day I could play with it, nobody has mentioned that this unit can stream music through its bluetooth system. I did purchase the usb iphone jack and you also have to plug in the headset like you were going to use headset, I though that was just silly until I plugged in my ipad and started playing with a few musical apps like beatpad, it sounded like a sound studio! it wont work though bluetooth, but I am sure that I can find other apps that will! I will be back here again with more updates!

Pros:

Cons:
Decent head unit, but expected more for my money
Written by: shakezoola from Kansas City on December 23, 2010
2008 Jeep Wrangler Unlimited
Crutchfield Customer Review
(
What's this?
)
I looked at everything from low end to high end receivers. When I saw a video that demoed the UI of the AVIC-Z120BT, I decided that this was the one for me. However the video was a bit misleading. It showed a user navigating through a song library w/ album art. The album art is only visible with an iPhone/iPod. It will not read album art from media on SD card, USB drive or disc.

The Navi is just OK at best. Entering addresses is not intuitive and sometimes not recognized. I still use my Android phone for Navi.

The voice recognition is worthless. Rarely understands what I say.

The phone function via BT works, but had to change to the handset a few times because the connection wasn't clear enough.

The touch screen works great, but the UI could be better. If you are browsing your library and select a folder, then go back, you are taken back to the top of the directory, NOT back to entry point. Very annoying.

The installation was made somewhat easy by purchasing the PAC wire harness. CF said this head unit would work with a little modification. I had to cut metal brackets out of dash cavity with a Dremel tool which took quite some time since the area is so small. It was a pain to get it all of the wires and situated so the head unit would fit.

The reason I have not returned the unit is because I put so much effort into getting it installed and modifying my vehicle that I tried to give this thing a chance. Too late to go back now. I would not make this purchase again.

Pros:

Cons:
Written by: Chris B from Ft. Lauderdale, FL on December 2, 2010
2006 Subaru Impreza WRX STi
Crutchfield Customer Review
(
What's this?
)
Did a ton of research looking for the right unit for my STI. After looking went with the z120bt. I couldn't be happier. Great SQ with stock speakers & even better when I upgraded to aftermarkets. Layout is great & easy to navigate.

The nav in this thing can keep up with the best of them. Kenwood's have the Garmin, but this has not let me down yet. It has many navigation features that the Garmin units don't.

Eco function is lame but can be fun to mess around with. DVD quality is great, love the Divx and Mp3 ability.

Pandora link with iPhone is AWESOME! Bluetooth calling is great, no complaints about SQ from people I have talked to.

SD slot is cool, love being able to customize splash screen and illum colors. Didn't think I would use the voice recognition that much, but it turns out I love it, not to mention the "cool factor" when people get in and hear my HU talking to me.

The sirius tuner box display for sirius on the HU is garbage. One line of text, no station art, no preset renaming. But that is the fault of the sirius unit, not the HU. You will get the same thing with any Pioneer unit. Go with XM if you can, the functionality is much better.

Install was a breeze, thanks to Crutchfield. Included everything I needed. Wouldn't buy anywhere else even if it was cheaper. Love to have the peace of mind Crutchfield provides.

Fast bootup, No real delay at all!

You won't be disappointed!

Pros:

Cons:
Written by: Beached Bun from Medford, OR on November 30, 2010
2006 Toyota Highlander
Crutchfield Customer Review
(
What's this?
)
I bought this product because of the advertised features for built-in GPS, handsfree cell phone, voice command control, satellite radio capability and iPod connection and the reputation of Pioneer. The most disappointing experience was the GPS. It was very buggy and basically rendered it useless. The GPS would lock up or get confused and POI feature was inconsistent. I know that there is an update but the effort wasn't worth it for me. A product as expensive as this one should not be that buggy. As noted by another reviewer, it does not show names of every street as you are traveling in town. I have been a long time user of GARMIN GPS products.
The touch screen is far too sensitive so it makes it difficult to scroll through lists with the radio tuner, satellite tuner and/or the iPod lists. This is aggravated when the car is in motion.
The only thing that seem to work well was the hands free feature that worked smoothly with my iPhone.
After using the unit for several weeks I gave up and I returned the Pioneer and replaced it with the Kenwood Excelon DNX9960. Kenwood's reputation and their partnership with Garmin for GPS was worth the extra cost.



Pros:

Cons:
Written by: DJ from California on November 21, 2010
I upgraded to the Z120BT several months ago. Here's my accessment:
Overall, its my opinion that the interface is poorly designed. Pioneer's interface is a knock-off off Apple's iPad interface. It uses hand gestures to navigate. I describe the specific issues I had below.

Things I like:
GPS: Graphics are well rendered, instructions easy to input
Bluetooth: Easy to set-up and use my phone in the car
Microphone: No problem with audio on phone calls

Things I dislike:
1. Touch Screen: The interface is a cheap knock-off of Apple's iPad technology
- Touch screen's "flick" motion to move through lists is terrible; Instead of moving through a list, items you don't want are selected
- The audio source icons change position based on the current selection. This is dangerous because the driver has to take extra time off the road to find a source
- Many of the icons are no bigger than a pencil eraser (Play/Pause is an example). This makes them hard activate. Again dangerous for the driver.
- Radio screens poorly designed. Buttons for scanning through radio stations are not responsive
2. Audio Commands
- System could not interpret my resquests (I'm a native english speaker with an American accent)
3. No true screen off: When the system is off a back lit, black screen is displayed. This is distracting during night driving.


Pros:

Cons:
Written by: Anonymous from Melbourne, FL on November 15, 2010
I really like this unit. I previously owned an AVIC-D1. This unit by far surpasses the D1 in video quality, ease of use, and ergonomic design.

Pro: Ipod/Iphone interface, Bluetooth, customizable splash screen.
Con: Hands free voice recognition while driving is not very good. The external microphone picks up to much background noise even after installing the new firmware update offered by Pioneer

Overall, it is a nice unit and I would recommend it.

Pros:

Cons:
Excellent unit w/ a quirk or two
Written by: Chuck from Baltimore MD on October 18, 2010
2005 Ford F-150
Crutchfield Customer Review
(
What's this?
)
Installed the unit last week into a 2005 F-150. Looks great and now I finally have a sound system that sounds good. Lots of sound customization options, fairly easy to use, user interface is good. Did a self install and wasn't that bad as long as you look up all the wire colors ahead of time.

A few quirks/suggestions:
If you buy Sirius interface know that it will only show one text line (station name, artist, song etc) you have to push a button each time you want to see the rest. No channel art, just channel number. Long song names scroll automatically, but otherwise Very Primitive and disappointing. I sent it back,.

- If you buy the XM unit, it has none of those limitations. Uses all 3 available lines to display data and shows channel art so its easier to see what station you are on. However, long text is just cutoff, doesn't scroll. Also, not 100% sure, but I think the sound on the SIRIUS might have been a bit higher quality.

-Iphone integration is GREAT. However, every time I plug in my phone the source switches to the internal IPOD no matter what I was originally listening to. Then I have to switch back. Very Annoying.

Minor annoyance,.. if you wear polarizing sunglasses the screen is hard to see, must have the opposite polarization built in or something.

Pros:

Cons:
Amazing Unit. GPS needs a bit of work
Written by: campos from Miami Fl on October 5, 2010
2005 Chevrolet TrailBlazer
Crutchfield Customer Review
(
What's this?
)
overall great unit. worth the money. alot of cool features. the GPS needs a bit of work.

Pros:

Cons:
Written by: 64Malibu09 from California on September 5, 2010
I would recommend this to anyone looking to drop some cash on a series in dash Nav.
I was originally looking into something from Alpine but lets face it, their double din units look like dinosaurs. This unit looks sleek and up to date.

Pro's: Very easy to use, customizable, 8band equalizer, Lets you control an iPod either on the unit or the iPod it self, customizable splash screen, and the navigation is very responsive, built in blue tooth, Lots of Audio Options to make your system sound crystal clear.

Con's: Installation isn't recommended for newbies (me) had a pro do it.

Pros:

Cons:
Written by: S 2 H from Alexandria, VA on August 28, 2010
2005 Ford F-150
Crutchfield Customer Review
(
What's this?
)
Just finished installing this unit in my 2005 F150. I gambled a little on this one and it paid off. The simple clean look to it is great. The UI is much better than previous in dash systems I've had. Installation was easier than I had planned. The wiring diagram for my truck posted on Crutchfield's Tech Support page was perfect. I was able to find what few wires I had to splice into (Speed Sensor, Reverse, Parking Brake). Highly recommed this product. Also very statisfied with the free wiring harnesses and both the online and telephonic tech/customer support. Saved me hundreds of dollars in installation fees.

Pros:

Cons:
Incredible Unit!! Totally Worth It!!
Written by: Tim from Sterling, VA on June 11, 2010
Crutchfield Customer Review
(
What's this?
)
After extensive research and comparison, I decided to venture outside of my targeted price range to buy into the Z120BT. This unit has everything I was looking for and more!! I did the installation myself in a '98 4Runner which was quite easy and looks VERY sharp. No mods needed. The user interface is extremely easy to learn and navigate around. Navigation is accurate with lots of modular options. The scrolling grids on the GUI for the AV Sources (AM/FM/XM/iPod) are both convenient and a graphically stellar. The audio processing sounds great, and DVD picture playback is more than satisfactory. I love the ability to customize and change the splash screens at bootup. Bootup time very quick!! Less than 15-20 seconds. The iPod interface is easy to navigate and extremely fast!! The head unit "mode" transitions are very snappy and there is little to no lag. Handsfree Bluetooth works great and the sound is better than average. I also installed the unit with XM ability and love everything all the way down to the Station art being displayed much like the album art for the iPod. Programming and customization options are very broad, so there isn't much of anything you can't customize or set to your liking. I didn't install any additional A/V monitors or the backup camera, so I cannot comment on that, but those capabilities are there. As I stated, this unit has everything!! This is a no brainer purchase as long as you are comfortable in this price range. Extremely happy with this unit!!

Pros:

Cons:
What's in the box?
Double-DIN CD/DVD/Navigation receiver with integrated 6.95" LCD monitor (10A mini-blade fuse inserted in chassis)
Wiring harness
AV/Preamp connector harness
6.75' USB/AV cable (with a USB type-A connector and AV 3.5mm connector on one end and a proprietary multi-pin connector on other end)
GPS antenna with attached 16.25' cable
Self-adhesive ground plane sheet (2.375" square)
8 Pan-head ISO-DIN screws (M5 x 6mm)
8 Flat-head ISO-DIN screws (M5 x 6mm)
Microphone with 13' cable (right-angle 2.5mm sub-mini plug)
Sun-visor clip
3M tape
Owner's Manual CD-ROM (Eng/Fre)
Installation Manual (Eng/ Fre)
Quick Start Guide
Warranty information (US/Canada)
On-line product registration information
"Important Information for the User" booklet (Eng/Fre)
"Pandora/iPhone" note
Product Research
Display Features
Navigation
Audio Section
Radio Functions
Multimedia Playback
iPod/iPhone Compatible
Bluetooth Control
Display Features
2-DIN Chassis: The Pioneer AVIC-Z120BT has a 2-DIN chassis (also known as "Double DIN" or size DD), and will fit in many vehicles with a large dash opening. The unit can be ISO-mounted using factory brackets.
Note: As always, please consult the Crutchfield Car Selector to verify fit with your vehicle.
6.95" Motorized TFT LCD Touchscreen Color Display: The AVIC-Z120BT features a motorized 6.95" TFT Active Matrix, 16:9 wide screen touch-screen display with an LED backlight. The resolution of the display is 800 x 480 for a total of 384,000 pixels. The touch panel allows you to control this unit or a connected component such as an iPod, USB device, Bluetooth enabled device, or a Satellite Radio and HD Radio tuner. Menus appear on screen for making function choices, audio adjustments, and setting up the system. The motorized LCD touchscreen display electronically slides-down to insert and eject discs and SD memory cards. You can adjust the motorized display's angle (5-steps) to suit your viewing needs.
Note: The motorized touchscreen display is not removable.
Video Adjustments: You can store numerous video settings for each source and the optional rear view camera; including brightness (adjusts the black intensity), contrast (adjusts contrast) color (adjusts color saturation), temperature (adjust the color temperature), and Dimmer (adjusts brightness).
Widescreen Modes: You can choose from the following widescreen modes when playing back video:
Full: A 4:3 picture is enlarged in the horizontal direction only, enabling you to enjoy a 4:3 picture without any omissions.
Zoom: A 4:3 picture is enlarged in the same proportion both vertically and horizontally; ideal for a 16:9 screen.
Cinema: A picture is enlarged by the same proportion as Full or Zoom in the horizontal direction and by an intermediate proportion between Full and Zoom in the vertical direction.
Normal: A 4:3 picture is displayed as it is.
Screen Off: By turning off the backlight of the LCD screen, you can turn off the integrated monitor without turning off the unit's audio output.
Front-Panel Controls With Adjustable Illumination: In addition to the touchscreen controls, the unit includes frequently used buttons along the bottom edge of the screen. The color of the button illumination can be set to white, green, blue, purple, yellow, orange, red or scan (constantly cycling through the color spectrum). You can also create a custom color using the unit's three primary colors (red, green, blue) and a 0 to 31 color-level adjustment.
Shortcut Menu: You can register your favorite menu items in the headunit's Shortcut Menu so you can quickly jump to your favorite menu items. Up to 15 menu items can be registered.
Parking Brake Interlock: This unit has a parking brake interlock system that prohibits viewing of video programming and operating certain controls when the vehicle is in motion. In order to watch video on the in-dash monitor, the vehicle must be parked with the parking brake engaged.
Dimmer: To prevent the display from being too bright at night, the display is automatically dimmed when the car's headlights are turned on. The orange/white illumination wire must be connected to the vehicle's headlight circuit in order for this feature to work.
Anti-Theft Function: You can set a password for the Pioneer AVIC-Z120BT to deter theft. If the back-up lead is cut after the password is set, the navigation system prompts for the password at the time of next boot up.
Navigation
Flash Memory Navigation: The AVIC-Z120BT offers a comprehensive map database from Tele Atlas stored on its built-in 4GB flash-memory which covers the entire United States, Canada, Alaska, and Hawaii; enabling you to route to millions of destinations, including more than 12 million points of interest (POIs).
Positioning Technology: The AVIC-Z120BT accurately measures your current location by the Global Positioning System, a network of satellites orbiting the earth to give you time and position information. The accuracy of the GPS information depends upon how good the reception is. The unit has a 32-channel GPS receiver with a magnetic antenna included. The AVIC-Z120BT also features a speed sensing cable for better accuracy of your vehicle's movement.
2D/3D Map: The Pioneer AVIC-Z120BT allows you to view a detailed city map on its integrated monitor in 2D or 3D (with 3D landmarks). You can choose to orient the map in one of two ways; show North at the top of the screen, or show the direction in which you are heading at the top. You can also select between brightness modes - Day (for a bright background), Night (for a black background) or Auto (to automatically switch between the two). Most of the information provided by the navigation system can be seen on the onscreen map.
Voice Guidance/Text to Speech: In addition to graphical on-screen directions and maps, the AVIC-Z120BT provides voice guidance and turn-by-turn directions. You can choose a male or female voice in English, French, or Spanish. Some of the voices are capable of text-to-speech, announcing the street names along with the turn directions.
Lane Guidance: In certain locations of a freeway, lane information is available, indicating the recommended lane to be in to easily maneuver the next instruction.
Destination Search: The Pioneer AVIC-Z120BT's built-in navigation system allows you to search for your destination by Address (City/Street/House #), POI (points-of-interest), Favorites (up to 400 locations), Recent History (up to 100 locations), and Coordinates (latitude/longitude). The unit also supports destination searches using voice recognition. In addition, you can select a point on the map to be your destination by simply touching the screen.
Note: The parking brake must be engaged to operate all, but some of the simplest touchscreen navigation functions. Destination history and some local POI functions are still available without the parking brake. Voice recognition can be used while driving (without parking brake engaged.
Route Calculation: The AVIC-Z120BT calculates the route based on your preferences. You can have the navigation system calculate your route based on the following selections.
Route Method: You can choose from different route types (Fast or Shortest).
Road Types: To let the route fit your needs, you can also set which road types (Main Road, Ferry, Freeway, Toll Road) are to be considered for or to be excluded from the route if possible.
Time Restrictions: This setting control whether streets or bridges that have traffic restrictions during a certain time should be taken into account.
Learning Route: The system learns the travel history of your vehicle for each road. You can choose whether or not this travel history should be taken into account.
Itinerary: The Itinerary is a detailed list of the route events or driving instructions.
Waypoints: During an active route, you can insert additional waypoints (intermediate destinations) preceding the destination. You can insert up to 5 waypoints. Every time a new point is added, the route is recalculated automatically and you can start navigating right away.
Eco-Driving Function: This navigation system is equipped with an Eco-driving function that can be used to estimate whether you are driving in an environmentally friendly way.
Echo Graph: This function estimates approximate fuel mileage based on your driving, compares that with your average fuel mileage in the past, and displays the results in a graph. The ECO Graph feature provides a view in addition to 2D and 3D, which divides the map view screen with a new graph to provide drivers with a visual representation of their environmental impact.
Gas Mileage: You can estimate the fuel cost to your destination by entering in approximate fuel price per gallon.
Eco Drive Level Guidance: This navigation is equipped with the Eco Drive Level function that estimates how well you have driven in an environmentally friendly way based on your Eco Score. When a route is set, the unit will calculate a Drive Score based on driving efficiency which factors abrupt stops and accelerations and idle time. Your Eco Score is calculated from the following:

Speed: indicates the speed detected (this indication may be different from actual speed of vehicle)
Acceleration/Deceleration: indicates acceleration or deceleration velocity of your vehicle
Distance: indicates driving distance
Incline: indicates the degree of slope of the street that you are currently on

Sudden Start Alert: If the speed of the vehicle exceeds 25.5 mph within 5 seconds from the time it is started, a message appears and a warning sound beeps.
Note: The fuel mileage calculated is based on a theoretical value determined from vehicle speed and position information from the navigation system. The fuel mileage displayed is only a reference value, and does not guarantee the mileage displayed can be obtained.
Travel History: The Track Logger feature enables you to record your driving (travel) history to the unit's built-in flash memory or an inserted SD card.
Route Simulation: A simulation drives you through the route, following the driving instructions.
Auto Reroute: If you deviate from the set route, the system will recalculate the route from that point so that you remain on track to your destination.
AVIC Feeds: Through Pioneer's proprietary AVIC FEEDS PC software, the unit can estimate the fuel cost of trip routes as well as the vehicle's CO2 emissions through detailed Drive Reports. Through a proprietary fuel consumption algorithm, AVIC FEEDS can also log and archive driving data and analyze driving habits to generate various reports with suggestions to improve fuel efficiency. You can also create custom Points of Interest (POIs) by using the AVIC Feeds utility program. Once created, you can store the POI on an external storage device, such as a SD card, and upload the information to the unit.
Note: AVIC Feeds available on the Pioneer website (pioneerelectronics.com).
Audio Section
MOSFET50 Internal Amplifier: This receiver is equipped with a 50 watts x 4 (peak) MOSFET amplifier for low distortion, high power output. The amplifier is strong enough to power small subwoofers to moderate volume levels in compact cars and pickups. For higher volume levels from subwoofers, an optional amplifier may be connected to the preamp outputs.
CEA2006 Compliant: The power specifications for the AVIC-Z120BT are compliant with the CEA2006 Mobile Amplifier Power Testing and Measurement standards from the Consumer Electronics Association (CEA). These standards were developed as a way to equitably compare power specs from model to model and between manufacturers. The power output specs are as follows:
CEA2006 Specs: 14 watts RMS x 4 channels (at 4 ohms, 20Hz-20kHz, 1% THD-N)
Continuous Power Output: 22 watts RMS x 4 channels (at 4 ohms, 50Hz-15kHz, 5% THD)
Maximum Power Output: 50 watts x 4 channels (or 50 watts x 2 channels at 4 ohms + 70 watts x 1 channel at 2 ohms for subwoofer)
Voice Recognition: The Pioneer navigation system uses voice recognition technology, allowing you to use voice commands to operate many of its functions. The Pioneer AVIC-Z120BT offers specific voice commands for Navigation, DVD/CD, USB, SD, iPod/iPhone, Bluetooth Phone, and other connected AV sources. Voice commands our recognized by the unit through its external microphone.
EEQ (Easy EQ): there are seven stored equalizer curves which you can easily recall at any time. You can choose from - Powerful, Natural, Vocal, Super Bass, Flat, Custom 1, or Custom 2.
7-Band Graphic EQ: The Custom 1 and Custom 2 EQ modes allow you to manually adjust the level (+/- 12dB) of each band of the headunit's 7-band graphic equalizer (50Hz, 125H, 315Hz, 800Hz, 2kHz, 5kHz, 12.5kHz).
Simulated Sound Stage: You can select the desired effect from various sound stages, such as Music Studio, Dynamic Theater, Living Room, or Actor's Stage. You can also adjust a listener positioning effect (Center, Left, Right).
Loudness: The Loudness function compensates for deficiencies in the low- and high-frequency ranges at low volume. You can set the Loudness to High, Mid, Low, or Off.
Bass Boost: You can easily boost the subwoofer bass level by using the Bass Boost function. The Bass Boost feature allows you increase the subwoofer level from 0 to +6.
Sound Retriever: The Sound Retriever automatically enhances compressed audio and restores the original richness of the recording. When Sound Retriever is on, the high frequency range is compensated to match the frequency response curve to the original sound. There are two available levels of the Sound Retriever effect.
Source Level Adjustment (SLA): This function lets you adjust the volume level of each source to prevent radical changes in volume when switching between sources. Settings are based on the volume level of the FM tuner, which remains unchanged. Each source can be independently adjusted from -4 dB to +4 dB.
Three 4-Volt Preamp Outputs: The Pioneer AVIC-Z120BT is equipped with three 4-Volt preamp outputs (Front/Rear/Subwoofer). The front and rear speakers are fading with high-pass crossover filters, while the subwoofer output is non-fading with a low-pass crossover filter.
Front and Rear Preamp Outputs: If you do not want low frequency sounds to play from the front or rear speaker preamp outputs (or speaker outputs), you can turn on the 12dB/octave High Pass Filter. The HPF has a selectable cutoff frequency (50, 63, 80, 100, or 125 Hz). Only frequencies higher than those in the selected range are output through the speakers.
Subwoofer Output: The unit has a pair of dedicated non-fading RCA subwoofer outputs with a low-pass filter, phase adjustment, and output level. When the subwoofer output is turned on, you can select the frequency of the 18dB/octave low pass filter (50, 63, 80, 100, or 125 Hz), select the subwoofer phase (normal/reverse), and the subwoofer gain (+6 to -24).
Rear Channel Speaker Output: You can choose to use the rear channel output (speaker and preout) for full-range speaker or subwoofer. If you select "subwoofer", you can connect a 4-ohm subwoofer directly to each rear speaker lead, or a 2-ohm subwoofer to one of the rear speaker leads, without using an external amplifier.
Telephone Mute/Attenuator: Sound from your system is muted or attenuated automatically when a phone signal is received when you have hardwired your mobile phone system to the mute wire of this unit.
Radio Functions
Supertuner IIID AM/FM Tuner: The Supertuner IIID features Feed Forward Control, which avoids multi-path interference. This pre-detection of interference enables quick filter control and results in less distortion. In addition, the Supertuner IIID creates enhanced stereo during multi-path interference, unlike conventional tuners that collapse to mono. Digital processing reduces distortion, and improves Signal-to-Noise Ratio and stereo separation. Advanced analog technology improves signal processing sensitivity.
BSM (Best Stations Memory): BSM lets you automatically store the six strongest stations under preset buttons 1-6 of the currently tuned band. The tuner has 3 FM banks and 1 AM bank. You can store 6 presets for each bank giving you a total of 18 FM presets and 6 AM presets.
Local Tuning: Local seek tuning lets you tune in only those radio stations with sufficiently strong signals for good reception. There are 4 level of sensitivity for FM and two levels for AM. The higher settings allow reception of only the strongest stations, while lower settings let you receive progressively weaker stations.
Satellite Radio Ready: You can connect and control an external satellite radio tuner from XM or SIRIUS. The head unit is compatible with the GEX-P920XM (130P920XM, sold separately) Pioneer XM receiver. For Sirius there are two options; connect the SC-C1 SiriusConnect Universal Vehicle tuner and the CD-SB10 Pioneer Sirius Satellite Radio interface (700SIRPION, sold separately), or use the Pioneer Sirius Satellite Radio interface (130CDSB10, sold separately) and the SIRIUS dock-and-play adapter (607SCVDOC1, sold separately) along with a compatible portable SIRIUS radio. A subscription to XM or Sirius, plus the proper antenna is required in order to receive satellite radio programming. The satellite radio tuners connect via the IP-Bus connector on the back of the head unit.
HD Radio Ready: This unit is compatible with the optional Pioneer GEX-P20HD HD Radio tuner (130GEXP20H, sold separately) allowing you to tune available HD Radio stations. HD Radio features high quality audio, FM multi-casting, and data services. The add-on HD Radio tuner also supports iTunes Tagging which allows you to save song information (tag) from an HD Radio broadcasting station to your connected iPod or iPhone. The saved songs will show up in a playlist called "Tagged" in iTunes the next time you sync your iPod. Then you can directly buy the songs you want from the iTunes Music Store. The optional HD Radio tuner connects through the headunit's IP-BUS interface.
Note: Right now there are about 2,000 radio stations broadcasting using digital HD Radio technology in the U.S. To find HD Radio stations in your area, visit the HD Radio website (HDRadio.com).
Multimedia Playback
Multimedia Compatibility: The Pioneer AVIC-Z120BT features a disc slot and SD-card slot behind its motorized touchscreen display, and a USB 2.0 Full-Speed port (using included 6.75' proprietary cable). The headunit offers the following media compatibility.
Media Type
CD-R-RW
DVD-R/-RW/-R DL
USB Storage Device
SD/SDHC Memory Card (up to 16GB)
File System
ISO9660 Level 1 or 2,
Romeo, and Joliet
ISO9660 Level 1 or 2, Romeo, Joliet, and UDF 1.02
FAT16/FAT32
Playable File Types
MP3, WMA, AAC, DivX
MP3, WMA, AAC, WAV, AVI, WMV, MPEG-4
Maximum # of Folders
700
300
Maximum # of Files
999
3,500
2,500
Note
Maximum playback time of audio files stored in an external storage device (USB/SD) is 7.5 hours or 450 minutes
Compressed Audio Playback: The AVIC-Z120BT supports playback of MP3, WMA, and AAC audio files stored on CD-R/RW and DVD-R/RW discs, as well as USB devices and SD/SDHC memory cards.
Media Type
CD-R/-RW
DVD-R/-RW/-R DL
USB Storage Device
SD/SDHC Memory Card
File Type
MP3
WMA
AAC
MP3
WMA
WAV
AAC
File Extension
.mp3
.wma
.m4a
.mp3
.wma
.wav
.m4a
Bit Rate
8-320 kbps (CBR, VBR)
5-320 kbps (CBR, VBR)
8-320 kbps (CBR)
8-320 kbps (CBR, VBR)
5-320 kbps (CBR, VBR)
LPCM: 8 and 16 bits
MS ADPCM: 4 bits
8-320 kbps (CBR)
Sampling Frequency
16-48 kHz (32/44.1/48kHz for emphasis)
8-48 kHz
8-44.1 kHz
16-48 kHz (32/44.1/48kHz for emphasis)
8-48 kHz
LPCM: 16-48 kHz
IMA-ADPCM: 22.05 and 44.1 kHz
8-48 kHz
Tags
ID3 tag ver. 1.0, 1.1, 2.2, 2.3
WMA tag
AAC tag
ID3 tag ver. 1.0, 1.1, 2.2, 2.3
WMA tag
N/A
AAC tag
DivX Video Compatibility: This unit supports DivX video file playback recorded onto DVD-R/RW and CD-R/RW discs. The AVIC-Z120BT supports the following DivX formats.
Media Type
CD-R/-RW
DVD-R/-RW/-RDL
File extension
.avi/.divx
Profile (DivX version)
Home Theater Ver. 3.11/4.x/5.x/6x
Compatible audio codec
MP3, Dolby Digital
Bit rate (MP3)
8-320 kbps (CBR), VBR
Sampling Frequency
16kHz-48kHz (32/44.1/48kHz for emphasis)
Maximum image size
720 x 576 pixels
Maximum file size
4GB
USB/SD Video Playback: The Pioneer AVIC-Z120BT supports the following video files recorded onto a USB storage device or a SD/SDHC memory card.
Video Format
MPEG4
H.264
WMV
File Extension
.avi
.mp4
.m4v
.wmv
Compatible Audio Codec
Linear PCM
AAC
AAC
WMA
Recommended Video Specifications
Image Size: QVGA (320 x 240)
Bit Rate: 768 kbps
Frame Rate: 30 fps
Bit Rate: 384 kbps
Frame Rate: 30 fps
Maximum Bit Rate
Image Size: WQVGA (400 x 240)
Bit rate: 2 Mbps
Frame Rate: 30 fps
Bit Rate: 1 Mbps
Frame Rate: 30 fps
Bit Rate: 768 kbps
Frame Rate: 30 fps
Image Size: VGA (640 x 480)
Bit Rate: 1 Mbps
Frame Rate: 30 fps
Bit Rate: 576 kbps
Frame Rate: 30 fps
Maximum File Size
2 GB
Maximum Playback Time
150 minutes
JPEG/BMP Still Images: The AVIC-Z120BT also supports playback of JPEG and BMP still images (up to 2592 x 1944) stored on a SD or SDHC memory card. You can import still images from your SD/SDHC memory card to the unit's built-in flash-memory and create a custom splash screen for the headunit. The maximum number of images, including the images in the built-in memory, that can be imported and displayed is 200.
Playback Functions: The Pioneer AVIC-Z120BT offers the following playback functions.
Automatic Playback: When a DVD disc with DVD menu is inserted, this unit will cancel the DVD menu automatically and start playback from the first chapter of the first title.
Bookmark (Resume Playback): The Bookmark function lets you resume playback from a selected scene the next time the disc is loaded.
Frame-By-Frame Playback: This feature lets you movie ahead on frame at a time during playback of your DVD or Video CD.
Slow Motion Forward: When playing a DVD or Video CD, you can choose to play back video in slow motion (no audio).
Repeat Play: Audio/Video content can be repeated. You can choose from Disc (entire disc), Chapter (current chapter), Title (current title), Track (current track), File (current file), Folder (current folder), or One (current video/song/track).
Random (Shuffle) Play: Audio/Video can be played back in a random order. You can choose from Songs (videos/songs in selected list), Albums (videos/songs from selected album), Folder (songs/tracks in selected folder), or Disc (all songs/tracks on disc).
Search Functions: The AVIC-Z120BT provides the following search functions.
Track Title List: You can select tracks to playback using the track title list which is a list of the tracks recorded on a disc.
Scene Search: You can use the search function on the unit's on-screen display to search for a desired scene on your DVD by specifying a title and chapter track.
Return to Scene: You can return to the specified scene where the DVD you are currently playing has been preprogrammed to return.
Skip Search: You can skip to the previous/next track, file, folder, title, or chapter on a disc.
Fast Forward/Reverse: You can fast forward/reverse through a current track, file, or title on a disc.
Scan Play: Scan Play lets you hear the first 10 seconds of each track/file on a CD.
Multi-Angle Display: This function allows you to choose the viewing angle of scenes that were shot from a number of different angles.
Note: This function is limited to DVDs recorded with multiple camera angles.
Parental Lock: This unit features an 8-level Parental Lock system protected by a user-selected 4-digit password to prevent certain DVD's from being played back on the AVIC-Z120BT.
Installation Angle: Optimum CD playback performance is obtained when the unit is installed at an angle of less than 30-degrees.
iPod/iPhone Compatible
iPod/iPhone Audio/Video Playback: The Pioneer CD-IU50V interface cable (130IU50V, sold separately) allows you to plug your iPod/iPhone directly into the Pioneer AVIC-Z120BT Multimedia Headunit's rear-panel USB and A/V Aux input terminal, and gain direct control, audio/video playback, and charging via the headunit.
iPod/iPhone Control: You can choose to control your iPod/iPhone from the AVIC-Z120BT, or the iPod/iPhone's clickwheel or touchscreen. To make operating and searching easy, operations to control your iPod/iPhone with this unit are designed to be as similar to the iPod/iPhone as possible.
Music Browsing: You can search your iPod/iPhone's audio/video content by category (movies, music videos, TV shows, artists, albums, songs, genres composers, audiobooks, Podcasts, or playlist). Each category is then listed alphabetically to ensure easy access to each audio/video file.
Link Search: The AVIC-Z120BT also offers Link Search, which displays a lists of songs related to the currently playing song to match your mood.
Repeat & Shuffle: In addition, the AVIC-Z120BT offers Repeat and Shuffle playback functions.
Voice Recognition: The AVIC-Z120BT even supports voice recognition for iPod/iPhone, via the supplied external microphone.
iPod/iPhone Display: The multimedia headunit will display your iPod/iPhone's music file information, including - Track number, Folder number, Elapsed playing time, Song title, Artist name, Album title, and Album art.
iPod/iPhone Charging: The multimedia headunit's USB connection will power and charge your connected iPod/iPhone battery when your vehicle's ignition switch is set to the 'ACC' or 'On' position.
Note: If your iPod/iPhone has no initial battery charge, then the unit will not recognize it.
Pandora Link: You can play music from the Pandora music service through the Pioneer AVIC-Z120BT using your connected Apple iPhone, via the Pioneer CD-IU50V iPod connector cable (sold separately). To access Pandora you must have an Apple iPhone, iPhone 3G, iPhone 3GS (v3.0 or later), or iPhone (v4.1 or later) with the latest version of the Pandora application from Apple's iTunes App Store. Your iPhone will need an active Data Plan account with connection to the Internet via 3G, EDGE, or WiFi. You will also need a Pandora music service account. The Pioneer AVIC-Z120BT provides control over your Pandora music service and displays Artist, Album, and Song information; as well as Album artwork.
Note: You must use the CD-IU50V cable to access Pandora. The standard iPod/USB dock cable will not output Pandora Audio. The Pandora music feature is not compatible with the latest iOS 4.0 update for the iPhone (3G/3GS) and iPod touch (2nd/3rd gen). Access to the Pandora service will depend on the availability of a cellular and/or WiFi network for purposes of allowing your iPhone to connect to the Internet. Pandora is not supported in Canada and only available in the United States.
iPod/iPhone Compatibility Chart: The Pioneer AVIC-Z120BT multimedia headunit is "Made for iPod/iPhone" compatible and supports the following iPod/iPhone model functions when connected via the Pioneer CD-IU50V interface cable (as of April. 2010):
iPod Model
Gen.
Ver.
Media Type
Control Type
Display Type
Pandora Link
Charge
Audio
Video
Unit
iPod
Song Text
Track Info
dock connector
3rd
N/A
N
N
N
N
N
N
N
N
clickwheel
color
4th
N/A
N
N
N
N
N
N
N
N
mini
1st
N/A
N
N
N
N
N
N
N
N
2nd
N/A
N
N
N
N
N
N
N
N
video
5th
1.3
Y
Y
Y
N
Y
Y
N
Y
classic
80GB
2.0.2
Y
Y
Y
Y
Y
Y
N
Y
120GB
2.0.2
Y
Y
Y
Y
Y
Y
N
Y
160GB
2.0.2
Y
Y
Y
Y
Y
Y
N
Y
nano
1st
1.3.1
Y
N
Y
N
Y
Y
N
Y
2nd
1.1.3
Y
N
Y
Y
Y
Y
N
Y
3rd
1.1.3
Y
Y
Y
Y
Y
Y
N
Y
4th
1.0.3
Y
Y
Y
Y
Y
Y
N
Y
5th
1.0.1
Y
Y
Y
Y
Y
Y
N
Y
6th
1.0 PC
Y
N
Y
Y
Y
Y
N
Y
touch
1st
3.1.1
Y
Y
Y
Y
Y
Y
N
Y
2nd
3.1.1
Y
Y
Y
Y
Y
Y
N
Y
3rd
3.1.1
Y
Y
Y
Y
Y
Y
N
Y
4th
4.1
Y
Y
Y
Y
Y
Y
N
Y
iPhone
2G
3.1.2
Y
Y
Y
Y
Y
Y
Y
Y
3G
3.1.2
Y
Y
Y
Y
Y
Y
Y
Y
3GS
3.1.2
Y
Y
Y
Y
Y
Y
Y
Y
4
4.0
Y
Y
Y
Y
Y
Y
Y
Y
Note: Apple firmware updates may change functionality results. Apple iPod/iPhone software updates may change functionality results. If you download a newer software version, you may need to reset the headunit and your iPod/iPhone to regain functionality. If this doesn't work, you may need to revert to the older software version or wait until an newer software update is available.
iOS 5.0 Note: Pandora Link is not compatible with Apple's latest iOS 5.0 for the iPhone.
MusicSphere: Pioneer's new proprietary MusicSphere technology allows you to enjoy your music in a new way by creating unique mood-based playlists via iTunes for your iPod, iPod Touch, or iPhone device. When installed on your Windows PC, the MusicSphere iTunes plug-in software will analyze the entire music library and create specialized playlists based on various musical attributes such as feeling (bright, energetic, gloomy, relaxing calm), rhythm pattern, beats per minute (BPM), year of the song and/or date added to the device. Additionally, through the MusicSphere, you can select preferred parameters of your music to create a "DJ Playlist".
Bluetooth Control
Bluetooth Technology: The AVIC-Z120BT is equipped with built-in Parrot Bluetooth (ver. 2.0) system allowing you to make and receive phone calls wirelessly through the receiver, as well a wirelessly stream Bluetooth audio to the headunit. Bluetooth Technology is a short-range wireless radio connectivity technology that was developed as a cable replacement for mobile phones and other electronic devices. Bluetooth operates in 2.4 GHz frequency range and transmits voice and data at speeds up to 1 megabit per second. In order to use Bluetooth wireless technology, your phone must be able to interpret certain profiles. This unit is compatible with the following: HFP (Hands Free Profile), HSP (Head Set Profile), OPP (Object Push Profile), A2DP (Advanced Audio Distribution Profile), and AVRCP Audio/Video Remote Control Profile)
Phone Pairing: Up to 5 Bluetooth-compatible devices can be registered to this head unit. Only one device can be used at a time.
Note: Not all Bluetooth mobile devices will be compatible. Visit Pioneer's web site for a complete list of compatible Bluetooth enabled phones.
Hands-Free Communication: The AVIC-Z120BT supports wireless hands-free communication (HFP/HSP/OPP) for your Bluetooth enabled mobile phone. The headunit will display the caller's information and an audible ring tone will be heard through your vehicle's speaker during an incoming call. You can manually answer an incoming call or have the unit automatically answer the call. The AVIC-Z120BT allows you to carry on a phone conversation from your Bluetooth enabled mobile phone using the headunit's external microphone and your car audio speakers. During a conversation you can adjust the volume, as well as switch between the Private Mode (talking directly on your cell phone) and the Hands Free Mode. Using the AVIC-Z120BT, you can dial a phone number in one of the following ways:
Entering a Phone Number: You can make a call by entering the phone number using the headunit's on-screen keypad (0-9).
Call Home: You can call home without taking the time to enter the phone number, if your home phone number has been stored in the unit.
Favorites: You can make a call to phone numbers entered and stored in the headunit's Favorites list.
Contacts List: You can transfer the phone book entries from your Bluetooth enabled mobile phone to the AVIC-Z120BT. A maximum of 1000 entries can be transferred per paired mobile phone (each entry can hold up to 5 phone numbers)
Our Product Research Team
At Crutchfield, you'll get detailed, accurate information that's hard to find elsewhere. That's because we have our own in-house Product Research team. They verify what's in the box, check the owner's manual, and record dimensions, features and specs. We stay on top of new products and technologies to help people make informed choices.