Pioneer AVIC-X850BT
Navigation receiver
Item #: 130AVIC850
This item is no longer available.
Original Price: $639.99
Shop all In-dash GPS Navigation
Need help?
Does it fit my car?
Select your car
Great directions and iPhone® 5 connectivity
Pioneer knows a good navigation receiver needs to do more than just get you from point A to point B. And if you're an iPhone 5 user, you know that not many navigation receivers will work with it in the car. Pioneer's AVIC-X850BT offers impressive connectivity with your iPhone 5 — along with many other smartphones — plus a wealth of features that'll keep you entertained and informed as you roll down the road. It offers a multifaceted alternative to unreliable smartphone GPS apps and clunky factory navigation systems that can't always deliver the audio/video goods.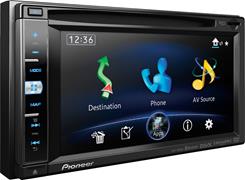 Pioneer's user interface allows quick access to your favorite functions.
Know where you're going
The AVIC-X850BT features detailed maps of the U.S., Canada, and Puerto Rico, with over 12 million points of interest, and you can add your favorite stopping points as well. Pioneer's lane guidance helps you avoid missing a turn at the last minute by clearly pointing you to the correct lane for an upcoming maneuver. And you'll also see realistic signposts on the screen in some instances, with arrows indicating the proper path. And complicated intersections will be shown as realistic 3D representations, so you'll know exactly where to turn.
Bluetooth® connectivity for hands-free control
The AVIC-X850BT's built-in Bluetooth lets you make hands-free calls easily with your compatible phone, and keep your attention on the road. The Bluetooth also supports audio music streaming (A2DP) so you can stream music wirelessly from compatible mobile devices to the receiver.
Take advantage of AppRadio Mode for on-screen access
AppRadio Mode lets you take advantage of full on-screen use of over 30 smartphone apps, including parking, music, navigation, social networking, and traffic (and there are more on the way — see "Details" for some current offerings). You can tap into your iPhone or Android smartphone's contacts, calendars, maps, and more. And you can even view some streaming apps from your smartphone while your vehicle is parked.
To enjoy AppRadio Mode, you'll need to download Pioneer's free AppRadio app and connect your iPhone with the cable or cables linked below, depending on your phone.
Pioneer's innovative AppRadioLIVE streamlines your app info and functions into one easy-to-use interface. You'll enjoy quick access to your music, media, calendar, and other sources you subscribe to, just by downloading the AppRadioLIVE app and syncing your services. AppRadioLIVE works with your apps to provide visual map guidance and access to points of interest, as well as the ability to search for concerts, shows, and other local events of interest. And you can show several sources of information simultaneously, quickly shifting from one to another with a touch of your finger.
Use your smartphone intelligently
Pioneer offers different levels of smartphone control, depending on your device. Here are the highlights:
Android™: You'll get control of Pandora® Internet radio and Aha Radio apps through the receiver's touchscreen when paired through Bluetooth, so no cable needed if your phone supports music streaming profile (SPP).

iPhone 4/4S: With a separate cable, you'll get control of your iPhone's music and video, plus Pandora Internet radio and Aha Radio apps through the receiver's touchscreen when connected. You can also use AppRadio Mode to control other compatible apps on your phone.

iPhone 5: With a separate adapter and cable, you'll get control of your iPhone's music, plus Pandora Internet radio and Aha Radio apps through the receiver's touchscreen when connected. The AVIC-X850BT features a VGA video input, which allows for iPhone 5 video playback (when parked) and AppRadio mode to control other compatible apps on your phone. You'll need these cables for AppRadio mode and video playback on the 6.1" display.
A firmware update is available from Pioneer that will provide enhanced iPhone 5 compatibility to enable AppRadio Mode. However, due to an unforeseen communication error with the Pandora Internet radio app, audio playback and display of metadata from Pandora are disrupted. If you use Pandora and don't intend to use AppRadio Mode at this time, please do not install this update. Pioneer is working on an update to allow for both Pandora and AppRadio Mode, to be released at a future date.
You can keep up with your social media feeds through the Aha Radio app.
Pioneer didn't forget about your music
The AVIC-X850BT plays music from CDs and DVDs, not to mention microSD cards, USB thumb drives, and iPods®. It also features an auxiliary input for other sound sources. And you can tweak the sound to your tastes with the 8-band graphic equalizer.
Again, you can play video content from DVDs on the main screen when you're parked, or send the video output to rear-seat screens when you're traveling. You can also add satellite radio programming from SiriusXM with an optional tuner and your paid subscription.
Add more options
If you're concerned about what's behind you when you're backing up, the AVIC-X850BT offers a dedicated rear-view camera input. And customizable home screen and button color illumination options let you get creative. Do you like to take matters into your own hands? You can add an optional wired remote control to the receiver.
Want to keep your car's steering wheel audio controls?
In most vehicles, you can use an adapter (not included) to connect your vehicle's steering wheel controls to this Pioneer stereo. Connect a few wires, then program the adapter for your particular car and the Pioneer, and you'll retain the convenience of your steering wheel controls.
Bluetooth note: Use of this receiver's Bluetooth features will depend upon your phone's Bluetooth capabilities. Learn more in our article explaining Bluetooth profiles.
Note: If you're going to use your iPod or iPhone with this receiver, be sure to check Details for specific iPod model compatibility with this receiver or its optional iPod adapter.
Product Highlights:
General features:
DVD/CD receiver with 6.1" touchscreen and AM/FM tuner
fits double-DIN (4" tall) dash openings
built-in amplifier (14 watts RMS CEA-2006/50 peak x 4 channels)
built-in Bluetooth for hands-free calling and audio streaming
Navigation features:
maps of the U.S., Canada, and Puerto Rico, plus 12 million points of interest
lane guidance and junction view
Connectivity features:
iPod control: Pioneer cable required for full access to audio/video content
AppRadio Mode: iPhone 4/4S and 5 (cable or cables required)
Pandora control for iPhone (cable required) and Android
Aha Radio control for iPhone (cable required) and Android
Audio/video features:
plays CDs, DVDs, microSD cards, and USB memory devices (see Details for full capabilities)
24-bit digital-to-analog converter
high- and low-pass filters
8-band graphic equalizer with 5 preset EQ curves
Auto EQ measures and tunes for your car's acoustics (requires optional microphone)
dual-zone A/V output
Expandability:
compatible with SiriusXM satellite radio tuner and rear-view camera
inputs: rear 1-amp USB input (with optional cable), microSD card slot, rear A/V input, camera input, rear VGA input
outputs: 6-channel preamp outputs (2-volt front, rear, subwoofer), audio/video output
Other information:
compatible with most factory steering wheel audio controls (adapter required)
warranty: 1 year
Why install a car stereo with built-in GPS?
Imagine taking a trip as your car's receiver gives you directions, finds the best restaurant for dinner, and plays movies for your back seat denizens. Navigation receivers cover all the bases, with GPS guidance, DVD playback, and a host of other useful features. You can search through millions of points of interest to locate gas stations, restaurants, museums, and other interesting spots, wherever you are. Most receivers offer Bluetooth capability for hands-free calling, along with the ability to search through your iPod playlists with touchscreen controls.
Pioneer AVIC-X850BT Reviews
Average Customer Review:
19 Reviews
---
Written by: Alex from NC on February 20, 2015
It's been a great unit. Used with a 6in JL sub and basic kicker 6.5s sounds great. Only things.. meh they discontinued product because it sucks and got me lost via the ishy maps and never let's me connect my android phone to the Pandora app. US the little buttons on the left are all nasty looking from normal use just after a year.

Pros: Pioneer is awesome.

Cons: The map system they use blows and cheap plastic buttons.
Written by: Anonymous from Plainville, CT on January 4, 2014
Crutchfield Customer Review
(
What's this?
)
User friendly controls and clear pictures

Pros:

Cons:
Written by: ARemlinger from TX on January 2, 2014
2008 Honda Pilot
Crutchfield Customer Review
(
What's this?
)
I purchased this for my wife's car. The basic interface is intuitive without using the instructions. Some of the more advanced menus are harder to find. The GPS is accurate (even without the VSS connected). The SiriusXM module as easy to install and integrates nicely. Her iPhone5 connects well with Bluetooth, but this receiver lacks an USB input so direct connection for apps and charging is not available with out a separate cable and Apple adapter.

Pros: Great GPS, easy to use Sirius XM adapter integrates well

Cons: iPhone 5 integration requires 3 seperate cables/adapters to work. Pioneer has to develop a better way.
Written by: VFR Don from Fremont, CA on December 26, 2013
Crutchfield Customer Review
(
What's this?
)
Overall it seemed like a very good model, I have liked Pioneer receivers for many years. However the reason that I returned the unit is because it does not have a USB port. When selection the model I misunderstood the specs. It will connect to an iPod but not through a USB. Deal killer for me.

Pros: Nice looking unit, standard Pioneer quality.

Cons: No USB port, front or rear.
Written by: Chris from Ball, LA on November 3, 2013
2011 Ram 1500
Crutchfield Customer Review
(
What's this?
)
Pioneer has created another great product. This receiver does everything I need it to do and more. Excellent GPS navigation and clear bluetooth voice and sound. iPad Touch connects with no issues along with SirriusXM Radio. I have a 2011 Dodge Ram and I used the original SirriusXM antenna so I did not have to re-route another wire through the truck.

Pros: GPS, Blue Tooth, and SirriusXM.

Cons: I had to modify the bottom metal bracket (in the dash) for this item to fit correctly. For my first time to install a double-din in a vehicle had so challenges but overcame with a great fit in the dash of my Ram.
Written by: Rmag757 from Va Beach on September 24, 2013
Works great

Pros: Love the blue tooth

Cons: Not a 7" screen but good value
Written by: Danarra from Santa Clarita on September 14, 2013
Love it. Tried a jvc and a kenwood first, this one is working better for me than either of them.

Pros: Easy install, works with iPhone 5, pretty intuitive interface.

Cons: Needed an add-on cable for the video from the iphone.
wish lcd brightness and contrast can be controlled
Written by: rome from Harrogate, TN on August 26, 2013
2013 Toyota Tacoma
Crutchfield Customer Review
(
What's this?
)
good price, well built.. love crutchfield after sale support, no comparison!

Pros: fast nav recalculation. sounds good, bluetooth is excellent

Cons: no Dedicated USB, no LCD brightness and contrast adjustment which is a big big disapponyment. glare at night can be unbearable. , sometimes while driving , your car suddenly appears to be driving on a non existent road for a brief period of time before it readjust itself. ? ? whats that all about? Lastly, dont bother calling pioneer support, they dont "deal with consumers directly"
Written by: GAHSERVICE from ANCHORAGE, AK on August 17, 2013
2011 Ford E Series
Crutchfield Customer Review
(
What's this?
)
Great product, as the service manager for a major Motor Home rental and sales company, ease of installation and quality are critical. This unit operates flawlessly and integrated perfectly with the motor homes back up camera.

Pros: Ease of installlation

Cons:
Written by: Ben R from Houston, Texas on August 7, 2013
2005 Honda Odyssey
Crutchfield Customer Review
(
What's this?
)
Installed in 2005 Honda Odyssey. Very clean installation, looks like factory. Great features without a moving screen to load your optical disk leaving one less moving part to malfunction. Easy to learn to use without having to open the manual.

Pros: Feature loaded product for the price point. Easy installation.

Cons: No USB if you have to have one.
Written by: mgutierrez from Los Angeles on July 24, 2013
Crutchfield Customer Review
(
What's this?
)
get in dash navigation all the features are good except for the memory card it doesn't want to read it other than that is good.

Pros:

Cons:
Written by: Nick E from Tampa Fla on July 23, 2013
2011 Chevrolet Camaro
Crutchfield Customer Review
(
What's this?
)
Installed this unit in my wife"s 2011 Camaro as an upgrade from the factory radio. Looks really nice and very easy for her to use operate. Does everything it says it will. Just wish I would have read and understood that Sirius compatible and steering wheel control compatible meant ordering extra parts. Ended up installing unit then found out afterwards. Had to order them and reinstall unit again. Maybe an experienced installer would have known but it's pretty sketchy for a novice.

Pros: Good price, nice looking unit, easy to use and install.

Cons: Read fine print on everything you need.
Written by: SpencerH from Angel Fire, NM on June 6, 2013
Crutchfield Customer Review
(
What's this?
)
This radio meets "almost" all of my expectations. The only thing that I did not get with this radio was the ability to plug in a USB cable to the radio. When I looked at the packing list, it doesn't appear this radio comes with the proper cable, so I will likely purchase that after the fact, but it isn't that big of a deal.

As for the radio itself, it works great. With the SiriusXM tuner, integration is excellent and it works seamlessly. The only problem with the SiriusXM tuner was that Sirius did not honor the 3 month free subscription that was advertised on the Crutchfield site, but I knew I was going to purchase anyway, so I just bit the bullet and did it.

I have had Garmin stand-alone GPS units and my other car is a Mercedes 350 and the navigation of this unit beats both of those hands-down.

Video performance is good, especially given the Micro SDCard slot. I have numerous movies in MP4 format loaded to the SD card and can pull each up and watch. Having a separate music and movies folder allows good navigation to the folder I am looking for...systems doesn't get mixed up like another Pioneer unit I had in the past.

Installation was a breeze with the CANBus adapter and Metra mounting kit. Everything plugged right in and worked immediately.

Pros: Navigation Video via SDCard DVD Playback SiriusXM integration with addon tuner Touch Screen is very responsive

Cons: No USB cable comes with the unit - not a deal-breaker, but would be nice. SiriusXM tuner that was purchased with the unit is good, but Sirius would not honor the 3 month free subscription
Written by: Kevin W from Gardena,CA on June 5, 2013
Nice radio but, a little lacking. Some may think its the best others may thing it's awful. The sound is great, Bluetooth great. Getting all the media from your iPhone 4S not so great. And Pioneer's apps are not the best but most are free. Also GPS is so so. It will get you there but may take you a little out of the way. Overall not a bad unit just could be better.

Pros: Nice sound, good Bluetooth connection

Cons: Hard to get media from iPhone 4S
Written by: Richard from New Jersey on June 4, 2013
2006 Dodge Magnum
Crutchfield Customer Review
(
What's this?
)
This was an upgrade from the factory Nav unit. Bigger display w/ touch, and all the tech I'll need for the forseeable future. The micro-SD card slot is where I live, replacing a tethered iPod from the old system. Way easier to update with new music and huch easier to handle. Video performance is good, but I really don't have a comparison.

Pros: Clean design, easy to control

Cons: Needs a remote control, more Android support
Great deck, horrible detachable face design...
Written by: Driftin_thru_life from Washington, DC on April 19, 2013
This deck is great, it has a MicroSD card, the navigation is snappy, and the interface is an improvement over last years but here is the problem. Do not buy this if you are looking for a 'detachable face' stereo. When the side controls are removed, you can not tell unless you take a look at it twice. For a thief in the middle of the night, they are going to look in you car, see the nice big screen and the words "Pioneer" at the bottom, and then proceed to smash in your car window. They will not realize until after they are home that it is a "detachable face". I bought this for my car because I have a convertible and now will be returning it. Pioneer has to be kidding with this or filling their quotas for delivering X amount of products with this feature. Poor design.

Pros: Great feature-set Nice layout Responsive

Cons: Poor Design in regards to the "Detachable Face" feature You will still get jacked for your stereo
Written by: Chris from Dubuque Iowa on April 18, 2013
2012 Subaru Impreza WRX
Crutchfield Customer Review
(
What's this?
)
Pretty good

Pros: Great stereo great navigation great interface

Cons: Bluetooth is very limited... I keep my phone in my pocket and it can't connect all the time it has some lag to it but if I keep it in the cup holder has no problems
Written by: elvin v from mayaguez puerto rico on April 16, 2013
Crutchfield Customer Review
(
What's this?
)
Excellent product

Pros:

Cons:
Written by: Manny from Huntsville, AL on March 21, 2013
I am pleased with this unit. Its easy to install and everything works as per the installation manual. The radio is great, the dvd plays at a very high quality, the phone programing is easy and works fine as a hands free system. The only con if there was one the NAV.

Pros: great except for one heartache

Cons: With a lack of good NAV updates and since they run for $$, it makes this unit pointless. I should of gone and purchased a Kenwood which runs with the Google maps and updates periodically, which haves one current to where they are going and where they are at.
What's in the box?
Navigation receiver with integrated 6.1" LCD touchscreen monitor (10A fuse inserted in chassis)
Detachable control-panel (installed)
Wiring harness
AV/preamp harness
6.5' AV minijack extension cable
GPS antenna with attached 16.25' cable
Self-adhesive square
Microphone (w/ attached 13' cable termianted by a right-angle 2.5mm connector)
Visor-bracket
Two-sided tape
6 Pan-head ISO screws (M5 x 6mm)
6 Flat-head ISO screws (M5 x 6mm)
Control-panel-fixing screw
Operation Manual on CD-ROM
Installation Manual
Quick Start Guide
Important Information for the User
Warranty Info (USA/Canada)
Online Product Registration
NAVTEQ Maps Registration Card
iPhone 5 note
Product Research
Touchscreen Display
Onboard Navigation
Built-in Bluetooth
iPod/iPhone Control
AM/FM+Internet+SiriusXM Radio
Disc/microSD/USB Playback
Audio Section
AV Connections
Remote Control
Touchscreen Display
6.1" Touchscreen Monitor (w/ Swipe Action): The AVIC-X850BT features a 6.1" TFT Active Matrix, 16:9 widescreen touchscreen display. The resolution of the display is 800 x 480 (RGB), for a total of 1,152,000 pixels. The touchscreen display allows you to control this unit and a connected components. Icon-based menus appear on screen for selecting sources, choosing functions, audio adjustment, and system setup. You can operate some navigation and audio/video functions by sliding your fingers vertically and horizontally while touching the screen.
Start Up Time: The Pioneer AVIC-X850BT has a start up time of approximately 18.3 seconds from Off to the "Caution" screen. Once the "Caution" screen appears, you can tap the "OK" button on the head unit's touchscreen to go instantly to the Navigation screen or press the "Mode" hard-key to access the Source menu.
10-Bit Video DAC: The Pioneer AVIC-X850BT utilizes a 10-bit video DAC for excellent video playback of your movies/TV shows stored on disc, flash memory, or your iPod/iPhone.
Shortcut Menu: You can register your favorite menu items in the head unit's Shortcut Menu so you can quickly jump to your favorite menu items. Up to 10 menu items can be registered.
Display Adjustments: The Pioneer AVIC-X850BT offers the following monitor display adjustments.
Splash Screen: You can change the splash screen of the head unit to one of four pre-installed images w/ Pioneer Logo. You can also change the splash screen to custom images stored on an inserted microSD memory card. These custom images must be JPEG or BMP files (800 x 480 recommended size).
Picture Adjustment: You can adjust the screen's brightness, contrast, color temperature, and dimmer levels.
Widescreen Modes: You can choose from the following widescreen modes when playing back video (Full, Just, Zoom, Cinema, and Normal).
Detachable Control-Panel (w/ Variable Illumination): In addition to the touchscreen controls, the unit includes frequently used buttons along the left side of the screen. This control-panel is detachable from the navigation receiver to deter theft (no face case is provided). You can also set a password for the Pioneer AVIC-X850BT to deter theft. If the back-up lead is cut after the password is set, the navigation system prompts for the password at the time of next boot up. The color of the button illumination can be set to white, red, orange, blue, green, or scan (constantly cycling through the color spectrum). You can also create a custom color using the unit's three primary colors (red, green, blue) and a 0 to 31 color-level adjustment.
Auto Dimmer: To prevent the display from being too bright at night, the display is automatically dimmed when the car's headlights are turned on. The automatic dimmer function only works when the orange/white illumination wire in the wiring harness is connected to the vehicle's headlight circuit.
Parking Brake Interlock: This unit has a parking brake interlock system that prohibits viewing of video programming and operating certain controls when the vehicle is in motion. In order to watch video on the in-dash monitor, the vehicle must have the parking brake engaged. Many of the head unit's menu functions will also be disabled; such as Navigation, System, Map, and Bluetooth settings. The head unit's light green wire must be connected to your vehicle's parking brake detection circuit. The head unit's touchscreen will display "Attention! Viewing of front seat video source while driving is strictly prohibited", if you try to watch a video when your vehicle is in motion.
2-DIN Chassis: The Pioneer AVIC-X850BT has a 2-DIN chassis (also known as "Double -DIN"), and will fit in many vehicles with a large dash opening. The unit can be ISO-mounted using factory brackets. There is also an optional double-DIN sleeve (130ADTV133, sold separately) available for this unit that will allow you to Euro-mount or custom mount the Pioneer head unit in your vehicle. As always, please consult Crutchfield's Outfit My Car to verify fit with your vehicle.
Onboard Navigation
Built-in Navigation (from NAVTEQ): The Pioneer AVIC-X850BT offers a comprehensive map database from NAVTEQ stored on its built-in 8GB flash-memory. The pre-loaded map database covers the entire United States (including Alaska & Hawaii), Canada, and Puerto Rico enabling users to route to millions of destinations including more than 12 million points of interest (POIs).
Note: Car navigation maps are frequently updated. While this database was judged to be as accurate as possible at the time of its release, a map database can never be 100% accurate. Road information that is maintained in the map databases, such as turn restrictions or road names may change over time.
Map Updates: Map updates via a microSD memory card can be purchased at Pioneer's online store. Pioneer will release one update per year.
GPS Technology: The AVIC-X850BT accurately measures your current location by the Global Positioning System, a network of satellites orbiting the earth to give you time and position information. The accuracy of the GPS information depends upon how good the reception is. The unit has a 32-channel GPS receiver with a magnetic antenna included. The AVIC-X850BT also features a speed sensing cable for better accuracy of your vehicle's movement.
Note: The car speed signal cable (Pink) should always be connected to your vehicle's speed detection circuit. Failure to make this connection will increase errors in the vehicle's location display.
On-Screen Map: The Pioneer AVIC-X850BT displays a real-time moving map illustrating your current position and intended route. It will show map scale and geographic details such as lakes, rivers, highways and towns. Your route is marked with a green line, while your vehicle is indicated by a red arrow on the screen, and checkered flag marks your destination. As you travel the AVIC-X850 guides to your destination with arrows on the map and directions at the top of the screen. The upper-right corner of the screen indicates the distance to your next maneuver. During your calculated route, your arrival time is displayed in the top left corner. The unit allows you to zoom, pan, and point using the touchscreen during navigation. If you depart from the original route, the navigation system recalculates the route and provides new directions. You can adjust the following map settings.
View Modes: Various types of screen displays can be select for navigation guidance; 2D View (displays a normal two-dimensional map with North or your direction at the top of map screen), 3D View (displays three-dimensional map with your direction at the top of the map screen), Rear View (displays the rear view image on the left side of the map screen), or App View (displays the screen of an application for iPhone on the right of screen and the map on the left side of the screen).
Day/Night Modes: You can also select between brightness modes; Day (for a bright background), Night (for a black background) or Auto (to automatically switch between the two).
Text-to-Speech Voice Guidance: In addition to graphical on-screen directions and maps, the AVIC-X850BT provides voice guidance and turn-by-turn directions. You can choose a male or female voice in English, French, or Spanish. Some of the voices are capable of text-to-speech, announcing the street names along with the turn directions.
Lane Guidance & Signposts: The Pioneer AVIC-X850BT's navigation map offers helpful lane information & signpost guidance.
Lane Guidance: When navigation on multilane roads, it is important to take the appropriate lane in order to follow the recommended route. If lane information is available in the map data, the map screen will display the lanes and their directions using small arrows at the bottom of the map. High lighted arrows represent the lanes you need to take.
Signposts: Where additional information is available, signposts substitute arrows. Signposts are displayed at the top of the map. The color and style of the signposts are similar to the real ones you can see above the road or by the roadside, They show the available destinations and the number of the road the lane leads to.
Junction View: If you are approaching a freeway exit or a complex intersection and the needed information exists, the map is replaced with a 3D view of the junction. The lanes you need to take are displayed with arrows. Signposts can also be present, if information is available.
Tunnel View: When entering a tunnel, the map is replaced with a generic tunnel image so that surface roads and buildings cannot distract you.
Destination Search: The Destination Menu offers search tools to find your destination and play your route. You can search
| | |
| --- | --- |
| Destination Search | Description |
| Browse Map | Select a point on the map for your destination by touching the screen. |
| Home | Store one home location to allow you to calculate a route home from anywhere. |
| Address | Input your destination address by house number, street, and city (up to 100 cities can be saved in units memory). |
| POIs | Search over 12,000,000 POIs (points-of interest) by name, near you current location, near your destination, or around a city. |
| Favorites | You can save your favorite addresses and POIs for quicker access the next time you are traveling (up to 400 favorite locations can be saved). |
| History | The places that you have set as destinations in the past are automatically stored for easier access (up to 100 previous destinations can be saved). |
| Coordinates | Allows you to search your destination by longitude and latitude values. |
Note: Your vehicle must be stopped and the parking brake will need to be engaged to enable certain navigation functions; such as Address search, Return Home, and Coordinates.
Route Calculation: The AVIC-X850BT calculates the route based on your preferences. You can have the navigation system calculate your route based on the following selections.
Route Method: You can choose from two different route methods (Fastest Time or Shortest Distance)
Road Types: To let the route fit your needs, you can also set which road types (Main Road, Ferry, Freeway, Toll Road) are to be considered for or to be excluded from the route if possible.
Time Restrictions: This setting control whether streets or bridges that have traffic restrictions during a certain time should be taken into account.
Learning Route: The system learns the travel history of your vehicle for each road. You can choose whether or not this travel history should be taken into account.
Route Profile + Simulation: The Route Profile is a detailed list of the route maneuvers or driving instructions. A simulation drives you through the route, following the driving instructions.
Waypoints: During an active route, you can insert additional waypoints (intermediate destinations) preceding the destination. Every time a new point is added, the route is recalculated automatically and you can start navigating right away.
Travel Log: The navigation system logs routes that you already passed through, if the Track Logger function is activated. This is handy when you want to check a route traveled or if returning along a complex route.
Auto Reroute: If you deviate from the set route, the system will recalculate the route from that point so that you remain on track to your destination.
AVIC Feeds PC Application: Pioneer's AVIC FEEDS is a free downloadable software for Windows PC that will enable you to customize the AVIC-Z150BH. AVIC FEEDS creates a link between the Pioneer AVIC Navigation system and your Windows PC. It allows you to bring content from your PC and the Internet to the AVIC Navigation system. Even use AVIC FEEDS to view and edit data from the navigation receiver. Features include:
Import a Location from a Geo-Tagged Photo from Flickr.
Busy drivers will end up with many locations stored in their "Favorites" address book. Now you can export those locations for a safe back up. Manage and edit them at home on your PC, and even import from your PC's address book to make this feature even more convenient.
Give your Navi unit a custom feel, with a personalized splash screen.
Export your drive report from your Navi, and analyze it with this tool. View fuel mileage, CO2 emissions, and even acceleration & braking trends that will help you get more mileage out of your vehicle.
Built-in Bluetooth
Bluetooth Technology: The Pioneer AVIC-X850BT is equipped with built-in Bluetooth (ver. 2.1+EDR), allowing you to make and receive phone calls wirelessly through the receiver; as well as stream music wirelessly from your smartphone to the head unit. In order to use Bluetooth wireless technology, your phone must also be Bluetooth compatible and be able to interpret certain profiles. This unit is compatible with the following Bluetooth Profiles:
Hands-Free Communication: HFP 1.5 (Hands Free Profile), HSP 1.0 (Head Set Profile), OPP 1.1 (Object Push Profile), PBAB 1.0 (Phone Book Access Profile).
Audio Streaming: A2DP 1.2 (Advanced Audio Distribution Profile), AVRCP 1.3 (Audio/Video Remote Control Profile).
Note: Due to the differences in Bluetooth technology, some Bluetooth enabled devices may be incompatible, function improperly, or may not support all features when used with the Pioneer AVIC-X850BT.
SPP (Secure Simple Pairing): With Secure Simple Pairing (SSP), you can easily pair a Bluetooth enabled phone to the AVIC-X850BT without having to enter pin codes or go through complicated settings. When a registered Bluetooth device is in close proximity to the receiver, the auto connection function automatically pairs the two units. Up to 5 Bluetooth-compatible devices can be registered to this head unit. Only one device can be used at a time.
Hands-Free Communication: The AVIC-X850BT supports wireless hands-free communication (HFP/HSP/OPP/PBAB) for your Bluetooth enabled mobile phone. The head unit will display the caller's information and an audible ring tone will be heard through your vehicle's speaker during an incoming call. You can manually answer an incoming call or have the unit automatically answer the call. The AVIC-X850BT allows you to carry on a phone conversation from your Bluetooth enabled mobile phone using the head unit's external microphone and your car audio speakers. During a conversation you can adjust the volume, as well as switch between the Private Mode (talking directly on your cell phone) and the Hands Free Mode. Using the AVIC-X850BT, you can dial a phone number in one of the following ways:
Entering a Phone Number: You can make a call by entering the phone number using the head unit's on-screen keypad (0-9, *, #, +, C).
Phone Book: The phone book in your Bluetooth enabled cellular phone will be transferred automatically when the phone is paired to this unit. After finding the number you want to call in the phone book, you can select the entry and make the call. If a lot of numbers are registered in the phone book, you can search for the phone number by alphabet search mode. A maximum of 1,000 phone book entries can be transferred per cellular phone. Each entry can hold up to 5 phone numbers.
Call History: The most recent calls dialed, received, and missed are stored in memory (30 each). You can browse them and call numbers from these lists.
NAV Dialing: From the navigation screen, you can make a call to a location stored in the unit's Favorites, History, or POI list (if phone number is available).
Note: Advanced phone operations that require attention, such as dialing numbers on the monitor or adjusting Bluetooth settings, are prohibited while driving. The vehicle's parking brake must be engaged to access these functions.
External Microphone: During your wireless phone call, you can talk into the head unit's included external microphone, and listen to the other party through the vehicle's speaker system. The external microphone provides better performance in noisy environments than the integrated microphone found on the front-panel of many aftermarket or factory radios. The microphone features a 13' cord that plugs into the back of the radio, and comes with an adjustable visor-mount clip. The microphone measures 0.475" (diameter) x 1.445" (depth).
Wireless Audio Streaming (with Meta Data Display): The Pioneer AVIC-X850BT supports wireless audio playback (AD2P) and control (AVRCP) of a Bluetooth enabled audio player or smartphone. The AVIC-X850BT will be able to control your stored music's basic playback functions; such as Play/Pause, Previous/Next Track, Fast-Forward/Reverse, and Repeat/Random. The head unit will also display your stored music's song information; such as Artist name, Song title, and Album Art. The AVIC-X850BT also supports audio streaming of music apps (metadata display and control will depend on music app). When an incoming call or outgoing call is in progress from your Bluetooth enabled mobile phone, audio streaming will be paused so you can take your call. Once the call is finished, your streaming music will resume.
Note: You cannot use Bluetooth Audio Streaming when an iPhone device is connected to the AVIC-X850BT in AppRadio Mode.
iPod/iPhone Control
iPod/iPhone Connection: The Pioneer navigation head unit supports both audio/video & app playback from a compatible iPod or iPhone through its rear-panel proprietary port and a proprietary Pioneer iPod/iPhone cable (sold separately). Select the appropriate cable for your model Apple device and media content.
30-Pin iPod/iPhone Model: Using Pioneer's proprietary CD-IU201N cable (130IU201N, sold separately) you can enjoy audio playback of your stored music, podcasts, and audiobooks; plus video playback of your stored movies, TV shows, video podcasts, and music videos from your iPod/iPhone device through the Pioneer AVIC-X850BT. You can also listen to music apps and watch video apps streamed to your iPhone through the Pioneer head unit. In addition, the Pioneer CD-IU201N cable (sold separately) allows you to launch the AppRadio Mode on your iPhone 4/4S (iOS 4.2+), for playback of advance applications (such as navigation & driver assistant apps) on the Pioneer AVIC-X850BT.
Lightning Connector iPod/iPhone Model: If you have an iPod nano (7th gen), iPod touch (5th gen), or iPhone 5; you will need the Apple Lightning to 30-pin adapter (472LTN230P, sold separately) in addition to the Pioneer CD-IU201N cable (sold separately) to connect the Apple device to the Pioneer head unit for audio playback only. You can also access audio/video files and AppRadio Mode from your iPhone 5 (iOS 6.1+) using Pioneer's CD-IV202NAVI cable kit (130IV202NV), an Apple Lightning-to-USB Cable, and Apple Lightning-to-VGA adapter (all sold separately); will also require that your iPhone 5 be paired via Bluetooth and a Firmware update from Pioneer.
Note: Video from your iPod/iPhone device can only be displayed while the vehicle's parking brake is engaged.
iPod/iPhone Control: The Pioneer AVIC-X850BT lets you control your iPod/iPhone from the head unit's touchscreen or from the iPod/iPhone's touchscreen, clickwheel, or downloadable app.
Head Unit: Head Unit mode lets you control your connected iPod/iPhone device from the AVIC-X850BT's touchscreen. You can browse your iPod/iPhone's music content by Playlist, Artist, Album, Song, Podcast, Genre, Composer, or Audiobook; and video content by Video Playlist, Movie, Music Video, Video Podcast, TV Show, Rental. Once you have selected a category, you can search each category alphabetically (A-Z). In addition, the head unit offers Link Search, which allows you to play songs related to the currently playing song. Link Search lets the head unit create an album list of the currently playing artist, a song list of the currently playing album, or an album list of the currently playing genre. You can also select Random & Repeat functions for a certain song or specific folder.
iPod/App: App Control mode allows you to navigate stored audio/video content from your connected iPod/iPhone's clickwheel or touchscreen. This is very useful for the person riding in your passenger seat. The App mode also lets you listen to your favorite music apps, such as iHeartRadio, SiriusXM, Last.fm, Rhapsody, & Slacker from your iPhone (iOS 3.0+) through the Pioneer head unit and your vehicle's speakers. In addition, you can watch video on the Pioneer A/V receiver's touchscreen from streaming movie apps, such as Netflix & YouTube, downloaded on your iPhone 4/4S (iOS 4.0+) or iPhone 5 (iOS 6.1+). Not all apps will be compatible with App Mode and App Mode will provide only limited (basic), if any, control over the app. Available controls may include; Play/Pause & Skip Previous/Next. The App Mode's video functions can only be accessed when the vehicle is in park and the hand-brake is fully engaged.
iPod/iPhone Display: The navigation head unit will display your iPod/iPhone's stored music file information, as well as metadata from Pandora and Advance Apps; including Track number, Folder number, Elapsed playing time, Song/Album title, Artist name, and Album art. There is no music information displayed when this unit is set to 'basic App mode'. Instead, all music information will be displayed on your iPod/iPhone's LCD screen.
iPod Charging: The head unit provides 1A of current to power and charge your connected iPod/iPhone when your vehicle's ignition switch is set to the 'ACC' or 'On' position. This unit will not charge the Apple iPad. If your iPod/iPhone has no initial battery charge, then the unit will not recognize it.
AppRadio Mode: Using the Pioneer CD-IU201N (130IU201N, sold separately) cable to connect the AVIC-X850BT to your iPhone 4/4S (iOS 4.2+) loaded with Pioneer's free AppRadio application from iTunes, you can enjoy on-screen access and control of your calendar, maps, and various applications with an intuitive interface, formatted and designed specifically for safer in-vehicle operation. The same can be done with the iPhone 5 (iOS 6.1+) using Pioneer's CD-IV202NAVI cable kit, an Apple Lightning-to-USB Cable, and Apple Lightning-to-VGA adapter (all sold separately) (all sold separately). Pioneer has teamed up with app providers to offer compatibility with many of today's most popular in-vehicle apps, while also developing an expanding catalog of compatible apps for future use that can be easily & seamlessly added. The AppRadio app must be first launched from your iPhone, and the compatible app selected from the iPhone. You can then operate the app from the Pioneer head unit. Popular apps include (as of 3/1/2013):
App Categories
Application Description

M
U
S
I
C

Aupeo! Personal Radio: AUPEO! Personal Radio offers free online music. With more than 120 Internet radio stations available, users can search for their favorite music by artists, songs, genres, or AUPEO!'s "Mood-Tuner". Users can also choose to "love" or "ban" songs directly from the AppRadio screen, enabling the app to adjust content to the user's personal taste.
CarMediaPlayer: CarMediaPlayer allows you to swipe, drag, and directly touch the desired artist, song, or album in your music library directly from the Pioneer head unit's touchscreen with Alphabet Search and Album View function. When you're searching through your library, Alphabet Search allows you to select the first letter in the desired song, album, or artist name from the Pioneer receiver making it quick an easy to get to the music you want. The iPhone version of the app even allows you to play and access your iTunes Match collection directly from the Pioneer's touchscreen.
Livio Radio: The Livio Radio app ($4.99) lets you listen to more than 42,000 AM/FM and Internet-only radio streams from around the world. The Livio Radio app has been optimized for use in the vehicle with a range of features an controls right from the Pioneer head unit's touchscreen.
Rdio: Rdio (from for $4.99 per month) gives you access to over 8 million songs. You are able to search and find any song, album or artist, and start listening immediately. You can search music by new releases and chart toppers. You can also check out what other listeners have been listening to the most, or look at your own recent listening history. In addition, you can even create your own music collection or make your own playlists. Rdio will even recommend music for you, based on your previous music listening. The AppRadio will display Artist,/Album/Song information, as well as Album art.
StreamS HiFi Radio: The StreamS HiFi Radio app ($4.99) provides access to more than 4,000 live Internet radio stations from across the globe delivered in AAC/HE-AACv1/HE-AACv2 at 32kbps for high fidelity listening.
gMusic: Google Music allows you to keep up to 20,000 of your favorite songs in the cloud. Now you can listen to your entire music collection without having to use any space on your iOS device. gMusic offers full playlist editing, Last.fm scrobbling, thumbs up playlist, metadata editing, and innovative navigation.
Mixtrax: Pioneer's proprietary MIXTRAX app from iTunes analyzes the music in your iTunes library to create custom playlists for non-stop song mixes with added DJ effects.
N
A
V
I
G
A
T
I
O
N
Apple Maps: You can view Apple maps on the Pioneer head unit's touchscreen as you would on your iPhone. Functionality is bundled with the Pioneer AppRadio app.
MotionX GPS Drive: The MotionX-GPS Drive App ($0.99) is available from iTunes for your iPhone 4/4S. There is a $2.99 per month subscription fee with an additional $19.99 per year for Voice Guidance feature. MotionX-GPS Drive is a complete GPS navigation solution, designed and optimized for the iPhone, that can be displayed on the Pioneer AppRadio. MotionX-GPS Drive helps you find what you're looking for and provides turn-by-turn directions with optional Live Voice Navigation, using industry-leading maps (including US and Canada). All the functionality of an advanced dedicated turn-by-turn GPS unit is presented in this intuitive iPhone application. MotionX-GPS Drive Offers full support for the iPhone with multitasking, routing, and live voice guidance instructions continuing in the background; while you listen to streaming music from your car audio system or use other applications from the iPhone. The 2D/3D navigation map will be displayed on the Pioneer AppRadio, but you will still control the MotionX-GPS Drive Navigation app from your iPhone.
iGo Primo North: iGO primo app ($24.99) is powered by the same tried-and-trusted iGO Engine used in millions of GPS navigation devices around the world. The maps are part of the application so there are no roaming fees and no need for cellular/network coverage. Highlights include - Fast, short, easy-to-follow, and Green routes; automatic route recalculation; multipoint-route support; smart keyboard & history; TTS Pro; in-app shop; local/POI search; and more.
NavFree GPS Live: NavFree GPS Live is a free navigation app that offers turn-by-turn directions, voice and on-screen instructions, offline map use, address search, live searches via Google and Microsoft Bing, and many other features. Navfree is a completely free navigation app with no additional monthly charges. It uses map data created by a community of thousands of users around the world. The map gets downloaded to the phone so data connection is not required for navigating.
My GPS USA: My GPS USA is the next generation GPS satellite navigation from the makers of NavFree. Full featured with voice guided, turn-by-turn satellite navigation with no hidden costs. It offers a HD live map display with 2D and 3D modes. You can navigate by pinching, swiping and touching. Full voice guidance is available in 12 languages. Multiple Routing Modes include - Fastest, Shortest, Easy, Pedestrian, and Economical Routes. You can even navigate from your Contacts.
INRIX Traffic: INRIX is a leading provider of highly accurate traffic services. INRIX's strategic partnership with Clear Channel Radio and Total Traffic Network extends the delivery of the highest quality data and broadest coverage available for personal navigation. The INRIX Traffic app ($24.95 per month) provides real-time traffic information and traffic forecasts for all major highways, interstates, arterials and city streets nationwide. Traffic information will be displayed on the Pioneer head unit, while control is still handled from the iPhone.
Beej!: Beej! is an in-vehicle location/navigation application ($1.99). Beej! quickly identifies your position and allows you to select the nearest bank, bar, gas station, hospital, hotel, restaurant and more. Beej! provides a complete list of all the businesses in the category selected, including the distance from your current location and address, with options to get directions (via MotionX-GPS Drive app) or place a call to the selected business. The layout and aesthetics provide optimal in-vehicle viewing, without becoming a distraction for drivers from safe vehicle operations.
Extra Mile: Extra Mile ($1.99) is an all-in-one app for convenient voice navigation that gives audio feedback to improve your driving performance and conserve fuel.
EC Touch: The EasyCar app is designed specifically for AppRadio and provides large icons, simple commands, and swipe gestures that enable you to access your iPhone's music, contacts, mapping, and more.
Waze: Waze is a cool social GPS driving and navigation app that connects you to other drivers. When you download Waze, you not only get a free GPS traffic & navigation app, but also become part of the local driving community in your area, joining forces with other drivers nearby to outsmart traffic, save time and gas, and improve everyone's daily commute.
D
R
I
V
E
R

DashCommand: Utilizing the built-in GPS & accelerometer sensors of the iPhone, the DashCommand app ($49.99) displays advanced vehicle and driving statistics. When connected to a compatible vehicle's OBD-II data port (optional OBD-II interface sold separately from Palmer Performance Engineering), advanced data monitoring, logging and analysis are enabled. Users can create and display up to 27 virtual dashboards with many styles including digital gauges, analog gauges, indicator lights, and more, which can all be accessed on the Pioneer head unit's screen. Compatible with more than 13 OBD-II compliant interfaces, the app can also be used as a scan tool to read vehicle trouble codes.
Best Parking: Best Parking is a parking search engine that steers drivers towards the cheapest and most convenient parking garages and lots in 55 cities and 80 airports.
Parkopedia: Parkopedia ($1.99) has grown to cover over 25 million parking spaces in 28 countries around the world thanks to contributions from other drivers. Use this app to find parking using your current location or by entering an address. Get directions straight to the space and see parking space availability in real-time (where available). Find opening hours, up to date prices, payment methods and more. You can quickly narrow down parking choices using filters such as free, credit cards accepted, covered, etc.
U
T
I
L
I
T
Y
CarBrowser: CarBrowser ($1.99) allows you to search and navigate the internet directly from the Pioneer head unit's touchscreen while the vehicle's parking brake is engaged.
Commute WX: CommuteWX ($0.99) provides real-time weather information (current/forecast/in-route). Weather conditions are featured in large, easy to read graphics in a streamlined user interface that's well suited for in-vehicle travel.
Contacts: Access your iPhone's contacts. This function is bundled with the Pioneer AppRadio app.
Calendar: Access your iPhone's calendar, so you can view important events and reminders. This functionality is bundles with the Pioneer AppRadio app.
Photos: You can view photos stored on your iPhone. Access albums and camera rolls, and even view a slideshows. Functionality is bundled with the Pioneer AppRadio app.
Note: As the library of Advance App compatible applications grows, users will be automatically notified via Pioneer's AppRadio iPhone application, with a link to the respective app(s) page within the App Store. Visit the Pioneer AppRadio Site for the latest compatible apps.
iPod/iPhone Compatibility Chart: The Pioneer AVIC-X850BT is "Made for iPod/iPhone" compatible and supports the following iPod/iPhone model functions (as of 3/1/2013):
Apple Device
Generation
Tested Version
Media Type
Control Type
Specific Apps
Display Type
Bluetooth
Charge
Audio
Video
Head Unit
iPod/App Mode
AppRadio Mode
Pandora
Aha
Song/Artist Text
Track Info
Album Art
Phone
Audio
iPhone
2G
3.1.3
Y
Y
Y
Y
N
Y
N
Y
Y
Y
Y
N
Y
3G
4.2.1
Y
Y
Y
Y
N
Y
N
Y
Y
Y
Y
Y
Y
3GS
5.1.1
Y
Y
Y
Y
N
Y
Y
Y
Y
Y
Y
Y
Y
4
6.1.2
Y
Y
Y
Y
Y
Y
Y
Y
Y
Y
Y
Y
Y
4S
6.1.2
Y
Y
Y
Y
Y
Y
Y
Y
Y
Y
Y
Y
Y
5
6.1.2
Y*
Y**
Y
Y
Y**
Y*
Y*
Y
Y
Y
Y
Y
Y
touch
1st
2.2.1
Y
Y
Y
Y
N
N
N
Y
Y
Y
N
N
Y
2nd
4.2.1
Y
Y
Y
Y
N
N
N
Y
Y
Y
N
Y
Y
3rd
5.1.1
Y
Y
Y
Y
N
N
N
Y
Y
Y
N
Y
Y
4th
6.1.2
Y
Y
Y
Y
N
N
N
Y
Y
Y
N
Y
Y
5th
6.1.2
Y*
N
Y
Y
N
N
N
Y
Y
Y
N
Y
Y
nano
1st
1.3.1
N
N
N
N
N
N
N
N
N
N
N
N
N
2nd
1.1.3
Y
N
Y
Y
N
N
N
Y
Y
Y
N
N
Y
3rd
1.1.3
Y
Y
Y
Y
N
N
N
Y
Y
Y
N
N
Y
4th
1.0.4
Y
Y
Y
Y
N
N
N
Y
Y
Y
N
N
Y
5th
1.0.2
Y
Y
Y
Y
N
N
N
Y
Y
Y
N
N
Y
6th
1.2 PC
Y
N
Y
Y
N
N
N
Y
Y
Y
N
N
Y
7th
1.02 PC
Y
N
Y
Y
N
N
N
Y
Y
Y
N
Y
Y
classic
80GB
1.1.2
Y
Y
Y
Y
N
N
N
Y
Y
Y
N
N
Y
120GB
2.0.1
Y
Y
Y
Y
N
N
N
Y
Y
Y
N
N
Y
160GB
2.0.4
Y
Y
Y
Y
N
N
N
Y
Y
Y
N
N
Y
video
5th
1.3
N
N
Y
N
N
N
N
N
N
N
N
N
N
iPad
1
5.1.1
Y
Y
Y
Y
N
Y
Y
Y
Y
Y
N
Y
N
2
6.1.2
Y
Y
Y
Y
N
Y
Y
Y
Y
Y
N
Y
N
3
6.1.2
Y
Y
Y
Y
N
Y
Y
Y
Y
Y
N
Y
N
4
6.1.2
Y*
N
Y
Y
N
Y*
Y*
Y
Y
Y
N
Y
N
mini
6.1.2
Y*
N
Y
Y
N
Y*
Y*
Y
Y
Y
N
Y
N
Note:
AM/FM+Internet+SiriusXM Radio
Supertuner IIID AM/FM Tuner: The Supertuner IIID AM/FM tuner features Feed Forward Control, which avoids multi-path interference. This pre-detection of interference enables quick filter control and results in less distortion. In addition, the Supertuner IIID creates enhanced stereo during multi-path interference, unlike conventional tuners that collapse to mono. Digital processing reduces distortion, and improves Signal-to-Noise Ratio and stereo separation. Advanced analog technology improves signal processing sensitivity.
RDS: The Radio Data System (RDS) feature displays radio broadcast information such as artist, title, and album when listening to compatible AM/FM stations.
BSM (Best Stations Memory): BSM lets you automatically store the six strongest stations under preset buttons 1-6 of the currently tuned band. The tuner has 3 FM banks and 1 AM bank. You can store 6 presets for each bank giving you a total of 18 FM presets and 6 AM presets.
Local Tuning: Local seek tuning lets you tune in only those radio stations with sufficiently strong signals for good reception. There are 4 level of sensitivity for FM and two levels for AM. The higher settings allow reception of only the strongest stations, while lower settings let you receive progressively weaker stations.
Internet Radio Apps (for iPhone/Android): The Pioneer AVIC-X850BT allows you to access Pandora & Aha Radio online music services through your iPhone or Android smartphone. Your Apple iPhone must be connected to the AVIC-X850BT via Pioneer's proprietary CD-IU201N or CD-IV202NV cable (sold separately). Your Android smartphone must support A2DP/AVRCP/SPP Bluetooth profiles and be paired with the Pioneer AVIC-X850BT. Your iPhone or Android smartphone will need an active Data Plan account with connection to the Internet via 3G, EDGE, or WiFi.
Pandora App: The free Pandora App (either from iTunes Apps/Google Play) lets you play music from the Pandora music service through the Pioneer AVIC-X850BT using your cable-connected Apple iPhone (iOS3+) or Bluetooth paired Android smartphone. The AVIC-X850BT provides control over the Pandora music service and displays Artist, Album, and Song information. You can select Pandora stations from your station list and sort them by date or alphabetically (A-Z). QuickMix allows you to listen to songs played on one or more Pandora stations in your Station List randomly. You will need to edit your QuickMix station selections on the phone before connection. You can also skip song tracks within a station. You can even give songs a thumbs up or thumbs down. An active Pandora account is required.
Aha Radio App: The Pioneer navigation receiver offers compatibility with the free Aha Radio app for your cable-connected iPhone (iOS 4.3+) or Bluetooth-paired Android smartphone (2.2+); available from iTunes Apps or Google Play. Aha Radio provides you with up to the minute content made available from the convenience of Pioneer head unit's touchscreen controls. Listen to the latest Facebook updates or Tweets from your friends. Listen to thousands of stations that include internet radio, podcasts, and audiobooks. Receive traffic information, restaurants and coffee locations personalized to you instantly, safely, and easily. You can even display POI information from the Aha Radio application on the head unit's map-scren and route to these POIs. An active Aha Radio account is required.
SiriusXM Ready: The AVIC-X850BT is SiriusXM Ready so you can listen to commercial-free music, all your favorite sports, exclusive talk and entertainment, comedy, news, traffic, weather, and more. Simply connect the SiriusXM Connect Vehicle Tuner (220SXV200, sold separately) to the dedicated SiriusXM port on the rear of the navigation receiver and enjoy satellite radio without additional translators or cables. With the SiriusXM Connect tuner you'll have access to more than 150 channels of exclusive programming directly from SiriusXM, via the "SiriusXM All Access" package (subscription required). Visit SiriusXM.com for a complete list of subscription options and channel guide. Additional features of the SXV200 SiriusXM Connect tuner include:
The List Menu displays a list of all available channels.
Displayed Information such as Channel Name, Artist Name, & Song Title can be viewed on the head unit's LCD touchscreen.
You can store up to 18 SiriusXM Satellite Radio Station Presets.
Direct Tuning lets you select a broadcast channel directly by entering the desired channel number.
Tune Start allows you to choose whether to start a song from the beginning or from its live point when tuning to a preset music channel.
You can scan through channels within categories or songs from your preset channels. Tune Scan allows you to play back eight seconds of each song in a preset music channel. Category Scan lets you play back five seconds of a live broadcast in the currently selected category.
When listening to SiriusXM, Content Alerts notify you when your favorite songs, artists, or games involving your favorite sports teams are playing on other channels. The radio will display an Alert message when a matching artist, song, or team is found on another channel. Then you can choose if you want to tune to that channel or ignore the Alert.
The iTunes Tagging feature lets you Tag songs you hear on SiriusXM and stores the info on your connected iPod/iPhone. The next time you connect your iPod/iPhone to iTunes, you will be able to preview your selections and then purchase and download them directly from iTunes.
The SiriusXM Parental Control feature allows you to control access to channels that you consider inappropriate for younger listeners. When enabled, The Parental Control feature requires you to enter a 4-digit passcode to tune to the locked channels.
Note: A separate SiriusXM Satellite Radio subscription is required (operates on the XM Network). However, you can easily add this SiriusXM tuner to an existing Sirius or XM account for a Multi-Radio Discount Plan.
Disc/microSD/USB Playback
Multimedia Playback: The Pioneer AVIC-X850BT features a front-loading disc slot, as well as a front-panel microSD/SDHC memory card slot for playback of audio, video, and photo files. You can also connect a USB mass storage class device via the Pioneer CD-IU201N or CD-IV202NVcable (sold separately).
Compatible Discs: The unit has a front-loading disc-slot to make loading your disc easier because there is no panel to slide or fold-down. The AVIC-X850BT supports playback of DVD-Video, DVD-R/RW, CD-Audio, CD-Text, and CD-R/RW discs.
microSD Card Slot: The AVIC-X850BT features front-panel microSD card which will accept microSD (up to 2GB) and microSDHC (up to 32GB) memory cards.
Optional USB Port: You can connect a USB mass storage class device; such as select Android smartphones (Froyo/Gingerbread OS only), portable digital audio players, or USB thumbdrives, via the Pioneer CD-IU201N or CD-IV202NV cable (sold separately). You will need to disconnect the iPod dock cable from the proprietary Pioneer cable. USB portable audio devices that can be charged via USB will be charged when plugged into the navigation receiver's USB port (5V/1A), and the vehicle's ignition switch is set to ACC or On.
Compatible Media Files: The Pioneer AVIC-X850BT supports the following types of audio, video, and photo files recorded onto a disc or loaded onto a microSD/SDHC memory card.
Media Type
Disc (CD-R/RW, DVD-R/-RW/-R DL)
Flash Memory (microSD/Opt. USB)
File System
ISO9660 Level 1 or 2, Romeo, Joliet, UDF
FAT16/FAT32
Playable File Types
Audio

MP3: 8-320kbps bit rate; 16-48kHz sampling rates
WMA: 5-320kbps bit rate; 8-48kHz sampling rates
AAC: 8-320 kbps bit rate; 8-44.1kHz sampling rates

MP3: 8-320kbps bit rate; 16-48kHz sampling rates
WMA: 5-320kbps bit rate; 8-48kHz sampling rates
AAC: 8-320 kbps bit rate; 8-48kHz sampling rates
WAV: 8- or16-bit; 16-48k sampling rates
Video

DivX: 720 x 576 max resolution; 4GB max file size
WMV: 400 x 240 max resolution; 4GB max file size
H.264: 400 x 240 max resolution; 4GB max file size
MPEG-4: 400 x 240 max resolution; 4GB max file size
Photo

N/A

JPEG: max resolution of 8192 x 7680
Maximum # of Folders/Files

700 folders/999 files (3,500 files for DVD

300 folders/5,000 files
Tags

ID3 tags (ver. 1.0,/1.1/2.2/2.3), WMA-tags, AAC-tags

ID3 tags (ver. 1.0,/1.1/2.2/2.3/2.4), WMA-tags, AAC-tags
Playback Functions: The Pioneer AVIC-X850BT offers the following playback functions:
Automatic Playback: When a DVD disc with DVD menu is inserted, this unit will cancel the DVD menu automatically and start playback from the first chapter of the first title.
Bookmark (Resume Playback): The Bookmark function lets you resume playback from a selected scene the next time the disc is loaded.
Frame-By-Frame Playback: This feature lets you movie ahead on frame at a time during playback of your DVD or Video CD.
Slow Motion Forward: When playing a DVD or Video CD, you can choose to play back video in slow motion (no audio).
Repeat Play: Audio/Video content can be repeated. You can choose from Disc (entire disc), Folder (current folder) Chapter (current chapter), Title (current title), Track (current track), File (current file), Folder (current folder), or One (current video/song/track).
Random (Shuffle) Play: Audio/Video can be played back in a random order. You can choose from Songs (videos/songs in selected list), Albums (videos/songs from selected album), Folder (songs/tracks in selected folder), or Disc (all songs/tracks on disc).
Search Functions: The AVIC-X850BT provides the following search functions:
Track Title List: You can select tracks to playback using the track title list which is a list of the tracks recorded on a disc or microSD/SDHC memory card (or optional USB).
Scene Search: You can use the search function on the unit's on-screen display to search for a desired scene on your DVD by specifying playback time.
Return to Scene: You can return to the specified scene where the DVD you are currently playing has been preprogrammed to return.
Skip Search: You can skip to the previous/next track, file, folder, title, or chapter on a disc or microSD/SDHC memory card (or optional USB)
Fast Forward/Reverse: You can fast forward/reverse through a current track, file, or title on a disc or microSD/SDHC memory card (or optional USB).
Parental Lock: This unit features an 8-level Parental Lock system protected by a user-selected 4-digit password to prevent certain DVD's from being played back on the AVIC-X850BT.
Installation Angle: Optimum disc playback performance is obtained when the unit is installed at an angle of less than 30-degrees.
Audio Section
24-Bit/96kHz DAC: For superb quality audio playback from disc and flash media, the Pioneer AVIC-X850BT is equipped with a 24-bit/96kHz digital-to-analog converter.
MOSFET50 Internal Amplifier: This receiver is equipped with a 50 watts x 4 (peak) MOSFET amplifier for low distortion, high power output. The amplifier is strong enough to power small subwoofers to moderate volume levels in compact cars and pickups. For higher volume levels from subwoofers, an optional amplifier may be connected to the preamp outputs.
CEA2006 Compliant: The power specifications for the AVIC-X850BT are compliant with the CEA2006 Mobile Amplifier Power Testing and Measurement standards from the Consumer Electronics Association (CEA). These standards were developed as a way to equitably compare power specs from model to model and between manufacturers. The power output specs are as follows:
CEA2006 Specs: 14 watts RMS x 4 channels (at 4 ohms, 20Hz-20kHz, 1% THD-N)
Continuous Power Output: 22 watts RMS x 4 channels (at 4 ohms, 50Hz-15kHz, 5% THD)
Maximum Power Output: 50 watts x 4 channels (or 50 watts x 2 channels at 4 ohms + 70 watts x 1 channel at 2 ohms for subwoofer)
2V/6CH Preamp Outputs: The Pioneer AVIC-X850BT features three pair of 2.0-volt preamp outputs (Front/Rear/Subwoofer). The unit's front and rear preamp output can be faded (front/rear), while the subwoofer preamp output is non-fading.
Front & Rear High-Pass Crossovers: The head unit's 12dB/octave high pass filter only allows frequencies higher than those in the selected range (50, 63, 80, 100, 125Hz) to your front and rear speakers through the unit's speaker-level or line-level outputs.
Subwoofer Controls: The subwoofer preamp output features an18dB/octave low pass filter so only frequencies lower than those in the selected range (50, 63, 80, 100, 125Hz) are output to your connected subwoofer. You can also adjust the subwoofer preamp output's phase (normal/reverse) and volume (+6 to -24).
EEQ (Easy EQ) w/ 8-Band Graphic EQ: There are seven stored equalizer curves which you can easily recall at any time. You can choose from - Powerful, Natural, Vocal, Super Bass, Flat, Custom 1, or Custom 2. The Custom 1 and Custom 2 EQ modes allow you to manually adjust the level (+/- 12dB) of each band of the head unit's 8-band graphic equalizer (40Hz, 80Hz, 200Hz, 400Hz, 1kHz, 2.5kHz, 8kHz, and10kHz).
Auto EQ (Optional): The auto-equalizer automatically measures your car's interior acoustic characteristics, and then creates an auto-equalizer curve based on that information. The Pioneer CD-MC20 Auto-EQ microphone (130CDMC20, sold separately) is required to use this function. The Pioneer CD-MC20 Auto-EQ microphone plugs into the receiver's rear-panel AV input (AV1). The Auto-EQ microphone should be placed in the center of your vehicle's driver seat headrest facing forward for EQ measurement.
Sound Enhancements: The head unit provides further sound enhancements for your car audio system.
Sonic Center Control: Sound that is suited for the listening position can easily be created with this function. You can adjust sound more toward the listening position left (7) to right (7).
Loudness: The Loudness function compensates for deficiencies in the low- and high-frequency ranges at low volume. You can set the Loudness to High, Mid, Low, or Off.
Bass Boost: You can easily boost the subwoofer bass level by using the Bass Boost function. The Bass Boost feature allows you increase the subwoofer level from 0 to +6 (12dB).
Source Level Adjustment (SLA): This function lets you adjust the volume level of each source to prevent radical changes in volume when switching between sources. Settings are based on the volume level of the FM tuner, which remains unchanged. Each source can be independently adjusted from -8 dB to +8 dB.
Mute/Attenuation Level: You an select the muting/attenuation level of head unit. Choose from Mute (0 volume), -20dB (1/10 volume), or -10dB (1/3 volume).
Key Beep: The in-dash navigation head unit provides an audible beep to confirm button operation. This function can be turned On or Off.
Switchable Rear Channel/Subwoofer Speaker Output: The rear speaker outputs can be set to provide full range output with full fading capability, or they can be set to provide non-fading subwoofer (low-pass) output. When the rear speaker outputs are set to subwoofer mode, the rear preamp outputs also switch from full range to subwoofer outputs. When set for subwoofer operation, you can connect the rear speaker leads directly to two small 4-ohm passive subwoofers or a dual voice coil sub with 4-ohm voice coils. If you prefer to use a single 2-ohm subwoofer, you can connect the woofer to one set of speaker leads, leaving the other set of rear leads disconnected. The maximum output provided when a 2-ohm load is connected to one set of leads is 70 watts.
AV Connections
Dual AV Inputs: The Pioneer AVIC-X850BT has dual AV inputs to connect two external audio/video sources. The head unit has a rear-panel 3.5mm minijack AV input for connecting a portable audio/video device (a 6.5' AV minijack extension cable provided) There is also a rear-panel composite video/stereo RCA AV input for connecting a video component such as a mobile TV tuner or game console.
AV Output (with Dual Zone): The AVIC-X850BT features a rear-panel composite video/stereo RCA audio output that allows you to connect an external display to the unit. You can playback audio/video content from a Disc, your iPod/iPhone (not iPhone 5), and the AV 1/2 inputs in the rear zone; or you can simply have the rear AV output mirror the head unit's selected source. You can select the unit to output a 16:9, Letter-Box or Pan-Scan aspect ratio to match your external display's screen size.
Rear View Camera: The AVIC-X850BT is equipped with a composite video Rear View Camera input for adding an optional rear camera (130NDBC5, sold separately). When the vehicle put in reverse, the head unit's screen automatically switches to the rear view camera (the violet/white wire in the AVIC-X850BT's harness must be connected to the vehicle's reverse lamp circuit for automatic video switching). Automatic video switching takes approximately 1.2 seconds. In addition to the rear view image, the head unit also provides on-screen parking assist guidelines. Audio from your music source will continue playing, while the back-up camera is displayed.
Note: You can also choose to display the rear view camera at all times when monitoring an attached trailer. The navigation map will display in a smaller window on the screen.
Remote Control
Steering Wheel Remote Compatibility: The head unit features an OEM steering wheel remote control input on the rear of the unit that lets you keep your vehicle's factory radio steering wheel remote controls when used with an optional steering wheel audio control adapter (sold separately). Please consult Crutchfield's Outfit My Car to see if your vehicle is compatible.
Our Product Research Team
At Crutchfield, you'll get detailed, accurate information that's hard to find elsewhere. That's because we have our own in-house Product Research team. They verify what's in the box, check the owner's manual, and record dimensions, features and specs. We stay on top of new products and technologies to help people make informed choices.
Product reviews from the Crutchfield Labs
Smartphone lovers have a friend in Pioneer. The 2013 line of Pioneer receivers features unparalleled connectivity to your iPhone 4 and iPhone 5 (with separate adapters), and you can connect your...
What are the Labs?