Pioneer AVH-P4400BH
DVD receiver
Item #: 130P4400BH
This item is no longer available.
Original Price: $379.99
Shop all In-dash Video Receivers
Need help?
Does it fit my car?
Select your car
Step up to the big screen
Pioneer's AVH-P4400BH DVD receiver gives you more to enjoy. It's the lowest priced model in their current DVD receiver lineup to feature a 6.95" touchscreen — that means bigger video displays and a more driver-friendly menu. And that big expanse of glass will look pretty sweet in your car's dashboard — especially after you choose from five display colors and 112 key panel illumination options to create the perfect look.
Bluetooth® and an HD Radio™ tuner — built in
This receiver also sets high marks for in-car convenience and upgraded sound. Once you pair up your compatible mobile device with the AVH-P4400BH, you'll enjoy the convenience of hands-free calling with Bluetooth, along with the ability to stream music from your phone to the Pioneer. And a built-in HD Radio tuner brings you the upgraded sound quality of free, over-the-air digital broadcasts from participating radio stations.
A wealth of audio and video options
You can connect your iPod® or iPhone® to control of your playlists from the receiver, with handy tools like Alphabet Search that'll help you find the tracks you want quickly. Once you connect your iPhone to the receiver with Pioneer's CD-IU201V cable, you can take charge of your Pandora® account from the touchscreen, complete with thumbs-up and thumbs-down controls. And the 1-amp USB port will charge your devices fast if you're low on battery, so you can hit the ground ready to go when you leave the car.
That big 6.95" LCD screen is perfect for video playback, playing DVDs in bright, clear detail when you're parked. Again, Pioneer's CD-IU201V cable allows you to view video content from your iPod or iPhone. Set up some video screens for your backseat passengers, and they can watch movies or other video content, whether you're on a long trip or just shuttling them around town.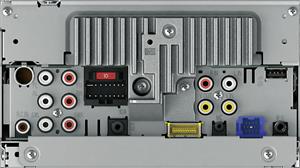 Sound Advantages
The receiver's built-in amp has the horsepower to keep up with the great looks, delivering crisp, clean sound that you can tailor with the 8-band equalizer. To get the perfect sound, use the auto-equalization feature to tune your system (microphone required). If you'll building a system, the three sets of preamp outputs deliver a solid 4-volt signal to your external amps.
Stay on track and stay safe
Pioneer's AVIC-U220 navigation module gives the AVH-P4400BH full-fledged navigation capabilities, along with access to over 12 million points of interest. You can also add a rear-view camera to the receiver's dedicated cam input — it'll make backing up larger vehicles a lot safer in tight spots.
Want to keep your car's steering wheel audio controls?
In most vehicles, you can use an adapter (not included) to connect your vehicle's steering wheel controls to this Pioneer stereo. Connect a few wires, then program the adapter for your particular car and the Pioneer, and you'll retain the convenience of your steering wheel controls.
Bluetooth note: Use of this receiver's Bluetooth features will depend upon your phone's Bluetooth capabilities. Learn more in our article explaining Bluetooth profiles.
Note: If you're going to use your iPod with this receiver, be sure to check Details for specific iPod model compatibility with this receiver or its optional iPod adapter.
iPhone® 5 Note: You'll need to update this Pioneer receiver to enable Bluetooth control and metadata display for the iPhone 5 or other Apple iOS6 devices. This update requires a laptop with Bluetooth running Windows 7.
Product Highlights:
General features:
DVD/CD receiver with internal amp (14 watts RMS CEA-2006/50 peak x 4 channels)
6.95" motorized touchscreen with multi-angle adjustments
built-in HD Radio tuner
built-in Bluetooth for hands-free calling and audio streaming
touchscreen controls with Advanced Touch Slide operation
five customizable display colors and 112 key panel illumination choices
Pandora® Internet radio control with iPhone®
fits double-DIN dash openings
remote control
Audio/video features:
plays audio/video content from CDs, DVDs, and USB memory devices (see Hands-on Research for full capabilities)
8-band graphic equalizer with 7 preset EQ curves
high- and low-pass filters
Advanced Sound Retriever
Auto EQ feature tunes your system automatically (microphone required)
Expandability:
built-in audio iPod control — Pioneer's CD-IU201V adapter (not included) required for viewing video content and Pandora control
compatible with Pioneer AVIC-U220 navigation module, satellite radio tuner, multi-channel decoder
inputs: two rear A/V inputs (minijack, composite RCA), rear video output, rear USB input, rear-view camera input
outputs: video output, 6-channel preamp outputs (4-volt front, rear, sub)
Other information:
compatible with most factory steering wheel audio controls (adapter required)
warranty: 1 year
Video receivers: They're not just for movies
Video receivers add a new level of entertainment to your vehicle. You can watch a movie on the screen when you're parked on a Saturday night, or play a DVD or downloaded video through your rear seat video setup on the road. Touchscreen receivers allow you to breeze through menus with the tip of your finger. Most video receivers feature a USB input for iPod audio, and the ability to add an adapter that allows video to display on the screen.
Pioneer AVH-P4400BH Reviews
Average Customer Review:
129 Reviews
---