Pioneer Premier DEH-P710BT
CD receiver
Item #: 130P710BT
This item is no longer available.
Original Price: $359.99
Need help?
Does it fit my car?
Select your car
High-quality audio and hands-free calls
Put it all together in one package with Pioneer Premier's DEH-P710BT CD receiver. It delivers superb sound quality, great looks, and a long list of features including built-in Bluetooth® — you'll enjoy the best of all possible worlds.

---
High-fidelity audio is at the heart
The DEH-P710BT sets the bar high for sound quality. You can customize the crystal-clear audio output with a 7-band equalizer that allows plenty of adjustments to your music's tonal balance. Pioneer's Sound Retriever ensures that your MP3, WMA, or AAC files will be worthy of the receiver's attention — it breathes new life into flat-sounding music files by restoring information lost in compression. High-pass and low-pass filters adjust the range of frequencies going to your speakers so they play at peak efficiency.
---
A clear, bright display
The DEH-P710BT's bright blue Organic Electroluminescent (OEL) display is easy to read, even in the worst lighting conditions. The three lines of text display ensure you'll know all the details about the songs you're playing. If you enjoy some "wow" factor, you'll find that the full-motion 3D screen savers are right up your alley.
---
Expansion options
Build a high-powered car audio system by connecting amps and subs to the three sets of high-voltage preamp outputs. You can connect a satellite radio to open up a world of music, sports, and news programming, or add an HD Radio™ tuner to access the improved sound quality broadcast by participating AM and FM stations.
You've got two USB inputs and an auxiliary input at your disposal, so you can plug thumb drives, iPods®, and almost any other audio source into the mix. Connecting your iPod via the USB bypasses the iPod's built-in digital-to-analog converter, so you'll enjoy the improved sound reproduction of the receiver's high-quality DAC instead. An automotive-grade iPod cable is included, so you can leave the one that came with your iPod at home.
Note: If you're going to use your iPod with this receiver, be sure to check Hands-on Research for specific iPod model compatibility with this receiver.
---
Keep your hands on the wheel
Built-in Bluetooth connectivity means you won't have to fumble for your phone when you get a call. The receiver mutes for an incoming call and you can talk just by pressing a button on the receiver. The DEH-P710BT will download your phone's address book automatically, so you'll have all the important numbers you need in the receiver's memory for one-touch outbound calls. Use the receiver's voice recognition to make calls and input phone numbers and names into the phonebook. You can even access a help menu to assist you with the proper voice commands.
Note: Bluetooth compatibility with this receiver may vary, depending on your phone and service provider.
---
Information provided by Pioneer
---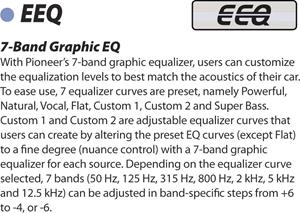 ---

---
Product Highlights:
General features:
CD receiver with built-in MOSFET amplifier (14 watts RMS CEA-2006/50 peak x 4 channels)
plays CDs, CD-Rs, and CD-RWs, including discs loaded with MP3, WMA, and AAC files (will not play Digital Rights-protected music files)
built-in Bluetooth for hands-free calling with compatible phones
detachable face with OEL animated display
steering wheel-mountable remote control
Audio features:
Easy EQ 7-band equalizer with seven preset tone settings
3-level loudness
Sound Retriever for restoring sound of compressed music files
high- and low-pass filters
Expandability:
built-in iPod control — no adapter necessary and an automotive-grade iPod cable is included
compatible with optional Pioneer HD Radio tuner, satellite radio, CD changer
inputs: rear auxiliary input, two rear USB inputs (for Windows Media devices, USB storage devices, and iPod)
outputs: 6-channel preamp outputs (4-volt front, rear, subwoofer)
Other info:
compatible with most factory steering wheel audio controls (adapter required)
warranty: 2 years
Why replace your factory radio?
Two good reasons - sound quality and cool features. A new car stereo offers power that's superior to most factory radios, along with more sophisticated tone controls. And most car stereos offer built-in or optional features that add safety and fun to life in your car, including inputs for your iPod or MP3 player, Bluetooth connectivity for hands-free cell phone calls, satellite radio or HD Radio reception, and connections for building an audio system in your car.
Pioneer Premier DEH-P710BT Reviews
Average Customer Review:
23 Reviews
---
What's in the box?
AM/FM/CD receiver
Face
Hard plastic face case
2 Face fixing holders
2 Face fixing screws
Wireless steering wheel remote control
Remote mounting bracket
2 Remote mounting straps
CR2032 Lithium battery (installed in remote)
Sleeve
Trim ring
Wiring harness
10 Amp ATC fuse (installed in-line with the constant +12V wire)
20" iPod interface cable (USB Type A plug on one end and a standard iPod dock connector on the other)
57" USB extension cable (has male Type A USB on one end and female Type A USB on the other end)
2 Removal keys
Rear support bolt
4 Pan head ISO-mount screws (M5 x 8mm)
4 Flat-head ISO-mount screws (M5 x 9mm)
Microphone with attached 13' cord (terminated with a 2.5mm sub-miniplug)
Plastic visor clip for microphone
Double-sided tape (1/2" x 5/8")
Operation manual (Eng/Fren/Span)
Installation Manual (Eng/Fren/Span)
Warranty information
Warning sheet concerning installation safety
Voice recognition note
Manual correction
Product Research
Overview: The Pioneer Premier DEH-P710BT is an AM/FM/CD receiver that can also play MP3, WMA, WAV, and AAC files on disc as well. It has a rear panel 3.5mm auxiliary input for portable devices, as well as dual USB inputs on the rear panel for your iPod or other USB-based portable audio player and a USB memory device. The receiver also has built-in Bluetooth Wireless Technology for the playback of Bluetooth Audio devices and pairing with Bluetooth Telephones. Additional accessories that are compatible with this unit include XM or SIRIUS Satellite Radio (with an optional satellite radio tuner and antenna), HD Radio, and a multi-CD player. See section below on External Device Controls for details on compatibility.
Display Features
Audio Section
AM/FM Tuner
CD Playback
Bluetooth Features
External Device Connection
Remote Control
Display Features
Detachable Face Security: This unit features Detachable Face Security. If the front panel is not detached from the head unit within five seconds of turning off the ignition, a warning tone will sound. The warning tone can be turned off in the menu, if desired. Face-fixing holders and screws are supplied for making the face non-detachable, if desired.
Blue OEL Display: The DEH-P710BT features a blue Organic Electroluminescent (OEL) dot matrix display, with a resolution of 192 x 48 pixels. You can easily view file and folder lists from your MP3, WMA, and CD Text-encoded discs, radio presets, or data from your iPod, XM Radio, and Sirius. The brightness of the display can be set between 0 and 15.
Dimmer: To prevent the display from being too bright at night, the display is automatically dimmed when the car's headlights are turned on. You can turn the dimmer function On or Off. The orange/white illumination wire must be connected to the vehicle's headlight circuit in order for this feature to work.
Ever Scroll: When the Ever Scroll feature is set to On, recorded text information scrolls continuously on the display. It will auto-scroll up to 64 characters. Set this feature to Off if you prefer the information to scroll only once.
Display Illumination/Clock Display: When the Clock Display has been turned on, pressing and holding the Source button turns off audio output, but the clock display remains on. When the Clock Display has been turned off, pressing and holding the source button turns the unit off completely. Even if you have turned the radio completely off you can view the clock display be pressing the clock button. The clock will then remain On until you turn it Off. When the unit is On you can select between the clock display or the audio track/tuner display. When the unit is off but the ignition is on, the button illumination will light up when the vehicle's headlights are turned on.
Audio Section
MOSFET Amplifier: The DEH-P710BT is equipped with a MOSFET amplifier. Compared to conventional power supplies, the MOSFET amplification circuit is smaller and more efficient, and it delivers increased power with less distortion and absolutely zero on/off switching noise. More power means louder and cleaner music at higher volumes because you're not pushing the limits of the amplification circuit.
CEA2006 Compliant: The power specifications for the DEH-P710BT are compliant with the CEA2006 Mobile Amplifier Power Testing and Measurement standards from the Consumer Electronics Association (CEA). These standards were developed as a way to equitably compare power specs from model to model and between manufacturers. The power output specs for the DEH-P710BT are as follows:
CEA2006 Specs: 14 watts RMS x 4 channels (at 4 ohms, 20Hz-20kHz, 1% THD-N)
Continuous Power Output: 22 watts RMS x 4 channels (at 4 ohms, 50Hz-15kHz, 5% THD)
Maximum Power Output: 50 watts x 4 channels (or 50 watts x 2 channels at 4 ohms + 70 watts x 1 channel at 2 ohms for subwoofer)
Sound Retriever: The Sound Retriever automatically enhances compressed audio and restores the original richness of the recording. There are two available levels of the Sound Retriever effect.
EEQ (Easy EQ): The DEH-P710BT is equipped with a 7-band graphic EQ with 7 preset EQ settings. You can boost or cut each frequency band by +/- 12dB at 2dB intervals. Features of the Easy EQ include:
Center Frequencies: 50Hz, 125Hz, 315Hz, 800Hz, 2kHz, 5kHz, and 12.5kHz
Preset EEQ Settings: Powerful, Super Bass, Vocal, Natural, Custom1, Custom2, and EQ Flat
Selectable Loudness Levels: Loudness compensates for deficiencies in the low and high frequencies at low volumes. You can choose from three levels of loudness:
Low: +3.5dB (100Hz), +3dB (10kHz)
Mid: +10dB (100Hz), +6.5dB (10kHz)
High: +11dB (100Hz), +11dB (10kHz)
Subwoofer Output: The unit has a pair of dedicated non-fading RCA subwoofer outputs with a low-pass filter, phase adjustment, and output level. When the subwoofer output is turned on, you can select the frequency of the 18dB/octave low pass filter (50, 63, 80, 100, or 125 Hz), select the subwoofer phase (normal/reverse), and the subwoofer gain (+6 to -24dB).
Switchable Rear Channel/Subwoofer Output: The rear speaker outputs can be set to provide full range output with full fading capability, or they can be set to provide non-fading subwoofer (low-pass) output. When the rear speaker outputs are set to subwoofer mode, the rear preamp outputs also switch from full range to subwoofer outputs. When set for subwoofer operation, you can connect the rear speaker leads directly to two small 4-ohm passive subwoofers or a dual voice coil sub with 4-ohm voice coils. If you prefer to use a single 2-ohm subwoofer, you can connect the woofer to one set of speaker leads, leaving the other set of rear leads disconnected. The maximum output provided when a 2-ohm load is connected to one set of leads is 70 watts.
High Pass Filter: If you do not want low frequency sounds to play from the front or rear speaker outputs, you can turn on the 12dB/octave High Pass Filter. The HPF has a selectable cutoff frequency (50, 63, 80, 100, or 125 Hz). Only frequencies higher than those in the selected range are output through the speakers.
Bass Boost: The Bass Boost function raises the level of sounds lower than 100Hz. You can select a desired level of bass boost between 0 and 6 (+12dB to 0dB).
Source Level Adjustment (SLA): This function lets you adjust the volume level of each source to prevent radical changes in volume when switching between sources. Settings are based on the volume level of the FM tuner, which remains unchanged. Each source can be independently adjusted from -4dB to +4dB.
Function Confirmation Tones: The receiver emits an audible beep tone each time a button is pressed. These function confirmation tones cannot be turned off.
AM/FM Tuner
Supertuner IIID AM/FM Tuner: The Supertuner IIID features Feed Forward Control, which avoids multi-path interference. This pre-detection of interference enables quick filter control and results in less distortion. In addition, the Supertuner IIID creates enhanced stereo during multi-path interference, unlike conventional tuners that collapse to mono. Digital processing reduces distortion, and improves Signal-to-Noise Ratio and stereo separation. Advanced analog technology improves signal processing sensitivity.
BSM (Best Stations Memory): The BSM (Best Stations Memory) function lets you automatically store the six strongest stations under preset buttons 1-6 of the currently tuned band. The tuner has 3 FM banks and 1 AM bank. You can store 6 presets for each bank giving you a total of 18 FM presets and 6 AM presets.
Local Tuning: Local seek tuning lets you tune in only those radio stations with sufficiently strong signals for good reception. There are 4 level of sensitivity for FM and two levels for AM. The higher settings allow reception of only the strongest stations, while lower settings let you receive progressively weaker stations.
CD Playback
Compressed Audio Playback: This unit can play MP3/WMA/AAC/WAV files recorded on CD-ROM, CD-R, and CD-RW discs in ISO9660 Level 1/Level 2, Joliet, and Romeo formats. MP3 files with a bit rate from 8-320 kbps, WMA files with a bit rate from 5-320 kbps, and AAC files with a variable bit rate from 8-320 kbps are supported. The unit is compatible with ID3 Tags and will display artist, folder, file, and album name, plus comments. Up to 8 directories, 99 folders and 999 files per disc are recognized by this unit.
List Button: The List button on the front panel allows you to view the track title list, folder list, file list, preset channel list, or disc title list, depending upon the source. Once the List button is pressed, you can turn the multi-control knob to view each item on the list. To select the highlighted item, you can press the multi-control. This allows you to quickly make selections from most any source.
Disc Naming: You can use the disc title input feature to store up to 48 CD titles in the unit's memory. Each title can be up to 10 characters long. When a Pioneer multi-disc CD player is connected, you can store up to 100 CD titles.
Built-in Bluetooth
Bluetooth Solution: The DEH-P710BT is equipped with Pioneer's new Built-in Bluetooth Solution. You can make and receive phone calls wirelessly through the receiver. When you're not utilizing hands-free calling, you can use Bluetooth Wireless Technology to control and listen to a Bluetooth audio player.
Voice Recognition: You can use voice recognition to input phone numbers and names into the phonebook, and make calls. You can also access a help menu to assist you with the proper voice commands.
Microphone: During your wireless phone call, you can talk into the head unit's included microphone, and listen to the other party through the vehicle's speaker system. The microphone features a 13' cord that plugs into the back of the radio, and comes with an adjustable visor-mount clip.
Phone Pairing: Up to 5 Bluetooth-compatible cell phones can be registered to this head unit. You can transfer your entire phonebook at a single time to the head unit, which can memorize up to 1000 different numbers for each user.
Bluetooth Audio Players: In addition to supporting Bluetooth's Hands-Free Profile (HFP), the head unit also supports Bluetooth's wireless Audio Streaming Profile (A2DP) and Bluetooth's Audio Control Profile (AVRCP). These features allow you to wirelessly transmit music from your Bluetooth compatible cell-phone or portable audio player to the DEH-P710BT so you can listen to your stored music files through your vehicle's audio system.
External Device Connection
Dual USB Inputs: The DEH-P710BT has dual USB inputs on a single 8" pigtail. You can connect and play music files from a USB flash drive and an iPod at the same time. A 57" USB cable extension is supplied, so you can plug in your USB devices with ease. The USB flash memory must be USB Mass Storage Class compliant. USB Memory that are at least 250MB in capacity, formatted in FAT32 or FAT16 are compatible.
iPod Interface: The DEH-P710BT can control and playback songs on an iPod. This unit supports iPods with a standard Dock Connector. (Please see compatibility list below for your model and software version.) You can connect your iPod to one of the unit's USB inputs using the included CD-iU50 cable or the one supplied with your iPod. When connected via USB, you can choose to control the iPod from the head unit or the iPod itself (Passenger Mode--not available on the iPod nano 1st generation or iPod 5th generation). You can still change songs from the head unit, even when you are controlling the iPod manually. You can perform multiple search functions, including playlist, genre, artist, and album searches. While connected and the ignition switch is set to ACC or ON, the USB connection will power and charge your iPod. The Pioneer DEH-P710BT is "Made for iPod/iPhone" compatible and supports the following iPod/iPhone model functions (as of Dec. 2009):
iPod/iPhone Model
Generation
Software Version
Media Type
Control
Display
Charge
Audio
Video
Unit
iPod
Song/Artist
Track
dock-connector
3rd
N/A
N
N
N
N
N
N
N
click-wheel/color-display
4th
N/A
N
N
N
N
N
N
N
mini
1st
N/A
N
N
N
N
N
N
N
2nd
N/A
N
N
N
N
N
N
N
video
5th
1.3
Y
N
Y
N
Y
Y
Y
classic
80GB
1.1.2
Y
N
Y
Y
Y
Y
Y
120GB
1.1.2
Y
N
Y
Y
Y
Y
Y
160GB
1.1.2
Y
N
Y
Y
Y
Y
Y
nano
1st
1.3.1
Y
N
Y
N
Y
Y
Y
2nd
1.1.3
Y
N
Y
Y
Y
Y
Y
3rd
1.1.3
Y
N
Y
Y
Y
Y
Y
4th
1.0.3
Y
N
Y
Y
Y
Y
Y
5th
1.0.1
Y
N
Y
Y
Y
Y
Y
touch
1st
3.0
Y
N
Y
Y
Y
Y
Y
2nd
3.0
Y
N
Y
Y
Y
Y
Y
3rd
3.0
Y
N
Y
Y
Y
Y
Y
iPhone
2G
3.0
Y
N
Y
Y
Y
Y
Y
3G
3.0
Y
N
Y
Y
Y
Y
Y
3GS
3.0
Y
N
Y
Y
Y
Y
Y
Note: Apple firmware updates may change functionality results. You may need to reset your iPod if you download a newer software version. The headunit may read "Error 19" if your iPod is not reset. If left plugged in, the iPod will turn off approximately two minutes after the vehicle's ignition switch is set to Off.
Satellite Radio Ready: You can connect and control an external satellite radio tuner from XM or SIRIUS. The head unit is compatible with the GEX-P920XM (130P920XM, sold separately) Pioneer XM receiver. For Sirius there are two options; connect the SC-C1 SiriusConnect Universal Vehicle tuner and the CD-SB10 Pioneer Sirius Satellite Radio interface (700SIRPION, sold separately), or use the Pioneer Sirius Satellite Radio interface (130CDSB10, sold separately) and the SIRIUS dock-and-play adapter (607SCVDOC1, sold separately) along with a compatible portable SIRIUS radio. A subscription to XM or Sirius, plus the proper antenna is required in order to receive satellite radio programming. The satellite radio tuners connect via the IP-Bus connector on the back of the head unit.
HD Radio Ready: This unit is compatible with the optional Pioneer GEX-P20HD HD Radio tuner (130GEXP20H, sold separately) allowing you to tune available HD Radio stations. HD Radio features high quality audio, FM multi-casting, and data services. The optional HD Radio tuner connects through the IP-BUS interface.
IP-Bus Changer Controls: You can add an IP-Bus-compatible 6-disc or 12-disc Pioneer CD changer, and control it from the head unit.
Auxiliary Input: The DEH-P710BT is equipped with a rear panel 3.5mm stereo minijack auxiliary input for connecting external components, such as a portable MP3 player, DVD, or VCR. Once AUX 1 is selected as a source, you can change the source display of the input to any 10-character name. A second auxiliary device can be connected to this unit when an optional adapter is connected to the IP-Bus connector on the rear panel. Both Aux 1 and Aux 2 must be turned on in the setup menu in order to be selected as a source. See below for more information on the 2nd Auxiliary Input.
2nd Auxiliary Input Ready: In addition to the front panel minijack Aux input (AUX 1), you can connect a second auxiliary component by connecting an IP-Bus/RCA connector. The optional CD-RB10 (130CDRB10, sold separately) lets you connect one auxiliary component, and the optional CD-RB20 (130CDRB20, sold separately) lets you connect an auxiliary component and a CD changer via the IP-Bus connector on the back of the head unit. The 10-character name of the connected auxiliary component can be entered into memory, and will appear as you cycle through the sources.
Remote Control
Wireless Remote Control: The DEH-P710BT comes with a wireless steering wheel-mounted remote control. The remote allows you to control the volume, switch between sources, change radio bands, and perform playback functions. In addition, there are buttons for Bluetooth phone operations. Also, the PAC SWI-PS (127SWIPS, sold separately) steering wheel remote interface is compatible with this head unit.
Our Product Research Team
At Crutchfield, you'll get detailed, accurate information that's hard to find elsewhere. That's because we have our own in-house Product Research team. They verify what's in the box, check the owner's manual, and record dimensions, features and specs. We stay on top of new products and technologies to help people make informed choices.