Pioneer Premier FH-P800BT
CD receiver
Item #: 130P800BT
This item is no longer available.
Original Price: $349.99
Need help?
Does it fit my car?
Select your car
Style and convenience
The Pioneer Premier FH-P800BT CD receiver brings you the convenience of Bluetooth capability and wealth of playback options, and it'll fit perfectly in the double-size opening found in many dashboards. Plus, Pioneer Premier covers this versatile receiver with its 2-year warranty.
---
Simple controls, elegant design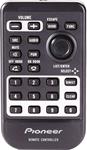 The receiver's clean design keeps operation refreshingly simple. The easy-to-use Rotary Commander interface locates your favorite songs or changes system settings with a touch of a button and a twist of the large control knob. System information, menus, and song titles show up bright and clear on the cool blue, 3-line LCD display. The 10-key wireless remote offers extensive fingertip control over your system while you drive, or you can add an optional adapter to control the receiver with your factory steering wheel controls.
---
Built-in Bluetooth
You'll be able to make and receive calls through the stereo, without having to fumble around for your Bluetooth phone. The receiver can memorize up to 3600 phone numbers, and will pair with up to three phones. Pioneer includes a visor-mount microphone.

---
Audio and entertainment options
The FH-P800BT plays MP3, WMA, and AAC files on disc, controls a satellite radio tuner, and features a USB input, built-in iPod® controls, and a rear auxiliary input. The Sound Retriever feature livens up flat-sounding music files by restoring information lost in compression, and you can use the 7-band equalizer to find the perfect tonal balance for your music.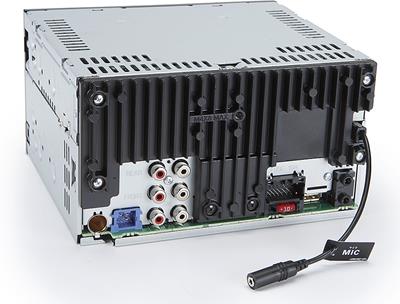 Connect amplifiers and subwoofers to the three sets of high-voltage preamp outputs to build a high-powered car audio system. High-pass and low-pass filters let you adjust the range of frequencies you send to your speaker setup.
---
Note: Bluetooth compatibility with this receiver may vary, depending on your phone and service provider.
Note: If you're going to use your iPod with this receiver, be sure to check Hands-on Research for specific iPod model compatibility with this receiver.
Product Highlights:
General features:
CD receiver with built-in MOSFET amplifier (14 watts RMS CEA-2006/50 peak x 4 channels)
plays CDs, CD-Rs, and CD-RWs, including discs loaded with MP3, WMA, and AAC files (will not play Digital Rights-protected music files)
3-line display with blue LCD display
remote control
Audio features:
Easy EQ 7-band equalizer with six preset tone settings
loudness
Sound Retriever for improving sound of compressed music files
low-pass (preamp outs) and high-pass (speaker and preamp outs) filters
subwoofer level control
Expandability:
built-in Bluetooth for hands-free calling
built-in iPod control — Pioneer's connecting cable included
compatible with optional satellite radio, CD changer, HD Radio tuner
inputs: rear auxiliary input, rear USB input (for Windows Media devices, USB storage devices, and iPod)
outputs: 6-channel preamp outputs (4-volt front, rear, subwoofer)
Other info:
compatible with most factory steering wheel audio controls (adapter required)
warranty: 2 years
Why replace your factory radio?
Two good reasons - sound quality and cool features. A new car stereo offers power that's superior to most factory radios, along with more sophisticated tone controls. And most car stereos offer built-in or optional features that add safety and fun to life in your car, including inputs for your iPod or MP3 player, Bluetooth connectivity for hands-free cell phone calls, satellite radio or HD Radio reception, and connections for building an audio system in your car.
Pioneer Premier FH-P800BT Reviews
Average Customer Review:
12 Reviews
---
GREAT HU! iPhone 4s Works!!
Written by: Videoman77 from Oklahoma City, OK on August 23, 2012
"Coolness Factor"

Build Quality

Ease of Use

Sound Quality

Value
I just had to chime in here on this HU. I absolutely love it. I bought it cheap. Its in my 2011 camry with metra dash kit. I was pleased to find out that even after chatting with crutch field tech/sales support and them advising me that this HU did not support iPhone 4 or 4s....that this unit DOES work with iPhone 4S!!!!!!!! I am running the iOS 5.1.1. Bluetooth audio works great, however i have to manually connect it each time...but the bluetooth phone portion connects automatically every time! I figured that bluetooth and aux was the only way to play music on this HU since it doesn't officially support iPhone 4s...BUT I WAS WRONG i plugged my phone into the usb plug BAM detected it right away and started playing music!!!!!! Using this in conjunction with a pioneer gm-5000t amplifier and a single 12" Crossfire DVC...sounds awesome!

I highly recommend this unit!

Pros: 1. Bluetooth Awesome phone and music! 2. Love the LPF and 3. 7 band EQ really allowed me run my amp at full range and get a great thump! 4. Remote is bigger than most but i like it anyway ;) 5. Bluetooth mic sounds great! 6. Works with iPhone 4S believe it or not!

Cons: 1. I wish the dimmer was easier to get to and i also wish that it dimmed more. The dim setting is still too bright IMO. 2. Im not sure if this is just my antenna in the camry but for some reason most of my fm channels don't come in until i get into the city (i live in rural Oklahoma).
Pioneer Premier FH-P800BT
Written by: Anonymous from Maui, HI on March 6, 2010
2007 Honda Element EX
Crutchfield Customer Review
(
What's this?
)
Ordered this because it had Bluetooth and USB capability. It took a little bit of time to install mainly because this was the first time I had replaced a car stereo. The unit powered on but no sound came out of the speakers. I made the mistake of not wiring the blue/white wire to the two blue wires. I fixed this and the stereo portion of this unit came to life. My next step was to get Bluetooth connectivity with my cell phone, a Sprint LG Lotus. It recognized the phone, connected, and I downloaded my phone book exactly as it was designed. It then disconnected. I reconnected, ten seconds later it disconnected. My wife and I battled with this for a couple of weeks. I called Crutchfield, Pioneer, LG, and Sprint. No one could fix the problem but it appears to be an LG/Pioneer issue versus a Pioneer/Bluetooth issue since my brother's non-LG Sprint phone held the connection. Crutchfield was more helpful than the other companies. I have shipped the unit back today because I have no need for new stereo unless it adds more capability than the one I already have, which this one didn't. Not sure if I will order another one if I can't make sure that the LG phone will work with the stereo.

Pros:

Cons:
Written by: shawndoggy from Reno, NV on March 3, 2010
This deck is great. Looks "nearly" factory in my F-150 (almost because the Fordl lighting is green and this deck is blue). The number of inputs is just phenomenal. I'm running a 30gb ipod via usb from the glove box. It sounds really good, especially because it bypasses the ipod's DAC's and uses the deck's. I've also got it setup to run bluetooth audio from my iphone. Really nice to be able to drive around town streaming pandora through the stereo. I am using the aux input to the rear of the deck by adding one of the poly-planar mp3 ports crutchfield sells. So that way anyone with an ipod sitting in the passenger seat can play DJ too. Finally, I got an IP bus to AUX adapter so that I can run my pioneer inno portable xm radio (pandora streaming via bluetooth, btw, sounds SOOOOO much better than xm, but that's a different discussion). The deck is being run to two amps -- a Kicker zx750.1 powering two 10s in the back, and an old skool US Acoustics 2080 powering a set of infinity reference 5x7 comps in the front doors. Sound is crystal clear up to ear bleeding levels. Killer sq. I'm running the rear factory door speakers off of the deck for rear fill.

The only thing that keeps me from giving this a 100% awesome rating is that it is a little tricky setting up the fm presets. yep, that's it. Other than that, this deck absolutely rocks.


Pros:

Cons:
Great versatility for the price!
Written by: Anonymous from Ohio on February 19, 2010
2008 Toyota Tacoma
Crutchfield Customer Review
(
What's this?
)
Trying to think of complaints, but I don't have any. Form and function are great. My setup: I hooked this into a Punch P400-4 Amp with Boston Acoustics SC60's in the front and JVC Arsenal CSAR650's in the back. Sounds great. If I had issues, it would be figuring out the EQ settings. It's easy to manipulate but sometimes I wish they would just put a treble/bass knob on these things. I also went with the Pioneer Sirius add-on's.

The Sirius, Ipod, Hand's Free controls work great. Great bang for the buck..



Pros:

Cons:
Written by: Malsum from Missoula, MT on January 24, 2010
2005 Chevrolet TrailBlazer
Crutchfield Customer Review
(
What's this?
)
I bought this for my 2005 Chevy Trailblazer after the factory CD player failed. I decided to buy this unit after comparing this model and a few from Kenwood, and others. The instructions were excellent and easy to follow. Installation was a snap. I don't know how others can find this unit hard to use, my wife was using navigating and using the unit quite easy. I have no issues to complain about with this unit. It works, does what it is supposed to do. I also replaced the factory speakers with Kicker 07DS600 2 way speakers for the front and rear doors. The upgrade is awesome. The recommended gm adapter was somewhat difficult to understand how to wire properly. Since my vehicle does not have onstar, there were a lot of wires that were not used. I had to call crutchfield support to get their help on the proper wiring. I doubted the wiring so I brought my truck to a professional install shop. The advice given was since there is no onstar, use the basic gm wiring harness, as the only thing missing would be the door chimes and seat belt warnings and no other issues. Pioneer Premier uses quality materials in the product. An example is using metal instead of plastics. I think that it is also responsible for a company to make user guides online or on CD media rather than cutting down trees for pages many rarely use.

Pros:

Cons:
Written by: Anonymous from New York, NY on January 14, 2010
2006 Subaru Forester
Crutchfield Customer Review
(
What's this?
)
4 out of 5 stars because the radio is not intuitive and you need to read a lot of directions to figure out what to do... however, it controls my iPod seamlessly, the Bluetooth runs perfectly with my iPhone, and I added the HD tuner and get great channels with wonderful sound. I am very happy, and despite my hesitation to install this myself, I had no problems. It all worked!

Pros:

Cons:
Worthy upgrade to my Rav4
Written by: Robert from Fairfax, VA on January 12, 2010
2009 Toyota RAV4
Crutchfield Customer Review
(
What's this?
)
I chose the FH-P800BT over the Pioneer FH-P8000BT because of one extra year of warranty and 60 days return policy. The installation was not too difficult on my 2010 Toyota Rav4 except I have t cut out 3 extra piece of plastic from the dash kit which was not explained in the instruction.

After hooking everything up - the FH-P800BT looks and sounds FANTASTIC. I love its minimalistic front panel. Sound wise, gone are the boomy bass and shrilly high. Tweaking the 7 band equalizer further I am able to bring out best of the Toyota factory speakers.

Ipod integration works great with my iPhone 3GS and it's pretty intuitive to use. In term of bluetooth integration - it works and sounds great also. Now the down side to this unit:
1) the display is too bright and the dimmer does not work, as already pointed out by other people.
2) It comes only with online manual on a CD-ROM - for a "Premier" product how can it not come with a printed manual?. The interface is not exactly intuitive to use and requires reading through the online manual in order to learn to use it. Fortunately, it does come with a free wireless remote control which makes certain operations a breeze.

Overall, it's a very good unit considering how well its iPod integration and bluetooth works.


Pros:

Cons:
Written by: JLS from West Chester PA on December 17, 2009
2001 Mazda 626
Crutchfield Customer Review
(
What's this?
)
This reciever works great. I upgraded it to HD radio and discovered all the digital channels I never knew were there. Interestingly, the advertisers don't seem to know about them either so there are almost no commercials (at least in the Philadelphia market). This is on-air (free) digital radio, not satellite.

I love the USB port. It can read folders on a thumb drive or control my iPod touch directly. The free trim kit that Crutchfield included worked perfectly in my 2001 Mazda 626.

The bluetooth works great too. You just push the big button to answer the phone. You can leave your phone in your pocket because it wll synchronize your phone book and display a list of contacts and dial them for you.

There's a bit of a learning curve, given all the things that this receiver can do, but I think its worth the effort to RTM.

The only downside is that the digital radio tuner is not internal. It'll cost you an extra hundred bucks or so. I give it 4 stars.


Pros:

Cons:
Written by: Drew from Macon GA on November 12, 2009
Bought it for the convience of only using the iPod jack. Works just like using an iPod when looking for certain songs or playlists. The Bluetooth also works very well as long as your phone hasnt been beaten up. I like the product and it would probably work better if I had a better system than factory. All in all, the product works just like it should, but the price would be better if the HD radio was included.

Pros:

Cons:
Written by: Dale from Nashville, TN on August 14, 2009
Crutchfield Customer Review
(
What's this?
)
Just installed this 800BT in my Silverado. It works very well and has much better sound out of my system (Polk components all around with Infinti BassLink powered sub). As noted elsewhere, it does take some time to get used to the controls. The single control is not very easy to use while underway. in fact, it is downright dangerous. I found the remote works well for those frequent adjustments. The IPod control was quite disappointing. It works, but you have to use the iPod mode - the head unit mode is just too difficult and cumbersome. Bluetooth works surprisingly well inside the vehicle and for others on the other end of the iPhone connection. Speaking of the iPhone, don't expect it to work - you get the usual iPhone device not compatible message. It does at least charge my iPhone, otherwise it would be on its way back to Crutchfield.

Though the system works as advertised, I would probably not buy this again. I would probably go with the 4100 DVD unit. This one is just too entry level to perform the way I want it in my Silverado PU.


Pros:

Cons:
Written by: Jae from Chantilly, VA on August 14, 2009
Crutchfield Customer Review
(
What's this?
)
It comes with USB and iphone connector cable. Works with iphone 3GS via bluetooth - downloads phone book.

Pros:

Cons:
Pioneer Premier FH-P800BT
Written by: Kent from Rowlett, TX on July 5, 2009
2007 Hyundai Sonata
Crutchfield Customer Review
(
What's this?
)
Pros: This receiver was not difficult to install. It comes with the mic which I installed on top of my steering column. Sound is great in all modes. I like the fact that this unit has 5 volt preamp outs so that when I'm ready to upgrade speakers, add amps and a sub, I have a great clean source signal to work with. Also the IP-bus makes adding another input or a CD changer simple, even though with mp3 and wma playback, who needs multiple CDs?

Cons: I wish it had front inputs for USB and AUX but with the supplied USB extension cable and an easy to find 3.5" stereo extension cable I can plug my external devices in and listen to my favorite music. I have to say the owner's manual in printed form, on the included CD and online are a little lacking in detail. I've had some trouble getting it to connect to some phones. It may need a firmware update but I don't find one on Pioneer's website, just owners manual and install instructions.

I really love this CD receiver. I discovered my cell phone doesn't support phone book transfer so rather than using the phone book via the receiver I am having to use voice commands with my phone. This receiver is a replacement for my stock unit while keeping all the stock speakers for now.

Pros:

Cons:
What's in the box?
Pioneer Premier Double-DIN AM/FM/CD receiver
Wiring harness
Wireless Remote Control (CXC9115)
CR2025 Lithium battery (installed in remote)
Trim bezel
CDiU50 USB to iPod Dock cable
59" USB extension cable (has male Type A USB on one end and female Type A USB on the other end)
Microphone with attached 13.25' cord (terminated into a right-angle 2.5mm sub-miniplug)
Plastic visor clip for microphone
Double-sided tape (1/2" x 7/8')
8 Pan-head ISO screws (M5 x 6mm)
8 Flat-head ISO screws (M5 x 6mm)
Operation Manual on CD-ROM (English/French)
Quick Start Guide (English)
Quick Start Guide (French)
Quick Start Guide (Spanish)
Installation Manual (English/French)
Warranty sheet (English/French)
Information to User sheet
Operating Environment sheet
Warning sheet concerning installation safety
Product Research
Features
Bluetooth Features
External Device Controls
Features
Overview: The Pioneer FH-P800BT is a double-DIN, AM/FM/CD receiver that can also play MP3, WMA, WAV, and AAC files on disc as well. It has a rear panel 3.5mm auxiliary input for portable devices, as well as a rear panel USB 2.0 Full Speed input for your iPod or other USB-based portable audio player or USB memory device. The receiver also has built-in Bluetooth Wireless Technology for the playback of Bluetooth Audio devices and pairing with Bluetooth Telephones (Note: Not all Bluetooth-capable phones are compatible). Additional accessories that are compatible with this unit include XM or SIRIUS Satellite Radio (with an optional satellite radio tuner and antenna), and a multi-CD player. See section below on External Device Controls for details on compatibility.
CEA2006 Compliant: The power specifications for the FH-P800BT are compliant with the CEA2006 Mobile Amplifier Power Testing and Measurement standards from the Consumer Electronics Association (CEA). These standards were developed as a way to equitably compare power specs from model to model and between manufacturers. The power output specs for the FH-P800BT are as follows:
CEA2006 Specs: 14 watts RMS x 4 channels (at 4 ohms, 20Hz-20kHz, 1% THD-N)
Continuous Power Output: 22 watts RMS x 4 channels (at 4 ohms, 50Hz-15kHz, 5% THD)
Maximum Power Output: 50 watts x 4 channels (or 50 watts x 2 channels at 4 ohms + 70 watts x 1 channel at 2 ohms for subwoofer)
MOSFET Amplifier: The FH-P800BT is equipped with a MOSFET amplifier. Compared to conventional power supplies, the MOSFET amplification circuit is smaller and more efficient, and it delivers increased power with less distortion and absolutely zero on/off switching noise. More power means louder and cleaner music at higher volumes because you're not pushing the limits of the amplification circuit.
Supertuner IIID AM/FM Tuner: The Supertuner IIID features Feed Forward Control, which avoids multi-path interference. This pre-detection of interference enables quick filter control and results in less distortion. In addition, the Supertuner IIID creates enhanced stereo during multi-path interference, unlike conventional tuners that collapse to mono. Digital processing reduces distortion, and improves Signal-to-Noise Ratio and stereo separation. Advanced analog technology improves signal processing sensitivity.
BSM (Best Stations Memory): The BSM (Best Stations Memory) function lets you automatically store the six strongest stations under preset buttons 1-6 of the currently tuned band. The tuner has 3 FM banks and 1 AM bank. You can store 6 presets for each bank giving you a total of 18 FM presets and 6 AM presets.
Local Tuning: Local seek tuning lets you tune in only those radio stations with sufficiently strong signals for good reception. There are 4 level of sensitivity for FM and two levels for AM. The higher settings allow reception of only the strongest stations, while lower settings let you receive progressively weaker stations.
MP3/WMA/WAV Playback: This unit can play MP3/WMA/WAV files recorded on CD-ROM, CD-R, and CD-RW discs in ISO9660 Level 1/Level 2, Joliet, and Romeo formats. MP3 files with a bit rate from 8-320 kbps, WMA files with a constant bit rate from 48-320 kbps, and WMA files with a variable bit rate from 48-384 kbps are supported. The unit is compatible with ID3 Tags and will display artist, folder, file, and album name, plus comments. Up to 8 directories, 99 folders and 999 files per disc are recognized by this unit.
AAC Decoding: This unit will playback AAC files encoded by iTunes recorded onto CDs, however files purchased from the iTunes Music Store (.m4p file extension) are not compatible. Tracks recorded at transmission rates of 16-320 kbps are playable on this unit.
Advanced Sound Retriever: The Advanced Sound Retriever automatically enhances compressed audio and restores the original richness of the recording. When Advanced Sound Retriever is on, the high frequency range is compensated to match the frequency response curve to the original sound. There are two available levels of the Sound Retriever effect.
EEQ (Easy EQ): The FH-P800BT is equipped with a 7-band parametric EQ with 7 preset EQ settings. You can boost or cut each frequency band by +/- 12dB at 2dB intervals. A Custom1 curve can be created for each source, while a Custom2 curve can be created that is common to all sources. Features of the Easy EQ include:
Center Frequencies: 50, 125, 315, 800, 2k, 5k, and 12.5k Hz
Preset EEQ Settings: Powerful, Super Bass, Vocal, Natural, Custom1, Custom2, and Flat
Selectable Loudness Levels: Loudness compensates for deficiencies in the low and high frequencies at low volumes. You can choose from three levels of loudness:
Low: +3.5dB (100Hz), +3dB (10kHz)
Mid: +10dB (100Hz), +6.5dB (10kHz)
High: +11dB (100Hz), +11dB (10kHz)
List Button: The List button on the front panel allows you to the track title list, folder list, file list, preset channel list, or disc title list, depending upon the source. Once the List button is pressed, you can turn the multi-control knob to view each item on the list. To select the highlighted item, you can press the multi-control. This allows you to quickly make selections from most any source.
Auxiliary Input: The FH-P800BT is equipped with a rear panel 3.5mm stereo mini-jack auxiliary input for connecting external components, such as a portable MP3 player, DVD, or VCR. Once AUX 1 is selected as a source, you can change the source display of the input to any 10-character name. A second auxiliary device can be connected to this unit when an optional adapter is connected to the IP-Bus connector on the rear panel. Both Aux 1 and Aux 2 must be turned on in the setup menu in order to be selected as a source. See below for more information on the 2nd Auxiliary Input.
2nd Auxiliary Input Ready: In addition to the rear panel mini-jack Aux input (AUX 1), you can connect a second auxiliary component by connecting an IP-Bus/RCA connector. The CD-RB10 lets you connect one auxiliary component, and the CD-RB20 lets you connect an auxiliary component and a CD changer via the IP-Bus connector on the back of the head unit. The 10-character name of the connected auxiliary component can be entered into memory, and will appear as you cycle through the sources.
Subwoofer Output: The unit has a pair of dedicated non-fading RCA subwoofer outputs with a low-pass filter, phase adjustment, and output level. When the subwoofer output is turned on, you can select the frequency of the 18dB/octave low pass filter (50, 63, 80, 100, or 125 Hz), select the subwoofer phase (normal/reverse), and the subwoofer gain (+6 to -24).
Switchable Rear Channel/Subwoofer Output: The rear speaker outputs can be set to provide full range output with full fading capability, or they can be set to provide non-fading subwoofer (low-pass) output. When the rear speaker outputs are set to subwoofer mode, the rear preamp outputs also switch from full range to subwoofer outputs. When set for subwoofer operation, you can connect the rear speaker leads directly to two small 4-ohm passive subwoofers or a dual voice coil sub with 4-ohm voice coils. If you prefer to use a single 2-ohm subwoofer, you can connect the woofer to one set of speaker leads, leaving the other set of rear leads disconnected. The maximum output provided when a 2-ohm load is connected to one set of leads is 70 watts.
High Pass Filter: If you do not want low frequency sounds to play from the front or rear speaker outputs, you can turn on the 12dB/octave High Pass Filter. The HPF has a selectable cutoff frequency (50, 63, 80, 100, or 125 Hz). Only frequencies higher than those in the selected range are output through the speakers.
Bass Boost: The Bass Boost function raises the level of sounds lower than 100Hz. You can select a desired level of bass boost between 0 and 6 (+12dB to 0dB).
Source Level Adjustment (SLA): This function lets you adjust the volume level of each source to prevent radical changes in volume when switching between sources. Settings are based on the volume level of the FM tuner, which remains unchanged. Each source can be independently adjusted from -4dB to +4dB.
Disc Naming: You can use the disc title input feature to store up to 48 CD titles in the unit's memory. Each title can be up to 10 characters long.
Blue OEL Display: The FH-P800BT features a black background with a three-line blue Organic ElectroLuminescent (Organic EL) display, which takes advantage of MP3, WMA, iPod, XM Radio, and Sirius, plus CD Text-encoded discs. This display makes it easy to read and cycle through the song title, artist, and other text used by these sources.
Ever Scroll: When the Ever Scroll feature is set to On, recorded text information scrolls continuously on the display. It will auto-scroll up to 64 characters. Set this feature to Off if you prefer the information to scroll only once.
Function Confirmation Tones: The receiver emits an audible beep tone each time a button is pressed. These function confirmation tones cannot be turned off.
Display Illumination/Clock Display: When the Clock Display has been turned on, pressing and holding the Source button turns off audio output, but the clock display remains on. When the Clock Display has been turned off, pressing and holding the source button turns the unit off completely. Even if you have turned the radio completely off you can view the clock display be pressing the clock button. The clock will then remain On until you turn it back Off. When the unit is On you can select between the clock display or the audio track/tuner display. When the unit is off but the ignition is on, the button illumination will light up when the vehicle's headlights are turned on.
Dimmer: To prevent the display from being too bright at night, the display is automatically dimmed when the car's headlights are turned on. You can turn the dimmer function On or Off. The orange/white illumination wire must be connected to the vehicle's headlight circuit in order for this feature to work.
Remote Control: The FH-P800BT comes with a wireless remote control (CXC9115). The remote allows you to control the volume, switch between sources, pause the CD, change the display, and adjust the audio. The attenuator button allows you to quickly lower the volume by about 90%. In addition, the PAC SWI-PS (127SWIPS, sold separately) steering wheel remote interface is compatible with this head unit.
Bluetooth Features
Bluetooth Solution: The FH-P800BT is equipped with Pioneer's new Built-in Bluetooth Solution. You can make and receive phone calls wirelessly through the receiver. When you're not utilizing hands-free calling, you can use Bluetooth Wireless Technology to control and listen to a Bluetooth audio player.
Note: Not all Bluetooth-capable phones are compatible.
Microphone: During your wireless phone call, you can talk into the head unit's included microphone, and listen to the other party through the vehicle's speaker system. The microphone features a 13' cord that plugs into the back of the radio, and comes with an adjustable visor-mount clip.
Phone Pairing: Up to 3 Bluetooth-compatible cell phones can be registered to this head unit. You can transfer your entire phonebook at a single time to the head unit, which can memorize up to 3600 different numbers (400 persons x 3 contacts x 3 phone types).
Echo Cancellation: The receiver offers three levels of Advanced Echo Cancellation to keep phone calls sounding loud and clear.
Bluetooth Audio Players: In addition to supporting Bluetooth's Hands-Free Profile (HFP), the headunit also supports Bluetooth's wireless Audio Streaming Profile (A2DP) and Bluetooth's Audio Control Profile (AVRCP). These features allow you to wirelessly transmit music from your Bluetooth compatible cell-phone or portable audio player to the FH-P800BT so you can listen to your stored music files through your vehicle's audio system.
External Device Controls
iPod Interface: The FH-P800BT can control and playback songs on an iPod. This unit supports only iPods with a standard Dock Connector using the included CD-iU50 cable (Please see compatibility list below for your model and software version). You can choose to control the iPod from the head unit or the iPod itself (some iPods cannot be controlled in this manner). You can still change songs from the head unit, even when you are controlling the iPod manually. You can perform multiple search functions, including playlist, genre, artist, and album searches. While connected and the ignition switch is set to ACC or ON, the USB connection will power and charge your iPod. The Pioneer FH-P800BT is "Made for iPod" compatible and supports the following iPod model functions (as of Dec. 2009):
iPod/iPhone Model
Media Type
Control
Display
Charge
Audio
Video
Unit
iPod
Song/Artist
Track
dock-connector (3 gen)
N
N
N
N
N
N
N
click-wheel/color-display (4 gen)
N
N
N
N
N
N
N
mini (1/2 gen)
N
N
N
N
N
N
N
video (5 gen)
Y
N
Y
N
Y
Y
Y
classic (80/120/160 GB)
Y
N
Y
Y
Y
Y
Y
nano
1 gen
Y
N
Y
N
Y
Y
Y
2 gen
Y
N
Y
Y
Y
Y
Y
3 gen
Y
N
Y
Y
Y
Y
Y
4 gen
Y
N
Y
Y
Y
Y
Y
5 gen
Y
N
Y
Y
Y
Y
Y
touch*
1 gen
Y
N
Y
Y
Y
Y
Y
2 gen
Y
N
Y
Y
Y
Y
Y
3 gen
Y
N
Y
Y
Y
Y
Y
iPhone
2G
N
N
N
N
N
N
N
3G
N
N
N
N
N
N
N
3GS
N
N
N
N
N
N
N

*Note: You will need to reset your iPod touch if you have downloaded software version (v.3.1.2). The head unit will read "Error 19" if your iPod touch is not reset. Apple firmware updates may change functionality results.
USB Input: In addition to connecting an iPod, the rear panel USB input allows you to connect a USB portable audio player or USB flash memory that is USB Mass Storage Class compliant. USB Memory between 250MB and 250GB that are formatted in FAT32 or FAT16 are compatible.
Optional USB Adapter: If the head unit's built-in front-panel USB input is being used, you can connect a USB adapter (130CDUB100, sold separately) to the IP-Bus port to playback audio from a portable audio player that features a USB interface. This USB adapter features a IP-Bus pass-through for daisy chaining another IP-Bus compatible component.
Satellite Radio Ready: You can connect and control an external satellite radio tuner from XM or SIRIUS. The head unit is compatible with the GEX-P920XM (130P920XM, sold separately) Pioneer XM receiver. For Sirius there are two options; connect the SC-C1 SiriusConnect Universal Vehicle tuner and the CD-SB10 Pioneer Sirius Satellite Radio interface (700SIRPION, sold separately), or use the Pioneer Sirius Satellite Radio interface (130CDSB10, sold separately) and the SIRIUS dock-and-play adapter (607SCVDOC1, sold separately) along with a compatible portable SIRIUS radio. A subscription to XM or Sirius, plus the proper antenna is required in order to receive satellite radio programming. The satellite radio tuners connect via the IP-Bus connector on the back of the head unit.
Note: The unit will only display 8 characters at a time, and will scroll up to 16 characters.
IP-Bus Changer Controls: You can add an IP-Bus-compatible 6-disc or 12-disc Pioneer CD changer, and control it from the head unit.
Our Product Research Team
At Crutchfield, you'll get detailed, accurate information that's hard to find elsewhere. That's because we have our own in-house Product Research team. They verify what's in the box, check the owner's manual, and record dimensions, features and specs. We stay on top of new products and technologies to help people make informed choices.