Pioneer SPH-DA110 AppRadio 3
Smartphone receiver
Item #: 130SPDA110
99 Reviews | 24 questions - 83 answers
This item is no longer available.
Original Price: $329.99
Need help?
Does it fit my car?
Select your car
Enjoy your smartphone apps on the big screen
Face it, you can't live without your smartphone and the apps that help make your life easier. Pioneer's AppRadio 3 receiver lets you view those apps on its big 7" screen so it's easier to control them while you're on the road. You'll check out your favorite apps on a simplified menu that's designed for mobile use, so you can keep your eyes on the road instead of fumbling around with your phone.
The AppRadio 3 works with iPhone® 4, 4S, and 5, as well as select Android™ models, so you can enjoy compatibility regardless of what platform you're into. In order to enable all of these cool features offered by this Pioneer, you'll need to make sure that your smartphone's compatible with the AppRadio 3, and then pick out the right connection kit for your smartphone (sold separately).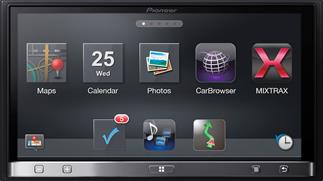 Control your apps from the large 7" touchscreen.
Navigation, music streaming, and web browsing
AppRadio 3 has you covered by supporting some of the most popular apps available. You'll find plenty of apps to enjoy right now, including MotionX GPS Drive™, INRIX® traffic, AUPEO! Personal Radio, Pandora® Internet radio, and Pioneer's MIXTRAX, with more coming down the road. You'll have the advantage of a sleek app interface, and the apps will look great on the 7" capacitive touchscreen, which recognizes all zoom, swipe, and pinch gestures just like if you were using your smartphone.
Siri® Eyes Free
If you have an iPhone 4S or 5, you'll hear Siri's voice prompts through your vehicle's sound system, and you can make commands or ask questions through the microphone that's included with this receiver. You can set reminders, ask for songs, request directions, or anything else you'd normally do with your iPhone.
AppRadioLIVE makes it easy
Pioneer's innovative AppRadioLIVE streamlines your app info and functions into one easy-to-use interface. You'll enjoy quick access to your music, media, calendar, and other sources you subscribe to, just by downloading the AppRadioLIVE app and syncing your services. AppRadioLIVE works with your apps to provide visual map guidance and access to points of interest, as well as the ability to search for concerts, shows, and other local events of interest. And you can show several sources of information simultaneously, quickly shifting from one to another with a touch of your finger.
Note: AppRadio Mode and AppRadioLIVE are currently not compatible with iOS 8 due to stability and display issues. Please see "Details" for more information.
Works with Android™ phones and features MirrorLink™ connectivity
The AppRadio 3 doesn't leave Android by the wayside when it comes to features, either. Not only will its App Mode support many Android phones, but this receiver takes it to the next level with MirrorLink support. MirrorLink allows certain Nokia and Samsung smartphones (with more to come in the future) to display their interface on the AppRadio 3, so you can make phone calls, access map services, or check out music with ease. If you don't have a MirrorLink phone, you can still download a free Pioneer app that enables voice commands with your Android phone.
Talk hands-free and stream audio wirelessly with Bluetooth®
Built-in Bluetooth adds to the versatility of this cool receiver — pair your phone, and you'll be able to talk hands-free and access your phone book from the touchscreen. You can even stream audio from your smartphone to the receiver.
Bluetooth note: Use of this receiver's Bluetooth features will depend upon your phone's Bluetooth capabilities. Learn more in our article explaining Bluetooth profiles.
iPod/smartphone note: If you're going to use your iPod or smartphone with this receiver, be sure to check "Details" for compatibility information.
Complement your setup with a phone mount
The AppRadio 3 requires input from your iPhone from time to time — most notably when running the MotionX GPS Drive app. It's a good idea to mount your iPhone where it's easy to reach. Check out our selection of Pro.Fit mounts.
This smartphone receiver will not play CDs. If you want to play discs in your vehicle, Pioneer's SPH-DA210 AppRadio 3 receiver will play CDs and DVDs.
Product Highlights:
General features:
digital media receiver with AM/FM tuner (no built-in CD player)
touchscreen control over select apps
MirrorLink™ for in-dash control of select Android™ smartphones (CD-MU200 interface cable required)
built-in amplifier (14 watts RMS CEA-2006/50 peak x 4 channels)
built-in Bluetooth® for hands-free calling and audio streaming
7" capacitive touchscreen display
fits double-DIN (4"-tall) dash openings
Audio features:
5-band equalizer with 7 preset EQ curves
Expandability:
inputs: rear USB input for smartphone connection kits (not compatible with USB devices), rear-view camera input
outputs: 4-channel preamp outputs (2-volt front, rear/subwoofer)
included external GPS antenna for boosting signal while using GPS apps
Other features and specs:
CEA-2006 compliant amplifier
works with steering wheel audio controls (adapter required)
warranty: 1 year
Why replace your factory radio?
Two good reasons - sound quality and cool features. A new car stereo offers power that's superior to most factory radios, along with more sophisticated tone controls. And most car stereos offer built-in or optional features that add safety and fun to life in your car, including inputs for your iPod or MP3 player, Bluetooth connectivity for hands-free cell phone calls, satellite radio or HD Radio reception, and connections for building an audio system in your car.
Pioneer SPH-DA110 AppRadio 3 Reviews
Average Customer Review:
99 Reviews
---