Pioneer DEH-X7500HD
CD receiver
Item #: 130X7500HD
162 Reviews | 11 questions - 46 answers
This item is no longer available.
Original Price: $99.99

Need help?
Does it fit my car?
Select your car
When you want the most from radio
Your media choices are greater than ever these days. Pioneer's DEH-X7500HD receiver not only plays CDs, it also features a USB input for a storage device, iPod®, or phone, along with an auxiliary input for other audio devices. But what if radio's still #1 during your drive time?
The DEH-X7500HD features a built-in HD Radio™ tuner, so you won't need a subscription or any extra equipment to enjoy HD Radio broadcasts — you'll tune them in like regular AM and FM shows. But that's where the similarity ends. You'll immediately notice that FM broadcasts on HD Radio sound nearly as good as CDs, while AM shows offer much more high-fidelity, static-free reception. Many participating stations also offer extra channels with alternate programming, so you can enjoy more variety without surfing the dial.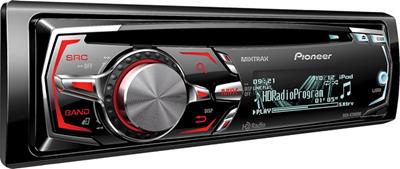 MIXTRAX revs up the visuals
This versatile receiver also offers iPod® controls and Pandora® Internet radio control with your iPhone®, giving you a great mix of style, form, and function. And when you're listening to your music libraries, Pioneer's cool MIXTRAX feature adds a lightshow to your favorite playlists, as the DEH-7500HD's bright multi-colored display pulses in time with your music. And MIXTRAX fades in and out of each song just like a DJ would, adding special effects and keeping the musical energy high.
Killer display and colors
You're not stuck with one color scheme with this Pioneer. Both the knob and display colors are customizable, so you can match the look to your dash and your whims. The display is a show-stopper in itself, offering a variety of animated backgrounds and themes, presented in rich detail by Pioneer's Organic Electroluminescent technology.
The legacy of great Pioneer sound
The DEH-7500HD carries on Pioneer's tradition of superb sound quality with a powerful built-in amp that puts most stock radios to shame. Along with that extra power, you'll enjoy a 5-band equalizer to adjust your tone, Pioneer's Advanced Sound Retriever to perk up the sound quality of compressed music, and a suite of other sophisticated sound controls. If you're looking to build a bigger system, you can connect amps and subs to the three pairs of preamp outputs to add some serious impact.
Want to keep your steering wheel controls?
In most vehicles, you can use an adapter (not included) to connect your vehicle's steering wheel controls to this Pioneer stereo. Connect a few wires, then program the adapter for your particular car and the Pioneer, and you'll retain the convenience of your steering wheel controls. Check the "Accessories" tab for compatible adapters.
Note: If you're going to use your iPod or smartphone with this receiver, be sure to check "Details" for specific model compatibility with this receiver.
Product Highlights:
General features:
CD receiver with AM/FM tuner
built-in MOSFET amplifier (14 watts RMS CEA-2006/50 peak x 4 channels)
built-in HD Radio tuner
MIXTRAX for a DJ-inspired audio/visual experience with compatible devices (see Details)
plays CDs, CD-Rs, and CD-RWs, including discs loaded with MP3, WMA, and AAC files
Pandora control through iPhone
variable color illumination with separate control of display and buttons
remote control
Audio features:
Advanced Sound Retriever (ASR) for improved sound quality from compressed music files
5-band equalizer with seven preset tone settings
3-level loudness
low-pass and high-pass filters
subwoofer level control
Expandability:
built in iPod control — no adapter necessary, but adding Pioneer's optional connecting cable lets you leave your iPod cable at home
access to music files on select Android devices (MSC protocol only) through USB input (see Details for more information)
inputs: front panel auxiliary and rear USB inputs
outputs: 6-channel preamp outputs (4-volt front, rear, subwoofer)
Other info:
compatible with most factory steering wheel audio controls (adapter required)
warranty: 1 year
Why replace your factory radio?
Two good reasons - sound quality and cool features. A new car stereo offers power that's superior to most factory radios, along with more sophisticated tone controls. And most car stereos offer built-in or optional features that add safety and fun to life in your car, including inputs for your iPod or MP3 player, Bluetooth connectivity for hands-free cell phone calls, satellite radio or HD Radio reception, and connections for building an audio system in your car.
Pioneer DEH-X7500HD Reviews
Average Customer Review:
162 Reviews
---