Why Choose Crutchfield?
Deep discounts on car installation gear
We offer vehicle-specific installation instructions, dash kits, wiring harnesses, and speaker accessories at deeply discounted prices with car stereo and speaker purchases. Available for most vehicles.
Learn more
Trusted since 1974
Our customers have trusted us with their business, and they've helped us win awards for our service.
Check out our most recent awards
Factory-authorized dealer
The manufacturer's warranty always applies.
See more details
JL Audio 8W7-3
W7 Series 8" 3-ohm subwoofer
Item #: 1368W73
This item is no longer available.
Original Price: $439.99

JL Audio's top-of-the-line subwoofer
JL Audio's 30-plus years of research into car audio design has produced the legendary W7 subwoofer, and you'll hear that engineering in every note. JL Audio applies its advanced technologies separately to each W7 subwoofer, so each size sub is a unique design with its own motor and suspension system. You'll hear smooth, audiophile-quality bass output, even at extreme levels.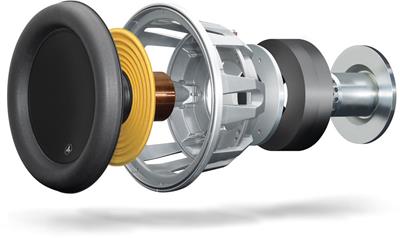 ---
Advanced technology for superior sound
W7 subs feature six different patented technologies which give them their edge:
W-Cone™: a dish-shaped outer cone is supported by a second W-shaped inner cone attached to the the sub's voice coil structure. The light mineral-filled polypropylene cones respond rapidly for accurate, distortion-free bass without unwanted coloration.

---

OverRoll™: the oversized polyether foam surround extends over the edge of the mounting flange for more bass output without sacrificing linearity.

---

Floating Cone Attach Method (FCAM™): cone-bonding technology keeps the voice coil centered during long excursion.

---

Plateau-reinforced spider attachment: a collar on the voice coil eases stress on the spider for extended excursion and improved reliability.

---

Elevated frame cooling and cross-drilled pole-piece: cone movement pumps air through vents in the frame and machined holes in the pole piece, keeping the voice coil cool.
---
Reliable performance and accurate response
JL Audio designed the 3-ohm 8" W7 subwoofer to maintain linear motion during extreme cone travel, so you get a high-performance sub that's incredibly reliable. You'll find a strong cast-alloy basket and ultra-long voice coil among many impressive features which help this sub deliver profound, natural, and lifelike bass. This 3-ohm sub should behave similarly to a 4-ohm subwoofer in most power applications; call 1-888-955-6000 if you have further questions on powering your W7 system.
Product Highlights:
8" 3-ohm subwoofer
polypropylene W-Cone with polyester foam surround
solid cast-alloy basket
power range: 150-500 watts RMS
peak power handling: 1,000 watts
frequency response: 23-250 Hz
sensitivity: 82.7 dB
top-mount depth: 6-15/16"
sealed box volume: 0.875 cubic feet
ported box volume: 1.0 cubic foot
warranty: 1 year
What's a component sub and why would I want one?
A component sub is simply a speaker that's designed to reproduce bass once it's installed in a compatible enclosure. Think about the impact of a movie soundtrack in a big theater or even in your own home HDTV setup. A component sub can add the same kind of power to the music in your car. And a car sub is not all about the boom that you hear on a street corner (although that's cool too) - you can pair a component sub with your choice of enclosure to get bass just the way you like it, from tight and punchy to fat and loose. And once you experience music in your car with a well-tuned subwoofer, you'll never go back.
JL Audio 8W7-3 Reviews
Average Customer Review:
9 Reviews
---
Written by: RCL0003 from Gulf Shores, AL on May 1, 2011
Crutchfield Customer Review
(
What's this?
)
The 8W7 with the JL Audio 500/1 is a perfect combination! Follow the instructions that come with the Slasher 500/1 Amp and it will sound amazing. Ive shown my system to many people and they have never heard a subwoofer hit harder, especially it being an 8'' sub. People always ask what I have in the back only to see its a single 8''. Never had a problem with the sub and it accurately displays every frequency possible. Tips: Build enclosure to JL Audio specs, pair with Slasher 500/1 Amp, and set up amp to instructional guide.

Pros:

Cons:
Written by: PeterD from Pensacola, FL on November 7, 2010
I bought 2 of these about one year ago, installed them in a JL specific sealed box with an HD 750/1. I later had a shop build me a fiberglass ported enclosure to JL specs and all I can say is WOW! Simply amazing! These two 8W7's ported in my 350Z are just simply amazing. I recently went to a Z/G meet and so many of my friends thought I had a pair of 12's in the back. When I tell people that I bought 8's they just look and laugh, but then I demo them and their eye's almost pop out of their heads. I absolutely love these subs.

Pros:

Cons:
Written by: zach from colorado springs,co on September 13, 2010
Crutchfield Customer Review
(
What's this?
)
This little sub is the best sub I've owned and rivals the 12 inch subs I've had which were P2 fosgates.I have it in a ported box. I listen to hip hop,r&b and rock.This sub sounds great on all those types of music. I'm using the HD 900/5 for this sub and my alpine SPR-17s. When this was installed the other installers and probably some people in the store came to see what it was and were asked what size they think the sub is.They all thought it was a 12.

Pros:

Cons:
Four 8w7's in Nissan Titan
Written by: Vajra from Lawrence, KS on April 10, 2010
I had four 8w7's in a custom built box under the back seat of my '05 Nissan Titian, powered by an Alpine V12 1000w amp. The entire system was installed by more than capable technicians locally here in Marin, CA. Amazing sound. Hit every note possible, and allows an easy crossover at 160hz, 120hz, whatever you prefer. Vert versatile, good for all types of music. Sold the titan last year, the subs have been sitting in my basement since. My 13w7 and 1000 watt JL class D amp were stolen out of my Accord about 6 months ago, and today I built a MDF box to JL's specs for two of the subs. I'm going to wire them up tomorrow with the Alpine that was previously power the quartet. Looking forward to soon bumping again! Highly recommended!

Pros:

Cons:
Written by: Jeremy from Palestine, TX on December 30, 2008
I installed one of these in a small, sealed, fiberglass box in the hatch of my 2000 Camaro SS. I'm powering it with a JL 500/1 Amp.

It is absolutely INSANE for what it is. You'd never in a million years guess that there's a single 8 back there.

My previous system was a Kicker ZX400.1 Amp, and a Kicker CVX 12" sub (in the same location, same car). The Kicker hit well, but completely lost a lot of bass notes (I listen to mostly rock).

The 8W7 does everything that the Kicker 12 couldn't, and hits harder and just as low! The excursion is crazy, and the low end goes much further than you would normally hear in any type of music. Double bass notes are well pronounced. I have zero complaints about this sub.

However, in retrospect, I think I may have been a little bit happier with a JL Audio 10w6v2, but this sub is definitely worth the money.

The only downside, my charging system can't keep up with it. I have to upgrade my alternator now.

Pros:

Cons:
Written by: timothy654 from San Antonio, TX on July 16, 2008
I had a custom center console installed with an 8w7-3 in a F-150 extended cab. I was not sure what to expect from an 8w7 but I am very satisfied with this product. I also have the stealth box underneath the back seat. I am using A-1200 for the stealth box and 500/1v2 for the 8w7-3.
Death metal bands like Cannibal Cirpse, Nile, Behemoth, Vital Remains, and Deeds Of Flesh

Black Metal bands like Marduk, Legion, Bathory, and Emporer.

Too bad a 10w7 cuold not fit.

Pros:

Cons:
Written by: Adam from Cold Spring, KY on February 28, 2008
I have been into high end car audio for about the last eleven years. I have competed in national car audio events and have faimly that have as well. At first I was obsessed with SPL but as I got older Sound Quality was more important. I'm an Auto Insurance Adjuster and I spend ALOT of time in my car. I have 6.5" JL audio componets mounted in the front doors and one 8w7. I'm hitting the 6.5's with a JL 300/2 and the 8w7 with a 500/1. I have the 8w7 mounted in a slot ported box built to spec buy jl's recommedations. After I dialed in the Parametric EQ on the 500/1 and got it dialed in for my car, I am more than pleased with this sub. I have heard alot of good sounding subs in my time but this thing hammers for what it is. I would highly recommed this sub with the 500/1 combo. The parametric eq can be a little tricky but once it's dialed in i sounds awesome. GREAT SUB.

Pros:

Cons:
Written by: Jared from Arkansas on January 17, 2008
I bought this sub right after I purchased my 2006 GMC Sierra Crew Cab. I selected this one because I knew I didnt have much space in the back and I figured I could fit an 8" woofer somewhere, and after I bought it I STILL didn't have enough space. So I build a custom down firing box that doubled as a rear console.
Now to the point...This sub was just OK to me. Nothing special. Granted, I did not have a professional box, but I take pride in my boxes and they are not too bad. I had a kenwood excelon 1000 watt amp hooked up as well. The bass sounded pretty good on rock songs, but when it came to hard hitting bass the sub did not hit as low as I wanted. This is an 8" sub mind you, and for an 8 you probably can't beat it. But if you are going to drop over 4 benjamins on this bad boy I would recommend looking for two 10s or something. You can get a lot more bang for your buck else where. If space is a concern, as it was mine, I would recommend going with two shallow mounts, which I have now done, instead of this sub.

Pros:

Cons:
Written by: Rodney from Rockledge, FL on December 14, 2007
I did a lot of research and a lot of listening so when I made my final decision this was it.
I wanted something that would reproduce tight accurate clean sub frequencies and yet be small enough to keep my gas mileage in check as well as be able to move in and out of my Matrix. My JL AUDIO 8W7 in the JL AUDIO sealed box is awesome, the perfect blend of size/ weight and solid bass reproduction. With the right amp, you will be amazed at the sound, rivaling that of much larger heavier units.
I currently use the Clarion DRZ-9255 for my H/U and Old school high current Fosgate amps. I drive 45 minutes each way to and from work; I listen to all types of music and always arrive in a good mood although sometimes I can't hear for a short time. But then that is my choice. Try one I think you'll agree.


Pros:

Cons:
What's in the box?
8" Single voice coil subwoofer with a silver metal clamp ring and a stainless steel O-ring attached to a MDF baffle board with 12 Phillips-head screws
Owner's Manual
Product Research
Features
Enclosure Compatibility
Features
W-Cone: The JL Audio W7 subwoofer utilizes a W-Cone design, a unit-body cone assembly, that delivers astonishing cone stiffness with minimal mass. The shape also provides incredible torsional rigidity, which is critical to maintaining voice coil alignment at the suspension limits. In order to gain maximum stiffness, two lightweight mineral-filled polypropylene skins are bonded together at the perimeter and the center of the assembly. The lower skin's cross-section is shaped like a "W", and provides incredible rigidity when bonded to the dished upper skin.
OverRoll Surround: OverRoll Surround technology allows JL Audio to make full use of the entire footprint of the speaker, placing the surround further to the outside than in a conventional woofer. This means that W7 subwoofer can use a large roll for all its benefits without sacrificing cone area. By maximizing the effective piston/total footprint ratio, the W7 subwoofer can deliver more output for a given excursion and outside frame diameter. This means that the prodigious excursion advantage of the W7 can be put to full use enhancing output, rather than making up for lost piston area. This technology also provides a geometry advantage on the outside edge of the surround roll, allowing for more linear operation. A further benefit is that the mounting holes are inherently sealed by the surround, resulting in an improved box seal.
Ultra-Long Voice Coil: The W7 subwoofer features an ultra-long voice coil to allow extreme linear excursion, phenomenal power handling and control. The massive surface area of these coils is excellent for heat dissipation, while the huge winding height provides the necessary motivational force to achieve the huge excursion of the W7 designs. Considering their size, the W7 voice coils are extremely light in weight. The W7 uses aluminum-alloy wire (instead of conventional copper) and a specific winding method to achieve JL Audio's desired electrical properties. The light weight of the coils helps keep the overall moving mass down at manageable levels, which is extremely important for efficiency and sound quality reasons.
Floating Cone Attachment Method (FCAM): JL Audio's patented FCAM technology is an innovative method of bonding the surround/cone assembly to the voice coil/spider assembly. This assembly technique ensures proper surround geometry in the assembled speaker for better excursion control and dynamic voice coil alignment.
Dynamic Motor Analysis (DMA): DMA is JL Audio's proprietary method aimed at improving dynamic motor behavior. As a result of DMA optimization, W7 motors remain linear in motor force over a very long range of excursion, and also maintain a highly stable fixed magnetic field in the gap over a wide power range. The result is vastly reduced distortion, faithfully reproduced transients, and tight, clean, articulate bass.
Massive Forced Air Cooled: The elevated frame design of the W7 delivers cool air through slots directly above the top-plate to the voice coil of the speaker. This not only enhances power handling, but also sound quality by minimizing dynamic parameter shifts and power compression.
Radial Cross-Drilled Pole Piece: This innovative venting system greatly enhances thermal dissipation and power handling by directing air flow onto the voice coil former and works in conjunction with the Elevated Frame cooling technology to effectively remove heat from the voice coil. This improves power handling and reduces power compression effects, leading to more linear performance.
Progressive-Roll Spider: The large, progressive-roll spider provides precise control and motor/voice coil alignment without limiting excursion prematurely.
Plateau-Reinforced Spider Attachment: The lower reinforcement collar, attached to the voice coil former of the W7, incorporates a plateau design dedicated to relieving material stress and providing a solid attachment surface for the inner edge of the spider. The plateau of the reinforcement collar provides excellent contact area for adhesive therefore creating an incredibly strong bond at a critical point within the driver.
Co-Extruded Double Lead Wires: The extruded casing and carefully engineered attachments ensure controlled lead-wire behavior under the most extreme excursion demands. Two conductors are used per connection for ample current carrying capability.
Enclosure Compatibility
Recommended Sealed Box Volume: The sealed box size recommended by JL Audio is 0.875 cu/ft. A diagram is provided in the owner's manual for a sealed box with external dimensions of 14.0" W x 11.875" H x 14" D, assuming 3/4" thick box material (If you are using 5/8" thick materials, you should subtract 1/4" from each dimension).
Recommended Ported Box Volume: The ported box size recommended by JL Audio is 1.0 cu/ft. A diagram is provided in the owner's manual for a ported box with external dimensions of 27.0" W x 10.0" H x 12.0" D, assuming 3/4" thick box material (If you are using 5/8" thick materials, you should subtract 1/4" from each dimension). A slot port is recommended with the following dimensions:
Slot Width = 1.5"
Slot Height = 8.5"
Slot Length = 26" (a right angled port with a 13.25" extension)
Our Product Research Team
At Crutchfield, you'll get detailed, accurate information that's hard to find elsewhere. That's because we have our own in-house Product Research team. They verify what's in the box, check the owner's manual, and record dimensions, features and specs. We stay on top of new products and technologies to help people make informed choices.