JL Audio StealthMod® Audio Upgrade
For 2010-up Kia Soul
Item #: 13694494
Be the first to write a review
This item is no longer available.
Original Price: $1,049.99
Shop all Factory System Upgrades

Need help?
Does it fit my car?
Select your car

Turn that frown into a smile
The sound system in your Kia Soul just doesn't knock you out, does it? JL Audio comes to the rescue with this StealthMod audio upgrade system that'll make you very happy with the sound in your ride. This package allows you to replace the the front door speakers and increase the overall power, bringing excitement, impact, and a new clarity to your music. Adding the optional Stealthbox® custom-fit subwoofer to this StealthMod package will complete your Kia's system upgrade and bring you the ultimate in customized sound.
New full-range speakers
In order to guarantee superior sound reproduction in your Kia Soul, the factory front door speakers are replaced with JL Audio's C2-650X 6-3/4" speakers. This change will bring out all the intricacies in your music, as well as set up a clearly defined soundstage that will make it seem as if the band is playing directly in front of you. The package includes speaker mounting brackets that help simplify the installation.
One amp takes care of the whole system
JL Audio's XD500/3 3-channel amplifier provides power for your system. This compact beast installs neatly out of the way, feeding your new speakers up to 75 watts RMS each, while its sub channel will deliver 180 watts RMS to the optional Stealthbox. This power allows your speakers to operate at peak efficiency and eliminates distortion, so you enjoy clean sound, even at high levels. The amplifier mounts on a custom-fit bracket for a very neat installation. The factory radio continues to power the rear factory speakers.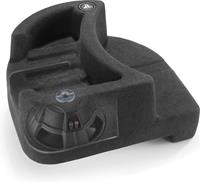 Add big bass with this optional Stealthbox.
Add the Stealthbox subwoofer
Your upgrade really won't be complete without adding some bass to the system. This JL Audio Stealthbox subwoofer perfectly matches your Kia's acoustic space, and fits in without taking up much space. The Stealthbox contains a 12" W0v3 subwoofer, and it lives up to its name, as it broadcasts powerful bass throughout your Kia from the spare tire storage area.
Your own concert hall
Once the StealthMod installation is complete, you'll start thinking of your Soul as your own personal concert hall, as you experience the excitement that only a first-rate car audio system can create.
JL Audio has rated the difficulty of this StealthMod installation as high and recommends using a car audio professional to install this system, as this modification may void your factory radio's warranty. The package includes all the wires and hardware needed for a custom-fit, stealthy installation, along with photo-illustrated, detailed, step-by-step instructions.
Product Highlights:
deluxe audio upgrade system
fits 2010-up Kia Soul
compatible with the SB-K-SL/12W0v3 Stealthbox subwoofer (sold separately)
package includes:

XD500/3 3-channel car amplifier (75 watts RMS x 2 at 4 ohms + 180 watts RMS x 1 at 4 ohms)
power, ground, turn-on leads, 60-amp fuse, and RCA patch cables included
1 pair Evolution® C2-650X 6-3/4" speakers
HD-RLC remote subwoofer level control
system wiring harness (includes power, speaker, and signal wiring)
custom-engineered mounting brackets for amplifier and speakers
illustrated installation and setup instructions

warranty: 2 years
JL Audio StealthMod® Audio Upgrade Reviews
---
Product reviews from the Crutchfield Labs
JL Audio's StealthMod gives you superb JL Audio sound without giving up your factory controls. This package allows you to replace the front door speakers and increase the overall power in your...
What are the Labs?