JL Audio StealthMod® Audio Upgrade
For 2011-up Chevrolet Camaro convertible (with option for adding a sub)
Item #: 13694527UL
This item is no longer available.
Original Price: $1,259.99
Shop all Factory System Upgrades
Need help?
Does it fit my car?
Select your car

Turn that frown into a smile
The sound system in your Chevy Camaro convertible doesn't sound as good as you thought it would, does it? JL Audio comes to the rescue with this StealthMod audio upgrade system that'll make you very happy with the sound in your ride. This package allows you to replace the the front door speakers, and increase the overall power, bringing excitement, impact, and a new clarity to your music. Adding the optional Stealthbox® subwoofer to this StealthMod will complete your Camaro's system upgrade and bring you the ultimate in customized sound.
New component speakers
In order to guarantee superior sound reproduction in your Camaro convertible, the factory front door speakers are replaced with JL Audio's C3-650 6-3/4" convertible component speakers and crossover networks. The C3 tweeters mount coaxially inside the C3 woofer cones, while your Camaro's factory tweeters get their crossovers modified. This change will bring out all the intricacies in your music, as well as set up a clearly defined soundstage that will make it seem as if the band is playing directly in front of you. The rear factory speakers continue being driven by the factory radio. The package includes speaker and crossover mounting brackets that help simplify the installation.
One amp takes care of the whole system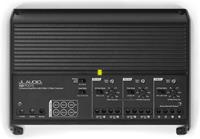 JL Audio's XD700/5 5-channel amplifier, bridged to 3-channel operation for this StealthMod, provides power for the entire system. This compact beast installs neatly out of the way, feeding your new components up to 200 watts RMS each, while its sub channel will deliver 300 watts RMS to the Stealthbox, when you add it. This power allows all your speakers to operate at peak efficiency and eliminates distortion, so you enjoy clean sound, even at high levels. The amplifier mounts on a custom-fit bracket, right next to the battery, for a very neat installation.
Optional Stealthbox
Add the Stealthbox subwoofer
Your upgrade really won't be complete without adding some bass to the factory system. This JL Audio Stealthbox subwoofer perfectly matches your Camaro's acoustic space, and fits in without taking up much space. The Stealthbox contains two 10" W1v2 subwoofers, and it lives up to its name, as it broadcasts powerful bass throughout your Camaro from beneath the convertible top storage area.
Your own concert hall
Once the StealthMod installation is complete, you'll start thinking of your Camaro as your own personal concert hall, as you experience the excitement that only a first-rate car audio system can create.
JL Audio has rated the difficulty of this StealthMod installation as high and recommends using a car audio professional to install this system, as this modification may void your factory radio's warranty. The package includes all the wires and hardware needed for a custom-fit, stealthy installation, along with photo-illustrated, detailed, step-by-step instructions.
Product Highlights:
deluxe audio upgrade system
fits 2011-up Chevrolet Camaro convertible
compatible with an SB-GM-CAMCONV/10W1v2 Stealthbox subwoofer (sold separately)
package includes:

XD700/5 5-channel car amplifier (200 watts RMS x 2 bridged at 4 ohms + 300 watts RMS x 1 at 2 ohms)
power, ground, turn-on leads, 60-amp fuse, and RCA patch cables included
1 pair Evolution® C3-650 6-3/4" convertible component speaker system
two 2.2 uF capacitors — for modifying stock tweeters
HD-RLC remote subwoofer level control
system wiring harness (includes power, speaker, and signal wiring)
custom-engineered amplifier, speaker, and crossover mounting brackets
illustrated installation and setup instructions

warranty: 2 years
JL Audio StealthMod® Audio Upgrade Reviews
Average Customer Review:
1 Review
---
JL Audio StealthMod® Audio Upgrade
Written by: Troy from Fort Worth on July 8, 2014
2013 Chevrolet Camaro
Crutchfield Customer Review
(
What's this?
)
I also purchased rear speakers and the matching stealthbox. I followed the instructions but didn't like the sound much. Did some investigating and found the wiring for the rear speakers, then noticed the factory sub is marked with a positive and negative. Wired up the rear channel speakers and sub from the factory amp to the JL amp. Set the fronts to 80HZ filter, rear to 120, sub no filter. Sounds is good now.

Pros: Can't beat the ease of integration into the car. You get everything you need and high quality equipment. You keep the factory head unit that is tightly integrated into the car. Sound is solid and enjoyable, significant improvement from the factory Boston Acoustics speakers.

Cons: Would be better if they recommended replacing back speakers, wiring up all the factory outputs to the amp and made some recommendation about filtering. If you don't turn on filtering for the front channels the speakers might be damaged if you have a song with heavy bass and turn up the volume. The sound would be better with a replacement head unit.
What's in the box?
6.75" Component speaker system (C3-650)
5-Channel Class-D amp (XD700/5)
Remote control (HD-RLC)
Amplifier mounting bracket
2 Crossover mounting brackets
2 Speaker mounting adapters
Speaker wire
Power wire
Ground wire
Remote turn-on wire
Speaker-to-RCA adapter
2 Y-adapters
Fuse
Fuse holder
Two 2.2 uF capacitors
Mounting hardware
Installation Instructions
Product Research
Features
JL Audio StealthMod System: The StealthMod system has been thoroughly tested and engineered by JL Audio's development team. When mated with the SB-GM-CAMCONV Stealthbox subwoofer enclosure (item number 13694526, sold separately), the system offers dramatic improvements in low-frequency extension and quality, significantly greater clean output capability, better imaging and better-balanced high-frequency response than the factory system. The difference is most impressive with the top down as the additional power on the front speaker system really helps overcome road and wind noise.
Vehicle Compatibility: This particular StealthMod package has been designed for 2011 and later Chevrolet Camaro Convertibles. It will not fit the Camaro Coupe. Please consult the Crutchfield Car Selector to see if your vehicle is compatible.
System Components: This system includes the JL Audio C3-650 component speakers to replace the factory speakers in the front doors of the Camaro and an XD700/5 system amplifier to power the C3-650s and the Stealthbox subwoofer enclosure (item number 13694526, sold separately). Filters are also provided to modify the crossover point of the factory tweeters for better system performance. The factory system continues to power the rear speakers. The supplied HD-RLC Remote Level Control can be mounted in the front of the vehicle to be used as an easily accessible subwoofer level control.
Component Speakers (C3-650): The JL Audio Evolution C3-650 convertible component system includes 6-3/4" woofers with injection-molded polymer frames, mineral filled polypropylene cones, butyl rubber surrounds, ferrite magnets, and 1.2" voice coils with Kapton formers. The 1" silk dome tweeters are Ferro fluid cooled and use neodymium magnets. Silk is lightweight and great for high frequency extension and efficiency. It is also designed for durability in the extreme automotive environment. The C3 tweeters mount coaxially inside the C3 woofer cones, while your Camaro's factory tweeters' crossovers are modified using the included capacitors. The crossover network has an electronic tweeter protection circuit built in; it monitors the current and disconnects the tweeter when it senses and overload. The circuit automatically resets once the overload is removed.
5-Channel Amplifier (XD700/5): The JL Audio XD700/5 is a five-channel, class-D amplifier utilizing NexD ultra-high speed switching technology to deliver outstanding fidelity and efficiency. The 5-channel amplifier is configured at 200 watts RMS x 2 bridged (at 4Ω) + 300 watts RMS x 1 (at 2Ω) for this system. NexD is a state-of-the-art switching amplifier design that combines exceptional audio quality with excellent efficiency and less complexity. This results in an affordable compact amplification with exceptional audio quality and unsurpassed total efficiency. The XD-Series amplifier employs advanced thermal and low-impedance protection to virtually eliminate annoying amplifier shut-down events. Should the XD-Series amplifier ever overheat, its intelligent, unregulated power supply reacts by limiting available peak voltage until the amplifier returns to a safe temperature range. Likewise, if an impedance lower than optimal for the amplifier is present at the outputs, the XD amplifier will roll back peak voltage to protect itself without shutting down.
Controls:

Simplified Gain Setting: The XD Series amplifier makes setting the gain level of the amp via the input sensitivity control very simple. All you need is Digital AC Voltmeter (sold separately) and a Test CD Disc (item number 503CD104, sold separately) with a sine-wave test-tone recorded at 0 dB reference level in the frequency range to be amplified for that set of channels (50 Hz for subwoofer channels, 1 kHz for a midrange application). The XD700/5 is equipped with a independent gain controls for the 1/2, 3/4, & 5 channels.
Flexible Input Section And Active Crossover Network: The JL Audio XD amplifier provides a flexible input section and a comprehensive crossover network to fine tune your system effectively and accurately. The variable filter design employed in the JL Audio XD amplifier crossover sections allow you to seamlessly switch slopes, easily change filter frequencies and address what frequencies the preamp inputs will pass. The XD700/5 offers the following independent crossover adjustments for the front, rear, and subwoofer channels along the unit's top panel, behind a removal cover plate.

Connections:

Power/Ground/Turn-On Terminals: The amplifier features set-screw terminals for the power, ground, and remote turn-on connections.
Speaker Output Terminals: The XD700/5 amplifier's twelve set-screw speaker terminals will accept 16 to 8 AWG speaker wire. A 2.5mm hex-wrench is supplied for making connections.
Preamp Inputs: The amplifier features 3 pair of differential-balanced RCA jack inputs. The amplifier features a dedicated Input Sensitivity gain control for the front 1/2, 3/4, and 5 channels of the amplifier. These controls are designed to match the input sensitivity of the HD700/5 to the specific signal source that is feeding it. The amplifier's input level can be set independently for all channels between 100mV-4V.
Remote Level Control (HD-RLC): The wired remote level control lets you control the volume of all channels, or just the subwoofer channel of the XD700/5 from the front of your vehicle. This is useful for subwoofer level control or even as a master volume control for your system.
Warranty Information: The installation of a StealthMod system will likely invalidate the factory warranty of the OEM (factory) audio system. JL Audio's warranties only cover the installed JL Audio equipment and do not extend to cover any failures of OEM (factory) equipment.
Our Product Research Team
At Crutchfield, you'll get detailed, accurate information that's hard to find elsewhere. That's because we have our own in-house Product Research team. They verify what's in the box, check the owner's manual, and record dimensions, features and specs. We stay on top of new products and technologies to help people make informed choices.
Product reviews from the Crutchfield Labs
JL Audio's StealthMod gives you superb JL Audio sound without giving up your factory controls. This package allows you to replace the front door speakers and increase the overall power in your...
What are the Labs?