Sony MEX-BT4000P
CD receiver
Item #: 158BT4000P
This item is no longer available.
Original Price: $169.99

Need help?
Does it fit my car?
Select your car

Built-in Bluetooth
Sony's MEX-BT4000P CD receiver employs Bluetooth® technology that gives you hands-free calls in your car with your compatible phone. You'll hear your callers through your car's speakers, and answer just like they're sitting next to you. The result? You'll drive more safely with your hands on the wheel and your phone stashed away. Plus, if you've got a smartphone or other device with Bluetooth, you can stream your music to the receiver without having to plug in.
Front USB input
The front-panel USB input features Sony's 1-wire connection® — plug in your player and enjoy convenient control of the music on your iPod® or iPhone®. Sony's search tools whip through your files to find the tunes you want quickly and easily. You'll find Jump Mode particularly handy if you've got a large music library, as it allows you to jump through your playlist in 10% increments.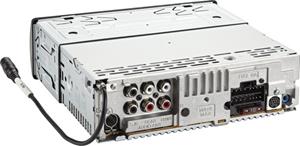 Pandora®
You'll be able to cruise to your favorite Pandora® Internet radio stations too. With your iPhone, Android, or Blackberry phone, you can browse through your favorite stations and rate songs from the receiver's controls.
Soundshaping tools
If you're into tweaking your sound, you'll find a host of tools in Sony's Advanced Sound Engine. You can adjust the overall tone with the EQ7 7-band equalizer, then use tools like Listener Position calibration, Dynamic Loudness, and Rear Bass Enhancer to customize your listening experience to your own tastes. And speaking of customization, you can choose from wide selection of colors for the display on this Sony.
More listening options
You can add a SiriusXM satellite radio tuner to enjoy programming variety and commercial-free music. Use the handy front-panel auxiliary input to connect a portable satellite radio, MP3 player, or another audio source.
Want to keep your car's steering wheel audio controls?
In most vehicles, you can use this adapter to connect your vehicle's steering wheel controls to this Sony stereo. Connect a few wires, then program the adapter for your particular car and the Sony, and you'll retain the convenience of your steering wheel controls.
Bluetooth note: Use of this receiver's Bluetooth features will depend upon your phone's Bluetooth capabilities. Learn more in our article explaining Bluetooth profiles.
Note: If you're going to use your iPod with this receiver, be sure to check "Details" for specific iPod model compatibility with this receiver.
Product Highlights:
General features:
CD receiver with AM/FM tuner
built-in amplifier (17 watts RMS CEA-2006/52 peak x 4 channels)
built-in Bluetooth for hands-free calling and audio streaming
plays CDs, CD-Rs, and CD-RWs, including discs loaded with MP3, WMA, and AAC music files
Pandora® control for iPhone®, Android, and Blackberry
detachable faceplate with variable illumination and button colors
remote control
Audio features:
EQ7 7-band equalizer with 7 preset sound curves
Rear Bass Enhancer
Dynamic Loudness
DM+ sound restoration
listener position calibration
high- and low-pass filters
Expandability:
built-in iPod/iPhone controls with USB connection
compatible with SiriusXM satellite radio tuner
inputs: front USB and auxiliary inputs
outputs: 6-channel preamp outputs (2-volt front, rear, sub)
Other info
compatible with most factory steering wheel audio controls (adapter required)
CEA-2006 compliant amplifier
warranty: 1 year
Why replace your factory radio?
Two good reasons - sound quality and cool features. A new car stereo offers power that's superior to most factory radios, along with more sophisticated tone controls. And most car stereos offer built-in or optional features that add safety and fun to life in your car, including inputs for your iPod or MP3 player, Bluetooth connectivity for hands-free cell phone calls, satellite radio or HD Radio reception, and connections for building an audio system in your car.
Sony MEX-BT4000P Reviews
Average Customer Review:
95 Reviews
---