Why Choose Crutchfield?
Deep discounts on car installation gear
We offer vehicle-specific installation instructions, dash kits, wiring harnesses, and speaker accessories at deeply discounted prices with car stereo and speaker purchases. Available for most vehicles.
Learn more
Trusted since 1974
Our customers have trusted us with their business, and they've helped us win awards for our service.
Check out our most recent awards
Factory-authorized dealer
The manufacturer's warranty always applies.
See more details

Flexibile power to meet your needs
Planning a whole-house audio system? Take a look at the Niles SI-1230 Series 2 multi-channel power amplifier. You can customize this powerful 12-channel amp to best suit your specific multi-room setup. Enjoy warm stereo sound in six rooms, or combine two channels into one to give your speakers more juice — a great option for power-hungry outdoor speakers. Use a single channel of power for mono sound in smaller listening areas, like a closet or bathroom.
Enjoy music throughout your home
The '1230 Series 2 can distribute music from one audio source, like a networked music streamer, to multiple rooms in your home. Or you can connect additional sources directly to the amplifier and assign each one to a single listening room. And by adding one or more preamps to your system, you can send additional sources to more than one listening room.
Serious whole-house audio power
This amplifier provides your system with an impressive amount of power for big, room-filling sound. Driven simultaneously, all 12 channels produce 30 watts RMS, or 360 watts total. "Bridging" or combining adjacent channels gives you 80 watts for each bridged pair, or 480 watts total.
Product Highlights:
12-channel amplifier
power output:

30 watts RMS per channel into 8 ohms, all channels driven
40 watts RMS per channel into 4 ohms, all channels driven
adjacent channels are bridgeable to 80 watts RMS into 8 Ohms, all channels driven

frequency response: 5-25,000 Hz (-3 dB)
signal-to-noise ratio: 102 dB (20-20,000 Hz)
total harmonic distortion: 0.05% (at 1kHz)
BusMatrix™ Selector allows four audio options for each channel: left, right, left plus right (mono), or the channel's dedicated input
independent level controls for all 12 channels
three turn-on modes: music sense, voltage trigger, and manual
gold-plated 5-way binding post speaker connectors spaced to accommodate dual banana plugs
cascade outputs for "daisy-chaining" amplifiers
independent thermal and short-circuit protection circuits for each channel
detachable AC power cord
weight: 35 lbs.
17-1/4"W x 5-3/4"H x 17-1/4"D
warranty: 2 years
Niles SI-1230 Series 2 Reviews
Average Customer Review:
3 Reviews
---
Written by: the Greek guy from Atlanta on December 7, 2015
Crutchfield Customer Review
(
What's this?
)
Excellent looking component with lots of flexibility. Unfortunately mine need to be exchanged. Crutchfield said they would take care of me on a exchange

Pros:

Cons:
Written by: Anonymous from Idaho on October 12, 2015
Crutchfield Customer Review
(
What's this?
)
I love this product.

Pros: It does what I wanted it to.

Cons: Deciphering the user manual was a challenge, but Crutchfield helped with that. I wish the price were lower, and it's unfortunate that it doesn't have easier volume controls for the speakers.
Written by: Iceman from Prescott, AZ on September 9, 2015
Crutchfield Customer Review
(
What's this?
)
This Multi-Channel amplifier is extremely easy to connect up and operate. I elected the simpler single system set up, but multi-areas are possible with different audio over each. The unit is well constructed and heavy duty. The Crutchfield technical team found this unit for me based upon the speaker set-up situation in my new home and they did a fantastic service for me.

Pros: Well constructed unit, built to last a long time.

Cons:
What's in the box?
12-Channel system integration amplifier
6' AC power cord (3-prong IEC plug)
2 Rack-mount ears
Installation Guide
Product Research
Features
Overview: The Niles Audio SI (System Integration) Amplifiers are designed to power your custom-installed Audio-Video system. They are constructed with the finest materials available, including 1% metal film resistors, high quality capacitors, and oversized heat sinks, that can properly cool the unit without the need for a noisy fan. The SI-1230 Series 2 is a high-current 12-channel amplifier that can help you interface multiple sources into multiple zones.
BusMatrix Selectors: Each of the amplifier's 12 channels are fully configurable. The unique BusMatrix selector found on each channel on the back panel, allows each channel to select the left bus input, right bus input, left + right bus inputs in summed stereo, or the channel's dedicated input via dip switches. Each channel also has independent rotary level controls.
Power Output: The SI-1230 Series 2 12-channel power amplifier provides 30 watts RMS per channel at 8 ohms, and 40 watts RMS per channel at 4 ohms with all channels driven. You can bridge adjacent channels to 80 watts RMS into 8 ohms.
Line Level Inputs: The SI-1230 Series 2 amplifier has a single gold-plated RCA input jack for each channel, plus a stereo bus input. If you are bridging any of the adjacent channel pairs, the single input from the even-numbered channel is used. The bus input provides an audio signal to all 12 channels.
Cascade Audio Outputs: The unit's Cascade Audio Outputs enable you to daisy-chain another amplifier, by connecting the preamp output of the SI-1230 Series 2 to the input of the second amplifier. The outputs are not buffered, so if you wish to daisy-chain more than 5 Niles SI Amplifiers, you will need a buffered distribution amplifier, such as the Niles AVDA-3.
Bridging Adjacent Channels: The amplifier's 12 channels are configured in pairs (1&2, 3&4, etc.). Each channel can be used independently (30 watts) or bridged to provide more power (80 watts) to speakers in large rooms or for outdoor speakers. Each pair of channels has a bridging switch, which can be activated to provide a more powerful speaker output.
Speaker Terminals: The amplifier is equipped with binding post speaker terminals. The terminals will accept single- and dual-banana plugs, pin connectors, and bare wire up to 12-gauge. For most applications, 16- or 18-gauge wire is recommended. For wiring runs longer than 80 feet, 14-gauge wire is recommended.
Note: The speaker terminals have a collar around them that prohibits the use of spade lugs.
Speaker Loads: Each channel can drive a 4-ohm load, allowing you to connect no more than two 8-ohm speakers, or no more than one 4-6 ohm speaker. A channel pair that has been bridged can handle an 8-ohm load. Proper ventilation of the amplifier is required when driving lower impedance loads or if bridging channels.
Independent Level Controls: The SI-1230 Series 2 has independent level controls for each channel, allowing you to set the volume in each zone, or compensate for sonic imbalances created by room size or architecture. You can also use the volume controls to limit the volume to certain zones to prevent abuse.
Turn-on Modes: For convenience, the SI-1230 Series 2 offers three turn-on modes. Using the 3-way switch on the back panel, you can choose from the following modes:
Manual Turn-on: The amplifier is turned on and off using the front panel Master power switch. The automatic turn-on circuitry is turned off. (Switch position: Constant)
Music Sense: The amplifier turns on automatically when the presence of an audio signal is detected on any of the audio inputs. When the audio signal is no longer detected, the amplifier turns itself off after approximately 2 minutes. (The front panel Master switch must be in the On position, and the Turn-on Mode switch position is set to Audio Sense.)
External Trigger: The amplifier turns on automatically when a signal is detected at the 3.5mm AC/DC trigger input. Once the Trigger voltage is turned off, the amplifier automatically turns itself off. Voltage triggers can be supplied by a variety of sources, including surround sound processors, video projectors, and automated switchers. The trigger signal must be 3-24 volts AC or DC, 20 mA or greater. (The front panel Master switch must be in the On position, and the Turn-on Mode switch position is set to 3-30V AC/DC Trigger Input.)
12-volt Control Output: In addition to the 12-volt Trigger Input, the SI-1230 Series 2 can be used to control other devices using 12-volt triggers, such as motorized screens and curtains. When the amplifier is powered on, a 12-volt DC (150 mA) signal is present at the 12V Control Out 3.5mm mini-jack. (Polarity: tip = +)
Rack-mount Ears: The SI-1230 Series 2 comes with a pair of rack-mount ears to allow you to mount the amplifier in a standard equipment rack. The rack ears attach to the sides of the amplifier chassis using the 4 installed screws. The amp requires three rack spaces (3U) with the feet removed.
Note: A minimum of 7" of free air space must be provided above the amplifier for proper ventilation.
Independent Protection Circuits: Each channel his its own independent thermal and short circuit protection. If a problem occurs on one of the channels, that channel will shut down, while the other channels continue to play. Once the short has been removed or the temperature returns to normal, the channel will resume regular operations. A bi-color LED on the front panel will glow red if the protection circuit has been activated, or green to indicate the amplifier is operating normally.
Removable AC Cord: The SI-1230 Series 2 comes with a 6' detachable, heavy-duty power cord that allows you to unplug it either at the amp or at the wall outlet. The amplifier uses an IEC 3-prong cord. The amplifier features an auto-switching, 110V-230V power supply.
Our Product Research Team
At Crutchfield, you'll get detailed, accurate information that's hard to find elsewhere. That's because we have our own in-house Product Research team. They verify what's in the box, check the owner's manual, and record dimensions, features and specs. We stay on top of new products and technologies to help people make informed choices.
Customer Q&A
2 questions already asked
I'm not sure I can fully answer your question. However, I use the SI1230 to take a pre-amp output from my surround sound system to power speakers in other rooms for music. Since the surround sound receiver is just one audio source, all of the remote speakers play the same music. In other words, if I had multiple audio pre-amp output sources, I could send them to individual channels in the SI1230 to play different music in each room. However, those individual audio sources would have to be either locally placed where the music is intended to be played and then wired back to the SI1230, which typically isn't possible, or they need to be stacked with the SI1230 and somehow remotely controlled. For your situation, I'm not sure how you intend on connecting the airport express to the SI1230. The SI1230 only has RCA type connectors to take in a pre-amp type signal. I don't know much about the airport express, but it looks like it only has a mini jack output and only one apple device can use it at a time. So if more than one of your kids would want to play music in their rooms, there would have to be more than one airport express wired into the SI1230 (see paragraph above). Not sure if that is what you were thinking but like I said, I haven't used an airport express. I forgot to mention that I had to bridge my channels in the SI1230 to get enough power output to my speakers. So that only gave me 6 total channels to use. My advice....go with a local solution in each room and don't try to use the ceiling speakers. It generally takes a lot of hardware to power up multiple speakers in multiple rooms with multiple audio sources, and it gets very expensive. It generally requires an audio specialist to sell and install it for you. There are much better wireless options like SONOS that can give you quality sound. Hope that helps.

[ MICHAEL Aug 30, 2015 ]
The SI-1230 does not have the ability to play different music on different speakers. It has limited volume control for individual speakers, but the same music must come out of all speakers.

[ PETER Aug 28, 2015 ]
The Niles SI-1230 is nothing more than a 12 channel power amplifier capable of driving 6 sets of stereo speakers. Two sets of 8 ohm speakers can be connected to any of the 6 stereo outputs, so if all 11 pairs of speakers are 8 ohms, all could be connected -- 2 sets to each output. The SI-1230's inputs can be bussed (all receive a single input source) or can be individually sourced, which is what I think you're asking about. If you want each of the 6 outputs to have individually selectable inputs, you probably do need 6 receivers. I'm not familiar with what kind of airport express receivers are available.

[ Robert Aug 28, 2015 ]
If you purchased the product from Crutchfield, feel free to contact our Tech Support team. They can walk you through the settings on the product and see if there may be a fix. Our toll-free Tech Support number is printed on your invoice, and is also available under the "My Orders" tab in the "My Account" section of our website. If you did not purchase the unit from Crutchfield, then you may want to contact the manufacturer. You can also post your question in our forums: http://community.crutchfield.com. Or try our online support center: http://crutchfield.custhelp.com/app/answers/list/kw/. [ Krissy May 28, 2014 ]

Staff
Looking for more? Check out the next model in this lineup.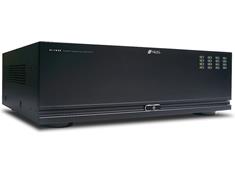 Get more power, channels, and connection flexibility
The Niles SI-1650 offers these features:
16 channels of power for large, multi-room systems
50 watts per channel, or 100 watts per channel x 8 in bridged mode
Internet connectivity for configurable EQ adjustments, volume level, and high/low-pass filter settings on each channel