Why Choose Crutchfield?
Deep discounts on car installation gear
We offer vehicle-specific installation instructions, dash kits, wiring harnesses, and speaker accessories at deeply discounted prices with car stereo and speaker purchases. Available for most vehicles.
Learn more
Trusted since 1974
Our customers have trusted us with their business, and they've helped us win awards for our service.
Check out our most recent awards
Factory-authorized dealer
The manufacturer's warranty always applies.
See more details
Kicker Comp 05C104
10" 4-ohm subwoofer
Item #: 2065C104
This item is no longer available.
Original Price: $89.99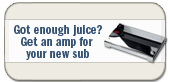 The Comp (that's short for "competition") started the legend of furious Kicker sound, and its latest version — the Kicker Comp 05C104 10" sub — is a sight to see and hear. You'll thrill to sonic technology that'll rattle any teeth while still leaving a few bucks in your pocketbook.
A rigid polymineral cone with double-stitched, ribbed foam surround stands up to the most pounding of low tones while delivering them with great precision. The heavy-duty steel basket provides a rock-solid housing for the cone, while the famous Kicker Inverted Structural Dome holds the line on unwanted flexing. Perimeter venting helps to dissipate heat quickly for top performance.
And you'll appreciate the revamped cosmetics with a pitch-black cone and the striking basket design with its logo trim ring. Pick up an optional grille (click the "Accessories" tab) for an even fiercer look! This Kicker Comp 10" also works in free-air applications.
Product Highlights:
10" 4-ohm subwoofer
polymineral cone with double-stitched foam surround
high-strength steel basket
frequency response: 30-500
power handling: 50-150 watts RMS
peak power: 300 watts
sensitivity: 87.3 dB
mounting depth: 4-13/16"
spring-loaded nickel-plated terminals
sealed box volume 1.0-2.4 cu. ft.
ported box volume 1.25-1.75
works in free-air applications
warranty: 1 year
What's a component sub and why would I want one?
A component sub is simply a speaker that's designed to reproduce bass once it's installed in a compatible enclosure. Think about the impact of a movie soundtrack in a big theater or even in your own home HDTV setup. A component sub can add the same kind of power to the music in your car. And a car sub is not all about the boom that you hear on a street corner (although that's cool too) - you can pair a component sub with your choice of enclosure to get bass just the way you like it, from tight and punchy to fat and loose. And once you experience music in your car with a well-tuned subwoofer, you'll never go back.
Kicker Comp 05C104 Reviews
Average Customer Review:
17 Reviews
---
Written by: Marc from Texas on May 25, 2010
these subs are terrible. i have 2 of them in my 2009 Tacoma. they hit a high bass frequency almost decent but on a low one it sounds like they are just going to break. if you want terrible bass buy these but if u want a nice low sound from ur subs, go with a JL W0 or W3. they are both much better the these


Pros:

Cons:
Written by: rj998 from mi on April 2, 2007
Crutchfield Customer Review
(
What's this?
)
I have always had 12's but this 10 is bad. Its in a sealed .7 cft right now and it goes low and beats your brains to death, powered by an old school dsm 60 amp and it rips!!!

Pros:

Cons:
Written by: Jeff from spartanburg, sc on March 15, 2007
i just put this comp. 10 behind the passenger seat of my 97 dodge dakota reg. cab pick up truck. im powering it with a kicker 150.2 amp and this thing slams in the cab of my little truck. its a little bit of a tight squeeze but when no one is riding with me and the seat is all the way up it delivers quality bass. great sub for my first buy. hits the lows and the highs great for rock and rap...if i had something bigger i would def. buy another and really turn them up

Pros:

Cons:
Written by: Mark from Fla on February 16, 2007
I was under-whelmed with this sub. I purchased the TC10 (single 10" comp in vented Kicker box) and installed it in the trunk of my sedan powered by 200w Alpine amp. The bass was sufficient until you get to hard hitting aggressive passages, then the bass just gives up. I listen to 99% rock and it just wasn't enough for me. I upgraded to a single 12 in a sealed box, much happier now.

Pros:

Cons:
Written by: Adam from Newark, OH on February 15, 2007
I bought one of these subs in a Kicker truck box, hooked up a Kicker ZX300 amp. All I can say is it's probably the best sub your gonna get for the money. If you listen to alot of rock music, this sub slams. It sounds ok to some rap but you wont get the super low bass from it. But that can't be expected from one 10in. sub for this kinda money. I was very impressed. Kicker power has never let me down:)

Pros:

Cons:
Great subs for any price.
Written by: Ben from Bremerton, WA on February 8, 2007
These subs are great. At first I bought one 10" in a truck box and then loved it so much I bought another. I'm pushing out 300 watts with a Kicker zx300.1 amp. These sound great but when you really want to turn it up it sounds like the subs are rattling.

These truck boxes that come with the sub are too small. Once you get the right box for these subs they'll sound even better.

With just one sub in a truck box I can't look out my mirrors because they're shaking so much. I have a 93 civic coupe and they sound great in there. I highly reccomend these subs to anyone.

Pros:

Cons:
awesome subs for the price
Written by: Troy from Round O, SC on January 28, 2007
ive got 2 of these in sepparate sealed boxes behind the seat of my truck and even though the bxes are only about .7 cubic feet with polyfill they deliver great bass i can turn them up loud enought hat my speakers distort like crazy and theyre still gowing theyre not the best if u whant serious low end rap bass but they deliver fast rock bass like crazy.

Pros:

Cons:
Written by: Jordan from Boston, MA on November 21, 2006
Crutchfield Customer Review
(
What's this?
)
These Subs preform extremely well for the price. I have an amp that delivers 160 watts to each sub and it vibrates the whole car. I had a 12" Power Acoustic sub that could handle 800 watts RMS (but I only had about 500 going to it) and it didn't hit as hard as these. And I have these in a sealed box and the other sub was in a ported one. With the buy one get one free, you won't come close to matching it price wise.

Pros:

Cons:
Written by: Ian from milwaukee, wi on September 24, 2006
great sub for the money, adds a lot to your music that you can get from the infinity refrence speakers that i put in my carolla. i have an infinity amp on them and they hit really hard. they wont give you block away bass but they add a lot to your music. great quick fix for some decent bass.

Pros:

Cons:
Written by: John from Eldersburg, MD on September 8, 2006
i have two of these subs in my truck and there prety nice. The only thing is they dont hit the low notes like i want them to. This is probley because there entrey leval subs. but besides that they work great. if your looking to add some bass to your stero these are the way to go.

Pros:

Cons:
Written by: cory from butler, pa on June 28, 2006
Crutchfield Customer Review
(
What's this?
)
these are great entry level subs. they can handle a lot of bass and don't need a ton of power to do it. i'd suggest them for anyone looking for a cheap way to add some bass.

Pros:

Cons:
Written by: MattyB from GR MI on February 15, 2006
I have a pair of these bad boys in my Volvo 850 in a Kicker ported box. I am running all Kicker power(about 1100W total) with a Polk component system for my front and rear and I have to say, these are not a dissapiontment in the least. They cut through and punch so well that on the first day, I have heads turning! Save yourself the money and give these a try. In the right box they will rival the best out there..

Pros:

Cons:
Written by: Dust55079 from LINWOOD, MN on December 7, 2005
I've had these subs for about a half a year and I have two of them hooked up to a Kicker 250.2 amplifier. And After i hooked them up to this amp these things can pound. They may be entry level but they sure don't sound like it. I had some pioneers and these thing just put 'em to shame. In my vehicle you can hear the bass inside perfectly fine. But you can't hear them outside. If you want to turn heads a block away them save some money and get some solobarics. other wise these work great.

Pros:

Cons:
Written by: anthony from Visalia, CA on September 13, 2005
Crutchfield Customer Review
(
What's this?
)
I have two of these professionally ran to an Alpine MRD-M301 Amplifier, in a custom box built to the Kicker specs. The Alpine Amp is awesome, putting out an "Alpine Certified", 400.4 watts at 2 ohms. These are great entry level subs, but trust me thats all they are. Entry Level! They hit well but they do not throw the bass well. If you are looking to save money while adding base to your sound system these are a match for you.

Pros:

Cons:
Written by: Damien from tx on July 17, 2005
sounds great so far, got two hooked up on a little wimpy amp and it still kicks


Pros:

Cons:
Are you sure its an entry level Subwoofer?
Written by: Mike from South Sacramento, CA on June 25, 2005
WOW! I went on to kicker.com and printed out the box specifics for this subwoofer. Built it to code, and put exactly the 150 Watts in desires and BOOOOOMMMMM. This subwoofer rocks hard. I have a wimpy Lightning audio fast and the furious amp pushing it and the sub just blows my mind. I drove around Sacramento and just loved how people were turning to see where all that bass was comming from for blocks away. Kicker Subwoofers truly are great subs. I had purchased JBL, Infinity, Kenwood, Sony, and Pioneer before and never had been as satisfied as I am with the Kicker line of entry level subs. If you are wondering what brand to call yours. I would seriously say these words to ya.

DAWG U NEEDZ 2 BUY DIS SUB CUZ IT IS DA BOMB!!!!!!!!!!!

Pros:

Cons:
Written by: jason from forest grove,Or. on May 23, 2005
I actually have listened to this sub in its factory enclosure and they sound really great, very deep bass and very clean.

Pros:

Cons:
What's in the box?
One 10" woofer
Cutout template (attached to carton)
Owner's Manual
Product Registration card
Product Research
Features
Enclosure Compatibility
Cone Materials: The Kicker Competition woofer consists of a vacuum formed polymineral cone with an inverted structural dome (ISD), which remains rigid to minimize cone flex and lowers harmonic distortion. A rear cone brace integrates into the cone with a continuous contact perimeter weld, which offers unmatched strength and resistance to deformation under pressure.
Surround: The optimized Polyfoam-ribbed surround allows extended cone excursion for additional bass output and higher SPL. The surround is double-stitched to the cone to add a mechanical fastener to the chemical adhesives. This prevents the cone and surround from separating in the harshest conditions.
Enhanced BAM (Basket And Motor) Assembly: The high-strength steel basket features a low-profile open design, and provides a solid foundation for the precision-aligned motor assembly. Perimeter venting in the BAM relieves pressure from under the spider, supports a linear excursion, and helps dissipate heat from the voice coil and motor structure.
Voice Coils: The ultra-strength voice coil sustains enormous cone excursion and provides extra heat dissipation. The high-temperature Polyimide Film voice coil former improves sonic and conductive properties, and prevents thermal-electrical meltdown.
Construction: The woofer features a two-piece vented hyper-extended blackened pole piece and backplate. This unique design provides the following benefits:
Optimizes heat transfer efficiency for cooler operation and maximum power handling ability.
Eliminates erratic magnetic flux from the voice coil gap.
Releases pressure under the suspension for uniform cone movement and responsive low bass.
Prevents the voice coil from bottoming out and corresponding damage.
Tinsel Leads: The woofer features sleeved high-power tinsel lead wires to resist breakage and power-robbing resistance losses due to the common use of "insufficient gauge" lead wires.
Speaker Terminals: The spring loaded, nickel-plated terminals provide solid connections with medium to heavy gauge speaker wire.
Marine Ready: The poly cone, powder-coat finished basket, and stainless-steel hardware allow the Kicker Competition to be used in marine environments.
Free Air Applications: Kicker Competition subwoofers can be very effective in an infinite-baffle (free-air) installation. You may need to reinforce the rear deck of your vehicle to support the weight of the subwoofer (3/4" MDF is recommended).
Recommended Sealed Box Volume:
Compact (minimum enclosure volume): 1.0 cu/ft; the woofer can handle up to 150 watts RMS
SQ (maximum enclosure volume): 2.4 cu/ft; the woofer can handle up to 150 watts RMS
Recommended Vented Box Volume:
Compact: 1.25 cu/ft; 1.5" x 10.5" port opening; 14.5" port depth; the woofer can handle up to 150 watts RMS
SPL/Deep Bass: 1.75 cu/ft; 1.5" x 10.5" port opening; 13.25" port depth; the woofer can handle up to 150 watts RMS
Note: The power handling specifications listed with the vented enclosure recommendations apply only when a 25Hz, 24dB/octave subsonic filter (sold separately) is used with this woofer. If a subsonic filter is not used, power handling may decrease, excessive port noise can occur, and the life of the woofer may be shortened.
Our Product Research Team
At Crutchfield, you'll get detailed, accurate information that's hard to find elsewhere. That's because we have our own in-house Product Research team. They verify what's in the box, check the owner's manual, and record dimensions, features and specs. We stay on top of new products and technologies to help people make informed choices.