Why Choose Crutchfield?
Deep discounts on car installation gear
We offer vehicle-specific installation instructions, dash kits, wiring harnesses, and speaker accessories at deeply discounted prices with car stereo and speaker purchases. Available for most vehicles.
Learn more
Trusted since 1974
Our customers have trusted us with their business, and they've helped us win awards for our service.
Check out our most recent awards
Factory-authorized dealer
The manufacturer's warranty always applies.
See more details
SIRIUS Sportster 5
Dock &amp Play satellite radio
Item #: 220SDSP5V1
This item is no longer available.
Original Price: $169.99

Multi-color, adjustable display
The SIRIUS Sportster 5 satellite radio features a 2.7" multicolor screen for easy viewing. You can adjust the background colors to match your vehicle's dash lights, and the automatic light sensor will dim the screen's brightness at night, so the display won't distract you when the sun goes down.
---
You'll never miss a beat
The Sportster 5 records up to 44 minutes of SIRIUS programming automatically, so you can pause and rewind songs, sports, and shows. The 6-line display lets you keep tabs on song title, artist, and channel information, as well as view a sports ticker featuring your favorite teams' scores.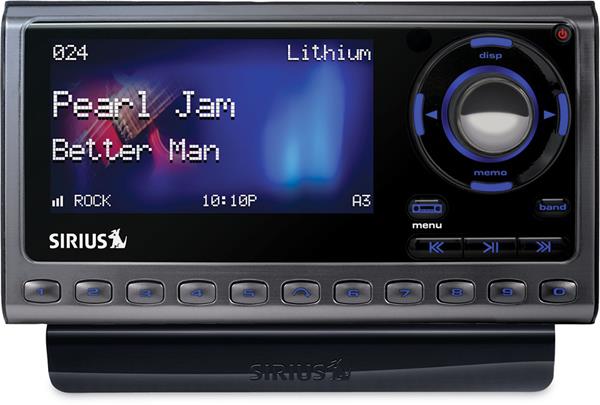 ---
Included accessories
You get everything you need to enjoy the Sportster 5 in your vehicle, including a dock and wireless remote. If your stereo lacks an auxiliary input, SIRIUS|XM's PowerConnect system uses an FM transmitter to broadcast the satellite radio signal to your system — no complicated wiring needed. The Sportster 5 also works with plenty of SIRIUS accessories.
---

Note: A subscription to SIRIUS is also required. Satellite radio service is available only within Canada and the lower 48 states — not available in Hawaii. Limited service is available in Alaska and Puerto Rico.
Product Highlights:
Dock & Play SIRIUS satellite radio with color screen
PowerConnect car accessories included
wireless remote control
Features:
internal memory continually stores the last 44 minutes of the channel you're listening to
6-line display
30 channel presets
S-Seek lets you save up to 30 song titles or artists, and alerts you whenever one is playing on SIRIUS
Game Alert lets you know when your favorite team is playing
Jump button lets you go to a preprogrammed channel instantly
short-cut button lets you save a wireless FM transmission frequency
search by category, channel, artist, or song title
warranty: 90 days
SIRIUS Sportster 5 Reviews
Average Customer Review:
13 Reviews
---
Save your money and don't by this unit
Written by: Anonymous from Sacramento, CA on April 30, 2011
It started off to be a great deal. I paid the life time subscrition. I have had 2 of them now, and the life of them less than 1 year. At that point the antenna connector in the base of the radio goes bad. I seldom move my radio out of my work pickup, perhaps move it 10-15 times a year.
Sirius would not replace any of them 2 out warranty, and they acknowledge these radios have that problem.Cost me extra to have them turn on the new unit. What a rip off.

Pros:

Cons:
Written by: lance c from summit ms on April 6, 2011
Crutchfield Customer Review
(
What's this?
)
i have had my sirius sportster 5 for a day and a half and i love it. but im already having problems. when the car gets hot from the sun the radio cuts off. my addvice dont leave it in the car when it hot outside. if it get to bad i still would buy another

Pros:

Cons:
Written by: KeithB from Nebraska on April 2, 2011
This is a great radio while it lasts. I have had 3 of them now, and the life of them is about 1 year. At that point the antenna connector in the base of the radio goes bad. I seldom move my radio out of my work pickup, perhaps move it 10-15 times a year. I feel my problem has been that I travel rural roads and the vibration has killed them. Sirius has replaced 2 on warranty, and they acknowledge these radios have that problem.

Pros:

Cons:
One Star Short of Perfect
Written by: John S from Phoenix, AZ on March 14, 2011
Crutchfield Customer Review
(
What's this?
)
Great little radio. Nice to look at, feels good, and good functionality with lots of fun features. The only catch is that if your car stereo does not have an auxillary input, you are going to have to spend another $20 - $50 for a direct FM adapter and/or additional cords/tools depending on your vehicle/stereo. This also requires you to get the radio out of the dash to install the adapter. Pay this fee and deal with the installation again for any additional vehicles in which you may want to use the unit. The unit's FM transmitter was 100% useless in my 2001 Tundra and my wife's 1999 Porsche. I know the FCC may be to blame for making them turn down the broadcast power, but the manufacturer/retailers need to come clean and just admit it doesn't work. Better yet, stop wasting money installing the FM transmitter in the unit and lower the price. Sound quality is absolutely terrible with the Monster Cable cassette adapter. Aside from this one issue, very happy with the radio.

Pros:

Cons:
Written by: chris from nyc on March 4, 2011
I love it! The price is great, way cheaper than Amazon. And its an awesome product. Shipping was as scheduled. Overall the product and the Crutchfield experience will make this 1st time buyer by again from Crutchfield.

Back to the product. Its so dope! It looks beautiful. Not like the cheap Stratus 6. This looks like a real and elegant radio. It has pause and playback. The display change up to like 20 different color combos. I am extremely satisfied with this radio. I regret not buying it sooner.

Pros:

Cons:
Written by: JesseM from Avondale, AZ on February 17, 2011
Crutchfield Customer Review
(
What's this?
)
A perfect unit. I had one in my pickup so I got one for my girlfriend's pickup as a christmas gift. She loves it! She drives about 200 miles a day and the unit is easy to use and the display is great!

Pros:

Cons:
Written by: Sarah from Western Colorado on February 10, 2011
Crutchfield Customer Review
(
What's this?
)
We love our Sirius Radio, it gets awesome reception even through the mountains! We got it professionally installed (which was fairly inexpensive). We completely love this product.

Pros:

Cons:
Never going back to "free" radio again.
Written by: John G from long Island N.Y. on February 1, 2011
Crutchfield Customer Review
(
What's this?
)
Great Radio with great features.
Love the content on satellite radio. From sports talk, comedy and music you can not get more bang for your buck.

Pros:

Cons:
Written by: Pat I. from Indianapolis, Ind on January 31, 2011
Crutchfield Customer Review
(
What's this?
)
I received this radio for a Christmas present and absolutely love it. It is easy to use and I also purchased the Sirius SubX2 (the speaker system), and I can use it in my car or in my home. It is the best. I highly recommend this product.

Pros:

Cons:
Written by: BillW from Houston, TX on January 30, 2011
Crutchfield Customer Review
(
What's this?
)
Love it. Cost a little more than some models, but the cost is justified with the additional features. I especially like the ability to change the lighting color to match my vehicle dash light color.

Pros:

Cons:
Written by: Shempie from San Antonio, TX on January 27, 2011
Crutchfield Customer Review
(
What's this?
)
This is a GREAT radio ! It saves 30 artists or songs, has sports alerts for all the major sports (NFL, MLB, etc.), 30 presets, and easily plugs into your car stereo if you have the front 3.5mm input jack. Being able to change the colors of the display is nice, and the remote works well. The display is large enough to easily read safely while driving and in bright sun.
Of course it can be moved to another vehicle, boombox, or house with additional equipment.

Two negatives- 1) the remote is small and hard to work with one hand
2) Be careful about plugging & unplugging the radio a lot (like 2 or 3 times per day), I had to recently buy a new Sportster 5 because the connector at the bottom partially broke and the radio would lose power frequently. It was NOT repairable simply because the electronics repair shop could not get parts for the radio. They could have fixed it if parts were available.

Pros:

Cons:
Written by: SEXY68 from BOSTON, MA on November 28, 2010
Bought a radio for my husband to listen to NFL games. Loved it so much bought a 2nd unit for myself. LOVE IT!!. Had a few problem with the antena but once I added the FM adapter works great.

Pros:

Cons:
Written by: lascko from Elkton,Maryland on November 3, 2010
Crutchfield Customer Review
(
What's this?
)
Nice radio ,great price,works just fine.Like brand new.Needed it fast .ordered late in day Monday still got it Tuesday at 3PM.If your looking for a Sirius receiver that looks great and has the functions u want this is the one.U wont b sorry!!

Pros:

Cons:
What's in the box?
SIRIUS Sportster 5 Satellite Radio receiver
Wireless remote control
CR2025 Lithium battery
SDPIV1 Vehicle docking station
SIRIUS antenna with attached 21' micro cable (has an SMB connector)
PowerConnect FM transmitter/cigarette lighter adapter (with attached 55" DC cord)
4' Minijack cable
Self-adhesive mount
Vent mount with 2 clips
Self-adhesive antenna tail
Four 1/4" machine screws (with lock-washers attached)
3/16" Mounting screw
Alcohol Prep Pad
Alcohol Wipe
User Guide
Quick Start Guide
Accessory Guide
Warranty Card
Sirius Channel Guide
Product Research
Overview: This package contains the Sirius Satellite Radio Sportster 5 Dock & Play receiver, car cradle (with swivel adhesive mount and vent mount), a PowerConnect FM transmitter cigarette light adapter, and a magnetic roof-mount antenna. You can connect the Sirius Sportster 5 to your vehicle's sound system using the unit's built-in FM transmitter or your headunit's auxiliary input (minijack cable supplied).
Note: A subscription to Sirius Satellite Radio is also required.
Sirius Satellite Radio: Sirius Satellite Radio features more than 130 channels of original programming beamed coast-to-coast, including 65 channels of commercial-free, digital-quality music, and news, talk, sports, entertainment, and children's programming. Satellite radio service is available only within the continental United States. Service is not available in Alaska and Hawaii.
Dock & Play Receiver
Vehicle Docking Station
Dimensions
Dock & Play Receiver
Multi-Color Display: The Sportster 5 tuner has a large multi-color backlit LCD screen. You can select from 15 different color combinations for the unit's LCD screen background and text, and the front-panel button backlight color. You can also adjust the brightness and contrast of the unit's color LCD screen. In addition, you can choose between two ways to present the artist and song title information on the LCD screen. The Default screen displays the artist and song title on separate lines. Pressing the Display button will increase the character size to its maximum, put artist and song title information on the same line, and continuously scroll them across the screen. The channel name, number, category, preset band/number, and time of day are always displayed.
Search Modes: You can search for and select music four ways on the Sportster 5. You can search and select by Category, Channel, Artist and Song title. The Category mode allows you to cycle through the available genres of programming: Pop, Rock, Country, Hip-Hop, R&B/Urban, Dance/Electronic, Jazz/Standards, Classical, Latin/World, News, Sports and Entertainment. Once the category has been selected, you can choose the channels from that category using the rotary knob.
Real-Time Program Guide: The Real-Time Program Guide makes it possible to browse programs, artists, and songs playing on other channels, without having to change the channel you are currently on, so you can listen to your current channel and never have to interrupt your music.
Direct Tuning: Using the direct and numeric buttons on the supplied remote, you can directly access Sirius channels by their 3-digit channel numbers.
Preset Tuning: The tuner allows you to store 30 presets in 3 separate banks (A, B, and C - 10 presets each). Preset channels can be tuned directly by selecting a preset band and pressing the preset number on the numeric keypad (unit or remote). You can also activate the preset tune mode in which the rotary knob scrolls through only the preset channels.
Jump Button: This function allows you to access traffic and weather of the 20 most congested cities, or access a favorite channel.
Channel Lock: You can lock a channel, making it only available by direct tuning. When a locked channel is tuned directly, you will need to enter a 4-digit code before the channel can be heard.
Instant Replay: The receiver is capable of storing the audio from the current channel for later playback. Up to 60 minutes can be stored and accessed later. As soon as you tune to a channel, the receiver automatically begins storing the audio. Once the audio is stored, you can perform the following functions: play, pause, fast forward, and rewind.
Memory and Song Seek Functions: This feature allows you to capture and store the program data information (artist and song title). You can store program data information for up to 30 songs. The tuner will monitor the current incoming Sirius signals and alert you if any match the program data information stored in memory.
Game Alert With Sports Ticker: When your favorite NFL, NBA, NHL, and college team is playing on a different channel, Game Alert will notify you. The Sports Ticker feature will display the information (including the channel that is carrying the game) for the team continually during a game they are playing. The currently-playing artist and song title will still be visible when the ticker is active.
Time-Based Functions: The tuner has a built-in clock with the time data provided by the Sirius channel. The clock options can be set for 12-hour or 24-hour operation, time zone, and observance of Daylight Saving Time. Once the clock data is set, you can activate the following functions:
Alarm Clock: The built-in alarm clock can be set to turn on the unit at a specific time.
Program Alert: The Program Alert function allows you to program the unit to turn on and switch to a selected channel at a specific time.
Auto Shutdown: The unit can be set to automatically turn off after a one-hour period without any user intervention. After 59 minutes of inactivity, a beep-tone sounds and a display prompt appears on the screen allowing you the option of canceling auto shutdown.
Sleep Mode: The receiver can be set to turn off after a selected period of time, 15, 30, 45, or 60 minutes.
Remote Control: In addition to offering all the controls on the receiver's front panel, the included IR remote adds wireless operation of the Sirius Satellite Radio Sportster 5.
Vehicle Docking Station
Vehicle Dock: The Sirius Satellite Radio Sportster 5 comes supplied with a vehicle dock which allows you to listen to Sirius Satellite Radio in your vehicle. The vehicle dock has color-coded connectors to assist you in connecting the cables to the correct connector. The Sirius Satellite Radio Sportster 5 Dock & Play receiver's vehicle dock provides three connection options to transfer Sirius Satellite Radio audio to your vehicle's audio system.
PowerConnect: The Sirius Satellite Radio Dock & Play receiver comes supplied with the PowerConnect FM transmitter and cigarette lighter adapter which allows the Sirius Satellite Radio receiver to wirelessly transmit audio to your vehicle's in-dash headunit over and FM frequency. You can choose from any FM frequency between: 88.1 and 107.9 MHz. You can store up to 5 FM stations so you can quickly access the stations which give you the best audio reception when using the PowerConnect. The PowerConnect FM transmitter and cigarette lighter adapter simply plugs into the power port of the included vehicle dock and the cigarette lighter or 12-volt accessory port of your vehicle.
Auxiliary: The Sirius Satellite Radio Dock & Play receiver's vehicle dock has a minijack audio output (3.5mm) to connect the unit directly to your in-dash headunit's auxiliary input (if applicable), using the supplied stereo minijack cable. When using the line output jack, you can adjust the level to match your headunit's other sources.
FM Direct (optional): The FM Direct Adaptor (607FMDA25, sold separately) connects directly in-line with your vehicle's existing AM/FM antenna input (motorola) and the Sirius Satellite receiver's vehicle dock FM output (2.5mm). This optimizes the Sirius receiver's built-in FM modulator to your vehicle's radio, especially in regions with a high density of FM radio stations and few open FM channels.
Antenna: The low-profile Sirius antenna has a powerful magnetic base that allows you to mount the antenna on the roof or trunk lid of your vehicle. The antenna needs to be positioned in such a way that it will be free of mechanical and line-of-sight obstructions.
Note: The attached micro-cable has a single SMB connector, which plugs into the vehicle dock.
Mounting: The mounting location of the Sportster 5 should be easily accessible for controlling the unit and provide good visibility of the unit's display, and should not be located where it will be in direct sunlight, which will affect the visibility of the display screen. The Sirius Satellite Radio Sportster 5Receiver comes with two mounting options.
Self-Adhesive Dash Mount: The Sportster 5 includes a self-adhesive plastic mount which allows you to place the unit on your vehicle's dash. The self-adhesive dash-mount allows you to swivel and adjust the unit for better visibility.
Vent-Mount: The Sportster 5 also includes a plastic mount which allows to you to clip the unit onto one of your vehicle's dash vents.
Compatibility with Optional Pro-Fit Brackets: The car kit docking station is directly compatible with the Legend series (adjustable ball/socket joint) Pro-Fit Vehicle-Specific Mounts (VSMs). When used with the Pro-Fit easy swivel adapter (042EZ1026, sold separately), the docking station will work with the standard (fixed) Pro-Fit VSMs, as well.
Optional Home Kit: An optional home kit (607SUPH1, sold separately) allows you to listen to Sirius Satellite Radio in your home.
Second Vehicle Kit: An addition vehicle kit (220SADV2, sold separately) can be purchased to install the Sirius Satellite Radio Dock & Play receiver in a second vehicle.
Dimensions
Receiver Dimensions: 4.485" (wide) x 2.475" (tall) x 1.115" (deep)
Docking Station Dimensions: 4.005" (wide) x 2.065" (tall) x 1.125" (deep)
Receiver in Docking Station Dimensions: 4.485" (wide) x 3.075" (tall) x 1.485" (deep)
Antenna: 2.195" (diameter) x 0.445" (tall); cable length = 21'
Our Product Research Team
At Crutchfield, you'll get detailed, accurate information that's hard to find elsewhere. That's because we have our own in-house Product Research team. They verify what's in the box, check the owner's manual, and record dimensions, features and specs. We stay on top of new products and technologies to help people make informed choices.