Why Choose Crutchfield?
Deep discounts on car installation gear
We offer vehicle-specific installation instructions, dash kits, wiring harnesses, and speaker accessories at deeply discounted prices with car stereo and speaker purchases. Available for most vehicles.
Learn more
Trusted since 1974
Our customers have trusted us with their business, and they've helped us win awards for our service.
Check out our most recent awards
Factory-authorized dealer
The manufacturer's warranty always applies.
See more details
Samsung DTB-H260F
Over-the-air HDTV tuner
Item #: 305DTBH260
This item is no longer available.
Original Price: $179.99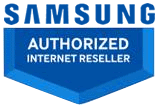 Get the most from your HD-ready TV or high-definition monitor with Samsung's DTB-H260F. This tuner lets you pull in your local over-the-air digital TV broadcasts, including those in high definition. Even if you subscribe to cable or satellite TV service, you still might want to take advantage of over-the-air broadcasts. Not only are they free, but they're also some of the highest-quality HD signals available.
An on-screen program guide makes it easy to find what you want to watch. The 'H260F's intuitive interface gives you two options — a full-screen guide with detailed show information, and a smaller, transparent mini-guide that takes up a minimum of on-screen space. Fine-tuning the 'H260F for your particular setup is a breeze, thanks to its easy-to-follow menus.
The 'H260F includes an HDMI output for a high-quality digital transfer of both audio and video signals to a compatible TV. You also get a full set of analog outputs for making a connection to a television without a digital input, or to a DVD recorder.
Tip: To find out if HDTV signals are available in your area, visit this helpful site and punch in your zip code.
Product Highlights:
receives and decodes all over-the-air HDTV/SDTV formats
(when connected to an HD-compatible antenna)
selectable output resolution (1080i/720p/480p/480i)
Electronic Program Guide
parental controls
signal strength indicator
HDMI digital audio/video output with HDCP copy protection
1 set of A/V outputs (composite, S-video, and 1080i/720p/480p component video)
one RF input (Antenna)
optical digital audio output for Dolby® Digital
remote control
10-5/8"W x 1-3/4"H x 9-1/4"D
warranty: 1 year
Samsung DTB-H260F Reviews
Average Customer Review:
4 Reviews
---
Written by: adrian from PA on April 3, 2008
Crutchfield Customer Review
(
What's this?
)
This product did all that I needed it to. I have a Sony Projection TV capable of HDTV but does not have a tuner. I decided to cancel my comcast due to expense and my limited TV viewing. I connected this set top tuner to my 5.1 surround sound via the optical audio cable and ran RCA cables to my Sony TV audio input so I have a choice for sound. I ran the component video 3 cables to the Sony and have a great picture. This unit has many features and lacks nothing that I can think of. I am using a LPDA FM/VHF antenna on the roof and still get all of the possible UHF digital stations in my area. It even has a preview guide for the channels that I receive. I love it and this was a good move and well worth it! I bought a scratch and dent model and saved some money...nothing wrong with it.

Pros:

Cons:
Written by: Rob from Cincinnati, OH on December 1, 2007
When I first saw this, I thought it would work great with my present TV (a 1991 29" tube TV, with only a coax cable input). I ended up using a VCR input to do the conversion.

Digital TV broadcasts include information on the programs, the channels you're watching, and this tuner allows you to view a program guide of whats on the channels currently and in the future, and allows you to schedule programs to tune to. The problem? All of these features are only available when connected using the RGB connections. The RCA video (the yellow plug) and S-video connections only display the pictures, no menus appear on screen with this method. In addition, to setup this product and the over air channels requires you to go its thru menus; again, this is not viewable unless using those RGB connections, or temporarily plugging in an RCA video (yellow plug) into the green plug to navigate the menus.

If you've got an old TV that you want to watch digital TV on, this isn't ready yet. Wait until next year when more will be available from manufacturers.

Pros:

Cons:
Not suitable for casual users
Written by: David from Livonia, Michigan on September 6, 2007
Crutchfield Customer Review
(
What's this?
)
Works well with my Sony Wega HD (RGB not HDMI) and Terk antenna except it has a serious audio pop at power up and at power down. This is very disappointing and points clearly to lack of electronics design expertise. This is reminiscent of Samsung 256K DRAMS many years ago.
It is very important to turn the AV amp down well below audible threshold until after the video first appears upon turning on the Samsung tuner and again to turn the AV amp down before shutting off the tuner.
I don't have this issue with any of the other three components attached to my Yamaha AV amp.
Also, the installation manual is not very clear. As an electronics engineer I figured out the initial channel programming problems I had (no signal found always due to incorrect setup sequence) but this might be difficult for non technically orientated consumers.
The owners manuals for my Sony, Yamaha, and Onkyo components are far clearer. Samsung has a long way to go.

Pros:

Cons:
Seemed fine. NOT compatible with Westy LVM-42w2!
Written by: Dan from Beaverton, OR on August 30, 2007
I really wish this worked with my TV, since, unbelievably, there is not one single alternative to this I am aware of. The problem is visible when using HDMI... there is a line at the bottom of the screen, almost like the entire picture is shifted vertically and wrapping around the bottom.

I also bought (and later returned) a Samsung 1080p upconverting DVD player and it had the same HDMI problem this tuner had. Samsung and Westinghouse, why can't you get along? Boo hoo!

If anyone knows any other (affordable) way to get over-the-air HD, let me know!

Pros:

Cons:
What's in the box?
Digital HDTV receiver
IR wireless remote control
2 "AAA" batteries
8' Component video cable
8' Stereo RCA cable
47" RF coax cable with F-type push connectors on each end
Owner's Instructions
Product Research
Features
Overview: The Samsung DTB-H260F High Definition Terrestrial Tuner offers flexibility for delivering over-the-air digital television signals to a DTV-ready television or DTV-capable computer monitors. The digital HD tuner easily tunes and decodes all 18 ATSC Table 3 broadcast formats. The tuner also features a built-in 8-VSB, QAM tuner with cable channel coverage of 1-135 for non-premium stations. With the Samsung DTB-H260F, you can view HDTV or SDTV, and listen to Dolby Digital 2.0 stereo or Dolby Digital 5.1 surround audio through your audio system. The Samsung HDTV receiver offers a wide selection of video output options including 1080i, 720p or 480p/i DTV formats, and audio/video connection options including HDMI, Component, S-video, Composite, Audio-Right/Left and Dolby Digital Optical.
Note: Requires HD-compatible antenna for over the air HD broadcasts. Requires a subscription to your local cable company to receive non-preminum cable channels through the unit's built-in 8-VSB, QAM tuner.
On-Screen Menu System: The DTB-H260F utilizes an advanced On-Screen Menu system for channel selection and to access the unit's settings. The receiver does not feature a front-panel display. To access the On-Screen Menu the set-top-box must be connected to your television by either component video or HDMI. You can set the language for the On-Screen display to English, Spanish or French.
IR Wireless Remote Control: The unit comes supplied with a full-function IR wireless remote control. The remote control and the unit's On-Screen menus work together to operate the Set-Top-Box. The remote offers complete control over the high definition tuner.
On-Screen Help: The On-Screen Help feature allows you to see the description of each available menu.
On-Screen Signal Strength Indicator: The tuner's On-Screen Signal Strength Indicator gives you the ability to view whether or not you are receiving a strong signal which may be affecting the quality of your on-screen image.
Electronic Program Guides: The DTB-H260F features and on-screen Electronic Program Guide (EPG), which includes information about available programs. You can choose between two program guides.
Full Guide: The receiver's Full Guide allows you to find programs or see what is currently on and/or available from all channels.
Mini Guide: The Mini Guide gives you a short list of information about the channel you are watching which appears at the bottom of the screen so that it does not interfere with your current viewing.
Favorite Channels: The unit's Favorite Channel feature lets you create a list of channels you most frequently watch and allows you to easily and quickly navigate to them.
Program Schedule: The tuner's Program Schedule feature allows you to schedule upcoming programs for viewing from the Full Channel Guide. Once scheduled, the tuner will automatically tune to the specified program at the scheduled time. Multiple programs can be scheduled as long as their times to not overlap.
Screen Ratio and Format: The DTB-H260F lets you change the aspect ratio of the video output based on the type of TV you are using. You can select from a 16:9 or 4:3 aspect ratio. When in 16:9 mode you can select from the following screen formats to match the source - Pillar Box, Full, or Zoom. When in 4:3 mode you can select from the following screen formats to match the source - Letterbox, Full and Zoom.
Multi-Track Language: The Digital TV transmission system is capable of simultaneous transmission of many audio tracks. You can select from either an English, Spanish or French audio language. The availability of this feature depends on the program itself.
Digital Closed Captions: The DTB-H260F features digital closed captioning which lets you modify and configure how your captions will appear. The Digital Caption function operates on digital channels only. You can modify the following settings for your digital closed captions - Size, Font Style, Foreground Color, Background Color, Foreground and Background Opacity.
Rating Control: The HDTV off-air receiver allows you to control access to channels and programs by inputting a personal identification number (4-digit password) that can restrict viewing based on the FCC and/or MPAA rating limits you set.
Controls and Connections
Front Panel Controls:
Power On/Off: The HDTV tuner only features a Power On/Off button on the front of the unit. All other functions are operated from the supplied IR wireless remote control.
Rear Panel Controls:
Resolution Select: The Resolution switch allows you to switch between a 1080i, 720p, 480p or 480i output signal depending on the capability of your television.
DTV Output Select: The DTV Output switch allows you to select the tuner to output a DTV signal (480p, 720p, 1080i) through either the unit's component-video or HDMI output.
Rear Panel Inputs:
Ant/Cable In: The 75-ohm Antenna In connection allows you to connect an antenna or cable here. Connect cable in the event that your local cable provider is passing through 8-level Vestigial Sideband (8VSB) and Quadrature Amplitude Modulation (QAM) on their systems.
USB Port: This port is used for service only. Do not insert USB devices into the port.
Rear Panel Outputs:
Ant Out: The 75-ohm Antenna Out connection is used to connect to your TV using a RF coaxial cable.
HDMI Out: The HDMI output with HDCP connects to the HDMI input of your HDTV. The HDMI output supports 480p, 720p and 1080i. The HDMI output supplies both video and audio to your TV.
Component Video Out: The component video output supports both standard definition (480i) and high definition (480p, 720p, 1080i).
S-Video Out: The S-video cable provides good picture quality for TV's that do not feature a component or HDMI input. The S-video output supports only standard definition (480i).
Composite Video Out: The two composite video outputs support standard definition (480i) only.
Digital Optical Out: The tuner features a digital optical output that supports Dolby Digital which connects to the digital audio input of your home theater receiver or TV. The optical output can be set to PCM or Dolby Digital.
Analog Audio Out: The tuner features two pair of stereo analog audio RCA outputs to connect to your television.
Note: The unit's On-Screen Display menus are only supported by the Component video and HDMI output.
Our Product Research Team
At Crutchfield, you'll get detailed, accurate information that's hard to find elsewhere. That's because we have our own in-house Product Research team. They verify what's in the box, check the owner's manual, and record dimensions, features and specs. We stay on top of new products and technologies to help people make informed choices.