Parrot ASTEROID
Digital media receiver
Item #: 333ASTROID
This item is no longer available.
Original Price: $349.99
Need help?
Does it fit my car?
Select your car

Parrot's ASTEROID digital media receiver 
The Parrot ASTEROID isn't just another car stereo — it uses Internet apps to adapt to your needs. On a long road trip, it can display maps and even show you in-depth info on local restaurants and attractions. Instead of getting only your local radio stations, the ASTEROID's radio app lets you tune in over 50,000 stations from around the world. Heck, it can even read text messages aloud!
---
Get connected
The ASTEROID isn't a web browser, but it can connect to the Internet to supply info to web-based apps and to load new apps. You can connect either using your mobile phone's Bluetooth® tether or your mobile provider's 3G USB dongle (smartphone and data plan required for either option). The ASTEROID features an open-source Android™ processor, so you can expect many new apps in the future. One important note, though — the Android processor does not control your Android phone.
---
Pre-loaded apps
Maps finds local points of interest (POI), then lets you call or get directions to them. You can also check out local traffic. Roadtrip gives you in-depth info on POIs, including a Wikipedia® description and photos. Wikango features user-generated info on traffic and speed traps. Weather gives you the local forecast, while TuneIn lets you listen to over 50,000 radio stations. TextFriendly, a subscription-based service, lets you dictate and send text messages using the ASTEROID's voice controls. An included GPS antenna lets relevant apps know where you are.
---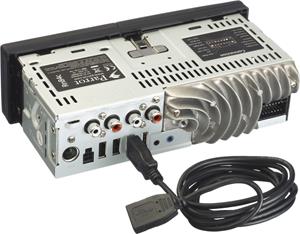 Four USB inputs
The ASTEROID gives you four handy USB slots — one is dedicated to your iPhone®, leaving three free for a variety of media and adapters, like thumb drives or a 3G web dongle. Connect your iPod®, and you can breeze through its music library using the ASTEROID's jog wheel.
---
Search for music by speaking
The ASTEROID makes it safer to change tunes while you're driving. Just tap the large white button next to the jog wheel, tell the ASTEROID the name of an artist or album, and it'll search anything you have connected to find what you're looking for.
---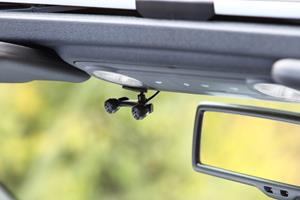 Great phone integration
Parrot's made their name with Bluetooth, so you can expect flawless Bluetooth performance from ASTEROID, whether it's for hands-free calling or music streaming. You can pair up to 10 phones with ASTEROID so your entire family will be covered.
The ASTEROID synchronizes your phone book and sets up voice recognition automatically. That lets you simply tap the phone button and say the name of whoever you want to call. Relevant info from your phone is easy to see on the 3.2" display. The included stereo microphone mounts in a convenient spot in your vehicle, ensuring that your callers hear your every word clearly.
---
Sounds good, too
The ASTEROID features a robust, 7-band parametric equalizer for tweaking your sound, plus a Virtual Superbass effect for enhancing the low frequencies in your music.
This digital media receiver will not play CDs. If you want to play CDs in your vehicle, we offer a wide selection of CD receivers.
Installation Note: The ASTEROID comes with a European-style plug attached to its wiring harness. You'll have to cut off this plug in order to attach the ASTEROID to the vehicle-specific harness which Crutchfield supplies with your order.
---
Product Highlights:
General features:
digital media receiver with AM/FM tuner (doesn't play CDs)
built-in amplifier (23 watts RMS/55 peak x 4 channels)
3.2-inch color TFT display with removable faceplate
built-in Bluetooth for hands-free calling and audio streaming
Android operating system for navigation, music apps, and more (3G connection and data plan required)
Audio features:
plays audio files from USB memory devices, SD cards
voice control for music selection
7-band equalizer with 9 presets
Virtual Superbass effect
Expandability:
iPod/iPhone direct control
inputs: 4 rear USB inputs, rear RCA and minijack aux inputs
outputs: 6-channel preamp outputs (6-volt front, rear, subwoofer)
Other features and specs:
Why replace your factory radio?
Two good reasons - sound quality and cool features. A new car stereo offers power that's superior to most factory radios, along with more sophisticated tone controls. And most car stereos offer built-in or optional features that add safety and fun to life in your car, including inputs for your iPod or MP3 player, Bluetooth connectivity for hands-free cell phone calls, satellite radio or HD Radio reception, and connections for building an audio system in your car.
Parrot ASTEROID Reviews
Average Customer Review:
37 Reviews
---
What's in the box?
Parrot Astroid unit
Control panel (installed)
Mounting sleeve (installed)
Non-removable trim-ring
Wiring harness (with 10A fuse)
GPS receiver/antenna (attached 58" cable terminated by a USB type-A connector)
4' iPod cable (iPod dock connector on one end and a USB type-A connector on other end)
5' Stereo minijack cable (male 3.5mm connector on both ends)
5' USB extension cable (male USB type-A connector on one end and a female USB type-A connector on other end)
Dual microphone with bracket (attached 9.75' cord terminated by a 2.5mm connector)
Visor-clip
Extraction key
Suction-cup
3 Wire-ties
Face pouch
Quick Start Guide
Activation Code
Voice Commands
Product Research
System Overview
Display Features
Internet Apps
USB Port/SD-Card Slot
iPod/Aux Connectivity
Built-in Bluetooth
Audio Section
Tuner Functions
Remote Control
System Overview
The Parrot Asteroid: The Parrot Asteroid is a Single-DIN, in-dash car receiver with multimedia connectivity & hands-free capabilities. The Parrot Asteroid car receiver offers connection to select web service apps (via 3G smartphone or USB dongle), voice recognition control for music playback, & hands-free phone communication. The Parrot Asteroid plays many types of music sources; such as Internet Radio, iPod/iPhone, USB device, SD/SDHC memory card, and Bluetooth stereo (A2DP).
Note: This unit does not feature a built-in disc mechanism for CD or DVD playback.
3G Network Requirements: The Parrot Asteroid requires connection to a 3G Network using a 3G Network USB dongle (sold separately) or your Bluetooth enabled smartphone's 3G Network plan.
Safety Warning: All functions requiring increased attention should only be used while your vehicle is stationary. Driver & passenger safety, along with the safety of fellow drivers should take priority over phone calls, music, & navigation instructions.
Display Features
Single-DIN Mount: The reduced depth of the Asteroid facilitates the installation in standard Single-DIN head unit locations of most makes of newer vehicles.
Note: As always, please consult the Crutchfield Car Selector to verify fit with your vehicle.
Detachable Face Plate: The Parrot Asteroid combines an elegant detachable faceplate equipped with backlight buttons & an innovative guiding system to insert the faceplate. A face pouch is included to protect the faceplate when detached.
3.2" Color Screen: The large high-definition 3.2" color screen (262,144 colors) displays in all your information, phonebook, menus, music, playlist, album covers, internet applications, & more. You can adjust the 3.2" color screen's brightness and switch from Day or Night mode.
Jog Wheel: The unit's main functions are all accessible via the discreet jog wheel, making browsing through the menus more intuitive.
Virtual Keyboard: The Asteroid provides an on-screen virtual keyboard that allows lower & upper case letters A-Z to be entered, using the jog wheel.
Date & Time: The Parrot Asteroid features a 12/24 hour clock & date display. The unit's date & time can be automatically set via the tuner's RDS signal.
Internet Apps
Android OS: The Parrot Asteroid features an embedded Android operating system which allows the use of pre-installed Internet applications & Navigation services, thanks to its 3G & GPS capabilities.
Note: Additional apps maybe available in the future for download.
Internet (3G) Ready: The Parrot Asteroid can connect to the Internet using either a 3G Network USB dongle (sold separately), or by using a compatible Bluetooth enabled smartphone's 3G data sharing network connection.
Compatible Internet USB dongle: Click here for 3G Stick Compatibility. To guarantee optimal reception, Parrot recommends you do not connect your 3G Internet USB dongle on the Parrot Asteroid directly; use the USB cable to install your device on the dashboard (or any other open area).
Compatible Bluetooth Enabled 3G Smartphone: Click here for compatible Bluetooth enabled 3G smartphones.
Note: Connecting the Parrot Asteroid to the Internet using an 3G Network USB dongle requires an appropriate subscription offer & may result in large additional roaming fees. Check the terms of use with your provider for more information. Make sure you check regularly your allowance and usage.
GPS Receiver/Antenna: The Parrot Asteroid includes an external GPS receiver/antenna module which plugs into a USB port on back of the head unit. The GPS receiver/antenna module works in conjunction with the unit's Navigation The GPS receiver/antenna module should be installed in a unobstructed area along your vehicle's dashboard.
Internet Applications: Several types of Internet applications (music, geo-location, driver assistance, weather, etc) are pre-installed onto the Parrot Asteroid. The Parrot Asteroid is a multitasking device, so several applications can run simultaneously.
Note: To ensure that you do not continue to use 3G data, make sure to close applications. The use of some applications may require a fee or need a subscription. All applications may not be available in all countries.
Travel Apps: The Parrot Asteroid offers several Travel type applications to help you along your drive.
Maps: The Maps application provides you with advanced mapping & geo-location functions, free of charge. Your position is displayed on the head unit's 3.2" color screen, which can be zoomed in/out. You can select from various Point-of Interest types (Bars, Coffees, Community, Finance, etc.). The unit will then display points-of-interest (from the selected category) near your current position on the map. You can also enter a point-of-interest manually, by using the unit's jog wheel & virtual keyboard. Once you have chosen a specific point-of-interest, you can either call that point of interest from your connected Bluetooth enabled cell phone or have the Asteroid display directions to the point-of-interest from your current position on the unit's 3.2" color screen (no audible directions).
Roadtrip: The Roadtrip application is a really effective tourist guide. It helps you discover nearby points of interest (POI) with the help of detailed information and photos. Launching the Roadtrip application will display the list of nearby POIs. A toolbar shows the POI nearest to where you are as well as your distance from it. The Alert Mode even informs you automatically of any nearby POIs even when the Roadtrip app is not currently being used. Once you have selected the POI, all the information about it is displayed. You can then:

View information from Wikipedia about the POI
View photos of the POI (if any are available).
View the route to this POI (only available with Maps app running in background)
Call the POI (if a Bluetooth enabled phone is connected)
See what the weather is at the POI (only available with Weather app running in background)

Wikango HD: The Wikango HD application legally notifies you of the presence of mobile speed cameras, as well as of road traffic incidents and disruptions. Its operating principle is community-based; you are notified of the presence of speed cameras after another Wikango community member (Smartdriver) sees one and then reports it. The use of the Wikango HD application is legal all over the United States and Europe apart from in Germany, Austria, and Switzerland. You are entitled to a 30-day free trial period.
Weather App: The Weather application tells you about weather conditions and gives the weather forecast for several days around your location or in a town of your choice. When the Weather application is run, the weather conditions at your location are displayed. If you have defined Favorite locations, the weather at these places is also displayed.
TuneIn: TuneIn is a Internet Radio music application. The TuneIn application lets you listen to local and international Internet radio free of charge. You can access more than 50,000 on-line radio stations and podcasts from around the world. You can choose the type of radio station or podcast you want to listen to and then select your specific radio station/podcast. You can also manually search for a radio station or a podcast, using the units jog wheel and virtual keyboard. In addition, you can create a Favorites Station List. You can even view Radio Name, Radio Logo, & Song/Artist Information on the head unit's display.
TextFriendly: TextFriendly is an interactive service that allows you to access your emails and text messages directly from the Parrot Asteroid, by voice (hands-free). The TextFriendly service features a set of voice recognition and synthesis software in order to read emails/text messages & compose or answer an emails/text messages. The service exists in multiple languages, including English, American English, Spanish, & French
Note: TextFriendly is $4.99 per month, or $39.99 per year.
USB Port/SD-Card Slot
4 USB Ports: The Parrot Asteroid is equipped with 4 USB (type-A) ports. One USB port is labeled "iPod" and designed for iPod/iPhone use only. The other 3 USB (type-A) ports can be used to connect the included GPS receiver/antenna for navigation, an Internet USB dongle for Internet apps, and a USB memory device for music playback. The Asteroid is compatible with the majority of 3G Network USB dongles, MP3 audio players, USB thumbdrives, & USB external hard drives.
Note: Use the included 5' USB extension cable to make connecting & disconnecting your USB device or Internet (3G) USB dongle easier.
SD-Card Slot: The Parrot Asteroid is also equipped with an SD-card slot located behind the detachable faceplate. The SD-card slot supports playback of music files stored on SD or SDHC memory cards.
Note: mini SD/SDHC & micro SD/SDHC memory cards are compatible with adapter (sold separately).
Compatible Compressed Audio Formats: The Parrot Asteroid's USB port & SD-card slot supports playback of the following compressed music files - MP3, WMA, AAC, WAV, & OGG.
Music Control: You can browse your USB device's or SD-card's music files by Artist, Album, Song, Genre, or Playlist. Once you have selected a category, you can search each category alphabetically.
Voice Recognition: The Voice Recognition function allows you to select the artist/album you want to hear via voice recognition. You can simply access your music by pronouncing the name of the artist/album stored in your music library and the music will be launched automatically. This function is only available if you are using the Parrot Asteroid with a USB, SD, or iPod device.
Note: Several minutes of loading may be necessary when connecting your audio device (USB/SD/iPod) to the Parrot Asteroid for the first time, particularly if you are using audio peripheral with a large capacity or containing many audio files. This loading time will allow your audio files to be accessible via voice recognition.
Software/Firmware Updates (via USB): You can download the latest software/firmware updates for free from the Parrot website via a USB thumbdrive. The USB thumbdrive (containing the software/firmware download) is then inserted into the Asteroid's USB (type-A) port. These updates will enable you to receive new features & improve the product's compatibility.
Note: The tested Parrot Asteroid contained firmware/software version 1.3.0. There is a firmware/software version 1.4.0 available.
iPod/Aux Connectivity
Apple Device Direct Connection: The Parrot Asteroid's rear-panel USB port (labeled "iPod") can be used to connect your iPod/iPhone/iPad to the head unit, via the included iPod cable or the dock connector-to-USB cable which comes with your iPod/iPhone. The Asteroid supports audio playback, music navigation, information display, & charging of your compatible iPod/iPhone (does not charge the iPad).
Music Browsing: You can browse your iPod/iPhone/iPad's music library by Artist, Album, Song, Genre, or Playlist. Once you have selected a category, you can search each category alphabetically.
iPod/iPhone Display: The head unit will display your iPod/iPhone/iPad's music file information, including - Track/Folder #, Elapsed playing time, Song title, Artist name, & Album Art.
iPod/iPhone Charging: The head unit's USB connection will power & charge your connected iPod/iPhone battery when your vehicle's ignition switch is set to the 'ACC' or 'On' position. This unit does not charge the iPad.
Note: Your iPod/iPhone/iPad's controls will be locked during connection. If your iPod/iPhone/iPad has no initial battery charge, then the unit will not recognize it.
iPod/iPhone Compatibility Chart: The Parrot Asteroid is "Made for iPod/iPhone" compatible and supports the following iPod/iPhone/iPad model functions (as of November 2011):
iPod Model
Generation
Tested Version
Wireless
Media Type
Control Type
Display Type
Charge
Bluetooth
3G
Audio
Video
Unit
iPod
Album Art
Song Info
Track #
dock connector
3rd
N/A
N
N
N
N
N
N
N
N
N
N
clickwheel
color
4th
N/A
N
N
N
N
N
N
N
N
N
N
mini
1st
N/A
N
N
N
N
N
N
N
N
N
N
2nd
N/A
N
N
N
N
N
N
N
N
N
N
video
5th
1.3
N
N
Y
N
Y
N
Y
Y
Y
Y
classic
80GB
1.1.2
N
N
Y
N
Y
N
Y
Y
Y
Y
120GB
2.0.1
N
N
Y
N
Y
N
Y
Y
Y
Y
160GB
2.0.4
N
N
Y
N
Y
N
Y
Y
Y
Y
nano
1st
1.3.1
N
N
Y
N
Y
N
Y
Y
Y
Y
2nd
1.1.3
N
N
Y
N
Y
N
Y
Y
Y
Y
3rd
1.1.3
N
N
Y
N
Y
N
Y
Y
Y
Y
4th
1.0.4
N
N
Y
N
Y
N
Y
Y
Y
Y
5th
1.0.2
N
N
Y
N
Y
N
Y
Y
Y
Y
6th
1.1 PC
N
N
Y
N
Y
N
Y
Y
Y
Y
touch
1st
2.2.1
N
N
Y
N
Y
N
Y
Y
Y
Y
2nd
4.2.1
Y
N
Y
N
Y
N
Y
Y
Y
Y
3rd
4.3.5
Y
N
Y
N
Y
N
Y
Y
Y
Y
4th
5.0
Y
N
Y
N
Y
N
Y
Y
Y
Y
iPhone
2G
3.1.3
Y
N
Y
N
Y
N
Y
Y
Y
Y
3G
4.2.1
Y
Y
Y
N
Y
N
Y
Y
Y
Y
3GS
4.3.5
Y
Y
Y
N
Y
N
Y
Y
Y
Y
4
4.2.7
Y
Y
Y
N
Y
N
Y
Y
Y
Y
4S
5.0
Y
Y
Y
N
Y
N
Y
Y
Y
Y
iPad
1
4.3.5
Y
N
Y
N
Y
N
Y
Y
Y
Y
2
5.0
Y
N
Y
N
Y
N
Y
Y
Y
Y
Note: Apple iPod/iPhone software updates may change functionality results. If you download a newer software version, you may need to reset the head unit and your iPod/iPhone to regain functionality. If this doesn't work, you may need to wait until a newer software update is available.
iOS 5.0 Note: Apple recently released iOS 5.0 for the iPod touch & iPhone. This new software is currently not entirely compatible with the Parrot Asteroid, as it is not yet possible to share 3G connection with an iPhone (tethering). Also, there are several compatibility problems between the iPhone 4S and the Parrot Asteroid's current software version. Parrot is already working on a future software/firmware update for the Asteroid to fix these problems.
Note: Downloading the latest software version 1.4 from the Parrot website solves this issue.
AUX Input: The Parrot Asteroid features a rear-panel 3.5mm auxiliary input for connecting an external audio player, such as a CD player. The Auxiliary input must be "activated" in the unit's menu.
Built-in Bluetooth
Bluetooth Technology: Bluetooth wireless technology enables voice, data, & music to be sent via a short-distance radio link. It connects a wide range of electronic equipment without requiring additional cables. Furthermore, it extends the communication possibilities for mobile phones and a large number of devices. The Bluetooth stereo (A2DP) profile uses the same radio frequencies and can be used to send music tracks from one device to another. Bluetooth wireless technology offers a range of 33 feet (10 meters).
Bluetooth v2.1 + EDR: The Parrot Asteroid features built-in Bluetooth (v2.1 + EDR) for advanced hands-free communication & wireless audio streaming.
Bluetooth Profiles: The Parrot Android supports the following Bluetooth v2.1 + EDR. Profiles.
HFP (Hands-Free Profile): Hands-free communication with your Bluetooth enabled cellular phone in the vehicle (incoming/outgoing calls supported).
HSP (Headset Profile): Provides support for Bluetooth headsets to be used with mobile phones.
OPP (Object Push Profile): Phonebook transfer from your Bluetooth enabled mobile phone to the head unit.
PBAP (Phone Book Access Profile): Phonebook access from your Bluetooth enabled cell-phone to the head unit.
A2DP (Advanced Audio Distribution Profile): Music streaming from your Bluetooth enabled phone or audio player to the head unit.
AVRCP (Audio/Video Remote Control Profile): Basic music playback control of your Bluetooth enabled phone or audio player from the head unit.
Bluetooth Compatibility: The Parrot Asteroid is 100% Bluetooth compatible with virtually every Bluetooth-enabled cell phone, smartphone, PDA & iPhone (iPhone 3G/3GS/4). You can visit the Parrot Support Site to confirm that your cell phone is compatible.
Pairing: You can pair up to 10 devices with the Parrot Asteroid. The Parrot Asteroid allows you to use the telephone & audio streaming functions from two different phones without having to disconnect one of them.
Hands-Free Communication: The Parrot Asteroid supports Bluetooth hands-free communication for your Bluetooth enabled mobile phone. The controls of the Asteroid can be used to dial a number, answer an in-coming call, or end a call. You can listen to phone calls through your car's front speakers & talk through the included external microphone. The Parrot Asteroid can retrieve phonebook contacts, and call history from your Bluetooth enabled mobile phone.
Dialing A Number: Using Parrot Asteroid, you can dial a phone number in one of the following ways:
Direct Dial: The Parrot Asteroid allows you to directly dial a phone number from the unit's jog wheel & virtual keyboard.
Phonebook Access: The Asteroid allows you to upload your phonebook from your Bluetooth enabled phone, so calls can be launched simply by browsing your phonebook. Each time you add a contact name, the Asteroid automatically synchronizes your cell phonebook. The Asteroid can support up to 8,000 total contacts (2,000 per paired phone).
Voice Recognition: The Parrot Asteroid features user independent voice recognition & voice synthesis (text-to-speech). The Asteroid automatically associates user-independent voice recognition tags, so calls can be simply launched by voice. The Asteroid recognizes your voice & the name you are saying without any prior teaching process. When you speak the name or the contact you want to dial, the call is automatically dialed.
Redial: You instantly redial the last dialed number by holding down the unit's call button.
Note: Only the contacts stored in the phone memory are synchronized. If your contacts are stored in your SIM card memory, transfer them onto your phone memory.
Receiving A Call: An incoming call is indicated by a ringtone (8 ringtones to choose from). The name of the caller is announced, if the number is recorded in the phonebook of the phone connected to the Parrot Asteroid. When a call comes in, the Asteroid automatically mutes your car stereo and the caller's voice comes through your vehicle's front speakers. All the call information from the phone is displayed on the unit's bright 3.2' display.
Call Waiting: During a call, you can receive another call if your phone supports this functionality.
Caller I.D. Announcements: If your Bluetooth enabled cell-phone supports Caller I.D., the caller's name (if in phonebook) will be announced to you over your vehicle's speakers. The Asteroid's control screen will also display the name (if in phonebook).
Double External Microphone: The Parrot Asteroid features an external double microphone with noise reduction (NR 3.0), echo cancellation (AEC), and full duplex operation which provides crystal clear calls at normal conversation level. The microphone features an integrated adjustable mounting bracket with an adhesive backing. The integrated bracket also features a mounting hole to attach the microphone with an optional self-tapping screw. In addition, the microphone comes supplied with a visor clip to mount to your vehicle's sun-visor.
Note: The ideal location for the microphone is near the rear-view mirror. The microphone needs to be pointed towards the user.
Muting a Call: You can mute the head unit's microphone so you can still hear the caller, but the caller cannot hear you.
Private Mode: To follow on your conversation in private, you can switch instantaneously the communication between the Asteroid and your Bluetooth mobile phone.
Note: A call is automatically transferred to your phone, when the faceplate is removed or after 30 minutes of communication with the ignition turned off.
Wireless Audio Streaming: The Parrot Asteroid supports Bluetooth audio streaming (A2DP) & control (AVRCP). You can stream music from your Bluetooth enabled phone or other Bluetooth stereo device. The Parrot Asteroid allows basic playback functions (Play/Pause, Fast Forward/Rewind, Skip/Previous) of your connected Bluetooth device. The Asteroid will even display the playlist of your connected Bluetooth device. All music files will played back through your car's speakers (front & back).
Audio Section
MOSFET Amplifier: The Parrot Asteroid is equipped with a 23W (RMS) x 4Ch MOSFET amplifier. Compared to conventional power supplies, the MOSFET amplification circuit is smaller and more efficient, and it delivers increased power with less distortion and absolutely zero on/off switching noise. More power means louder and cleaner music at higher volumes because you're not pushing the limits of the amplification circuit.
6V/6CH Preamp Outputs: The Parrot Asteroid is fitted with six 6-volt preamp outputs (Front, Rear, & Sub).
Subwoofer Controls: You can control the volume (+/-6dB) of the subwoofer preamp output independently from the main volume. You can also adjust a the low-pass crossover frequency (50, 60, 70, 80, 90, 100, 120, 140, 160, 180, 200Hz) for the subwoofer preamp output.
Equalizer: The equalizer allows you to adjust low, medium, and high frequencies to your preferences. You can choose between a 7-band EQ (60, 150, 400, 1k, 2k, 6k, 15k Hz) or 10 EQ presets (Off, Vocal, Pop, Club, Punchy, Deep, Crystal, Custom 1/2/3).
Virtual Super Bass Effect: The Virtual Super Bass effect amplifies bass frequencies. The Cutoff Frequency setting allows you to select the bass cutoff frequency for the speakers (the lowest frequency that the speakers can generate naturally). The Virtual Super Bass will then reproduce the frequencies that are lower than this cutoff frequency. The Effect Intensity setting allows you to adjust the level of bass frequencies generated by the Virtual Super Bass effect.
Loudness: The Loudness function is a dynamic adjustment of bass & treble based on listening volume. This function compensates for the human ear's loss of sensitivity to bass and treble frequencies when the volume is low. The Loudness function can be set to Off, Low, Medium, or High.
Automatic Volume Control: The Automatic Volume Control function automatically adjusts the volume of your music to the surrounding noise level. If the Automatic volume control option is activated, the music volume will increase or decrease along with the surrounding noise level.
Tuner Functions
AM/FM Tuner: The Parrot Asteroid is equipped with a built-in AM/FM tuner with manual, seek, and preset tuning.
Infinite Preset Stations: The Asteroid lets you store as many preset stations for AM & FM as you want.
RDS: The Radio Data System (RDS) feature displays radio broadcast information such as artist, title, & album when listening to compatible AM/FM stations.
Traffic Alert: The Traffic alert option allows the Radio source to be automatically activated a& selected when the current station starts broadcasting traffic information.
Remote Control
Steering Wheel Control Interface: Retain your original steering wheel controls to manage the Parrot Asteroid, using the UNIKA (sold separately). Thanks to this additional interface module, you can keep using your vehicle's steering wheel controls to change the sound volume as well as the music tracks or FM radio stations. Besides, with the press of a button, you can answer or reject calls, as well as trigger the Parrot Asteroid's voice recognition. The UNIKA is compatible with over 200 vehicle models from 34 different automotive brands.
Our Product Research Team
At Crutchfield, you'll get detailed, accurate information that's hard to find elsewhere. That's because we have our own in-house Product Research team. They verify what's in the box, check the owner's manual, and record dimensions, features and specs. We stay on top of new products and technologies to help people make informed choices.