Alpine CDA-105
CD receiver
Item #: 500CDA105
This item is no longer available.
Original Price: $139.99

Need help?
Does it fit my car?
Select your car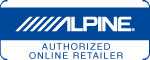 Simply serious sound
Alpine built the CDA-105 as a no-nonsense music machine that will serve as your control center for even the most sophisticated audio system.
---
Play your favorite CDs, or load up a disc with your favorite MP3, WMA, and AAC files. Pack a USB flash drive to the brim for even more options. Whatever your source, Alpine's digital-to-audio converter and impressive internal amplifier will do justice to your favorite driving music.
---
Adding on to your system
You'll get full control of your iPod® — even your iPhone® — through the CDA-105's USB slot. No adapter is necessary, but Alpine includes an iPod cable so you can leave your other cable at home. The CDA-105 offers three sets of preamp outputs for connecting amps and subs. You can add Alpine's Bluetooth® adapter for safer hands-free calling and audio streaming, or tap into satellite radio's wealth of entertainment with an optional tuner.
For especially big music libraries, Alpine's Percentage Search function uses the preset buttons for quick jumps to specific parts of the list (Preset 1: 0% to 16%, Preset 2: 17% to 32%, Preset 3: 33% to 49%, Preset 4: 50% to 66%, Preset 5: 67% to 82%, Preset 6: 83% to 100% of the song library). Since you can just jump to a segment of your library with a touch of a button, you'll save yourself from scrolling through each song one by one.
Add an HD Radio™ tuner for improved AM/FM sound quality — FM sounds almost like a CD, while AM sounds like traditional FM. And while your iPod's connected, you can even tag songs you hear on HD Radio stations for downloading later in iTunes®. You'll be reminded of the songs you tagged the next time you sync your iPod with your computer.
Fine-tune your sound with IMPRINT
If you're into sound quality, Alpine's optional IMPRINT™ sound processor and KTX-100 tuning kit can transform your car into the perfect listening space. It uses a microphone to analyze the acoustics in your vehicle, then works with the CDA-105's MultEQ feature to adjust the receiver's output for the best possible audio performance.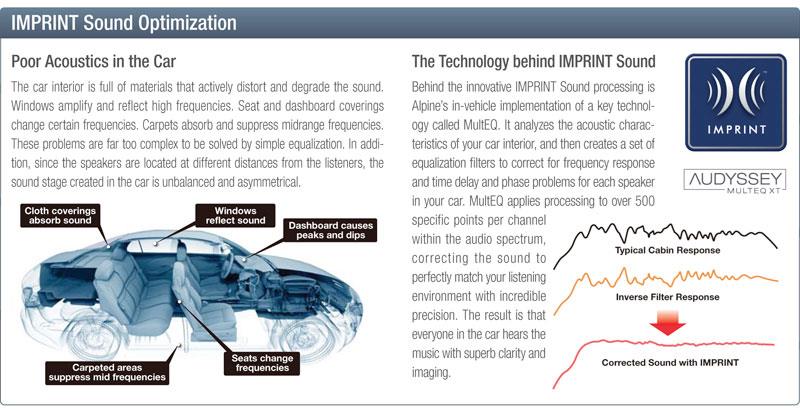 ---
Note: If you're going to use your iPod with this receiver, be sure to check Hands-on Research for specific iPod model compatibility with this receiver or its optional iPod adapter.
---
Want to keep your car's steering wheel audio controls?
In most vehicles, you can use this adapter to connect your vehicle's steering wheel controls to this Alpine stereo. Connect a few wires, then program the adapter for your particular car and the Alpine, and you'll retain the convenience of your steering wheel controls.
Product Highlights:
General features:
CD receiver with built-in amplifier (18 watts RMS CEA-2006/50 peak x 4 channels)
plays CDs, CD-Rs, and CD-RW discs, including discs loaded with MP3, WMA, and AAC music files
built-in iPod control
fold-down, detachable face
optional remote control
Audio features:
Expandability:
compatible with: Alpine Bluetooth® adapters, satellite radio, HD Radio™ tuner, CD changer
works with Alpine's PXA-H100 IMPRINT audio processor and KTX-H100 tuning kit
inputs: USB input
outputs: 6-channel preamp outputs (front, rear, subwoofer)
Other features and specs:
Why replace your factory radio?
Two good reasons - sound quality and cool features. A new car stereo offers power that's superior to most factory radios, along with more sophisticated tone controls. And most car stereos offer built-in or optional features that add safety and fun to life in your car, including inputs for your iPod or MP3 player, Bluetooth connectivity for hands-free cell phone calls, satellite radio or HD Radio reception, and connections for building an audio system in your car.
Alpine CDA-105 Reviews
Average Customer Review:
163 Reviews
---