Alpine CDA-9853
CD player with MP3/WMA playback
Item #: 500CDA9853
This item is no longer available.
Original Price: $269.99
Need help?
Does it fit my car?
Select your car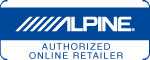 Alpine's CDA-9853 CD player features GlideTouch™ — take a close look at the bottom of the CDA-9853's faceplate. That's right — no preset buttons. Instead, you'll find a simple, white, silicon rubber strip. That's the GlideTouch panel.
It works much like the touch pad on a laptop computer. To use it, you simply slide your finger over the strip until you've found the function you want (a sound guide helps you out). Then you press it — it actually feels like you're pressing a real button. GlideTouch looks cool and gives you ultra-convenient system control, all while allowing you to keep your eyes on the road.
And don't forget, this CD player is a great performer, too. It features plenty of power (18 watts x 4 channels RMS) for robust playback, along with comprehensive Bass Engine® Pro sound controls. MediaXpander restores depth and fullness to your music, especially your digital music files. With iPersonalize, you can even adjust your system settings online at Alpine's website, burn it onto CD-R, and use that disc to set up your system automatically.
Speaking of digital music, the CDA-9853 will play your standard CDs, plus all the MP3s and WMAs you've burned on disc. For even more entertainment, built-in satellite radio controls let you connect a compatible XM or SIRIUS satellite radio (subscription and antenna also required), and enjoy the most comprehensive entertainment packages around — over 120 channels of music, sports, news, talk, entertainment, and much more.
If you're into the iPod® scene, the CDA-9853 has you covered. It's compatible with Alpine's KCA-420i iPod interface, which conveniently lets you access all your iPod's functions with the Alpine receiver's controls. And if more power is a must, don't hesitate to add amplifiers to the three sets of preamp outputs. If you connect Alpine V12 amps, you can control them right from the CDA-9853.
Product Highlights:
CD receiver with built-in amplifier (18 watts RMS/50 peak x 4 channels)
detachable, fold-down face with GlideTouch controls
plays audio CDs, CD-Rs and CD-RWs, plus discs burned with MP3 and WMA files
Bass Engine Pro sound controls with iPersonalize setup options
MediaXpander (restores clarity and detail to compressed or broadcast audio)
MaxTune SQ tuner
12 FM/6 AM presets
XM and SIRIUS Satellite Radio-ready (you can add satellite radio for under $100, plus subscription)
CD changer controls for Alpine Ai-NET changers only
compatible with Alpine's iPod interface adapter
front, rear, and subwoofer preamp outputs
Amplifier Link — can control up to 8 Alpine V12 external amps
clock
wireless remote
CEA-2006 compliant amplifier
CD frequency response: 5-20,000 Hz
CD signal-to-noise ratio: 105 dB
FM sensitivity: 9.3 dBf
warranty: 1 year
Why replace your factory radio?
Two good reasons - sound quality and cool features. A new car stereo offers power that's superior to most factory radios, along with more sophisticated tone controls. And most car stereos offer built-in or optional features that add safety and fun to life in your car, including inputs for your iPod or MP3 player, Bluetooth connectivity for hands-free cell phone calls, satellite radio or HD Radio reception, and connections for building an audio system in your car.
Alpine CDA-9853 Reviews
Average Customer Review:
45 Reviews
---
What's in the box?
CD/MP3/WMA receiver
Wiring harness
Sleeve
Trim ring
Face
Hard plastic face case
Wireless remote control (RUE-4202)
2 "AAA" batteries
4 Countersunk ISO-DIN screws (M5 x 8mm)
Face fixing screw
2 Radio removal tools
Owner's Manual
Manual correction sheets
Manual "Notes" sheet
Customer Care Registration card
Product Research
Features
CD Changer Controls
Clock Display Note
CEA-2006 Compliant: The specifications given by Alpine for the built-in amplifier comply with the CEA-2006 mobile amplifier power testing and measurement standards from the CEA (Consumer Electronics Association). All manufacturers who comply with the standard can display the CEA-2006 logo on their product.
Satellite Radio Ready: There are several options for connecting an optional XM or Sirius Satellite Radio receiver to the CDA-9853. To receive XM Satellite Radio, you can connect the optional Terk XMD1000 Universal tuner (209XMD1000) and the Terk XM Direct Smart Digital Adapter for Alpine (209XMDALP1). To receive Sirius Satellite Radio, you can connect the optional Sirius tuner for Alpine (item # 607SIRALP1) directly to the head unit. A portable satellite radio receiver, such as the Delphi SkyFi or Sirius Sportster, can be connected to the head unit via an auxiliary input adapter. A compatible antenna and a subscription are also required to receive satellite radio programming from Sirius or XM.
SwingFace Mechanism: The CDA-9853's SwingFace mechanism provides an extra large multi-colored display area for ease of viewing. The motorized faceplate not only slides down to let you insert or eject CDs, but gives you a choice of three viewing angles or fully closed.
GlideTouch Bar: The receiver features the easy-to-use GlideTouch interface for scanning through and selecting menu options, radio frequencies, and track/file titles. The GlideTouch bar has six positions, and the items or lists in the display change as you slide your finger up or down the bar. When the desired option is highlighted, a press of the bar makes the selection. You can also hold your finger on one end or the other for at least 3 seconds to scroll through the selections in either direction.
Dimmer: This unit is equipped with an illumination dimmer lead. When the unit's dimmer mode has been set to "Auto" and the illumination lead has been connected to your vehicle's headlight circuit, the display and button illumination will dim to a fixed, preset level whenever the headlights are turned on. If preferred, you may choose the "Manual" dimmer mode setting, so the display and button illumination is dim at all times.
Bass Engine Pro: Bass Engine Pro functions provide control over your system, so you can tailor the sound to your personal tastes. Bass Engine Pro includes the following functions:
6-Channel Digital Time Correction: The time correction feature allows you to create virtual speaker positions by delaying the signals being sent to the speakers closest to you. When the correct delay times have been entered for the front right, front left, rear right, rear left, subwoofer left, and subwoofer right speakers, all sounds reach your ears at the same time, providing optimized imaging and frequency response.
6-Position Digital Crossover with Adjustable Slope: The digital crossover allows you to choose from the following modes:

2-way Mode: A continuously variable 20-200Hz low-pass filter is available for the subwoofer outputs, and a continuously variable 20-200Hz high-pass filter is available for the front and rear preamp outputs. The slope for each filter can be set to 6, 12, 18, or 24dB/octave, or Flat. The level for each filter can be adjusted from 0 to -12dB.
3-way Mode: A continuously variable 20-200Hz low-pass filter is available for the subwoofer outputs, and a continuously variable 1-20kHz high-pass filter is available for the high-range speakers. The midrange speakers have a continuously variable 20Hz-20kHz low-pass filter and a continuously variable 20-200Hz high-pass filter. The slope for each filter can be set to 6, 12, 18, or 24dB/octave, or Flat. The level for each filter can be adjusted from 0 to -12dB.

EQ: You can choose between a 5-band digital parametric EQ or a 7-band graphic EQ:

5-band Digital Parametric EQ: The 5-band parametric EQ lets you select a center frequency, then adjust its output level and even the "width" of the boost or cut for precise system tuning. You can select a frequency for each of the following bands in 1/3-octave increments: Band 1 (20Hz-160Hz), Band 2 (50Hz-400Hz), Band 3 (125Hz-1kHz), Band 4 (315Hz-8kHz), and Band 5 (800Hz-20kHz). Once a frequency is selected, you can adjust its level from -6dB to +6dB in 1dB increments. The Q for each frequency can be set to 1, 1.5, or 3. In addition to the user-adjustable EQ (User's 1-6), tone presets are stored into memory, allowing you to recall the best setting for different types of music. You may choose from the following tone presets: Rock, Pops, Jazz, Electric/Dance, Hip Hop, or Flat.
7-band Graphic EQ: You can adjust each of 7 audio bands from -6dB to +6dB.

Subwoofer Level Control: The level of the subwoofer preamp outputs can be adjusted to balance the output of your subwoofer with that of your other speakers.
Subwoofer Phase Selector: The phase of the subwoofer outputs may be set to normal (0 degrees) or reverse (180 degrees); this function allows you to minimize phase cancellation of bass frequencies, for stronger bass response.

MX (MediaXpander): The MediaXpander function makes vocals or instruments sound distinct by restoring sound quality typically lost during recording or transmission; this function helps restore audio information that becomes obscured when audio is compressed. The MX function can be applied to all sources, except AM radio. There are three expansion modes for each internal source (CD, FM, Compression sources), and each source can have its own setting. There are only one or two expansion modes available for external sources.
i-Personalize: i-Personalize is an innovative way to customize select Alpine receivers to fit your specific listening needs. You log on to Alpine's website and download user preferences (based on vehicle and system type) for time correction, crossover, and Parametric or Graphic EQ. After selecting your settings, you can burn them onto a CD-R, and upload them to the head unit.
Subwoofer Output: In addition to front and rear preamp outputs, the CDA-9853 features a dedicated subwoofer preamp output. The subwoofer output has an independent volume control, and can be turned on or off.
Interrupt Feature: When a device having the interrupt feature (such as a cellular telephone) is connected to the receiver, the audio signal will be automatically muted whenever the interrupt signal is received from the device. The supplied wiring harness contains a pink Interrupt lead that needs to be connected to the device's interrupt signal connection.
MP3/WMA Playback: This unit can play CD-ROM, CD-R, and CD-RW discs containing MP3/WMA files recorded using the ISO 9660 Level 1 or Level 2 formats. MP3 files with constant and variable bit rates from 8 kbps to 320 kbps and WMA files with constant and variable bit rates from 48 kbps to 192 kbps are supported. The unit is compatible with discs containing up to 510 files/folders, with a maximum of 255 folders. ID3 tags v1 and v2, and WMA tags are supported; track title, artist name and album name ID3 tag data can be displayed.
Disc and Station Titling: Titles of up to 8 characters in length may be entered for up to 24 radio stations and 18 CDs.
Text/File/Folder Search: When you're playing a disc with CD Text, or MP3 tags, you can easily search for a track or file by its title. Once you have activated the search mode, you can slide your finger up/down the GlideTouch bar to quickly scan through the titles to locate the desired track, and select it by pressing the GuideTouch bar.
Frequency Search: In the tuner mode, you can easily and quickly tune to a desired station by performing a frequency search. When Frequency Search is activated, you can locate the desired frequency using the GlideTouch bar.
Power IC Off: When an external amplifier is connected and the built-in amplifier is not used, removing power from the built-in amplifier will improve the sound quality.
Remote Control: The receiver comes with the RUE-4202 wireless remote control. The remote can control volume, source selection, tuner and disc functions, as well as CD changer controls.
Steering Wheel Remote Compatibility: The CDA-9853 has a "steering remote control" input on the back panel. When used with the optional SWI-ALP interface (item #127SWIALP), you can retain the use of your factory steering wheel and/or rear seat radio controls when replacing the factory head unit in select vehicles. The SWI-ALP is compatible with over 95% of the vehicles made from 1986 to the present. Compatible vehicles include many Acura, Audi, BMW, Buick, Cadillac, Chevrolet, Chrysler, Dodge, Ford, GMC, Honda, Hummer, Infiniti, Isuzu, Jaguar, Jeep, Kia, Land Rover, Lexus, Lincoln, Mazda, Mercury, Mini, Mitsubishi, Nissan, Oldsmobile, Plymouth, Pontiac, Saab, Saturn, Suzuki, Toyota, and Volkswagen vehicles and Harley Davidson motorcycles. Please consult "What Fits My Car" to see if your vehicle is compatible.
Amplifier Link: The CDA-9853 has a connection for the optional Alpine Amplifier Link, which allows you to adjust settings for up to 8 compatible Alpine amplifiers from the head unit. With the KCE-511M Amplifier Link adapter, you can also display on the head unit the amplifier's voltage, operating temperature, fan status, input level, and crossover settings.
Ai-NET Compatible: An optional Ai-NET-compatible 6- or 12-disc CD changer (including MP3 Changers) may be connected to, and controlled by, the CDA-9853. With the KCA-410c Versatile Link Terminal (item # 500KCA410C), you can control multiple changers with this unit.
iPod-Ready: An iPod or iPod Mini can be controlled from this unit when connected via the KCA-420i Alpine Interface Adapter for iPod (item # 500KCA420i). While connected to the head unit, the iPod's battery is charged, and the artist/song title information is displayed on the face of the head unit. The unit's Quick Search feature allows you to search by playlist, album name, artist name, or song title. Random and repeat play functions are also available.
Optional Auxiliary Input: With the optional KCA-121B Ai-NET/RCA interface cable or KCA-410C Versatile Link Terminal, you can input audio from an auxiliary source unit, such as a TV, VCR or portable unit.
Clock Operation: This unit allows you to choose "keyed" or "unit on" clock operation. When the clock has been given display priority and the unit is turned off, the clock will be displayed whenever the ignition key is in the "on" or "accessory" position. If the clock is not given display priority, the clock is not displayed when the unit is off.
Our Product Research Team
At Crutchfield, you'll get detailed, accurate information that's hard to find elsewhere. That's because we have our own in-house Product Research team. They verify what's in the box, check the owner's manual, and record dimensions, features and specs. We stay on top of new products and technologies to help people make informed choices.