Alpine CDA-9886
CD receiver
Item #: 500CDA9886
This item is no longer available.
Original Price: $259.99
Need help?
Does it fit my car?
Select your car
Alpine excellence in your dash
The CDA-9886 CD receiver furthers Alpine's top-notch reputation for excellent sound. Its strong internal amp delivers powerful output, and you can shape the sound with Bass Engine® sound controls — a 2-band parametric equalizer, plus a low-pass filter for your subwoofer. The stereo also features a high-pass filter that'll keep your full-range speakers clear by eliminating the low bass that they can't handle.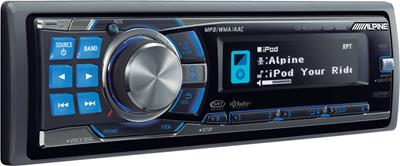 ---
User-friendly controls and features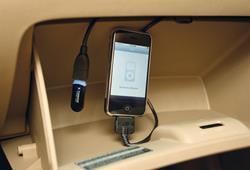 The 2-line BioLite display delivers text that's easy to read anywhere in the car. Alpine's included KCE-422i iPod® cable lets you connect your iPod and use the Percentage Search function to find your favorite songs fast — just tap the radio preset buttons to jump quickly through sections of your playlist. You'll also find a built-in USB input ready for your thumb drives or USB-equipped music players (except iPod).
---
Tune your system to perfection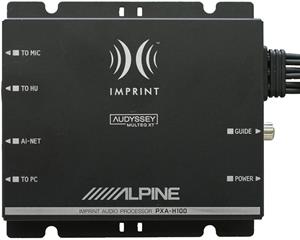 The CDA-9886 offers three sets of preamp outputs for connecting an amplified system. The combination of Alpine's PXA-H100 IMPRINT sound processor and the KTX-H100 tuning kit you'll turn your vehicle into the perfect listening space — the IMPRINT measures your car's acoustics and adjusts the stereo's settings automatically to create a perfect audio environment.
---
Note: If you're going to use your iPod with this receiver, be sure to check "Hands-on Research" for specific iPod model compatibility with this receiver or its optional iPod adapter.
---
Information provided by Alpine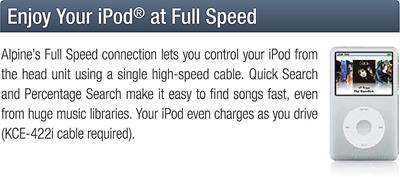 ---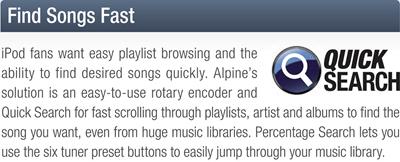 ---
Product Highlights:
General features:
CD receiver with built-in amplifier (18 watts RMS CEA-2006/50 peak x 4 channels)
plays CDs, CD-Rs, and CD-RW discs, including discs loaded with MP3, WMA, and AAC music files (except Digital Rights-protected files)
fold-down, detachable face with a 2-line BioLite display
remote control
Audio features:
Bass Engine (bass center frequency, width, and level, plus treble center frequency and level adjustments)
high-pass filter (speakers and front/rear preamp outputs)
Expandability:
compatible with: Alpine Bluetooth® adapter, satellite radio, HD Radio™ tuner, CD changer
compatible with Alpine's PXA-H100 IMPRINT audio processor and KTX-H100 tuning kit
inputs: USB input, includes KCE-422i iPod control cable, optional aux input
outputs: three sets of 4-volt preamp outputs (subwoofer output has bass level control)
compatible with most factory steering wheel audio controls (adapter required)
Other features and specs:
Why replace your factory radio?
Two good reasons - sound quality and cool features. A new car stereo offers power that's superior to most factory radios, along with more sophisticated tone controls. And most car stereos offer built-in or optional features that add safety and fun to life in your car, including inputs for your iPod or MP3 player, Bluetooth connectivity for hands-free cell phone calls, satellite radio or HD Radio reception, and connections for building an audio system in your car.
Alpine CDA-9886 Reviews
Average Customer Review:
145 Reviews
---
What's in the box?
CD/MP3/WMA/AAC receiver
Wireless remote control (RUE-4202)
2 "AAA" batteries
Wiring harness
Sleeve
Trim ring
Face
Hard plastic face case
KCE-422i Alpine Full Speed connection cable for iPod
4 Flat-head ISO-DIN screws (M5 x 8mm)
Face fixing screw
2 Radio removal tools
Owner's Manual CD-ROM (English/French/Spanish)
Quick start/Wiring guide (English/French/Spanish)
Customer Care Registration card
CD-ROM Requirements/Instructions
Product Research
Display Features
Audio Section
Sound Processing
CD Playback
External Device Connection
Remote Control
Display Features
BioLite Display: The crisp, clear, white on black BioLite display uses biochemical luminescence technology that provides outstanding visibility even in daylight. It is 40% brighter than normal displays, with higher resolution and better contrast. In addition, it has a much wider viewing angle than conventional displays.
Background Animation Displays: You can select from 4 different animated background displays: falling Vs, glimmering water surface, gears, or pulsating shapes (hearts, diamonds, musical notes, stars, etc). The animation displays can be turned off for a plain black background.
Dimmer: This unit is equipped with an illumination lead; when the unit's dimmer mode is set to Auto and the illumination lead is connected to your vehicle's headlight circuit, the display and button illumination will dim to a fixed, preset level whenever the headlights are turned on. If preferred, you may choose the Manual dimmer mode setting, so the display and button illumination is dim at all times.
Blackout: To reduce power consumption you can turn off the display and button back lighting. When the Blackout Mode is turned on the display will illuminate f