Alpine CDE-103BT
CD receiver
Item #: 500CDE103B
This item is no longer available.
Original Price: $169.99

Need help?
Does it fit my car?
Select your car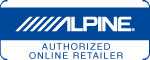 Hands-free calling and outstanding tone
Alpine's CDE-103BT CD receiver gives you built-in Bluetooth® for making safer hands-free calls in your car. When a call comes in, the stereo mutes your music so you can conduct your conversation over your speakers. When the call ends, playback resumes. Most importantly, you can keep your eyes on the road and your hands on the wheel while talking.
---
Lots of ways to rock your tunes
The CDE-103BT also offers front-panel USB and auxiliary inputs, giving you lots of playback options in addition to the CD slot. Connect an MP3 player or satellite radio to the auxiliary input, or plug a thumb drive loaded with music files into the USB input — either way, you've got plenty of entertainment to keep you company on the road.
Add Alpine's optional cable, and you'll get complete control over your iPod® or iPhone® right on the stereo. Alpine's unique Percentage Search feature gets you through your playlist at warp speed, so you can find the song you want in no time.
---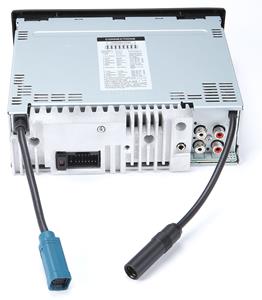 Build a system
You'll find the two sets of preamp outputs handy for adding amps and subs to create a high-performance system. You can use the adjustable bass and treble controls to fine-tune your sound, while a built-in high-pass filter lets you remove low bass from your speakers, allowing your system to run more efficiently and sound better. Many stereos only let you adjust your subwoofer level, but the CDE-103BT gives you control over the bass bandwidth and frequency, so you can tweak your system's low end to perfection.
---
iPod Note: If you're going to use your iPod with this receiver, be sure to check "Hands-on Research" for specific iPod model compatibility with this receiver or its optional iPod adapter.
Bluetooth note: Bluetooth compatibility of this device may vary, depending on your phone and service provider.
Note: Sorry, Crutchfield cannot ship Alpine products to Guam or Puerto Rico.
Product Highlights:
General features:
CD receiver with built-in amplifier (18 watts RMS CEA-2006/50 peak x 4 channels)
plays CDs, CD-Rs, and CD-RW discs, including discs loaded with MP3, WMA, and AAC music files
detachable face
built-in Bluetooth (microphone included)
selectable button illumination (amber, blue, green, red)
Audio features:
bass center frequency, width, and level controls
high-pass filter
Expandability:
works with with Alpine's iPod adapter
inputs: front-panel USB and auxiliary inputs
outputs: 4-channel preamp outputs (front, rear/sub) — rear outputs switchable to subwoofer mode with bass level control
Other features and specs:
Why replace your factory radio?
Two good reasons - sound quality and cool features. A new car stereo offers power that's superior to most factory radios, along with more sophisticated tone controls. And most car stereos offer built-in or optional features that add safety and fun to life in your car, including inputs for your iPod or MP3 player, Bluetooth connectivity for hands-free cell phone calls, satellite radio or HD Radio reception, and connections for building an audio system in your car.
Alpine CDE-103BT Reviews
Average Customer Review:
113 Reviews
---
What's in the box?
AM/FM/CD receiver
Wiring harness
Sleeve
Trim ring
Face
Microphone with attached 13' cable terminated by a right-angle 3.5mm connector
Microphone clip
Hard plastic face case
4 Flat-head ISO-DIN screws (M5 x 8mm)
Face fixing screw
2 Radio removal tools
Owner's Manual (Eng/Fre/Spa)
Customer Care Registration card
Product Research
Overview: The Alpine CDE-103BT features a built-in AM/FM tuner and supports playback of MP3/WMA/AAC on CD-R/RW discs and displays ID3-Tag and CD-Text information. This full featured deck is easy and intuitive to use thanks to its rotary knob, sleek LCD display and switchable illumination buttons. This unit also comes with a convenient front-panel auxiliary and USB input, so you can plug in your portable media player via a 3.5mm or USB type-A connection. In addition, The Alpine CDE-103BT offers built-in Bluetooth and supports iPod control (optional iPod adapter required, sold separately).
Display Features
Audio Section
Radio Functions
Disc Playback
Aux/USB/iPod Connection
Bluetooth Control
Display Features
Detachable Face: The unit features a single front loading CD face that detaches from the chassis to deter theft. The CD player comes supplied with a hard plastic face case to protect the detachable face when you have it off the chassis. A face-fixing screw is supplied for making the face non-detachable, if desired.
Dimmer: This unit is equipped with an illumination lead; when the unit's dimmer mode is set to Auto and the illumination lead is connected to your vehicle's headlight circuit, the display and button illumination will dim to a fixed, preset level whenever the headlights are turned on. If preferred, you may choose the Manual dimmer mode setting, so the display and button illumination is dim at all times.
Switchable Button Illumination: You can change the lighting color of the unit's front-panel buttons. You can choose between four settings.
Type1: When the color of the four main buttons is blue, the color of the other buttons are red.
Type2: When the color of the four buttons is green, the color of the other buttons is green.
Type3: When the color of the four buttons is amber, the color of the other buttons is red.
Type4: When the color of the four main buttons is red, the color of the other buttons is red.
Audio Section
CEA-2006 Compliant: The specifications given by Alpine for the built-in amplifier comply with the CEA-2006 mobile amplifier power testing and measurement standards from the CEA (Consumer Electronics Association). All manufacturers who comply with the standard can display the CEA-2006 logo on their product.
CEA-2006 Power Rating: 18 watts x 4-channel
Max Power Output: 50 watts x 4-channel (200 total watts)
Sound Settings: The Sound Setting functions provide control over your system, so you can tailor the sound to your personal tastes:
Bass Control: Adjusts low frequencies.

Bass Center Frequency: 60Hz, 80Hz (default), 100Hz, or 200Hz
Bass Band Width: 1 (narrow) to 4 (wide)
Bass Level: -7 to +7 (+/-14dB in 2dB steps)

Treble Control: Adjusts high frequencies.

Treble Center Frequency: 10kHz (default), 12.5kHz, 15kHz, or 17.5kHz
Treble Level: -7 to +7 (+/-14dB in 2dB steps)

High Pass Filter (HPF): The speaker level and front line level outputs have a selectable crossover (HPF); Off (default), 60Hz, 80Hz, or 100Hz
Loudness: Loudness introduces a special low and high frequency emphasis at low listening levels to compensate for the ear's decreased sensitivity to bass and treble sound at low volume
Dual Preamp Outs: There are two sets of preamp outputs; one is front and the other is switchable between rear and subwoofer. Both are 2 volt/10 kΩ. When the subwoofer is turned on (the second preamp output is set to sub) its output level is adjustable from 0 to 15. You can select either System1 or System2 for the desired subwoofer effect.
Subwoofer System 1: Subwoofer level changes according to the main volume setting.
Subwoofer System 2: Subwoofer level change is different from the main volume setting; even at low volume settings, the subwoofer is still audible.
Power IC Off: When an external amplifier is powering all the speakers in the system, you can turn the internal amp off, which will improve the sound quality.
Audio Mute: Activating the Audio Mute function will instantly lower the volume level by 20 dB.
Interrupt Feature: When a device having the interrupt feature (such as a cellular telephone) is connected to the receiver, the audio signal will be automatically muted whenever the interrupt signal is received from the device. The supplied wiring harness contains a pink/black Interrupt lead that needs to be connected to the device's interrupt signal connection.
Radio Functions
AM/FM Tuner: The Alpine CDE-103BT features a built-in AM/FM tuner.
Preset Tuning: The built-in tuner provides 12 FM and 6 AM preset stations. Stations can be preset manually or automatically.
Disc Playback
MP3/WMA/AAC Playback: This unit can play CD-ROM, CD-R, and CD-RW discs containing MP3, WMA, and AAC files recorded using the ISO 9660 Level 1 or Level 2 formats. MP3 files with bit rates from 8 kbps to 320 kbps, WMA files with bit rates from 48 kbps to 192 kbps, and AAC files with bit rates from 16 kbps to 320 kbps are supported. Variable bit rates are also compatible. Up to a maximum of 255 folders and 510 files per folder can be read from one disc. ID3 tags v1 and v2, and WMA tags are supported; track title, artist name, and album name ID3 tag data can be displayed.
Text/File/Folder Quick Search: When you are playing a disc with CD Text, ID3, or WMA tags, you can easily search for a track, file, or folder by its title. Once you have activated the search mode, you can use the rotary encoder to quickly scan through the titles to locate the desired track. For discs without CD Text, ID3 or WMA tags, searches are made using the track numbers associated with each song.
Angle Mounting: For proper CD playback, Alpine recommends mounting the CDE-103BT no more that 35° above horizontal.
Aux/USB/iPod Connection
Auxiliary Input: The front panel input is a 3.5mm mini-jack. You can input audio from an auxiliary source unit; such as a TV, DVD player, or portable unit. You can change the name on the display to match the type of device connected to the front panel input; Auxiliary, TV, DVD, Portable, or Game.
USB Port: The Alpine CDE-103BT features a front-panel USB type-A port so you may connect a USB memory device to this head unit. Your connected USB memory device may contain MP3 (8-320 kbps), WMA (48-192 kbps), or AAC (16-320 kbps) music files formatted in FAT 12/16/32. This unit will recognized up to 100 folders and 100 files per folder. The head unit will play back files on a USB memory devices with the same controls and modes as playback of CDs containing MP3, WMA, and AAC audio files.
Note: The head unit's USB port does not support Apple iPod or iPhone.
iPod Full Speed Ready: You can connect your iPod or iPhone to the head unit's rear-panel proprietary iPod Full Speed port (attached to rear chassis via 4" pigtail) using the optional Alpine KCE-433iV iPod Full Speed adapter cable (500KCE433I, sold separately), and get access to all of your iPod's stored music, right from the head unit. With the optional Full Speed iPod cable you get convenient control so you can scroll through all your Playlists, Artists, Albums, and Songs; and view all your song information right from the display on the head unit. When operating your iPod through the Full Speed connection, you can use the Direct Search function in Playlist, Artist, Album, or Song mode to quickly locate your music. For especially big music libraries, Percentage Search function uses the preset buttons for quick jumps to specific parts of the list (Preset 1: 0% to 16%, Preset 2: 17% to 32%, Preset 3: 33% to 49%, Preset 4: 50% to 66%, Preset 5: 67% to 82%, Preset 6: 83% to 100% of the song library). Save yourself from scrolling through each song one by one, when you can just jump to a segment of your library with a touch of a button. The head unit will also charge your iPod or iPhone when connected via the optional Full Speed iPod cable. The Alpine Alpine CDE-103BT is "Made for iPod/iPhone" compatible when connected via the Alpine KCE-433iV iPod Full Speed adapter cable and supports the following iPod/iPhone model features (as of Dec. 2009):
Model
Generation
Media Type
Control Type
Display Type
Charge
Audio
Video
Unit
iPod
Song/Artist Text
Track Info
dock connector
3rd
N
N
N
N
N
N
N
clickwheel
color
4th
N
N
N
N
N
N
N
mini
1st
N
N
N
N
N
N
N
2nd
N
N
N
N
N
N
N
video
5th
Y
N
Y
N
Y
Y
Y
classic
80GB
Y
N
Y
N
Y
Y
Y
120GB
Y
N
Y
N
Y
Y
Y
160GB
Y
N
Y
N
Y
Y
Y
nano
1st
Y
N
Y
N
Y
Y
Y
2nd
Y
N
Y
N
Y
Y
Y
3rd
Y
N
Y
N
Y
Y
Y
4th
Y
N
Y
N
Y
Y
Y
5th
Y
N
Y
N
Y
Y
Y
6th
Y
N
Y
N
Y
Y
Y
touch
1st
Y
N
Y
N
Y
Y
Y
2nd
Y
N
Y
N
Y
Y
Y
3rd
Y
N
Y
N
Y
Y
Y
4th
Y
N
Y
N
Y
Y
Y
iPhone
2G
Y
N
Y
N
Y
Y
Y
3G
Y
N
Y
N
Y
Y
Y
3GS
Y
N
Y
N
Y
Y
Y
4
Y
N
Y
N
Y
Y
Y
Note: Apple iPod/iPhone software updates may change functionality results. If you download a newer software version, you may need to reset the head unit and your iPod/iPhone to regain functionality. If this doesn't work, you may need to revert to the older software version or wait until an newer software update is available.
Bluetooth Control
Built-in Bluetooth: The Alpine CDE-103BT has built-in Parrot Bluetooth capability and supports hands-free phone control for the iPhone and other Bluetooth-enabled mobile phones. Featuring Parrot Bluetooth capability, the CDE-103BT gives you hands-free operation of your Bluetooth-enabled mobile phone with full phone book access. The Alpine CDE-103BT can be paired to up to five Bluetooth enabled mobile devices (only one device can be used at a time). The included external microphone (with visor-clip) allows you to speak to the other party on the telephone call hands-free, while the other party's voice is played through your car stereo speakers. The CDE-103BT features a noise cancellation function to ensure that your calls are heard clearly. The Alpine CDE-103BT features full phone book access, call history, voice tag dialing and auto answer with compatible phones.
Note: Parrot software updates provide support for future phones. This unit does not offer Bluetooth audio streaming.
Placing Calls: The Alpine CDE-103BT provides a variety of functions for placing a phone call without using your mobile phone.
Redial: press the phone button within 5 seconds of ending a call
Call History: the 10 previously dialed, received or missed numbers can be retrieved and dialed from memory
Phonebook: up to 1,000 entries can be downloaded from your phone
Voice Dialing: if you have a voice-dial capable phone, you can dial a phone contact just by speaking the name of your contact
Receiving Calls: The Alpine CDE-103BT provides a couple ways to answer your phone calls without picking up your mobile phone. Incoming call are announced by the received call ring tone through your vehicle's speakers and a displayed message (Phone No.) across your Alpine head unit's display.
Manual Answer: manually answer an incoming call by pressing the "Phone" button on your Alpine head unit
Automatic Answer: set your Alpine head unit to answer the incoming call automatically; when a call is received, it is answered automatically after about 5 seconds
Our Product Research Team
At Crutchfield, you'll get detailed, accurate information that's hard to find elsewhere. That's because we have our own in-house Product Research team. They verify what's in the box, check the owner's manual, and record dimensions, features and specs. We stay on top of new products and technologies to help people make informed choices.