Alpine CDE-134HD
CD receiver
Item #: 500CDE134H
140 Reviews | 13 questions - 54 answers
This item is no longer available.
Original Price: $99.99
Need help?
Does it fit my car?
Select your car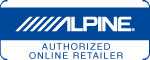 Ride with HD Radio™
Alpine designed the CDE-134HD CD receiver for all you AM/FM radio lovers. Its built-in HD Radio tuner lets you dial in digital HD Radio broadcasts to get FM that sounds almost as good as a CD, and AM that sounds like traditional FM — a huge leap forward in sound quality. Plus HD Radio stations can take advantage of multicasting, which lets them broadcast multiple channels on the same frequency — giving you more listening options.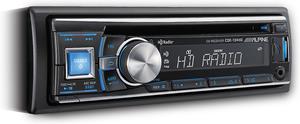 Great for your iPod® and iPhone®
Plug in your player to the front-panel USB input, and you can use the CDE-134HD's controls to navigate your iPod's music library. The person riding shotgun will love Passenger Control Mode, which lets them play DJ while you focus on driving. While your iPod's connected and you've got an HD Radio broadcast tuned in, you can "tag" songs you hear for later purchasing from the iTunes® store.
Awesome sound quality
And as always, you can count on Alpine to deliver great sound quality. You can adjust your sound to taste with one of the ten equalizer presets or by using the 3-band parametric EQ. Into power? This receiver works with Alpine's KTP-445A Power Pack, a plug-in amplifier that sends 45 watts RMS to each of your front and rear speakers.
iPod note:
If you're going to use your iPod with this receiver, be sure to check "Details" for specific iPod model compatibility.
Product Highlights:
General features:
CD receiver with AM/FM tuner
built-in MOSFET amplifier (18 watts RMS CEA-2006/50 peak x 4 channels)
built-in HD Radio tuner
Audio features:
3-band parametric equalizer with ten presets
high-pass filter (speaker/preamp outputs) and low-pass filter (preamp outputs)
Expandability:
inputs: front USB port, front auxiliary input
outputs: 2-channel preamp outputs (2-volt switchable front/subwoofer)
Other features and specs:
Why replace your factory radio?
Two good reasons - sound quality and cool features. A new car stereo offers power that's superior to most factory radios, along with more sophisticated tone controls. And most car stereos offer built-in or optional features that add safety and fun to life in your car, including inputs for your iPod or MP3 player, Bluetooth connectivity for hands-free cell phone calls, satellite radio or HD Radio reception, and connections for building an audio system in your car.
Alpine CDE-134HD Reviews
Average Customer Review:
140 Reviews
---