Alpine CDE-135BT
CD receiver
Item #: 500CDE135B
This item is no longer available.
Original Price: $129.99

Need help?
Does it fit my car?
Select your car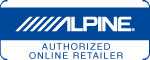 Pandora® control for Android™ and BlackBerry
Pandora lovers, good news: you can bring your stations in the car and play them through your speakers with Alpine's CDE-135BT CD receiver — all it takes is the free Pandora app and your Android or Blackberry smartphone. Android and BlackBerry users can connect via Bluetooth® and get full control over Pandora from the dash — while the app runs on your phone, you can change stations, skip and tag songs, and give a "thumbs up" or "thumbs down" with the Alpine's controls.
Talk hands-free
Your callers will hear you loud and clear with the CDE-135BT fielding your calls. First, you can mount the included microphone somewhere in front of you so it'll have no problem picking up your voice. Next, the receiver lets you adjust the mic's gain to best match your speaking voice. You can also tweak the phone output and ring volume, so you won't go diving for the volume knob every time someone calls.
When a call comes in, you'll see your caller's phone number on the screen. You can answer the call by tapping the phone button on the front panel, or set up the receiver to answer all calls automatically. If someone else calls in, just tap the "2" key to activate call waiting.
Stream your tunes, too
If your phone or another device supports Bluetooth music streaming, you can beam your tunes and control playback with the CDE-135BT. Alpine's Sound Expansion technology helps your streaming tunes sound their best.
Great for your iPod® and iPhone®
You can use the CDE-135BT's controls to navigate your iPod's music library, thanks to a convenient front-panel USB input. Passengers will love Passenger Control Mode, which lets them play DJ while you focus on driving. And let's not forget about what made Alpine famous in the first place — great sound quality. You can adjust your sound to taste with one of the ten equalizer presets or by using the 3-band parametric EQ.
Want to keep your steering wheel controls?
In most vehicles, you can use an adapter (not included) to connect your vehicle's steering wheel controls to this Alpine stereo. Connect a few wires, then program the adapter for your particular car and the Alpine, and you'll retain the convenience of your steering wheel controls. Check the "Accessories" tab for compatible adapters.
Bluetooth note: Use of this receiver's Bluetooth features will depend upon your phone's Bluetooth capabilities. Learn more in our article explaining Bluetooth profiles.
iPod note: If you're going to use your iPod with this receiver, be sure to check "Details" for specific iPod model compatibility with this receiver or its optional iPod adapter.
Product Highlights:
General features:
CD receiver with AM/FM tuner
built-in MOSFET amplifier (18 watts RMS CEA-2006/50 peak x 4 channels)
built-in Bluetooth for hands-free calling and audio streaming
full Pandora control for Android and BlackBerry over Bluetooth
plays all CDs and MP3 files
Audio features:
3-band parametric equalizer with ten presets
high- and low-pass filters, subwoofer phase switch
Expandability:
inputs: front USB port, front auxiliary input
outputs: 2-channel preamp outputs (2-volt front/subwoofer)
Other features and specs:
compatible with most factory steering wheel audio controls (adapter required)
CEA-2006 compliant amplifier
warranty: 1 year
Why replace your factory radio?
Two good reasons - sound quality and cool features. A new car stereo offers power that's superior to most factory radios, along with more sophisticated tone controls. And most car stereos offer built-in or optional features that add safety and fun to life in your car, including inputs for your iPod or MP3 player, Bluetooth connectivity for hands-free cell phone calls, satellite radio or HD Radio reception, and connections for building an audio system in your car.
Alpine CDE-135BT Reviews
Average Customer Review:
99 Reviews
---