Alpine CDE-154BT
CD receiver
Item #: 500CDE154B
79 Reviews | 7 questions - 31 answers
This item is no longer available.
Original Price: $169.99

Need help?
Does it fit my car?
Select your car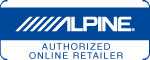 Great sound — for your car
Alpine has built its reputation on producing a stellar in-car audio experience, and the CDE-154BT CD receiver builds on that tradition with innovative technology. For instance, you can download the Alpine TuneIt App smartphone app to your iPhone® or Android™ smartphone and take charge of this Alpine's extensive sound adjustment capabilities. You'll see a simple touchscreen interface that lets you adjust settings yourself, or you can apply settings created by Alpine for your specific vehicle. You can even share your settings with other users through Facebook, and check out settings others have created for your vehicle.
Better Bluetooth audio streaming
The CDE-154BT combines distinctive Alpine styling with a 2-line display.
The CDE-154BT features built-in Bluetooth for hands-free calling and audio streaming. Thanks to receiver's Bluetooth microphone, you can access Siri with Alpine's Eyes Free mode when your compatible iPhone is linked to the receiver — letting you keep your eyes on the road while you interact with your iPhone. If you've been less than thrilled with the sound of streaming audio in the past, Alpine's exclusive Digital Signal Processing technology improves the sound of streaming music or stored music files sent from your device to the receiver.
More sound options
If you're looking to add some punch to your tunes, press the Bass Engine SQ button for easy access to the receiver's sophisticated bass controls, including five bass profiles that you can customize through the Alpine TuneIt App. And if you're tired of having that great FM station fade away, you can add an optional SiriusXM tuner to enjoy the unparalleled variety of music, news, sports, and talk programming that follows you wherever you drive.
Want to keep your steering wheel controls?
In most cars, you'll need an adapter to retain those controls with this car stereo. Connect a few wires, then program the adapter for your particular car and radio, and you'll retain the convenience of your steering wheel controls. You'll see the adapters that work with your vehicle when you add this receiver to your cart.
Bluetooth note: Use of this receiver's Bluetooth features will depend upon your phone's Bluetooth capabilities. Learn more in our article explaining Bluetooth profiles.
iPod/smartphone note: If you're going to use your iPod or smartphone with this receiver, be sure to check "Details" for compatibility information.
Product Highlights:
General features:
CD receiver with AM/FM tuner
built-in MOSFET amplifier (18 watts RMS CEA-2006/50 peak x 4 channels)
plays CDs, including discs loaded with MP3 and WMA files
2-line display with variable color illumination
Bluetooth hands-free calling and audio streaming
Siri integration with Eyes Free mode
built-in iPod, iPhone, and iPad control (see Details tab for model compatibility)
App Direct mode
Alpine TuneIt App Ver. 2.0 compatible
optional remote control
Audio features:
9-band parametric equalizer with 11 presets
Bass Engine SQ button with choice of five bass profiles
high- and low-pass filters with subwoofer level and phase control
Expandability:
compatible with SiriusXM satellite radio tuner
inputs: rear USB port and front auxiliary input
outputs: 6-channel preamp outputs (4-volt front, rear, subwoofer)
Other features and specs:
compatible with most factory steering wheel audio controls (adapter required)
CEA-2006 compliant amplifier
warranty: 1 year
Why replace your factory radio?
Two good reasons - sound quality and cool features. A new car stereo offers power that's superior to most factory radios, along with more sophisticated tone controls. And most car stereos offer built-in or optional features that add safety and fun to life in your car, including inputs for your iPod or MP3 player, Bluetooth connectivity for hands-free cell phone calls, satellite radio or HD Radio reception, and connections for building an audio system in your car.
Alpine CDE-154BT Reviews
Average Customer Review:
79 Reviews
---
What's in the box?
CD receiver (10A fuse)
Sleeve (installed)
Trim ring (installed)
Face (attached)
Wiring harness
5' USB extension cable
Microphone (w/ attached 13' cable terminated by a right-angle male 3.5mm connector)
Sun-visor bracket
4 Flat-head ISO-DIN screws (M5 x 8mm)
2 Radio removal tools
Face-fixing screw
Face case
Owner's Manual CD-ROM
Quick Reference Guide (En/Fr/Sp)
Online Product Registration
Computer Requirements booklet
SiriusXM note
Product Research
Built-in Bluetooth
Disc & USB
iPod/Aux Integration
AM/FM+Pandora+SiriusXM Radio
Audio Section
Display Features
Remote Control
Built-in Bluetooth
Bluetooth Technology: The Alpine CDE-154BT features built-in Bluetooth (ver. 2.1+EDR) technology. The head unit's built-in Bluetooth allows you to make and receive phone calls wirelessly through the receiver; as well as stream music wirelessly from your smartphone to the head unit. In order to use Bluetooth wireless technology, your phone must also be Bluetooth compatible and be able to interpret certain profiles. This unit is compatible with the following Bluetooth Profiles:
Hands-Free Communication: HFP 1.5 (Hands Free Profile), HSP (Head Set Profile), OPP 1.1 (Object Push Profile), PBAB 1.0 (Phone Book Access Profile).
Audio Streaming: A2DP 1.2 (Advanced Audio Distribution Profile), AVRCP 1.4 (Audio/Video Remote Control Profile).
Note: Due to the differences in Bluetooth technology, some Bluetooth enabled devices may be incompatible, function improperly, or may not support all features when used with the Alpine CDE-154BT.
Secure Simple Pairing (SSP) + Auto Pairing (for iPhone): With Secure Simple Pairing (SSP), you can easily pair a Bluetooth enabled phone to the Alpine CDE-154BT without having to enter pin codes or go through complicated settings. When a registered Bluetooth device is in close proximity to the receiver, the auto connection function automatically pairs the two units. You can register up to three Bluetooth-enabled devices with the Alpine head unit (only one device can be used at a time). You can also pair your Apple iPhone (iOS 5.0+) by simply connecting it to the Alpine head unit via USB and following a single prompt on the head unit's display.
Hands-Free Communication: The head unit supports Bluetooth hands-free communication for your Bluetooth enabled mobile phone (including iPhone & Android). The controls of the CDE-154BT can be used to dial a number, answer an in-coming call, or end a call. The unit also includes an external microphone, so you can carry on your side of the conversation while listening to the caller through your vehicles speakers. During a conversation, you can initiate a transfer of audio between your mobile phone and your car's speakers.
Receiving Calls: The Alpine CDE-154BT provides a couple ways to answer your phone calls without picking up your mobile phone. Incoming calls are announced by a caller ring tone through your vehicle's speakers (music will be muted) & a Caller ID message across your Alpine head unit's display.

Manual Answer: Manually answer an incoming call by pressing the "Phone" button on your Alpine head unit.
Automatic Answer: Set the Alpine head unit to answer the incoming call automatically; when a call is received, it is answered automatically after approximately 5 seconds.
Call Waiting: If a second call is received during a current call, you can have the first caller wait momentarily while you take the second call. When you are finished with one call, you can switch to the other.

Placing Calls: The Alpine CDE-154BT provides a variety of functions for placing a phone call without using your mobile phone. The Alpine CDE-154BT features full phone book access, call history, voice tag dialing, and redial with compatible phones.

Voice Dialing: If you have a voice-dial capable phone, you can dial a phone contact by simply speaking the name of your contact.
Phonebook (with ABC search): Up to 1,000 contacts (5 telephone numbers for each name) can be downloaded from your compatible mobile phone. You can select the first 3 call letters (ABC) to search for a desired name in your phonebook.
Preset Dialing: You can assign phone numbers that you dial frequently to presets (1-6) for quick recall. You can assign up to six frequently called phone numbers. A total of 18 phone numbers can be stored in the preset memory (6 numbers for each mobile phone paired).
Call History: The previously dialed, received, or missed numbers (20 each) can be retrieved and dialed from memory.
Note: The external microphone is tuned and engineered to reduce noise interference and feedback. This allows optimal placement in your car, for the best possible sound quality. You can adjust the microphone's volume level; and even mute the microphone, so your voice will not be heard by the caller. The external microphone measures 0.5625" (diameter) x 1.625" (deep); and features an attached 13' cable terminated by a right-angle male 3.5mm connector.
Audio Streaming (w/ Advanced Music Navigation): The Alpine CDE-154BT can stream music from your Bluetooth A2DP/AVRCP mobile device. Not only can it control & stream your music through Bluetooth, it can process your music using its built-in DSP Sound Expansion to ensure you get the best sound. In addition to basic playback functions (Play/Pause, FF/RW, Skip, Random/Repeat), the CDE-154BT provides a Search List of your stored music by Playlist, Artist, Album, Song, Genre, etc.. (AVRCP 1.4 phones only). The head unit will also display your stored music's song information; such as Artist name & Song/Album title. The CDE-154BT even supports audio streaming of music apps on your Bluetooth-enabled smartphone with limited control and song/artist information. You will continue to use your Bluetooth enabled smartphone to control advanced music navigation.
Note: When an incoming call or outgoing call is in progress from your Bluetooth enabled mobile phone, audio streaming will be paused so you can take your call. Once the call is finished, your streaming music will resume.
Bluetooth Sound Quality Adjustments: You can customize the sound of your Bluetooth hands-free experience to fit your own preferences. You can adjust the CDE-154BT's mic gain, phone output, & ring tone volume. If that's not enough, there are 5 sound quality settings to choose from to get the balance just right for you. This flexibility will make your phone calls a pleasurable experience.
Volume Adjustments: You can emphasize or weaken the volume level of phone call, the ring tone, and the microphone input to fit your own preference. The Phone Talk Level, Ring Tone, & Mic Gain are all adjustable between -5 to + 5 dB.
Sound Types: This unit provides 5 methods to improve the sound quality of your calls. You can choose the type according to your own preference - Type 1 (standard mode), Type 2 (enhances noise reduction), Type 3 (enhances echo-cancellation), Type 4 (enhances both noise reduction & echo cancellation), & Type 5 (weakens both noise reduction & echo-cancellation).
Speaker Output: You can select which car speaker outputs the audio from your Bluetooth-enabled mobile phone/device.
All: The audio will be output from all of the speakers in the car
F-L: The sound is only output from the front left speaker.
F-R: The sound is only output from the front right speaker.
F-LR: The sound is output from the front left and front right speakers.
Disc & USB Playback
Disc Compatibility: The unit features a single disc player that will playback CD-Audio and finalized CD-R/CD-RW audio discs. The unit also supports playback of MP3/WMA music files loaded onto CD-R/RW discs.
Rear-Panel USB Port: The Alpine CDE-154BT features a rear-panel USB (type-A) port attached to the rear chassis by a 9" cord and includes a 5' USB extension cable. The USB port enables connection of a portable USB mass-storage class (MSC) devices; such as select Android smartphones (Froyo/Gingerbread OS only), portable digital audio players, or USB thumbdrives. The USB port supports audio playback and control of MP3/WMA audio files stored on these portable USB mass-storage class devices. USB portable audio players that can be charged via USB will be charged when plugged into the CD receiver's USB port (max. 1A), and the vehicle's ignition switch is set to ACC or On.
MP3/WMA Playback: The Alpine CDE-154BT supports the following types of MP3/WMA files recorded onto CD-R/RW disc or loaded onto a USB mass storage class device.
Media Type
CD-R/RW
USB MSC
File System
ISO 9660 Level 1/2, Joliet, Romeo
FAT 12/16/32
Playable File Types
MP3: bit rate of 8-320 kbps w/ sampling frequency of 8, 11.025, 12, 16, 22.05, 24, 32, 44.1, 48 kHz
WMA: bit rate of 32-192 kbps w/ sampling frequency of 32, 44.1, 48 kHz
Maximum # of Folders/Files
255 folders/509 files
100 folders/100 files per folder
Tags
ID3 tags (ver.1.0/1.1/2.2/2.3/2.4), WMA tags
Text/File/Folder Search: When you are playing a disc or USB device with ID3 or WMA tags, you can easily search for a track, file, or folder by its title. Once you have activated the search mode, you can use the rotary encoder to quickly scan through the titles to locate the desired track. For discs and USB devices without ID3 or WMA tags, searches are made using the track numbers associated with each song.
Playback Modes: The Alpine CDE-154BT offers Repeat and Random playback modes.
Repeat: Repeat Play (repeats playback of current track/file), Folder Repeat (repeats only files in current folder).
Random: Random Play (all tracks/files on disc are played in random order), Folder Random (only files in current folder are played back in random order).
Off Insert/Eject + Auto Reload: A CD disc can be inserted or ejected with the power off. When a disc is inserted with the power off, the unit will automatically power up and begin playback. When a CD is ejected and left sticking out of the CD slot for 20 seconds, the unit automatically reloads the CD to protect if from damage.
Angle Mounting: For proper CD playback, Alpine recommends mounting the CDE-154BT no more that 35° above horizontal.
iPod/Aux Integration
iPod Direct Connection: The Alpine CDE-154BT's rear-panel USB port can be used to connect your 30-pin dock connector or Lightning-connector iPod/iPhone to the head unit. The CDE-154BT supports audio playback, music navigation, information display, and charging of your compatible Apple device.
30-Pin Dock Connector: If you have an older iPod/iPhone with a 30-pin dock connector, you can use Apline's KCU-445i dock connector-to-USB cable (500KCU445I, sold separately) or the dock connector-to-USB cable that comes with your Apple device to connect your iPod/iPhone to the CDE-154BT.
Lightning Connector: If you have a newer iPod/iPhone with the Lightning-connector, you can use Alpine's KCU-471i cable (500KCU471I, sold separately) or the Lightning-to-USB cable that came with your Apple device to connect your iPod/iPhone to the CDE-154BT.
Note: The head unit's USB connection provides 1A of current to power and charge your connected iPod/iPhone when your vehicle's ignition switch is set to the 'ACC' or 'On' position (if your iPod/iPhone has no initial battery charge, then the unit will not recognize it).
Music Playback w/ DAC Bypass: The Alpine head unit supports audio playback of stored music and music apps on your iPod or iPhone. The USB connection allows your iPod/iPhone's stored music and music apps to be loaded instantly to the head unit and sound quality to be maximized through the head unit's 24-bit D/A converter, allowing for a Signal to Noise ratio up to 105dB. You can operate your connected iPod/iPhone via the head unit's front-panel controls or from your Apple device's clickwheel/touchscreen.
Head Unit: The Alpine CDE-154BT lets you navigate the stored music on your iPod/iPhone by Playlist, Artist, Album, Song, Genre, Podcast, Composer, Audiobook, or Genius Mix. You can then search these categories alphabetically (A-Z). For especially big music libraries, the Percentage Search function uses the preset buttons for quick jumps to specific parts of the list (Preset 1: 0-16%, Preset 2: 17-32%, Preset 3: 33-49%, Preset 4: 50%-66%, Preset 5: 67-82%, Preset 6: 83-100% of the song library). The head unit also offers three Shuffle playback modes (Album/Song/All) and one Repeat mode (song). Newer iPhones with iOS 6.0+ allow you to continue to use your Apple device's touchscreen to access music apps; older iPod/iPhone devices will be locked during connection.
App Direct: In App Direct Mode, you can navigate the stored music on your iPod/iPhone device through its clickwheel or touchscreen; as well as music apps on an iPhone (iOS 3.0+). Basic playback functions, such as Play/Pause and Previous/Next Track are still available from the head unit. Not all apps will be compatible with this mode.
Note: Access to your iPhone's downloaded applications will depend on the availability of a cellular and/or WiFi network for purposes of allowing your iPhone to connect to the Internet.
Song/Artist Information: The Alpine CD receiver will display your iPod/iPhone's music file information in Head Unit or App Direct Mode. The CDE-154BT will display Track Number, Elapsed Time, Artist Name, Song/Album Title, and Station Identification for stored music and music apps.
iPod/iPhone Compatibility Chart: The Alpine CDE-154BT is "Made for iPod/iPhone" compatible and supports the following iPod/iPhone model features (as of 9/25/2014):
Apple Device
Generation
Tested Version
Media Type
Control Type
Specific Apps
Bluetooth
Display Type
Charge
Audio
Video
Head Unit
iPod/App
Pandora
TuneIt App
Phone
Audio
Artist/Song Text
Track Info
iPhone
2G
3.1.3
Y
N
Y
Y
N
N
Y
N
Y
Y
Y
3G
4.2.1
Y
N
Y
Y
N
N
Y
Y
Y
Y
Y
3GS
5.1.1
Y
N
Y
Y
Y
N
Y
Y
Y
Y
Y
4
7.1.2
Y
N
Y
Y
Y
Y
Y
Y
Y
Y
Y
4S
8.0
Y
N
Y
Y
Y
Y
Y
Y
Y
Y
Y
5/5C/5S
8.0
Y
N
Y
Y
Y
Y
Y
Y
Y
Y
Y
6/6+
8.0
Y
N
Y
Y
Y
Y
Y
Y
Y
Y
Y
touch
1st
2.2.1
Y
N
Y
Y
N
N
N
N
Y
Y
Y
2nd
4.2.1
Y
N
Y
Y
N
N
N
Y
Y
Y
Y
3rd
5.1.1
Y
N
Y
Y
N
N
N
Y
Y
Y
Y
4th
6.1.3
Y
N
Y
Y
N
N
N
Y
Y
Y
Y
5th
8.0
Y
N
Y
Y
N
N
N
Y
Y
Y
Y
nano
1st
1.3.1
Y
N
Y
N
N
N
N
N
Y
Y
Y
2nd
1.1.3
Y
N
Y
Y
N
N
N
N
Y
Y
Y
3rd
1.1.3
Y
N
Y
Y
N
N
N
N
Y
Y
Y
4th
1.0.4
Y
N
Y
Y
N
N
N
N
Y
Y
Y
5th
1.0.2
Y
N
Y
Y
N
N
N
N
Y
Y
Y
6th
1.2 PC
Y
N
Y
Y
N
N
N
N
Y
Y
Y
7th
1.02 PC
Y
N
Y
Y
N
N
N
Y
Y
Y
Y
classic
80GB
1.1.2
Y
N
Y
Y
N
N
N
N
Y
Y
Y
120GB
2.0.1
Y
N
Y
Y
N
N
N
N
Y
Y
Y
160GB
2.0.4
Y
N
Y
Y
N