Alpine CDE-9846
CD player with MP3 playback
Item #: 500CDE9846
This item is no longer available.
Original Price: $149.99
Need help?
Does it fit my car?
Select your car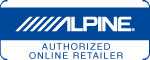 Take your MP3 collection on the road with Alpine's CDE-9846 CD player. Its QuickSearch function allows you to scroll through your favorite titles at lightning speed, while the display shows off artist names and track information, front and center.
Best of all, you can fit up to 10 hours of music on one CD-R or CD-RW disc, so you won't have to fumble between CDs while you're on the go. A CD Text display allows you to enter title and artist information. Radio station titles will show up where available.
Performance-wise, a powerful built-in amplifier combines with Alpine's sound shaping system to deliver clear sound with plenty of punch. You can tweak your EQ curve, adjust the bass frequency, or control your subwoofer level right from the front seat.
Fire up the loudness control for a healthy boost of bass at lower listening levels. A set of preamp outputs provide a handy connection for an external amp or powered subwoofer.
Note: Sorry, Crutchfield cannot ship Alpine products to Guam or Puerto Rico.
Product Highlights:
CD player with built-in amplifier (16 watts RMS/45 peak x 4 channels)
detachable face
plays audio CDs, CD-Rs, and CD-RWs (including discs loaded with MP3 music files)
Bass Engine (bass center frequency, width, and level, plus treble center frequency and level adjustments)
one set of preamp outputs
Source Tone Memory
clock
CEA-2006 compliant amplifier
CD frequency response: 5-20,000 Hz
CD signal-to-noise ratio: 105 dB
FM sensitivity: 9.3 dBf
warranty: 1 year
Why replace your factory radio?
Two good reasons - sound quality and cool features. A new car stereo offers power that's superior to most factory radios, along with more sophisticated tone controls. And most car stereos offer built-in or optional features that add safety and fun to life in your car, including inputs for your iPod or MP3 player, Bluetooth connectivity for hands-free cell phone calls, satellite radio or HD Radio reception, and connections for building an audio system in your car.
Alpine CDE-9846 Reviews
Average Customer Review:
8 Reviews
---
Impressive Punch - Volume - Clarity and Tone!!
Written by: Marshall89 from Concord, NH on December 13, 2006
Crutchfield Customer Review
(
What's this?
)
This a a Great Stereo - Worth every penny and then some. Incredible Tone, Clarity and Definition. Very Full - Natural and Warm with plenty of volume and punch. You can really Feel your Music - Warm, Bold Bass - Crisp, Clean Guitars - Clear, Full Vocals - Explosive Drums with Snap and Conviction. It only satisfies - It Doesn't leave you feeling empty, like there's somethings missing. This is my 3rd Alpine deck and my favorite!! I replaced an older Alpine Cassette Receiver that I had for 8+ Years. I first went to a Sony - It wasn't what I was looking for so I called Crutchfiled and ordered this Alpine deck. It's very simple and straight forward - I like the Loud Boost and mutiple Bass/Treble Eq options + you can Play MP3 Discs as well. Alpine is still one of the best buys in any price range for Incredible Sound and Quality - Thank You Alpine and Crutchfield!!

Pros:

Cons:
Written by: Carlos from Lubbock, Texas on November 13, 2006
Great CD/MP3 Player. good sound quality as expected with Alpine. Display a little too bright for me at night, but overall a good buy

Pros:

Cons:
Written by: Mark from Baltimore on November 1, 2006
1992 Nissan Stanza
Crutchfield Customer Review
(
What's this?
)
This is such a great head unit that it didn't last 2 weeks in my mothers car before it got stolen. Doesn't that make you just want to pack your bags and move to 12th most dangerous city, B'more?

Pros:

Cons:
Written by: Monte from Pleasantville, IA on September 16, 2006
Crutchfield Customer Review
(
What's this?
)
My first Alpine, and I love it!! I don't think I will buy anything else. Easy to use and sounds great! I also love the features.

Pros:

Cons:
Written by: CARL from LEXINGTON,TN on September 1, 2006
Crutchfield Customer Review
(
What's this?
)
THIS IS A GREAT STEREO. I HAVE MOSTLY OWNED BLAUPLUNKS. THIS UNIT IS THE BEST I HAVE OWNED AND HAS GREAT POWER AND SOUND YOU CAN SET TO YOUR NEEDS. LOOKS GREAT INSTALLED AND GOES WITH MY CHRYSLER....CARL

Pros:

Cons:
Written by: Jessie from Tonganoxie,ks on August 25, 2006
2006 Chevrolet TrailBlazer
This radio has no cons,Easy to read display the song searches are simple and fast mp3 is the way to go.I Highly recommend buying this head unit.speaking of display...It is bright and easy to see even in direct sunlight.In my book you can't go wrong with Alpine.It also has plenty of power to push my four Kenwood 6 1/2s
I installed this in an 2006 Trailblazer and it sounds perfect.not to mention was easy to install.

Pros:

Cons:
Good but less power than I thought
Written by: Lawrence from US on March 31, 2006
1999 Toyota Camry Solara
Crutchfield Customer Review
(
What's this?
)
Pros: Bright, clear display. Clean sound with good midrange/highs. Solid construction and controls are easy to use once you learn them. Fast CD reads, no skipping. Installation was quick and easy, and the harness provided was very helpful.

Cons: The unit sticks out a bit more than the OEM radio + the fit was not perfect leaving a strip of uncovered metal around (the plastic trim provided has to be removed in Japanese car installs).
The clear plastic can reflect ambient light if it's sunny outside. Installing it below the pocket can alleviates this some.
While the sound was clean, it didn't sound as full as my OEM amp...I guess this is due to the lower power rating, and I can't plug into the factory amp because it only has 1 set of preouts.

Other thoughts:
- The Toyota pocket's plastic finish didn't match the interior perfectly (coarser plastic finish).
- If you are upgrading from a lower-powered OEM factory and will be happy without much bass power, I think this is a viable option for Alpine quality.
- I'm exchanging this for the 9856 and hoping that fixes the problem. Should have spent the extra $50 to begin with.

Pros:

Cons:
Written by: Mitchell from Millville, PA on March 2, 2006
1995 Chevrolet Cavalier
Crutchfield Customer Review
(
What's this?
)
This is a very good head unit. the display is easy to read, the controls are nice and spaced enought so you dont hit 2 at the same time. Menu setup is easy to understand as well. Powers my Audiobahn 5-1/4" and Pioneer 6x9" speakers very well. Has no problem reading any cd, cdr, cdrw, or mp3 disk. I am very happy with this and would suggest it to anyone. Can't wait to get a sub to top off the whole system.

Pros:

Cons:
What's in the box?
CD/MP3 receiver
Wiring harness
Sleeve
Trim ring
Face
Hard plastic face case
4 Countersunk ISO-DIN screws (M5 x 8mm)
Face fixing screw
2 Radio removal tools
Owner's Manual
Customer Care Registration card
Product Research
CEA-2006 Compliant: The specifications given by Alpine for the built-in amplifier comply with the CEA-2006 mobile amplifier power testing and measurement standards from the CEA (Consumer Electronics Association). All manufacturers who comply with the standard can display the CEA-2006 logo on their product.
MP3 Playback: This unit can play CD-ROM, CD-R, and CD-RW discs containing MP3 files recorded using the ISO 9660 Level 1 or Level 2 formats. MP3 files with constant and variable bit rates from 8 kbps to 320 kbps. Discs recorded using Joliet, Romeo, or other ISO 9660 compliant formats can be played, but file and folder names will not be displayed correctly. Discs containing both standard CD audio and MP3 data can be played; the unit may be set to play only the CD audio tracks or both types of tracks. ID3 tag v1 and v2 are supported; track title, artist name and album name ID3 tag data can be displayed.
Text/File/Folder Quick Search: When you're playing a disc with CD Text, or MP3 tags, you can easily search for a track or file by its title. Once you have activated the search mode, you can use the rotary encoder to quickly scan through the titles to locate the desired track, and select it by pressing the rotary encoder.
Bass Engine: Bass Engine functions provide control over your system, so you can tailor the sound to your personal tastes. Bass Engine includes the following functions:
Bass Control:

Bass Center Frequency: Select from 60Hz, 80Hz (default), 100Hz, or 120Hz
Bass Band Width: Select from 1 (narrow) to 4 (wide)
Bass Level: Select from -7 to +10 (-14dB to +20dB in 2dB steps)

Treble Control:

Treble Center Frequency: Select from 7.5kHz, 10kHz (default), 12.5kHz or 15kHz
Treble Level: -7 to +7 (+/-14dB in 2dB steps)

Defeat On/Off: You can reset the unit to its factory default bass and treble settings by turning the Defeat function on.
Switchable Preout: The preamp outputs can be switched from front channel outputs to a non-fading subwoofer preamp output with a variable level of 0 to +15. When the subwoofer is activated in the Setup menu, the preout is switched at the same time. When the subwoofer is deactivated, the preout is switched back to a front channel output.
Dimmer: This unit is equipped with an illumination dimmer lead. When the unit's dimmer mode has been set to "Auto" and the illumination lead has been connected to your vehicle's headlight circuit, the button illumination will dim to a fixed, preset level whenever the headlights are turned on. If preferred, you may choose the "Manual" dimmer mode setting, so the button illumination is dim at all times.
Disc and Station Titling: Titles of up to 8 characters in length may be entered for up to 24 radio stations and 18 CDs.
Power IC Off: When an external amplifier is connected and the built-in amplifier is not used, removing power from the built-in amplifier will improve the sound quality.
Clock Operation: This unit allows you to choose "keyed" or "unit on" clock operation. When the clock has been given display priority and the unit is turned off, the clock will be displayed whenever the ignition key is in the "on" or "accessory" position. If the clock is not given display priority, the clock is not displayed when the unit is off.
Our Product Research Team
At Crutchfield, you'll get detailed, accurate information that's hard to find elsewhere. That's because we have our own in-house Product Research team. They verify what's in the box, check the owner's manual, and record dimensions, features and specs. We stay on top of new products and technologies to help people make informed choices.