Alpine CDE-9872
CD receiver
Item #: 500CDE9872
This item is no longer available.
Original Price: $129.99

Need help?
Does it fit my car?
Select your car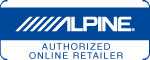 Alpine's CDE-9872 CD receiver offers the convenience of MP3 playback, a strong built-in amplifier, and a detachable face for security. The Bass Engine® features highly adjustable bass and treble controls that allow you to tune the stereo's sound to perfection.
Add Alpine's optional "Full Speed" connection cable and you'll be able to use the CDE-9872 to control your iPod®. Alpine has invented a great way of finding the right song on your playlist quickly — the "percentage search" feature uses the radio preset buttons to jump over a designated percentage (0, 17, 33, 50, 67, or 83 percent) of your playlist.
The set of preamp outputs eases the job of adding an external amplifier to your system. When adding a subwoofer, switch the outputs to subwoofer mode, and Bass Engine also lets you adjust the bass level directly from the stereo. You can activate the high-pass filter for the speaker outputs to block the low bass that your regular speakers can't handle, increasing your system's efficiency.
Note: If you're going to use your iPod with this receiver, be sure to check "Details" for specific iPod model compatibility with this receiver or its optional iPod adapter.
Product Highlights:
General features:
CD receiver with built-in amplifier (16 watts RMS CEA-2006/45 peak x 4 channels)
plays CDs, CD-Rs, and CD-RW discs, including discs loaded with MP3 music files
detachable face
Audio features:
Bass Engine (bass center frequency, width, and level, plus treble center frequency and level adjustments)
high-pass filter (speaker and preamp outputs)
Expandability:
compatible with Alpine's iPod adapter with percentage search
outputs: one set of preamp outputs (switchable to subwoofer mode with bass level control)
Other features and specs:
Why replace your factory radio?
Two good reasons - sound quality and cool features. A new car stereo offers power that's superior to most factory radios, along with more sophisticated tone controls. And most car stereos offer built-in or optional features that add safety and fun to life in your car, including inputs for your iPod or MP3 player, Bluetooth connectivity for hands-free cell phone calls, satellite radio or HD Radio reception, and connections for building an audio system in your car.
Alpine CDE-9872 Reviews
Average Customer Review:
32 Reviews
---
What's in the box?
CD/MP3 receiver
10 Amp fuse (installed)
Wiring harness
Sleeve
Trim ring
Detachable face
Hard plastic face case
4 Countersunk ISO-DIN screws (M5 x 8mm)
Face fixing screw
2 Radio removal tools
Owner's manual CD-ROM
Quick reference guide (English/French/Spanish)
Customer Care Registration card
CD-ROM instructions
Product Research
Features
External Device Controls
Features
CEA-2006 Compliant: The specifications given by Alpine for the built-in amplifier comply with the CEA-2006 mobile amplifier power testing and measurement standards from the Consumer Electronics Association. All manufacturers who comply with the standard can display the CEA-2006 logo on their product.
MP3 Playback: This unit can play CD-R and CD-RW discs containing MP3 files formatted with ISO 9660 Level 1 or Level 2, using Joliet, Romeo, or other ISO 9660 compliant formats. Discs containing both standard CD audio and MP3 files can be played; the unit may be set to play only the CD audio tracks or both types of tracks. ID3 tag v1 and v2 are supported; track title, artist name, and album name data can be displayed. The following sampling rates and bit rates (constant and variable) are supported:
MP3:

Sampling rates: 48, 44.1, 32, 24, 22.05, 16, 12, 11.025, and 8 kHz
Bit rates: 8-320 kbps
Sound: The Sound Setting functions provide control over your system, so you can tailor the sound to your personal tastes:
Bass Control:

Bass Center Frequency: 60Hz, 80Hz (default), 100Hz, or 200Hz
Bass Band Width: 1 (narrow) to 4 (wide)
Bass Level: -7 to +7 (+/-14dB in 2dB steps)

Treble Control:

Treble Center Frequency: 10kHz (default), 12.5kHz, 15kHz, or 17.5kHz
Treble Level: -7 to +7 (+/-14dB in 2dB steps)

High Pass Filter (HPF): speaker level outputs have a selectable crossover (HPF); off (default), 80Hz, 120Hz, or 160Hz
Loudness: on/off
Defeat On/Off: reset the unit to its factory default bass, treble, loudness, and HPF settings by turning on the Defeat function
Switchable Pre-out: The preamp output can be switched from "Front" to a non-fading subwoofer preamp output with a variable level of 0 to +15. When the subwoofer is activated in the Setup menu, the pre-out is switched at the same time. When the subwoofer is deactivated, the pre-out is switched back to a front channel output.
Dimmer: This unit is equipped with an illumination lead. When the unit's dimmer mode has been set to Auto and the illumination lead has been connected to your vehicle's headlight circuit, the button illumination will dim to a fixed, preset level whenever the headlights are turned on. If preferred, you may choose the Manual dimmer mode setting, so the button illumination is dim at all times.
Power IC Off: When an external amplifier is powering all the speakers in the system, you can turn the internal amp off, which will improve the sound quality.
Angle Mounting: Alpine recommends mounting the CDE-9872 no more that 35° above horizontal.
External Device Controls
iPod Full Speed: The CDE-9872 has an iPod Direct Connection mounted on a 4" pigtail on the rear panel. When used with the optional KCE-422i Alpine Full Speed Connection cable (item number 500KCE422i), your receiver can interface with Apple iPods with a dock connector. Compatible iPods include fourth and fifth generation iPod, first and second generation iPod nano, iPod photo, and iPod mini. You can quickly and easily search through all of the music contained on your iPod through Playlist, Artist, or Album searches. You can view Artist, Album, Song Information and Song Number right on the head unit's display. When operating your iPod through the Full Speed connection, you can use the Direct Search function in Playlist, Artist, Album, or Song mode to quickly locate your music. Using the unit's preset buttons, you can quickly jump over a designated percentage of your song content (Preset 1: 0% to 16%, Preset 2: 17% to 32%, Preset 3: 33% to 49%, Preset 4: 50% to 66%, Preset 5: 67% to 82%, Preset 6: 83% to 100% of the song library). The unit can be used with the following iPod models - iPod mini (1st, 2nd generation), iPod nano (1st, 2nd, 3rd, 4th generation), Fourth generation iPod photo, Fifth generation iPod video, iPod classic (80, 120, 160GB) and iPod touch (1st, 2nd generation).
Note: The optional KCE-422i cable will not charge the iPod nano 4th generation or iPod touch 2nd generation. The cable cannot be used with iPod software versions earlier than "2006-06-28". For details about "iPod Software Update", refer to the iPod's Instruction Manual.
Bluetooth Interface Ready: Using the Alpine KCE-400BT Bluetooth adapter (500KCE400B, sold separately) with the KWE-460E interconnect cable adapter (500KWE460E, sold separately), you can make and receive calls hands-free on your Bluetooth-capable cellular phone, and communicate through a microphone (included with the Bluetooth interface) and your vehicle's speakers.
Note: The Pass-Through port of the KCE-400BT allows you to connect the Bluetooth adapter as well as an iPod to the CDE-9872. The KWE-460 interconnection cable is still required along with a KCE-433iV Full Speed iPod connection cable (500KCE433I, sold separately). In this case the KCE-422i cable will not be needed.
Our Product Research Team
At Crutchfield, you'll get detailed, accurate information that's hard to find elsewhere. That's because we have our own in-house Product Research team. They verify what's in the box, check the owner's manual, and record dimensions, features and specs. We stay on top of new products and technologies to help people make informed choices.