Alpine CDE-9881
CD receiver with MP3/WMA/AAC playback
Item #: 500CDE9881
This item is no longer available.
Original Price: $179.99

Need help?
Does it fit my car?
Select your car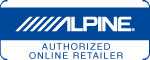 Upgrade your mobile audio experience with the CDE-9881 CD receiver from Alpine. It plays all of your CDs, even discs loaded with MP3, WMA, and AAC files, and delivers in the style department too. The striking Alpine design includes a detachable flip-down faceplate, blue button illumination, and a 2-line, dot matrix display that really shows off your song titles.
Building a system? You can connect your external amplifiers to the three sets of preamp outputs, then control the audio performance with Bass Engine® sound shaping, which even lets you manage your subwoofer system from the driver's seat. Once your sub is hooked up, you can maximize system performance by using the built-in high-pass filters to remove low bass from your speakers.
Hook up your iPod® using Alpine's optional interface cable, and you'll be able to access and control your music collection with the stereo's controls. Alpine's unique Percentage Search feature lets you jump through your playlist quickly, so you can find the song you want without a lot of fuss.
Product Highlights:
General features:
CD receiver with built-in amplifier (16 watts RMS/45 peak x 4 channels)
plays CDs, CD-Rs, and CD-RW discs, including discs loaded with MP3, WMA, and AAC music files (except Digital Rights-protected files)
fold-down, detachable face
Audio features:
Bass Engine (bass center frequency, width, and level, plus treble center frequency and level adjustments)
high-pass filter
Expandability:
full speed iPod controls (requires Alpine's interface cable, $29.99) with percentage search — each of the six radio preset buttons jumps over a designated percentage (0, 17, 33, 50, 67, or 83 percent) of your playlist
three sets of preamp outputs (subwoofer output has bass level control)
Other features and specs:
CEA-2006 compliant amplifier
clock
CD frequency response: 5-20,000 Hz
CD signal-to-noise ratio: 105 dB
FM sensitivity: 9.3 dBf
warranty: 1 year
Why replace your factory radio?
Two good reasons - sound quality and cool features. A new car stereo offers power that's superior to most factory radios, along with more sophisticated tone controls. And most car stereos offer built-in or optional features that add safety and fun to life in your car, including inputs for your iPod or MP3 player, Bluetooth connectivity for hands-free cell phone calls, satellite radio or HD Radio reception, and connections for building an audio system in your car.
Alpine CDE-9881 Reviews
Average Customer Review:
16 Reviews
---
Written by: RustanL from Fort Worth, TX on November 30, 2007
Crutchfield Customer Review
(
What's this?
)
I absolutely love this unit. The user interface is very friendly, and the sound quality is amazing. The customized installation instructions that Crutchfield sent were extremely helpful and easy to read. My purchase also included the installation kit and antenna adapter which they included at NO CHARGE, unbelievable! And the kit looks great in my dash. I will definitely purchase from Crutchfield again.

Pros:

Cons:
Written by: Thuan from Saint Louis, MO on November 22, 2007
1998 Toyota Camry LE
Bought the head unit around MAY of 07. Its installed in a 98 Toyota Camry LE



After months of owning it, here's the CONS list:

1- The paint on frequently used buttons are starting to fade, such as 'Source', 'Next'..etc.

2- Alpine does not make a cable for the aux (d shaped connector) to 3.5mm besides the IPOD cable. I did ALOT of research and came up with nothing, even bought an adapter for aux -> 3.5mm (standard headphone jack size) and it didn't work. I don't like IPODs so I'm in the process of deciding whether to replace this unit with another or just keep it.

3- Does not come with a controller :)



PROS:

1- Improved the sound of my stock speakers greatly, now using aftermarket speakers with a sub and an amp.

2- Key functions are great, not confusing as Pioneer or Kenwood decks.

3- Built quality of alpine headunits (besides the paint problem) are amazing.



I'm pretty satisfied with my purchase but still looking for a way to play my zune in the car with near cd quality sound.
Crutchfield service is AWESOME!

Pros:

Cons:
Written by: skiyewtah from Salt Lake City on October 29, 2007
1998 Volkswagen Jetta III
Crutchfield Customer Review
(
What's this?
)
This is an awesome unit. My only complaint is adjusting the bass and treble is a little more involved than I had expected, but the none the less it's very impressive. The interface with my iPod is very intuitive and finding things is very easy. Crutchfields installation instructions are the best in the biz and just about spot on for installations. The power is awesome, the display is great and the functionality of the head is very user friendly.

Word to the wise: On a 98 Jetta, VW in their infinite wisdom has a support bracket for the stock unit that does not come off without tearing apart the entire dash, and I do mean entire dash. Said bracket attaches wraps around and attaches behind the passenger airbag. I ended up bending the bracket back just enough out of the way for the unit to fit. It took about an extra hour to do, but installation with Crutchfields instructions are very easy to follow.

Pros:

Cons:
Written by: Mr. Bill from Skagit Valley, WA on October 5, 2007
Okay, I have the exact same problem Nick has (another reviewer that posted here). I will get a skipping sound then the "error" message. I literally get mad at the deck and want to bust it into a million pieces while laughing maniacally; every time this has happened it will hold my CD hostage for days on end. Suddenly (after the bazillionth time I hit eject) it will decide to spit out the CD. I curse the "audio gods" for intertwining my fate with this deck.

I'm going to shop for another brand, sorry Alpine. I do like your speakers, though...


By the way, when it is working it rocks socks. So if you are blessed by the audio gods and get one that works then you have a good deck.

Pros:

Cons:
Written by: Jason and Kate from Rapid City, SD on August 22, 2007
Crutchfield Customer Review
(
What's this?
)
This receiver with the high-speed iPod controls is amazing. Easy music searching, it acts just like the iPod itself. As far as sound quality - also impressive. The one thing we've found that causes the receiver to freak out is if you don't have Podcasts and you accidentally select Podcast then it will hang.

Great product overall!

Pros:

Cons:
Great stock HU replacement
Written by: Lori from Howell, NJ on July 22, 2007
1997 Honda Civic
Crutchfield Customer Review
(
What's this?
)
This is a great unit from Alpine that I was debating over since the similarly-featured Pioneer DEH-3900MP is also lower-priced. I heard numerous recommendations from friends and aquaintances alike for the Alpine over the Pioneer despite the $50 price hike and now that I have it, I can see why.

The Alpine is a very solidly built head unit. I initially thought it was flimsy because I had tested a display model, which I now realize was extremely abused. The new unit is very tight out of the box. The buttons feel great and have a distinct "click", are sensibly placed, and are well-lit. The nice, large volume knob (one of the best physical features IMO) is also excellent.

The MP3 CD player works flawlessly, seeking quickly and sensibly, and resuming right where I left off when I turned off the car and the phenomenal digital display (I see many reviews with complaints about the display during the daylight but have had no problems) that can read Artist/Track/etc info is a real treat, I must admit, over a traditional LCD like the Pioneer.

This unit does have a bit of a learning curve like all of these units, but it's worth it for the control the unit offers, especially in the bass. My only complaint is that the bass adjustment can only emphasize 60 hz. as its lowest frequency and it would be nice to have a lower selection so I can get the most out of my non-subwoofer system.

I chose this unit over the +$20 CDE-9883 because the extra features and power are useless to me as an MP3 CD user. The unit provides PLENTY of power, trust me, more than enough to deafen me with my new Boston S65RC and S95 speakers.

Highly recommended

Pros:

Cons:
4 Months old and has to be replaced a second time.
Written by: nick from Wisconsin on June 21, 2007
Crutchfield Customer Review
(
What's this?
)
I bought this unit 4 months ago, and I loved it, sound quality is awesome. But about one month ago it would randomly skip, then say "error" on the screen, and freeze. When it would freeze I couldn't eject my cd. I had to keep hitting the "reset" button.(Crutchfield sent me a replacement unit asap(great on their part.)

Two months later, same problem. Other then this problem, I loved this cd player. But because of this, I had to give it 1 out of 5 stars.
Now I am forced to throw it in the garbage and try a different brand.

Pros:

Cons:
Written by: beef_babie from Point Roberts, WA on June 20, 2007
Very nice deck, awesome Ipod features, except it takes a little too long to search for songs seeing as how I have over 8000 songs on my Ipod, but well worth every penny.

Pros:

Cons:
Written by: Cody from Manhattan, KANSAS on May 4, 2007
2002 Chevrolet Silverado 1500
Crutchfield Customer Review
(
What's this?
)
First off, if you are wanting a very easy to use iPod integratoin into your stereo, I haven't seen or used a product that produces better results than an Alpine headunit with the Alpine Fullspeed iPod adaptor. While this headunit doesn't have all the "bells and whistles" that the higher end headunits have, it gets everything done well and looks great while doing it. The lights are a little bright and does bother some of my passengers at times, especially at night, but I tend to like it. No complaints with this unit, would recommend to anybody.

Pros:

Cons:
Written by: Larry from south lake tahoe on April 12, 2007
Crutchfield Customer Review
(
What's this?
)
So i got convinced by my brother to get an alpine. I would have much rather have gotten pionner like the deck in my other cars but too late now. First the backlighting makes some of the buttons very blurry to read. I have perfect vision, so its not my eyes. The flip down face, doesnt close with out a lot of pressure on the upper left hand corner, the trim, doesnt stay on, Its takes a while to start. I dont use internal amp inside the deck, ive got externals running, the sound quailty is good and the subwoofer control works well. But overall id go with pionner any time over alpine

Pros:

Cons:
Written by: David from SF California on April 6, 2007
I too bought this mainly for the iPod controls, and after reading reviews of other supposedly good units that suffered from long search times.

I will get the bad out of the way and the reason for only 4 stars instead of 5. First, its a lower end unit, doesn't have all the perks of the 9885, no big deal. The only small complaint I have is that every once in a while the songs are not where I left them after turning off the car. I know, petty.....a very small annoyance.

Also, I can see why some people do not like the brightness of the unit....though I happen to like it myself.

Now for the good.
Price: under $200 with all the features you need.
EQ: I love how you can change the frequencies of the bass and treble controls, as well as the range and the level. When you have crappy speakers, it makes all the difference!
Display: for the price, the display is decent. Visible during the day, adjustable, and with text scrolling that is also mildy customizable.
IPod controls: For me, the bread and butter. I have not even loaded a single CD yet....why would I? With the full speed Ipod control, you get it all. Playlists, all songs, artists, and an easy to use search feature. Now, searching artists or songs is painstaking if you go one by one, but with the preset buttons as quick searches, it makes all the difference.

All in all, I love this unit. You can't beat its functionality for the price. I wish I could afford the 9885 with its cool screen, but I can't, but I am still very happy. I don't have a subwoofer setup, so I can't comment on that.
Did I mention it looks SHARP? It does!

Pros:

Cons:
Great value and performance
Written by: Brian from Kansas City on April 5, 2007
1999 Honda Accord
Crutchfield Customer Review
(
What's this?
)
I'm happy with this deck overall. I wanted preamp outputs and MP3/iPod connectivity. No complaints about that. Everything works well and the iPod navigation is very fast. I don't really care for the red/blue illumination (I like green better) but I knew that before I bought the unit.

One disappointing thing was that the subwoofer output is full range (no crossover). There is no low-pass crossover for the sub output, even though there is a selectable high pass for the front/rear preamp outputs. I had to buy a separate crossover for the sub amp because my amp did not have one built in. I did not know this ahead of time, so it cost me a few more days of wait time.

Pros:

Cons:
Great value for iPod connectivity
Written by: ben from Jenks, OK on March 28, 2007
2005 Toyota Tacoma
Crutchfield Customer Review
(
What's this?
)
I bought this receiver after looking at other solutions to play my iPod in my car. I had back luck with modulators, and the other options like factory interfaces cost almost as much as this head unit.

I gave it 4 stars instead of 5 simply because the backlighting is too bright at night. Even when set to "dim", the blue LED's shine very brightly. This may not be an issue if your stereo location is down low in the dash, but in my Tacoma, the radio is near the top of the dash and angles up toward the driver's eyes.

I think for the price though it is a great value. It sounds great with my factory speakers and the iPod functions work as advertised.

I would recommend this receiver if you want an easy way to control and listen to your iPod while driving.

Pros:

Cons:
Written by: Brian from Twin Cities, MN on February 23, 2007
1997 Pontiac Grand Prix
Crutchfield Customer Review
(
What's this?
)
I purchased the 9881 specifically for the ipod connection, and it works great. I was tired of the static from my FM modulator, so having a wired connection to the ipod is a huge relief. Searching for songs, albums, artists, playlists or whatever is easy enough, it only takes a few minutes to sort out the buttons. On thing I didnt realize was that once the ipod is connected you can just stash it away somewhere secure, as the ipod wheel is no longer usable, all the controls are through the head unit. This unit has a direct search function so if you have 100 songs on a playlist, and you want to jump around within it, hit preset 1 for the first song, preset 2 for the 17th song (17%), preset 3 / 33rd song (33%) and so on. You can then use the dial to fine tune what you are searching for. The ipod connection works so good I havent even programmed the radio stations in yet (I installed it three days ago). The rest of the functions are fairly typical, and this is a solid mid-line unit. It doesnt have a lot of extras like an EQ, but the ipod interface makes this an awesome deal. I read a lot of reviews for ipod decks prior to buying this unit and saw a lot of frustrations with the ipod conntections out there, but no complaints from me for my ipod (5th generation). A lot of the complaints were with the speed of the connection and trying to search for songs, but this connection is very fast, and searching is easy.

This is the second head unit I have purchased through Crutchfield and my order was complete, quick and I had no problems ordering online. My only regret is not buying a remote for it.

Alpine really nailed the ipod connection with this unit!

Pros:

Cons:
Written by: Nic from Reston, Virginia on February 17, 2007
1992 Volkswagen Jetta
The IPOD controls are extremely easy. I would recommend Alpine to everyone for it's IPOD control ease. I have tried other brands and there decks are not as easy to operate. The things that interest me with this deck were it's price, ease of operation, and the three preouts.

Pros:

Cons:
Written by: Greg from Annapolis, MD on February 12, 2007
2003 Jeep Grand Cherokee
I purchased this unit primarily for the Ipod connectivity and to get a little more power than what my factory deck in my 2003 Grand Cherokee could supply. As usual, Crutchfield was outstanding with their service; I got my deck the day after I ordered it even with standard shipping and the harness, adapters, and trim plate worked perfectly. About the only thing that took any time was fishing the Ipod control cable from the back of the unit past the duct work and into the glovebox. Total time including soldering the wiring harness, about an hour. I had seen other reviews of previous generation Alpine decks having hard to master and counterintuitive Ipod controls, but after 5 minutes with the manual and playing with the buttons, it seems that they have finally figured out how to make it reasonably easy. I still prefer the scroll wheel on the Ipod itself, but this is a good compromise. Sound quality, even with factory speakers is clean and clear with a decent ability to tailor the sound to match the music and environment. The Full-Speed controls work as advertised with only the slightest delay when accessing songs. About the only negative I can see is that even though the 9881 has a two line display, the source is always listed on top so you can't see artist and title at the same time. Other than that, another great Alpine deck that now has me wondering just how much better it would sound if I tossed those factory speakers...

Pros:

Cons:
What's in the box?
CD/MP3/WMA/AAC receiver
Wiring harness
Sleeve
Trim ring
Face
Hard plastic face case
4 Countersunk ISO-DIN screws (M5 x 8mm)
Face fixing screw
2 Radio removal tools
Owner's manual (English/French/Spanish)
Customer Care Registration card
Product Research
Features
External Device Controls
Clock Display Note
CEA-2006 Compliant: The specifications given by Alpine for the built-in amplifier comply with the CEA-2006 mobile amplifier power testing and measurement standards from the Consumer Electronics Association. All manufacturers who comply with the standard can display the CEA-2006 logo on their product.
MP3/WMA/AAC Playback: This unit can play CD-ROM, CD-R, and CD-RW discs containing MP3, WMA, or AAC files formatted with ISO 9660 Level 1 or Level 2, using Joliet, Romeo, or other ISO 9660 compliant formats. Discs containing both standard CD audio and MP3/WMA/AAC data can be played; the unit may be set to play only the CD audio tracks or both types of tracks. ID3 tag v1 and v2, and WMA tag are supported; track title, artist name and album name data can be displayed. The following sampling rates and bit rates (constant and variable) are supported:
MP3:

Sampling rates: 48, 44.1, 32, 24, 22.05, 16, 12, 11.025, and 8 kHz
Bit rates: 8-320 kbps

WMA:

Sampling rates: 48, 44.1, and 32 kHz
Bit rates: 48-192 kbps

ACC:

Sampling rates: 48, 44.1, 32, 24, 22.05, 16, 12, 11.025, and 8 kHz
Bit rates: 16-320 kbps
Text/File/Folder/Playlist/Artist/etc Search: When you're playing a disc with CD Text, ID3 tags, WMA tags, or playing a connected iPod, you can easily search for a track, file, folder, playlist, album, artist, etc by its title. Once you have activated the search mode, you can use the volume control to quickly scan through the titles.
Sound: The Sound Setting functions provide control over your system, so you can tailor the sound to your personal tastes:
Bass Control:

Bass Center Frequency: 60Hz, 80Hz (default), 100Hz, or 200Hz
Bass Band Width: 1 (narrow) to 4 (wide)
Bass Level: -7 to +7 (+/-14dB in 2dB steps)

Treble Control:

Treble Center Frequency: 10kHz (default), 12.5kHz, 15kHz, or 17.5kHz
Treble Level: -7 to +7 (+/-14dB in 2dB steps)

High Pass Filter (HPF): speaker level and preamp (front and rear) outputs have a selectable crossover (HPF); off (default), 80Hz, 120Hz, or 160Hz
Loudness: on/off
Defeat On/Off: reset the unit to its factory default bass, treble, loudness, and HPF settings by turning on the Defeat function
Subwoofer Pre-out: In addition to the front and rear preamp outputs, the CDE-9881 has a dedicated subwoofer output with a variable level of 0 to +15.
Interrupt Feature: When a device having the interrupt feature (such as a cellular telephone) is connected to the receiver, the audio signal will be automatically muted whenever the interrupt signal is received from that device. The supplied wiring harness contains a pink/black Interrupt lead that needs to be connected to the device's interrupt signal connection.
Dimmer: This unit is equipped with an illumination lead. When the unit's dimmer mode has been set to Auto and the illumination lead has been connected to your vehicle's headlight circuit, the illumination will dim to a fixed, preset level whenever the headlights are turned on. If preferred, you may choose the Manual dimmer mode setting, so the button illumination is dim at all times.
Angle Mounting: Alpine recommends mounting the CDE-9881 no more that 35° above horizontal.
Power IC Off: When an external amplifier is powering all the speakers in the system, you can turn the internal amp off, which will improve the sound quality.
Wireless Remote Ready: A wireless remote control can be added to control the CDE-9881. Both the RUE-4202 (item number 500RUE4202) and RUE-4190 (item number 500RUE4190) remotes are compatible. The remote control sensor is on the upper right corner of the faceplate.
iPod Full Speed: The CDE-9881 has an iPod Direct Connection mounted on a 4" pigtail on the rear panel. When used with the optional KCE-422i Alpine Full Speed Connection cable (item number 500KCE422i), your receiver can interface with Apple iPods with a dock connector, fourth generation and newer. You can quickly and easily search through all of the music contained on your iPod through Playlist, Artist, or Album searches. You can view Artist, Album, Song Information and Song Number right on the head unit's display.
Clock Operation: This unit allows you to choose "keyed" or "unit on" clock operation. When the clock has been given display priority and the unit is turned off, the clock will be displayed whenever the ignition key is in the "on" or "accessory" position. If the clock is not given display priority, the clock is not displayed when the unit is off.
Our Product Research Team
At Crutchfield, you'll get detailed, accurate information that's hard to find elsewhere. That's because we have our own in-house Product Research team. They verify what's in the box, check the owner's manual, and record dimensions, features and specs. We stay on top of new products and technologies to help people make informed choices.