Alpine CDE-HD137BT
CD receiver
Item #: 500HD137BT
This item is no longer available.
Original Price: $179.99
Need help?
Does it fit my car?
Select your car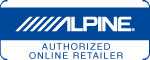 Put Pandora® in your dash
Alpine's CDE-HD137BT CD receiver lets you put your Pandora stations right where you want them — in your dash. You can change stations, skip tracks, and rate songs just like you do online. Your smartphone and a free Pandora app are the key. Android® and BlackBerry® users get full control, including thumbs up and thumbs down ratings, through the Bluetooth® connection. iPhone® users connect through the USB input, and can utilize play and pause features through the receiver — full control is through the iPhone itself.
Bluetooth, evolved
Ever have that confusing conversation over Bluetooth where your caller keeps asking you to repeat what you're saying? Alpine gives you the tools you need need to end those annoying calls. First, you can mount the included microphone in a good spot in front of you so it'll have no problem picking up your voice. Next, the receiver lets you adjust the mic's gain to best match your speaking voice. You can also tweak the phone output and ring volume, so you won't go diving for the volume knob every time someone calls. And, last of all, this Alpine downloads up to a thousand names from your phonebook, and allows you to search by alphabet to find the number you want.
Stream music to your dash
If your phone or another device supports Bluetooth music streaming, you can beam your tunes and control playback with the CDE-HD137BT. You won't get full control this way, but you can perform some basic functions like track up and track down. Best of all, no wires are needed.
Built-in HD Radio™ and iTunes® tagging
Alpine's HD Radio tuner lets you tune in digital AM/FM broadcasts, significantly pumping up the sound quality. Participating FM stations sound about as good as a CD, while AM stations sound like traditional FM. If you've got subs in your system, you'll appreciate the bass HD Radio puts back in your favorite tunes. Plus while your iPod's connected and you've got an HD Radio station tuned in, you can "tag" songs you like for later purchase from the iTunes store.
Want to keep your steering wheel controls?
In most vehicles, you can use an adapter to connect your vehicle's steering wheel controls to this Alpine stereo. Connect a few wires, then program the adapter for your particular car and the CDE-HD137BT, and you'll retain the convenience of your steering wheel controls. Check the "Accessories" tab for compatible adapters.
Bluetooth note: Use of this receiver's Bluetooth features will depend upon your phone's Bluetooth capabilities. Learn more in our article explaining Bluetooth profiles.
Product Highlights:
General features:
CD receiver with AM/FM tuner
built-in MOSFET amplifier (18 watts RMS CEA-2006/50 peak x 4 channels)
built-in Bluetooth for hands-free calling and audio streaming
built-in HD Radio tuner
Pandora® control for Android, and BlackBerry — no iPhone Pandora® control
Audio features:
3-band parametric equalizer with ten presets
built-in high- and low-pass filters
Expandability:
inputs: front USB port, front auxiliary input
outputs: 6-channel preamp outputs (2-volt front, rear, subwoofer)
Other features and specs:
compatible with most factory steering wheel audio controls (adapter required)
CEA-2006 compliant amplifier
warranty: 1 year
Why replace your factory radio?
Two good reasons - sound quality and cool features. A new car stereo offers power that's superior to most factory radios, along with more sophisticated tone controls. And most car stereos offer built-in or optional features that add safety and fun to life in your car, including inputs for your iPod or MP3 player, Bluetooth connectivity for hands-free cell phone calls, satellite radio or HD Radio reception, and connections for building an audio system in your car.
Alpine CDE-HD137BT Reviews
Average Customer Review:
84 Reviews
---
What's in the box?
AM/FM/CD receiver (with 10A ATC fuse inserted in chassis)
Face (attached)
Sleeve (installed)
Trim ring (installed)
Wiring harness
Microphone (with attached 13' cable terminated by a right-angle 3.5mm connector)
Visor clip
Hard plastic face case
4 Flat-head ISO-DIN screws (M5 x 8mm)
2 Radio removal tools
Face-fixing screw
Owner's Manual CD-ROM
Quick Reference Guide (Eng/Fre/Spa)
System Requirements (for CD-ROM)
Online Product Registration card