Alpine iDA-X305SBT Package
iDA-X305S digital media receiver and Bluetooth® adapter
Item #: 500IDA305B
This item is no longer available.
Original Price: $399.99

Need help?
Does it fit my car?
Select your car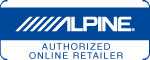 Listen to Pandora Internet radio in your car
Pandora lovers rejoice — now you can dial in your favorite Pandora stations right on your car stereo. Alpine's iDA-X305S digital media receiver works with your iPhone® to deliver everything Pandora has to offer, letting you control the action just like any other radio station. And the iDA-X305SBT package includes an Alpine Bluetooth adapter for making hands-free calls.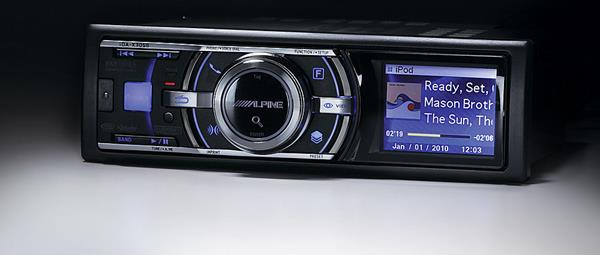 ---
Pandora's box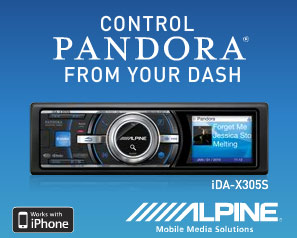 Watch demo
Setting up the iDA-X305S for Pandora is straightforward — simply connect your iPhone to the receiver's USB input and turn the stereo on. Follow the prompts to download Alpine's free PandoraLink app, and you're good to go. Album art and song info show up on the big 2.2" display. The USB connection gives you sound quality that's superior to an auxiliary input, plus your iPhone stays charged as you drive.
The stereo's controls work like a Pandora command center — push and rotate the main knob to the right to give a song a "thumbs up," or rotate to the left for "thumbs down." You can also pause the current song, or tag it for later purchasing in iTunes®. Tap the middle of the large jog dial to activate a QuickSearch of your Pandora stations, and you can even skip up to six songs an hour per station.
Note: Pandora is currently only available in the United States.
---
Simple iPod® navigation and control
This Alpine makes it easy to use an iPod in your car. The big jog dial in the middle works just like an iPod's click wheel. Turn it a little to access Search mode, then scroll line-by-line. Turn and hold the knob to move to Alphabet Search mode — now you can scroll through the alphabet to blaze through your lists of artists, albums, or songs. The current song keeps playing, so you won't interrupt the music while you're searching. The convenient "Back" button lets you backtrack through the menus, instead of starting over from the top.
Play your other digital files, too
Put your favorite MP3, WMA, and AAC files on a thumb drive, and you've got an easy way to stock up on tunes for your next road trip. Or play another USB-equipped music player through the USB slot. A premium Burr-Brown digital-to-analog converter delivers your music files with the highest fidelity possible.
---
Bluetooth® adapter included
Alpine's Bluetooth interface lets you conduct hands-free calls with a touch of a button, so you can concentrate on the road instead of fumbling around with your phone.
---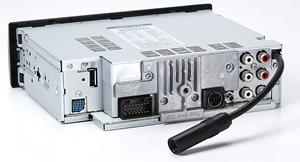 Flexible system-building options
This versatile stereo works with all of Alpine's peripheral gear, including satellite radio, auxiliary input adapter, add-on USB input, or CD changer. Add an HD Radio™ tuner, and you can "tag" songs you hear on an HD Radio broadcast for purchasing later in iTunes®.
Three sets of preamp outputs simplify setting up a system with external amplifiers and subs, and you'll appreciate the ability to control the subwoofer's output level from the stereo. For the best possible sound quality, add Alpine's PXA-H100 IMPRINT sound processor and KTX-H100 tuning kit — the IMPRINT measures your car's acoustics and adjusts the stereo's settings automatically to create a perfect audio environment.
---
Note: If you're going to use your iPod with this receiver, be sure to check "Hands-on Research" for specific iPod model compatibility with this receiver or its optional iPod adapter.
---
Want to keep your car's steering wheel audio controls?
In most vehicles, you can use this adapter to connect your vehicle's steering wheel controls to this Alpine stereo. Connect a few wires, then program the adapter for your particular car and the Alpine, and you'll retain the convenience of your steering wheel controls.
---
Information provided by Alpine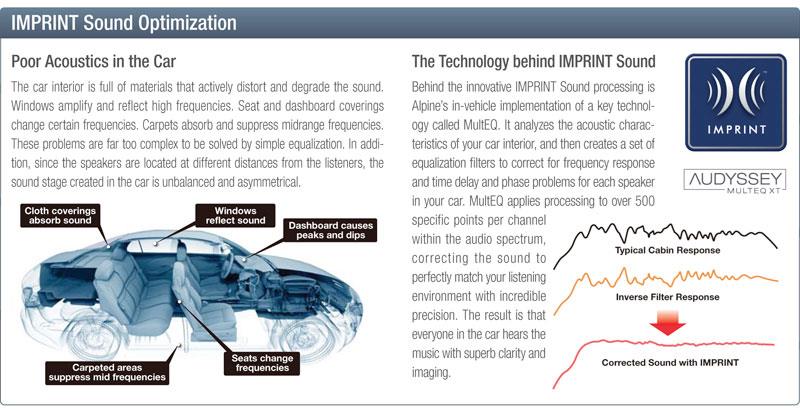 Product Highlights:
General features:
digital media receiver (no built-in CD player)
built-in amplifier (18 watts RMS CEA-2006/50 peak x 4 channels)
plays MP3, WMA, and AAC music files from external sources
2.2" full-color TFT display
detachable face
included Bluetooth adapter
iTunes tagging with Alpine's optional TUA-T550 HD Radio™ tuner
optional remote control
Pandora features
works with Alpine's free PandoraLink iPhone app
controls for thumbs up/down, skip, pause, QuickSearch, plus tagging for purchasing in iTunes
skip up to 6 songs per hour per station
shows album art and song info on the screen
direct USB connection for better sound than an auxiliary input
Audio features:
2-band parametric equalizer
Burr-Brown 24-bit digital-to-analog converter
compatible with Alpine's PXA-H100 IMPRINT audio processor and KTX-H100 tuning kit
Expandability:
iPod control: direct connection to USB input for newer iPods (older iPods will need Alpine's KCE-422i interface cable)
compatible with Alpine's HD Radio tuner, CD changer, satellite radio
inputs: rear USB input
outputs: 6-channel preamp outputs (2-volt front, rear, subwoofer) — subwoofer output has bass level control
Other features and specs:
Why replace your factory radio?
Two good reasons - sound quality and cool features. A new car stereo offers power that's superior to most factory radios, along with more sophisticated tone controls. And most car stereos offer built-in or optional features that add safety and fun to life in your car, including inputs for your iPod or MP3 player, Bluetooth connectivity for hands-free cell phone calls, satellite radio or HD Radio reception, and connections for building an audio system in your car.
Alpine iDA-X305SBT Package Reviews
Average Customer Review:
20 Reviews
---
Written by: Joel from mississippi on May 11, 2012
2006 Chevrolet Malibu
Crutchfield Customer Review
(
What's this?
)
"Coolness Factor"

Build Quality

Ease of Use

Sound Quality

Value
Have always been an Alpine customer but this just isn't worth the money. I expected better for Bluetooth with streaming audio. After lots of issues I finally returned for a cheaper Kenwood with more features!!

Pros:

Cons:
Written by: Anonymous from Houston, tx on May 10, 2012
Crutchfield Customer Review
(
What's this?
)
"Coolness Factor"

Build Quality

Ease of Use

Sound Quality

Value
Bought this for my husband and he loves it!

Pros:

Cons:
Written by: DaBudaa from Honolulu, HI. on February 22, 2012
"Coolness Factor"

Build Quality

Ease of Use

Sound Quality

Value
I've owned this unit for almost a year now, bought from local vendor and had them install it in my '07 Dodge Caliber. Half the reason why I bought this is because of all the features (mostly bluetooth & iPod), the other half was for looks (what can I say this was a present for my-self). I like the rear USB so I can hide my iPod inside the glob-compartment, I used to have the iPod connected to the stereo by AUX cable. My android phone connects to this unit automatically through bluetooth whenever I start the car. The screen is fantastic it shows all images and text clearly, except for when the sun is positioned towards the right-rear and rear of the vehicle. Radio, "well, radio is radio," the only thing I hate about this feature in this unit is that I have to avert my eyes from the road when I choose a station, cause I have to use the middle knob to scroll while looking at the screen to see which stored station is being highlighted before pressing "Enter." Right after this was installed, I did notice a better sound quality (a little) coming from all different features(iPod & radio) even though I still have factory speakers at that time, now I have Orion speakers for the rear door only and factory still for the front doors. I installed an Alpine CDE-133BT receiver and Pioneer TS-G1643R speakers in my sister's '98 Corolla and it sounded much better than this unit, maybe it's because I soldered the wires in this unit and the one in my car were all crimp-connects.

Pros: Form factor. Graphical Screen. Rear USB for iPod(only) users.

Cons: Browsing through radio stations. No front panel USB for iPhone users. No front AUX input for someone "like me" who uses there car speakers for PSP/DS sound while waiting at a parking lot.
Alpine iDA-X305SBT Package
Written by: DonMGM from Raleigh,NC on December 31, 2011
2010 Toyota Tacoma
Crutchfield Customer Review
(
What's this?
)
"Coolness Factor"

Build Quality

Ease of Use

Sound Quality

Value
Upon initial ownership i can say i can definately tell a different in sound quality in my vehicle (2010 Tacoma). Everything works flawlessly thus far and clarity is great. This is my first aftermarket stereo that i have owned and Crutchfield did a great job on getting this product to me fast. Took roughly 24 hours to get delivery. Product is very snappy and no lag between settings etc. I do love the fact i can choose a red illumination setting to match my tacoma.

Pros:

Cons: Product is somewhat difficult to understand and navigate etc. It comes with an owners manual cd, which i would highly recommend sitting down and taking the time to read.
Alpine iDA-X305SBT Package
Written by: Karl from Las Vegas, NV on December 24, 2011
Crutchfield Customer Review
(
What's this?
)
"Coolness Factor"

Build Quality

Ease of Use

Sound Quality

Value
Overall I am pleased; I got this as a replacement for the JVC KW-XR810 that I had installed for a couple weeks before the bluetooth stopped working. The JVC was discontinued so I had to pick a different unit.

The only problem I have with the Alpine is the way the phonebook syncs from my iPhone. Every time the phone connects with the HU it has to go through a lengthy (5-7 minute) "updating". I have a fairly sizable contact list (~400) so I switched the phone to only sync my favorites which takes about a minute. I'm not really sure why a HU that was made primarily for iPhones would have such a bad bluetooth implementation. It also lists my iPhone under connected devices as "NO SUPPORT" and is why Alpine thinks something is wrong with the adapter; they also say the phonebook updating thing is "the way it is supposed to be"

Caller ID pushes to the unit and call quality is crystal clear and most people can't even tell I'm using it. Signal strength and battery life DO NOT display on the HU; which I only mention because the JVC did and I grew to like it.

The iPod controls and Pandora Link are great and it recognizes the iPod in about 5 seconds (the JVC took about 30-never seconds).

Crutchfield support was amazing, they shipped the new HU and only charged me the difference with the understanding I send the old HU back; and 2 days after I got the Alpine there was a price drop of $100 which they credited without a second thought. I will never buy from anywhere else!

Pros: Simple navigation and controls, great little display (not too flashy) and sounds great!

Cons: Bluetooth syncing with my iPhone 4 (sw 5.0.1) is a little annoying and seems glitchy. I've been in touch with Alpine and they think I may have a faulty BT adapter but the function of the BT (phone calls etc.) work great.
Modern, attractive, and effective
Written by: Sherry E. from Springboro, OH on November 30, 2011
2006 Jeep Wrangler Unlimited
Crutchfield Customer Review
(
What's this?
)
"Coolness Factor"

Build Quality

Ease of Use

Sound Quality

Value
I got this for Christmas '10. After a year of use, I still love the x305s w/ BT. I started with the iPhone 3gs and now use it with the 4s. No problems with compatability. The controls are easy to use and make iPod and phonebook navigation simple and hasstle free. Others tell me that my phone conversations are clear and they understand me even with the window down.

I like having the ability to change the background and enjoy browsing the selection of free downloads at Alpine. I wish I had the option of more backlight colors. I am bored of just Red or Blue. I want colors to match the many backgrounds we can download.

My one big complaint - GLARE!!! I have a rag top, so the top is off most all summer. Most all of a sunny mid-day requires me to cup my hand over the HU to provide enough shade to see the display.

Just a side note: Crutchfield was a great help. I had trouble with the BT settings and a tech walked me through it over the phone. I may have been in that car for hours without you. Thanks a bunch!!!

Pros: Compatability is great. Look is sharp. Controls are convenient. Background selection is awesome. Fits well in dash.

Cons: Screen glare. Only two backlight colors. Sometimes doesn't pair w/ BT if the iPhone is plugged into USB before the unit is on (easy fix- just unplug and re-plug- but still annoying).
Written by: K Fitz from Columbia, SC on August 3, 2011
Plain and simple I wanted a HU that I could connect my iPod to, shut it away in the glove box, and forget about it. Well.....here is the answer!! With over 10,000 songs on my iPod, the dual control knob makes it almost effortless if you're looking for that one song or artist. In a nutshell, this HU screen turns into an iPod screen with the same menu options and the dual control wheel acts like the iPod click wheel.

If you have a massive audio library, and want a HU that will actually let you search with ease....100% this is it! I can't remember the last time I listened to the radio, and as far as no CD player goes, why would you possibly need one? Haven't wish for a CD player since I got this HU a year ago.

Pros:

Cons:
Written by: SJC from San Jose, CA on July 10, 2011
2003 Honda Civic
Crutchfield Customer Review
(
What's this?
)
I picked this unit because of its capability integrate with Bluetooth, Pandora, and the PXA-H100 Imprint add-on.

Beware that this unit does not come with a CD player as indicated on their specifications. No big deal if you have an iPod/iPhone.

The Bluetooth works with the iPhone4 but not after going through some headaches first. I initially thought I had a defective unit. My iPhone would pair with it but the head unit acted as if it never happened. I had to disconnect the Bluetooth module from the head unit, remove all power, and reset the head unit. I plugged it back in and do the reset procedure as the instructions indicated. Then it recognized my iPhone. Its buggy but it does work with the iPhone4.

I recommend getting the Imprint with this unit. It sounds great considering I am using it with stock speakers.

The instructions are not so great. Any further details that need to be looked up is on the CD.

The only thing that I do not like about it takes two steps to access the saved radio stations. I wish it had 6 quick access buttons like other radios. Other than that, it is a great unit.

Pros:

Cons:
Written by: JC from Central Valley, CA on June 17, 2011
2001 Ford Taurus SES
Crutchfield Customer Review
(
What's this?
)
This is a really, really nice deck. Plenty of options for expansion(Bluetooth, 45x4 amp, Imprint, Sat radio, Pandora). The Bluetooth works great, and provides easy calling/receiving. I Pod controls are pretty intuitive(who needs CDs anyway). Good sound from the 24 bit DAC.

If you're going to build a system, this is a good place to start. You can put this in your car just to add MP3's to your stock system, or build an amazing sounding system.

Because of this ability to really customize your own car audio experience, the product gets 5 stars.

Pros:

Cons:
Alpine iDA-X305SBT Package
Written by: legin from mt.view,hawaii on June 15, 2011
2002 Volkswagen Cabrio
Crutchfield Customer Review
(
What's this?
)
i've owned alot of stereo's in my time,this is by far the best one. other stereo's need time to download bluetooth info, and if you don't keep it in standby mode while doing so, you won't get any sound out of your ipod. this is the first alpine i've owned, now i know what all the hype is about. great sound, great features, great looks, totally worth it! alpine is my new stereo!

Pros:

Cons:
Written by: David W from Fall River, MA on May 17, 2011
If you plan I buying this make sure that your iPhone is not running firmware 4.2.8, it wont work properly, the 4.2.6 works fine with that deck. I made a big mistake by upgrading my iPhone.

Pros:

Cons:
Written by: Joel from Purlear, NC on April 22, 2011
I love this unit. I've had Alpines in the past, and this one lives up to what I've come to expect from Alpine - great sound, solid (not chintzy) buttons, dial, and overall layout, and reliability. I find the iPod navigation easy to use once you get the hang of it (it is slightly different from controlling the actual iPod), and I actually prefer the dash control and display of this unit vs. holding the iPod while driving. The display is not the largest out there, but it's surprisingly easy to read and includes various custom display options. One mode will display album artwork, artist, album, song, song time, and the current date and time. I'm actually going to buy another one for my other car since not using the Alpine is such a let down after you spend a month with it.

Pros:

Cons:
Written by: Kevin from Baltimore, MD on April 21, 2011
2003 Dodge Neon
Crutchfield Customer Review
(
What's this?
)
Sounds great, no issues getting Bluetooth to work or the Pandora app to work. Would definitely recommend.

Pros:

Cons:
Great Sound, functional menu system
Written by: DaveW from Los Angeles on April 3, 2011
1999 Ford Ranger
Crutchfield Customer Review
(
What's this?
)
The biggest limitation is, of course, the menu system. I don't know who works on these programs, but as soon as you get away from the ipod menu system you are downgrading. The menu is bulky, words are cut off and it takes forever to navigate. You can jump through by letter or by 10% of the collection, but there is a significant delay from when you scroll the knob and it jumps to the next letter. Once its going though, it moves too fast and you usually fire past your intended song or artist. (Needs that tivo/DVR fast forward compensator)

Now that you've found the album you want to hear, if you unplug and replug the ipod you lose your place in the menu hierarchy. This is extremely frustrating when you want to see other songs in the album or by the artist. I mostly just stick with playlists because of the chore of navigating albums or artists. The other option is to just start the song on the ipod and then plug it in. The HU with continue playing the track. If only I could override the HU and just control the music from the ipod...

Pros:

Cons:
Painful sound + bizarre limitations = avoid the X305S
Written by: Ronald from Seattle, WA on February 5, 2011
2005 Mercury Mariner
Crutchfield Customer Review
(
What's this?
)
The sound quality is so awful that you'll turn to podcasts to avoid having to hear music through the X305S. With my previous HU, I had immersive and beautiful sound that wrapped around me. After spending hours trying to tune the X305S, I only got needles of painful cacophony. Seriously, it's bad. Songs lost their details and highlights.

The two quasi-parabolic adjustments are absurdly limited for a unit at this price. You could purchase the PXA-H100 and KTX-H100 for extra. Perhaps this gives you good sound. Seems dumb and expensive given that there are other HUs out there.

The Bluetooth sound is surprisingly bad. Alpine forgot to include a gain nob for Bluetooth callers, so everything coming from your callers will be clipped.

I bought this to work with my iPhone 3G running iOS 4.1. But, having to use the X305S's clunky wheel and button interface is silly given that I have a quick and easy way to select songs directly on the iPhone. Unfortunately, you can't use the iPod/iPhone to change songs/playlists/podcasts. The X305S also doesn't support Apple's Genius mix playlists.

iPod playback was surprisingly unreliable. At this price the X305S shouldn't have resulted in frequent "USB disconnected" messages while driving.

Seeing the album art is good. Seeing only ten characters of a song's title, artist, and album name is bad. What was Alpine thinking? Sure, you can set it to scroll, but you're still stuck with seeing only ten characters per row when you navigate around.

Avoid the X305S.

Pros:

Cons:
Good Product (iPhone4 user)
Written by: AnthonyS from Fort Worth, TX on January 27, 2011
2003 MINI Cooper
Crutchfield Customer Review
(
What's this?
)
This is a good head unit. A little of a learning curve to work the controls but I really like it.

I have not been able to get the BT audio to work though. Not sure what I am doing wrong? I just plug in the phone and it is no big deal though.

Over all it is a good HU.

Pros:

Cons:
Written by: TT from Virginia on January 3, 2011
1997 Ford Ranger
I purchased this unit on sale and have not hooked up the Bluetooth nor do I know how the Pandora works. I purchased it because I wanted to use it with my iPod Nano and this HU works great for that. Songs load very quickly, the display is beautiful, and the sound shaping is great. I know some reviews on the IDA-X305S, which is what this unit is, were not happy with only bass & treble but I didn't seem to find that to be an issue as you can also adjust the treble & bass frequency as well as the bass bandwidth. These are minor adjustments but also are in addition to the bass & treble control. I'm not a "True" audiophile but I do consider myself someone that appreciates good tone. I also did not have any issues with setting & selecting FM stations. I'm running this unit with a Alpine MRP-F300 amp that drives four Polk Audio db571's. I also have a Sound Ordnance B-8PT sub and this combination sounds incredible. I was thinking of also purchasing the IMPRINT but I'm not sure I really need to now after listening and making some minor adjustments.
I'd like to thank my sales advisor Buck, THANKS!! I was thinking of purchasing elsewhere, ... I know, what was I thinking..... but Buck informed me that other places do not offer a warranty, no lifetime tech support, and no free installation gear. That right there is priceless. I'm very happy with this purchase and look forward to my next one with Crutchfield.

Pros:

Cons:
Written by: Daniel from Myrtle Beach, SC on December 24, 2010
Crutchfield Customer Review
(
What's this?
)
I bought this unit to specifically use with my iphone 4. I make a lot of calls on the road and wanted the ipod integration with the bluetooth audio as well as the usb hook up. I have never been able to get the bluetooth audio connection to work. This is even after I have made the bluetooth connection with the phone. Trust me on this...I am a tech dork. I would wait to buy this. However, It is a great receiver. I little difficult to work for my wife. However, the iphone integration is not up to speed.

An example of the problems I have experienced is, after I paired the device when I hit the source button, the bluetooth audio says "error" and thats it. No explanation and no support from Alpine to address this. When I hook up the iphone to the receiver through the usb cable, the ipod feature works great BUT if you get a call and then receive a voicemail, the receiver will mute the music but will not play your voicemail over the speakers. Annoying. Please read some of the forums out there on problems with the iphone and this receiver. There are other problems that I have not experienced yet. Check out this thread as well http://community.crutchfield.com/forums/p/19330/227617.aspx.

My recommendation for iphone users would be, don't buy. Alpine needs to fix this problem immediately.

Pros:

Cons:
Written by: Jerry from Castle Rock on November 28, 2010
1993 Chevrolet Blazer
Crutchfield Customer Review
(
What's this?
)
Great head unit! This is a very clean and easy to navigate head unit, definitlely recommend getting the 445 inline amp too, it makes a big difference. I am running boston aqustic 6.5 and 6x9's off of this head unit and it sounds great. One note: this unit is quite a bit shorter than the regular 1 din head unit so it might help people who need a shallow mount.

Pros:

Cons:
Written by: Chris from Folsom, CA on October 28, 2010
2005 Toyota Corolla
Crutchfield Customer Review
(
What's this?
)
I have had a lot of Alpine head units over the years and this one by far blows them all away. The sound quality is amazing as well as the user interface. Pandora runs flawlessly and is very easy to navigate. I use Pandora all day at work and now I can use it in the car as well. The album artwork shows up very well. I have yet to install the bluetooth adapter for making phone calls so I'll update that later. All in all, very worth they money for this system.

Pros:

Cons:
What's in the box?
AM/FM/Digital Media receiver
Control panel (installed)
Sleeve (installed)
Trim ring (installed)
Wiring harness (10-amp fuse)
7.5" iPod dock to USB cable
58" USB extension cable (with male USB Type A connector on one end and a female USB Type A connector on the other)
KCE-305SBT Bluetooth interface module with self-adhesive Velcro backing
Microphone with attached 9.5' cable terminated by a 2-pin connector (flat screw mount attached to microphone)
Small mounting clip for mic
Large mounting clip for mic
Small section of Velcro
Self-tapping screw for mounting mic (Length=3/8")
3.25' DIN cable with a proprietary 10-pin connector on each end
9.5" Power Harness for Bluetooth Module with a 4-pin Molex plug on one end and male 4 bullet-connectors on other end
6.5' Red wire with a female bullet-connector on one end and bare wire on other end
6.5' Yellow wire with a female bullet-connector on one end and bare wire on other end
6.5' Black wire with a female bullet-connector on one end and bare wire on other end
6.5' Pink/black wire with a male bullet-connector on one end and a female bullet-connector on other end
Soft carrying pouch
2 Radio removal tools
4 Flat-head ISO screws (M5 x 8mm)
Receiver owner's manual on CD-ROM (English/ Spanish/ French)
CD-ROM Owner's Manual system requirements sheet
Customer Care registration card
"To customers" iPhone Disclaimer note
"To Customers purchasing KCE-400BT/KCE-250BT" note
iDA-X305S Quick Reference Guide
KCE-305SBT Quick Reference sheet
Product Research
Overview:
The Alpine iDA-X305SBT is an in-dash digital media receiver with an AM/FM tuner, a rear-panel USB input, and a 2.2" full color TFT LCD screen, but no CD slot. You can connect and control an iPod, a USB "thumb" drive, and a CD changer; and the unit offers Bluetooth communication (with included Bluetooth module), as well as supports HD & Radio Satellite radio (optional tuners required). The iDA-X305SBT is a dedicated receiver that provide seamless control of your iPod, iPhone, and many other popular digital devices right from the head unit. The iDA-X305SBT receiver offers enhanced features for a more robust iPod-listening experience that meets the specifications for "Made for iPod" and "Works with iPhone" compatibility.

USB/iPod/Aux Connectivity
Bluetooth Communication
Radio Functions
Audio Section
Sound Processing
Display Features
Remote Control
USB/iPod/Aux Connectivity:
USB Memory Mode: The Alpine iDA-X305SBT features a rear-panel USB port and comes supplied with a 58" USB extension cable. The iDA-X305SBT can play MP3, WMA, and AAC files stored on a USB Memory device (also known as a "thumb drive") formatted in FAT 12/16/32. MP3 files can be recorded with bit rates of 16-320 kbps, WMA files can have 16-320 kbps bit rates, and AAC files can have 16-320 kbps. This unit can recognize up to 1,000 folders and up to 10,000 files. The unit's display shows song, album, and artist title, and elapsed time. If no tag information exists, the display shows the track number and elapsed time. During MP3/WMA/AAC playback from a USB memory device, you can activate the search mode to locate a specific folder or file by name. You can repeat the current track or current folder, and play the tracks in the current folder or all of the tracks in the current memory bank in random order. Additionally you can connect and control MP3 players like the iRiver Clix, Creative Zen, or Toshiba Gigabeat, using the MTP protocol.
iPod/iPhone Compatible: The iDA-X305SBT uses a rear-panel USB connection (58" USB extension cable included) and comes supplied with a 7.5" iPod dock connector cable to connect select iPods and provide ultra-fast digital data transfer so songs are loaded instantly through the receiver. The iDA-X305SBT allows connection, audio playback, control, and charging of your iPod using a USB connection. With the USB connection you get the fastest speed available and a direct digital connection to the unit's 24-bit DAC. Sound quality is maximized by using USB along with the 24-Bit D/A converter, allowing for an incredible Signal to Noise ratio of 105dB. The Alpine iDA-X305SBT is "made for iPod/iPhone" compatible and supports the following iPod/iPhone model functions (as of April 2011):
iPod/iPhone Model
Generation
Tested Version
Media Type
Control Type
Display Type
Charge
Audio
Video
Head Unit
iPod/iPhone
Song/Artist Text
Track Info
dock connector
3rd
N/A
N
N
N
N
N
N
N
clickwheel
color
4th
N/A
N
N
N
N
N
N
N
mini
1st
N/A
N
N
N
N
N
N
N
2nd
N/A
N
N
N
N
N
N
N
video
5th
1.3
Y
N
Y
N
Y
Y
Y
classic
80GB
1.1.2
Y
N
Y
N
Y
Y
Y
120GB
2.0.1
Y
N
Y
N
Y
Y
Y
160GB
2.0.4
Y
N
Y
N
Y
Y
Y
nano
1st
1.3.1
Y
N
Y
N
Y
Y
Y
2nd
1.1.3
Y
N
Y
N
Y
Y
Y
3rd
1.1.3
Y
N
Y
N
Y
Y
Y
4th
1.0.4
Y
N
Y
N
Y
Y
Y
5th
1.0.2
Y
N
Y
N
Y
Y
Y
6th
1.1 PC
Y
N
Y
N
Y
Y
Y
touch
1st
2.2.1
Y
N
Y
N
Y
Y
Y
2nd
4.2.1
Y
N
Y
N
Y
Y
Y
3rd
5.0.1
Y
N
Y
N
Y
Y
Y
4th
5.0.1
Y
N
Y
N
Y
Y
Y
iPhone
2G
3.1.3
Y
N
Y
N
Y
Y
Y
3G
4.2.1
Y
N
Y
N
Y
Y
Y
3GS
4.3.5
Y
N
Y
N
Y
Y
Y
4
5.0.1
Y
N
Y
N
Y
Y
Y
4S
5.0.1
Y
N
Y
N
Y
Y
Y
Note: You must use the supplied cable for iPod/iPhone operation (the USB/iPod dock cable which comes with your iPod/iPhone will not function). The controls on the iPod are not functional when connected. This unit does support the iPod Full Speed connection. Apple iPod/iPhone software updates may change functionality results. If you download a newer software version, you may need to reset the head unit and your iPod/iPhone to regain functionality. If this doesn't work, you may need to revert to the older software version or wait until an newer software update is available.
Display Modes: You can view Artist, Album, Song Information and Song Number right on the head unit's display. You can choose between three display modes (Track Number/Elapsed Time, Song Name/Artist Name, or Song Name/Album Name).
Search Functions: You can quickly and easily search through all of the music contained on your iPod through Playlist, Artist, Album, Song, Genre, Podcasts, Audiobooks, or Composer searches. For especially large music libraries, Alpine created Page Skip to skip your music content list page by page. The unit also offers a Percentage Search function to quickly jump to specific parts of your iPod's music list. You can skip through your music in 10% increments. You can even use Alphabet Search to jump through your lengthy list of music by skipping through the letters of the alphabet. Once you have the letter you want, simply scroll to the exact song. Instead of starting all over from the search menu, you can simply press the Back button on the receiver to go back one step (works just like your iPod).
Playback Functions: During iPod playback, you can activate any of the following playback modes: Shuffle Album (an album in the iPod is selected at random, and is played back in the album song order), Shuffle Song (all songs in the currently selected mode are played back in random order), or Repeat Play (a single song is repeatedly played back). When you are playing a song if you press the back button it will take you back to the place in the menu where you selected the song.
iTunes Tagging: When you add Alpine's HD Radio module (500TUAT550, sold separately), and you hear a song you like, simply press and hold the iTunes Tagging button on the iDA-X305SBT. This iTunes Tagging feature lets you Tag songs you hear on HD Radio stations and stores the info on your connected iPod. The next time you connect your iPod to iTunes, you will be able to preview your selections and then purchase and download them from directly from iTunes.
Pandora Link: The iDA-X305SBT's PandoraLink feature enables you to interact with your Pandora internet radio account, by connecting an iPhone that has the Pandora compatible Application for iPhone installed. PandoraLink allows you to play Pandora internet radio from your connected iPhone through the Alpine iDA-X305SBT. Pandora is a free, personalized online radio service that allows users to create their own stations with music they like from a single artist or song. To get started you will need a Pandora online account, the Pandora App from the Apple iTunes App Store, and the PandoraLink for Alpine App from iTunes App store (all free). Once you have downloaded these applications and connected your iPhone to the iDA-X305SBT via its USB connection, you will be able to access Pandora music content, playback audio, and display music information with album art from the Alpine digital media receiver. The Alpine iDA-X305SBT also offers unique Pandora functions such as Song Rating, Bookmarking, and QuickMix.
Song Rating: If you like a song, push in the outer ring of the unit's Double Action encoder knob and twist the knob to the right to give the song a "thumbs-up". If you don't like the song, likewise push in and rotate the knob to the left, to give the song a "thumbs-down" and the song will skip. This provides feedback to Pandora so that you get better music selections catered to you no matter where you are; whether it's in the car, on your iPhone, or over the web on your computer at home.
Song Bookmarking: The current song or artist playing can be bookmarked to your Pandora account. Your bookmarks can be viewed on your profile page at Pandora.com or directly via the Pandora app for iPhone, where you can choose to purchase the music from your computer later.
QuickMix: Use QuickMix to create a playlist based on two or more of your Pandora stations. Edit your QuickMix station selections on the Pandora compatible application for iPhone when it is not connected to the iDA-X305SBT.
Note: Pandora is not available in Canada and only available for use in the United States.
Optional Auxiliary Input: With the optional KCA-121B Ai-NET/RCA interface cable (500KCA121B, sold separately) you can input audio from an auxiliary source unit, such as a TV, VCR or portable unit through the head unit's AI-Net port.
Note: When using this auxiliary adapter, you cannot connect a CD-changer to the head unit.
Bluetooth Communication
Bluetooth Interface: With the included KCE-305BT Bluetooth adapter you can make and receive calls hands-free on your Bluetooth-capable cellular phone, and communicate through a microphone (included with the Bluetooth interface) and your vehicle's speakers. In addition to the wireless connection and hands-free operation, you also get caller ID, phone book access, and on-screen call information.
Bluetooth Profiles: The KCE-305BT supports Bluetooth version 2.0 and the following Bluetooth Profiles.
HFP: Hands Free Profile
HSP: Head Set Profile
Phone Compatibility: The Alpine KCE-305BT is powered by Parrot for expanded compatibility for many Bluetooth enabled cell phones. The KCE-305BT supports select Apple, AU, BenQ-Siemens, Blackberry, and Casio Bluetooth enabled cell phones. New software can be downloaded and installed via Bluetooth connection to your laptop to support future cell phone models.
Note: Not all Bluetooth-capable phones will be compatible. Please visit Alpine's website for the latest product compatibility listing.
Pairing: The KCE-305BT can be paired to up to five Bluetooth enabled mobile devices (only one device can be used at a time).
Bluetooth Phone Operation: The KCE-305BT features full phone book access, call history, voice tag dialing and auto answer with compatible phones. You can make a phone call from a contact listed in your phone book using any Alpine head unit's user interface.
Placing Calls: The KCE-305BT provides a variety of functions for placing a phone call without using your mobile phone.

Redial: press the phone button within 5 seconds of ending a call
Call History: the 10 previously dialed, received or missed numbers can be retrieved and dialed from memory
Phonebook: up to 1,000 entries can be downloaded from your phone
Voice Dialing: if you have a voice-dial capable phone, you can dial a phone contact just by speaking the name of your contact

Receiving Calls: The KCE-305BT provides a couple ways to answer your phone calls without picking up your mobile phone. Incoming calls are announced by the received call ring tone through your vehicle's speakers and a displayed message (Caller name/Phone No.) across your Alpine head unit's display.

Manual Answer: manually answer an incoming call by pressing the "Phone" button on your Alpine head unit
Automatic Answer: set your Alpine head unit to answer the incoming call automatically; when a call is received, it is answered automatically after about 5 seconds
Note: Display of Phonebook, Received Calls, Missed Calls, and Dialed Calls varies from phone to phone and by your service provider.
Microphone: The supplied microphone allows you to speak to the other party on the telephone call hands-free. The microphone comes with a visor clips for mounting purposes. The microphone measures 0.5625" in diameter and 1.375" long. The microphone has an attached 9.5' cable which plugs into the Bluetooth interface module. The microphone's volume can be adjusted from 0-15.
Echo Cancellation: The KCE-305BT's Active Echo Cancellation technology ensures the highest-quality, noise-free sound when you are on the phone.
Mute: When you make or receive a call, the audio from the stereo is muted. When using the Bluetooth interface, no other device can be used with the mute (interrupt) function.
Speaker Output: You can select which connected speakers in your vehicle to output the sound signal of your Bluetooth enabled mobile phone. You can choose from All, Front Left, Front Right, or Front Left/Right. You can also adjust the volume level of a received call.
Pass-through Port: The KCE-305BT features a pass-through port which allows you to connect an external AI-NET device such as the optional Ai-NET/RCA auxiliary input cable (KCA-121B, sold separately).
Note: The pass-through port is not compatible with an external Satellite Radio or HD Radio tuner.
Dimensions: The Alpine KCE-305BT Bluetooth module measures 3.785" (w) x 1.015" (h) x 4.085" (d).
Radio Functions
Built-in AM/FM Tuner: The Alpine iDA-X305SBT features a built-in AM/FM tuner with manual, seek, and preset tuning. A total of 18 station s can be stored in the unit's preset memory (6 stations for each Band; FM1, FM2, and AM).
Satellite Radio Ready: There are several options for connecting an optional XM or SIRIUS Satellite Radio receiver to this receiver:
XM Satellite Radio: To receive XM Satellite Radio connect the optional CNP2000UCA XM Tuner and the Alpine CNP-ALP1 adapter cable (package item number 700XMALP2, sold separately).
Sirius Satellite Radio: A portable Sirius Satellite Radio receiver can be connected to the head unit via an auxiliary input adapter (500KCA121B, sold separately). You cannot connect this auxiliary input and a CD-changer at the same time.

Note: A subscription is also required to receive satellite radio programming from SIRIUS or XM.
HD Radio Ready: The iDA-X305SBT can receive HD Radio signals, including multicast broadcasts, when the TUA-T550HD HD Radio Tuner Module (500TUAT550, sold separately) is connected via the Ai-NET connector. HD Radio is digital FM and AM broadcasting, allowing you to enjoy your same favorite FM and AM stations with digital sound quality. The FM stations have CD-quality sound and AM stations sound as good as today's analog FM stations. HD Radio offers multicasting, meaning current FM stations can provide more than one program stream on their existing frequency. The digital seek function allows you to search for only HD Radio stations if you prefer.
Note: Right now there are about 2,000 radio stations broadcasting using digital HD Radio technology in the U.S. To find HD Radio stations in your area, visit the HD Radio website (HDRadio.com).
Audio Section
Sound Quality: The iDA-X305SBT uses clean digital connections and a 24-bit Burr Brown DAC (digital-to-analog converter).
CEA-2006 Compliant: The specifications given by Alpine for the built-in amplifier comply with the CEA-2006 mobile amplifier power testing and measurement standards from the Consumer Electronics Association. All manufacturers who comply with the standard can display the CEA-2006 logo on their product.
CEA-2006 Power Rating: 18 watts x 4-channel (at 4 ohms, 20-20kHz, 1% THD)
Max Power Output: 50 watts x 4-channel (200 watts total)
Head Unit Power Pack (optional): Add the KTP-445 (500KTP445, sold separately) Head Unit Power Pack to deliver 45 watts x 4-channel RMS of power. The KTP-445 is compact enough to install behind the iDA-X305SBT. It plugs in-line with the iDA-X305SBT's wiring harness so you don't even need additional wires.
Bass and Treble Controls: The head unit features independent Bass and Treble controls that allow you to adjust each setting +/-14 dB in 2 dB steps. The center frequencies are adjustable (60, 80, 100, and 200 Hz for bass and 10, 12.5, 15, and 17.5 kHz for treble) and the bass bandwidth is adjustable (from narrow to wide in four steps).
Loudness: Loudness introduces a special low and high frequency emphasis at low listening levels to compensate for the ear's decreased sensitivity to bass and treble sound at low volume.
HPF: The high pass filter (HPF) removes the lower bass from the front and rear speaker and line level outputs. HPF options are 80 Hz, 120 Hz, 160 Hz, and off.
Subwoofer Pre-out: In addition to the front and rear 2-volt preamp outputs, there is a dedicated 2-volt subwoofer preamp output with variable level adjustment of 0 to 15. You can select either System1 or System2 for the desired subwoofer effect.
Subwoofer System 1: Subwoofer level changes according to the main volume setting.
Subwoofer System 2: Subwoofer level change is different from the main volume setting; even at low volume settings, the subwoofer is still audible.
Power IC Off: When an external amplifier is powering all the speakers in the system, you can turn the internal amp off, which will improve the sound quality.
Interrupt Feature: When a device having the interrupt feature (such as a cellular telephone) is connected to the receiver, the audio signal will be automatically muted whenever the interrupt signal is received from the device. The supplied wiring harness contains a pink/black Interrupt lead that needs to be connected to the device's interrupt signal connection.
Sound Processing (with optional PXA-H100)
Imprint: With the addition of the optional PXA-H100 Imprint box (500PXAH100, sold separately) and KTX-H100 tuning kit (500KTXH100, sold separately) a car's inherent acoustic shortcomings can be overcome with the MultEQ feature. Imprint also gives you much more sound adjustment flexibility as detailed below.
MultEQ: MultEQ, developed by Audyssey Labs, automatically optimizes the audio for the listening environment inside your vehicle. The Imprint kit includes the hardware, software, and microphone necessary to measure multiple positions in the car and capture frequency and time domain information from the vehicle's actual acoustical environment. Once the car's speaker location delays are measured, along with the frequency peaks and dips caused by the absorptive and reflective materials in the interior, MultEQ creates a set of equalization filters to correct the frequency response and time domain problems for each speaker in the vehicle. It also removes sound distortion caused by the specific acoustical problems in the vehicle. This optimizes the sound reproduction to the specific vehicle listening environment with much greater precision than can be achieved using typical graphic or parametric equalization. The result is a more accurate soundstage and smoother, more natural sound optimized to match your vehicle.
Equalizer: 10 typical equalizer settings are preset for a variety of musical source material. Select from Flat, Pops, Rock, News, Jazz & Blues, Electrical Dance, Hip Hop & Rap, Easy Listening, Country, and Classical. You can also save six custom EQ curves you create by adjusting the parametric or graphic EQ:
5- Band Parametric EQ: The Parametric EQ allows you to adjust the following 5 frequency bands in 1/3 octave steps from -6 to +6 dB at a bandwidth Q factor of 1, 1.5, or 3

Band 1: 20 Hz to 80 Hz
Band 2: 50 Hz to 200 Hz
Band 3: 125 Hz to 3.2 kHz
Band 4: 315 Hz to 8 kHz
Band 5: 800 Hz to 20 kHz

7-Band Graphic EQ: The built-in Graphic EQ allows you to adjust the following 7 frequencies from -6 to +6 dB

Band 1: 63 Hz
Band 2: 150 Hz
Band 3: 400 Hz
Band 4: 1 kHz
Band 5: 2.5 kHz
Band 6: 6.3 kHz
Band 7: 17.5 kHz
Crossover: The active crossover can be used as a 2.2 channel (3-way; low-pass subwoofer, band-pass midrange, high-pass tweeter) or a 4.2 channel (2-way; high-pass front and rear, low-pass subwoofer). A crossover limits the frequencies delivered to a given speaker, so you send only the frequencies for which the speaker is well suited. The crossover adjusts the high pass filter or low pass filter of each band along with the slope and output level. You can adjust the following crossover settings:
4.2 Channel:

High Pass Filter: the front and rear outputs are individually adjustable; crossover from 20 to 200 Hz in 1/3 octave steps with a slope of Flat, 6, 12, 18 or 24 dB/oct, additionally you can adjust the output level from -12 to 0 dB
Low Pass Filter: the subwoofer output can be stereo or mono; crossover from 20 to 200 Hz in 1/3 octave steps with a slope of Flat, 6, 12, 18 or 24 dB/oct, additionally you can adjust the output level from -12 to 0 dB

2.2 Channel:

Tweeter/High Pass Filter: crossover from 1 kHz to 20 kHz in 1/3 octave steps with a slope of 6, 12, 18, or 24 dB/oct, additionally you can adjust the output level from -12 to 0 dB
Midrange/Band Pass Filter: a band pass has both high pass and low pass filters; HPF 20 to 200 Hz in 1/3 octave steps with a slope of Flat, 6, 12, 18 or 24 dB/oct; LPF from 20 Hz to 20 kHz in 1/3 octave steps with a slope of Flat, 6, 12, 18 or 24 dB/oct, additionally you can adjust the output level from -12 to 0 dB
Subwoofer/Low Pass Filter: the subwoofer output can be stereo or mono; crossover from 20 to 200 Hz in 1/3 octave steps with a slope of Flat, 6, 12, 18 or 24 dB/oct, additionally you can adjust the output level from -12 to 0 dB
Time Correction: The time correction feature delays the audio signal to the speakers closer to the listener. This effectively creates a perception of increased distance for those speakers. Time Correction allows the listener to be placed at an equal distance from all speakers for optimum staging. You can adjust the distance of each speaker and subwoofer (6-channel) to the listener from 0 to 132.7 inches.
Media Xpander: The MX (Media Xpander) function makes vocals or instruments sound distinct by restoring sound quality typically lost during recording or transmission; this function helps restore audio information that becomes obscured when audio is compressed. The MX function can be applied to all sources, except AM radio. There are three settings and each source can have its own setting.
Display Features
2.2" Color LCD Display: You can easily view your iPod Album Art on a High-Resolution 2.2-inch color TFT display and select from three different screen view options on the iDA-X305SBT with great visibility even in direct sunlight.
Song and track information
Album Art image and song information
Clock/Calendar display
Wallpaper: You can select the background color of the display between two types (Blue or Red). Wallpapers can be downloaded only when in USB memory mode. Wallpaper data is available at a website designed for Alpine product Owners. Download the wallpaper to your USB flash memory. Upload the Wallpaper from the flash memory to this unit.
Dual Illumination: You can decide between blue or red illumination buttons on the control panel.
Calendar/Clock Display: Using the View button, you can select the calendar/clock display on the front panel LCD. The clock can be set to 12 or 24 hour display, and the calendar can be displayed as M/D/Y (month/day/year), D/M/Y, or Y/M/D. When the calendar/clock display is given display priority, the time and date are displayed even after the unit is turned off. The calendar/clock display can be turned on or off with the View button when the unit is powered off.
Display Dimmer: The LCD screen and the button illumination will dim when the vehicle's headlights are turned on. You can also turn the dimmer off in the menu if you prefer. The orange illumination wire in the supplied wiring harness must be connected to the vehicle's headlight circuit in order for the dimming feature to work. You can also set the illumination of the head unit manually.
Double-Action Rotary Encoder Knob: The iDA-X305SBT comes with a large Double-Action Rotary Encoder Knob for maximum control over all music search functions like QuickSearch for finding your songs or adjusting your volume. This knob can be detached from the face-plate for anti-theft purposes, the display however remains on the front panel. The unit comes with a soft fabric carrying pouch with a drawstring to protect the control panel when detached.
Angle Mounting: Alpine recommends mounting the iDA-X305SBT no more that 35° above horizontal.
Remote Control
Optional Wireless Remotes: The iDA-X305SBT does not include a remote control. It is compatible with two optional wireless remotes; RUE-4190 (500RUE4190, sold separately) and RUE-4202 (500RUE4202, sold separately).
Steering Wheel Remote Compatibility: The unit also features an OEM steering wheel remote control input on the rear of the unit that lets you keep your vehicle's factory radio steering wheel remote controls when used with the optional PAC SWI-JACK Steering Wheel Control Interface Adapter (127SWIJACK, sold separately); or the optional Metra ASWC Steering Wheel Control Interface Adapter (120ASWC, sold separately).
Note: Please consult the Crutchfield Car Selector to see if your vehicle is compatible.
Our Product Research Team
At Crutchfield, you'll get detailed, accurate information that's hard to find elsewhere. That's because we have our own in-house Product Research team. They verify what's in the box, check the owner's manual, and record dimensions, features and specs. We stay on top of new products and technologies to help people make informed choices.