Alpine INA-W900BT
INA-W900 navigation receiver and Bluetooth® adapter
Item #: 500INAW90B
This item is no longer available.
Original Price: $899.99
Shop all In-dash GPS Navigation
Need help?
Does it fit my car?
Select your car
All your maps and entertainment in your dash
Alpine's INA-W900 navigation receiver offers a distinct blend of style and function. You'll get a sleek, full-featured touchscreen navigation and entertainment center that sits right in your dash, impressing your friends and keeping all your passengers happy. Alpine also includes a Bluetooth® adapter, so you can make and receive hands-free calls in your vehicle.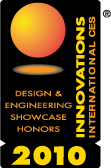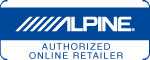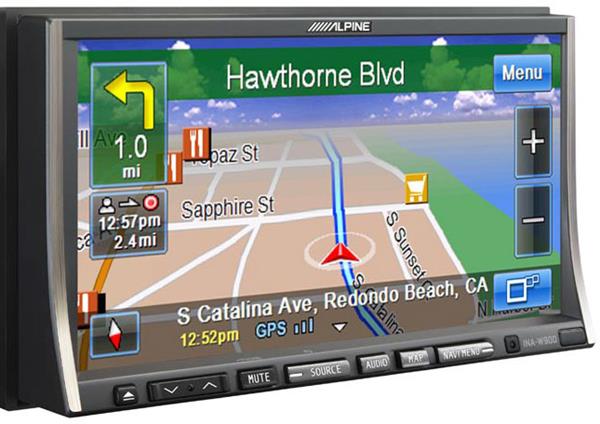 ---
Built-in navigation
The INA-W900 features built-in navigation with turn-by-turn directions, including spoken prompts ahead of each turn. A built-in accelerometer allows the navigation system to stay on track in tunnels or around tall buildings that can temporarily block the GPS signal.
With 6 million preloaded points of interest, you'll find local hotels, gas stations, or ATMs with ease. And you can even navigate while you listen to your tunes — Alpine's GuideView feature flashes an alert on the audio screen before your next turn comes up, so you don't have to sacrifice your entertainment for accurate directions. You can update your maps through the SD™-card slot behind the receiver's face.
---
Bluetooth® adapter included
Alpine's Bluetooth interface lets you conduct hands-free calls with a touch of a button, so you can concentrate on the road instead of fumbling around with your phone.
---
Dynamite audio
Alpine designed the INA-W900 for superb sound quality. A high-resolution 24-bit digital-to-analog converter delivers clean, crisp sound, imparting a sense of realism that makes your driver's seat the best seat in the house. The built-in amplifier punches out a healthy 18 watts RMS by four channels, or you can add Alpine's TP-445 Power Pack to upgrade your power to 45 watts RMS by 4 channels. Tweak your system to perfection with Alpine's optional PXA-H100 IMPRINT™ audio processor and the KTX-H100 tuning kit. The IMPRINT measures your car's acoustics and adjusts the stereo's settings automatically to create a perfect the perfect listening space.
Plug your iPod® or iPhone® into the USB slot, and you'll enjoy access to your favorite playlists and albums. Load up a thumb drive or recordable disc with music files — the INA-W900 will play them both, so you can bring thousands more tunes on the road with you. You can also add an HD Radio™ tuner or satellite radio for more listening options.
---
Beautiful touchscreen display
The intuitive 7" touchscreen offers customizable styles and colors, so you can adjust the look to your taste. Large, easy-to-see graphics let you tap your way easily through various menus and options. You can view DVDs on the sharp screen up front while you're parked, or connect a back seat monitor so your passengers can enjoy movies while you're driving. An optional rear-view camera gives you a clear view of what's behind you, great for larger vehicles.
---
Note: If you're going to use your iPod with this receiver, be sure to check Hands-on Research for specific iPod model compatibility with this receiver or its optional iPod adapter.
Bluetooth note: Bluetooth compatibility of this device may vary, depending on your phone and service provider.
---
Want to keep your car's steering wheel audio controls?
In most vehicles, you can use this adapter to connect your vehicle's steering wheel controls to this Alpine stereo. Connect a few wires, then program the adapter for your particular car and the Alpine, and you'll retain the convenience of your steering wheel controls.
---
Product Highlights:
General features:
DVD/navigation receiver with 7" touchscreen and internal amp (18 watts RMS CEA-2006/50 peak x 4 channels)
fits double-DIN dash openings
included Bluetooth adapter
optional remote control
Audio/video features:
plays DVD Video (including two-layer), DVD-R/RW, DVD+R/RW, CD, and CD-R/RW
plays MP3, WMA, and AAC files on CD and DVD
compatible with Alpine's PXA-H100 IMPRINT audio processor and KTX-H100 tuning kit
Expandability:
built-in iPod control via USB input
compatible with Alpine HD Radio tuner, satellite radio, and CD changer
inputs: USB input, A/V input, rear camera input
outputs: A/V output, 6-channel preamp outputs (2-volt front, rear, subwoofer)
Other information:
compatible with most factory steering wheel audio controls (adapter required)
warranty: 2 years
Why install a car stereo with built-in GPS?
Imagine taking a trip as your car's receiver gives you directions, finds the best restaurant for dinner, and plays movies for your back seat denizens. Navigation receivers cover all the bases, with GPS guidance, DVD playback, and a host of other useful features. You can search through millions of points of interest to locate gas stations, restaurants, museums, and other interesting spots, wherever you are. Most receivers offer Bluetooth capability for hands-free calling, along with the ability to search through your iPod playlists with touchscreen controls.
Alpine INA-W900BT Reviews
Average Customer Review:
21 Reviews
---
Written by: infamous9 from Waterloo Iowa on October 25, 2013
Great head unit. Everyone can read other reviews about quality, which is very high in my book, but some people thinking about this unit need some questions answered, and those that have it,I have some tips. First off you can when in the iPod go back to theartist youre on by holding the magnifying glass. Second,I had trouble getting my iPod classic to work. Fixed it by simply changing the connector where it goes to a3.5mm Jack and iPod to just a apple iPod connector. No video doesn't work but I could care less from the iPod

Pros: Sq, ipod integration, output/input options, look, functionality

Cons: Navigation is not the best by any means but Is there. Bluetooth doesn't stream audio.need the higher end adapter to do this
Written by: Chitownben from San Diego, CA on February 18, 2012
Im gonna make this short and sweet. I am an audiophile i love the sound that comes from top quality gear. Mobile audio should have bling appeal and sound great. I bought this and along with the PHA X-100 imprint module, it works flawless and sounds butter, yet stings hard. Make sure you buy a PAC tr7 video bypass or you will have to pull over for all updates and go through the annoying Alpine sequence........Enjoy...

Pros: SImplicity, Bluetoothe pairing, sound....

Cons: A little bulky but hey so were pull out radios.
Written by: bigmikey from Dallas, Tx on January 5, 2012
I put this in a F-350 dually. I had to have the dash modified (expensive) to get it to fit. The main problem is it broke within a year. The nav froze up and you can't change the time. It was also very un-user friendly with a lot of functions. I can place it with my three broken Alpine amplifiers. I don't know what happened to alpine but I'm done with it. Crutchfield has so many to choose from it won't be difficult.

Pros: looks good

Cons: Unit Quit working within a year.
Written by: Olson070707 from Kearney Nebraska on January 2, 2012
i am very dissapointed in this head unit. i have owned it for over 6 months now and i would already like to get rid of it. my biggest complaint is when you select a song to play you can not "back up" to the song list.really frustrating. with the navigation you can not just search for a city. you almost always have to enter an adress to get results. i would not recommend this unit. im also not impressed with the sound quality produced.

Pros: not much actually. great picture when watching videos.

Cons: i pod song search. lack of display options. album artwork picture looks horrible. navigation is not easy to use.
Written by: TW from Las Vegas, NV on November 2, 2011
2007 Toyota 4Runner
Crutchfield Customer Review
(
What's this?
)
I've had this for almost a year and I have to admit I'm disappointed in the performance of this expensive unit. When everything is running without a problem, it is good but feels clunky in practice. A list of flaws: Start of song on iPod always has crackles and pops during the first 3-4 seconds of a track (especially when skipping to a new track) and has to be the most disappointing flaw, you will hear a brief gap in between tracks when listening to a live album, you have to start at the beginning of the iPod menu to navigate through just to get to the song that's currently playing when you start your car (Music>Artists>Artist>Album>Song) instead of just being able to hit the button to take you back to the list of songs on that album that's currently playing (y'know... like an iPod...arrgh!), screen resolution sucks (album artwork is pathetic), graphics and fonts are ugly, causes iPod to lock up about once a week (requiring a restart on the iPod), system needs to be reset about once every 6 weeks due to the screen freezing, GPS software update was hard to find on the Alpine website and was not Mac compatible (c'mon Alpine, get with it) without using 3rd party software to unzip the file then was a nightmare trying to load it, GPS function stopped working altogether (a system reset fixed it), etc.

Pros: iPod connection, hands free Bluetooth/iPhone, GPS

Cons: Sound quality from iPod, interface with iPod, graphics/fonts, regular system/iPod resets
May 2011 review of Alpine 900BT
Written by: John from Las Vegas on May 25, 2011
Installed on a 2009 Chevy Suburban (no Bose), with GM LAN adapter (on-star), and steering wheel interface. Crutchfield provided details while nice should not be expected to solve an install like I described above. Overall: I am satisfied with the product I purchased for its intended use. My requirements for a head unit were GPS, Bluetooth, Reverse Camera input independent zones for entertainment. Alpine met all these. Pros: Sound, acceptable GPS initialization spin-up, video quality (even after being split) Cons: Navigation display and GUI is outdated Crutchfield install direction expectation. I dropped this from 4 stars to 3 based on my install problems. Performance from the Alpine unit is 4 stars with the major hit being the navigation GUI. Install instructions were mediocre at best. I spent three nights prepping labeling each of the components wiring painstakingly and mapping my own wiring diagram to ensure a single source document. Specifically where to wire in a SPDT switch in order to have a switched ignition source was clear as mud. Audio/Video/Radio all flawless, only problem was BT did not work. Crutchfield support was a little slow to get in synch with me when I explained the head unit was not recognizing the adapter, though my iPhone 3Gs was. I was surprised when after going through each and every wire they were sending out a complete new unit, before I sent the current one back. That's a plus to Crutchfield. BT synched like a dream (and have no complaints since)

Pros:

Cons:
Written by: guy from NC on May 18, 2011
2009 Chevrolet Silverado 1500
Crutchfield Customer Review
(
What's this?
)
great HU semi difficult to install. recommended by a man pretty decent with wiring to get this installed professionally. the gm adapter needed for this unit is cheap and will fall apart if sneezed on. be sure to look behind your current radio to make sure you have enough room for all of the wires. had to cut out a bit of plastic from behind my stock unit. have yet to hook up the XM sat due to a malfunction in recieving a signal. will be returning that piece of the puzzle. bluetooth is great very sensitive . gps is on track but sometimes slow to load. overall very pleased with this product instructions included are great.

Pros:

Cons:
It's ok, it's not amazing.
Written by: GreenState from VT on May 18, 2011
The navigation is not as intuitive and does not show very much information on the screen. Unless you are zoomed into the point of the map speeding by, you cannot see the names of side streets. There are no lakes or river names in the system. When traveling on the freeway, it will tell you to "Continue Ahead" at every toll booth. Also, if a dirt road happens to be near a corner on a major highway, you will get a "Slight left/right ahead onto Major Road". An added annoyance is that you can't simply give it a town/city to get to, you must give it a street address and adding waypoints is not easy/impossible.

The audio controls are basic, but many features are separated into obscure sub menus--from your audio screen you can only access bass and treble.

Installation is not a easy/quick job. You will have to locate, run wires, and spice into your parking brake relay and your reverse relay as well if you want to use the optional rear camera. There are also microphone, USB, aux audio, and GPS antenna wires to run and the Bluetooh unit must go somewhere as well.

Oh the Bluetooth, it works most of the time. Sometimes the phone will not be able to connect, even though it just worked 15 minutes ago. Recent, Missed, and Recieved call menus are all empty and trying to scroll through your phone book is painfully slow.



Pros:

Cons:
Written by: Toby from Prairieville, LA on May 14, 2011
2005 Toyota Tacoma
Crutchfield Customer Review
(
What's this?
)
Overall very pleased with the purchase.

Pros: Lots of features. Nav, Sirius add-on, iPod, Radio, CD, etc. All work well. Purchased this with the Power Pack and Alpine SPS-600C component speakers and love the sound in my truck.

Cons: Included bluetooth adapter doesn't support A2DP. Uncertain map update availability (Some roads are out of date and there could certainly be more points of interest).

Pros:

Cons:
Written by: Pete R from Lansing,IL on April 19, 2011
2010 Chevrolet Camaro
Crutchfield Customer Review
(
What's this?
)
Great radio will not be disappointed!
Recommend that professional installer do it.
Too many wires!

Pros:

Cons:
Written by: Mahlon from Tampa, FL on April 11, 2011
2010 Toyota Tacoma
Crutchfield Customer Review
(
What's this?
)
AMAZING IS THE ONLY WORD THAT COMES TO MIND FOR THIS UNIT. I installed it in a 2010 Tacoma. witht he supplied kit it was a simple install. Integration with Blackberry was fast and easy. Super fast with IPOD controls. Navigation is AWESOME, especially since I found a way to completely disengage the voice prompting and interruptions to music when turns are coming up. ALPINE HAS OUTDONE THEMSELVES WITH THIS UNIT!!! WORTH EVERY PENNY SPENT FOR SURE.!!!!

Pros:

Cons:
Written by: Steve from San Francisco, CA on March 29, 2011
2007 Toyota Highlander
Crutchfield Customer Review
(
What's this?
)
The Deck works pretty well and is everything I expected. Ipod artwork and controls are pretty smooth and quick to navigate. My only knock on this product is that when you use a mp3 cd, you can't look at the whole list of songs and scroll through. You have to go forward or backwards 1 by 1. If you go to the initial root folder u can scroll through, but once a song is playing to pick specific songs, you must go backwards in the menues and this just doesn't make sense.

Pros:

Cons:
Written by: Scott E from Pa on March 24, 2011
I bought this unit because it is, by far, the most user friendly unit I could find. Pioneer has a good product but I was sold on this one the first time I used it in the showroom.

You don't have to drill down thru multiple menus to adjust the bass, treble and sub. There is a button on the main screen that brings up all three with one touch. I like it.

The clock is small but it is on all of the time no matter what source you are listening from and you never have to set it. It works thru the GPS. You do however have to adjust for daylight savings time. There is a checkbox in the nav regional settings.

The nav is typical. Not real impressed with it but neither am I impressed with my Garmin. I don't need turn by turn. It's annoying. By the way. My unit has the option to turn off voice prompts in the nav audio settings. Not sure why the guy from down under doesn't have this option.

It does not come with the HD radio tuner which is no big deal to me but I will add it later for the sole purpose of listing radio/song info on the display and the option for iphone song tagging. It costs $200.

I have a Boyo back up camera installed also. Works very well with this unit.

It plays video very well. I don't use DVD's. Everything is played thru my iPhone and it looks good. Anything in iTunes can be played on this unit. And it does come with the ipod adapter.

Overall this unit is perfect for me.

Pros:

Cons:
Written by: Thomas from Brisbane on March 13, 2011
I bought the INA-W900E here in Australia. I am happy with the unit except the fact that while you are using the GPS you cannot turn off the voice navigation. Whilst driving in a built up area this is highly irritating. Phoned Alpine here and they let me know that this is a feature is not available on this product. I didn't even think to check that since all my GPS's I have had you could turn off the voice prompt.

Pros:

Cons:
Great sound / Hard to install.
Written by: juan M from gretna, louisiana. on February 3, 2011
The unit is all Alpine , which means great sound and easy to use. The reason I say is hard to install is because the unit bluetooth , Imprint , satellite ( 2 adapters) are all separate boxes with their own power supplies, also very important , If you hook the imprint unit you have to run a separate RCA wire from the unit to the guide out put to the imprint box. For an experience installer no problem at all , for the average crutchfield custumer a headache. Also I found the unit proccessor in the unit is very sluggish , people keep saying the Ipod is lighting fast but I have to disagree , is about the same as pioneer and kenwood.

Pros:

Cons:
Excellent Performer in every category
Written by: Gadgetman from Piedmont Triad, NC on January 12, 2011
What I don't understand is why this unit isn't better advertised and reviewed?

Well let's change that now.

I have owned (or tried) most of the major mfrs of NAV headunts - Pioneer, Kenwood, and Sony - this one beats them all!

First off, bootup is fast so that the backup camera can be available.

The iPod interface is lightening fast and better than any other unit I've seen. Searching through albums, artists, playlists or songs is incredibly simple and quick as on the iPod itself. Even podcasts and videos are readily available.

The screen quality is excellent for the audio display screen, backup camera, DVD or other videos and the NAV screen. Sound quality is top of the line too with the Burr-Brown DACs.

CD (or DVD) disc playback and loading is quick and searching is almost as easy as the ipod interface.

Bluetooth phone control has a nice touchscreen interface, but "Handsfree" should be reordered as the first option for safety reasons. I prefer to do all calling out using handsfree. Incoming calls will interrupt any other input and show you the #/name of your caller.

The interface is clear, fast and simple with pleasant graphics and large easy to read fonts.

NOTE: I do not have the XM/Sirius or IMPRINT options so I can't comment on these.

Other brands may have some more complex features (like voice control of ipod search, etc.) but everything on this unit is fast and highly usable. HIGHLY RECOMMENDED

Pros:

Cons:
Written by: Donnie from Va on January 4, 2011
2005 Dodge Ram 3500
Crutchfield Customer Review
(
What's this?
)
alpine did it again. Had other brands but this ones the best. Everything worked right the first time. Video looks great. iPhone and older iPod works great. Quick time response. Recommend it to everyone. Crutchfield is always there for you. Great costumer support

Pros:

Cons:
Make sure you know what your getting
Written by: John from Eagle Point OR on December 22, 2010
Crutchfield Customer Review
(
What's this?
)
I ordered and received this product because of the features offered including Navigation, backup camera and Blue Tooth.
I would like to say that Crutchield is far better than any local shop I have dealt with. They have made all issues that I did have be resoved to my ultimate satisfaction.
Installing this head unit was more difficult than just installing a normal head unit. Requires you to be organized and methodical with the install.
Once this unit was installed with all options it was time to test it out. All aspects of the functionality worked as advertised.

The one issue that was facing me was streaming blue tooth like the ina-w900bt has as a feature. However my unit from Crutchfield provided from alpine included the kce-250bt for the blue tooth interface. This unit does not support blue tooth streaming. You must upgrade to the kce-400bt. Make sure this is done before you purchase.

I was more than satisfied with this solution. Thank you Crutchfield. You have this customer for life.


Pros:

Cons:
Written by: Tom from New Mexico on November 16, 2010
2003 Toyota Tacoma
Crutchfield Customer Review
(
What's this?
)
The good:
Alpine got the interface right. Very easy to use and noncluttered. Simple is what you want in a stereo when your attention should be on driving. Alpine accomplished this in spades.
GPS worked great, mounted antenna inside the dash and still picked up 8-10 satellites while sitting in the garage.
Bluetooth phone worked great. Peeps said voice was clear, intelligible and no echo.

The bad:
Did not play well with my iPhone 3GS for audio playback. Kept getting bursts of static. iPod nano worked fine and iPhone worked fine on my old 9886. Crutchfield suggested I reset the phone. Resetting, restoring and using friends' iPhones resulted in the same problem.
Navigation instructions a bit suspect, sometimes taking a longer route.
Bluetooth voice dialing was a lost cause. No matter how slow or clear I tried to speak, kept picking the wrong person to dial.

Wanted to keep it but not being able to hear my music crystal clear was the deal breaker.





Pros:

Cons:
Written by: Angie from El Paso, Tx on October 13, 2010
I bought a new unit for my 2010 Honda Accord due to me relocating. I was skeptical about the navigation but I have had all doubts removed!!!! Everyone was telling me that Kenwood made the best navigation but after having the Alpine I beg to differ. The start up speed is awesome the screen is large and clear for watching movies.

Pros:

Cons:
Best Head Unit on the Market
Written by: patrick from Raleigh, NC on September 26, 2010
I've had several double-din A/V head units and this one is hands down the best. Absolute stellar audio quality and customization. The built in navigation is impressive compared to most. Prior models fall far short of where the w900bt draws the line. It gives you full control over every audio sequence, you can watch DVDs on the unit or in the rear or both. You can customize the audio to work separately upfront than it does in the rear. The iPod speed is lightning compared to earlier models. The search functions have been made much quicker and I can fly through my packed 160gb iPod like it was nothing. You have the ability to watch videos off the iPod right on screen. It displays album art for whatever you are listening to, or if you are navigating somewhere, it will display a a turn by turn interface nicely in the audio box so you don't have to switch back and forth between screens. The bluetooth automatically connects with your phone and the audio automatically switches to your call upon your phone ringing. Its seamless and very functional. It also has voice recognition for both your bluetooth phonebook and navigation. If you are in the market for the best, get this unit. You will NOT be disappointed.

Pros:

Cons:
What's in the box?
2-DIN Multimedia Navigation Receiver with 7.0" widescreen LCD monitor
Sleeve (installed)
Trim ring
Power harness (has in-line 10A fuse and fuse holder)
Pre-amp output harness
A/V input/output harness
Rearview camera input harness
78" USB extension cable (female USB Type-A port on one end and male USB Type-A plug on the other)
USB extension lock case
78" A/V extension cable (male mini-plug on one end and female mini-jack on the other)
1' iPod dock to USB/mini-plug adapter cable
Rear view camera input harness
Bluetooth interface module (INA-W900BT BOX)
Microphone with attached 13' cable terminated by a 2-pin connector
6.5' DIN cable with a proprietary 13-pin connector on each end
6.5' Power/Ground harness
GPS Antenna with attached 16.5' cable
Waterproof antenna pad
5 Self-adhesive cable clips
Self-adhesive antenna mounting plate (2-3/4" square)
2 Removal keys
8 Pan-head machine screws (M5x8mm)
6 Countersunk machine screws (M5x8mm)
2 Adhesive seals
Owner's manual CD-ROM (Eng/ Fre/ Spa)
Quick reference guide (Eng/ Fre/ Spa)
Installation guide (Eng/ Fre/ Spa)
Customer care registration card
CD-ROM requirements/ instructions
Product Research
Display Features
Navigation
Audio Section
Radio Functions
Disc Playback
AV Connection
USB/iPod Connectivity
Bluetooth Communication
Remote Control
Display Features
Motorized 7.0" Wide Touch Screen Display: The INA-W900BT has a motorized 7.0" touch screen monitor (with 16:9 aspect ratio) that serves as a video monitor and system information display. The unit's touch screen provides audible and visual confirmation of commands. For better visibility you can adjust the monitor's angle; choose flat or one of five settings angled upward.
Video Lock-out Feature: For safety and legal reasons, the INA-W900BT features a video lock-out feature to prevent the driver from viewing a video source while the vehicle is in motion. To watch a video source, the vehicle must be parked with the ignition in the ACC or ON position. The vehicle's parking brake must be engaged, disengaged, and engaged again while the foot brake is held in.
Display Modes: You can select one of the following display modes:
Mode 1 (Wide): evenly stretches a 4:3 picture horizontally to fit the widescreen monitor
Mode 2 (Cinema): displays a 4:3 picture by stretching out the picture horizontally and vertically; good for displaying a cinema-type picture with a 16:9 ratio
Mode 3 (Normal): displays a 4:3 picture at the center of the screen with a vertical black band at each side
TV Screen Mode: This feature allows you to select the aspect ratio of any back seat monitor(s); choose from 4:3 Letter Box, 4:3 Pan and Scan, 16:9 Widescreen.
Visual EQ Mode: You can select one of the following preset modes suitable for the subject image:
Night Mode: suitable for movies in which dark scenes frequently appear
Soft: suitable for animated films
Sharp: suitable for old movies where images are not clearly shown
Contrast: suitable for recent movies
User Memory (P-1, P-2): change and save Brightness, Color, Tint, Contrast, and Sharpness settings in the two user memories
Illumination Control: You can select one of the following settings for the LCD's fluorescent backlight:
Auto: adjusts the brightness of the background illumination based on the ambient light in your vehicle
On: keeps the background illumination of the monitor dark (always dimmed, the degree to which the backlight is dimmed is adjustable)
Off: keeps the background illumination of the monitor bright (no dimming)
Button Lighting Dimmer: You can adjust the brightness of the button lighting at night from -2 to +2.
Background Screen: You can choose from four different background colors for the display; Blue, Red, Green, or Amber.
Navigation
Flash Memory Navigation: Alpine has the Navteq map database loaded in its internal flash memory; the maps cover the entire United States (including Alaska and Hawaii), Canada, Puerto Rico, and the Virgin Islands. The database provides approximately 6 million points-of-interest (POIs) in various categories throughout the coverage area. You can search for a POI near your current location, near your destination, along your current route, or near a specific city.
Positioning Technology: The INA-W900BT uses Alpine's OnPoint Advanced GPS Positioning, ensuring your vehicle stays accurately positioned on the map even in areas where it's difficult to receive GPS reception, such as in a tunnel or around tall buildings. OnPoint simultaneously uses three technologies - satellite-linked positioning data, gyro sensor technology (to determine the vehicle's direction) and accelerometer technology (to gauge the vehicle's speed) - resulting in continuous coverage of the location of your vehicle.
Voice Guidance/Text to Speech: In addition to graphical on-screen directions and maps, the INA-W900BT provides voice guidance and turn-by-turn directions, capable of text-to-speech (TTS), announcing the street names along with the turn directions. Directions can be announced in English, French, or Spanish.
Map Orientation: The INA-W900BT provides three Map Orientations, choose from North Up, Heading Up, or 3D View:
North Up: north is always at the top of the display; this makes it easy to determine your current heading with respect to the map
Heading Up: the current direction is always pointing to the top of the display; this makes it easy to see the direction of the next turn on the map
3D View: offers you a more realistic perspective by tilting the map and displaying it with a horizon line; streets are displayed as you approach them instead of from a birds-eye view
Map Color: The INA-W900BT offers 12 color settings for the map screen.
Setting A Destination: The Alpine INA-W900BT offers several ways to select a destination:
Home: save your home address so you can quickly navigate to your house from anywhere
Address: enter a specific street address as your destination; Alpine's Smart Key Filtering program highlights only the possible next letters as you spell street names, city names, or POI names
Places (POI): select from approximately 6 million Point-of-Interest (POI) locations stored on the flash drive; destinations are sorted by POI Name or by POI Category and are listed in order of distance from your current location; search near your current location, near your destination, along your current route, or near a specific city
History: choose from recent destinations
Address Book: save frequented locations in the unit's address book to quickly add as a destination
Intersection: enter a street name (you can first enter a city) and choose from the intersecting streets
Coordinates: enter Latitude and Longitude coordinates as your destination
Route Calculations: Navigation settings allow you to have the unit calculate routes based on quickest time or shortest route. You can also avoid highways, toll roads, and ferries.
Waypoints: You can set up to three waypoints between your current location and your destination. The final destination must be set before entering any waypoints.
GuideView Window: Alpine's GuideView Window gives you a picture-in-picture navigation window while the unit is in audio display mode. The GuideView Window displays the next maneuver as you head towards your destination. When you are not routing towards a specific destination, the GuideView Window displays a digital compass, the street you're on, and the city/state you're in, allowing you to view and control your music playback and still see your next turn.
Map Updates: Future mapping and Point of Interest information updates are likely to be available from Alpine and are input using the SD card slot above the DVD slot behind the touch screen (the SD card slot only used for navigation updates).
Audio Section
24-Bit DAC: The INA-W900BT utilizes the latest Burr-Brown 24-bit Digital to Analog Converter to ensure accurate audio reproduction.
Dolby Digital and DTS Compatibility: The INA-W900BT can perform 2-channel Dolby Digital and DTS decoding when playing back a DVD through its analog outputs (multi-channel soundtracks are down-mixed to 2-channel).
Bass and Treble Controls: Without an external processor, the head unit features independent Bass and Treble controls. Each can be adjusted as follows:
Bass Center Frequency: 60Hz, 80Hz, 100Hz, or 200Hz
Bass Band Width: four options from 1 (narrow) to 4 (wide)
Bass Level: select from -7 to +7 (+/-14 dB in 2 dB steps)
Treble Center Frequency: 10kHz, 12.5kHz, 15kHz, or 17.5kHz
Treble Level: -7 to +7 (+/-14 dB in 2 dB steps)
Loudness: The Loudness feature introduces a special low and high frequency emphasis at low listening levels. This compensates for the ear's decreased sensitivity to bass and treble sound at lower volumes.
Subwoofer Control: The INA-W900BT features a dedicated subwoofer preamp output with user level adjustment between 0 to 15.
High Pass Filter: The receiver features independent high-pass filters for the front and rear outputs, both speaker level and preamp; select from Off (full range), 80, 120, or 160Hz.
Rear Entertainment Function: The rear entertainment function independently routes different sources to the front and rear of the vehicle. For example, while listening to the radio or other audio source in the front, a DVD can be enjoyed in the rear with an optional rear monitor and headphones; the rear zone signals are passed by RCA composite video and stereo RCA preamp audio connections.
Interrupt Feature (NAV.MIX): The volume of the voice guidance commands from the navigation system is adjustable, relative to the main volume.
IMPRINT Sound Upgradeable: The INA-W900BT is IMPRINT ready. Simply add the Alpine IMPRINT PXA-H100 audio processor (500PXAH100, sold separately) and the Alpine KTX-H100 tuning kit (500KTXH100, sold separately) for automatic sound tuning or powerful manual tuning options. IMPRINT automatically measures the entire listening area, capturing time domain and frequency response information from each listening location to process and improve the sound at every seat in your vehicle. Precise control and corrections yield enhanced sound so you can enjoy an optimal listening experience. The IMPRINT audio processor allows you to customize your crossover adjustments so you can control where you send your high and low frequencies. It also provide detailed equalizer adjustments.
Radio Functions
AM/FM Tuner: The unit features a built-in AM/FM tuner with two FM bands and one AM band.
Preset Tuning: You can preset up to six stations for each band giving you a total of 12 FM presets and 6 AM presets. The unit's tuner can also automatically seek and store six strong stations in a selected band in order of signal strength.
Satellite Radio Ready: There are several options for connecting an optional satellite radio receiver to this unit:
XM Satellite Radio: To receive XM Satellite Radio connect the optional CNP2000UCA XM Tuner and the Alpine CNP-ALP1 adapter cable (package item number 700XMALP2, sold separately).
Auxiliary Input: A portable satellite radio receiver, such as the Delphi SkyFi3 or SIRIUS Sportster, can be connected to the head unit via the auxiliary input.
Note: A subscription is also required to receive satellite radio programming from SIRIUS or XM.
HD Radio Ready: The INA-W900BT can receive HD Radio signals when the TUA-T550HD HD Radio Tuner Module (item number 500TUAT550, sold separately) is connected via the Ai-NET connector. While receiving HD Radio, the unit can seek both analog and digital signals, or you can switch to seek only the digital signals. When used with the compatible HD Radio Tuner, the INA-W900BT supports Multicasting, which is the ability to broadcast multiple programs streams over a single FM frequency, thereby increasing the amount and diversity of content choices.
Disc Playback
Compatible Discs: The unit's integrated disc drive will play back DVD Video (including two-layer), DVD-R/RW, DVD+R/RW, CD, and CD-R/RW discs.
MP3/WMA/AAC Playback: This unit can play CD-R/RW, DVD-R/RW and DVD+R/RW discs containing MP3, WMA, and AAC files recorded using the ISO 9660 Level 1 or Level 2 formats; constant and variable bit rates from 32 kbps to 320 kbps are supported for MP3, 48 kbps to 192 kbps for WMA, and 16-320 kbps for AAC. Recordings made using Track At Once or packet writing cannot be correctly played back. ID tags are supported; track title, artist name, and album name up to 128 characters.
Pre-stop Function: When the Pre-stop function is used, the position at which playback is stopped is stored in the memory, and playback resumes from that position.
Step/Slow Motion Playback: When a DVD is in the pause mode, you may move forward through the program being played one step (frame) at a time or in slow motion (1/8 or 1/2 speed), forward or backward. No audio is played during slow motion playback.
Fast-Forward/Fast-Reverse: You can view a DVD in double speed in either direction by touching and holding the fast-forward or fast-reverse button on the touch screen for more than 1 second. If held for 5 or more seconds, playback at 8x speed in the selected direction will begin. If held for 10 or more seconds, playback at 21x speed will begin.
Repeat Playback: When playing a DVD, you can repeat the current title or the current chapter. When playing a CD, you can repeat the current track (the disc repeats automatically).
Parental Lock: Parental Lock allows you to restrict the playback of DVDs that are unsuitable for younger viewers. You can select a parental lock rating from 1-8, which is protected by a 4-digit password.
AV Connection
Audio/Video Input: Stereo RCA jacks and an RCA composite video jack are provided for connecting an external video source such as a VCR, DVD player, or video game.
Audio/Video Output: Stereo RCA jacks and an RCA composite video jack are provided for feeding A/V signals to an optional video monitor. When the Rear Entertainment Function is used and these jacks are connected to a rear seat entertainment system (e.g. a rear seat monitor and wireless headphones), your rear seat passengers can view/listen to a different source than the one selected for the front passengers.
Rear Camera Input: A proprietary rearview camera input on the rear panel is designed for use with the Alpine HCE-C107D camera (item number 500HCE107D, sold separately). A composite video adapter is also included so the input can be used with most current rearview cameras. If a rear-view camera is connected, you should also connect the reverse lead to the vehicle's back-up lamp circuit. When properly connected, the image from the rear-view camera automatically appears on the monitor when the vehicle is shifted into reverse.
USB/iPod Connectivity
USB Memory: You can play MP3, WMA, or AAC files stored on a USB memory device. The USB connection will also allow you to control and playback MP3 and WMA files on some portable players. During playback, the display shows song, album, and artist title, and elapsed time. If no tag information exists, the display shows the track number and elapsed time. When connected, music files are automatically divided into Banks of 1,000 songs each; the maximum recognizable number of files is 10,000. You can repeat the current track, and play the tracks in the current category or all of the tracks in memory in random order.
iPod Interface: The INA-W900BT allows you to connect an iPod using the supplied adapter cable. With the USB connection you get the fastest speed available and a direct digital connection to the unit's 24-bit DAC when playing audio files. The controls on the iPod are not functional once connected. The INA-W900BT supports audio/video transfer from iPod video, iPod nano, iPod classic, and iPod touch. You can quickly and easily search through all of the music contained on your iPod through Playlist, Artist, Album, Song, Podcast, Genre, Composer, and Audio Book searches. You can view Artist, Album, and Song information, as well as the song number and elapsed time on the head unit's display. The unit also supports Repeat and Shuffle playback modes. The Alpine INA-W900BT is Made for iPod and Works with iPhone compatible and supports the following iPod model features (as of November 2011):
iPod/iPhone Model
Generation
Tested Version
Media Type
Control Type
Display Type
Charge
Audio
Video
Head Unit
iPod/iPhone
Song/Artist Text
Track Info
dock connector
3rd
N/A
N
N
N
N
N
N
N
clickwheel
color
4th
N/A
N
N
N
N
N
N
N
mini
1st
N/A
N
N
N
N
N
N
N
2nd
N/A
N
N
N
N
N
N
N
video
5th
1.3
Y
N
Y
N
Y
Y
Y
classic
80GB
1.1.2
Y
Y
Y
N
Y
Y
Y
120GB
2.0.1
Y
Y
Y
N
Y
Y
Y
160GB
2.0.4
Y
Y
Y
N
Y
Y
Y
nano
1st
1.3.1
Y
N
Y
N
Y
Y
Y
2nd
1.1.3
Y
N
Y
N
Y
Y
Y
3rd
1.1.3
Y
Y
Y
N
Y
Y
Y
4th
1.0.4
Y
Y
Y
N
Y
Y
Y
5th
1.0.2
Y
Y
Y
N
Y
Y
Y
6th
1.1 PC
Y
N
Y
N
Y
Y
Y
touch
1st
2.2.1
Y
Y
Y
N
Y
Y
Y
2nd
4.2.1
Y
Y
Y
N
Y
Y
Y
3rd
5.0.1
Y
Y
Y
N
Y
Y
Y
4th
5.0.1
Y
Y
Y
N
Y
Y
Y
iPhone
2G
3.1.3
Y
Y
Y
N
Y
Y
Y
3G
4.2.1
Y
Y
Y
N
Y
Y
Y
3GS
4.3.5
Y
Y
Y
N
Y
Y
Y
4
5.0.1
Y
Y
Y
N
Y
Y
Y
4S
5.0.1
Y
Y
Y
N
Y
Y
Y
Note: Apple iPod/iPhone software updates may change functionality results. If you download a newer software version, you may need to reset the head unit and your iPod/iPhone to regain functionality. If this doesn't work, you may need to revert to the older software version or wait until a newer software update is available.
Bluetooth Communication
Bluetooth Module: The included hide-away Bluetooth module (INA-W900BT BT BOX) enables Bluetooth hands-free communication from your compatible Bluetooth enabled cell phone. You get full on-screen control and full hands-free functionality from your Bluetooth compatible cell phone.
Bluetooth Technology: Bluetooth is a wireless technology allowing communication between a mobile device over short distances. This enables a hands-free call or data transmission between Bluetooth compatible devices. Bluetooth transmission is available in the unlicensed 2.4GHz spectrum if the distance between devices is within 33 feet (10 meters).
Bluetooth Compatibility: The included Bluetooth module supports Bluetooth version 2.0 and the following Bluetooth Profiles.
HFP: Hands Free Profile
HSP: Head Set Profile
Phone Compatibility: The included Bluetooth module is powered by Parrot for expanded compatibility for many Bluetooth enabled cell phones. The KCE-400BT supports select Apple, AU, BenQ-Siemens, Blackberry, and Casio Bluetooth enabled cell phones. New software can be downloaded and installed via Bluetooth connection to your laptop to support future cell phone models.
Note: Not all Bluetooth-capable phones will be compatible.
Pairing: The Bluetooth module can be paired to up to five Bluetooth enabled mobile devices (only one device can be used at a time).
Bluetooth Phone Operation: The INA-W900BT features full phone book access, call history, voice tag dialing, and auto answer with compatible phones. The Alpine INA-W900BT offers the following hands-free communication answer and dialing features.
Placing Calls: The INA-W900BT provides a variety of functions for placing a phone call without using your mobile phone.

Direct Dial: direct 12-key dialing from the multimedia head unit's touchscreen
Phonebook: up to 1,000 entries can be downloaded from your phone
Redial: press the phone button within 5 seconds of ending a call
Call History: the 10 previously dialed, received, or missed numbers can be retrieved and dialed from memory
Voice Dialing: if you have a voice-dial capable phone, you can dial a phone contact just by speaking the name of your contact
Call Switch: while making a call, this function allows you to initiate a transfer of the audio between your mobile phone and the speakers in your car

Receiving Calls: The INA-W900BT provides a couple ways to answer your phone calls without picking up your mobile phone. Incoming call are announced by the received call ring tone through your vehicle's speakers and a displayed message (Caller name/Phone No.) across the Alpine head unit's display.

Manual Answer: manually answer an incoming call by pressing the "Phone" button on the Alpine head unit
Automatic Answer: set the Alpine head unit to answer the incoming call automatically; when a call is received, it is answered automatically after about 5 seconds
Note: Display of Phonebook, Received Calls, Missed Calls and Dialed Calls varies from phone to phone and by your service provider.
Microphone: The supplied microphone allows you to speak to the other party on the telephone call hands-free. The microphone comes with a visor clips for mounting purposes. The microphone measures 0.5625" in diameter and 1.375" long. The microphone has an attached 13' cable which plugs into the Bluetooth interface module. The microphone's volume can be adjusted from 0-15.
Echo Cancellation: The Active Echo Cancellation technology ensures the highest-quality, noise-free sound when you are on the phone.
Mute: When you make or receive a call, the audio from the stereo is muted. When using the Bluetooth interface, no other device can be used with the mute (interrupt) function.
Speaker Output: You can select which connected speakers in your vehicle to output the sound signal of your Bluetooth enabled mobile phone. You can choose from All, Front Left, Front Right, or Front Left/Right. You can also adjust the volume level of a received call.
Bluetooth Streaming Audio (optional): Using the optional Alpine KCE-400BT Bluetooth Interface Module (500KCE400B, sold separately), you will be able to listen to songs stored on your phone through the Alpine INA-W900BT with Streaming Audio support (A2DP or AVRCP). You can even get on-screen song info, play/pause, and track up/down functions on AVRCP enabled phones.
A2DP: Allows you to listen to the music from your cell phone and displays basic song information on-screen, such as title and artist.
AVRCP: Allows you to listen to the music from your cell phone with basic control such as play/pause and track up/down of the music on your cell phone.
Remote Control
IR Remote: In addition to the unit's touch screen and hard-key controls, the INA-W900BT has an IR remote sensor, for use with an optional wireless remote control (item numbers 500RUE4190 and 500RUE4202, both sold separately).
Steering Wheel Remote Compatibility: The unit also features an OEM steering wheel remote control input on the rear of the unit that lets you keep your vehicle's factory radio steering wheel remote controls when used with the optional PAC SWI-JACK Steering Wheel Control Interface Adapter (127SWIJACK, sold separately); or the optional Metra ASWC Steering Wheel Control Interface Adapter (120ASWC, sold separately).
Note: Please consult the Crutchfield Car Selector to see if your vehicle is compatible.
Our Product Research Team
At Crutchfield, you'll get detailed, accurate information that's hard to find elsewhere. That's because we have our own in-house Product Research team. They verify what's in the box, check the owner's manual, and record dimensions, features and specs. We stay on top of new products and technologies to help people make informed choices.