Alpine iVA-W203
DVD receiver
Item #: 500IVAW203
This item is no longer available.
Original Price: $449.99
Shop all In-dash Video Receivers
Need help?
Does it fit my car?
Select your car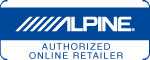 Great for DVDs and iPod®, easy to add on
Alpine designed the IVA-W203 DVD receiver to serve as the heart of your vehicle's audio/video system. Use its 6.5" touchscreen to adjust system settings, choose an audio source, or find the songs you want to hear. A strong internal amplifier belts out your tunes on the highway, while DVD movies look nice and crisp on the bright, sharp screen when you're parked.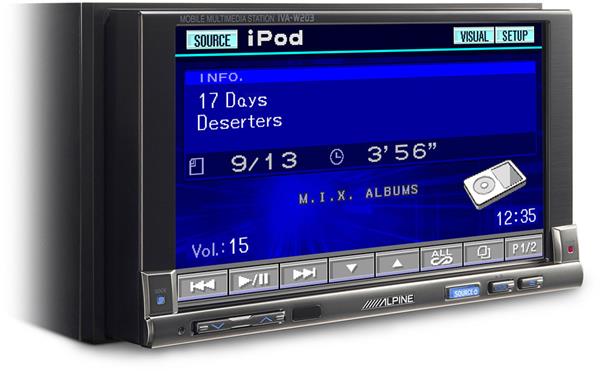 ---
Sound controls
You'll be able to tweak your sound with ease through the touchscreen interface. Access subwoofer level controls, frequency filters, and sophisticated bass adjustment with just a touch of your finger — it's like having a sonic command center in your dash.
---
Expansion possibilities
Your expansion options don't stop there. Connect Alpine's high-speed iPod® adapter for fingertip control over your favorite playlists, as the IVA-W203's 24-bit digital-to-analog converter gives you superior sound from your digital files. Add a satellite radio or HD Radio™ tuner for even more audio options. Alpine's Bluetooth adapter lets you make and receive calls through your vehicle's speakers with a compatible phone.
---
Keep the kids happy in back
An A/V output lets you hook up an external monitor for your backseat passengers, so they can watch a movie while you enjoy a peaceful drive up front. An A/V input lets you hook up a gaming system or another video source.
Note: If you're going to use your iPod with this receiver, be sure to check "Hands-on Research" for specific iPod model compatibility with this receiver or its optional iPod adapter.
---
Want to keep your car's steering wheel audio controls?
In most vehicles, you can use this adapter to connect your vehicle's steering wheel controls to this Alpine stereo. Connect a few wires, then program the adapter for your particular car and the Alpine, and you'll retain the convenience of your steering wheel controls.
---
Product Highlights:
General features:
in-dash DVD receiver with 6.5" touchscreen and internal amp (18 watts RMS/50 peak x 4 channels)
fits double-sized dash openings
Audio/visual features:
plays DVD Video including DVD-R/RW and DVD+R/RW, DVD-Audio (2-channel downmix), Video CD and Music CD including CD-R/RW
plays MP3 and WMA files on CD
Expandability:
compatible with Alpine iPod adapter, Bluetooth adapter, HD Radio tuner, satellite radio tuner, CD changer, and surround-sound processor
outputs: optical digital audio output, audio/video out, 6-channel preamp outputs (front, rear, subwoofer)
inputs: rear camera, audio/video in
Other information:
includes remote
compatible with most factory steering wheel audio controls (adapter required)
warranty: 1 year
Video receivers: They're not just for movies
Video receivers add a new level of entertainment to your vehicle. You can watch a movie on the screen when you're parked on a Saturday night, or play a DVD or downloaded video through your rear seat video setup on the road. Touchscreen receivers allow you to breeze through menus with the tip of your finger. Most video receivers feature a USB input for iPod audio, and the ability to add an adapter that allows video to display on the screen.
Alpine iVA-W203 Reviews
Average Customer Review:
10 Reviews
---
Written by: Tim from Pineville, LA on November 5, 2010
Crutchfield Customer Review
(
What's this?
)
I just bought and installed the iVA-W203. This was my first DVD reciever. Looks good in my 08 Tundra. I have been trying to play with it abit to see what it can do. I guess Dis likes would be you can only have 2 wallpapers at a time. I thought my stock stereo sounded better(I maynot have this one adjusted right yet) the voice on the nav is not the realist sounding thing out there kinda choppy, cant change the voice either. You cant have the nav up and listent to the radio from what I can tell. Likes tons of add on options, wallpapers are free online. For the money Crutchfield put together a killer package didnt need to buy anything. Simple install. I had bought the nav seperate and running the ant. was the hardest thing to run to make it look nice. I expected better from Alpine for the money they wanted, but Crutchfields price made it worth it.

Pros:

Cons:
Written by: dodgerfamily from lakewood, ca on October 26, 2010
great unit.. have it in a 2005 Honda c.r.v. with 2- 9 inch headrest screens and running stock components off deck power. bass is filled in with bazooka 12 inch sub box (not tube) and bazooka amp.. sounds good and gets surprisingly loud without too much distortion. speakers are next and alpine's add-on amp for the receiver.. the alpine unit works perfectly fine and has dual zone so my wife and i listen to radio while kids have the movie sound going into headphones.. perfect..

Pros:

Cons:
Written by: BrianH from Nashville, TN on September 17, 2010
Crutchfield Customer Review
(
What's this?
)
I purchased this radio to go in my Toyota Tundra 2002 model. It fits in the double wide dash opening very well, however, the boarder trim doesn't fit even remotely in the location. That is why it's 4 instead of 5 stars for me... just a bit of cosmetic issues for my taste.

As for the functionality, I am very happy with the unit and all the features available to me at the touch of a button (I am also an Alpine fan though.) The touch screen is VERY responsive and quick! Other brands I surveyed had lots of glamour and flashy screens, but all those took time to navigate thru - Alpine is direct and to the point, not too many frills - but that is the way i like it -- it allows you to keep your eyes on the road.


Pros:

Cons:
Written by: Dan from Bluffton IN on September 6, 2010
2008 GMC Envoy
Crutchfield Customer Review
(
What's this?
)
For starters the crutchfield team is just AMAZING i have NEVER EVER EVER recieved customer service liek this. From start to finish they actually care and are there i even recieved a hand written thank you card this is just amazing thank you soooo much crutchfield for your service.

Now for the unit itself, I have always been a alpine fan and this unit is amazing. install was a breeze once i figured out the wireing( no diagram or help was sent with the installation instructions thats my one and only complaint it was kinda confusing at first cuz this isnt your typical old school install).I love this unit you can quit a bit with it i reccomend it to everyone. Again thanks crutchfield for all your help and fast shipping I look for to future purchases with you guys.


Pros:

Cons:
Written by: Matt from Anchorage, AK on August 27, 2010
2003 Chevrolet Silverado 1500
Crutchfield Customer Review
(
What's this?
)
I bought this Alpine when I got fed up with my stock radio in my 2003 Chevy Silverado SS. It's a great replacement which not only looks great in the dash but sounds awesome. What a difference from stock to Alpine, my sub came alive with this radio as well as the stock Bose speakers have clarity unlike before. Good easy to use interface, with easy volume buttons on the face. Awesome Ipod interface which works perfect as well as DVD Playback. Also it has almost no leggy start-up as soon as you turn the key 3 seconds later you have sound and the alpine screen which takes 5 seconds to go away. Definitely recommend getting this radio if you are looking at double din units.

Pros:

Cons:
Alpine - Excellent Quality + Features for the right price!
Written by: Project RS-R from South Georgia on May 6, 2010
I upgraded my OEM unit after it stopped taking CD's to this Double DIN unit and I love it! I already added a rear-view camera and have pre-wired the AV Inputs and Outputs for my Headrest DVD install. Crutchfield had all the required adapters and instructions. I wish the navigation module was a little cheaper but I still plan to get it.

Pros:

Cons:
Alpine has always amazed me
Written by: Ben from Germantown, MD on March 25, 2010
This AV unit is absolutely amazing. I LOVE IT!!! Picture, controls, EVERYTHING
perfect... I cant wait to add more ALPINE components to this fabulous system!!!
Crutchfield also had the BEST price for this and all Alpine units!!!

Pros:

Cons:
Fast shipping, great customer service
Written by: Anonymous from Sanford, Nc on March 10, 2010
2006 Chevrolet Colorado
I ordered my Alpine dvd tv player on Saturday and it was here on Wednesday. I had to call them twice with a few questions before my product arrived and they were very friendly and helpful. I got a great deal on this product. I think they have got a customer for life. Thanks Brandon

Pros:

Cons:
Written by: Steve from New Mexico on February 20, 2010
Crutchfield Customer Review
(
What's this?
)
I have been a long time Alpine fan, and this unit does not disappoint. Amazing sound clarity, easy to use controls, great dvd picture and sound, plus the whole thing just says "quality." The ipod controls are very good. Easy to find what you're looking for by using the "percentage search" feature. Needed a bit of assistance finding the parking brake wire to tap into, and Crutchfield tech support walked me through it. Took just a few minutes. So, high marks for the Alpine, and Crutchfield. Seriously great receiver!

Pros:

Cons:
Looks good; is it good value?
Written by: akamai22 from Bellevue, WA on December 4, 2009
(1) I'm not using the DVD function so this is only a partial review; and
(2) it's too expensive once you add in your desired features.

I wanted to add a big screen back-up camera and re-use my existing Alpine XM/iPod/steering wheel adapters; the most cost-effective solution seemed to be this unit. The unit looks good and the screen is clear with good brightness control for both day and night. My existing Alpine adapters worked but the idea of $300 MORE for an in- dash nav which has received poor reviews... By skipping the hook-up for the DVD viewing (two extra wires, including one to the parking brake) I tripped myself up: the screen works just fine for displaying iPod, back-up camera, etc but you can't access the video set-up controls unless you make all these connections. The bottom of the touch screen is actually quite awkward to touch as it's too close to the bottom edge. Back-up camera doesn't display if the unit is off unlike the factory system on my other car. The manual is written by an English speaking person but it's complex; processes are not intuitive.


Pros:

Cons:
What's in the box?
2-DIN Multimedia Receiver with 6.5" wide LCD monitor
Sleeve (installed)
Trim ring
Power harness (has in-line 10A fuse and fuse holder)
Remote in/out harness
RUE-4203 wireless remote control
1 CR2025 lithium battery
2 Removal keys
8 Pan-head machine screws (M5x8mm)
6 Flat-head machine screws (M5x8mm)
2 Slot securing machine screws (M2x4mm)
2 Adhesive mounting position seals
Owner's manual (English/ French/ Spanish)
Customer care registration card
Product Research
Overview: The Alpine IVA-W203 is a Double-DIN multimedia head-unit featuring an integrated 6.5" widescreen display designed to easily mount flush in many double-DIN dashes of today's automobiles. The IVA-W203 is equipped with a built-in DVD/CD player, AM/FM tuner and navigation dock for an optional Alpine GPS unit while allowing you to connect to multiple audio/video sources with an abundance of convenient features that give you full control from one central touch-screen.
Display Features
Audio Section
DVD/CD Playback
AM/FM Tuner
External Device Connection
Remote Control
Mounting
Display Features
Motorized, 6.5" Touch Screen Display: The IVA-W203 has a motorized 6.5" wide screen/touch screen monitor (with 16:9 aspect ratio) that serves as a video monitor and system information display. You can adjust the monitor's angle to one of six settings for better visibility.
Video Lock-out Feature: For safety and legal reasons, the IVA-W203 features a video lock-out feature to prevent the viewing of a video source while the vehicle is in motion. To watch a video source, the vehicle must be parked with the ignition in the ACC or ON position. The vehicle's parking brake must be engaged, disengaged, and engaged again while the foot brake is held in.
Display Modes: You can select one of the following display modes:
Mode 1 (Wide): evenly stretches a 4:3 picture horizontally to fit the wide screen monitor
Mode 2 (Cinema): displays a 4:3 picture by stretching out the picture horizontally and vertically; this mode is good for displaying a cinema-type picture with a 16:9 ratio
Mode 3 (Normal): displays a 4:3 picture at the center of the screen with a vertical black band at each side
TV Screen Mode: This feature allows you to select the viewable aspect ratio of the IVA-W203's screen to match the source being played; choose 4:3 Letter- Box, 4:3 Pan-Scan, or 16:9 Wide-Screen.
Visual EQ Mode: You can select one of the following preset modes suitable for the subject image:
Night Mode: suitable for movies in which dark scenes frequently appear
Soft: suitable for animated films
Sharp: suitable for old movies where images are not clearly shown
Contrast: suitable for recent movies
User Memory (P-1, P-2): preset values for Brightness, Color, Tint, Contrast, and Sharpness
Illumination Control: You can select one of the following dimmer settings:
Auto: adjusts the brightness of the background illumination of the monitor depending on the ambient light in your vehicle
On: keeps the background illumination of the monitor dark
Off: keeps the background illumination of the monitor bright
Button Lighting Dimmer: You can adjust the brightness of the button lighting at night from -2 to +2.
Background Screen: You have a choice of 2 different background textures. These backgrounds are visible when the built-in DVD/CD player or the tuner is selected. When Auto Background is activated, the background texture will change each time the ignition key is turned off and turned on again.
Background Data Download: You can download wallpaper from Alpine's website to a CD-R or CD-RW, then upload and store the wallpaper in the IVA-W203.
Blackout Display Mode: When the Blackout mode is activated, the display turns off to reduce power consumption. The additional power made available by turning off the display helps enhance sound quality.
Audio Section
24-Bit DAC: The IVA-W203 utilizes a 24-bit D/A converter to ensure accurate audio reproduction.
Audio Control:
Bass Control:

Bass Center Frequency: Select from 60Hz, 80Hz, 100Hz, or 200Hz
Bass Band Width: Select from 1 (narrow) to 4 (wide)
Bass Level: Select from -7 to +7

Treble Control:

Treble Center Frequency: Select from 10kHz, 12.5kHz, 15kHz, or 17.5kHz
Treble Level: -7 to +7
Loudness: The Loudness feature introduces a special low and high frequency emphasis at low listening levels. This compensates for the ear's decreased sensitivity to bass and treble sound at lower volumes.
Subwoofer Control: The IVA-W203 features a dedicated subwoofer preamp output with user level adjustment between 0 to 15.
High Pass Filter: The receiver features independent high-pass filters for the front and rear channels (speaker level and line outputs); select crossover frequencies of 80, 120, or 160Hz. Each crossover can also be turned off to send a full range signal.
Digital Output: There is an optical digital output on the back of the unit that supports Dolby Digital and DTS for connecting the unit to an optional audio processor. You can select a digital output setting of Auto or LPCM. When set to Auto, the digital output is switched automatically according to the type of audio signals being played. When set to LPCM, the audio signals recorded on the disc are converted to 48kHz/16-bit (for DVDs) or 44.1kHz (for Video CDs and CDs) linear PCM audio signals for output.
Preamp Inputs/Outputs: When the System Switch is in the Normal position, the IVA-W203 provides preamp outputs for front, rear, and subwoofer channels. When the System Switch on the bottom of the chassis is in the EQ/DIV position, the front and rear preamp connections operate as inputs, allowing you to connect an optional EQ or audio processor.
Rear Entertainment Function: The rear entertainment function independently routes different sources to the front and rear in a vehicle. For example, while listening to the radio or other audio source in the front, a DVD can be enjoyed in the rear with an optional rear monitor and headphones; the rear zone signals are passed by RCA composite video and stereo RCA preamp audio connections.
Simultaneous Function: This function allows you to watch the video signal from one source, while listening to the audio of another source.
DVD/Video CD Player
Compatible Discs: The unit's integrated DVD/CD player will black back the following disc types - DVD Video including DVD-R/RW and DVD+R/RW, DVD Audio, Video CD and Music CD including CD-R/RW.
MP3/WMA Playback: This unit can play CD-ROM, CD-R, and CD-RW discs containing MP3 and WMA files recorded using the ISO 9660 Level 1 or Level 2 formats; constant and variable bit rates from 32 kbps to 320 kbps are supported for MP3 and WMA. Discs recorded using Joliet, Romeo, or other ISO 9660 compliant formats can be played, but file and folder names may not be displayed correctly. CD-ROM XA, Mixed Mode CD, Enhanced CD (CD-Extra) and multi-session recordings are supported, but recordings made using Track At Once or packet writing cannot be correctly played back. ID3 tag and WMA tag are supported; track title, artist name, and album name data can be displayed.
DVD Control Menu: During DVD playback, the control menu is accessible by touching the screen. The 2-page menu appears at the bottom of the screen allowing you to skip tracks forward or backward, stop or pause playback, access the DVD menu, change the audio language, subtitle language, camera angles, and change the display modes. You can also access a 10-key numeric keyboard for direct chapter access. If desired, you can access a more traditional cursor-type menu for DVD control.
Pre-stop Function: When the stop button is pressed once, the position at which playback is stopped is stored in the memory, and playback resumes from that position.
Step/Slow Motion Playback: When a DVD or Video CD is in the pause mode, you may move forward through the program being played one step (frame) at a time, or in slow motion; 1/2x or 1/8x. You can use slow motion playback in the reverse direction. No audio is played during slow motion playback.
Fast-Forward/Fast-Reverse: While a DVD or Video CD is playing, you can view the program in double speed in either direction by touching and holding the fast-forward or fast-reverse button on the touch screen for more than 1 second. If held for 5 or more seconds, playback at 8x speed in the selected direction will begin. If held for 10 or more seconds, playback at 21x speed will begin.
Repeat Playback: When playing a DVD, you can repeat the current title or the current chapter. When playing a Video CD, you can repeat the current track or the entire disc.
Multi-Angle Display: This function allows you to choose the viewing angle of scenes that were shot from a number of different angles.
Note: This function is limited to DVDs recorded with multiple camera angles.
Parental Lock: Parental Lock allows you to restrict the playback of DVDs that are unsuitable for younger viewers. You can select a parental lock rating from 1-8, which is protected by a 4-digit password.
AM/FM Tuner
AM/FM Tuner: The unit features a built-in AM/FM tuner with two FM bands and one AM band.
Preset Tuning: You can preset up to six stations for each band giving you a total of 12 FM presets and 6 AM presets. The unit's tuner can also automatically seek and store six strong stations in a selected band in order of signal strength.
External Device Connection
Audio/Video Input: Stereo RCA jacks and an RCA composite video jack are provided for connecting an external video source such as a VCR or video game.
Audio/Video Output: Stereo RCA jacks and an RCA composite video jack are provided for feeding A/V signals to an optional video monitor. When the Rear Entertainment Function is used and these jacks are connected to a rear seat entertainment system (e.g. a rear seat monitor and wireless headphones), your rear seat passengers can view/listen to a different source than the one selected for the front passengers.
Rear Camera Input: A single composite video input is provided for an optional rear-view camera. If a rear-view camera is connected, you should also connect the reverse lead (orange/white wire in the Remote in/out wiring harness) to the vehicle's back-up lamp circuit. When properly connected, the image from the rear-view camera appears on the monitor when the vehicle is shifted into reverse.
Navigation: The dock behind the display panel allows you to insert an Alpine portable navigation device, such as the NVE-P1, into the IVA-W203. Along with the navigation features that integrate with the touch screen display, either navigation device adds wireless Bluetooth hands free phone operation, using the microphone included with the navigation unit.
Note: There is a plastic panel over the dock opening that will need to be removed before docking the navigation unit. The Alpine PMD-B100 is not compatible with the IVA-W203.
iPod Full Speed: When used with the optional KCE-422i Alpine Full Speed Connection cable (500KCE422i, sold separately), your receiver can interface with an Apple iPod with a dock connector. You can quickly and easily search through all of the music contained on your iPod through Playlist, Artist, or Album searches. You can view Artist, Album, Song Information and Song Number on the head unit's display. The Full Speed Connection will also support Apple lossless. The IVA-W203 will not navigate or display video files from video capable iPods. The direct search bar has six buttons to quickly jump to specific parts of the list, useful for large music libraries stored on an iPod. The Alpine IVA-W203 is "Made for iPod" compatible and supports the following iPod model features (as of Dec. 2009):
iPod/iPhone Model
Generation
Media Type
Control
Display
Charge
Audio
Video
Unit
iPod
Song/Artist
Track
dock-connector
3rd
N
N
N
N
N
N
N
click-wheel/color-display
4th
Y
N
Y
N
Y
Y
Y
mini
1st
Y
N
Y
N
Y
Y
Y
2nd
Y
N
Y
N
Y
Y
Y
video
5th
Y
N
Y
N
Y
Y
Y
classic (80/120/160 GB)
80GB
Y
N
Y
N
Y
Y
Y
120GB
Y
N
Y
N
Y
Y
Y
160GB
Y
N
Y
N
Y
Y
Y
nano
1st
Y
N
Y
N
Y
Y
Y
2nd
Y
N
Y
N
Y
Y
Y
3rd
Y
N
Y
N
Y
Y
Y
4th
Y
N
Y
N
Y
Y
*adapter required
5th
Y
N
Y
N
Y
Y
*adapter required
touch
1st
Y
N
Y
N
Y
Y
Y
2nd
Y
N
Y
N
Y
Y
*adapter required
3rd
Y
N
Y
N
Y
Y
*adapter required
iPhone
2G
N
N
N
N
N
N
N
3G
N
N
N
N
N
N
N
3GS
N
N
N
N
N
N
N
4
N
N
N
N
N
N
N
Note: This headunit will not charge iPod touch (2nd/3rd generation) or iPod nano (4th/5th generation without the Alpine KCX-422TR charging adapter (500KCX422T, sold separately). Apple iPod/iPhone software updates may change functionality results. If you download a newer software version, you may need to reset the headunit and your iPod/iPhone to regain functionality. If this doesn't work, you may need to revert to the older software version or wait until an newer software update is available.
Satellite Radio Ready: There are several options for connecting an optional Satellite Radio receiver to this receiver:
SIRIUS Satellite Radio:

Universal SIRIUS Tuner: You can connect the optional SIRIUS SC-C1 Sirius-Connect Universal Vehicle Tuner, along with the Alpine KCA-SC100 SIRIUS satellite Radio interface (700SIRALPC, sold separately) directly to the head unit.
SIRIUS Plug and Play: The KCA-SC100 (item number 500KCASC10) also allows you to integrate many SIRIUS plug and play receivers when used with the SiriusConnect Plug and Play Dock (700SIRALPP, sold separately). Compatible tuners include the Sportster, Starmate, Stratus, and Stiletto. You can control the satellite receiver from your head unit and use the Quick Search feature to browse all artists and songs currently playing on all channels. The SIRIUS text information also appears on the head unit display.

Auxiliary Input: A portable satellite radio receiver, such as the Delphi SkyFi3 or SIRIUS Sportster, can be connected to the head unit via the A/V auxiliary input. The Alpine KCA-121B (500KCA121B, sold separately) can also be used to convert the Ai-NET to an auxiliary input.
Note: A subscription is also required to receive satellite radio programming from SIRIUS or XM.
HD Radio Ready: The IVA-W203 can receive HD Radio signals when the TUA-T550HD HD Radio Tuner Module (500TUAT550, sold separately) is connected via the Ai-NET connector. While receiving HD Radio, the unit can automatically switch between the analog and digital signals, or you can manually switch to the digital signals exclusively. When used with the compatible HD Radio Tuner, the IVA-W203 supports Multicasting, which is the ability to broadcast multiple programs streams over a single FM frequency, thereby increasing the amount and diversity of content choices.
Bluetooth Interface Ready: Using the Alpine KCE-400BT Bluetooth adapter with the KWE-460E interconnect cable adapter (700KCE460B, sold separately), you can make and receive calls hands-free on your Bluetooth-capable cellular phone, and communicate through a microphone (included with the Bluetooth interface) and your vehicle's speakers. If an Alpine NVE-P1 navigation unit is docked inside the IVA-W203 you do not need the KCA-400BT adapter; both units have built-in Bluetooth.
Note: The Pass-Through port of the KCE-400BT allows you to connect the Bluetooth adapter as well as an iPod to the IVA-W203. The KWE-460 interconnection cable is still required along with a KCE-433iV Full Speed iPod connection cable (500KCE433I, sold separately). The KCE-422i iPod cable will not be used in this configuration.
Changer Controls: This unit is compatible with 6- and 12-disc Alpine Ai-NET CD changers.
Auxiliary Inputs: In addition to the unit's A/V Aux RCA Input, the following optional adapter can be used so audio from other auxiliary sources can be played through the unit's AI-Net connection - KCA-121B Ai-NET/RCA interface cable (500KCA121B, sold separately). When the KCA-121B interface cable is used, a CD changer cannot be connected to the head unit.
Remote Control
IR Wireless Remote: In addition to the unit's touch-screen and hard-key controls, the IVA-W203 comes supplied with a full-function IR wireless remote control.
Optional Factory Steering Wheel Remote Interface The IVA-W203 has a steering remote control jack on the back panel. When used with the optional SWI-JACK interface ( 127SWIJACK, sold separately), you can retain the use of your factory steering wheel and/or rear seat radio controls when replacing the factory head unit in select vehicles. The SWI-JACK is compatible with over 95% of the vehicles made from 1986 to the present. Compatible vehicles include many Acura, Audi, BMW, Buick, Cadillac, Chevrolet, Chrysler, Dodge, Ford, GMC, Honda, Hummer, Infiniti, Isuzu, Jaguar, Jeep, Kia, Land Rover, Lexus, Lincoln, Mazda, Mercury, Mini, Mitsubishi, Nissan, Oldsmobile, Plymouth, Pontiac, Saab, Saturn, Suzuki, Toyota, and Volkswagen vehicles and Harley Davidson motorcycles. Please consult "What Fits My Car" to see if your vehicle is compatible.
Mounting
Mounting: When mounting the IVA-W203 using the included sleeve there are three depth position options offering these measurements:
One:

Mounting Depth: 6.507"
Nose Depth: 1.086"

Two:

Mounting Depth: 6.782"
Nose Depth: 0.811"

Three:

Mounting Depth: 7.057"
Nose Depth: 0.536"
Our Product Research Team
At Crutchfield, you'll get detailed, accurate information that's hard to find elsewhere. That's because we have our own in-house Product Research team. They verify what's in the box, check the owner's manual, and record dimensions, features and specs. We stay on top of new products and technologies to help people make informed choices.