Alpine IVE-W535HD
DVD receiver
Item #: 500IVEW535
23 Reviews | 2 questions - 8 answers
This item is no longer available.
Original Price: $699.99
Shop all In-dash Video Receivers
Need help?
Does it fit my car?
Select your car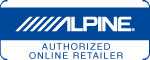 Pandora® Internet radio, HD Radio™, Bluetooth® and more
If you want to bring your car audio system into the 21st century, Alpine's IVE-W535 DVD receiver will do it with style. If you're an iPhone® user, you'll get touchscreen control of your music using the USB connection, plus Pandora® control — including thumbs up and down, song skip, and station search. You Android™ and BlackBerry users aren't left out either — you'll enjoy Pandora control through the receiver's Bluetooth connection. You can also stream music from your phone or another device over Bluetooth.
This Alpine also enables hands-free calling with your compatible phone, so you can concentrate on the road, not fumble for your phone to take a call. If you're a radio addict, you'll love the built-in HD Radio tuner that gives you crystal-clear AM/FM, plus station and song info from participating stations.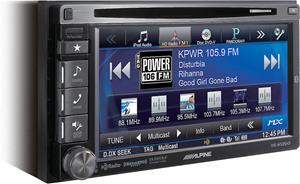 A receiver that remembers what you like
Alpine "Favorites" button on the IVE-W535 remembers your personal preferences and those of other users, too. "Favorites" lets you stash the features you access most frequently. For example, you could put in your favorite radio stations, a search for the closest Chinese buffet, favorite audio settings, or anything you want instant access to. Best of all, it's tied to your Bluetooth profile, so the receiver recognizes you when you've got your phone. And it's not limited to you — everybody who uses the car can create their own profile, so their Favorites are ready to go when they slide behind the wheel.
And that legendary Alpine sound, too
The IVE-W535 continues Alpine's tradition of great-sounding car receivers. Inside, a powerful amplifier pumps out more power than you'll find in most factory systems. And you can tailor the sound to your liking with a 9-band equalizer, as well as filters that send the proper frequencies to your speakers for cleaner sound. If you're looking to build a bigger system around the receiver, you'll find three sets of high-voltage preamp outputs for connecting external amplifiers.
Siri® Eyes Free for non-distracting operation
Got an iPhone with Siri? This receiver supports Siri Eyes Free, which means you can ask Siri to make calls, select and play music, compose and hear text messages, read notifications, even use maps and get directions — all commanded by your voice through your Alpine receiver, without any visual distractions from your Apple® device. You may need to download a firmware update from Alpine's website to enable Siri Eyes Free through your receiver.
Want to keep your steering wheel controls?
In most vehicles, you can use an adapter (not included) to connect your vehicle's steering wheel controls to this Alpine stereo. Connect a few wires, then program the adapter for your particular car and the IVE-W535HD, and you'll retain the convenience of your steering wheel controls. Check the "Accessories" tab for compatible adapters.

Bluetooth note: Use of this receiver's Bluetooth features will depend upon your phone's Bluetooth capabilities. Learn more in our article explaining Bluetooth profiles.
iPod note: If you're going to use your iPod with this receiver, be sure to check "Details" for specific iPod model compatibility with this receiver.
iPod note: If you're going to use your iPod with this receiver, be sure to check "Details" for specific iPod model compatibility.
Product Highlights:
General features:
DVD receiver with AM/FM tuner
internal amp (18 watts RMS CEA-2006/50 peak x 4 channels)
6.1" touchscreen
built-in Bluetooth® for hands-free calling and audio streaming
built-in HD Radio™ with iTunes® tagging
iPhone® Pandora control through USB
Android™ and BlackBerry® Pandora control through Bluetooth®
iPhone basic app mode
supports Siri Eyes Free mode (firmware update may be required)
fits double-DIN (4" tall) dash openings
Audio/video features:
9-band parametric equalizer with 10 preset EQ curves
plays CDs, DVDs, and USB memory devices (see Details for full capabilities)
24-bit digital-to-analog converter
compatible with Alpine's PXA-H800 IMPRINT audio processor
Expandability:
compatible with SiriusXM satellite radio tuner
compatible with Alpine KTP-445A Power Pack amplifier
inputs: rear USB input, rear A/V input, rear camera input
outputs: rear A/V output, 6-channel preamp outputs (4-volt front, rear, subwoofer)
Other information:
compatible with most factory steering wheel audio controls (adapter required)
warranty: 1 year
Video receivers: They're not just for movies
Video receivers add a new level of entertainment to your vehicle. You can watch a movie on the screen when you're parked on a Saturday night, or play a DVD or downloaded video through your rear seat video setup on the road. Touchscreen receivers allow you to breeze through menus with the tip of your finger. Most video receivers feature a USB input for iPod audio, and the ability to add an adapter that allows video to display on the screen.
Alpine IVE-W535HD Reviews
Average Customer Review:
23 Reviews
---
Written by: Ron from Charlotte, NC on August 15, 2014
2013 Subaru Impreza WRX
Crutchfield Customer Review
(
What's this?
)
"Coolness Factor"

Build Quality

Ease of Use

Sound Quality

Value
For the price I paid, the unit should not have such a slow interface. The screen is decent but the unit overall is buggy and not worth the money.

Pros: Screen quality, sound.

Cons: Too slow and buggy for the money.
Written by: paul m. from 18321 on June 28, 2014
2009 Dodge Ram 1500
Crutchfield Customer Review
(
What's this?
)
"Coolness Factor"

Build Quality

Ease of Use

Sound Quality

Value
I found the 535hd to be a great hu. Has a lot of settings but once you get used to where everything is, it's easy to see use. Ability to change the order of the tabs across the top would be nice. Have to tab all the way to the end to get to Bluetooth audio. Sound quality is great, as most alpine units are. Not the cheapest unit but for the options you get , it's a fair price.

Pros: alpine quality, plenty of settings to dial it In the way you like.

Cons: None really....
Written by: Chris T from Jacksonville, FL on May 19, 2014
Crutchfield Customer Review
(
What's this?
)
"Coolness Factor"

Build Quality

Ease of Use

Sound Quality

Value
This is an swesome product and would highly reccomend.

Pros: The head unit is very nice and very clean looking

Cons: the built in EQ is for the pro to adjust. Has so many settings, unless you know what every single one changes, its a little challenging.
best sounding and features in dash dvd player
Written by: longjohn73 from glenwood iowa on March 9, 2014
"Coolness Factor"

Build Quality

Ease of Use

Sound Quality

Value
just installed this in my 2003 chevy silverado easy to use and features are great vast improvement over the pioneer i used to have don't hesitate buy this

Pros: sound quality easy to use bluetooth built in hd radio build quality second to none

Cons: none
Written by: Audio install in CA from Elk Grove, CA on February 24, 2014
"Coolness Factor"

Build Quality

Ease of Use

Sound Quality

Value
I have been an Alpine fan and installer for over 20+ years. Alpine has always been top quality with the most features and the best audio experience for my money. Not to mention just cool. I've had 10 Alpine decks, and three in my current cars (for now). This 535 is not up to my expectations. Unless Alpine can figure out these twitchy Apple IOS 7, iphone 5 issues I might go back to my 1999 flip-out D300 unit with component inputs. To be fair, most manufacturers are falling short on iphone 5 support, thanks to Apple I guess. I just hope Alpine doesn't abandon updating this software like they always do after 6 months from release or I might have to dump this unit after only 4 months owned. Seems a waste of money today. Would not buy this unit again, and might sell it soon.

Pros: Alpine is luxury and this unit shines with the clearest BT audio I've heard to date (not Pandora as advertised), nice touch screen response (even wearing gloves) and the fastest start up speed EVER. In the past, every backup cam I installed was useless because it took 10-15 seconds to see a picture on start up. This unit raises the bar completely with under 6 seconds on average from key turn. Nice job guys.

Cons: Guess we can blame parrot and Apple for the remedial iphone 5 compatibilities, zero IOS 7 support and 7 click phonebook calling. Quicker to dial the phone number guys, thanks anyways. And why no multi lane info on GPS, and 7 click search for POIs? I drive a trailer on weekends fellas, and need the heads up. Fail. But most bothersome is the smaller than usual unit size. It adds over an hour every time I install it just to fill the gaps, and forget the stock ISO mounts without mod. Big fail.
Quality and accessories make this radio work
Written by: Bill from Noank, CT on January 26, 2014
2007 GMC Sierra 2500/3500 Classic
Crutchfield Customer Review
(
What's this?
)
"Coolness Factor"

Build Quality

Ease of Use

Sound Quality

Value
I needed to get a back up camera installed in my 2007 GMC 2500HD truck, and I wanted to play my Apple Nano with no hassles. Well, this radio, in my honest opinion, is the best replacement for the stock radio in this truck. I reviewed Pioneer, sony and others and really concluded the quality and ease of use, in a truck environment (wearing work gloves, etc) was th best. I at first thought I would install the radio, with the backup camera and retain chimes cabling and retain the steering wheel controls, but elected in the end to have a local Alpine dealer in Westerly Rhode Island, do the installation. I am very happy I had Auto Audio do it for me. Professional and reasonable. Also had the remote start control and lumbar support added to the truck. Very very happy. The more I use this radio, the happier I am. In sync'd flawlessly to my iPhone 5S. the HD blue tooth works flawlessly, and the hookup to the apple iPod works perfectly. The Alpine is THE radio you want. It recognizes the blue tooth phone in a heart beat and is very good. The only thing I should do is get the upgraded speakers. That is probably the only drawback cause I know the radio has the capability of putting out great sound. the stock GMC speakers are not the greatest in the world...

Pros: excellent controls and gold features. good size screen. The quality of the backup camera is perfect

Cons: a little cumbersome to get into the finer details of speaker control (bass increase, treble changes, etc)
Written by: Btheifer from South Carolina on December 9, 2013
2005 GMC Sierra 1500
Crutchfield Customer Review
(
What's this?
)
"Coolness Factor"

Build Quality

Ease of Use

Sound Quality

Value
The worst thing is the crazy way to get to the menu screen.

Pros: Sound great in my 2005 gmc Sierra

Cons: There are very phone problems with this unit.expect with the BOSE system .
Written by: Doc from Charlotte, NC on November 26, 2013
Crutchfield Customer Review
(
What's this?
)
"Coolness Factor"

Build Quality

Ease of Use

Sound Quality

Value
Alpine is absolutely the best audio head unit on the market today (in my opinion), I installed this unit in my '07 Tahoe, and along with the correct harness (also from Crutchfield) it works beautifully with my factory Bose system and all my steering wheel controls still work as well, I installed this one myself but unless you know what you are doing I would have it done professionally....

Pros: One of the best head units out there, the built in iPod interface works perfectly

Cons: Price....they say you get what you pay for...
Written by: sirbOOm from Atlanta, GA on August 8, 2013
"Coolness Factor"

Build Quality

Ease of Use

Sound Quality

Value
The fact of the matter is, this thing is terribly slow. Compared to a Pioneer or Kenwood, some of which are also slow, this is a turtle (and not the turtle that beats the hair). Touching a button on the screen generally results in an instant response but that response takes a while to occur. Additionally, getting to something useful (such as more advanced features) takes a few very slow clicks. In an iOS/Android world, this is unacceptably slow. It doesn't even process stearing wheel controls all that quickly - drop in a Pioneer in my car and steering wheel controls work swiftly (same SWC module); with this model, I have to hold buttons down in order for the volume to go up or down.

Is the sound quality good? I guess so - seems average to me. It works well enough with my iPhone and the Pandora functionality is good enough for government work (although there is no indication that you've successfully clicked on the up or down thumb and there are no "skip" buttons).

I wish I could go out and get a firmware update that actually updated the user interface to be more logically organized. The Audio button on the left of the HU should go to audio settings, not a basic menu where I can turn the subwoofer up/down and turn on/off the rear speakers. The sub level should be on the main screen. Some words in menus, oddly, are spelled as if we were in the UK; in other places, the US way of spelling.

The list goes on. This is not worth the high price due to user interface.

Pros: - iPod connectivity - Pandora - Durability - Matte finish - Amp pre-outs are on dongle wires vs. ports the back (good for tight spaces) - Bluetooth seems to work well - USB in the back - Volume KNOB - there is no excuse to not have a volume knob; that's why I bought this one

Cons: - Base model-grade slowness; so annoyingly SLOW! - Sound quality not evidently "better" than a Pioneer or Kenwood - Amp preouts are on a - Only a few color change options to match the dash - Screen doesn't dim enough at night - looks like a beacon of light - And, one more time, ultra slow!
Written by: P from Huntsville Al on June 25, 2013
Crutchfield Customer Review
(
What's this?
)
"Coolness Factor"

Build Quality

Ease of Use

Sound Quality

Value
This is my first touch screen radio and I have to say that I am not a huge fan. Also the setup is not the best.

Pros: Works well with my iphone5 and ipad mini. Call quality is extremely good.

Cons: The GUI/setup is the most convoluted thing I have used recently. It is so bad I have considered swapping this out for something different.
Written by: Tom W from Leominster on June 10, 2013
2005 Pontiac Grand Prix
Crutchfield Customer Review
(
What's this?
)
"Coolness Factor"

Build Quality

Ease of Use

Sound Quality

Value
Just a great job helping me by the Crutchfield team members.

Pros: Easy to use,quality sound.

Cons: None
Written by: Will from Central CT on June 6, 2013
"Coolness Factor"

Build Quality

Ease of Use

Sound Quality

Value
I would never spend $700 on a radio. Ive purchased many in my time. But never this pricey. This one IS WORTH EVERY PENNY. Luving the BT pandora for andriod. set up is a bit much with the two brake wires, and people complain about stepping on the brake and applying the parking brake to get to the menus- but its not a big deal at all.

Pros: gives me goosebumps it works so well

Cons: price
Written by: damonl from Park City, UT on May 11, 2013
Crutchfield Customer Review
(
What's this?
)
"Coolness Factor"

Build Quality

Ease of Use

Sound Quality

Value
Another great product from Alpine. This head unit delivers everything I wanted in a great looking, easy functioning product. I have been buying Alpine for years and they keep bringing great products to market year after year. I installed this one myself, with some help form the tech support guys at Crutchfield. Thank you very much guys. I wanted a head unit that I could run Sirius/XM, an iPod, backup camera, and Bluetooth from. This Alpine 535HD does all this and more. I have watched a couple movies on it as well. Great picture and sound, easy to install, and it looks great while doing these things. I did not even look at the manual. The 535HD is so easy to use my 4 year old son can use it.

Pros: Great touch screen with intuitive controls.

Cons: None so far.
Written by: Mike from Kyle, TX on April 25, 2013
Crutchfield Customer Review
(
What's this?
)
Not Rated

"Coolness Factor"

Not Rated

Build Quality

Not Rated

Ease of Use

Not Rated

Sound Quality

Not Rated

Value
Looks nice, like the screen. The Nannytronics make the install complex. But, the PAC PR4 VW11 didn't help much with a bad P-brake signal it sends out. The diagnostic screen telling when the brakes and reverse are engaged should not be disabled when it doesn't sense the brakes in the right order. Hard to tell what was wired wrong. But it sounds good (once I get the polks adjusted right), and the controls for the crossovers are nice, don't have to go into the truck to adjust the amps. The blue tooth works great. Love being able to answer and hang up with the steering wheel controls. The sat radio works good, wished I could have used the shark fin anntenea but wound up putting the supplied ant on the rear package shelf instead.

Pros: Great upgrade, flawless blue tooth system for both phone and iPod listening.

Cons: NANNYTRONICS galore! Pandora won't work with Iphone, only with android and blackberry via bluetooth. album art doesn't come up like advertised. What it seems like a long boot up time.
Written by: Scot C from Las Vegas, NV on March 29, 2013
Crutchfield Customer Review
(
What's this?
)
"Coolness Factor"

Build Quality

Ease of Use

Sound Quality

Value
I haven't purchased an aftermarket car stereo in about 30 years, my God how the world has changed! One thing that hasn't changed in the past three decades is the fact that Alpine makes some of the finest quality units you can put in a car. Be aware, there is a learning curve with this unit. It is by no means plug and play. You'll have to spend some time tweaking the built in EQ, and adjusting different sources (like Ipod, Sirius XM, CD, etc) to bring out the best. The unit also has a custom tuning app called I-Personalize that allows you to set the parameters of your car and its listening environment and it will deliver optimized EQ settings for you. It's a great place to start and you can tune it to your ears from there. This is by far the best sounding unit I've ever heard in a car, clean and bright without being harsh. As other reviewers have noted, functionality with Android devices is spotty, I found the Pandora bluetooth was nearly useless, however the integration with your phone for hands-free calling works flawlessly. Ipod integration is very well done, allowing you to operate the Ipod completely from the head unit, including all playlists and a great search function that is lightning quick. I invested in a 64GB Ipod touch because I like to use uncompressed music files such as FLAC or Apple Lossles - sounds better than some CDs.

Pros: Looks way too cool for school. Audiophile sound quality.

Cons: Android functionality could be better. Could be cheaper.
Written by: Sal from Wahiawa, Hi on March 14, 2013
"Coolness Factor"

Build Quality

Ease of Use

Sound Quality

Value
This is my first after market head unit. So far I am loving it. It looks great in my civic. I was a little confused at first how to use it but I soon got the hang of it. I usually switch between my DROID using Bluetooth or my iPod off the USB connection. Only issue is accessing my phone contacts while not in park.

Pros: Clean look, great sound. Plenty of functions

Cons: Access to phone book
Lacks App Function for Iphone/ Ipod
Written by: Kyle M from San Jose, CA on February 7, 2013
"Coolness Factor"

Build Quality

Ease of Use

Sound Quality

Value
This is a nice unit to use for features like a back-up camera, playing music through blue tooth or usb connection. The sound options are also good for more novice audio people looking for an easy to use AV deck. The downside to this unit is somewhat in the advertising. Many vendors advertise that this unit has functionality to display app output from iphones like netflix and navigation apps. This is not accurate. If you purchase the iphone connector cord, only information like tagging, album artwork, music and video files are able to stream (I have the iphone 4 and supposedly video function does not work with the iphone 5). If you want the deck for this purpose, which I kind of wanted, then you should stay away from it. I called Alpine support and they confirmed that this is not an operable function and that it may only be an option in the future through a software upgrade, which could realistically never happen. If you're looking for these features, I hear that the Pioneer Apps AV unit is great for this, although it cannot play dvd or cds. Would have given it a better review if the functionality and features were not misleading, which I purchased the unit based on. I did not purchase the unit through Crutchfield.

Pros: Easy to use, looks very nice installed.

Cons: No app function for iphones, supposedly with continued updates on ios, the unit loses more functionality. This was told to me by the vendor that I purchased the unit from. After the update to IoS 6, the features were limited.
Written by: Brath from Pittsburgh, PA on December 13, 2012
2010 GMC Sierra
Crutchfield Customer Review
(
What's this?
)
"Coolness Factor"

Build Quality

Ease of Use

Sound Quality

Value
This is really a great head unit. It looks and sounds great. The ability to hook-up an iPhone cable directly to the USB cable that is provided from Alpine makes the integration with my primary source of music seemless. Some of the functionality takes a bit of getting used to. Some of the instructions were out of date and incorrect, but I'd buy this same unit again if I were upgrading my other car. It's the best head unit I've ever owned

Pros: Sound, expansive set of features, upgrades and accessories

Cons: Price
Written by: jamie from calhoun ga on December 10, 2012
"Coolness Factor"

Build Quality

Ease of Use

Sound Quality

Value
You would think the best car stereo and the best hands free audio minds could convene and come up with a better unit than this junk. Parrot and Alpine dropped the ball

Pros: Sat radio, DVD, iPod contro, HD radio awesome. Powers up quick, toggles between commands fast

Cons: Bluetooth hands free is a joke. New vehicle and new tires, still can't use bluetooth over 20mph.
Written by: DW from Houston, TX on November 29, 2012
2005 Pontiac G6
Crutchfield Customer Review
(
What's this?
)
"Coolness Factor"

Build Quality

Ease of Use

Sound Quality

Value
This is a very nice Head Unit. I installed this in my 2005 Pontiac G6 and it looks great. The HD radio is pretty cool. I especially like the HD stations that allow 2 or 3 different stations under one frequency. I now have more stations that I would listen to than there are presets available. The iPod control in the HU is a nice feature. And Pandora...the reason I went with this unit in the first place...it works with Android and my Droid RAZR. I can control Pandora from the HU and not worry about taking the phone out of my pocket. As long as you have data service, you have streaming music. You can stream music over Bluetooth from apps like Slacker and Spotify, or from music stored on your phone.

I've had this unit installed for a few weeks now and the only complaint I have is that there still isn't a lot of support for Android phones, but that's for all HU's, not just this one. My brother connected his iPhone and was able to control his Spotify account from the HU. Android can stream it over Bluetooth, but there is no song data on the screen and definitely no controls on the HU for anything other than phone calls and Pandora for us Android users.

Pros: Sounds great, looks good, Pandora and Android

Cons: Very little Android app support, but that's true of all HU's as of November 2012. No custom photo option for your background, only the pre-loaded colored background that you choose. White only buttons (not a big deal, but everything in my car is red, except these buttons).
Written by: Dave from Colorado Springs on November 18, 2012
I bought this unit to replace a Camry stock radio. I wanted great BlueTooth, sound, equalizer, SiriusXM, and HD radio. I think the price is a bit high, but the quality of the radio and features is very good. I use an iPhone 4s with the radio. The menus are ok; there is a learning curve. I got most of my advice on adjusting the parametric equalizer from the web (not Alpine). I like the ability to set up two different users of the BlueTooth system and favorites. The sound adjustment options are probably the strongest feature of this radio. I would buy this unit again, although the price will likely drop substantially for a similar unit in 2013.

Pros: Great sound and parametric equalizer built in. Ability to set up two different users based upon bluetooth phone registrations--Unique from what I have seen.

Cons: Alpine does not have online forums or help. Kenwood is definitely stronger in that department (I also own a KW DNX6990HD).
Written by: MikeGM from South Korea on November 6, 2012
2007 Toyota FJ Cruiser
Crutchfield Customer Review
(
What's this?
)
"Coolness Factor"

Build Quality

Ease of Use

Sound Quality

Value
Due to be stationed overseas, I chose to go with a non-GPS head unit for my FJ Cruiser (and to just buy a free standing, country specific GPS unit.) After 2 weeks of use after the pro install, my Alpine IVE-W535HD is proving to be a great choice. It looks awesome in my dash and sounds great with the OEM speakers. This head unit costs as much as some GPS head units but I'd say that the build quality and technical specs make it worth the price tag. My small complaint is that it does not have front access USB input and sometimes it seems a little slow at being able to change folders from a USB drive.. The Bluetooth seems to work great and it was super easy to sync with my iPhone 4S. There is a firmware update for iPhone 5 which I may need to install if I upgrade my phone. The included mic (and where my installed put it) produces as good or better call quality as my factory Bluetooth in my Volvo XC60.

Pros: Easy to use, great looks, solid Alpine build quality

Cons: No included remote control, sometimes slow to access folders from USB, no front USB port
Written by: Kevin from Jamesville, N.Y. on October 5, 2012
Crutchfield Customer Review
(
What's this?
)
"Coolness Factor"

Build Quality

Ease of Use

Sound Quality

Value
I purchased this unit after buying the INE-Z928HD for my other vehicle. I needed something to replace a Kenwood DNX9960 in my RX7. I didn't need Navigation this time so that was not a concern for me. Like I said in my review of the INE-Z928HD I have always been a Kenwood guy. NO LONGER! Alpine has come a long way this new unit it is spectacular. Great sound, great UI,, great performance.. Everything is the same as the INE-Z928HD only without navigation. Alpine has me back as a customer!! I WILL NEVER PURCHASE A KENWOOD UNIT EVER AGAIN!!! As usual Crutchfield was a pleasure doing business with. Between the sales people to tech support I always have a great experience A++++++

Pros: EVERYTHING ABOUT THE DECK!!!

Cons: Absolutely NOTHING!!
What's in the box?
Double-DIN AM/FM/DVD receiver (w/ integrated 6.1" touchscreen monitor)
Sleeve (installed)
Trim ring (installed)
Wiring harness (has in-line 15A fuse and fuse holder)
Pre-amp/AV harness
Camera/SWC harness
5' USB extension cable (female USB type-A port on one end and male USB type-A plug on the other)
Microphone (attached 13' cable terminated by a 3.5mm connector)
Visor clip
Two-sided tape
8 Pan-head machine screws (M5x8mm)
6 Countersunk machine screws (M5x8mm)
2 Radio removal tools
Fixing screw
Cloth pouch
Owner's Manual CD-ROM
Quick Reference Guide (En/Fr/Sp)
System Requirements (for CD-ROM)
Online Product Registration card
Product Research
Touchscreen Display
HD Radio + SiriusXM Ready
Disc Playback
Built-in Bluetooth
USB/iPod Connectivity
Pandora App Control
Audio Section
A/V Connection
Remote Control
Touchscreen Display
6.1" Touchscreen Display: The IVE-W535HD has a 6.1" WVGA (1.15 million-pixel) touchscreen LCD monitor (with 16:9 aspect ratio) that serves as a video monitor, information display, and system controller. The IVE-W535HD's touchscreen monitor provides a more balanced picture, not over-emphasizing dark or light areas, so movies are seen with greater clarity. All of the graphics are crisp and clean for your viewing pleasure.
Detachable Control panel: In addition to the touchscreen controls, the unit includes frequently used buttons and a rotary dial along the left-edge of the screen. The 4-button control-panel is detachable to deter theft and comes with a cloth carrying pouch to protect the panel when its detached. You can adjust the brightness of the button lighting at night from -2 to +2.
My Favorite Shortcut Screen: Frequently used functions can be customized to one screen for your convenience. Up to 8 shortcut icons can be registered to the "My Favorites" screen. Your settings are kept as a personal profile linked to your phone via Bluetooth. The IVE-W535HD loads your system preferences when your phone is connected, so you can quickly access the things you use the most by simply pressing the "Star" button. You can choose from the following My Favorite shortcut icons.
Audio Source: Registers the audio source (HD Radio, Disc, USB, Pandora, iPod, etc) currently play in My Favorites.
Phone Settings: Lets you register phone numbers stored in your phonebook in My Favorites for shortcut dialing.
Display Settings: The Alpine IVE-W535HD offers the following settings to customize the head unit's LCD touchscreen monitor.
Display Modes: You can select one of the following display modes:

Wide: Evenly stretches a 4:3 picture horizontally to fit the widescreen monitor.
Cinema: Displays a 4:3 picture by stretching out the picture horizontally and vertically; good for displaying a cinema-type picture with a 16:9 ratio.
Normal: Displays a 4:3 picture at the center of the screen with a vertical black band at each side.

Visual EQ Mode: You can select one of the following preset modes suitable for the subject image:

Off (Flat): Initial setting.
Night Mode: Suitable for movies in which dark scenes frequently appear.
Soft: Suitable for animated films.
Sharp: Suitable for old movies where images are not clearly shown.
Contrast: Suitable for recent movies.
User Memory (P-1, P-2): Change and save Brightness, Color, Tint, Contrast, and Sharpness settings in the two user memories.

Display Colors: You can choose from four different background colors for the display; Blue, Red, Green, or Amber.
Backlight/Illumination Control: You adjust the brightness of the LCD backlight from -15 to +15. You can then select one of the following modes for the LCD's fluorescent backlight.

Auto: Adjusts the brightness of the background illumination based on the ambient light in your vehicle
On: Keeps the background illumination of the monitor dark (always dimmed, the degree to which the backlight is dimmed is adjustable)
Off: Keeps the background illumination of the monitor bright (no dimming)
Note: You can also turn the touchscreen completely off at night, if the display is too bright when simply listening to audio and have no need for a monitor display.
Simultaneous Mode: You can watch the video portion of another source on the unit's touchscreen monitor, while listening to the audio over your car speakers from the current source.
Black Out Mode: You can turn the touchscreen monitor off, to simply listen to your music. This will reduce power consumption and enhance sound quality.
Video Lock-out Feature: For safety and legal reasons, the IVE-W535HD features a video lock-out feature to prevent the driver from viewing a video source while the vehicle is in motion. To watch a video source, the vehicle must be parked with the ignition in the ACC or ON position. The vehicle's parking brake must be engaged, disengaged, and engaged again while the foot brake is held in. This also pertains to the receiver's System & Audio Setup Menus.
Hard-key Buttons: In addition to the touchscreen controls, the unit includes frequently used buttons and a rotary dial along the left-edge of the screen. You can adjust the brightness of the button lighting at night from -2 to +2.
2-DIN Chassis: The Alpine IVE-W535HD has a 2-DIN chassis (also known as Double DIN), and will fit in many vehicles with a large dash opening. The unit can be ISO-mounted using factory brackets, or Euro-mounted using the supplied mounting sleeve. As always, please consult Crutchfield's Outfit My Car to verify fit with your vehicle.
HD Radio + SiriusXM Ready
HD Radio: With the built-in HD Radio tuner, you can receive digital AM/FM broadcasts from local stations where available. HD Radio lets you listen to the radio with the same fidelity as your digital music. HD Radio features high quality audio, FM multi-casting, and data services. With HD Radio, your FM stations offer near CD-quality sound, AM stations provide FM-like sound, and there is crystal-clear reception with no audio distortion. Best of all, HD Radio is 100% subscription free.
Multicasting: Multicasting is the ability to broadcast multiple program streams over a single AM/FM frequency. this increases the amount and diversity of content choices. A maximum of eight multicast station channels (HD1-HD8) can be selected on this unit.
Station Text: AM/FM digital stations can offer text and data such as artist names and song titles. The built-in HD Radio tuner displays song title, artist and station information on the touchscreen monitor of the Alpine IVE-W535HD.
RDS: The RDS (Radio Data System) is a radio information system. The RDS allows you to receive a variety of information such as traffic information, station names, and song information from standard analog FM radio stations.
iTunes Tagging: It is possible to save the song's information (tag) from and HD Radio broadcasting station to your USB-direct connected iPod/iPhone. The songs will show up in a playlist called "Tagged" in iTunes the next time you sync your iPod/iPhone. Then you can directly buy the songs you want from the iTunes Music Store. You can "tag" up to 50 songs. Your iPod/iPhone must have at least 50MB of free space to "tag" and transfer songs. iTunes 7.4 or later is required to purchase "tagged" songs.
Preset Tuning: The built-in tuner provides 12 FM and 6 AM preset stations. The unit's tuner can automatically seek and store six strong stations in a selected band in order of signal strength. Sub-program services of multicast stations are not included in the automatic memory search.
Digital MC: The Digital MC setting uses a Hybrid method of auto-switching analog and digital on the main channel, and uses all-digital for sub-channels. Alpine's solution keeps you on the channel you desire, resulting in a better overall HD Radio experience.
Local/Distance Tuning: Local seek tuning lets you tune in only those radio stations with sufficiently strong signals for good reception. Distance seek tuning allows both strong and weak stations to be tuned.
Note: More than 2,000 radio stations are broadcasting their primary signals in digital HD Radio technology, as a free service. Go to HDRadio.com to check for HD Radio stations in your area. The unit's tuner also supports analog AM/FM broadcasts.
SiriusXM Ready: The Alpine IVE-W535HD comes ready for SiriusXM programming with access to XM and Sirius Satellite Radio stations. Thanks to its proprietary SiriusXM Connect port, you can add the optional SXV200V1 SiriusXM Connect tuner and receive more than 150 channels of exclusive programming directly from SiriusXM, via the " SiriusXM All Access" package (subscription required). Visit SiriusXM.com for a complete list of subscription options and channel guide. Additional features of the SXV200 SiriusXM Connect tuner include:
Text Display: Text information, such as the channel name, artist name, feature and song/program title is displayed on the in-dash multimedia receiver.
Search Function: You can search for SiriusXM programming content by Category or by Channel.
SiriusXM Presets: Feature 3 Satellite Radio preset bands. You can store 6 SiriusXM stations to each preset band (a total of 18).
Jump Recall: You can save your absolute favorite radio station and access it with the press of a single button for easy recall.
Instant Replay: Supports the SiriusXM Instant Replay function, so you can pause, rewind, and replay up to 30 minutes of live content. Listen to your favorite programming over again.
Game Alert: GameAlert will display an on-screen message if your favorite teams' games are being broadcast. Jump to that station with the push of a button so you can listen to the game play by play. You can also get the latest score updates while you are listening to other stations.
Song/Artist Alert: With Song/Artist Alert you can get notified when your favorite songs or artists are being broadcast on any SiriusXM station. With the push of a button, you can jump right to that broadcast and catch the songs you want to listen to.
iTunes Tagging: The iTunes Tagging feature lets you Tag songs (up to 50) you hear on SiriusXM and stores the info on your iPod/iPhone. The next time you connect your iPod/iPhone to iTunes, you will be able to preview your selections and then purchase and download them directly from iTunes.
Parental Lock: This function restricts the listening of channels for children of certain age levels and is protected by a 4-digit "lock-code".
Note: A separate SiriusXM Satellite Radio subscription is required (operates on the XM Network). However, you can easily add this SiriusXM tuner to an existing Sirius or XM account for a Multi-Radio Discount Plan.
Disc Playback
Compatible Discs: The Alpine IVE-W535HD will play back DVD Video, DVD-R/RW, DVD+R/RW, CD, and CD-R/RW discs (12cm only). It will also support two-layer DVD discs. The unit has a front-loading disc-slot to make loading your disc easier because there is no panel to slide or fold-down.
MP3/WMA/AAC Playback: This unit can play CD-R/RW, DVD-R/RW, and DVD+R/RW discs containing MP3, WMA, and AAC files recorded using the ISO 9660 Level 1 or Level 2 formats. MP3 files with bit rates from 8-320 kbps, WMA files with bit rates from 48-320 kbps, and AAC files with bit rates from 16-320 kbps are supported. Variable bit rates are also compatible. Up to a maximum of 1,000 files/folders can be read from one disc. ID3 tags (v1, v2) and WMA tags are supported; track title, artist name, and album name ID3/WMA tag data can be displayed.
DivX Playback: The IVE-W535HD supports playback of DivX video files (ver. 3/4/5/6) recorded onto CD-R/RW, DVD-R/RW, and DVD+R/RW discs. The optimum resolution for DivX playback is 965 to 720 (horizontal) x 96 to 576 (vertical).
Playback & Search Modes: The Alpine IVE-W535HD offers various playback and search modes for DVD/CD and MP3/WMA/AAC playback.
Playback Modes:

Repeat: Repeat Play (repeats playback of current track/file/chapter), Title Repeat (repeats playback of current Title), Folder Repeat (repeats only files in current folder).
Random (MIX): Random Play (all tracks/files on disc are played in random order), Folder Random (only files in current folder are played back in random order).
Step/Slow Motion Playback: When a DVD is in the pause mode, you may move forward through the program being played one step (frame) at a time or in slow motion (1/8 or 1/2 speed), forward or backward. No audio is played during slow motion playback.

Search Modes:

Text/File/Folder Quick Search: When you are playing a disc with CD Text, ID3, or WMA tags, you can easily search for a track, file, or folder by its title. Once you have activated the search mode, you can use the touchscreen to quickly scan through the titles to locate the desired track. For discs without CD Text, ID3 or WMA tags, searches are made using the track numbers associated with each song.
Direct Search: Use this function to move directly to the beginning of the a chapter or track on a disc.
Skip (Next/Previous): During playback you can skip to the next or previous track, title, or chapter.
Fast-Forward/Fast-Reverse: You can view a DVD in various speeds in either direction by touching and holding the fast-forward or fast-reverse button on the touch screen. You can select from 2x, 8x, 16x, or 32x speeds.
Frame-by-Frame: You can advance the motion picture by one frame at a time. No sound is output during forward frame-by-frame playback. You cannot execute reverse frame-by-frame playback.
Pre-stop Function: When the Pre-stop function is used, the position at which playback is stopped is stored in the memory, and playback resumes from that position.
Switching Angles: On DVDs in which scenes have been filmed from multiple angles, the angle can be switched during playback.
Off Insert/Eject: A DVD/CD disc can be inserted or ejected with the power off. When a disc is inserted with the power off, the unit will automatically power up and begin playback.
Auto Reload: When a disc is ejected and left sticking out of the disc slot for 20 seconds, the unit automatically reloads the CD to protect if from damage.
Parental Lock: Parental Lock allows you to restrict the playback of DVDs that are unsuitable for younger viewers. You can select a parental lock rating from 1-8, which is protected by a 4-digit password.
Angle Mounting: For proper disc playback, Alpine recommends mounting the IVE-W535HD no more that 30° above horizontal.
Built-in Bluetooth
Bluetooth Technology (powered by Parrot): The Alpine IVE-W535HD features built-in Bluetooth technology (v2.1+EDR), powered by Parrot. Parrot is the global leader in wireless devices for mobile phones, for expanded compatibility for many Bluetooth wireless technology enabled cell phones. The head unit's built-in Bluetooth allows you to make and receive phone calls wirelessly through the receiver; as well as stream music wirelessly from your smartphone to the head unit.
Bluetooth Profiles: In order to use Bluetooth wireless technology, your phone must also be Bluetooth compatible and be able to interpret certain profiles. This unit is compatible with the following Bluetooth Profiles:
Hands-Free Communication: HFP (Hands Free Profile), HSP (Head Set Profile), OPP (Object Push Profile), PBAB (Phone Book Access Profile).
Audio Streaming: A2DP (Advanced Audio Distribution Profile), AVRCP (Audio/Video Remote Control Profile).
Pairing: Your Bluetooth enabled mobile phone or digital audio player must be paired with the IVE-W535HD before hands-free & wireless operation. You can register up to 10 Bluetooth enabled devices with the Alpine head unit. You can keep 2 phones connected at all times (only one can be used during a call). Due to the differences in Bluetooth technology, some Bluetooth enabled devices may be incompatible, function improperly, or may not support all features when used with the Alpine IVE-W535HD. Parrot software updates provide support for future phones.
Dual Auto User Setting: Since the IVE-W535HD can register up to two Bluetooth users at one time, each user can configure their own preferred settings. Once their respective Bluetooth devices have been registered to the unit and their initial settings have been saved, each user can be indentified automatically by the head unit simply be their Bluetooth enabled mobile phone.
External Microphone with Noise Cancellation: The included external microphone (with visor-clip) allows you to speak to the other party on the telephone call hands-free, while the other party's voice is played through your car stereo speakers. The external microphone is tuned and engineered to reduce noise interference and feedback. This allows optimal placement in your car, for the best possible sound quality. You can adjust the microphone's volume level; and even mute the microphone, so your voice will not be heard by the caller. The external microphone measures 0.5625" (diameter) x 1.625" (deep); and features an attached 13' cable terminated by a right-angle male 3.5mm connector.
Receiving Calls: The Alpine IVE-W535HD provides a couple ways to answer your phone calls without picking up your mobile phone. Incoming calls are announced by a caller ring tone through your vehicle's speakers (music will be muted) & a Caller ID message across your Alpine head unit's touchscreen display.
Manual Answer: Manually answer an incoming call by pressing the "Phone" button on your Alpine head unit.
Automatic Answer: Set the Alpine head unit to answer the incoming call automatically; when a call is received, it is answered automatically after approximately 5 seconds.
Call Waiting: If a second call is received during a current call, you can have the first caller wait momentarily while you take the second call. When you are finished with one call, you can switch to the other.
Placing Calls: The Alpine IVE-W535HD provides a variety of functions for placing a phone call without using your mobile phone. The Alpine IVE-W535HD features full phone book access, call history, voice tag dialing, and redial with compatible phones.
Phonebook (with ABC search): Up to 1,000 entries (5 telephone numbers for each name) can be downloaded from your compatible mobile phone. You can select the first 3 call letters (ABC) to search for a desired name in your phonebook.
Shortcut Dialing: You can assign up to 4 phone numbers for one-touch dialing to make a call easily.
Call History: The 60 previously dialed, received, or missed numbers can be retrieved and dialed from memory.
Call Switch: This function allows you to initiate the transfer of audio between your mobile phone and your car's speakers.
Text Message Alert: The IVE-W535HD can give you a notification on the display with a blinking mail icon indicator for 30 seconds while receiving a text message on your Bluetooth-enabled phone. The mail icon indicator will remain on if there is an unread message on a connected mobile phone. You must still read or create a text message from your mobile smartphone.
Audio Streaming: The Alpine IVE-W535HD can stream music from you Bluetooth A2DP/AVRCP mobile device. Not only can it control & stream your music through Bluetooth, it can process your music using its built-in DSP Sound Expansion to ensure you get the best sound. Basic playback functions include; Play, Pause, Fast Forward/Rewind, Previous/Next, & Random/Repeat. The head unit will also display your stored music's song information; such as Artist name & Song/Album title. The IVE-W535HD also supports audio streaming of music apps on your Bluetooth-enabled smartphone, but without control or metadata. You will continue to use your Bluetooth enabled smartphone to view and control streaming music apps. When an incoming call or outgoing call is in progress from your Bluetooth enabled mobile phone, audio streaming will be paused so you can take your call. Once the call is finished, your streaming music will resume.
Volume Adjustments: You can emphasize or weaken the volume level of the phone caller, the ring tone, and the microphone input to fit your own preference.
Speaker Output: You can select which car speaker outputs the audio from your Bluetooth-enabled mobile phone/device.
All: The audio will be output from all of the speakers in the car.
F-L: The sound is only output from the front left speaker.
F-R: The sound is only output from the front right speaker.
F-LR: The sound is output from the front left and front right speakers.
USB/iPod Connectivity
USB Port: The Alpine IVE-W535HD features a rear-panel USB type-A port (5' USB extension cable included, so you may connect a USB memory device (MSC or MTP) to this head unit. Your connected USB memory device may contain MP3 (8-320 kbps), WMA (48-320 kbps), or AAC (16-320 kbps) music files; as well as DivX video files (ver. 3/4/5/6) formatted in FAT 12/16/32. This unit will recognized up to 10,000 files/folders. ID3 tags (v1, v2) and WMA tags are supported; track title, artist name, and album name ID3/WMA tag data can be displayed. The head unit will play back files on a USB memory devices with the same controls and modes as playback of CDs containing MP3, WMA, and AAC audio files. USB portable audio players that can be charged via USB will be charged when plugged into the multimedia receiver's USB port (max. 1A), and the vehicle's ignition switch is set to ACC or On. The USB port is also used to update the head unit's software, via downloadable software updates from the Alpine website.
iPod AV Playback: The Alpine multimedia head unit supports both audio/video playback from a compatible iPod or iPhone through its rear-panel USB port and 3.5mm video input. Using your iPod or iPhone's USB/Dock cable or the Alpine KCU-445i iPod cable ( 500KCU445I, sold separately) you can enjoy audio playback of your stored music, podcasts, and music apps on your iPod or iPhone through the Alpine multimedia head unit. Using the proprietary Alpine KCU-461iV iPod video cable ( 500KCU461V, sold separately), you can also enjoy video playback of movies, TV shows, video podcasts, and music videos stored on your iPod/iPhone; as well as video based apps streamed to your iPod or iPhone. Video can only be displayed while the vehicle is in park with the parking brake engaged.
Note: If you have an iPod nano (7th gen), iPod touch (5th gen), or iPhone 5/5C/5S; use the Lighting-to-USB cable that came with your Apple device to connect to the head unit. These Apple devices only support audio playback (no video output).
iPod DAC Bypass: The Alpine IVE-W535HD's USB connection allows your iPod/iPhone's large music libraries to be loaded instantly to the Alpine head unit and sound quality to be maximized through the head unit's 24-bit D/A converter (bypassing iPod/iPhone DAC), allowing for a Signal to Noise ratio up to 100dB.
iPod Control: Once your iPod/iPhone is connected, you get convenient control of your iPod/iPhone's music library from the head unit. Your iPod/iPhone's clickwheel or touchscreen controls will be locked.
Head Unit: The Alpine IVE-W535HD lets you navigate your iPod/iPhone's music library by Playlist, Artist, Album, Song, Genre, Composer, Podcast, or Audiobook; and your video library by Video Playlist, Movie, Music Video, TV Show, Video Podcast, or Rented Movie. You can then search each category alphabetically (A-Z). The head unit also offers three Shuffle playback functions (All/Album/Category) and Repeat playback function (song).
iPod Passenger Control: In iPod Passenger Control mode, you can navigate the stored music on your iPod/iPhone from its clickwheel or touchscreen. You can also listen to your favorite music apps (such as Pandora iHeartRadio, SiriusXM, Rhapsody, & Slacker) from your iPhone (iOS 3.0+) through the Alpine head unit and your vehicle's speakers. You will continue to use your iPhone's touchscreen to navigate your apps. Not all apps will be compatible.
Note: Access to your iPhone's downloaded applications will depend on the availability of a cellular and/or WiFi network for purposes of allowing your iPhone to connect to the Internet.
iPod Display: The Alpine IVE-W535HD will display your iPod/iPhone's stored music file information in Head Unit or iPod Passenger Control mode. The head unit will display Track number, Elapsed playing time, Artist name, Song/Album title, as well as Album Art. The unit will not display music app information.
iPod Charging: The head unit's USB connection provides 1A of current to power and charge your connected iPod/iPhone when your vehicle's ignition switch is set to the 'ACC' or 'On' position. If your iPod/iPhone has no initial battery charge, then the unit will not recognize it. This unit does not charge the iPad.
iPod Compatibility Chart: The Alpine IVE-W535HD is "Made for iPod/iPhone" compatible and supports the following iPod/iPhone model features (as of 9/24/2013):
Apple Device
Generation
Tested Version
Media Type
Control Type
Display Type
Bluetooth
Charge
Audio
Video
Head Unit
iPod/iPhone
Pandora App
Album Art
Song/Artist Text
Track Info
Phone
Audio
iPhone
2G
3.1.3
Y
Y
Y
N
N
Y
Y
Y
Y
N
Y
3G
4.2.1
Y
Y
Y
N
N
Y
Y
Y
Y
Y
Y
3GS
5.1.1
Y
Y
Y
N
Y
Y
Y
Y
Y
Y
Y
4
7.0
Y
Y
Y
Y
Y
Y
Y
Y
Y
Y
Y
4S
7.0
Y
Y
Y
Y
Y
Y
Y
Y
Y
Y
Y
5
7.0
Y
N
Y
Y
Y
Y
Y
Y
Y
Y
Y
5C
7.0
Y
N
Y
Y
Y
Y
Y
Y
Y
Y
Y
5S
7.0
Y
N
Y
Y
Y
Y
Y
Y
Y
Y
Y
touch
1st
2.2.1
Y
Y
Y
N
N
Y
Y
Y
N
N
Y
2nd
4.2.1
Y
Y
Y
N
N
Y
Y
Y
N
Y
Y
3rd
5.1.1
Y
Y
Y
N
N
Y
Y
Y
N
Y
Y
4th
6.1.3
Y
Y
Y
Y
N
Y
Y
Y
N
Y
Y
5th
7.0
Y
N
Y
Y
N
Y
Y
Y
N
Y
Y
nano
1st
1.3.1
Y
N
Y
N
N
Y
Y
Y
N
N
Y
2nd
1.1.3
Y
N
Y
N
N
Y
Y
Y
N
N
Y
3rd
1.1.3
Y
Y
Y
N
N
Y
Y
Y
N
N
Y
4th
1.0.4
Y
Y
Y
N
N
Y
Y
Y
N
N
Y
5th
1.0.2
Y
Y
Y
N
N
Y
Y
Y
N
N
Y
6th
1.2 PC
Y
N
Y
N
N
Y
Y
Y
N
N
Y
7th
1.02 PC
Y
N
Y
N
N
Y
Y
Y
N
Y
Y
classic
80GB
1.1.2
Y
Y
Y
N
N
Y
Y
Y
N
N
Y
120GB
2.0.1
Y
Y
Y
N
N
Y
Y
Y
N
N
Y
160GB
2.0.4
Y
Y
Y
N
N
Y
Y
Y
N
N
Y
video
5th
1.3
Y
N
Y
N
N
Y
Y
Y
N
N
Y
iPad
1
5.1.1
Y
Y
Y
N
Y
Y
Y
Y
N
Y
N
2
7.0
Y
Y
Y
Y
Y
Y
Y
Y
N
Y
N
3
7.0
Y
Y
Y
Y
Y
Y
Y
Y
N
Y
N
4
7.0
Y
Y
Y
Y
Y
Y
Y
Y
N
Y
N
mini
7.0
Y
Y
Y
Y
Y
Y
Y
Y
N
Y
Y
Important Notes:
A firmware upgrade is required for connection of the Apple iPhone 5/5C/5S, iPod touch (5th gen), and iPod nano (7th gen).
Apple iPod/iPhone software updates may change functionality results. If you download a newer software version, you may need to reset the head unit and your iPod/iPhone to regain functionality. If this doesn't work, you may need to wait until a newer software update is available.
Pandora App Control
Pandora Internet Radio: Pandora is the leading Internet Radio music service in the United States, giving people music they love anytime, anywhere, through personalized radio stations. The Alpine IVE-W535HD multimedia receiver lets you playback and control the Pandora Internet Radio music service that is being streamed to your Apple iPhone, Android smartphone, or BlackBerry. Your iPhone, Android, or BlackBerry smartphone will need an active Data Plan account with connection to the Internet via 3G, EDGE, or WiFi. In addition, you will need an active Pandora music service account.
Pandora App for iPhone: The Alpine IVE-W535HD provides complete access to your Pandora account using your iPhone, via the head unit's rear-panel USB port. To access Pandora you must have an Apple iPhone (iOS3 or later) with the latest version of the Pandora App from Apple's iTunes App Store. Pandora control via Bluetooth is not available for iPhone.
Pandora via Android or BlackBerry: The Alpine IVE-W535HD lets you playback and control Pandora Internet Radio streamed from your Android or BlackBerry smartphone, via Bluetooth (no hard-wired connection required). To access Pandora from the Alpine head unit, your Bluetooth-enabled Android or BlackBerry smartphone must have the latest version of the Pandora App from the Android Market or the BlackBerry App World. Your Android or BlackBerry smartphone must support A2DP, AVRCP, and SPP Bluetooth profiles. Pandora control via USB-connection is not available for Android or BlackBerry.
Note: Access to the Pandora service will depend on the availability of a cellular and/or WiFi network for purposes of allowing your iPhone or smartphone to connect to the Internet. Pandora is not supported in Canada and only available in the United States.
Pandora Control: The Alpine IVE-W535HD will provide control over the Pandora music service streamed to your USB-connected iPhone or Bluetooth-enabled Android or BlackBerry smartphone.
Station List: You can select Pandora stations from your Station List by date or alphabetically (A-Z).
New Station: Based on a currently playing track or artist, you can create a new station and save it to your Pandora account.
QuickMix: QuickMix allows you to listen to songs played on one or more Pandora stations in your Station List randomly. You will need to edit your QuickMix station selections on the phone before connection.
Skip Songs: You can skip song tracks within a station. You cannot skip back to a previous song. Pandora limits the number of skips allowed.
Thumbs Up/Down: You can give songs a thumbs up or thumbs down to help Pandora personalize stations to suit your preferences.
Bookmarking: The song or artist currently being played can be bookmarked & stored in your Pandora account.
Information Display: The Alpine IVE-W535HD will display Artist, Album, & Song information provided by the Pandora app on your iPhone, Android, or BlackBerry smartphone.
Audio Section
24-Bit DAC: The Alpine IVE-W535HD utilizes a Burr-Brown 24-bit Digital to Analog Converter to ensure accurate audio reproduction.
CEA-2006 Compliant: The specifications given by Alpine for the built-in amplifier comply with the CEA-2006 mobile amplifier power testing and measurement standards from the CEA (Consumer Electronics Association). All manufacturers who comply with the standard can display the CEA-2006 logo on their product.
CEA-2006 Power Rating: 18 watts x 4 channels (at 4 ohms, 20-20kHz, 1% THD)
Max Power Output: 50 watts x 4 channels
Head Unit Power Pack (optional): Add the KTP-445A (500KTP445A, sold separately) Head Unit Power Pack to deliver 45 watts x 4-channel RMS of power. The KTP-445A is compact enough to install behind the Alpine DVD receiver. It plugs in-line with the head unit's wiring harness, so you don't even need additional wires.
6ch/4V Preouts: The IVE-W535HD has three sets of 4-Volt RCA pre-outs (Front/Rear/Sub) for connection of external amplifiers. The unit's front and rear preamp output can be faded (front/rear), while the subwoofer preamp output is non-fading.
Subwoofer Control: The subwoofer output level can be adjusted differently from the main volume setting (0-15); so even at low volume settings the subwoofer is still audible. The subwoofer output phase can be set to Normal (0°) or Reverse (180°).
High-Pass & Low-Pass Crossovers: This unit is equipped with active high-pass and low-pass crossovers which limit the frequencies delivered to the speaker and line-level outputs. Each speaker channel is controlled independently, so each speaker pair can be driven by the frequencies for which have they been optimally designed. The crossover adjusts the HFP (high pass filter) or LPF (low pass filter) frequency point of each speaker pair, and also the slope (how fast the filter rolls off the highs or lows).
High Pass Filter: The Alpine head unit is equipped with a high-pass filter for its speaker-level output and front/rear-channel preamp outputs. You can set the unit's high-pass filter center frequency point to 20Hz, 25Hz, 31.5Hz, 40Hz, 50Hz, 63Hz, 80Hz, 100Hz, 125Hz, 160Hz, 200Hz, or Off (through). The slope of the high pass filter can be set to 6, 12, 18, or 24 dB/oct.
Low Pass Filter: The unit's subwoofer output low-pass filter can be set to 20Hz, 25Hz, 31.5Hz, 40Hz, 50Hz, 63Hz, 80Hz, 100Hz, 125Hz, 160Hz, 200Hz, or Off (through). The slope of the low pass filter can be set to 6, 12, 18, or 24 dB/oct.
i-Personalize Setup: Tailor your vehicle's sound setting parameters through the IVE-W535HD's built-in i-Personalize feature. Choose your vehicle type, upholstery type, number of speakers, and speaker locations; and the IVE-W535HD will calculate and apply the optimal sound settings for your vehicle.
Vehicle Type: Sedan, Couple, Hatchback, Mini Van, Small SUV, Large SUV, 2DR Truck, 4DR Truck
Listening Position: Driver seat or All seats
Front Speaker Size: Small (3-4"), Medium (5-6.5"), Large (6x9")
Tweeter: Yes or No
Rear Speaker Position: Rear Deck or Rear Door panel
Subwoofer: Yes or No
Car Seat Material: Leather, Fabric, Half Leather (seats are both made of leather and fabric)
Note: An online version of i-Personalize is available for even more detailed time-correction and sound tuning. Once your adjustments are made online, you can download the parameters to a USB drive and transfer the settings to the IVE-W535HD.
Built-in Equalizer: The Alpine head unit is equipped with a Preset EQ and 9-Band Parametric EQ.
Equalizer Presets (Bass Max EQ): 10 typical equalizer settings are preset at the factory for a variety of music source material. Choose from Flat, Pops, Rock, News, Jazz, Electrical Dance, Hip Hop, Easy Listening, Country, and Classical.
9-Band Parametric EQ: You can adjust the head unit's 9-Band Parametric Equalizer to create a response curve more appealing to your personal taste. Band 1 (20Hz-100Hz), Band 2 (63Hz-325Hz), Band 3 (125Hz-500Hz), Band 4 (250Hz-1kHz), Band 5 (500Hz-2kHz), Band 6 (1kHz-4kHz), Band 7 (2kHz-7.2kHz), Band 8 (5.8 kHz-12kHz), Band 9 (9kHz-20kHz). Bandwidth Q (1, 2, or 3). Levels (-7 to + 7).
Time Correction: This unit is able to delay the audio signal to the speakers closest to the listener with its built-in Time Correction feature. This effectively creates a perception of increased distance for those speakers. Time Correction allows the listener to be placed at an equal distance between the left and right speakers for optimum staging. You can adjust the distance (0-336.6cm) or time delay (0.0-9.9msec) of each speaker and subwoofer to the listener.
Media Xpander Pro: Alpine's exclusive Media Xpander Pro is engineered to bring out the musical details lost in compressed media, and it is adjustable per source to get the most out of your digital audio media. The Media Expander Pro makes vocals or instruments sound distinct regardless of the music source. The FM radio, CD, USB memory, iPhone/iPod, and Bluetooth Audio will be able to reproduce the music more clearly even in vehicles with a lot of road noise.
Source Volume Level: The output level (+/-14dB) of each source can be individually adjusted. For example, if the Tuner level sounds lower than CD, its output can be adjusted without affecting the other sources.
Audio Mute: Activating the Audio Mute function will instantly lower the volume level by 20dB.
IMPRINT Sound Upgradeable: The IVE-W535HD is IMPRINT ready. Simply add the Alpine IMPRINT PXA-H800 audio processor (sold separately) and the Alpine RUX-C800 controller (sold separately) for automatic sound tuning or powerful manual tuning options. IMPRINT automatically measures the entire listening area, capturing time domain and frequency response information from each listening location to process and improve the sound at every seat in your vehicle. Precise control and corrections yield enhanced sound so you can enjoy an optimal listening experience. The IMPRINT audio processor allows you to customize your crossover adjustments so you can control where you send your high and low frequencies. It also provide detailed equalizer adjustments. The IVE-W535HD is not compatible with the IMPRINT PXA-H100 processor.
Beep Guide: This function will give audible feedback with varying tones depending upon the button pressed. The volume of this feature can be set from 0-7.
A/V Connection
Audio/Video Input: The IVE-W535HD is fitted with one rear-panel audio/video input which consists of a composite video jack and stereo RCA jacks to connect an external AV source.
Audio/Video Output: Rear-panel stereo RCA jacks and a composite video jack are provided for feeding an A/V signal to an optional video monitor for rear seat entertainment. The rear zone signals are passed by RCA composite video and stereo RCA preamp audio connections. The same audio/video signal will be displayed on the unit's integrated monitor and the optional video monitor. You can select the aspect ratio of any back seat monitor(s); choose from 4:3 Letter Box, 4:3 Pan and Scan, 16:9 Widescreen.
Rear Camera Input: A proprietary rearview camera input on the rear panel is designed for use with the Alpine HCE-C117D camera ( 500HCC117D, sold separately). A composite video input is also available so the input can be used with almost any rearview camera (such as the 500HCEC115, sold separately). Or, you can use both camera inputs to connect front- and rear-view cameras (front-view cameras include the 500HCEC212F, sold separately). The IVE-W535HD is also compatible with Alpine's multi-view cameras (such as the 500HCEC210, sold separately). With a multi-view camera connected, you can select between a Rear, Panorama, Corner, or Ground view when backing up. The rear-view camera function also provides three on-screen guidelines to assist you when backing up your vehicle. If a rear-view camera is connected, you should also connect the unit's reverse lead wire (Orange/white) to your vehicle's back-up lamp circuit. When properly connected, the image from the rear-view camera automatically appears on the monitor when the vehicle is shifted into reverse. Automatic video switching takes approximately 0.7 seconds. Audio from your music source will continue playing, while the back-up camera is displayed.
Remote Control
Optional Wireless Remote: The Alpine IVE-W535HD is wireless remote control ready. Simply add on the Alpine RUE-4190 IR remote ( 500RUE4190, sold separately) to make it even easier to control the head unit's basic tuner & disc functions.
Steering Wheel Remote Compatibility: The head unit features an OEM steering wheel remote control input on the rear of the unit that lets you keep your vehicle's factory radio steering wheel remote controls when used with an optional steering wheel audio control adapter (sold separately). Please consult Crutchfield's Outfit My Car to see if your vehicle is compatible.
Our Product Research Team
At Crutchfield, you'll get detailed, accurate information that's hard to find elsewhere. That's because we have our own in-house Product Research team. They verify what's in the box, check the owner's manual, and record dimensions, features and specs. We stay on top of new products and technologies to help people make informed choices.
Customer Q&A
2 questions already asked
yes

[ CHRIS T Aug 13, 2014 ]
Yes. You have the options to change colors

[ JAMES J Aug 11, 2014 ]
Yes. The screen LED colors can be customized. Red is one of the available colors.

[ JASON Aug 11, 2014 ]
Yes, the red is nice. Also amber and understated black on black.

[ Curt Aug 11, 2014 ]
Yes my unit does allow me to change from blue to green to red or amber and even black.

[ DAMON A Aug 11, 2014 ]
Thanks John. I just noticed that I spelled unit wrong. LOL

[ Kevin Jun 25, 2014 ]
Not that I am aware of, but it is one awesome unit...

[ JOHN Jun 25, 2014 ]
No, in the remote tv will only show video when the dvd is playing. No mirror of the receiver on the remote tv's

[ JOSE Jun 25, 2014 ]