Alpine iXA-W404
Digital media receiver
Item #: 500IXAW404
This item is no longer available.
Original Price: $399.99

Need help?
Does it fit my car?
Select your car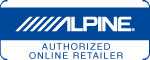 An iPod® receiver for your double-size dash opening
Alpine's iXA-W404 digital media receiver makes it easy to use an iPod® in any vehicle with a double-sized (4" tall) dash opening. It won't play your CDs, but it does play all your digital music with ease, even video files from your iPod.
---
Make it your own
You can fully customize the screen to your liking by deploying up to three widgets at once — five are included, and you can download more from Alpine's website. Available widgets include clock, photo viewer, calendar, iPod artwork, and many more.
---
Simple iPod navigation and control
The big jog dial works just like an iPod's click wheel. Turn it a little to access Search mode, then scroll line-by-line. Turn and hold the knob to move to Alphabet Search mode — now you can scroll through the alphabet to blaze through your lists of artists, albums, or songs. The current song keeps playing, so you won't interrupt the music while you're searching. The convenient "Back" button lets you backtrack through the menus, instead of starting over from the top.
---
Play your other digital files, too
Put your favorite MP3, WMA, and AAC files on a thumb drive, and you've got an easy way to stock up on tunes for your next road trip. Or you can play another USB-equipped music player through the USB slot.
---
Flexible system-building options
This versatile stereo works with all of Alpine's peripheral gear, including satellite radio, auxiliary input adapter, add-on USB input, or CD changer. Add an HD Radio™ tuner, and you can "tag" songs you hear on an HD Radio broadcast for purchasing later in iTunes®. With Alpine's optional KCE-400BT Bluetooth® interface, you'll be able to answer or place a call with a touch of a button. You can also stream music from a music phone or Bluetooth-capable music player.
The iXA-W404 has no disc slot, but you can hook up Alpine's optional DVD changer to view movies while you're parked. You can add an Alpine GPS navigation module with preloaded maps of the U.S., Puerto Rico, and Canada, using an optional adapter (available soon).
---
IMPRINT for an amplified system
Three sets of preamp outputs simplify setting up a system with external amplifiers and subs, and you'll appreciate the ability to control the subwoofer's output level from the stereo. For the best possible sound quality, add Alpine's PXA-H100 IMPRINT sound processor and KTX-H100 tuning kit — the IMPRINT measures your car's acoustics and adjusts the stereo's settings automatically to create a perfect audio environment.
---
Note: If you're going to use your iPod with this receiver, be sure to check Hands-on Research for specific iPod model compatibility with this receiver or its optional iPod adapter.
---
Information provided by Alpine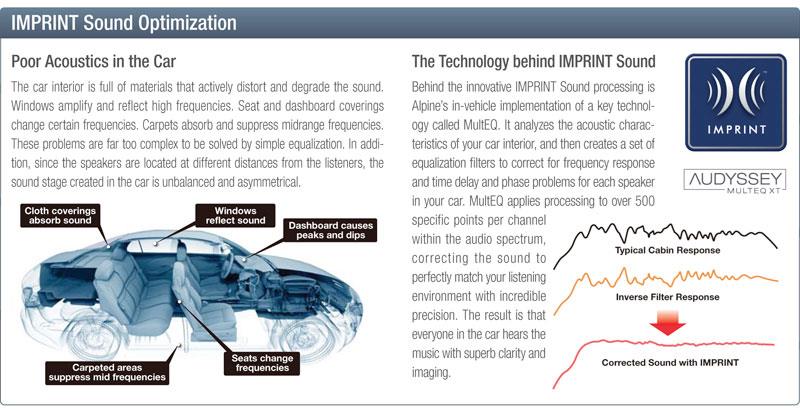 Product Highlights:
General features:
digital media receiver (no built-in CD player)
built-in amplifier (18 watts RMS CEA-2006/50 peak x 4 channels)
plays MP3, WMA, and AAC music files from external sources
4.3" full-color TFT display
remote control
Audio features:
2-band parametric equalizer
compatible with Alpine's PXA-H100 IMPRINT audio processor and KTX-H100 tuning kit
Expandability:
iPod control: direct connection to USB input for newer iPods — check "Hands on Research" tab for compatibility
iTunes tagging with Alpine's optional TUA-T550 HD Radio™ tuner
compatible with Alpine's HD Radio tuner, Bluetooth adapter, CD changer, DVD changer, satellite radio
inputs: USB input
outputs: 6-channel preamp outputs (front, rear, subwoofer) — subwoofer output has bass level control
Other features and specs:
Why replace your factory radio?
Two good reasons - sound quality and cool features. A new car stereo offers power that's superior to most factory radios, along with more sophisticated tone controls. And most car stereos offer built-in or optional features that add safety and fun to life in your car, including inputs for your iPod or MP3 player, Bluetooth connectivity for hands-free cell phone calls, satellite radio or HD Radio reception, and connections for building an audio system in your car.
Alpine iXA-W404 Reviews
Average Customer Review:
15 Reviews
---
AMAZING!!!!! Worth every penny
Written by: Andres from Fort Lauderdale, Florida on March 27, 2010
Crutchfield Customer Review
(
What's this?
)
I did a lot of research, started by upgrading my factory speakers..... well after that came a 500w AMP which made the factory stereo sound so much better. I decided to buy a new radio to use with my iPod, which I could upgrade to bluetooth and Navi... considered the IXA 407 and the INA w900 but did not want to spend so much. I bought the IXA 404 and all I can say is that the sound is AMAZING!!!!!! have not even played with the EQ or settings... my iPod sounds like never before... wow this unit arranges the sounds just perfect between all speakers (2 Alpine SC 600 component speakers in front and 2 coaxials in the back...... I added the self amplified 8" bazooka and ohhhhhh baby.... could not be happier. This unit really is designed for the iPod and works great. Worth every penny........

Pros:

Cons:
Written by: juan from GRETNA, LA. on November 1, 2009
2008 Toyota Tacoma
Crutchfield Customer Review
(
What's this?
)
This unit is pure Alpine , simple with the right amount of features and exceptional sound quality. Tons of expandable options ,but it is perfect right out the box . The bluetooth is clear, works perfect with my BB tour, but my favorite feature is the IMPRINT , turns my tacoma into a concert hall, but none of this features are any good with out the technical support of crutchfield, especially for a do it yourself like me, and on top of everything crutchfield gives you 60 days instead of 30 to test the unit.

Pros:

Cons:
Nice, but still needs work!
Written by: Michael from Ramstein AB, Germany on August 19, 2009
1999 Honda Civic
Crutchfield Customer Review
(
What's this?
)
Well, you've read it below, and I'll just say it again. The clock! It just keeps going and going. I went on leave for a week, and when I came back, the clock was at almost the 200th hour. That's ridiculous. It appears that Alpine spent so much time worrying about the add-ons, that they forgot the simple things. AND Alpine doesn't plan on releasing a firmware update for it. You have to send your unit back to them (and go without) so they can fix it and send it back. I don't appreciate having to spend a few weeks without my head unit because Alpine screwed up the product. I paid good money for that when Crutchfield first released it...should have waited I guess.

My second issue is that it doesn't work well with the 2nd Gen iPod Touch. Every time I tried to access a playlist, the unit would just freeze up after about 30 seconds. I would have to stop and restart the car to get it going again, or just listen to the radio until I got where I was going.

I've been purchasing only Alpine head units for the past 15 years, and I have to say, for the first time - Alpine, you should be ashamed! I'm not sure if I'll look at Alpine's any more after this, unless they do something to make this right, and soon.

Pros:

Cons:
Written by: Axel from Laurel, MD on August 16, 2009
Crutchfield Customer Review
(
What's this?
)
I think I have finally found the perfect stereo. I have been through 2 pioneer
avic units in the last 2 years, but I was never happy with them. After getting
the unit installed it took a bit of positioning before I had all the components
tucked away securely, now everything is hidden. Sirius works great, Bluetooth
works fantastic, this is the first bluetooth unit that lets me use voice commands
with my blackberry. Everything responds quickly and does not "hang". I only
wish it had green lighting to match my dash and a bit more EQ selection. Also,
on Sirius, the presets are labeled, Preset1, Preset2, etc. instead of the name of
the channel you saved, so you have to memorize all 18 presets to use them
effectivly. Those are pretty much my only grips. Sound quality is great with my
JL audio amp and speakers, nice clear sound. Everything is hidden even the
Sirius antenna so the only clue is the head unit. I have my ipod hooked up as
well, this is by far the best ipod control I have seen. This unit has a combination
of buttons and and touch screen. I prefer it to an all-touch screen design
because with the touch screens, I always seem to end up looking down at the
monitor and not on the road. Before I installed this one, I thought I was done
with navigation systems, they had always been frustrating to me. Now I think I
will start saving up for the NVE-M300 that goes with this unit, if it is designed
as well as the ixa-w404 then I will be quite satisfied.

Pros:

Cons:
Written by: David from Atlanta,GA on July 15, 2009
This headunit is pretty good if have the modules

If your like me who just have the headunit only and just use the usb connection your missing out

but music loads and plays very good over usb
My music sounds much better with this new headunit over the stock bose headunit

really brings out the the bose speakers

I'd reccomend this to someone who doesn't mind adding boxes to their unit



Pros:

Cons:
Too Early for Prime Time!
Written by: ratspot from Nottingham, PA on July 7, 2009
2002 Oldsmobile Bravada
Crutchfield Customer Review
(
What's this?
)
I purchased this unit for my wife's car when it was first released. I read the
initial reviews before it was available and it seemed to have all the
functions we were interested in at a good price . After installing the unit
she noticed that the clock, date and time, could not be set properly. I called
tech support and they sent us a new one. A day later the same thing
started happening, the correct date couldnt be displayed and apparantly it
was 88 o'clock....... I believe that Alpine has rushed this unit into production
too soon. After having it in the car for awhile before finally exchanging it for
a Pioneer 4100dvd I realize now that the display was too small and the
overall response for the Ipod control wasnt any faster than the pioneers
response.

Pros:

Cons:
I Have the Clock Issue Also
Written by: Richard from Menlo Park, CA on July 4, 2009
2004 Honda CRV EX
Crutchfield Customer Review
(
What's this?
)
The clock really irritates me. Out of all the things you can screw up... how do you get telling time wrong? My clock just continues to count the number of hours it has been since I set it - the same thing two other people below me say they have. My clock is reading 100:54 or something silly like that. WTH?

As for the installation - I have to agree it was pretty difficult. Making me tie into my foot brake not only so I can actually watch video, but so I can set the clock & other settings as well? The majority of the settings options simply do not appear until you have hooked into your foot brake. STUPID!

Look - stop making things idiot proof and just make a friggin' stereo. Let it play video whenever so these things can stop being so complicated! What ever happened for letting people take responsibility for their own actions?

I'm really ticked about the clock problem. I think I'm going to return this and that's too bad because everything else is pretty nice (with the exception of the excrutiatingly slow iPod playlist/song scrolling and the extensive load times for album art.

Pros:

Cons:
Written by: Elizabeth from PA on July 4, 2009
2006 Ford Mustang
Crutchfield Customer Review
(
What's this?
)
Have to agree it was a PAIN to install. Plus after several calls to tech support finally someone there was able to help us. All the techs were nice but only 1 knew what to do. As far as the clock goes...TERRIBLE. Wont keep time or date. Now, as of today, the time is right but the date is LAST month. Ughhhhh, what a pain this unit has been. BUT, it does look and sound great. Fits very nice in the Mustang. If we can only get the clock/date correct.

Pros:

Cons:
Written by: Daniel from Fort Hood, TX on June 21, 2009
2006 Volkswagen Passat
Crutchfield Customer Review
(
What's this?
)
After about a month of use, here is my review. First of all, this is the HARDEST head unit I have ever installed. The Pre-outs are on a detachable plug-in for ALL of the pre-outs. That, the iPod wire, the antenna wire, and the bulky wiring harness doesn't leave much room and looks terrible. This head unit has TWO safeties for video AND adjusting ANY options. It has a foot brake wire and a parking brake wire. The interface is extremely sluggish for iPod control and takes forever to load artwork. My clock doesn't reset, it just keeps going; it says it's 36:85 right now. Feels really rushed and though it does look nice, the functionality does not even it out. Also, you have to take your eyes off the road for too long to go to any of your presets on the radio. Worst head unit I've had in a while. I expect much better from Alpine.

Pros:

Cons:
Written by: Erik from Honolulu, HI on June 21, 2009
2004 Pontiac Grand Prix
Crutchfield Customer Review
(
What's this?
)
Love this HU, but every time I turn around, the clock resets itself. I think I am going to send it back and get a new one and try again. If that one doesn't work I am going to have to go with a different unit I think.

Good - great display and the album artwork looks cool. Screen is nice, touchscreen works good, video looks great.

Bad - with they had a list of letters of the alphabet to use when searching...I have a lot of music and scrolling through it is difficult sometimes. And of course....the resetting clock thing.


Pros:

Cons:
Written by: Paul from Va Bch, VA on June 16, 2009
Crutchfield Customer Review
(
What's this?
)
I love this Stereo! Works Great! Looks perfect in my 2007 Tacoma. You
can watch video on you Ipod. Rear backup camera hook up. This Stereo is
a great deal!

Pros:

Cons:
Missed Opportunity by Alpine
Written by: Jeremy from Fort Wayne, IN on June 5, 2009
Crutchfield Customer Review
(
What's this?
)
After I powered the unit up for the first time (without hooking up the requirements for watching videos which includes wiring to the brakes) I noticed that I could barely access anything. All that was available were a few "Audio" options. I could not adjust the clock, the deck's appearance - which is one of the features of this deck, or anything else. I understand the importance of not being able to watch videos while you're driving, but why could the setup options not even be accessed? This was all remedied by properly hooking up the deck as instructed, or using a video bypass system. This led to being able to adjust settings, which lead me to the most annoying thing about this deck. It didn't matter if you kept the clock on 12- or 24-hour mode; it always messed up by going past 24 hours after a few days. At one point, the clock was up to 7240:00. That is completely unacceptable. On a positive note, this deck sounds great with an iPod. One thing I noticed, however, every time after starting the vehicle was that about one minute down the road you would hear a short skip. The head unit was also slow skipping forward tracks. It would have been nice if the display was better utilized as well when playing an iPod, such as showing how many tracks were on the playlist or cd you were listening to and possibly showing what song was next. The album art also loaded very slow, and occasionally had hiccups when switching songs. Overall, I was not pleased with headunit.

Pros:

Cons:
Written by: Dennis from Maryland on May 25, 2009
Crutchfield Customer Review
(
What's this?
)
This unit is overall a quility piece of technology. I thought the touch screen was done well but the second time around will expect more sleek features. But the sound which is bottom line, is lacking. Maybe with additional components the sound will shine but it obviously is missing some basic functions of balance and interpretation of digital music. Song to song varies with quality. I replaced this unit with Pioneers 4100 and it blows the Alpine away. The Pioneer also has a 7" touch screen and accepts DVD/CD's.

PROS
Ipod works great with this unit. Quick and very few glitches

Buttons work as well as the touch screen allowing you to use the screen or old fashioned knobs

CONS
Sound. Biggest downside for me. Ipod was 1 dimensional and tinny sounding. My Sony & Pioneer play my Ipod with full sound and quality.

Distortion. Had to turn the bass off in many cases just to listen to my music.

No DVD/CD. I didnt think this would bother me but after spending this much it kinda does.

No time for track. I get tired of people asking why it doesnt show times in songs, they just forgot!

Scrolling in menus is time consuming. The percentage feature is helpful but Pioneer got this right by allowing you to drag the scroll bar, as well as jumping thru the alphabet

Pros:

Cons:
Written by: Andrew from Hollywood,MD on May 21, 2009
2008 Ford Focus
Crutchfield Customer Review
(
What's this?
)
I added this to my 2008 Ford Focus in a replacement for the iDA-X100. This media reciever is great. The sound quality is head above the rest. The ability to adjust just about every audio setting is great. The only down side to this radio has to be the the video/clock setting. You can only view a video if your car is in park and same goes with changing the clock/calender. I didnt hook the the yellow cables up to my brake wire cuase it seems to much work just for video. But now I've learned alot of the recievers ability's come from your car being in park. SO you better connect those cables!
Overall the touch screen is amazing and sound quality rocks!!!!

Pros:

Cons:
Written by: certifiedwreckedvwjetta from some where in the South on May 18, 2009
The first one didn't make it into the car. The switch broke for the imprint. Second HU is in the car, clock resets it's self??? No cd track number displayed if cd changer connected. Not sure why Crutchfield says this will not fit my car. It looks amazing in my car! The clock thing really has me thinking about returning it and puting in my old HD. Seems Alpine may have rushed this HD out of the plant way to fast! I love the sound. The touch screen is a welcomed feature, as there is a lot of setting to go through.

Pros:

Cons:
What's in the box?
2-DIN Digital Media Receiver with integrated 4.3" screen
Sleeve (installed)
Trim ring (installed)
Power harness (has in-line 10A fuse and fuse holder)
Preamp/AV harness
Reverse/Remote harness
6.5' USB cable (female USB type-A connector on one end and a male USB type-A connector on other end)
6.5' A/V extension cable (right-angle male mini-plug on one end and female mini-jack on the other)
14" iPod dock to USB/mini-plug adapter cable
RUE-4202 wireless remote control
2 "AAA" batteries
2 Removal keys
8 Pan-head machine screws (M5x8mm)
6 Countersunk machine screws (M5x8mm)
2 Adhesive seals
2 Navigation slot cover machine screws (M2x4mm)
Owner's Manual CD-ROM (Eng/Fre/Spa)
Quick Reference Guide (Eng/Fre/Spa)
Customer Care Registration card
CD-ROM Requirements/ Instructions
Revision booklet
Product Research
Overview: The Alpine iXA-W404 is an in-dash digital media receiver with an AM/FM tuner, a rear-panel USB input, and a 4.3" full color TFT LCD screen, but no CD slot. You can connect and control an iPod, a USB "thumb" drive, and a CD changer; and the unit is HD Radio ready, Bluetooth ready, and Satellite radio ready. The iXA-W404 is a dedicated receiver that provide seamless control of your iPod, iPhone and many other popular digital devices right from the headunit. The iXA-W404 receiver offers enhanced features for a more robust iPod-listening experience that meets the specifications for "Made for iPod" and "Works with iPhone" compatibility.
Display Features
AM/FM Tuner
External Device Connection
Audio Section
Sound Processing (with optional PXA-H100)
Remote Control
Display Features
2-DIN Chassis: The Alpine iXA-W404 has a 2-DIN chassis (also known as "Double DIN" or size DD), and will fit in many vehicles with a large dash opening. Unlike many in-dash monitors, there is no hideaway box; all the inputs and outputs are included within the unit's chassis. The unit can be ISO-mounted using factory brackets, or Euro-mounted using the supplied mounting sleeve. As always, please check the Crutchfield Vehicle Selector to verify fit with your vehicle.
4.3" Full-Color Touchscreen LCD Display: The Alpine iXA-W404 features a high-resolution (400 x 234) 4.3-inch, full-color, touchscreen LCD display to view and control your audio/video sources as well as Calendar, Clock, Calculator, Audio, and Menu functions.
A/V Information: The unit can display the following audio/video information based on the source selected.

iPod Mode: Artwork, song name, and artist name is displayed for current song; as well as video (if applicable)
USB Mode: Tag information of the current song is displayed (Song name, Artist name).
Radio Mode: The frequency of the current radio station is displayed.
HD Radio Mode: The name and frequency of the current station is displayed.
SAT Mode: Tag information of the current song is displayed (channel name, song name).

World Clock Display: The unit is equipped with a World Clock function. The local time of 4 major cities in the world can be displayed according to the time set on this unit.
Calendar: The unit can display the year, month day and week.
Calculator: A 15-digit Calculator is provided to do simple math calculations.
Multi-Info Mode: You can select fours panels of information to show on the screen simultaneously.
Display Adjustments: The Alpine iXA-W404 offers the following display settings.
Display Modes: You can select one of the following display modes:

Mode 1 (Wide): Evenly stretches a 4:3 picture horizontally to fit the wide screen monitor.
Mode 2 (Cinema): Displays a 4:3 picture by stretching out the picture horizontally and vertically; good for displaying a cinema-type picture with a 16:9 ratio.
Mode 3 (Normal): Displays a 4:3 picture at the center of the screen with a vertical black band at each side.

Background Textures: You can set the unit's LCD screen to one of sixe background textures. When Auto Background is activated, the background texture will change each time the ignition key is turned off and turned on again. You can download wallpaper from Alpine's website to a USB thumbdrive, then upload and store the wallpaper in the iXA-W404.
Visual EQ: You can select from five preset Picture Modes and two custom Picture Modes. The Preset Picture modes consist of Flat (default initial setting), Night M (suitable for dark movies), Soft (suitable for animated films), Sharp (suitable for old movies), and Contrast ( suitable for recent movies). The two custom mode allow you to adjust the pictures brightness, color, tint, contrast, and sharpness (-15 to +15).
Backlight Brightness: You can set the illumination of the headunit manually (-15 to +15). You can also turn the display off completely to reduce power consumption.
Black Richness: This function allows the Black Richness (deeper blacks) of a dark scene to be adjusted (1-5).
Double-Action Rotary Encoder Knob: In addition to the unit's touchscreen controls, The iXA-W404 features a large Double-Action Rotary Encoder Knob for maximum control over all music search functions like QuickSearch for finding your songs or adjusting your volume. The unit also features other various hard-key buttons.
Video Lock-out Feature: For safety and legal reasons, the iXA-W404 features a video lock-out feature to prevent the viewing of a video source while the vehicle is in motion. To watch a video source, the vehicle must be parked with the ignition in the ACC or ON position. The vehicle's parking brake must be engaged, disengaged, and engaged again while the foot brake is held in.
AM/FM Tuner
AM/FM Tuner: The unit features a built-in AM/FM tuner with two FM bands and one AM band.
Preset Tuning: You can preset up to six stations for each band giving you a total of 12 FM presets and 6 AM presets. The unit's tuner can also automatically seek and store six strong stations in a selected band in order of signal strength.
External Device Connection
A/V Input: Stereo RCA jacks and a RCA composite video jack are provided for connecting an external video source such as a VCR, DVD player, or video game. You can adjust the audio input level (Low/High) of the unit's Auxiliary input.
USB Memory Mode: The iXA-W404 can play MP3, WMA, and AAC files stored on a USB Memory device (also known as a "thumb drive") formatted in FAT 12, 16, or 32 using its rear-panel USB port and supplied USB cable. MP3 files can be recorded with bit rates of 32-320 kbps, WMA files can have 16-320 kbps bit rates, and AAC files can have 8-576 kbps. This unit can recognize up to 256 folders and up to 10,000 files. The unit's display shows song, album, and artist title, and elapsed time. If no tag information exists, the display shows the track number and elapsed time. During MP3/WMA/AAC playback from a USB memory device, you can activate the search mode to locate a specific folder or file by name. You can repeat the current track or current folder, and play the tracks in the current folder or all of the tracks in the current memory bank in random order. Additionally you can connect and control MP3 players like the iRiver Clix, Creative Zen, or Toshiba Gigabeat, using the MTP protocol.
Built-In iPod Interface: The iXA-W404 uses a rear-panel USB connection and 3.5mm iPod audio/video input (6.5' USB cable and 6.5' 3.5mm AV cable included) and comes supplied with a 14" iPod dock/USB/3.5mm connector cable to connect select iPods and provide ultra-fast digital data transfer so songs and videos are loaded instantly through the receiver. The iXA-W404 uses a USB connection (cable included) which provides ultra-fast digital data transfer so songs and video are loaded instantly through the receiver. You can view Artist, Album, Song Information and Song Number right on the head unit's display. You can also quickly and easily search through all of the music contained on your iPod through Playlist, Artist, Album, Song, Genre, Composer, Podcast, and Episode searches. For especially large music libraries, Alpine created the Percentage Search function to use the headunit's preset buttons for quick jumps to specific parts of the list. You can skip through your music in 10% increments. In addition, you can use Alphabet Search to jump through your lengthy list of music by skipping through the letters of the alphabet. Titles are listed alphabetically and can be skipped every 200 titles with the same beginning alphabetical character. Once you have the letter you want, simply scroll to the exact song. Instead of starting all over from the search menu, you can simply press the Back button on the receiver to go back one step (works just like your iPod). When you are playing a song if you press the back button it will take you back to the place in the menu where you selected the song. When you add Alpine's HD Radio module (500TUAT550, sold separately), and you hear a song you like, simply press and hold the iTunes Tagging button on the iXA-W404. This iTunes Tagging feature lets you Tag songs you hear on HD Radio stations and stores the info on your connected iPod. The next time you connect your iPod to iTunes, you will be able to preview your selections and then purchase and download them from directly from iTunes. The Alpine iXA-W404 is "made for iPod/iPhone" compatible and supports the following iPod/iPhone model functions (as of Dec. 2010):
iPod/iPhone Model
Generation
Media Type
Control
Display
Charge
Audio
Video
Unit
iPod
Song/Artist
Track
dock-connector
3rd
N
N
N
N
N
N
N
click-wheel/color-display
4th
N
N
N
N
N
N
N
mini
1st
N
N
N
N
N
N
N
2nd
N
N
N
N
N
N
N
video
5th
Y
Y
Y
N
Y
Y
Y
classic (80/120/160 GB)
80GB
Y
Y
Y
N
Y
Y
Y
120GB
Y
Y
Y
N
Y
Y
Y
160GB
Y
Y
Y
N
Y
Y
Y
nano
1st
Y
N
Y
N
Y
Y
Y
2nd
Y
N
Y
N
Y
Y
Y
3rd
Y
Y
Y
N
Y
Y
Y
4th
Y
Y
Y
N
Y
Y
Y
5th
Y
Y
Y
N
Y
Y
Y
touch
1st
Y
Y
Y
N
Y
Y
Y
2nd
Y
Y
Y
N
Y
Y
Y
3rd
Y
Y
Y
N
Y
Y
Y
iPhone
2G
Y
Y
Y
N
Y
Y
Y
3G
Y
Y
Y
N
Y
Y
Y
3GS
Y
Y
Y
N
Y
Y
Y
Note: The controls on the iPod are not functional when connected. Apple firmware updates may change functionality results.
Satellite Radio Ready: There are several options for connecting an optional XM or SIRIUS Satellite Radio receiver to this receiver:
XM Satellite Radio: To receive XM Satellite Radio, you can connect the optional CNP2000UC XM Mini Tuner and the Alpine CNP-ALP1 adapter cable (700XMALP1, sold separately).
SIRIUS Satellite Radio:

Universal SIRIUS Tuner: You can connect the optional SIRIUS SC-C1 Sirius-Connect Universal Vehicle Tuner, along with the Alpine KCA-SC100 SIRIUS satellite Radio interface (700SIRALPC, sold separately) directly to the head unit.
SIRIUS Plug and Play: The KCA-SC100 (item number 500KCASC10) also allows you to integrate many SIRIUS plug and play receivers when used with the SiriusConnect Plug and Play Dock (700SIRALPP, sold separately). Compatible tuners include the Sportster, Starmate, Stratus, and Stiletto. You can control the satellite receiver from your head unit and use the Quick Search feature to browse all artists and songs currently playing on all channels. The SIRIUS text information also appears on the head unit display.

Auxiliary Input: A portable satellite radio receiver, such as the Delphi SkyFi3 or SIRIUS Sportster, can be connected to the head unit via an auxiliary input.
Note: A subscription is also required to receive satellite radio programming from SIRIUS or XM.
HD Radio Ready: The iXA-W404 can receive HD Radio signals when the TUA-T550HD HD Radio Tuner Module (500TUAT550, sold separately) is connected via the Ai-Net connector. While receiving HD Radio, the unit can automatically switch between the analog and digital signals, or you can manually switch to the digital signals exclusively. When used with the compatible HD Radio Tuner, the iXA-W404 supports Multicasting, which is the ability to broadcast multiple programs streams over a single FM frequency, thereby increasing the amount and diversity of content choices.
Bluetooth Interface Ready: With the optional KCE-400BT Bluetooth adapter (500KCE400B, sold separately), you can make and receive calls hands-free on your Bluetooth-capable cellular phone, and communicate through a microphone (included with the Bluetooth interface) and your vehicle's speakers. In addition to the wireless connection and hands-free operation, you also get caller ID, phone book access, and on-screen call information. With select compatible phones with streaming audio capability, you can listen to and control music stored on your phone and have it stream through your Alpine system.
Navigation: The iXA-W404 is compatible with Alpine's NVE-P1 Navigation Drive (500NVEP1, sold separately) via the PMD-DOK2 Docking Station (500PMDOCK2, sold separately). The NVE-P1 provides preloaded NAVTEQ map data of the U.S. and Canada, text-to-speech driving instructions, and Bluetooth hands-free functionality, among other features. With an Alpine navigation system connected to the iXA-W404, the voice guidance of the navigation system will be mixed with the receiver's audio. You can adjust the volume level of the voice guidance.
Changer Controls: This unit is compatible with 6- and 12-disc Alpine Ai-NET CD changers; also, this unit can control Alpine Ai-NET CD/MP3 changers and DVD changers.
Additional Auxiliary Input: In addition to the unit's A/V Aux Input, the optional KCA-121B Ai-NET/RCA adapter (500KCA121B, sold separately) can be used so audio from other auxiliary sources can be played through the unit's AI-Net connection. When the KCA-121B interface cable is used, a CD changer cannot be connected to the head unit.
Auxiliary Output: Stereo RCA jacks and an RCA composite video jack are provided for feeding A/V signals to an optional video monitor(s). When the Rear Entertainment Function is used and these jacks are connected to a rear seat entertainment system (e.g. a rear seat monitor and wireless headphones), your rear seat passengers can view/listen to a different source than the one selected for the front passengers.
Rear Camera Input: There are two dedicated rearview camera inputs; a six pin harness specifically for the Alpine HCE-C107D (500HCE107D, sold separately), and a single composite video jack compatible with most rearview cameras on the market. If a rear-view camera is connected, you should also connect the reverse lead (Orange/white) to the vehicle's reverse lamp circuit. When properly connected, the image from the rear-view camera appears on the monitor when the vehicle is shifted into reverse.
Remote In/Out: A 6-pin female Molex jack and harness allows you to connect the remote control plugs from an optional video monitor, tuner, DVD player, etc.
Note: Some optional Alpine monitors have touchscreen controls requiring connection of monitor control wire of the remote harness.
Audio Section
CEA-2006 Compliant: The specifications given by Alpine for the built-in amplifier comply with the CEA-2006 mobile amplifier power testing and measurement standards from the Consumer Electronics Association. All manufacturers who comply with the standard can display the CEA-2006 logo on their product.
CEA-2006 Power Rating: 18 watts x 4-channel
Max Power Output: 50 watts x 4-channel
24-Bit DAC: The iXA-W404 uses clean digital connections and a 24-bit DAC (digital-to-analog converter).
Bass and Treble Controls: The head unit features independent Bass and Treble controls that allow you to adjust each setting +/-14 dB in 2 dB steps. The center frequencies are adjustable (60, 80, 100, and 200 Hz for bass and 10, 12.5, 15, and 17.5 kHz for treble) and the bass bandwidth is adjustable (from narrow to wide in four steps).
Loudness: Loudness introduces a special low and high frequency emphasis at low listening levels to compensate for the ear's decreased sensitivity to bass and treble sound at low volume.
HPF: The high pass filter (HPF) removes the lower bass from the front and rear speaker and line level outputs. HPF options are 60 Hz, 80 Hz, 100 Hz, and off.
Three 2-Volt Preamp Outputs: In addition to the front and rear 2-volt preamp outputs, there is a dedicated 2-volt subwoofer preamp output with variable level adjustment of 0 to 15. When an external amplifier is powering all the speakers in the system, you can turn the internal amp off, which will improve the sound quality.
Rear Entertainment Function: The Rear Entertainment Function independently routes different sources to the front and the rear speakers of your vehicle. For example; while listening to the radio or other audio source through the front speakers, the video of the iPhone/iPod can be enjoyed in the rear with an optional rear monitor and set of headphones. The rear zone signals are passed by RCA composite video and stereo RCA preamp audio connections.
Sound Processing (with optional PXA-H100)
Imprint: With the addition of the optional PXA-H100 Imprint box (500PXAH100, sold separately) and KTX-H100 tuning kit (500KTXH100, sold separately) a car's inherent acoustic shortcomings can be overcome with the MultEQ feature. Imprint also gives you much more sound adjustment flexibility as detailed below.
MultEQ: MultEQ, developed by Audyssey Labs, automatically optimizes the audio for the listening environment inside your vehicle. The Imprint box and tuning kit include the hardware, software, and microphone necessary to measure multiple positions in the car and capture frequency and time domain information from the vehicle's actual acoustical environment. Once the car's speaker location delays are measured, along with the frequency peaks and dips caused by the absorptive and reflective materials in the interior, MultEQ creates a set of equalization filters to correct the frequency response and time domain problems for each speaker in the vehicle. It also removes sound distortion caused by the specific acoustical problems in the vehicle by applying unique FIR filters, using more than 500 points along the frequency spectrum per channel. This optimizes the sound reproduction to the specific vehicle listening environment with much greater precision than can be achieved using typical graphic or parametric equalization. The result is a more accurate soundstage and smoother, more natural sound optimized to match your vehicle.
Equalizer: 10 typical equalizer settings are preset at the factory for a variety of musical source material. You can select from - Flat, Pops, Rock, News, Jazz & Blues, Electrical Dance, Hip Hop & Rap, Easy Listening, Country, and Classical. The head unit will also save six custom EQ curves you create by adjusting the units built-in EQ. Choose the parametric or graphic EQ:
5- Band Parametric EQ: The built-in Parametric EQ allows you to adjust the following 5 frequency bands in 1/3 octave steps from -6 to +6 dB at a bandwidth Q factor of 1, 1.5, or 3

Band 1: 20 Hz to 80 Hz
Band 2: 50 Hz to 200 Hz
Band 3: 125 Hz to 3.2 kHz
Band 4: 315 Hz to 8 kHz
Band 5: 800 Hz to 20 kHz

7-Band Graphic EQ: The built-in Graphic EQ allows you to adjust the following 7 frequencies from -6 to +6 dB

Band 1: 63 Hz
Band 2: 150 Hz
Band 3: 400 Hz
Band 4: 1 kHz
Band 5: 2.5 kHz
Band 6: 6.3 kHz
Band 7: 17.5 kHz
Crossover: The active crossover can be used as a 2.2 channel (3-way; low-pass subwoofer, band-pass midrange, high-pass tweeter) or a 4.2 channel (2-way; high-pass front and rear, low-pass subwoofer). A crossover limits the frequencies delivered to a given speaker, so you send only the frequencies for which the speaker is well suited. The crossover adjusts the high pass filter or low pass filter of each band along with the slope and output level. You can adjust the following crossover settings:
4.2 Channel:

High Pass Filter: the front and rear outputs are individually adjustable; crossover from 20 to 200 Hz in 1/3 octave steps with a slope of Flat, 6, 12, 18 or 24 dB/oct, additionally you can adjust the output level from -12 to 0 dB
Low Pass Filter: the subwoofer output can be stereo or mono; crossover from 20 to 200 Hz in 1/3 octave steps with a slope of Flat, 6, 12, 18 or 24 dB/oct, additionally you can adjust the output level from -12 to 0 dB

2.2 Channel:

Tweeter/High Pass Filter: crossover from 1 kHz to 20 kHz in 1/3 octave steps with a slope of 6, 12, 18, or 24 dB/oct, additionally you can adjust the output level from -12 to 0 dB
Midrange/Band Pass Filter: a band pass has both high pass and low pass filters; HPF 20 to 200 Hz in 1/3 octave steps with a slope of Flat, 6, 12, 18 or 24 dB/oct; LPF from 20 Hz to 20 kHz in 1/3 octave steps with a slope of Flat, 6, 12, 18 or 24 dB/oct, additionally you can adjust the output level from -12 to 0 dB
Subwoofer/Low Pass Filter: the subwoofer output can be stereo or mono; crossover from 20 to 200 Hz in 1/3 octave steps with a slope of Flat, 6, 12, 18 or 24 dB/oct, additionally you can adjust the output level from -12 to 0 dB
Time Correction: The time correction feature delays the audio signal to the speakers closer to the listener. This effectively creates a perception of increased distance for those speakers. Time Correction allows the listener to be placed at an equal distance from all speakers for optimum staging. You can adjust the distance of each speaker and subwoofer (6-channel) to the listener from 0 to 132.7 inches.
Media Xpander: The MX (Media Xpander) function makes vocals or instruments sound distinct by restoring sound quality typically lost during recording or transmission; this function helps restore audio information that becomes obscured when audio is compressed. The MX function can be applied to all sources, except AM radio. There are three settings and each source can have its own setting.
Remote Control
IR Wireless Remote: In addition to the unit's touchscreen and hard-key controls, the iXA-W404 comes supplied with a full-function IR wireless remote control.
Optional Factory Steering Wheel Remote Interface: If your vehicle is equipped with steering wheel radio controls, you may be able to operate the iXA-W404 using those controls. The PAC SWI-JACK Steering Wheel Radio Control Interface (127SWIJACK, sold separately) can adapt your vehicle's steering wheel controls to this unit through the rear panel's Steering Wheel Remote Input (a 3.5mm mini-jack input on rear-chassis). Please check the Crutchfield Car Selector to confirm whether your vehicle is compatible with the SWI-JACK interface.
Our Product Research Team
At Crutchfield, you'll get detailed, accurate information that's hard to find elsewhere. That's because we have our own in-house Product Research team. They verify what's in the box, check the owner's manual, and record dimensions, features and specs. We stay on top of new products and technologies to help people make informed choices.