Alpine KCX-422TR
Charges your iPod® touch or iPod nano while connected to select Alpine receivers
Item #: 500KCX422T
This item is no longer available.
Original Price: $49.99
Shop all iPod® Adapters for Aftermarket Radios

Need help?
Does it work with my system?
Select your car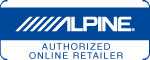 This KCE-422TR adapter charges your second-generation iPod touch or fourth-generation (curved body) iPod nano while it's connected to select Alpine car stereos. Simply plug the adapter into your player, then connect the KCE-422i full-speed iPod cable (not included) to the adapter. Warranty: 1 year.
Why would I need an iPod® adapter?
An iPod adapter allows you to connect your iPod to your car stereo, then access your playlists with your stereo's controls - a great idea for several reasons. One, you can scroll through your song titles on your stereo's larger display, instead of squinting down at your iPod. Two, you can route the adapter cable to your glove compartment or center console, so your iPod stays safely out of sight. Three, the iPod adapter keeps your iPod fully charged, so it's ready to rock when you leave your car. And last of all, some adapters bypass your iPod's internal digital-to-analog converter, using your stereo's superior DAC to turn your files back into music.
Alpine KCX-422TR Reviews
Average Customer Review:
11 Reviews
---
Written by: Anonymous from san bruno on May 23, 2012
Crutchfield Customer Review
(
What's this?
)
but it in motorcycle . and it is working jues fine

Pros:

Cons:
Written by: TommyI from Germantown, MD on March 28, 2012
Crutchfield Customer Review
(
What's this?
)
I was looking for an adapter to connect my older Alpine HD radio to my new iPod. This was just the ticket; the iPod charges and the sound is not effected.

Pros:

Cons: None
Charged ALL iPod Touches to Date
Written by: Chilcoot from Next to That Thing on May 4, 2011
Both Alpine's site and Crutchfield's site say this adapter works for first and
second generation iPod Touches, but are silent about subsequent
generations (we're on fourth generation right now).

According to the Alpine rep I just spoke to, this adapter charges all iPod
Touches to date, through fourth generation. So I'm placing an order, I'll post if I
learn otherwise through actual use.

Pros:

Cons:
Written by: Mike P from Chantilly, VA on September 1, 2010
Crutchfield Customer Review
(
What's this?
)
I don't know what Apple was thinking when they took away the "charge anywhere" ability in the later-generation iPods. Were it not for my car stereo, I would never have gotten an iPod in the first place. It was a pain having to remember to take my iPod into the house each day for a recharge. It was a bigger pain to have my music die on a long drive. As always, Alpine is on top of their game. This converter works flawlessly. Well worth the money that I dropped on it!!!!

Pros:

Cons:
Works on 5th Gen Ipods too
Written by: Mark from San Antonio TX on April 26, 2010
Works as advertised. Much wider than my new nano but fits securely in the ipod and doesnt become disconnect as some of the other products I read about. For is size I wish they would have put a headset connector on it as well. Not sure if the car adaptor charger requires the down conversion, but I carry my ipod on long flights as well and no way I can charge and listen at the same time. Really wish Apple had not changed the pins anyhow or I would have just bought another classic to replace my stolen one and come out spending the same amount of money.

Pros:

Cons:
Written by: Timothy from Marietta, GA on January 26, 2010
Crutchfield Customer Review
(
What's this?
)
If you have an Alpine head unit that is designed for the 12v iPods, this is what you need with the new 5v ones. While the price is steep for what you get it is the lesser of two evils when you consider replacing you head unit. Installation? Plug in into your cable, plug you iPod into it. You're done. Unlike cheaper brands, this one latches onto both the cable and the iPod. That's got to be worth something. Now I no longer get the message about cable incompatiblity from the iPod and the Alpine controls handle the iPod just like they should.

Of course Crutchfield shipped this to me in their own flawless, speedy fashion.

Pros:

Cons:
Works with Apline Head Units and Other Devices
Written by: John from Jackson, NJ on October 4, 2009
Crutchfield Customer Review
(
What's this?
)
I had initially ordered the Scosche adapter for my new iPod Touch 64G. However, after reading may reviews on the internet I decided to return it to Crutchfield. The customer service at Crutchfield was first rate, as always! I opted for this adapter even though it was almost double the price. The main selling point for me was that it offered a locking type connector. I read numerous complaints about the Scosche adapter coming unplugged while folks were driving. I spoke with Crutchfield support and Alpine support about this adapter working on other docks since essentially all it is doing is stepping down the 12V charge to 5V. Alpine and Crutchfield would not commit to this working on other devices so I told them I would test it and get back to them. Well I am pleased to report that this device not only works flawlessy with my Alpice CD9856 head unit but it also works flawlessy with my iHome IH5 (really old and the first iHome alarm dock) and my Pioneer Elite VSX94 iPod dock cable. I'm not sure if it will work with every device and clearly it is not going to work on any device that did not work with iPod before. Remember that this connector and the Scosche adapter only address charging issues.

Pros:

Cons:
Written by: Bennett from Eastern Shore, MD on August 5, 2009
I purchased this adapter so that my new 4G Ipod Nano could be charged by my Alpine CDA-9884. Works perfectly. Also has the locking tabs which the non-Apple products don't always have. The adapter is clumsy because of its size. Therefore I bought a dock cable extension so that the adapter doesn't need to plug directly into the Nano. I run the Alpine cable into the KCX-422TR adapter and I plug the adapter into the extension cable. This adapter saved me the hassle and cost of buying a new head unit to power my Nano!

Pros:

Cons:
Written by: Howard from Marlton, NJ on July 17, 2009
Crutchfield Customer Review
(
What's this?
)
Purchased this to allow my Alpine unit to talk to my new iPhone 3GS so that it would charge. That works very nicely, although you get the message on the iPhone about interference, which you can safely ignore.

Only downside of this product is its width, which is almost as wide as the iPhone itself. If you have a thick case, it will be a very tight fit between the connector and the iPhone. Once in, it does hold on securely.


Pros:

Cons:
Written by: Steve from Beacon NY on July 13, 2009
It works great, it's exactly what I needed so I could play and charge my ipod touch. Since it's a small and easily removable, it also allows me to remove it to play/charge any other types of ipods too. Seems kind of expensive considering what it is, but its a must-have if you own an ipod touch and play it through your stereo, and it's way cheaper than buying a new stereo.

Pros:

Cons:
Written by: jrt from California on April 14, 2009
Crutchfield Customer Review
(
What's this?
)
The unit works great, now I can play my new iPod touch or my wifes 30g iPod video with no problem. This save me from having to buy a new radio. Worth the money.

Pros:

Cons:
What's in the box?
Alpine Full-Speed charging adapter for iPod
Product Research
Features
Overview: The Alpine KCX-422TR is a 12V to 5V iPod Charge Adaptor for select Alpine Full Speed Head Unit. The KCX-422TR can be used with the KCE-422i iPod Full Speed cable and select Alpine Full Speed Headunits or the KCA-420i iPod Control Interface and select Alpine Ai-Net protocol headunits to charge your new iPod. The Alpine 5 volt iPod Charging Adaptor is specifically designed to charge the iPod nano (4th/5th/6th generation) and iPod touch (2nd/3rd/4th generation). The KCX-422TR connects between the dock connector of the KCE-422i cable and the dock connector on your iPod.
Note: The KCX-422TR has been designed specifically for use only with the Alpine KCE-422i Full Speed Cable or Alpine KCA-420i iPod Control Interface and select Alpine Full Speed compatible or Alpine Ai-Net protocol headunits.
Our Product Research Team
At Crutchfield, you'll get detailed, accurate information that's hard to find elsewhere. That's because we have our own in-house Product Research team. They verify what's in the box, check the owner's manual, and record dimensions, features and specs. We stay on top of new products and technologies to help people make informed choices.