Alpine SPR-13S
5-1/4" component speaker system
Item #: 500SPR13S
This item is no longer available.
Original Price: $179.99
Need help?
Does it fit my car?
Select your car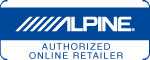 Alpine SPR Component Systems
If you appreciate good music, what better place to create an amazing audio system than in your car? Alpine's SPR Series component speakers offer you smooth, extremely accurate performance that'll set up a powerful soundstage.
---
High-tech woofers and tweeters

The SPR-13S component system utilizes 5-1/4" hybrid layered-pulp woofers that send out punchy midbass and vibrant midrange. Textile ring-dome tweeters highlight the vocals and instruments, delivering the subtle details that your old speakers could never reproduce. You can pivot the tweeters up to 15 degrees to optimize the stereo image in your car.

---
Crossovers direct the flow
External 2-way crossover networks direct the high and low frequencies to the correct speakers for seamless sound, high efficiency, and maximum clarity. You just might look forward to driving to work after you experience the change that Alpine components can make in your music.

Product Highlights:
system includes two 5-1/4" woofers, 2 tweeters, and 2 crossovers
hybrid layered-pulp woofer with rubber surround
1" textile ring-dome tweeter
external crossovers — 12 dB per octave (high-pass) and 6 dB per octave (low-pass)
7-level tweeter adjustment
power range: 8-100 watts RMS (300 watts peak power)
frequency response: 70-27,000 Hz
sensitivity: 86 dB
top-mount depth: 2-3/16"
warranty: 1 year
Why install component speakers?
A component speaker system gives you the best possible performance from your car audio system. A system consists of separate woofers, tweeters, and crossovers, each designed to cover one specific range of frequencies. As separate components, the woofer can move freely to deliver more powerful performance, while the tweeter can be custom-mounted in a better spot up closer to your ears, revealing a whole new world of detail. Separate crossovers are far superior to the simple filters wired into full-range speakers, so the components work together for smoother, more focused sound.
Alpine SPR-13S Reviews
Average Customer Review:
4 Reviews
---
Written by: Phong from Washington on February 27, 2011
2006 Honda Civic LX
Crutchfield Customer Review
(
What's this?
)
Bought these along with alpines subwoofer, receiver and amps basically an all alpine setup to replace my factory speakers on my 2006 Civic and I am loving these speakers.

The only things I would complain about these are the tweeters and the Crossovers. The tweeters comes with many setup to help you install them but none of them worked for my car. They either end up too big or two small for the front dash areas where a stock tweeters would go for my car. A little bit of modification is required to get them to fit.

The Crossovers are susceptible to electrical noise. The cross over is made to be zip tied to an electrical harness, you would want to make sure you tie it to something that doesn't emit too much noise or else they'll bleed to this box and you'll hear unwanted sound coming out of your speakers.

Other than those, these speakers rock!


Pros:

Cons:
Written by: tim from APO Germany on August 3, 2010
2005 Audi A4
Crutchfield Customer Review
(
What's this?
)
Outstanding sound quality these speakers produce. Great price for great speakers! These speakers are very clear and precise sound producers. Replaced my factory speakers, and these are 100 times better sound quality than the OE speakers. They are ran to a 4-channel amp in which puts them to their full potential.

Pros:

Cons:
Good replacement for stock speakers in my Accord
Written by: Alan from Edmonton, AB on August 13, 2009
I bought theese to replace the stock tweeter and door speakers in my
2006 Honda Accord EX V6 MT.

After some testing and listening to different configurations I decided to stick
with the stock crossover, and simply replace the speakers & tweeters. Note
that this was NOT recommended, but it seemed to give the best sound to me.

Removing the door panel to get at the speaker wasn't too difficult, just
undo 4 screws and prise it away gently. There didn't seem to be any way
to get the stock speaker out without breaking the plastic lugs, but I didn't
really care as I was throwing it away. To mount the door speaker I cut the
lugs off the Crutchfield-supplied plastic mounting ring and screwed it to the
door with three of the included black spring clips (drilled 2 holes in the
plastic mount). Then had to just simply bolt the spaker to the plastic mount.
Not the simplest process, but not too difficult either- and didn't involve any
cutting or drilling of the car door.

For the tweeters, I just removed the tweeter from the plastic mount that it
came in and held it to the stock tweeter cover with zipties and foam- pretty
quick and easy.

I combined this with the Alpine SPR-69C 6"x9" in the back, combination
seems to work really well to me. Sound is much clearer than the mushy
stock speakers, and with good response over a wide spectrum of
frequencies- I'm very pleased!

Pros:

Cons:
Written by: wanderingmind12 from Minneapolis, MN on February 10, 2008
I purchased these to complete my system which now consists of: Alpine CDA-9856 head unit, Alpine MRP-F450 4-channel amp (70W RMS x 4) powering Alpine SPR-13S's up front and Alpine SPR-57C's in the back. For bass, I've got a 12" Alpine Type-R sub being powered by the Alpine MRP-M350 amp. The car (2001 Mercury Cougar 2.5L MTX) has got quite a bit of Dynamat Xtreme to aid in SQ and reduce rattles.

The Alpine SPR-13S' are wonderful components! Some speakers are very harsh or bright to the ears. The Alpine's are not. A few descriptive words for these speakers are warm, mellow, organic, soothing and savory. The 7-level tweeter control is a great feature. You can be guaranteed that you'll find the perfect setting. Too much mid-bass can be annoying and can really kill sound quality. Too little mid-bass also kills sound quality. These Alpine's are right in the middle and the mid-bass that these speakers produce is superb.

I highly recommend these speakers for anyone looking for a set of very nice components.

Pros:

Cons:
What's in the box?
2 Woofers
2 Grilles
Two 6x8 adapter rings
2 Tweeter plugs (installed in adapter rings)
8 Self-tapping screws (4mm x 30mm)
8 Speed clips
4 Self-tapping screws (4mm x 9mm)
Two 1" tweeters with attached 8.25' speaker wires (with bare wire ends) mounted in 2-piece flush mount cup assembly
2 Threaded tweeter rings
2 Plastic surface tweeter mounts
2 Self-adhesive foam rings
2 Self-adhesive foam pads (3-1/2" x 2")
2 Crossovers
4 Self-tapping screws (4mm x 18mm)
4 Flat speed clips
Warranty sheet
"Important Notice!" sheet
Product Research
Features
Woofers: The Alpine Type-R series component speakers feature woofer cones made of hybrid layered-pulp with mica coating for great bass response. For durability and superior linearity, the woofers have rubber surrounds.
Motor Structure: The High-performance Linear Drive Motor structure features a large magnet that is almost as big as the voice coil diameter. Its dual radial magnet and twin gap, combined with a square, edge-wound voice coil, gives the diaphragm linear movement over a much greater range. This design allows the speaker to be faithful to the input signal even during high excursion, for accurate musical reproduction and deep bass.
Adapter Rings: The SPR-13S component speakers come with a pair of adapter rings. The rings allow you to install the woofers in 6"x8" openings. The tweeter can be mounted in the adapter ring, or mounted separately. The rings have a tweeter plug that can be removed if you choose to mount the tweeter in the adapter ring.
Tweeters
Tweeters: The SPR-13S component speakers are equipped with 1" (25mm) silk ring-dome tweeters for greater detail and bright, crisp highs.
Tweeter Mounting Options: The tweeters come installed in a swiveling flush-mount cup. You can also install the tweeters in a stealth mount when it will be hidden behind a factory grille. The stealth mount can be used as a top mount or a bottom mount.
Tweeter Mounting Dimensions:
Flush Mount

Stealth Mount

Top Mount

Bottom Mount

Mounting Depth

0.655"

0"

0.968"

Mounting Height

0.401"

0.774"

N/A

Cutout Diameter

2.003"

N/A

N/A

Frame Diameter

2.27"

2.813" x 1.714"

2.813" x 1.714"
Crossovers
Two-way Crossovers: The SPR-13S component speakers come with 2-way external crossover networks. The crossover features a 6dB/octave low pass filter for the woofers, and a 12dB/per octave high pass filter for the tweeters.
Tweeter Attenuation: The crossover has a 7-level tweeter adjustment to allow you to precisely tune your high frequencies. Using the supplied jumpers, you can select 0dB (no attenuation), or 6 levels of attenuation: -3dB, -4dB, -5dB, -6dB, -7dB and -8dB.
Input/Output Connections: The crossover features gold-plated screw terminals for the amplifier inputs and the woofer and tweeter outputs. The screw terminals are hidden by the crossover cover.
Crossover Mounting: There are two holes in the base of each crossover for the two mounting screws. Each crossover comes with flat speed clips.
Dimensions: The crossover has the following dimensions: Width=4.525", Height=1.265", Depth=2.864"
Our Product Research Team
At Crutchfield, you'll get detailed, accurate information that's hard to find elsewhere. That's because we have our own in-house Product Research team. They verify what's in the box, check the owner's manual, and record dimensions, features and specs. We stay on top of new products and technologies to help people make informed choices.