Alpine SPR-57C
5"x7" 2-way car speakers
For 5"x7" and 6"x8" openings
Item #: 500SPR57C
This item is no longer available.
Original Price: $99.99 pair
Need help?
Does it fit my car?
Select your car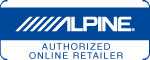 You can't hear your favorite songs live in concert everyday, but Alpine's Type-R Series speakers can recreate the concert feel as they bring out your music's natural vibrance and detail.
The efficient SPR-57C 5"x7" speakers broadcast full low-frequency response with hybrid layered-pulp woofers, so you'll feel as if the bass guitarist is right beside you. Rubber surrounds resist deterioration and keep the woofers moving smoothly and consistently for accurate sound.
Premium silk ring-dome tweeters radiate bright vocals and sparkling instrumentals, without the annoying ear fatigue that inferior tweeters can cause. You can swivel the tweeters to provide the best stereo imaging for your car.
Product Highlights:
5"x7"/6"x8" 2-way car speakers (pair)
hybrid layered-pulp and mica-coated woofer with rubber surround
1" swiveling silk ring-dome tweeter
power range: 2-100 watts RMS (300 watts peak power)
frequency response: 65-27,000 Hz
sensitivity: 87 dB
top-mount depth: 2-9/16"
warranty: 1 year
Why replace your car's original speakers?
The speakers that originally came in your car were made from inexpensive materials, designed to create acceptable sound at the lowest possible cost to the manufacturer. If you love music, you deserve better. Name-brand aftermarket speakers deliver fuller, richer sound with considerably more detail and nuance, and they're capable of playing louder and cleaner than factory speakers. Connect new speakers to your factory radio and you'll get the best possible sound from your dealer-equipped system. Pair them up with a new car stereo for a level of enjoyment that can rival a high-fidelity home audio experience.
Alpine SPR-57C Reviews
Average Customer Review:
12 Reviews
---
Written by: zach2323 from illinois on January 3, 2011
2001 Ford Ranger
Crutchfield Customer Review
(
What's this?
)
To start these speakers sound fantastic! powered by the alpine ktp-445 mini amp, i couldn't ask for a better sounding truck!

A side note: Cruchfeild support was phenomenal. Starting with e-mails from advisors, and wiring harnesses but the main thing is the instillation guide, without it me and my dad wouldn't have been able to install them. I will definitely trust Cruchfeild in the future!


Pros:

Cons:
Written by: Roddiggler from detroit,mi on September 18, 2010
these speakers are great! i'm operating at 150w rms at 2 ohms or 100w rms at 4 ohms. i 1st started w/infinity kappa 2 ohm speakers. they sounded fine but i blew 2 sets of speakers. then i went to pioneer 4 - ways. didn't like the way they sound plus they distort at high levels. finally, i installed the alpines. they sound amazing (even better than the kappas) and they can handle the power.

Pros:

Cons:
Written by: Sam from Gainesville, FL on January 13, 2010
2002 Mazda Protege5
Crutchfield Customer Review
(
What's this?
)
I've had these speakers for little over a year. About 4 months ago, I heard a distinct buzzing at certain pitches of music. I thought it was the speakers buzzing against the metal of my door, but when I played music from the speakers on my lap, I heard the same noise. It may have been the casing, I'm not sure. Unfortunately, I didn't have time to send them in before my year warranty ran up.

Now, the left speaker is buzzing & it sounds like it's been blown out. I don't really turn the music up that much, so it's really surprising to me that it blew out. It's pretty much useless now, and Alpine doesn't repair speakers at all.

They were running off of an Eclipse XA1000 480 watts, as were my Sony GT1325A 5-1/4". The Sony speakers are still doing fine.


Pros:

Cons:
Written by: cincyworks from Cincinnati OH on September 3, 2009
2009 Ford F-150 FX4
Amazing sounding speakers. Incredibly clear and at max volume their is no
distortion at all.

Pros:

Cons:
Written by: Ray from Philly on July 17, 2009
These speakers are NO JOKE and put out amazing sound if hooked up correctly. Running these speakers with an Alpine 4.100 amp and they sound amazing. Great quality and extremely loud. The amount of bass the speakers put out is incredible. When i turn my two 12s off in the trunk people still turn heads and think i have my subs hooked up. Overall great speakers and extremely budget friendly. Best bang for your buck you're gonna get. I recommend these speakers for anyone who likes great sounding music.

These speakers keep up with and can be heard clear when volume is turned all the way up, competing with $1500 worth of bass coming from subs in the trunk. MUST BUY!


Pros:

Cons:
Written by: George from Windsor, CA on March 27, 2009
1998 Ford Mustang
Crutchfield Customer Review
(
What's this?
)
Man I don't know why everyone else is saying these speakers are bad. THEY ARE GREAT!!!! Replaced the rear factory speakers in my 98 Ford Mustang and am using the factory deck and they sound GREAT!!!! Nice & crisp music. Now i cant imagine what they really gonna sound with a new deck. I will be changing the front speakers soon. Great price & A GREAT PRODUCT!!!
Thanks Crutchfield.

Pros:

Cons:
Written by: Buddy from Youngsville, LA on November 14, 2008
2003 Ford F-250 Super Duty
Crutchfield Customer Review
(
What's this?
)
100 Watts RMS? I don't think so. I have an Alpine 90x4 amp and they can't handle that. And no, it's not bridged. I can turn my deck up about half way
before they start to pop. The highs are way too bright for the bass and mid. I would not buy these again or recomend them to anybody. This was a big let down for me. I've always had Alpine equipment in the past with no problems.

Pros:

Cons:
Written by: Brian from Atlanta, GA on October 6, 2008
Recently installed a pair of these in a '04 Ford Mustang in the rear deck, and already I'm hearing a considerable difference from the factory speakers that were previously there. Installation of the speakers themselves was a breeze, the only "hard part" of doing this was getting the rear deck exposed and sealed back up.

Great bang for its buck, I would undoubtedly buy it again given the chance.

Pros:

Cons:
Written by: Evan from Hudson, OH on July 25, 2008
Crutchfield Customer Review
(
What's this?
)
I just installed these in my '02 Mazda Protege5 and to put it bluntly, the
factory speakers sound better. I'm a 30 year old bassist of 14 years and
work part time in a recording studio so I know good sound. I had high
hopes for Alpine because they are my favorite brand but these speakers
left much to be desired. The lows would break up and distort, the mids
were okay and the highs are too bright. I'm running all the speakers from
my Alpine CDA-9886 and turned the bass all the way up and the treble
down 2 notches to get a good overall sound from them. Plus my passenger
side door rattles now. As much trouble as it is to remove the door panel
and replace the speakers, it's the first thing I'll do in the morning. I can't
recomend other speakers as these are the first pair I bought but I plan on
returning them.

However the Crutchfield service and install directions were great.

Pros:

Cons:
Written by: 06gtman from MICHIGAN on April 28, 2008
2006 Ford Mustang
Ordered a pair of the Alpine SPR-57C and all I say is they are INSANE they
sound great the sound stage is 100% covered, and very accurate.
Installed them in a 2006 mustang gt with out any problems. INFINITY don't
stand a chance at all compared to the Alpine SPR-57C

Best sounding 6x8 mid range driver to date, I have been in car audio for
years




Pros:

Cons:
Written by: Herb from LONG ISLAND, NY on February 8, 2008
2003 Ford F-150
Crutchfield Customer Review
(
What's this?
)
Installed these alpines in 2003 f-150 extended cab , front , already have a pair in back , the difference from the factory speakers is phenominal , great highs and good sharp bass , I have all four speakers running off an alpine cda 9885 and an alpine pdx 4-100 amp , the clarity is fantastic , could blow my eardrums out if I turned the volume all the way up.

Pros:

Cons:
Big Bass for a 5X7 ! I like it load !
Written by: jjonesfla from Naples FL on February 9, 2007
Crutchfield Customer Review
(
What's this?
)
WOW! I just recieved two pair of these to replace my Type S 5X7's, My system needed help w/MidBass to fill in the 10" Type R Sub and these Speakers did the Job well. I started by using them with the Alpine F250 40 watts RMSx4 Amp they had great Bass Response and good Volume. I also ordered the Alpine F550 Amp 90 watts RMSx4 as the their power source WOW ! the Volume, Bass, Highs Huge difference from Type S 5X7's. I have a new problem now the Bass output is so powerfull that my 2003 Merc. Grand Marquise Door panels rattle badly.. so until I fix that I keep them dialed back. I tried them with the Sub off and I was very impressed at the huge Sound from these speakers, these dont sound like 5x7's. The Type S 5X7's just couldn't keep up at high volume while the Type R 5x7's intise you to keep going loader especially with 90 Watts RMS. Another improvement was the Tweeter, also can handle much higher volume levels than a Type S Speaker. Dont let the HUGE magnet scare you about installation depth Alpine kept this dimmension almost equal to the Type S Speaker, I had no clearence issues in the Front Doors or Rear deck of a 2003 Grand Marquise.

Pros:
Big Sound (more watts more volume)
Drop-in fit with Factory locations
Ridged Woofer produces Great Bass
Incredible Volume levels w/High Watts

Cons:
Door panels will rattle

Side Note:
I also added a Tsunami Lite Wave 2.0-farad Capacitor to my system. This ended the Headlight dimming and increased Sub output. I am sure all vehicle electronics will benifit from stable voltage supply.




Pros:

Cons:
What's in the box?
Two 2-way speakers
2 Adapter rings
8 Bolts (M4 x 6mm)
8 Self-tapping screws (M4 x 30mm)
8 Speed clips
Warranty sheet
Important Notice sheet
Product Research
Features
Woofers: The Alpine Type-R series coaxial speakers feature woofer cones made of hybrid layered-pulp with mica coating for great bass response. For durability and superior linearity, the woofers have rubber surrounds.
Swivel Tweeters: The speakers are equipped with 1" (25mm) silk ring-dome tweeters for greater detail and bright, crisp highs. These tweeters can swivel to improve off-axis response in less-than-ideal installations. You can aim the tweeter by hand for best high frequency response at your listening position.
Motor Structure: The High-performance Linear Drive Motor structure features a large magnet that is almost as big as the voice coil diameter. Its dual radial magnet and twin gap, combined with a square, edge-wound voice coil, gives the diaphragm linear movement over a much greater range. This design allows the speaker to be faithful to the input signal even during high excursion, for accurate musical reproduction and deep bass.
Our Product Research Team
At Crutchfield, you'll get detailed, accurate information that's hard to find elsewhere. That's because we have our own in-house Product Research team. They verify what's in the box, check the owner's manual, and record dimensions, features and specs. We stay on top of new products and technologies to help people make informed choices.