Alpine UTE-42BT
Digital media receiver
Item #: 500UTE42BT
81 Reviews | 15 questions - 34 answers
This item is no longer available.
Original Price: $94.99
Need help?
Does it fit my car?
Select your car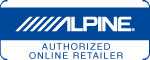 No CD, no problem
Alpine's UTE-42BT digital media receiver eliminates the CD slot, but it gives you plenty of other features you can really use. First, the receiver's built-in Bluetooth® capabilities help you drive more safely. You won't have to fumble for a phone in your pocket or purse when a call comes in — just press one button and start talking. You'll see your caller's phone number on the screen, so you'll know who's on the other end.
Mount the included microphone and adjust the mic's gain to best match your speaking voice for the best call quality. You can also tweak the phone output and ring volume, so you won't go diving for the volume knob every time someone calls. This Alpine also supports Bluetooth audio streaming, so you can listen to content on a compatible smartphone without a tangle of wires.
The UTE-42BT doesn't play CDs, but offers plenty of other compelling features
Plug in and control your iPod® or iPhone®
Next, if you've got lots of tunes on your iPod or iPhone, you can plug into the handy front-panel USB input and use the Alpine's user-friendly controls to navigate your music library. As an added bonus, Alpine's App Mode offers limited control of other popular music apps, and it'll display song and artist info on your screen. You can adjust your sound to taste with one of the equalizer presets or by using the 3-band parametric EQ.
Want to keep your car's steering wheel audio controls?
In most vehicles, you can an adapter (not included) to connect your vehicle's steering wheel controls to this Alpine stereo. Connect a few wires, then program the adapter for your particular car and the Alpine, and you'll retain the convenience of your steering wheel controls.
Product Highlights:
General features:
digital media receiver with AM/FM tuner (does not play CDs)
built-in MOSFET amplifier (18 watts RMS CEA-2006/50 peak x 4 channels)
built-in Bluetooth for hands-free calling and audio streaming
App Mode for metadata display and basic control of select music apps
detachable face
Audio features:
3-band parametric equalizer with 10 preset EQ curves
high- and low-pass filters
Expandability:
inputs: front USB and auxiliary inputs
outputs: 4-channel preamp outputs (2-volt front, rear/subwoofer)
Other features and specs:
Why replace your factory radio?
Two good reasons - sound quality and cool features. A new car stereo offers power that's superior to most factory radios, along with more sophisticated tone controls. And most car stereos offer built-in or optional features that add safety and fun to life in your car, including inputs for your iPod or MP3 player, Bluetooth connectivity for hands-free cell phone calls, satellite radio or HD Radio reception, and connections for building an audio system in your car.
Alpine UTE-42BT Reviews
Average Customer Review:
81 Reviews
---
What's in the box?
Digital media receiver (10A ATC fuse inserted in chassis)
Sleeve (installed)
Trim ring (installed)
Face (attached)
Wiring harness
Microphone w/ attached 13' cable terminated by a right-angle male 3.5mm connector
Sun-visor bracket
Two-sided tape
4 Flat-head ISO-DIN screws (M5 x 8mm)
2 Radio removal tools
Face-fixing screws
Owner's Manual CD-ROM
Quick Reference Guide (En/Fr/Sp)
Online Product Registration
Computer Requirements booklet
Product Research
Built-in Bluetooth
iPod/iPhone Integration
USB + Aux Connectivity
Radio Functions
Audio Section
Display Features
Remote Control
Built-in Bluetooth
Bluetooth Technology: The Alpine UTE-42BT features built-in Bluetooth (ver. 3.0) technology. The head unit's built-in Bluetooth allows you to make and receive phone calls wirelessly through the receiver; as well as stream music wirelessly from your smartphone to the head unit. In order to use Bluetooth wireless technology, your phone must also be Bluetooth compatible and be able to interpret certain profiles. This unit is compatible with the following Bluetooth Profiles:
Hands-Free Communication: HFP 1.5 (Hands Free Profile), HSP (Head Set Profile), OPP 1.1 (Object Push Profile), PBAB 1.0 (Phone Book Access Profile).
Audio Streaming: A2DP 1.2 (Advanced Audio Distribution Profile), AVRCP 1.3 (Audio/Video Remote Control Profile).
Note: Due to the differences in Bluetooth technology, some Bluetooth enabled devices may be incompatible, function improperly, or may not support all features when used with the Alpine UTE-42BT.
Pairing: The Alpine UTE-42BT can be paired to up to five Bluetooth enabled mobile devices (only one device can be used at a time)
Hands-Free Communication: The head unit supports Bluetooth hands-free communication for your Bluetooth enabled mobile phone (including iPhone & Android). The controls of the KDC-BT555U can be used to dial a number, answer an in-coming call, or end a call. The unit also includes an external microphone, so you can carry on your side of the conversation while listening to the caller through your vehicles speakers.
Receiving Calls: The Alpine UTE-42BT provides a couple ways to answer your phone calls without picking up your mobile phone. Incoming calls are announced by a caller ring tone through your vehicle's speakers (music will be muted) & a Caller ID message across your Alpine head unit's display.

Manual Answer: Manually answer an incoming call by pressing the "Phone" button on your Alpine head unit.
Automatic Answer: Set the Alpine head unit to answer the incoming call automatically; when a call is received, it is answered automatically after approximately 5 seconds.
Call Waiting: If a second call is received during a current call, you can have the first caller wait momentarily while you take the second call. When you are finished with one call, you can switch to the other.

Placing Calls: The Alpine UTE-42BT provides a variety of functions for placing a phone call without using your mobile phone. The Alpine UTE-42BT features full phone book access, call history, voice tag dialing, and redial with compatible phones.

Voice Dialing: If you have a voice-dial capable phone, you can dial a phone contact by simply speaking the name of your contact.
Phonebook (with ABC search): Up to 1,000 entries (3 telephone numbers for each name) can be downloaded from your compatible mobile phone. You can select the first 3 call letters (ABC) to search for a desired name in your phonebook.
Preset Dialing: You can assign phone numbers that you dial frequently to presets (1-6) for quick recall. You can assign up to six frequently called phone numbers. A total of 18 phone numbers can be stored in the preset memory (6 numbers for each mobile phone paired).
Call History: The previously dialed, received, or missed numbers (20 each) can be retrieved and dialed from memory.
Note: During a conversation, you can initiate a transfer of audio between your mobile phone and your car's speakers. mute the
External Microphone with Noise Cancellation: The included external microphone (with visor-clip) allows you to speak to the other party on the telephone call hands-free, while the other party's voice is played through your car stereo speakers. The external microphone is tuned and engineered to reduce noise interference and feedback. This allows optimal placement in your car, for the best possible sound quality. You can adjust the microphone's volume level; and even mute the microphone, so your voice will not be heard by the caller. The external microphone measures 0.5625" (diameter) x 1.625" (deep); and features an attached 13' cable terminated by a right-angle male 3.5mm connector.
Wireless Audio Streaming (w/ Metadata Display): The Alpine UTE-42BT also supports wireless audio playback (AD2P) and control (AVRCP) of a Bluetooth enabled audio player or smartphone (including iPhone & Android). The UTE-42BT will be able to control basic playback functions of your Bluetooth device's stored music; such as Play/Pause, Skip Next/Previous, Fast Forward/Rewind and Random/Repeat. The head unit will also display your stored music's song information; such as Artist name and Song/Album title. The UTE-42BT also supports audio streaming of music apps downloaded on your smartphone with metadata display and limited control. Advanced music control of your music apps will still need be done via your Bluetooth-enabled smartphone. When an incoming call or outgoing call is in progress from your Bluetooth enabled mobile phone, audio streaming will be paused so you can take your call. Once the call is finished, your streaming music will resume.
Siri Eyes Free Control: When paired and connected with an iPhone 4S or 5/5C/5S via Bluetooth (not USB), the Alpine UTE-42BT has the ability to access Siri through its front-panel controls and external microphone. Simply press-and-hold down on the head unit's Answer Button to engage Siri and use the included microphone to communicate with Siri. Siri's voice will heard through your vehicle's speakers. All Siri functions including hands-free calling, music search, setting reminders, text-messaging, audible navigation, and more can be done through the UTE-42BT and its microphone. The head unit's display will only indicate hands-free calling and Bluetooth audio information (all other functions of Siri are only audible through the Alpine UTE-42BT; visual data will still need to be viewed from your iPhone device).
Note: You can ask Siri to get directions to a destination and the turn-by-turn instructions will heard through your vehicle's speakers, while the on-screen map still displays on your iPhone 4S/5/5C/5S. The head unit's audio is attenuated while Siri provides audible directions.
Bluetooth Sound Quality Adjustments: You can customize the sound of your Bluetooth hands-free experience to fit your own preferences. You can adjust the UTE-42BT's mic gain, phone output, & ring tone volume. If that's not enough, there are 5 sound quality settings to choose from to get the balance just right for you. This flexibility will make your phone calls a pleasurable experience.
Volume Adjustments: You can emphasize or weaken the volume level of phone call, the ring tone, and the microphone input to fit your own preference. The Phone Talk Level, Ring Tone, & Mic Gain are all adjustable between -5 to + 5 dB.
Sound Types: This unit provides 5 methods to improve the sound quality of your calls. You can choose the type according to your own preference - Type 1 (standard mode), Type 2 (enhances noise reduction), Type 3 (enhances echo-cancellation), Type 4 (enhances both noise reduction & echo cancellation), & Type 5 (weakens both noise reduction & echo-cancellation).
Speaker Output: You can select which car speaker outputs the audio from your Bluetooth-enabled mobile phone/device.
All: The audio will be output from all of the speakers in the car
F-L: The sound is only output from the front left speaker.
F-R: The sound is only output from the front right speaker.
F-LR: The sound is output from the front left and front right speakers.
iPod/iPhone Integration
iPod/iPhone USB 1-Wire Connection: You can connect your iPod or iPhone to the head unit's front-panel USB port using the Alpine KCU-445i iPod/iPhone cable (500KCU445I, sold separately) or the iPod/USB cable that came with your iPod/iPhone to get access to all of your iPod/iPhone's stored music, right from the head unit. If you have an iPod nano (7th gen), iPod touch (5th gen), or iPhone 5; use the Lighting-to-USB cable that came with your Apple device to connect to the head unit. Using either cable allows audio playback, music navigation, information display, and charging of select iPod/iPhone models from the UTE-42BT.
Audio Playback w/ DAC Bypass: The Alpine UTE-42BT supports audio playback of music, podcast, and audiobook files stored on your iPod or iPhone; as well as music apps downloaded on your Apple device. The USB connection allows your iPod/iPhone's large music libraries to be loaded instantly to the Alpine head unit and sound quality to be maximized through the head unit's 1-bit D/A converter, allowing for a Signal to Noise ratio up to 105dB.
Music Navigation: You can choose to control the iPod/iPhone from the head unit or from your iPod/iPhone's clickwheel or touchscreen (App Direct Mode).

Head Unit: The Alpine UTE-42BT lets you navigate the stored music on your iPod/iPhone by Playlist, Artist, Album, Song, Genre, Podcast, Composer, Audiobook, or Genius Mix. You can then search these categories alphabetically. For especially big music libraries, the Percentage Search function uses the preset buttons for quick jumps to specific parts of the list (Preset 1: 0-6%, Preset 2: 17-32%, Preset 3: 33-49%, Preset 4: 50%-66%, Preset 5: 67-82%, Preset 6: 83-100% of the song library). The head unit also offers three Shuffle playback modes (Album/Song/All) and one Repeat mode (song).
App Direct Mode: In App Direct Mode, you can navigate the stored music on your iPod/iPhone from its clickwheel or touchscreen. You can also listen to your favorite music apps (such as Pandora, iHeartRadio, SiriusXM, Last.fm, Rhapsody, & Slacker) from your iPhone (iOS 3.0+) through the Alpine head unit. Basic playback functions, such as Play/Pause and Previous/Next Track are available from the head unit. You will continue to use your iPhone's touchscreen to navigate advanced functions of your music apps. Not all apps will be compatible with this mode. Access to your iPhone's downloaded applications will depend on the availability of a cellular and/or WiFi network for purposes of allowing your iPhone to connect to the Internet.

Information Display: The UTE-42BT will display your iPod/iPhone's music file information when you are controlling your iPod/iPhone from the Alpine head unit or the Apple devices clickwheel/touchscreen. The head unit will display Track number, Elapsed playing time, Artist name, Song title, and Album label. The unit will also display station identification and song/artist information from select music apps.
iPod/iPhone Charging: While connected and the ignition switch is set to ACC or ON, the head unit's USB connection will power and charge your iPod/iPhone. If your iPod/iPhone has no initial battery charge, then the unit will not recognize it. This unit does not charge the iPad.
iPod/iPhone Compatibility Chart: The Alpine UTE-42BT is "Made for iPod/iPhone" compatible and supports the following iPod/iPhone model features (as of 2/5/2014):
Apple Device
Generation
Tested Version
Media Type
Control Type
Bluetooth
Display Type
Charge
Audio
Video
Head Unit
iPod/App
Phone
Audio
Siri
Artist/Song Text
Track Info
iPhone
2G
3.1.3
Y
N
Y
Y
Y
N
N
Y
Y
Y
3G
4.2.1
Y
N
Y
Y
Y
Y
N
Y
Y
Y
3GS
5.1.1
Y
N
Y
Y
Y
Y
N
Y
Y
Y
4
7.0.4
Y
N
Y
Y
Y
Y
N
Y
Y
Y
4S
7.0.4
Y
N
Y
Y
Y
Y
Y
Y
Y
Y
5
7.0.4
Y
N
Y
Y
Y
Y
Y
Y
Y
Y
5C
7.0.4
Y
N
Y
Y
Y
Y
Y
Y
Y
Y
5S
7.0.4
Y
N
Y
Y
Y
Y
Y
Y
Y
Y
touch
1st
2.2.1
Y
N
Y
Y
N
N
N
Y
Y
Y
2nd
4.2.1
Y
N
Y
Y
N
Y
N
Y
Y
Y
3rd
5.1.1
Y
N
Y
Y
N
Y
N
Y
Y
Y
4th
6.1.2
Y
N
Y
Y
N