Kenwood KDC-352U
CD receiver (Factory Refurbished)
Item #: 613KDC352U
This item is no longer available.
Original Price: $89.99
Need help?
Does it fit my car?
Select your car
Variable illumination and a lot more
The right illumination color can really make a new receiver look at home in your dashboard. Kenwood's KDC-352U CD receiver is the first model in their 2012 lineup with variable-color illumination. You can choose a color that matches your vehicle's illumination, or pick something totally wild — it's a cool feature to have, but that's not all this receiver offers.
Loads of media options
If you tune into your iPod® or iPhone® for your music, you won't miss a beat with this Kenwood in your car. Just plug your player into the convenient front-panel USB input, and you'll enjoy outstanding control right from the receiver. If you're a Pandora® Internet radio fan, you can even pick from your favorite stations when your iPhone's connected.
Kenwood sound quality
Your iPod was designed to work with earbuds, not car speakers. When you're connected via USB, the KDC-352U bypasses your iPod's internal digital-to-analog converter, sending the digital data to the Kenwood's superior 24-bit converter. Your music will sound more natural and lifelike.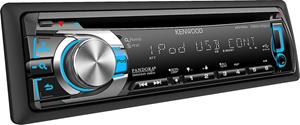 Your iPod isn't the end of your listening options, though. You can liven up your drive by loading in a disc full of music files, or by jacking another device into the front-panel aux input.
You'll hear the difference
This Kenwood dishes out a lot more power than most factory stereos, so you'll enjoy sharper imaging, better stereo separation, and cleaner reproduction. And your tone controls will take a step up too — just compare the treble and bass knobs on most car stereos with the KDC-352U's 3-band EQ, high- and low-pass filters, and selectable bass boost, along with settings that let you customize the output to fit your car's speaker setup.
Want to keep your car's steering wheel audio controls?
In most vehicles, you can an adapter (not included) to connect your vehicle's steering wheel controls to this Kenwood stereo. Connect a few wires, then program the adapter for your particular car and the Kenwood, and you'll retain the convenience of your steering wheel controls.
Note: If you're going to use your iPod with this receiver, be sure to check "Details" for specific iPod model compatibility with this receiver.
Product Highlights:
General features:
CD player with AM/FM tuner
built-in MOSFET amplifier (22 watts RMS/50 peak x 4 channels)
plays CDs, CD-Rs, and CD-RW discs including discs loaded with MP3 and WMA music files
detachable face with 13-digit display and variable-color button illumination
remote
Audio features:
System Q Sound Control (8 preset EQ curves and a 3-band equalizer)
speaker size settings
Supreme Setting improves the sound of files encoded at low bit rates
bass boost
low-pass filter, subwoofer level control, and phase switch
Expandability:
iPod/iPhone direct control via USB input — no adapter necessary, but adding Kenwood's optional connecting cable lets you leave your iPod cable at home
Pandora control with iPhone
compatible with Music Link app for Android devices
inputs: front-panel auxiliary and USB input
outputs: 6-channel preamp outputs (2.5-volt front, rear, and subwoofer)
Other features and specs:
compatible with most factory steering wheel audio controls (adapter required)
warranty: 90 days
Why replace your factory radio?
Two good reasons - sound quality and cool features. A new car stereo offers power that's superior to most factory radios, along with more sophisticated tone controls. And most car stereos offer built-in or optional features that add safety and fun to life in your car, including inputs for your iPod or MP3 player, Bluetooth connectivity for hands-free cell phone calls, satellite radio or HD Radio reception, and connections for building an audio system in your car.
Kenwood KDC-352U Reviews
Average Customer Review:
84 Reviews
---
What's in the box?
Refurbished AM/FM CD receiver (with 10-amp fuse inserted into the chassis)
Face (attached)
Trim ring (attached)
Sleeve (installed)
Wiring harness
Wireless remote control (RC-405)
CR2025 3V lithium-battery (installed in remote)
Cloth face pouch
2 Removal tools
4 Panhead ISO-mount screws
4 Flathead ISO-mount screws
Face-fixing screw
Instruction Manual (Eng/Fre/Spa)
Warranty Card
Product Research
Display Features
Audio Section
USB/Aux Inputs
iPod/Android Control
Disc Playback
Radio Functions
Remote Control
Display Features
Detachable Face: The Kenwood KDC-352U features a single front loading CD face that detaches from the chassis to deter theft. The head unit includes a cloth pouch for storing the face-plate when detached. A face-fixing screw is supplied for making the face non-detachable, if desired.
Note: An optional soft face case (142DFC1X, sold separately) can also be purchased for this unit.
Fluorescent Display: The Kenwood head unit features a single-line, 13-character, bluish-white backlit fluorescent display.
Variable Button Illumination: The Kenwood KDC-352U features variable color button illumination. You can choose from one of 24 preset colors, have the unit scan through all 24 preset colors continuously, or customize your own color (RGB; 0-9). The custom setting allows you to individually adjust the intensity of Red, Green, and Blue (from 0-9) to better match your vehicle's interior lights. The Kenwood logo and eject button remain red.
Illumination Dimmer: The head unit's fluroescent display has two dimmers settings to adjust the brightness of the display according to the surrounding illumination. You can switch the display dimmer setting On or Off. The head unit's button illumination has an independent dimmer setting from the display which lets you set the button illumination dimmer to LVL1, LVL2, or Off. The Kenwood logo and eject button remain the same brightness.
Display Illumination/Clock Display: When the unit is in Standby mode, the face and button illumination is "keyed." When the Clock Display is turned on and the unit is in Standby mode, the Clock Display is also "keyed." Pressing and holding the source button turns the unit off completely.
Demo Mode: This unit features a Demo mode which can be turned On or Off within the menu.
Audio Section
24 Bit D/A Converter: The Kenwood KDC-352U utilizes a 24-bit digital to analog converter for superior CD sound quality.
MOSFET Amplifier: The Kenwood KDC-352U is equipped with a MOSFET amplifier. Compared to conventional power supplies, the MOSFET amplification circuit is smaller and more efficient, and it delivers increased power with less distortion and absolutely zero on/off switching noise. More power means louder and cleaner music at higher volumes because you're not pushing the limits of the amplification circuit. The power output specs for the KDC-352U are as follows:
Full Bandwidth Power: 22 watts RMS x 4 channels (at 4 ohms, 20-20kHz, 1% THD)
Maximum Output Power: 50 watts x 4 channels
3-Way Rotary Volume Control: The CD receiver uses a 3-way rotary volume control that increases and decreases the volume of the stereo from 0 to 35. The rotary knob also controls other audio settings such as Balance, Fader, Bass, Mid, Treble and preset EQ settings. In addition, the rotary knob allows you to scroll through and select your music tracks when the Music Search function is activated.
Volume Offset: The level of each source may be independently adjusted to prevent radical leaps in output volume when switching from one source to another. The available settings range from -8 to 0 (-8 to +8 for Aux source).
Speaker Settings: The Speaker Setting function tailors the System Q Sound Control settings according to the type of speakers in your vehicle. You may select a Speaker Setting of 'SP-Off' (flat/off), 'SP-OEM' (for OEM factory speaker systems), 'SP-6x9/6' (for systems with 6" and 6"x9" speakers), or 'SP-5/4' (for systems with 4" and 5" speakers).
Preset EQ: Eight EQ curves are preset into memory, allowing you to recall the best preset EQ curve for different types of music. Each preset has its own level settings for bass (100Hz), midrange (1kHz), and treble (12.5kHz). You can choose from the following preset EQ curves - Rock, Pops, Easy, Top 40, Jazz, Natural, Game, and User.
Bass Boost: In addition, The Kenwood CD receiver features a Bass Boost control that can be set to the following levels (BB1, BB2 or Off).
Loudness: This function enhances low and high frequencies to make the sound clearer lower volumes. There are 3 levels (LV1, LV2, or Off).
Source Tone Memory: This feature allows you to store System Q bass, middle and treble tone settings for each source (CD, AM/FM, Aux, USB, iPod, and Pandora).
Supreme Setting: When MP3 or WMA files encoded at a low bit rate (less than 96 kbps, 44.1k, 48kHz) are played, the Supreme Setting function restores their high frequencies so the sound quality is closer to files encoded at a high bit rate. The processing is optimized for the compression format and the bit rate used. When the Supreme Setting is Off, the unit plays the original sound stored in the audio file.
6ch/2.5V Preamp Outputs: The KDC-352U features front, rear and subwoofer 2.5-volt preamp outputs. The front and rear speaker preamp outputs are balance and fade adjustable. The subwoofer preamp output is non-fading. The front, rear, and subwoofer preamp outputs are fixed to the rear chassis of the head unit.
Front & Rear High-Pass Filter: The KDC-352U features an independent High-Pass Crossover for the front & rear channels when your front & rear speakers are connected by the unit's speaker-outputs or preamp-outputs. You can adjust the high-pass crossover from "Through", 100, 120, or 150 Hz. The "Through" selection is a full-range setting. This feature is very helpful when you have smaller-type speakers in the front and larger-type speakers installed in the rear of the vehicle.
Subwoofer Controls: The Kenwood KDC-352U offers the following subwoofer controls, when you have the unit's subwoofer preamp output activated.
Low Pass Filter: The receiver features a built-in Low Pass Filter control for the preamp-output, when the output is set to Subwoofer. You can select from 85 Hz, 120 Hz, 160 Hz, or off.
Subwoofer Phase: You can adjust the phase of the subwoofer output between 180-degrees (Reverse) or 0-degrees (Normal).
Subwoofer Level: Once the Subwoofer preamp output is activated, you can independently control the subwoofer preamp output level (-15 to +15) from the CD receiver.
Tel Mute: The KDC-352U features a cell-phone mute wire (tan) in its harness that when hooked up to your car's phone system mute wire will automatically mute the receiver's audio signal when a call comes in.
Key Beep: The in-dash head unit provides an audible beep to confirm button operation. This function can be turned On or Off.
USB/Aux Inputs
USB Port: The Kenwood KDC-352U features a front panel USB (type-A) port that is hidden behind a flip-up cover. The USB port enables connection and control of a portable USB mass-storage class (MSC) device with MP3 (8-320 kbps) and WMA (32-192 kbps) music files. The USB port is compatible with USB mass storage class devices that support the FAT16 or FAT32 file system. Your USB device should only have a maximum of 8 folder layers, 255 folders, and 255 files per folder - with a maximum of 65,025 files and folders. USB portable audio players that can be charged via USB will be charged when plugged into the CD receiver's USB port, and the vehicle's ignition switch is set to ACC or On.
Note: You cannot connect a USB device via a USB hub or Multi-Card Reader to this unit.
Music Editor Compatible: The Kenwood KDC-352U supports the PC application, Kenwood Music Editor Lite (ver.1.1.0). Kenwood Music Editor Lite is a Windows-based desktop software that helps organize, manage and transfer MP3/WMA music files to your USB (MSC) devices from your PC. When you playback audio files that have been stored on your USB (MSC) device using Kenwood Music Editor Lite through this unit, you can search a file by title, album, or artist name using the head unit's Music Search function.
System Requirements: The Kenwood Music Editor Light (ver.1.1.0) Windows-based software can be downloaded for free from Kenwood.com to your PC. The Kenwood Music Editor Light is compatible with the following Windows Microsoft Operating Systems.
Windows XP Professional, Home Edition SP2 or later (32-bit)
Windows Vista (32/64-bit)
Windows 7 (32/64-bit)
Note: Not compatible with Apple iPod/iPhone/iPad, Zune, or Android.
Aux In: The unit is equipped with a front panel 3.5mm minijack auxiliary input that can be used to input audio from a portable audio source, such as a portable MP3 player. The Aux input must be turned on to function. The unit has 3 auxiliary input modes.
On1: Outputs the sound of the external unit connected to the Aux terminal when switched to the Aux source.
On2: Activates the attenuator function when turning on the power with the auxiliary source selected. This prevents the noise when no external unit is connected to the Aux terminal. Turn off the attenuator function when listening to output from an external unit.
Off: Disables the selection of the Aux source.
Auxiliary Display: The KDC-352U allows you to select the source type displayed when using the auxiliary input. You can choose from AUX, DVD, Portable, Game, Video, or TV.
iPod/Android Control
iPod Direct Connection: The KDC-352U's front-panel USB port also acts as an iPod/iPhone high-speed direct connection when used with the optional Kenwood USB Direct Connection Cable (113KCIP102, sold separately) or the USB/iPod cable that comes with your iPod/iPhone. Using either cable allows audio playback, music navigation, information display, and charging of select iPod/iPhone models from the KDC-352U. If you have an iPod nano (7th gen), iPod touch (5th gen), or iPhone 5; use the Lighting-to-USB cable that came with your Apple device to connect to the head unit.
iPod DAC Bypass: