Kenwood Excelon KVT-696
DVD receiver (Factory Refurbished)
Item #: 613KVT696
This item is no longer available.
Original Price: $449.99
Shop all In-dash Video Receivers
Need help?
Does it fit my car?
Select your car
Bump up your vehicle's mojo with the Kenwood Excelon KVT-696 DVD receiver. Designed for single-sized dash openings, this striking stereo sports a motorized, retractable 7" screen that stores out of the way when the receiver is off. Use the touchscreen to change sources, control your audio settings, or find tunes stored on a variety of media. Variable illumination lets you match the receiver's display color to your dashboard lights, and Kenwood's unique Z-Action™ mechanism lets you choose from 12 different viewing angles for optimum visibility.
---
Plenty of playback options
The front-loading CD/DVD player uses a premium 24-bit digital-to-analog converter to ensure that all your music will sound its best, and the KVT-696 displays tag information contained in your files. Play your favorite store-bought discs, or load a CD or DVD with thousands of music files in MP3, WMA, or AAC format for hours of listening. Your options aren't limited to discs — fill a USB thumb drive with files and plug it into the receiver's USB cable. It's like keeping a music library in your glovebox all the time.
Play DVDs
You can watch your favorite DVDs on the built-in screen whenever you're parked, or add an external screen and wireless headphones to the audio/video output so your passengers in the back can watch movies while you drive. You can activate dual-zone mode to listen to an audio source up front while they enjoy a DVD with headphones in the back.
Add your iPod® or iPhone®
You can plug your audio iPod directly into the receiver's USB input, and control your playlists with the receiver's touchscreen. An updated menu lets you navigate your playlists and albums with ease, and you'll see your album cover art on the big screen. Add Kenwood's optional adapter to view video content from your iPod or iPhone while you're parked

Add on and enjoy more
Install Kenwood's KNA-G610 navigation module, and you'll control navigation functions right on the touchscreen. Voice prompts guide you to your destination, and the Garmin-powered navigation system features 2D and 3D views for impressive detail.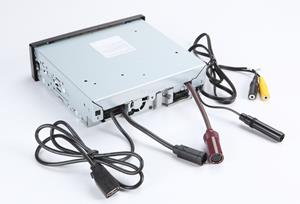 Add a Kenwood satellite radio tuner to tap into the huge variety of entertainment, sports, news, and commercial-free music from SIRIUS|XM. With Kenwood's optional HD Radio™ tuner, you'll get the enhanced digital sound quality and additional programming offered by participating AM and FM stations.
Want to keep your car's steering wheel audio controls?
In most vehicles, you can use this adapter to connect your vehicle's steering wheel controls to this Kenwood stereo. Connect a few wires, then program the adapter for your particular car and the Kenwood, and you'll retain the convenience of your steering wheel controls.
Product Highlights:
General features:
DVD/CD receiver with internal amp (22 watts RMS/50 peak x 4 channels)
motorized 7" touchscreen
Variable Color Illumination
fits single-sized dash openings
Audio/video features:
plays DVD, DVD-R/-RW, DVD+R/+RW, CD, CD-R/RW, CD-ROM, DTS-CD, VCD, and MP3/WMA/AAC files on disc
high- and low-pass filters
3-band parametric equalizer with 8 preset EQ curves
speaker size matching
Expandability:
built-in iPod audio control, but you'll need an adapter to view video content
works with Kenwood Bluetooth adapter, HD Radio tuner, satellite radio tuner, and navigation module
inputs: rear USB input, rear A/V input, rear camera input
outputs: A/V output, 6-channel preamp outputs (5-volt front, rear, subwoofer)
Other information:
compatible with most factory steering wheel audio controls (adapter required)
warranty: 90 days
Video receivers: They're not just for movies
Video receivers add a new level of entertainment to your vehicle. You can watch a movie on the screen when you're parked on a Saturday night, or play a DVD or downloaded video through your rear seat video setup on the road. Touchscreen receivers allow you to breeze through menus with the tip of your finger. Most video receivers feature a USB input for iPod audio, and the ability to add an adapter that allows video to display on the screen.
Kenwood Excelon KVT-696 Reviews
Average Customer Review:
3 Reviews
---
Written by: KenF from New Haven, CT. on April 25, 2011
1995 Ford Thunderbird
I have my doubts about Kenwood's quality control. The first unit I received malfunctioned after only a week and would not close due to the poor alignment of the display screen. The second unit had several issues with it forgetting the screen tilt setting (it would increase the forward tilt of the screen at random times) along with the display open status (it would some times open automatically when the ignition was turned on and other times it wouldn't). The GPS worked as well as any other GPS unit but the phonebook was unusable because 2/3 of the entries had no names on them and others were in weird places (not under the first letter of the last name but under another letter entirely) plus the search ability of the phonebook is lame at best only being able to use the first letter to find an entry. My Nokia cell phone's search will keep narrowing the available list of numbers as I add letters to the search que. Overall the unit worked fair but, for an "Excelon" unit of this price, I expected superior quality. If this is supposed to be Kenwood's high end market piece, MISSION FAILED. You missed the mark big time with this one boys.

Pros:

Cons:
Written by: Nick from Corpus Christi, Tx on February 9, 2011
I love my KVT-696, great product, I run it in my wrecker with a backup camera, the thing just works and works well. My truck is a medium duty, the roads in this town are rubbish, it is constantly getting vibrated and shocked, and it has still continued to perform flawlessly after having it in the truck for 10 months.

I strongly recomend this unit to anyone looking for a fold out video monitor, you will not be disapointed.

I like it so much I am installing one in my personal vehicle.

Pros:

Cons:
Written by: PHIL from LAFAYETTE LA on December 6, 2010
Crutchfield Customer Review
(
What's this?
)
THIS IS A GOOD PRODUCT..THE CUSTOMER SERVICE WAS EXALENT.. THE TECH
SUPPORT HELPED ME WITH ALL MY QUESTIONS,EVEN THE DUMB ONES.. IVE
ALWAYS HAD KENWOOD PRODUCTS AND BUYING THIS REFURBISHED ONE WAS
NOT EVEN A CONCERN...WILL ALWAYS DO BUISNESS WITH CRUTCHFIELD

Pros:

Cons:
What's in the box?
Refurbished AM/FM/DVD/CD receiver with retractable monitor
Sleeve (attached)
Trim ring
Wiring harness
Preamp/AV harness
RC-DV331 wireless remote control
2 "AAA" batteries
2 Radio removal tools
4 Pan-head ISO-mount screws
4 Flat-head ISO-mount screws
Instruction manual (English)
Instruction manual (Spanish)
Instruction manual (French)
Installation manual (Eng/Span/Fre)
Navigation compatibility note (taped to top of unit)
Warranty card (Eng/Fre/Spa)
Product Research
Display Features
Audio Section
Radio Functions
Disc Playback
USB/iPod Connectivity
AV Connections
Bluetooth/Remote Control
Display Features
Motorized Touchscreen Display: The Kenwood eXcelon KVT-696 features a motorized-retractable 6.96" wide, 16:9 touchscreen display with a TFT active matrix system. The screen has a resolution of 480 x 234 with 336,960 total pixels (480H x 234V x RGB). This unit has touch screen controls with interactive video graphics, making menu navigation easy. The unit has a front-loading disc-slot to make loading your disc easier, so you don't have to extract or retract the monitor every time you want to load a disc.
Z-Action Mechanism: This exclusive mechanism allows the display to automatically slide out, rise to your ideal viewing angle (8 presets) and then retract horizontally to your chosen viewing distance (4 presets) - all in a distinctive Z-shaped motion. The unique Z-Action mechanism allows installation in a wider range of vehicles and as it uses a belt-drive system it increases reliability substantially from similar products using gear driven monitor designs.
Auto Open/Close: When this feature is active, the display automatically opens when the unit is turned on and closes when the unit is turned off.
Display Adjustment: You can adjust the unit's display brightness, contrast, and black level to suit your viewing needs.
Switchable Panel Displays: You can adjust the headunit's panel color from the following preset colors - Blue, Purple, Sky Blue, Aqua Blue, Yellow, Green, Amber, Red, Pink, White or Scan (Scans through all preset colors). You can also select three custom user colors that are adjusted between Red, Green, and Blue values from 0-31 each. In addition, you can download still images for use as the unit's background from a connected USB thumbdrive.
Selectable Screen Viewing Modes: You can choose from the following screen modes for DVD, Video, iPod, USB and Rear-camera playback.
Normal: displays 16:9 widescreen format pictures that fill the entire screen width, and 4:3 (conventional TV) pictures display with black bars on either side
Full: expands 4:3 pictures horizontally to fill the entire width of the screen, distorting the picture slightly but retaining full image height
Justify: expands 4:3 pictures horizontally only at the edges
Zoom: expands 4:3 pictures both horizontally and vertically, filling the screen without distorting the picture but cutting off the top and bottom edges
Front Panel Controls With Dual Illumination: In addition to the touchscreen controls, the unit includes frequently used buttons along the front lower panel of the unit. You can change the button illumination to Green or Red.
Dimmer: The dimmer function will dim this unit's display automatically when the vehicle light switch is turned On when you connect orange/white Illumination wire of this player's harness.
Parking Brake Detection: To prevent the displaying of video while the vehicle is in motion, the light green wire in the supplied 22-pin harness must be connected to the vehicle's parking brake detection circuit. While the vehicle is in motion (parking brake off), you can still view all of the other displays and menus.
Security Indicator: The Security Indicator feature helps to protect the Kenwood eXcelon KVT-696 against theft. Turning this function "On" allows the security indicator light on the front-panel of the headunit to flash when your vehicle's ignition is off.
Audio Section
24-Bit D-A Converter: For superb quality audio playback from DVDs, CDs, and USB media, the KVT-696 is equipped with a 24-bit digital-to-analog converter.
MOSFET Amplifier: The Kenwood eXcelon KVT-696 is equipped with a MOSFET amplifier. Compared to conventional power supplies, the MOSFET amplification circuit is smaller and more efficient, and it delivers increased power with less distortion and absolutely zero on/off switching noise. More power means louder and cleaner music at higher volumes because you're not pushing the limits of the amplification circuit. The power output specs for the KVT-696 are as follows:
Full Bandwidth Power: 22 watts RMS x 4 channels (at 4 ohms, 20-20kHz, 1% THD)
Maximum Output Power: 50 watts x 4 channels
Speaker Type Setting: This feature tailors the System Q EX Sound Control settings according to the type of front speakers in your vehicle. You may select Standard (for speakers with a general diameter), Narrow (for speakers with a small diameter), Middle (for speakers with a medium diameter), or Wide (for speakers with a large diameter).
System Q EX Sound Control: Eight EQ curves are preset into memory, allowing you to recall the best preset EQ curve for different types of music. The preset curves are named Natural, Rock, Pops, Easy, Top 40, Jazz, Flat, and User (you may store your own settings under the User Memory EQ curve). Each preset has its own adjustment for the bass center frequency (40, 50, 60, 70, 80, 100, 120, or 150Hz), bass level (-8 to +8), bass Q factor (1.00, 1.25, 1.50 or 2.00), bass extension (On or Off), middle center frequency (500Hz, 1.0kHz, 1.5 or 2.0kHz), middle level (-8 to +8), middle Q factor (1.0 or 2.0), treble center frequency (10.0, 12.5, 15.0 or 17.5kHz), and treble level (-8 to +8). The System Q EX can be turned off in the menu, still allowing you to adjust the bass (100Hz), middle (1kHz), and treble (10kHz) levels only from +/-8dB.
3 Sets of Preamp Outputs: The KVT-696 features front, rear, and subwoofer 5-volt preamp outputs. The front and rear preamp outputs feature fade control, while the subwoofer preamp output is non-fading.
System E's+ Advanced Crossover System: The System E's+ Advanced Crossover system allows you to tailor your system with selectable crossover points for all channels. For the front and rear channels (using either speaker level or preamp output), there is a high-pass filter with independently selectable crossover points of 40Hz, 60Hz, 80Hz, 100Hz, 120Hz, 150Hz, 180Hz, 220Hz or Through (no filter). The non-fading subwoofer preamp output provides a low-pass crossover filter (40/60/80/100/120/150/180/220Hz), phase (normal/reverse), and independent volume control (-50 to +10).
Dolby Digital: The KVT-696 supports playback of Dolby Digital and DTS 2.0 DVD discs and will convert multi-channel Dolby Digital sources to 2-channel.
Dynamic Range: The dynamic range can be adjusted by selecting either Normal, Wide or Dialog. Dialog makes the total sound volume become larger as compared with Wide and Normal, allowing you to listen to the movie's dialogue more clearly. This is effective only on Dolby Digital software.
Loudness: The Loudness feature compensates for low and high tones during low volume. You can turn this feature either on or off. Only the low tone is compensated for when the tuner is selected as a source.
Volume Offset Control: The level of each source may be independently adjusted to prevent radical leaps in output volume when switching from one source to another. The available settings range from -15 to 0.
Source Tone Memory: This feature allows you to store System Q-EX, and bass, middle and treble tone settings for each source (Disc, Tuner, USB, Aux, Ext. Device).
Setup Memory: Audio Control, AV-IN Setup, AV Interface, Navigation, and Audio Setup settings can be memorized and recalled at any time. When the settings are cleared when the unit is disconnected from the battery, they can be restored.
Dual Zone Capability: The unit's dual zone control allows you to independently set the source for the front and rear channels. You can set the front channels to Tuner, Sirius, XM, DVD, Video, USB, iPod, Bluetooth, , Navigation or Standby. You can use the rear channels to DVD, Video, iPod, USB, or Off. You can adjust the volume of the 2nd Zone independently from 0 to 35.
Key Beep: The in-dash headunit provides an audible beep to confirm button operation. This function can be turned On or Off.
Radio Functions
CR-2 Tuner: The KVT-696 uses Kenwood's CR-2 tuner provides high signal strength for clear radio reception. The tuner features the Clean Reception System Circuit (CRSC) for improved rejection of distortion due to multi-path. You can choose one of three tuning modes: Auto 1 (seek tuning), Auto 2 (cycles through and tunes the selected band's preset stations only with each button press), or Manual.
Radio Data System (RDS): The unit's tuner features RDS (Radio Data System). RDS is a service used by some radio stations to transmit data outside of normal radio broadcast signals. When an RDS station is received, you can immediately find out what kind of data is being transmitted by looking at the program service name which appears in the display after the frequency. RDS features an emergency transmission function which interrupts regular programming to broadcast an emergency announcement (such as a tornado or severe storm). There is also a switchable Traffic Information function, which will automatically tune a traffic bulletin when it is broadcast, even when you're not listening to the radio.
Station Name Preset (SNPS): This feature allows you to assign names to radio stations. Up to 24 AM and FM stations can be named. Each name can be up to 16 characters in length. The Preset Select menu will display the six presets in each band either by name or frequency.
Satellite Radio Ready: There are several options for connecting an optional XM or SIRIUS Satellite Radio tuner to this receiver:
Sirius: To receive SIRIUS Satellite Radio, you can connect the optional SIRIUS Universal Vehicle Tuner (607SCC1) and the optional Kenwood Sirius Satellite Radio Interface (113CASR20V); package item number 700SIRKENV; or you can connect the optional CA-SR20V Kenwood Sirius Satellite Radio Interface and the SiriusConnect vehicle docking kit (607SCVDOC1); package item number 700SIRKENP, along with your compatible SIRIUS Dock & Play receiver. SIRIUS Satellite Radio features more than 120 streams of original programming beamed coast-to-coast, including 65 streams of commercial-free, digital-quality music, and news, talk, sports, entertainment, and children's programming.
XM: A portable XM or Sirius satellite radio receiver can be connected to the head unit via its auxiliary input.
Note: A subscription is also required to receive satellite radio programming from SIRIUS or XM.
HD Radio Ready: The KVT-696 is HD Radio ready. With an optional Kenwood HD Radio tuner (113HR300, sold separately), you will be able to receive digital AM/FM broadcasts from local stations where available. This new technology will significantly improve audio quality and reception, as well as include information such as artist name and song titles or traffic news, viewable on the receiver's display. The Kenwood KTC-HR300 is also capable of iTunes tagging. iTunes tagging gives the ability to tag a song (up to 50) and stores it to a connected iPod. The next time the iPod is connected to iTunes the tagged songs are displayed with the option to purchase them from the iTunes Store.
Note: Right now there are about 2,000 radio stations broadcasting using digital HD Radio technology in the U.S. To find HD Radio stations in your area, visit the HD Radio website (HDRadio.com).
External Tuner Note: You cannot connect both a Satellite Radio Interface and HD Radio tuner to the headunit's KAB port.
Disc Playback
Compatible Discs: The Kenwood eXcelon KVT-696 supports playback of DVD-Video, DVD-R/RW, DVD+R/RW, DVD-/+R DL, CD-Audio, CD-R/RW, CD-ROM, DTS-CD, and VCD discs.
AAC/MP3/WMA Playback: This unit can play AAC (16-320 kbps), MP3 (16-320 kbps) and WMA (48-192 kbps) files recorded on CD-ROM, CD-R, CD-RW and DVD+/-R/W discs in ISO9660 Level 1/Level 2, Joliet, Romeo and Long file name formats. Each disc should have a maximum of 8 directory levels, 254 folders per disc, and 255 files per folder (512 maximum number of files and folders). During AAC/MP3/WMA playback, the unit displays song, artist, and album information (up to 30 characters). The unit supports ID3 Tag version 1.0, 1.1, 2.2, 2.3, and 2.4.
JPEG/MPEG Playback: This unit can play back JPEG (Baseline format: 8192 x 7680, Progressive format: 1600 x 1200) still image files recorded onto DVD-R/W, DVD+R/W, and CD-R/W discs. The unit also supports video playback of MPEG1 (352 x 240, 362 x 288) and MPEG2 (720 x 480, 720 x 576) NTSC video files recorded onto DVD-R/W and DVD+R/W discs.
CD Read Setting: If there is a problem with the CD player reading a disc with a special format, you can switch to a second CD Read setting which "forces" the player to read the disc. CD Read setting 1 is for normal CDs and MP3/WMA discs, while CD Read setting 2 cannot read MP3/WMA/AAC discs or VCD.
DVD Display Setup: You can setup the monitor to display a 16:9, 4:3 Letter-Box, or 4:3 Pan&Scan aspect ratio when viewing a DVD disc.
Playback Screen: During DVD playback, you can control certain operations simply by touching an area of the screen. The touchscreen has 5 functions areas. You can touch the left of the screen to start the current chapter over, or the right of the screen to skip to the next chapter. Pressing the top center of the screen activates the DVD Disc Menu control buttons, while pressing the bottom center briefly displays the information screen. For VCD playback, the top center is the Zoom control area.
Direct Search: By entering its number with the included remote you can directly access title, chapter, time, track, channel, or frequency.
Video Display Adjustments: During playback of a video or still image you can reverse the picture horizontally and rotate the picture clockwise or counter-clockwise.
Zoom: The KVT-696 features a 4 level zoom (1,2, 3, or 4x) when playing back video and still images.
Parental Control: Parental Control allows you to restrict DVD playback according to a predetermined level. You can select a parental control rating from 0-8, which is protected by a 4-digit password.
USB/iPod Connectivity
USB Port: The Kenwood eXcelon KVT-696 features a rear-panel 2.0 USB type-A port that is attached to the chassis with a 39" cord to allow for various placement options during installation. The USB port enables playback of MP3 (16-320 kbps), WMA (48-192 kbps), and AAC (16-320 kbps) audio files; as well as JPEG (8192 x 7680 pixels base format/1600 x 1200 progressive format) still-picture files. The KVT-696 also supports video playback of MPEG1 (352 x 240 or 352 x 288) and MPEG2 (720 x 480 or 720 x 576) video files from a connected portable USB mass-storage player, USB thumb drive, or portable digital audio player. The USB port is compatible with all USB mass storage class devices that support the FAT16 or FAT32 file system. The head unit can recognize up to 8 folder layers, 255 folders, 255 files per folder, and 15000 total files. The unit can also support up to a maximum of 7,000 files per playlist. The unit will display any recorded song, artist, and album information stored on your connected USB device (up to 30 characters. Your USB device's rechargeable battery will be recharged while it is connected to the USB port of the KVT-696 and the unit is turned on.
iPod High Speed Connection: The multimedia headunit's USB port and rear-panel 3.5mm A/V AUX input are compatible with select iPod/iPhone devices when used with the optional KCA-iP301V adapter (113IP301V, sold separately). One end of this cable plugs directly into your iPod's dock connector while the other end of the cable uses three connectors that plug into the back of the KVT-696. The USB type-A connector portion of the cable plugs into the receiver's USB port and handles the control and charging of your iPod/iPhone, so you can navigate through your music and video files using the headunit's touchscreen controls and view song and movie info on its display. The two 3.5mm minijack connectors of the cable plug into the unit's A/V 3.5mm inputs and transfer the music and video from your iPod/iPhone to the Kenwood eXcelon KVT-696. By using the Auxiliary input, the music travels to the receiver as an analog signal, so you can even play the Digital-Rights-Protected files you've stored on your iPod/iPhone.
USB Connection: The USB direct connection enables high-speed iPod data communications of 12MB/bps via the optional KCA-iP301V (3-Wire) interface. The USB connection allows your iPod/iPhone's large media library to be loaded instantly to the multimedia headunit.
Audio/Video Playback: The Kenwood multimedia headunit supports both audio/video playback from your compatible iPod or iPhone. Using the optional Kenwood iPod/iPhone connector cable (sold separately), you can enjoy audio/video playback of music and movie files stored on your iPod or iPhone. Video can only be displayed while the vehicle is in park.
Media Navigation: Controlling your iPod/iPhone from the KVT-696 is seamless when used with the optional KCA-iP301V cable. The Kenwood eXcelon KVT-696 will allow you to navigate your iPod/iPhone's music library by Playlist, Artists, Album, Genre, Composer, Song, and Podcast; or your video library by Movie, Music Video, TV Show, Video Podcast, and Rented Movie (your iPod/iPhone's clickwheel or touchscreen will be locked). The eXcelon KVT-696 also offers Link Search, which searches for other songs of the currently selected artist.
Music Information Display: The eXcelon KVT-696 also supports metadata display of music stored on your iPod/iPhone. The multimedia headunit will display your iPod/iPhone's music file information, including - Track number, Elapsed playing time, Song Title, Artist Name, Album Title and Album Art.
Charging: While connected and the ignition switch is set to ACC or ON, the headunit's USB connection will power and charge your iPod/iPhone.
Note: If your iPod/iPhone has no initial battery charge, then the unit will not recognize it.
iPod/iPhone Compatibility Chart: The Kenwood eXcelon KVT-696 and the KCA-iP301V iPod adapter cable is "Made for iPod/iPhone" compatible and supports the following iPod/iPhone model features (as of 9/25/2012):
iPod/iPhone Model
Generation
Tested Version
Media Type
Control Type
Display Type
Charge
Audio
Video
Head Unit
iPod/iPhone
Song/Artist Text
Track Info
dock connector
3rd
N/A
N
N
N
N
N
N
N
clickwheel
color
4th
N/A
N
N
N
N
N
N
N
mini
1st
N/A
N
N
N
N
N
N
N
2nd
N/A
N
N
N
N
N
N
N
video
5th
1.3
Y
Y
Y
N
Y
Y
Y
classic
80GB
1.1.2
Y
Y
Y
Y
Y
Y
Y
120GB
2.0.1
Y
Y
Y
Y
Y
Y
Y
160GB
2.0.4
Y
Y
Y
Y
Y
Y
Y
nano
1st
1.3.1
Y
N
Y
N
Y
Y
Y
2nd
1.1.3
Y
N
Y
Y
Y
Y
Y
3rd
1.1.3
Y
Y
Y
Y
Y
Y
Y
4th
1.0.4
Y
Y
Y
Y
Y
Y
Y
5th
1.0.2
Y
Y
Y
Y
Y
Y
Y
6th
1.0 PC
Y
N
Y
Y
Y
Y
Y
7th
1.2
N
N
N
N
N
N
N
touch
1st
2.2.1
Y
Y
Y
Y
Y
Y
Y
2nd
4.2.1
N
N
N
N
N
N
N
3rd
4.2.1
N
N
N
N
N
N
N
4th
5.1.1
N
N
N
N
N
N
N
5th
6.0
N
N
N
N
N
N
N
iPhone
2G
3.1.2
Y
Y
Y
Y
Y
Y
Y
3G
4.2.1
N
N
N
N
N
N
N
3GS
4.3.5
N
N
N
N
N
N
N
4
5.0.1
N
N
N
N
N
N
N
4S
5.1.1
N
N
N
N
N
N
N
5
6.0
N
N
N
N
N
N
N

Note: Apple iPod/iPhone software updates may change functionality results. If you download a newer software version, you may need to reset the head unit and your iPod/iPhone to regain functionality. If this doesn't work, you may need to wait until a newer software update is available.
AV Connections
Video/Camera Input: The Kenwood eXcelon KVT-696 is equipped with a rear-panel audio/video/camera input with a composite video jack and a pair of RCA stereo jacks. This audio/video terminal can be used to connect an external video source with audio. This input can also be used as a rear camera input for connecting an optional rear view camera, such as the Kenwood CMOS-200 (113CMOS200, sold separately). The video from this connection can be set to display when switched to this input, or display the rear view camera video automatically when the vehicle is shifted into Reverse gear. You can also display the video of the rear view camera in a mirror image, if desired. The purple/white wire in the wiring harness must be connected to the vehicle's reverse lamp circuit for automatic video switching.
A/V Output: The KVT-696 also features a set of rear-panel stereo RCA jacks and a composite video jack to output A/V signals to an optional monitor. You can choose DVD, iPod, USB or AV-IN as the source for the A/V output.
Navigation Input: You can connect the optional Kenwood KNA-G610 navigation system (113KNAG610, sold separately) to this unit via the round 13-pin jack on the back of the chassis. Third party navigation systems with composite video a can also be connected via the AV-IN input. The KNA-G610's built-in mapping software will display on the compatible Kenwood navigation-ready receiver. You will be able to control the KNA-G610 from the Kenwood navigation-ready headunit's touchscreen monitor, or the headunit's wireless IR remote control (optional).
Bluetooth/Remote Control
Bluetooth Ready: The unit is Bluetooth compatible using the optional Kenwood KCA-BT300 Bluetooth adapter (113BT300, sold separately). Using the KCA-BT300 and the adapter's supplied microphone you can make and answer phone calls from the Kenwood headunit as well as listen to audio files stored on a Bluetooth enabled audio player. You can make calls from your cell-phone using the KVT-696 by entering a phone number from the headunit's on-screen keypad, registering up to six phone number presets, from your downloaded Phonebook information or from an outgoing/incoming call list. This unit also supports Voice Recognition if your mobile-phone is Voice Recognition compatible. The headunit can support up to 35 voices and also supports Key Word Voice Recognition to select phone number category. In addition, the unit features SMS (Short Message Service) so you can send a small text message from your mobile phone using the KVT-696. When your cell-phone is called, the KVT-696 is paused and muted automatically (you need to hook-up the Brown Mute-Wire of harness). You are able to register up to five compatible Bluetooth cell phones, but only one cell phone can be connected at any given time. Visit the Kenwood website for a complete list of compatible Bluetooth enabled phones.
Wireless Remote Control: The Kenwood eXcelon KVT-696 comes with an IR wireless remote control (RC-DV331) which can be used to operate all the functions of the multimedia headunit wirelessly (except for disc eject). A slide switch allows you to switch between the control modes for the built-in DVD/CD player, external video source, external audio source, and Navigation.
Steering Wheel Remote Compatibility: The unit also features an OEM steering wheel remote control input on the rear of the unit that lets you keep your vehicle's factory radio steering wheel remote controls when used with the optional PAC SWI-JACK Steering Wheel Control Interface Adapter (127SWIJACK, sold separately); or the optional Metra ASWC Steering Wheel Control Interface Adapter (120ASWC, sold separately).
Note: Please consult the Crutchfield Car Selector to see if your vehicle is compatible.
Our Product Research Team
At Crutchfield, you'll get detailed, accurate information that's hard to find elsewhere. That's because we have our own in-house Product Research team. They verify what's in the box, check the owner's manual, and record dimensions, features and specs. We stay on top of new products and technologies to help people make informed choices.