Why Choose Crutchfield?
Deep discounts on car installation gear
We offer vehicle-specific installation instructions, dash kits, wiring harnesses, and speaker accessories at deeply discounted prices with car stereo and speaker purchases. Available for most vehicles.
Learn more
Trusted since 1974
Our customers have trusted us with their business, and they've helped us win awards for our service.
Check out our most recent awards
Factory-authorized dealer
The manufacturer's warranty always applies.
See more details
THIEL CS2.4
Floor-standing speaker (Natural cherry)
Item #: 684CS24NC
This item is no longer available.
Original Price: $3,550.00 each
Transparent, natural sound from carefully crafted tower speakers
The award-winning CS2.4 continues THIEL's 31-year tradition of creating speakers that reproduce recorded sound as accurately as possible. This speaker's slender design, beautifully crafted cabinet, and stunning sonic performance make it a great choice for audiophile music systems and high-end home theaters alike.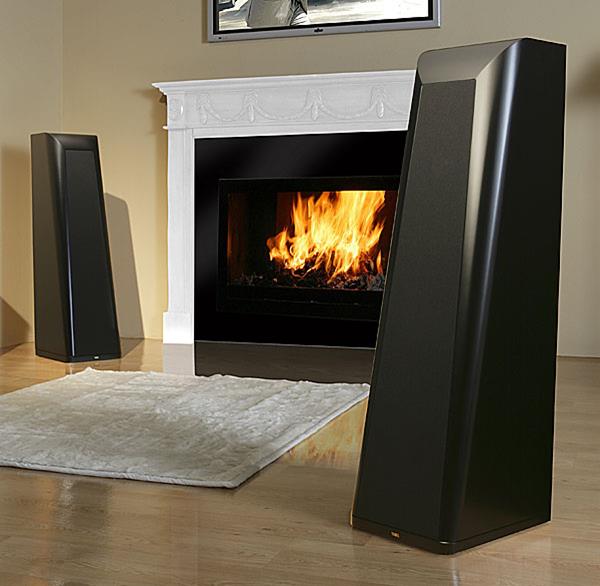 ---
High-tech speaker drivers
Remarkably clear treble
The secret to the CS2.4's incredibly lifelike sound starts with a newly designed midrange/tweeter array. The CS2.4 houses a high-output tweeter inside the midrange, with a mechanical crossover separating the two drivers. This ingenious design maintains the proper time alignment for the high and midrange frequencies, creating unparalleled accuracy and realism.
Richly detailed, musical bass
Bass comes courtesy of an aluminum woofer and passive radiator. A motor structure consisting of a short voice coil sitting inside a large magnet effortlessly drives the woofer. Unlike the voice coils found in most speakers that extend outside the magnet, the deliberately short voice coil always "sees" the optimum magnetic field as it travels back and forth. This eliminates distortion caused by variances in magnetic strength. The passive radiator increases the speaker's output. It all adds up to accurate, musical bass that perfectly complements the treble without being "boomy" or overbearing.
---
State-of-the-art crossover
The "unsung hero" of any speaker is the crossover — it directs the right frequencies to the right drivers so you don't have a tweeter trying to reproduce bass and a woofer trying to reproduce highs. THIEL meticulously engineered their first-order crossover to achieve tonal neutrality. The advanced crossover ensures that musical information such as amplitude, phase, and time remain faithful to the original signal.
---
A finely crafted cabinet
The super-strong cabinet features one-inch-thick walls with internal bracings to enhance rigidity and minimize sound-muddying internal resonance. A three-inch-thick front baffle sports curved edges to reduce unwanted diffraction, for improved tonal and spatial performance. The front of the cabinet slopes back, placing the voice coils of all three drivers on the same plane. This allows all frequencies to reach your ears at the same time for the most complete and accurate sound reproduction.
---
Got wire?
Most speakers don't include any. Learn about choosing and installing speaker wire at the Crutchfield Learning Center.
Shop our selection of speaker wire.
Product Highlights:
recommended power 100-400 watts
frequency response 36-25,000 Hz (±2dB)
4-ohm impedance — suited for high-current amplifiers
sensitivity 87 dB
1" aluminum dome tweeter
3-1/2" aluminum midrange driver
8" aluminum cone woofer with cast aluminum chassis
7-1/2" x 11" passive radiator
short coil/long gap driver design eliminates distortion caused by variances in magnetic strength
sloped cabinet provides time coherence between woofer and midrange/tweeter array
binding post connectors
11"W x 41-1/2"H x 14"D
warranty: 10 years
sold individually
Floor-standing speakers — still standing tall
Sure, floor-standing tower speakers buck the industry trend toward smaller, visually inconspicuous speakers, but they're hard to beat if great sound is your primary goal. Tower speakers produce powerful sound with excellent bass, making them a great choice for serious music lovers and for folks who want high-impact home theater.
THIEL CS2.4 Reviews
Average Customer Review:
3 Reviews
---
Written by: Theil CS 2.2 from Lehigh Valley, PA on February 5, 2012
I own CS 2.2's. I have listened to CS 2.4's at length by auditioning them in my home for about a month. I like both. Mine are close to 20 years old, so they are nicely conditioned and long ago lost that edgy sense when they were new. The CS 2.4's were just as delightful and define the Theil signature sound which to me is nice transparent highs, clear middles and bass with controlled heft and definition without muddiness. The only gasp I had was the degree of cost rise over those years. Yikes! I paid what I though were good beans in those days at roughly $2400 for the pair. If I was looking for a pair of Theils today, I would not hesitate to buy used as a result.

I drive mine with an old Adcom GFA 555 amp (200 w) and GFP 555. Nothing fancy by today's standards. This set pushes the Theils with no strain and can drive people out of the room, not due to distortion but sheer uncomfortable volume. Likewise, the details are there when listening to soft, low volume music. I have also driven them on a home theatre system powered by an Outlaw amp(200w 7.1) and pre-amp set, a slightly different still quite enjoyable sound but then we also have other channels chiming in as well to fill the space.

I would not hesitate to buy the newer CS 2.4's if you do not mind the price PER speaker. Nonetheless, I love my Theils and have personally written to Theil to tell them that I consider them to be one of my top value purchases ever. They still delight.

Pros: Just an overall great listening experience if driven correctly with adequate and clean power

Cons: Now, they have become pricey in my opinion, perhaps not in your opinion.
Written by: RF from East Lansing, MI on June 26, 2011
Crutchfield Customer Review
(
What's this?
)
Some 18 years ago, a small store owner sat me in front of an exotic stereo system and I was forever changed. I heard the recreation of an event so real that I could not have told the difference were it not for the electronics in front of me. That a stereo system could completely disappear like this was seductive to me. That event occurred on a system driving a pair of Thiel speakers.

Since that time, I have owned lots of speakers (and listened to more, ncluding some ridiculously priced ones up to $160,000). There is certainly no end to exaggeration and false claims in audio, but Thiel is one of those companies where you get what you pay for. Their reputation in the industry and to my ears is elite. When you see what goes into their products, it would be hard to understand why you should pay more for "better."

I have had my CS2.4's for a couple of days. While they are still a little rough around the edges as they break in, they are certainly not "unbearable," as I have read by others. They are already lightyears better than expensive speakers they replace, simply sounding real with better tonal definition, pinpoint imaging, and an expansive and realistic soundstage. Understand that you need to use these with quality source and amplification components. I am running a custom music server (JRiver 16) with bit perfect SPDIF to a REGA DAC and PS Audio preamp and amplifier.

Spectacular and highly recommended.

Pros:

Cons:
Written by: S from New York on October 5, 2010
I am amazed by the quality and beauty of this speaker.

Soon after I recieved the speakers, I wrote a note to THIEL's president, who in turn posted it on the website's blog section at thielaudio.com.

I'll let those thoughts speak to the wonderful experience these speakers were when they first arrived, and how they continue to enrich our lives with the gift of music.

http://thielaudio.blogspot.com/2010/07/this-is-what-were-all-about.html






Pros:

Cons:
What's in the box?
Natural Cherry floor-standing loudspeaker with magnetically attached grille (removable)
4 Stabilizer feet
Owner's Manual
Packing Instructions
Product Research
Overview: The THIEL CS2.4 floor-standing loudspeaker incorporates several new innovative design techniques that greatly improve performance in a three-way, floor-standing loudspeaker. The CS2.4 delivers a much purer and more open upper and lower midrange response coupled with a sweeter and smoother high frequency performance than conventional three-way loudspeakers. The CS2.4 incorporates THIEL's latest innovative driver technology, rugged cabinet construction, and phase/time correct Coherent Source design. All-metal diaphragm, low-distortion drivers are used for outstanding tonal response and the advanced phase correct crossover design greatly improves spatial fidelity and clarity.
Driver Technology
Enclosure Design
Connections
Mounting Options
Warranty Information & Break-in Period
Driver Technology
All-Metal Diaphragm Drivers: The CS2.4 is a three-way system incorporating all THIEL-designed and built metal diaphragm drivers--a 1-inch dome tweeter, 3.5-inch midrange driver, and 8-inch woofer--along with a 7.5 x 11-inch passive radiator. Metal diaphragms provide much higher stiffness which eliminates diaphragm resonances in the operating range for very clear and open reproduction. The CS2.4 drivers also use unusual short coil/long gap, copper-stabilized motor systems to dramatically reduce distortion. Coupled with the low resonance diaphragms and very high quality electrical network components, a very high level of clarity and tonal accuracy is achieved.
Coincident Driver Array Tweeter: The THIEL CS2.4's most innovative design feature is a newly designed coincident tweeter/midrange driver where the two drivers' diaphragms share the same voice coil. This technique allows for the elimination of the midrange/tweeter section of the electrical crossover network as the drivers incorporate a mechanical crossover. Along with eliminating the need for two driver magnet structures, these reductions allow the CS2.4 to achieve a level of sonic performance normally reserved for more expensive speakers. The coincident array also uses very powerful neodymium magnets to improve efficiency and a redesigned magnet venting system to reduce unwanted resonances.
Metal Diaphragm, Low Distortion Woofer: The CS2.4's 8-inch woofer uses a very low distortion short coil/long gap motor system, powered by a 2.5 pound magnet. The rigid aluminum diaphragm eliminates resonance coloration, a special copper pole sleeve reduces inductance distortion, and a heavy copper ring maintains an ultra-stable magnetic field.
Passive Radiator: In combination with the 7.5 x 11-inch bass radiator, the speaker produces exceptionally clean bass down to 33Hz.
Electrical Crossover: The CS2.4 electrical crossover network provides completely phase accurate transitions between drivers to preserve the recording's spatial information. The network utilizes polypropylene and custom-made polystyrene capacitors, and low-oxygen copper, air-core inductors for very low distortion.
Time and Phase Coherent: As with all THIEL loudspeakers, the CS2.4 is completely time and phase coherent for much greater sonic realism. THIEL's Coherent Source technology achieves the elimination of both time and phase distortions that cause alterations in the reproduced musical waveforms of most loudspeakers. Eliminating these distortions results in enhanced realism, clarity, transparency and immediacy as well as improved imaging and soundstaging in both the lateral and depth perspectives. Phase coherence in the CS2.4 is achieved by utilizing a sophisticated first-order electrical crossover system in conjunction with unusually wide bandwidth drivers. Time coherence is achieved by placement of the drivers on a baffle that is sloped at the correct angle to cause the sound energy from each to reach the listener at the same time.
Power Requirements: It is important to have enough power to play at the level you desire without distortion. If high sound levels are desired, the CS2.4's are designed to be used with amplifiers rated up to 400 watts per channel (into 4 ohms). The CS2.4 is of average efficiency (87dB) and therefore requires an average amount of power from a quality amplifier.
Enclosure Design
Cabinet Construction: The CS2.4 cabinet is built with a 3-inch thick front baffle, 1-inch thick cabinet walls, and internal bracing for extreme rigidity to reduce unwanted vibration, improving clarity and spatial performance. The baffle's rounded edges reduce diffraction effects for improved tonal, spatial, and transient performance, and its sloped front correctly time aligns the tweeter with the woofer The CS2.4 is available in a wide variety of exquisite, real-wood, laminate, and painted cabinet finishes, finely crafted to enhance any home environment including Amberwood, Black Ash and Natural Cherry.
Note: THIEL CS2.4 cabinets possess a high quality lacquer finish that is both beautiful and very durable. Any furniture care product such as Pledge, Johnson's, or Endust can be used to keep the cabinets clean.
Magnetic Grille: The CS2.4 grille is attached magnetically to the front of the speaker. The grille is designed to not produce diffraction so there is no sonic reason to remove it. If you do need to remove the grille, carefully pull the grille frame away from the front of the speaker. When replacing the grille, line up the grille with the baffle's inlay edges.
Note: The grilles can be cleaned of dust by using an upholstery attachment of a vacuum cleaner. To prevent damage to the tweeter, take care not to push the cloth in toward the top of the grille
Connections
Binding Posts: The CS2.4's input terminals are located on the lower rear of the speaker cabinet. The CS2.4 uses binding posts that accept several types of wire connections (will not accept dual banana plug connectors but single banana plugs can be used). The input terminals are designed to be easily tightened by hand or a 1⁄2 inch nut driver can be used. The speaker's input terminals are color coded to facilitate that both speakers in a stereo system are wired in the same polarity for maximum speaker performance. The speakers should be connected to the amplifier with high quality cable to ensure minimal loss of power and proper control by the amplifier.
Note: The CS2.4 is a very high quality sound reproducer and will benefit from use with the best associated equipment. Since it is extremely accurate, it will reveal sources of distortion generated elsewhere in the system. For example, distortion resulting from poor recordings or inferior electronics will be reproduced accurately. Also, the quality of the interconnect cables and speaker cables will significantly effect the performance of the system
Mounting Options
Placement: The CS2.4s are relatively non-critical to room placement and will provide good results from almost anywhere. However, here are some guidelines to help you achieve the best sound from your speakers. Speaker placement will affect the accuracy of timbre, spatial performance, and bass performance.
Distance From Walls: THIEL speakers, and most others, sound best if they are placed well away from all walls. Such placement optimizes imaging and depth, and musical timbres are reproduced with the least coloration because it allows the initial sound coming from the speaker to be distinctly separated in time from the secondary sound of wall reflections. If reflections are heard too quickly after the primary sound, your brain tends to interpret them as part of the initial sound, causing the perceived timbre to be altered and the spatial characteristics to be confused. If you experiment, you will notice a major improvement in openness when the speakers are even two feet from the rear wall instead of one. Ideally, the speakers should be three feet from the rear wall and five feet from the side wall. Also, it is not desirable for large objects to be placed near the speakers since these will also be a source of unwanted early reflections that reduce imaging accuracy.
Spacing: Because of their very wide, even dispersion of energy, THIEL speakers should usually be placed farther apart than most. Optimum imaging is usually achieved when the speakers and the listener form an equilateral triangle, although this will depend on the width of the room (a narrow room will require closer placement). If the speakers are too far apart for a given environment, there will tend to be a "hole" in the middle of the sound stage; if they are too close together, the image will be compressed and will not achieve optimum width.
Aiming: Preferred the imaging is obtained when the speakers are pointed straight ahead rather than pointing toward the listener. This placement produces the largest, most natural soundstage. However, toeing the speakers in somewhat may produce more specific placements of instruments. Also, if it is not possible to get the speakers far enough away from the side walls, a toed-in position can be helpful to reduce the strength of wall reflections.
Bass: Bass response is also affected by speaker placement. In general, when a speaker is close to a wall the bass response is stronger and placing a speaker in a corner will make it even more so. In order to achieve properly balanced bass, it is necessary for the speaker to be used in the environment for which it was designed. THIEL speakers are designed to provide accurate bass when positioned away from all walls-the same position that provides the best imaging.
Listener Position: The CS2.4s provide broad dispersion of energy at all frequencies and therefore provide good results throughout a large listening area. Best imaging is provided for a listener centered in front of the speakers. Optimum phase and time alignment is provided only for a seated listener who is eight or more feet away from the speaker.
Stabilizer Feet: Speakers positioned on a soft or uneven surface are able to rock slightly and will vibrate in reaction to forces the speaker generates to move the driver diaphragms. This motion slightly reduces the music's clarity. To eliminate this effect, the CS2.4s can be used with the supplied four gold stabilizer feet on uneven surfaces or on carpeted floors to provide a more solid footing and allow the speaker to couple more firmly to the floor. The speakers should be positioned before the stabilizer feet are installed.
Note: Please be cautioned that the stabilizer feet can dent hardwood floors and it is possible to mar the floor's surface if the speakers are moved with the feet in place.
Warranty Information & Break-in Period
Break-In Period: The CS2.4's, like most speakers, require a period of playing before they perform optimally. The amount of time depends on how loudly the speakers are played; more time is required if played softly, less if played loudly. At least 50 hours at moderately loud levels are required before the speaker is performing near optimum. You should notice even more improvement after 100 hours of playing.
10 Year Warranty: THIEL warrants every THIEL model CS2.4 loudspeaker against defects in materials and workmanship to the original owner for a period of ten years from the date of purchase. THIEL will, at no charge, replace any defective part and make any repairs necessary to ensure its proper performance when the defective unit is returned to us postpaid. This warranty does not cover damage due to accident or abuse and is void if the unit has been tampered with. This warranty is automatic and no registration is required.
Our Product Research Team
At Crutchfield, you'll get detailed, accurate information that's hard to find elsewhere. That's because we have our own in-house Product Research team. They verify what's in the box, check the owner's manual, and record dimensions, features and specs. We stay on top of new products and technologies to help people make informed choices.