Kenwood Dock and Play Satellite Radio Kit
Play your Dock-and-Play Sirius radio through your vehicle's factory radio
Item #: 700KS30SXD
This item is no longer available.
Shop all Satellite Radio for Aftermarket Radios

Need help?
Tell us what you drive.
Select your car

If you already own a Sirius Dock-and-Play radio, this all-in-one kit makes it easy to hook it up to your car's factory receiver, as well as add Kenwood components. The package includes the Kenwood Factory Radio Upgrade System, a Sirius Car Dock, and a Kenwood adapter cable.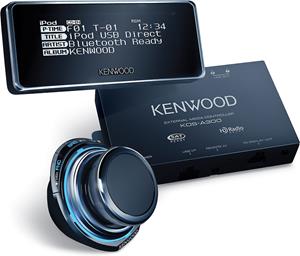 Kenwood KOS-A300 Factory Radio Upgrade System
The KOS-A300 upgrade system is easy to install and easy to use. Simply connect the hideaway box to your receiver's auxiliary input and it's ready to go. You'll be able to connect Kenwood components to your system, so you can enjoy the music and programming on Sirius, experience the enhanced sound quality of HD Radio™, and even use the system's USB input to play music from your iPod, mp3 player or thumb drive.
Your system information appears on the dash-mountable LCD display, and the wired multi-control wheel lets you access all system functions. You can even change the illumination color to match your car's interior lighting. The KOS-A300 works with a variety of Kenwood adapters, including Bluetooth.
Sirius SC-VDOC1 Car Kit
The Sirius SC-VDOC1 SiriusConnect Dock contains a dock for your Sirius radio, a micro-antenna, a car mount, and a connecting cable. Once you place your compatible Sirius radio in the dock, Kenwood's CA-SR20V cable connects to the KOS-A300 system, so you can listen through your factory radio. The adapter also powers and charges your satellite radio, so you won't have to worry about the battery running out.
Note: A subscription to SIRIUS is also required. Satellite radio service is available only within the lower 48 states — not available in Hawaii or U.S. territories. Limited service is available in Alaska.
Highlights:
package includes Kenwood KOS-A300 factory radio upgrade system and Sirius Dock-and-Play setup
Kenwood KOS-A300 factory radio upgrade system
factory radio upgrade system
package includes hideaway connection box, dash-mount 5-line display, and wired multi-control wheel
add sources to any radio with a 3.5mm auxiliary input
add Kenwood adapters and components to your stereo
plugs into your stereo's auxiliary input
warranty: 1 year
Sirius SC-VDOC1 dock and Kenwood adapter cable
Sirius car dock accepts your Dock-and-Play satellite radio
Kenwood CA-SR20V cable connects Sirius dock to the KOS-A300
low-profile, roof-mount micro antenna
warranty: 1 year
Kenwood Dock and Play Satellite Radio Kit Reviews
Average Customer Review:
1 Review
---
2007 Jetta Wolfsberg Install
Written by: Randy from Keene, NH on March 4, 2013
Crutchfield Customer Review
(
What's this?
)
This product should only be installed to keep the OEM look of your vehicle OR if your vehicle's factory audio system is exotic. Consider this product if you own an Audi, BMW, Mercedez or VW. If you are not capable of installing the product on your own consider something else because you will have to purchase (Satellite Radio, HD Radio, bluetooth). By time you pay for the install you've arrived at a price of $-$$. I'm experianced with component installations and while the install was similiar to a receiver there were some differences you should consider. There are a LOT of cables to run and hide. Because of the numbers of cables run through different locations of the car the install took about twice as long as a normal receiver. You must get the exact Satellite radio that's listed in the manual (Starmate 8 or XM Edge), the newer ones (Onyx) even with the same dock don't work as I found out. The sat radio should turn on when you browse to satellite on the KOS, if it doesn't turn on your radio isn't compatible.

Pros: Control interface is nice, its the best aftermarket interface I've used. It resembles the BMW infotainment controls. The whole system is flexible once installed. I can attach just about any audio source now that its installed. The sources are: iPOD, iPhone through bluetooth and stream audio such as pandora and phone calls, USB flash drive, AUX in (just to test the connections at the end of the install) and satellite Radio. Not bad for the price

Cons: Lengthy installation. The product manual and documentation is terrible, there's not much information on google either. There's a lot of cables to run and hide and some cables, like the KAB to Satellite Radio dock are thick! I had a heck of a time running the KAB cable from the sat dock in the glove compartment to the KOS under the passenger seat because the cable is 5/8" thick!
What's in the box?
The Kenwood KOS-A300Factory Radio Upgrade Solution Includes:
External media controller hide-away box
LCD display unit with attached 10' cable terminated by a proprietary connector
Rotary controller with attached 6.5' cable terminated by a 3.5mm connector
8' Power/ground harness
10' stereo minijack-to-RCA audio cable
58" USB cable (with a male USB type-A connector on one end and a female USB type-A connector on other end)
LCD display unit flush-mount bracket
LCD display unit self-adhesive stand
Self-adhesive stand's mounting bracket
Rotary-knobs surface mount bracket
2 Angled spacers
Four 2mm x 5mm machine screws
Six 2mm x 10mm machine screws
Two 2mm x 11mm machine screws
Six 3mm x 14mm machine screws
Two 4mm x 7mm mounting screws
Two 4mm x 16mm mounting screws
Two 4mm x 16mm self-tapping screws
3.5" x 1.625" plastic removal tool
Two-side self-adhesive pad
2 Velcro strips
2 Wire ties
Instruction Manual
Warranty Card
2 Correction notes
"Attention!" note
Display template
The Kenwood CA-SR20V Cable Includes:
7.5" KAB to SiriusConnect adapter cable
Instruction manual
SCVDOC1 SiriusConnect SCVDOC1 Dock Includes:
Universal SiriusConnect dock with Starmate/Stratus adapter installed
15' SiriusConnect interface cable
Sirius vehicle antenna with attached 21' cord terminated by an SMB connector
Dash mount
Sportser 3/4 adapter
SL10/SL100 Adapter
SL2 Adapter
Mounting screw
4 Large machine screws with attached lock-washer
1 Small machine screw
Rubber antenna tail cover
Alcohol wipe
User Guide
Warranty note
Sirius channel guide
Sirius logo sticker
Product Research
Features
Overview: The Kenwood KOS-A300 External Media Controller is a factory radio upgrade solution which allows you to add an iPod or Zune portable digital music player, advanced Bluetooth hands-free phone operation (via optional Bluetooth module), and Satellite or HD Radio (requires optional tuner) to your existing factory audio system (which must include an auxiliary input). The KOS-A300 also includes an Auxiliary input for connection of any portable audio device. The Kenwood KOS-A300 is a 3-piece device which includes a LCD Display Unit, Rotary Control Knob, and Hide-Away Module.
LCD Display Unit: The Kenwood KOS-A300 includes an external LCD display to indicate source information from your connected devices (such as iPod text, Satellite or HD Radio text, or Bluetooth text). The LCD display offers 4-lines of text, or 2-lines of text with graphics. The LCD display also offers variable illumination (10 colors) so your can customize the KOS-A300 to match your vehicle's dash lighting. In addition, the LCD display offers an adjustable contrast (1-10) and adjustable dimmer (Auto/On/Off). The LCD display can either be flush or surface mounted. The LCD display comes with a flush-mount bracket so the unit can be recessed in the dash for a more custom look. The LCD display also comes with a self-adhesive mount so it can easily be placed on your dash or console. The self-adhesive mount allows you to swivel the LCD display left/right and angle the display up/down. The LCD display features an attached 10' cable terminated by a proprietary connector which plugs into this system's hide-away box.
Rotary Control Dial: The Kenwood KOS-A300 includes a 7-way wired-remote rotary-commander with 3 additional push-buttons. This rotary controller provides complete control over the KOS-A300 and your connected audio sources (such as: iPod, Zune, Bluetooth, HD or SAT Radio). The rotary control dial comes with a surface-mount bracket to install the unit on your dash or console. The rotary control dial features an attached 6.5' cable terminated by a 3.5mm connector which plugs into this system's hide-away box.
Hide-Away Connection Module: The Kenwood KOS-A300 includes a hide-away box which includes all the connections for the system. The hide-away module includes all the necessary audio inputs for connecting your compatible audio devices and an audio output to connect to your factory headunit. The hide-away box features integrated mounting flanges and can easily be installed under a seat. The hide-away module features the following connections.
Power: The KOS-A300's hide-away module features a 6-pin molex plug for connecting the supplied 8' power/ground harness which includes the following connections: 12V accessory (Red), 12V constant (Yellow), Ground (Black), Illumination (Orange/white), and Mute (Brown).
Display: This is a proprietary multi-pin port for connecting the LCD display unit.
Remote In: There is a 3.5mm jack for connecting the rotary control dial.
USB: The KOS-A300 features a USB type-A port for connecting a portable digital audio device such as an iPod or Zune.
KAB: This is a proprietary Kenwood port for connecting optional proprietary Kenwood sources, such as: Bluetooth, HD Radio, XM Radio, or Satellite Radio.
Aux In: The hide-away module features a stereo RCA auxiliary input for connecting a external portable audio source such as a CD player.
Line Out: The unit's stereo RCA line output connects to your factory radio's auxiliary input to deliver audio from connected audio devices.
USB Port: The Kenwood KOS-A300 features a USB type-A port for connecting a portable USB mass storage device. The KOS-A300 supports the playback of MP3 (8-320kbps), WMA (48-192kbps), and AAC (16-320kbps) audio files stored on a USB mass storage device formatted in FAT16 or FAT32. The unit can recognize up to 500 folders, 4096 files per folder, and 15000 total files. The KOS-A300 also supports basic playback operation (such as: Play/Pause, Folder Skip, File Skip, Random) and text display.
Note: This unit supports the PC application "Kenwood Music Editor Lite version 1.0 or later. When you connect a USB mass storage device with database information added by the Kenwood Music Editor Lite 1.0, you can search a compressed music file by title, album, or artist name.
iPod/Zune Compatible: The KOS-A300's single USB type-A port is also compatible with select Apple iPods (using the Kenwood KCA-iP101 or standard USB/iPod dock cable) and Microsoft Zunes (using proprietary cable supplied with Zune). The unit supports audio playback, control, text display, and charging of select iPod and Zune models. You can choose to control your connected iPod from the KOS-A300's rotary controller or from the iPod's click-wheel/touch-screen (the Zune player's controls will be locked). The Kenwood KOS-A300 allows you to browse your iPod's music content by Artist, Album, Genre, or Composer in alphabetical order (offers only basic playback functions for Zune players). The Kenwood KOS-A300 External Media Controller supports the following Apple iPod and Microsoft Zune models.
iPod: iPod video (5th gen), iPod classic (80/120/160GB), iPod nano (1st/2nd/3rd/4th/5th/6th gen), iPod touch (1st/2nd/3rd gen), iPhone (2G/3G/3GS/4)
Zune: V2 Zune (80GB), V2 Zune (4/8GB), V1 Zune (30GB)
Bluetooth Ready: The Kenwood KOS-A300 is Bluetooth compatible using the optional Kenwood KCA-BT300 Bluetooth adapter. Using the KCA-BT300 and the adapter's supplied microphone you can make and answer phone calls using the KOS-A300's wired remote-control knob and LCD display, as well as listen to audio files stored on a Bluetooth enabled audio player through your factory audio system. You can make and answer calls from your cell-phone using the KOS-A300 using the unit's wired-remote commander and LCD display; you can dial a number directly, dial from your downloaded Phonebook information (up to 1,000 numbers), or dial out from an outgoing/incoming call list. This unit all supports Voice Recognition if your mobile-phone is Voice Recognition compatible (the unit supports up to 35 voice-tags). In addition, the unit features SMS (Short Message Service) so you can read short text messages that were delivered to your cell-phone on the KOS-A300's LCD display. When your cell-phone is called, the KOS-A300 mutes your factory audio system automatically (you will need to hook-up Brown Mute-Wire of the harness). The KOS-A300 also supports Call Waiting (subscription required) so you can answering an incoming call with your current call suspended. You are able to register up to five compatible Bluetooth cell phones, but only one compatible Bluetooth cell phone can be connected when using the KCA-BT300 adapter.
Note: Visit Kenwood.com for a complete list of compatible Bluetooth enabled phones.
Sirius Satellite Radio: To receive SIRIUS Satellite Radio, you can connect the included CA-SR20V Kenwood Sirius Satellite Radio Interface and the SiriusConnect SCVDOC1 vehicle docking kit, along with your compatible SIRIUS Dock & Play receiver. SIRIUS Satellite Radio features more than 120 streams of original programming beamed coast-to-coast, including 65 streams of commercial-free, digital-quality music, and news, talk, sports, entertainment, and children's programming.
Note: A subscription is also required to receive satellite radio programming from SIRIUS.
HD Radio Ready: The KOS-A300 is HD Radio ready. HD Radio provides FM broadcasts that are equal to CD sound quality and AM broadcasts that are as good as analog FM stereo broadcasts. With an optional Kenwood HD Radio tuner (item # 113HR300), you will be able to receive digital AM/FM broadcasts from local stations where available. In addition to conventional broadcasts, with HD Radio broadcasting it is possible to choose from up to 8 multicast programs (HD1 to HD8 and analog). There are also data programs for each program. This new technology will significantly improve audio quality and reception, as well as include information such as artist name and song titles or traffic news, viewable on the KOS-A300's LCD display. You can store 18 FM and 6 AM stations in the unit's preset memory.
Note: You cannot connect the HD Radio tuner along with a Satellite Radio tuner. You can only connect one or the other.
Auxiliary Input: The KOS-A300 External Media Controller features a stereo RCA auxiliary input for connecting an external portable audio device, such as a CD player. The unit's auxiliary input's name can be set to AUX, DVD, Portable, Game, Video, or TV. You can adjust the input level of the auxiliary input from -8 to +8.
Favorite Control: You can register the operation procedure to select your favorite Satellite or HD Radio, broadcast station, iPod Playlists/Artists, or Bluetooth phone number, allowing you to find your favorite selections quickly.
Dimensions
LCD Display Unit:
Width = 3.9375"
Height = 1.625"
Depth = 0.875"
LCD Display Flush-Mount Bracket:
Overall:

Width = 4.875"
Height = 2.5625"
Depth = 0.9375"

Cut-Out:

Width = 4.145"
Height = 1.815"
Depth = 0.875"
Rotary Control Dial:
Width = 2.365"
Height = 2.635"
Depth = 1.765"
Hide-Away Connection Module:
Width = 6.875"
Height = 1.25"
Depth = 5.795"
Our Product Research Team
At Crutchfield, you'll get detailed, accurate information that's hard to find elsewhere. That's because we have our own in-house Product Research team. They verify what's in the box, check the owner's manual, and record dimensions, features and specs. We stay on top of new products and technologies to help people make informed choices.