Why Choose Crutchfield?
Deep discounts on car installation gear
We offer vehicle-specific installation instructions, dash kits, wiring harnesses, and speaker accessories at deeply discounted prices with car stereo and speaker purchases. Available for most vehicles.
Learn more
Trusted since 1974
Our customers have trusted us with their business, and they've helped us win awards for our service.
Check out our most recent awards
Factory-authorized dealer
The manufacturer's warranty always applies.
See more details
Polk Audio LSi15
Floor-standing speakers (Cherry finish)
Item #: 700LSI15C
This item is no longer available.
High-impact home theater thrills
Let's start with critical appreciation: respected reviewer Anthony H. Cordesman writes, "The LSi15 has an extraordinary mix of treble and midrange performance for the price. The upper octaves are among the smoothest and most detailed at all levels of dynamics that I have heard; they certainly outperform most speakers costing more than twice as much" (The Absolute Sound, April/May 2002). We couldn't have said it better ourselves.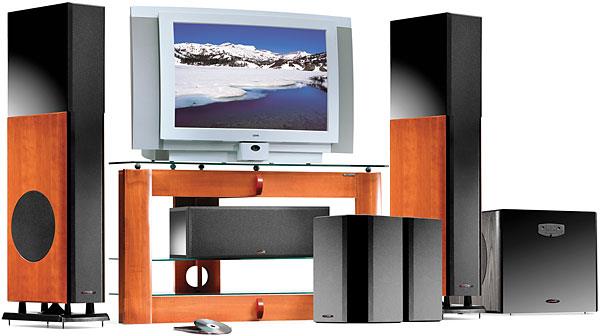 ---
Crystal-clear highs and smooth mids
A big part of the LSi15's audiophile-quality sound is the 1" Ring Radiator tweeter. This light, extremely responsive tweeter won't color your music — your highs sound as close as possible to the original. The LSi15 also offers two 5-1/4" aerated polypropylene Dynamic Balance® mid/bass drivers, along with Acoustic Resonance Control (ARC) technology — vocals and midrange have never sounded so real. The 8" Dynamic Balance woofer and Power Port venting deliver accurate, room-filling bass that goes all the way down to 32 Hz. And a superb cabinet design helps eliminate resonances, so your sound stays smooth and clear. Whether you're enjoying the intricate textures of jazz or chamber music, or the simple purity of a solitary vocalist, the LSi15 will astonish you.
---
Great for home theater or stereo music setups
Other details include two sets of gold-plated 5-way binding posts for biamping or biwiring, and adjustable spikes for carpeted or hardwood floors. And don't forget — with all that sonic richness and precision, a pair of LSi15s make formidable front left and right speakers in a home theater system, too.
Recommended center channel speaker: Polk LSiC.
Recommended surround speakers: LSi7, Polk LSi9, or LSiFX.
Product Highlights:
video-shielded
bass-reflex design
frequency response 32-26,000 Hz (-3dB)
4-ohm impedance; these speakers must be powered using high-current amplification
sensitivity 88 dB
handles up to 250 watts
real wood veneer
dual 5-way, gold-plated binding post terminals
9-5/8"W x 44-1/8"H x 13-3/8"D (with pedestal)
warranty: 5 years
Floor-standing speakers — still standing tall
Sure, floor-standing tower speakers buck the industry trend toward smaller, visually inconspicuous speakers, but they're hard to beat if great sound is your primary goal. Tower speakers produce powerful sound with excellent bass, making them a great choice for serious music lovers and for folks who want high-impact home theater.
Polk Audio LSi15 Reviews
Average Customer Review:
10 Reviews
---
Written by: paul from St. Louis on February 21, 2010
I have read all of these reviews and only wish to add one note. If you know what you are listening to and don't wish to spend 4000+ these are the best you can find. I demo'd hundreds of speakers through the years, not to mention owning 15 sets or so. I only wish I had taken Polk seriously 10 years ago and saved time and money. Just go listen to them, that's all it will take I promise. Congratulations and your new speaker purchase!!!

Pros:

Cons:
Best Front Speaker's I've owned for the money!
Written by: Kirk from Schoharie, NY on June 9, 2009
When I bought these speaker's I bought the whole 5.1 LSi high end polk surround sound system including the LSi-15's. I did not need a Sub Woofer because the 15's had the lower end of what we hear maxed out by them selves!
To say these speaker's are great is an under statement. The only way one could match them would be to spend 4 times more per speaker! They will blow you away especially if you have a very good AMP or Reciever that can work well at 4 ohm's. Add the other 3 speaker's by Polk in LSi format; 2 quad rears, & center, and whatch out! The high's are crisp, the mid's are firm, & tight, & the low end will rattle your bone's! That's only at 1/3 rd on an AMP at 4 ohm's that's 120 watts per chanel!
The only other thing I can mention is: They look fantastic with the grill on or off, & with the 4 spiked bottoms on the fronts they will not move!
Just watch out for how many people will want to invite themselves over to watch their flix's or play their tunes! That was the only problem I had. That, & even though my closest nieghbor was well over 300 plus feet away in all directions, I would still get call's to turn down my tunes or a movie my wife, & I were watching around 9:30-10;00 PM! You really will enjoy them!
If for some reason you don't like these speaker's, & you have 30 day's, you will get "ALL" your monies back. So you can't lose, give them a shot!

Pros:

Cons:
Written by: ryedady from Avon, CO on January 10, 2009
WOW! I just recently upgraded my Infinity Primus 360's and AVR-335 to Polk lsi 15's and an Onkyo 805. Holy cow do these speakers sound good! The detail in the highs is amazing and the midrange is open and clear but yet it still manages this amazing deep tight bass. I've read several reviews dogging the bass on these speakers, I have noticed that on older or poorer recordings, or music that just doesn't have a lot of bass, that the bass seems to be lacking but throw in some primus or nine inch nails and these things pound deep and loud (sound is true to recording), actually I am amazed at how low they can play. I actually like my set up better than my friends $20,000 tube amp and ribbon tweeter speaker setup, mines not as loud but much smoother sounding. Be the envy of all your friends and buy these speakers. By the way I have my Onkyo set up to bi-amp these speakers so about 170 watts to the top half and 170 to the woofer at 4 ohms and they seem like they could use just a tad more power, I definitely recommend not pushing these with anything less than an Onkyo 805 bi-amped (wish I would have sprung for the 875).

Pros:

Cons:
Written by: samuel from ft worth tx on September 10, 2008
Crutchfield Customer Review
(
What's this?
)
First things first. This is a great speaker period. value, bang for the buck, whatever you want to call it. Some of the strenghts of the LSI 15s are,
clearness, sharpness of detail, focus, 3d space, excellant soundstage, no overhang of fff, sss, ttt of vocalist at the end of words. It took 5 years for me to consider replacing my rt 1000i as main front channel speakers. I simply made them my new rear channel speakers. A big thanks go the Polk team for giving this LSI the same voicing of the rt 1000i and cs 1000p which is my center channel speaker. I don't think I will ever be moved on a new center speaker. The LSI 15 is very dynamic and plays very loud while being at ease and relaxed. This combination of sound quality is very additive.

Great job POLK. And I love being in the POLK FAMILY.

Pros:

Cons:
Written by: Georges from Stone Mountain, GA on November 24, 2006
Crutchfield Customer Review
(
What's this?
)
I have purchased the LSI15 about 6 months ago and wanted to wait a while before posting my review for a more accurate info. Thus far, they have met my expectations. I have pushed them, trying different types of music(Jazz, Salsa, Classical, Kompa) and the sound remained outstandinly clear. It's also worth mentionning that the LSI15's are in the company of a powered center speaker, a pair of side speakers (Polk Audio LSIFX), a pair of rear speakers, and two powered subwoofers(JBL and Infinity).
I am not certain how much the other spkrs have to do with the LSI's ability to reproduce such great a sound, nevertheless, I am pleased and hope the price will drop a bit to purchase an additional pair.

Pros:

Cons:
Don't miss out on the speaker
Written by: Paul from st. Louis, Mo. on June 18, 2006
I am taking the time here to review quite possibly the finest loudspeaker in this price range ever built. If I didn't feel this way I wouldn't waste your time or mine. These are marvelous speakers. I have listened to hundreds of speakers in my life. These have many of the finer qualities of the higher priced b & w, paradigm and other high end gear. They sound amazing. Very detailed, great imaging and depth of sound. This tweeter will blow you away with its precise sound and dispersion. BE AWARE!! these speakers need power, and lot's of it. I would say 200 wpc will make them perfom admirably. The build quality is superb. So is fit and finish. If you purchase these speakers you will never regret your decision. Don't forget to feed them enough power, or don't buy them. That way you won't be dissapointed.

Pros:

Cons:
Written by: Mark from Valley Lee, MD on March 15, 2006
I've upgraded my speakers twice in the past few years to get them closer to my system's capability. I purchased the LSi15's about the same time as the LSi9 bookshelf speakers. They provide me with rich, distortion free music. I could immediately hear the difference and I'm very happy I decided to purchase them.

Pros:

Cons:
Written by: David from Raleigh, NC on November 8, 2005
Crutchfield Customer Review
(
What's this?
)
These speakers are awesome. You will not find a better speaker in this price range. Just make sure you have a good reciever.

Pros:

Cons:
Written by: matt from newark, delaware on July 13, 2005
i have had these speakers now for just over a year. they were my 21st birthday present. i have one hafler amp for each speaker with a mission cd player and mit interconnects and speakers wires. these speakers have crystal clear highs and smooth clean low end response. they have the perfect balance of highs, mids, and lows. my father is a huge audio freak with a very impressive stereo setup and these speakers impressed him. for the money there is not a better pair of speakers out there

Pros:

Cons:
Written by: chris from lantana, fl on February 15, 2005
Crutchfield Customer Review
(
What's this?
)
these speakers are the best period.
I have tried other polks and many other brands as well.
no speaker sounds so clear and so balanced than these.
I was so impressed, I purchased the lsi9 matching bookshelfs, center and had to get the suround series as well.
You will not regret these.
do not forget, amps are usually rated at 8 ohms.
(these are 4 ohms equalling "about 50 to 60) more watts per channel HOWEVER BUY A FAN FOR YOUR AMP!!!!!


Pros:

Cons:
What's in the box?
Two separate boxes (Left-channel box/Right-channel box):
The Left-channel box contains:
1 Cherry left-channel floor-standing speaker with attached pedestal
4 Carpet spikes with installed rubber feet
Owner's Manual
Product Registration Card
"Register Online" sheet
The Right-channel box contains:
1 Cherry right-channel floor-standing speaker with attached pedestal
4 Carpet spikes with installed rubber feet
Product Registration Card
Product Research
Features
Dynamic Balance: Dynamic Balance is a proprietary Polk Audio technology using laser imaging to determine what combination of speaker materials create the least amount of resonance. Eliminating resonance in speakers results in a wide, smooth response and low distortion.
Subwoofers: Each speaker features a side-firing 8" poly cone woofer with a rubber surround for deep bass response. On the left-channel speaker, the subwoofer is located on the lower portion of the left panel. On the right-channel speaker, the subwoofer is located on the lower portion of the right panel.
Aerated Polypropylene Midranges: Each speaker uses two Aerated Polypropylene midrange cones for wide response and low distortion. For superior durability, the midranges use rubber surrounds.
1" Ring Radiator Tweeters: Each speaker features a 1" Ring Radiator tweeter for crisp, transparent highs. The ultra-light woven Ring Radiator Diaphragm delivers flat response, precise detail and overall accuracy. A High Frequency Waveguide prevents phase cancellations for smooth, uniform frequency response and wide dispersion. A Low Frequency Waveguide promotes laminar airflow between chambers to prevent air turbulence. This feature serves the same function as Power Port for Polk's bass systems.
Cast Aluminum Driver Baskets: Cast aluminum driver baskets resist flexing and "ringing" for ultra-tight bass and coloration-free midrange.
Cascade Tapered Crossovers: The Cascade Tapered Crossover array in each speaker ensures flat midrange response and improves imaging focus, and depth. One midrange driver is crossed over much lower in frequency and is in essence a bass-only driver. Only one midrange driver plays the upper midrange frequency range thereby eliminating the interference effects between the two midrange drivers. This gives you the dynamic impact of double drivers with the accuracy and life-like imaging of a single driver system.
Power Port Venting System: Each speaker has a floor-coupled Power Port venting system built into its pedestal for precise deep bass response. This venting system allows air velocity to slow gradually, vastly reducing air turbulence, and delivering greater bass efficiency than conventional ports.
Acoustic Resonance Control (ARC): Internal cabinet resonance can impart a "thick" character to voices. Polk's patented Acoustic Resonance Control port system overcomes this problem. In addition to the Power Port venting system, each speaker has two front-firing ports that are tuned to suppress the internal cabinet resonance, resulting in smooth, natural midrange reproduction.
Low-diffraction Grilles: Each speaker employs open architecture low-diffraction grilles for spacious imaging.
Dual 5-Way Binding Posts: Each speaker has two sets of gold-plated 5-way binding posts connected by gold-plated jumpers. Using the dual 5-way binding posts, you can bi-amp or bi-wire the speaker.
Carpet Spikes: When the spikes, along with the rubber feet, are installed, the speaker height increases to 45.225". With the spikes installed and the rubber feet removed, the speaker height is 45.083".
Note
Frequency Response Note: The overall frequency response is 22Hz-27kHz and the -3dB frequency response is 32-26kHz.
Our Product Research Team
At Crutchfield, you'll get detailed, accurate information that's hard to find elsewhere. That's because we have our own in-house Product Research team. They verify what's in the box, check the owner's manual, and record dimensions, features and specs. We stay on top of new products and technologies to help people make informed choices.