Why Choose Crutchfield?
Deep discounts on car installation gear
We offer vehicle-specific installation instructions, dash kits, wiring harnesses, and speaker accessories at deeply discounted prices with car stereo and speaker purchases. Available for most vehicles.
Learn more
Trusted since 1974
Our customers have trusted us with their business, and they've helped us win awards for our service.
Check out our most recent awards
Factory-authorized dealer
The manufacturer's warranty always applies.
See more details
Definitive Technology SuperCube II
Ultra-compact powered subwoofer
Item #: 735SCUBE2
This item is no longer available.
Original Price: $699.00
Powerful, accurate bass from a compact subwoofer
Definitive's SuperCube® I subwoofer easily fills any home theater room with exciting bass that'll make your spine tingle on your next movie night. The secret to its success is an active woofer/passive radiator combination that produces big sound despite the cabinet's small size. And a powerful built-in 1,500-watt amplifier really shows off this little sub's tight, accurate bass response.
---
A unique approach to rock-solid bass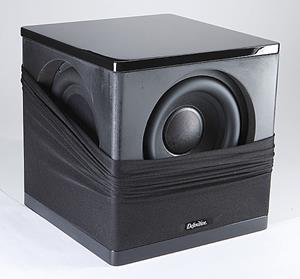 The SuperCube II contains an 8" woofer pressure-coupled to two 8" radiators, for a total output around that of a traditional 12" woofer. This driver array gives the SuperCube II the advantage of far greater speed, musicality, and control than any large single-woofer sub could produce. The woofer is encased in an incredibly rigid basket engineered to hold the massive magnet structure and large voice coil in absolute alignment. The non-resonant cabinet is nearly 2" thick and uses multiple internal bracings to make sure that you hear clean bass without sound-muddying vibrations.
Flexible inputs and outputs and advanced controls
Line-level and speaker-level inputs let you connect this sub to just about any audio system. The continuously variable low-pass crossover allows you to precisely control the frequencies that your subwoofer handles. And the built-in high-pass crossover is a nice touch: it prevents your main speakers from overloading with low frequencies if you hook them up through the subwoofer's speaker-level outputs.
Product Highlights:
bass-reflex (passive radiator) enclosure
8" long-throw woofer pressure-coupled to two 8" low bass radiators
built-in 1,250-watt amplifier
frequency response 14-200 Hz
continuously variable low-pass 40-150 Hz crossover
auto on/off
phase control dial for fine-tuning bass performance
speaker-level inputs and outputs
80 Hz fixed high-pass crossover for speaker-level outputs
line-level inputs and outputs
continuously variable high-pass 40-150 Hz crossover for line-level outputs
LFE input for use with home theater receiver's subwoofer output
piano-gloss black finish
12"W x 12-13/16"H x 13-1/16"D
warranty: 5 years woofer, 3 years amplifier
Why add a powered subwoofer?
A powered subwoofer gives you bass you can feel as well as hear. Our customers love the depth and impact their subs add to music and movies. We hear comments like "it brings out sounds I didn't know existed in discs I've watched a million times." Powered subwoofers aren't just for big bass that rattles your picture frames; they can also deliver tight, accurate lows. If you haven't shopped for a powered sub in a while, you might be surprised at how small they get. Look for an ultra-compact model if you want to tuck your sub away under an end table or in a corner.
Definitive Technology SuperCube II Reviews
Average Customer Review:
6 Reviews
---
Definitive Technology SuperCube II
Written by: Jody C from Elizabethtown, PA on September 14, 2011
I have been researching Def Tech before I could afford to buy one. I read everything that was online about the Supecube series. What helped me the most was the real world reviews, your reviews. Cube II breathes new life into everything. You FEEL and hear things you never knew was there. And it's not a one note sub like a lot of other subs. If you can afford it, it's worth every dollar.

Pros:

Cons:
Written by: JP from Athens, GA on October 22, 2010
Very Disappointed.

First SC II arrived and worked fine for ~30 min with wonderful sound. Then it developed a rumble. This persisted despite all attempts adjust the sub. Replacement arrived and worked well for 1 album. Then it started blowing fuses. Both subs were returned.

I have an older Definitive sub that has worked wonderfully for years. Though admittedly the sound quality was far inferior to the SC when it worked.

Maybe bad luck but I'm done with the Super Cube.

Pros:

Cons:
Great for TV/Movies & General Audio
Written by: Seth from Sacramento, CA on May 3, 2010
Crutchfield Customer Review
(
What's this?
)
I am an audio enthusiast but not an audiophile. I've used the "SuperCube II" for about a week at up to maybe a fifth of its enormous 1250W rms capacity. It has gobbs of power to spare in my 20' square living room. I will keep it, and recommend it with the reservations stated below.

PRO's -- 1) Lots of power. 2) Very good for general audio. 3) Produces sensational dynamic TV/Movie effects such as canon fire.

CON's -- 1) Price 2) Slightly muddy sound character, which I find disappointing.

The "SuperCube II" would not be my first choice for critical music listening.

Pros:

Cons:
Definitive Technology SuperCube II
Written by: Joseph from Savannah, GA on December 27, 2009
I bought this sub to use for music, and for that purpose it is outstanding. The bass is very tight, fast, and musical. The fact that it is so small and stylish makes it all the more appealing. My plan is to eventually use 2 subs for 2 ch audio. However, there is one caveat. While it also performs great for movies with impressive SPL, it does not nearly go as low as claimed. In my medium sized room, the -3dB is around 28Hz. If you're looking for a true full range system down to below 20Hz, you need a larger sub.

Pros:

Cons:
Definitive Supercube II Powered Subwoofer
Written by: Charlie from Virginia Beach, VA on November 27, 2009
I'm not exactly what you would call an "audiophile", but I just purchased this subwoofer, along with a matched set of 4 Definitive 1000 bookshelf speakers. This system is powered by the new NAD T765 A/V Receiver.

I'm not sure if it's the NAD or the speakers (likely a bit of both), but this system provides cinima quality (or better depending on the cinima) sound. The supercube produces bone shaking base that envelopes the room. Can't beat this unit.


Pros:

Cons:
Written by: Michael from Coopersburg, PA on September 12, 2009
I bought this sub a year ago along with a pair of defenitive towers and its awesome. I am a crazy sub freak that needs perfect bass, i normally steer well away from an 8", i am a huge fan of 12's and 15's for deep bass but this 8" does the same job as any 12 out there and takes up barely any space on my floors.

Pros:

Cons:
What's in the box?
8" Powered subwoofer
4 Threaded rubber-feet
4 Spike feet (hex-nut attached)
Owner's Manual
Online Product Registration card
Product Research
Overview: The Definitive Technology SuperCube II is a compact, high-quality powered subwoofer intended for use in a music or home theater system. The SuperCube II powered subwoofer allows for easy, seamless integration into almost any two-channel or multichannel speaker system; delivering true, accurate, and extremely deep bass in any room. The SuperCube II is finished in a piano-gloss black lacquer finish with a black non-removable cloth grille.
Features
Passive Radiator Design: The SuperCube II features a 1250-watt (RMS) class D amplifier driving a 8-inch SuperCube Technology woofer pressure coupled to two side-firing 8-inch Ultra Low Bass Radiators. The total piston area is over 30% greater than 12-inch diameter woofer, but with far greater speed, musicality, and control than a single large diameter woofer can deliver.
PowerField Technology Amplifier: The SuperCube II incorporates Definitive's proprietary PowerField technology, by which the amplifier is specifically engineered in conjunction with the driver for optimum load matching and power transfer characteristics. The SuperCube II is powered by a 1250-watt (RMS) class D amplifier. The result is high-definition bass performance extending effortlessly down to 14 Hz.
High-Definition Subwoofer: The powerful, high-definition 8" long-throw subwoofer driver is specifically engineered by Definitive Technology to deliver rock-solid low distortion bass, reaching down to the lowest subsonic frequencies (14-200Hz), with superior transient response. The special ultra-stiff, low-mass cone (for super-fast transient response) is joined to a specially formulated surround and long-throw voice coil and spider. The ultra-rigid basket is engineered to hold the woofer's massive magnet structure and large voice coil in absolute alignment. The high temperature voice coil is made of aluminum wound with triple insulated ultra-pure copper wire and baked in epoxy for increased power handling.
Non-Resonant Cabinet: The cabinet of a loudspeaker plays a large part in its sonic performance. Resonance and vibration can add unwanted distortion as well as drain away important energy from the system. The Definitive Technology SuperCube II powered subwoofer utilizes a monocoque cabinet, which has been specifically engineered to be totally inert and vibration free, to ensure you of pure sonic reproduction. Monocoque means that the cabinet is of a unitized construction where all panels are permanently joined together into one solid structure. The cabinet walls themselves are high-density medite fused together by space-age polymer adhesives. The front and rear panels nearly 2-inches thick and the cabinet, itself, incorporates multiple internal braces to ensure total solidity.
Protection Circuits: The Definitive Technology SuperCube II features two protection circuits that ensure that the subwoofer can never be overdriven.
Interchangeable Feet: The SuperCube II comes with 4 rubber feet and 4 spiked feet for safe and secure placement of the powered subwoofer on your carpet or hardwood floors.
Placement: The Definitive Technology powered subwoofer has been designed to operate at frequencies generally below 150 Hz. Because low-frequency information in this range essentially is non-directional, your subwoofer can be located anywhere in your listening room that is most convenient. Also the continuously variable low-pass filter operate at a very fast roll-off, ensuring great performance wherever you place the subwoofer. There are, however, some general rules that you should bear in mind when locating the powered sub.
For maximum output the subwoofer should be placed in a corner or against the wall; leaving roughly 2- to 4-inches of clearance between the subwoofer and the wall(s).
Corner placement will increase the subwoofer's efficiency, which in turn will increase your system's maximum output and improve the dynamic capability of the subwoofer.
Controls
Subwoofer Controls: A complete array of controls allow the SuperCube II to be perfectly integrated with any stereo or multi-channel audio system, and tuned for optimum performance in any room.
Volume Control: The SuperCube II features a rear-mounted volume control. This control is used to raise or lower the output level of the subwoofer in relation to the other speaker in your system.
Variable Low-Pass Crossover: The Definitive Technology powered subwoofer features a continuous variable low-pass filter control on the back-panel. This filter is continuously variable between 40 and 150 Hz. It "rolls-off" (24dB/oct) the high-frequency response of your subwoofer so only low-frequencies below the desired setting will be heard. This low-pass filter control is used to obtain the optimum transition between the subwoofer and your main speakers.
Variable High-Pass Crossover: The SuperCube II is equipped with a continuously variable high-pass filter (40-150Hz, 12dB/oct) which is used when you wire the low-level inputs of the subwoofer to a full-range signal and the low-level outputs of the subwoofer to the left and right channel inputs of your amplifier. When hooked up this way, it allows you to vary the low-frequency roll-off of your main speakers. This control only works using the low-level inputs and outputs.
Variable Phase Alignment: The powered subwoofer features a rear-panel variable phase control dial with a range of 0-180 degrees. This control is used to perfectly blend the output of your subwoofer with your main speakers to compensate for any possible problems due to placement constraints.
Auto Turn-On Circuit: The powered subwoofer has a special power circuit which automatically turns the powered subwoofer on when a signal is fed to the loudspeaker and turns it off when there is no signal present, so it does not require an on-off switch.
LED Indicator: The red LED on the back panel of the powered subwoofer will light up when a signal is sensed and the amplifier turns on. It will automatically turn off with the powered subwoofer, a little while after the signal is discontinued.
Connections
Line-Level & Speaker Level Connections: The Definitive Technology SuperCube II powered subwoofer has a complete range of inputs and outputs to allow easy and effective hookup to any system. Both (high) speaker level and low-level inputs are provided in case you do not have a subwoofer output. In addition, the SuperCube II has a separate direct-in LFE low-level input (which bypasses the crossover network).
LFE Input: The LFE input on the SuperCube II is a mono-RCA input which is not affected by the subwoofer's low-pass filter or low-pass crossover control. It is designed to connect the SuperCube II to a receiver which features a dedicated subwoofer output which features its own low-pass crossover filter.
Low-Level Inputs: If your receiver does not feature a dedicated subwoofer output, but does feature stereo RCA outputs, you can use the SuperCube II's stereo RCA low-level inputs (which provide its own dedicated variable low-pass crossover circuit) to connect the subwoofer to your receiver,
Speaker Level In: The Speaker Level inputs (binding posts) are designed to be used on receivers or amplifiers that do not incorporate any RCA type subwoofer outputs. If your receiver is equipped with an RCA type subwoofer outputs, these speaker level inputs should not be utilized.
Low Level Output: The SuperCube II features a pair of low level outputs for connecting the powered subwoofer and your main speakers in a Pre-Amplifier/Power Amplifier configuration.
Speaker Level Output: The SuperCube II also features speaker level outputs (binding posts), so you can connect your front (main speakers) through the powered subwoofer. The SuperCube II has a built-in speaker level high-pass crossover preset at 80 Hz (6dB/oct).
Our Product Research Team
At Crutchfield, you'll get detailed, accurate information that's hard to find elsewhere. That's because we have our own in-house Product Research team. They verify what's in the box, check the owner's manual, and record dimensions, features and specs. We stay on top of new products and technologies to help people make informed choices.