Why Choose Crutchfield?
Deep discounts on car installation gear
We offer vehicle-specific installation instructions, dash kits, wiring harnesses, and speaker accessories at deeply discounted prices with car stereo and speaker purchases. Available for most vehicles.
Learn more
Trusted since 1974
Our customers have trusted us with their business, and they've helped us win awards for our service.
Check out our most recent awards
Factory-authorized dealer
The manufacturer's warranty always applies.
See more details
NAD Masters Series M3
Stereo integrated amplifier
Item #: 745M3
This item is no longer available.
Original Price: $2,999.99
How do you do most of your music listening?
Nothing against smartphones, computers, or home-theater-in-a-box systems, but if that's how you squeeze music into your life, then you're missing one of life's sublime pleasures. Such multi-purpose gadgets, when used for music, serve up the sonic equivalent of fast food. If music means more to you than that, consider building a music-first system with the NAD M3 Masters Series integrated amplifier as your foundation.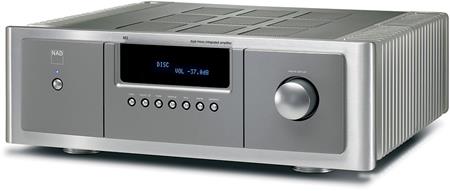 ---
Built solid
The M3's rugged chassis is built with 2-millimeter-thick steel plates and a front panel of aluminum and die-cast zinc. All of the heavy-duty gold-plated signal connectors are specifically engineered for the NAD Masters Series components.
The guts of the M3 are as impressive as its armor. For precise adjustments, the volume, balance and tone controls use 1 percent resistors controlled by digital switches. Input selectors use the same sealed reed relays found in some of the world's most expensive hi-fi components. Because the signal never has to travel to the front panel for switching or adjustment, noise and distortion are minimized.
A powerful value
NAD's PowerDrive™ technology ensures that the M3 delivers maximum undistorted dynamic power into the connected speakers under all conditions. Like a turbo-charger, the PowerDrive signal processor senses the demands placed on the amp and delivers higher current only when it's needed. PowerDrive allows the M3 to sound even more potent than you would expect from its "Full Disclosure" rating of 180 watts x 2 channels.
Pair the M3 with a matching NAD M5 CD player and PSB Synchrony One floorstanding speakers. You'll enjoy a level of performance that audiophiles often pay far more to attain.
Plenty of system-building options
You can assign your own names to the six pairs of RCA and one set of balanced XLR inputs. One of the two preamp outputs features a selectable biamp mode with built-in 40, 60, 80, and 100Hz low-pass filtering for a subwoofer.
Wondering what you'll do with all those inputs? Think outside your main listening room. Connect a second amp to the M3's Zone 2 pre-outs, and you'll be able to take advantage of its independent Zone 2 source selection (and the handy Zone 2 remote control). You could have the loudest, best-sounding outdoor speakers in the neighborhood.
Product Highlights:
180 watts x 2 channels into 8 ohms (20-20,000 Hz) at 0.004% THD
180 watts x 2 channels into 4 ohms (20-20,000 Hz) at 0.004% THD
dual mono design with separate unregulated, and discrete regulated power supplies for different stages
4-ohm capability allows use with a wide range of speakers
signal-to-noise ratio: 130 dB
PowerDrive™ circuit with automatic speaker impedance sensing delivers maximum dynamic power output regardless of speaker load
distortion-canceling circuit for high-accuracy sound
twin custom-made "Holmgren" toroidal transformers
all-discrete circuitry with four pairs of high-wattage output transistors per channel
6 RCA audio inputs and 1 rec out
one balanced XLR input
main-amp input and 2 preamp outputs for connecting a powered subwoofer or separate amplifier for bi-amping
Zone 2 output with independent source selection
switching for two pairs of speakers
two pairs of custom gold-plated speaker binding posts
biamp mode with selectable 40, 60, 80, 100 Hz crossover frequency on preamp output 1
12-volt trigger output
1 IR input/2 IR outputs for sophisticated remote control solutions
RS-232 interface for advanced custom installations
detachable AC power cord
separate remote controls for zones 1 and 2
weight: 68 lbs.
17-3/16"W x 5-7/8"H x 18-1/16"D
warranty: 3 years
Everything you always wanted in a stereo receiver, except the radio
An integrated amplifier is essentially a receiver without a built-in AM/FM tuner. You get power to drive your speakers, audio controls, and inputs for music source components. Connect an iPod, a computer, a network music player, or any other device that can play Internet radio, and you may find you have no need for an AM/FM radio.
NAD Masters Series M3 Reviews
Average Customer Review:
1 Review
---
An Eyeopening Audio Experience
Written by: Mark G. from Ottawa, Ontario Canada on January 25, 2014
This will be a brief impressions review as I am quite sure you have already read several professional reviews as did I before I purchased the M3 without having heard it first. I have been buying and enjoying audio products all of my life, and I have learned to take measured chances when trying new gear. I can say that with the NAD M3 my measured chance has turned into such an audio win-fall. I will first use some adjectives that describe the M3 for me: poise, musical, detailed, organic, powerful, and highly engaging. The NAD revealed incredible layers of detail that with my favourite listening and testing tracks, I had never heard before. The speed and musical presentation of the music is nothing short of stunning. There is a very slight, but very sexy and alive organic warmth to the M3. Please do not read that as meaning smooth and lacking in detail and clarity, nothing could be further from the truth.

The M3 found all of the elements in my music and managed to separate them with incredible precision; however, the elements didn't become this collection of etched out elements, they were kept together in a fast and fluid flow of detail and energy that keeps me up for hours listening; it is as if I am rediscovering my entire collection again. I am playing all lossless files through a Schiit DAC out through a pair of Castle Knight 5 tower speakers. A capable setup before the NAD M3 when my Creek Evolution integrated was the amp, but the M3 has taken things to a higher level.

Pros: Very engaging, powerful and fast Very deep levels of detail retrieved Incredibly balanced frequency response No sizzle and boom Excellent instrument separation and portrayal A very slight warmth that draws you deeply into the music The sound that can only come from controlled and clean power

Cons: What flaws are sure to be there, as with any gear, are not something I can detect
What's in the box?
Integrated amplifier
68" Power cord
Wireless remote control (M3)
2 "AA" batteries
2nd Zone remote control (ZR3)
CR2025 Lithium battery
2 Pre-out/Main-in jumpers (installed)
Owner's manual (English/ French/ German/ Dutch)
Owner's manual (Spanish/ Italian/ Portuguese/ Swedish)
Warranty information
Product Research
Features
Controls
Connections
Specifications
Features
Overview: The M3 features a Dual Mono design with separate unregulated and discrete regulated supplies for different stages of the 2 channels. The custom wound Toroidal transformers use proprietary magnetic shielding technology. The lack of audible noise and distortion is the result of analog circuits combined with digital controls. Freed of the constraints of traditional analog switches, NAD devised an architecture using precision 1% resistors controlled by digital switches for all the level adjustments required for volume, balance, and tone control. Input selection is done via precision sealed reed relays. An advantage of this architecture, in addition to its precise performance, is the ability to place controls in the most advantageous physical position within the circuit. The signal never has to travel to the front panel for switching, as with traditional amplifier designs. Keeping signal paths as short as possible is also aided by the use of SMD (miniature surface mount) components and multi-layer PCBs (circuit boards). Special attention was paid to the control of mechanical resonance throughout the chassis, as this can affect sonic performance. The special isolation feet use aluminum and silicon rubber in a vibration damping configuration.
PowerDrive: NAD's PowerDrive technology measures load impedance continuously on both channels and adjusts the power supply voltage for maximum undistorted dynamic power to the connected speaker at all times and under all operating conditions. The signal processor also continuously measures temperature and average long term power and, based on this information, chooses the optimum voltage.
Pre-out/Main-in Loop: Factory jumpers connect the main amplifier input to the Pre Out 1 preamp outputs. This offers the flexibility of inserting an equalizer, surround processor (when using multiple amps), or another type of processor between the two stages.
Dual Preamp Outputs: The second set of preamp is convenient for bi-amping speakers or adding a powered subwoofer.
Crossover: A high-pass crossover can be engaged for the preamp 2 outputs, useful when bi-amping the speakers or using a powered subwoofer. The crossover options are 40 Hz, 60 Hz, 80 Hz, 100 Hz, and Full Range. The slope is 12 dB/octave.
Input Level: The volume level can be trimmed individually for each source, so there's no volume change when changing inputs; the range is +/- 9.5 dB.
Input Names: The name displayed for each input can be reassigned, up to 20 characters.
Tone: Bass and treble are adjustable +/-5 dB. The Spectral Tilt function simultaneously raises the bass and reduces the treble, or vice versa; +/-3 dB.
Remote Controls: The M3 wireless remote will control the amp and the matching NAD DVD/SACD player. A second wireless remote, the ZR 3, is included for controlling the Zone 2 output.
Controls
Front Panel:
Power: toggle between power on and standby
Listen: choose input for listening; Disc, CD, Tuner, input 4, input 5, input 6, or Balanced input
Record/Zone 2: choose input for recording or listening in Zone 2; Disc, CD, Tuner, input 4, input 5, input 6, Balanced input, Local (same source as main listening zone), or Off
Mode: toggle between listening modes; Stereo, Mono, Left, Right
Balance: adjust left/right balance and trim the input level for each source
Tone: adjust Bass, Treble, and Spectral Tilt
Bi-Amp: choose the high-pass crossover point for the internal amp
Speakers: choose which speaker outputs are active; A, B, A+B, or Off
Volume: rotary volume control
Rear Panel:
Power: master power switch
Connections
Rear Panel:
Speakers: the speaker binding posts will accept single banana plugs, pin connectors, spade lugs up to 0.59" wide, and bare wire up to 10 gauge; there are four speaker outputs, A (left and right) and B (left and right)
Inputs: stereo RCA input jacks for Disc, CD, Tuner, Input 4, Input 5, and Input 6
Balanced Input: stereo XLR input
Main In: stereo RCA preamp inputs; jumpers to the Pre Out 1 outputs are factory installed
Pre Out 1: stereo RCA preamp outputs; jumpers to the main amplifier inputs are factory installed
Pre Out 2: stereo RCA outputs for feeding a powered subwoofer or another amplifier; the volume level is the same as Pro Out 1
Record Output/Zone 2: stereo RCA output jacks for recording or listening in Zone 2
IR In: 3.5mm mini-jack input, used to control this unit using an optional infrared repeater or the IR output of another component
IR Out: two 3.5mm mini-jack outputs, used to control other NAD components
12 Volt Trigger Out: turn on/off another device along with the M3; the +12 volt trigger output is a 3.5mm mini-jack; the maximum output is 50 mA
RS 232: the RS-232 port allows connection to a compatible PC or external whole-house control system from companies such as AMX or Crestron
AC Input: 2-pole IEC power input for use with included cord (or optional upgraded cord)
Specifications
Amplifier Section:
Continuous Power: 180 watts x 2 into an 8Ω or 4Ω load, 20 Hz - 20 kHz, no more than 0.004% THD, both channels driven simultaneously
Dynamic Power:

8Ω: 280 watts x 2
4Ω: 480 watts x 2
2Ω: 785 watts x 2

Dynamic Headroom: 4.2 dB at 8Ω
Rated THD (Total Harmonic Distortion): 0.004% (20 Hz - 20 kHz)
Signal/Noise:

>107 dB (ref 1 watt)
>130 dB (ref 180 watt)

Damping factor: >150 (ref 8Ω, 50 Hz)
Frequency response:

+/- 0.03 dB: 20 Hz-20 kHz
- 3 dB: 20 Hz-80 kHz

Input impedance: 20 kΩ + 680 pF
Input sensitivity: 1.38 volts (ref rated power into 8Ω)
Voltage gain: 29 dB
Power Requirement: AC 120V 60Hz
Weight: 51.8 lbs (23.5 kg)
Preamp Section:
Input impedance: 150 kΩ + 500 pF
Balanced input impedance: 120 kΩ + 100 pF
Input sensitivity: 446 mV (at rated power)
Frequency response: 5 Hz-70 kHz (+/- 0.3 dB)
Output impedance:

Pre-out 1/Pre-out 2: 100 Ω
Record out: source + 1 kΩ

Tone control:

Bass: +/-5 dB
Treble: +/-5 dB
Our Product Research Team
At Crutchfield, you'll get detailed, accurate information that's hard to find elsewhere. That's because we have our own in-house Product Research team. They verify what's in the box, check the owner's manual, and record dimensions, features and specs. We stay on top of new products and technologies to help people make informed choices.